Why Venezuela's People Are Suffering
The case that will be documented here is that Venezuela's people are suffering from a tragic national situation which actually cannot be reversed by anything that's within the power of Venezuela's Government to do or to block. In order to understand this very unfortunate reality (if one wants to understand it), one must first understand the relevant parts of the broader situation in the world that affects Venezuela. What's dooming the country isn't merely a local situation, but instead is global and environmental. It also is economic, pertaining to the role that Venezuela is playing in the global economy. But the economic factor is definitely not  of the kind that it's commonly assumed and alleged to be. It is instead very different.
Here, this very different reality will be both described and documented (instead of just founded upon assumptions — many of which are false — such as the standard, basically local, economic 'explanation' of Venezuela's troubles is, which focuses on Venezuela's socialism, or the economy's being not sufficiently capitalist).
What it all comes down to, stated in its briefest terms, is that no nation can do anything but lose money by selling the world's dirtiest oil, tar-sands oil, which costs $100+ to clean and produce, into a global oil market that's paying less than $100 (currently around $65) per barrel. Venezuela was able to sell it profitably when oil-prices were high, but is getting crushed now, because its oil is no longer profitable to produce and sell. But 95% of Venezuela's export-earnings come from oil. Unless and until oil-prices are again above $100 (which probably won't happen again, except perhaps for very brief periods), Venezuela is doomed. Venezuela's only chance to diversify its economy away from "the natural resources curse" (from which it especially suffers) was long ago, decades before the current Government came into power. That chance was missed. This ship is now sinking, and no one can save it. (And the U.S. Government and its allies have no actual interest in saving it, but only in exploiting it, parasitically.)
So, here the real history and context for what is happening in and to Venezuela will be presented, and the reader will be able easily to verify any detail of it (by means of the links) — on one's own, (not accepting anything on mere 'authority', which, in such a politically charged matter as this, is almost invariably propaganda). The reader can verify any allegation here simply by clicking onto the given link, at any point in the presentation that might seem to be questionable.
These links are directly to the items of evidence, in the specific case of: why Venezuela's people are suffering.
Here is that case — the realistic case, without any propaganda, but with only  credible news reports and source-documents as constituting its basis — regarding this question.
THE CASE
The two lands that produce the world's highest-cost-to-produce oil are Canada and Venezuela. Both extract their oil overwhelmingly from tar-sands, which is the dirtiest of all oil and thus (by far) the costliest to refine. (Thus, it's called "extra-heavy crude", and that is the least desirable type. It's also the type that, in a global-warming world, should remain in the ground, never be burned at all, as will also be explained here.)
An accurate summary statement in Wikipedia is that, "With present technology, the extraction and refining of heavy oils and oil sands generates as much as three times the total CO2 emissions compared to conventional oil,[20] primarily driven by the extra energy consumption of the extraction process." That reference at "[20]" also states: "As the price of oil rises and as conventional hydrocarbon resources become scarcer, increased exploration and production activity is occurring in heavy oil, tar sands, and bitumen deposits. While these contribute significantly to the global energy …, they also contribute a greater share to … the detriment of the global environment." (That's referring to "a greater share" of "detriment" than normal crude does.) As another source phrased this matter in more explicit terms: "85 gallons of water, two tons of soil, 700-1200 cubic feet of natural gas, and 170 pounds of greenhouse gases make one barrel of crude oil" from tar-sands. That oil is simply not usable as-is to go into refining, like, for example, the standard Brent crude is. Furthermore, to produce that barrel of tar-sands-derived oil requires also the production of tons of sheer waste, none of which is left behind from producing normal oil. The cost of dealing with that waste is not factored into the cost of the barrels of oil. For examples, the future "impact upon water supplies," and that "this water is polluted by toxic substances," are not counted in. Therefore, the full cost of such oil has never been calculated. And yet, even so, everyone recognizes that tar-sands-derived oils are the costliest to produce.
On 25 January 2013, HSBC Global Research issued a landmark report, "Oil & Carbon Revisited: Value at risk from 'unburnable' reserves". It defined the key concept of  "Unburnable reserves: The IEA's World Energy Outlook (2012 edition) estimated that in order to have a 50% chance of limiting the rise in global temperatures to 2ºC, only a third of current fossil fuel reserves can be burned before 2050. The balance could be regarded as 'unburnable'."
The oil in Canada and in Venezuela is the world's least  burnable, the most "heavy," and therefore it's not only the costliest to produce, but it's also the worst environmentally. There is consequently increasing pressure upon large investment funds such as Harvard's 39-billion-dollar endowment fund, to disinvest in fossil fuels. Because of interlocked boards of directors or trustees, and the needs that such 'charities' have to appeal to wealthy donors, these public pressures are often (as in Harvard's case) ignored, but the movement toward divestment is gradually gaining strength in the less corrupt investment funds.
On 13 December 2018, the environmental organization 350.org headlined "Landmark fossil fuel divestment reached! 1000+ institutions are withdrawing investments from coal, oil and gas companies", and announced:
The 1000th institution to divest was the Caisse des dépôts et consignations (CDC), which manages France's public sector pensions, savings, and investments worth €173 billion (USD$196 billion). It recently announced that from 2019 it will no longer invest in companies that make more than 10% of their business from coal – this implies that the top 200 companies in the coal-industry are now effectively blacklisted. …
On the momentum for divestment since 2013 – Nicolas Haeringer, an organiser who supports divestment groups globally, at 350.org said:
"This is a moral movement as well as a financial one. Just five years ago we had 181 divestment commitments and USD$50 billion shifted away from polluting industries and today we're over 1000 and approaching USD$8 trillion dollars."
This has already helped to drive many coal companies out of business. Though coal-mine owners and employees might lose from that, the entire world gains vastly more from it. Such a transition is called "progress." Transition in the opposite direction — toward more bad than good — is called "regress," or, simply, "harm." Some people call it "conservatism," but whatever it is, certainly isn't  progress. Not in any way. But that's what the U.S. Government and the Canadian Government want: extreme conservatism — not conservation. And they view Venezuela's tar-sands oil as being a prize that they could profit from if Venezuela's Government could be 'persuaded' to reduce their environmental regulations on extracting it. However, in 2012, Venezuela strengthened, instead of weakened, its environmental laws. That strengthened the motivation for the U.S. and Canada to take over Venezuela. Hugo Chavez died in 2013, and Nicolás Maduro replaced him. Then, in 2016, Maduro instituted a new policy, to weaken environmental enforcement in Venezuela. Perhaps he was hoping that this would reduce the U.S.-and-allied efforts to overthrow him. Venezuela's economy was already on the ropes. The U.S. continued its efforts to overthrow Maduro. Now desperate, he started selling off 12% of the land to international mining companies. Environmental enforcement at PDVSA also plunged, and on 24 November 2018, Bloomberg News bannered "Venezuela Is Leaking Oil Everywhere". Apparently, the weaker Maduro gets, the worse he becomes. He had entered a doomed office as the president, and seems willing to do anything not to drown in it. Apparently, the weaker he gets, the more that U.S.-allied billionaires want to take over the country, entirely on their own terms. It'll be like what had already happened in Greece, when the Syriza Party there capitulated to the international financial firms in 2015, and the Government stripped pensions, education, social services, etc., and privatized the infrastructure. But the path toward that end is quite different in Venezuela.
With the world's increasing move toward renewables, the disinvestment in oil companies will increasingly be targeted toward selling the stock in the ones that have invested the most in oil fields in Canada and Venezuela. However, the situation is radically different for Venezuela than it is for Canada. Here is why:
The biggest market for Canadian oil is just next door, the United States. Most of the oil that's imported into the U.S. comes from Canada. And, because most of the oil companies that are producing oil in Canada are U.S. owned or allied (such as in UK), the U.S. Government isn't sanctioning Canada and trying to bring its Government down by reducing Canada's oil-sales via sanctions, such as is the case with regard to Venezuela's oil-sales. The U.S. Government doesn't need to do that in order for America's corporations to become enabled to sell the oil that comes from Canada: they're already selling that oil, and Canada's Government (as well as America's Government) is already helping America's companies to do this. America's and Canada's aristocracies are allied — not only with Venezuela's aristocracy (which wants to replace Venezuela's existing Government), but also with each others' aristocracy.
Furthermore, unlike Venezuela, Canada isn't nearly 100% dependent upon its oil-sales in order to support its economy, such as Venezuela tragically is. Venezuela receives around 95% of its export-income from its oil. That's ridiculous and, for geostrategic and geoeconomic reasons, should never have been tolerated by Venezuela's Government, but it nonetheless has been tolerated by them — and, for many decades, not only by Venezuela's present Government. Indeed, Oil&Gas Journal headlined on 8 February 2010, "All about Orinoco" and reported that there had been "early efforts to produce heavy crude from the [Orinoco] belt" and these efforts "led PDVSA predecessors to output by the early 1980s of 93,000 b/d." Furthermore, "Petroleos de Venezuela SA estimated 1.18 trillion bbl of oil in place in the Orinoco in 1987 and revised that in 2006 to a median of 1.3 trillion bbl, a maximum of 1.4 trillion bbl, and a minimum of 900 billion bbl."
At that time, Richard Turcotte, of Peak Oil Matters, warned about this report, by headlining "A Look at Venezuela", and pointing out that:
Unlike the light sweet crude oil produced by the U.S. and the light oil which has made Saudi Arabia such a force, the Orinoco oil is "heavy oil" found in oil sands — similar in characteristics to the tar sands bitumen found in Alberta, Canada. (See my prior post here.) The Venezuela oil is thus much harder to extract and refine, making it more costly. Significant investments of time and money are required to provide adequate refinery capabilities. Needless to say, extracting this heavy oil is a much more energy-and time-intensive effort than is the process for extracting the more familiar light crude. It is not anyone's answer in the next few years.
Lead researcher and USGS geologist Chris Schenk admitted that their report is not asserting that the "technically recoverable" oil is in fact "economically recoverable." That's a significant distinction, and one that needs to be emphasized. All the presumed underground reserves in the world won't mean much if it makes no sense to invest the time, effort, and money to try and extract them.
The USGS nonetheless estimates that a stunning 40 – 45% of that resource will be ultimately recoverable. One prominent geologist (and a former board member of Petroleos de Venezuela SA — Venezuela's state oil company) is already on record as doubting anywhere near that amount can be recovered, and stated that much of what might actually be recoverable would in fact be too expensive to produce. 
Perhaps Venezuela's President Hugo Chavez and his predecessors were thinking that if the U.S. Government says that this oil is an asset, then it is reasonable to consider it to be an asset; but if the U.S. Government was instead merely aiming to get Venezuelans to think that it's an asset so as to keep that country accepting its existing oil-monoeconomy (its over-dependence upon oil), then ultimately as the disappointment hits when the Venezuelan people experience the poverty after having hoped and tried to develop that 'asset', the U.S. Government will become welcomed in, to take over Venezuela's failing Government. Anyway, that would be a conceivable reason why the U.S. Government would be promoting the 'economic potential' of the Orinoco belt. The aristocracy's agents (in this case the petroleum industry) tend to be very clear-eyed about what's of benefit to their paymasters. For whatever reason, the actual fact — that this oil was no asset — has remained hidden from the Venezuelan public. It still isn't publicly acknowledged by Venezuela's Government. Nor is it publicly recognized by America's.
So, this tragic error (of presuming that tar-sands oil should be developed) goes back even to well before the time of Hugo Chavez. Moreover, it's worth pointing out that the actual source of the 'error' is the petroleum industry itself, which, like the tobacco companies before it, constantly propagandized for increased production and sales, regardless of what the science says. A good example of that propaganda is the Editorial in Oil&Gas Journal on 24 January 2019, headlining "Costs, energy needs discredit 'keep it in the ground' agenda". It says: "Preemptive opposition to oil and gas projects by 'keep it in the ground' activists promises needless hardship in two broad areas." This is a denial of the entire concept of "unburnable reserves." They want, instead, to burn it all — and even to keep prospecting to find yet more  oil and gas (at this time of already greatly excessive inventories of cleaner reserves that should be burned before any of Canada's or Venezuela's filth is). They could lay off their entire teams of oil-explorers, who are wasting their time to find yet more dirty energy sources that won't ever need to be used by anybody. Either these people are stupid and insane, or else they are psychopaths who care only about keeping their existing jobs and don't care at all about the world that future generations will be experiencing. If their children knew, then what would they think of what their parents had done to the world that they will be living in?
Consequently (perhaps after — for whatever reason — listening too much to self-interested advisors), Venezuela's Government has allowed itself to become trapped by its addiction to selling its extraordinarily filthy oil. There was no Governmental demand, no sufficient priority placed upon Venezuelan firms, for them to diversify the economy away from petroleum. Neither the present Government, nor any previous Government of Venezuela, did.
Hugo Chavez and Nicolás Maduro didn't create this problem; but, now, and especially on Maduro's watch, the oil-market transformations that result from the global-warming phenomenon are accelerating; and, unlike Canada, which is part of the U.S. empire, Venezuela isn't receiving U.S. Government protection of its investors, and so there is no helping hand from the U.S. Government (i.e., from America's aristocracy) to assist Venezuela's oil sales (such as the U.S. does provide regarding Canada). There is, instead, to the contrary — as Venezuela's Government has become weaker and weaker, and has less and less public support while global oil prices have plummeted — the grabbing hand, of both the U.S. and Canadian Governments, to take over Venezuela's Government, whose biggest sin, actually, was to have left itself open to such a take-over, by its having failed to diversify its economy away from the country's doomed, and dooming, extraordinarily costly-to-refine, and undesirable to refine, oil. It's now just a coffin in the ground, but it's nonetheless still the source of virtually all of Venezuela's export sales. No government could sustain supporting such a zombie. It's a deadweight that's dragging Venezuela down and economically suffocating all Venezuelans. And the documentation that this situation exists is incontrovertible:
The current WTO report on Venezuela indicates that 96.9% of the country's exports are of "Fuels and mining products," and that over 98% of this 96.9% consists of oils. Also shown is that the biggest five importers from Venezuela account for only 1.9% of Venezuela's exports, and therefore all other countries account for 98.1%. So, when Venezuela loses its U.S. market, that would mean loss of only 0.6% of its total export market.
However, America's sanctions will additionally cause some U.S. vassal nations such as in Europe to stop importing from Venezuela. So, Maduro is very vulnerable, indeed. Diversifying the markets (to that 98.1%) isn't what was needed by Venezuelans; diversifying the economy was; and neither he nor his predecessors did any of that.
On February 2018, Petroleum Science headlined "Analysis of Venezuela's oil-oriented economy: from the perspective of entropy" and reported that, "the current breakeven price has achieved to over $100/bbl in Venezuela." Right now, oil is selling at around $65 per barrel. So, how can Venezuela make money selling its $100+ oil into the global $65 oil market? It's just not possible, at least not sustainably. The Petroleum Science article therefore said that "it is unwise for Venezuela to count on selling raw oil to support the country's economy," because any per-barrel price that's lower than Venezuela's $100+ per barrel production cost will produce a loss on the sale of that barrel of oil, and because there will be very few if any future days when the per-barrel oil-price will again be above $100. The more that the world cuts back on petroleum and increases non-carbon energy-sources, the lower that the price of oil will become. And the more that investment funds steer clear of high-carbon firms, the lower the corporate stock of those companies will sink in value. Both investors and consumers are therefore going to be turning away from them.
When global oil prices were high, Venezuela could sell even its costly-to-refine oil profitably, but those times are now long gone and probably will never return, as the world increasingly switches away from fossil fuels. Especially tar-sands oils, such as from Canada and from Venezuela, should stay in the ground, and not only because today's oil prices are too low to sustain selling them, but also because those extra-heavy oils are the worst to burn, from the standpoint of causing global warming.
As an example of this economic reality, a major U.S. corporate investor in Venezuelan oil is Chevron Corporation, and Zacks Investment Research headlined on 5 October 2011, "Chevron Sees Carabobo Oil in 2012". It stated:
According to a company executive, U.S. energy behemoth Chevron Corp. (NYSE: CVX – News) may see the start-up of an oil field in Venezuela's Orinoco Belt next year. The super-major is confident that it can commence production from Orinoco's Carabobo Project 3 – which has estimated reserves of 66 billion barrels – in the third quarter of 2012. …
Chevron holds a 34% interest in Carabobo Project 3, while Venezuela's national oil company Petroleos de Venezuela S.A. (or PDVSA) controls 60%. The remaining stake is owned by Venezuelan and Japanese firms.
Following the first production of 50,000 barrels per day, … [Chevron] is looking to boost volumes by an additional 50,000-100,000 barrels per day every two years. Carabobo 3, one of several Orinoco projects, is estimated to reach a maximum output of approximately 400,000-480,000 barrels of crude oil per day by 2016.
There is no public indication, at least not online, that even the "first production of 50,000 barrels per day" has been yet achieved, though it had been expected to occur within a year. Chevron's 2017 Annual Report (covering the year 2016) is the latest online, and it doesn't so much as even mention "Carabobo." And this was after  the 5 October 2011 prediction that "Carabobo 3, one of several Orinoco projects, is estimated to reach a maximum output of approximately 400,000-480,000 barrels of crude oil per day by 2016." Clearly, that's a poorly performing investment. Chevron's current web-page on "Venezuela" says "Chevron has a 34 percent interest in Petroindependencia, S.A., which includes the Carabobo 3 Project," but it provides no number of barrels of oil being produced there (if any) — not even now, in 2019. Bad investments die in silence and in obscurity, but good investments get trumpeted everywhere — and this one is being trumpeted nowhere.
Any oil sales from those fields will not only be delayed until when oil prices are again high enough to sell those dirty oils at a profit (which is increasingly unlikely ever to happen again). The investment values of those companies will likewise be especially hard hit as the problem of unburnable reserves becomes increasingly widely recognized and understood by the public. The public won't remain ignorant and deceived about these matters forever. This is like a Ponzi scheme.
Russia's Government seems determined never to accept this U.S. coup imposing America's "regime-change" upon the sovereign nation of Venezuela, and has made the decision to send military assets, and to invest both in Venezuela's Government and in the oil company. On January 29th, Russia's Interfax News Agency headlined in Russian, "The Ministry of Finance of the Russian Federation hopes to get external debt payments from Venezuela". The neoconservative Jamestown Foundation remarked about that on January 31st by saying that "These debts may eventually be written off by a new opposition Venezuelan government led by the self-proclaimed interim president, Juan Guaido, if it manages to push Maduro out (see EDM, January 28, 2019). Yet, even if Maduro somehow succeeds in clinging to power with Russian help, he will hardly have the resources to service the loans." That, unfortunately, happens to be true. The only sensible reason why Russia would be committing itself to protecting Venezuela's sovereignty would be in order to say to Washington that America's long string of foreign regime-changes (Iraq, Libya, Syria, Honduras, Ukraine, etc.) has now ended — to establish the principle (as Russia has recently done in Syria) that no longer will Washington's invasions and coups be tolerated, no more conquests (additions to its empire) will be allowed. Somebody has to draw the line, finally, and the other nuclear superpower could be the one to do it. Other than that, however, Russia, like other investors, can only experience losses from investments in Venezuela. Venezuela is now an asset only in "The Great Game". Russia's protecting in Venezuela the principle of national sovereignty — no coups, no conquests, at all — is as moral as America's repeatedly rejecting that principle is immoral; but, as an investment, Venezuela simply is a loss. If "The Ministry of Finance of the Russian Federation hopes to get external debt payments from Venezuela," then Russia's Ministry of Finance should be expecting to be disappointed in that "hope." But that hope wouldn't, in any case, be a sound reason for what Russia is doing there. The only "asset" to be won in Venezuela is protection of the most basic principle of international law: the independence and sovereignty of each nation. Hitler and his fascist allies, and Stalin and his communist allies, violated that principle; but now fascist America and its allies routinely violate it. Venezuela's allies (unlike Neville Chamberlain) are supporting the foundation-stone of international law: national sovereignty and independence. For the U.S. and its allies to reject the results of Venezuela's (or of Syria's or of Iran's) elections is no basis for invalidating those results, and the U.S. Government's stooge Juan Guaido is simply a Venezuelan traitor, and should be treated as such, by an appropriate trial for treason. Certainly, there is no Constitutional basis for Guaido's power-grab, despite the lies to the contrary by the putchists such as in America and its allied regimes.
All oil-exploration should therefore now stop, and existing tar-sands oil fields should simply be abandoned altogether. Only the easiest-to-refine (the "lighter") oils should be sold and burnt right now. There is going to be a rush for the exits in the stocks of those "extra-heavy oil" companies, and the only question is when it will happen. Regarding that rush, the situation is very different in Venezuela than it is in Canada, because the U.S. Government will delay as long as possible the collapse of Canada's oil-sales, but the U.S. (and Canada) want to expedite the collapse of Venezuela's — at least until and unless the current Venezuelan coup succeeds. (And Canada's Foreign Minister, Chrystia Freeland, did the key preparatory work for U.S. President Trump to pull the plug on Venezuela's Government; so, both of those governments have actually led in overthrowing and replacing Venezuela's non-U.S.-allied Government.)
Venezuela became addicted to selling its filthy oil, but now can only lose money with every barrel it sells of its oil. Each day of the company's operations is simply eating the company's seed-corn — and there is nothing like Canada has, to soften the blow. That's not only unsustainable, it has already become a crisis, and Washington is exploiting it.
PDVSA's latest online financial report is for 2016 and it shows that "Profit before income tax" was $16,317,000 in 2014, then $1,469,000 in 2015, and then $955,000 — less than a million dollars — in 2016. During the three-year period, "Current assets" declined from $55.2 billion to $54.6 billion, and "Current liabilities" declined from $55.7 billion to $50.0 billion. "Financial debt" declined from $40.0 billion to $33.9 billion. "Total assets" declined from $217.4 billion to $189.7 billion; and "Total liabilities" declined from $127.7 billion to $102.6 billion. Probably the company is already operating in the red now, but with every year of deteriorating infrastructure, just wearing out, with more and more and longer deferred maintenance, and with a bad long-term prospect for profitability, could the Government even sell the company? If Trump succeeds and PDVSA and every other state-owned asset in Venezuela becomes privatized, Venezuela's citizens will be left with nothing, and the only beneficiaries will be the international bankers, even as international investors will need to take haircuts on their existing Venezuelan loans. The oil that PDVSA sells shouldn't even be bought; it should simply remain in the ground.
According to the latest public information, PDVSA showed less than a million dollars of profit in 2016 — and the trend was downward. Anyone in Venezuela who thinks that the country can be sustained in the future, as it was in the past, from the sale of Venezuela's exceptionally costly-to-produce oil, isn't taking into account the broader picture, and the impact that the global-warming phenomenon will inevitably have upon the fossil-fuels industries.
There may be ways to jiggle the books to make PDVSA fool some investors into buying the company, but only the international bankers would be profiting from a sale of that firm.
Foreign Policy magazine, which represents America's aristocracy, headlined on 5 June 2018, "It's Time for a Coup in Venezuela", but even if that turns out to be the final solution to the Venezuelan problem for America's aristocrats, it won't solve anything for the Venezuelan public — basically like Hitler's "final solution" did nothing to benefit Germany's Jews. Germany's aristocracy did nothing for Jews then, and America's aristocracy will do nothing for Venezuelans now. They're all on their own. The leaders of the U.S.-allied nations don't want to save them, and instead follow in the fascist and Nazi tradition. The leaders in Venezuela's current Government, who want to save them, simply can't save them. It's far too late for them to start now, to do what needed to start back in "the early 1980s of 93,000 b/d" from Venezuela's Orinoco belt — which would have been for them to stop what ought never even to have been started there: extraction of that oil.
CONCLUSION
The poverty and violence that now rack Venezuela result from a broader situation in which selling what shouldn't even be bought has run its miserable course until the final act, which is a Government that has reached the stage where it can produce income only for international bankers and for the aristocrats who control them. Any oil company now that would want to buy those assets would merely be adding to its assets — chiefly the dirty oil in the ground — 'assets' (oil reserves) that can never even be used (unless the propaganda becomes even more effective in the future than it has always been until now, which might be impossible to achieve). Oil companies already have lots more of that dangerous filth than anyone except people in finance will ever be able to benefit from buying or selling.
For Venezuelans, this is a great tragedy. The U.S. and its allies are (and have been) doing everything they can to exploit the tragedy.
It's like a hungry lion chasing a fleeing exhausted deer, who now is finally trapped.
That's the ugly reality.
Author's note: first posted at strategic-culture.org
The Forgotten Analogy: World War II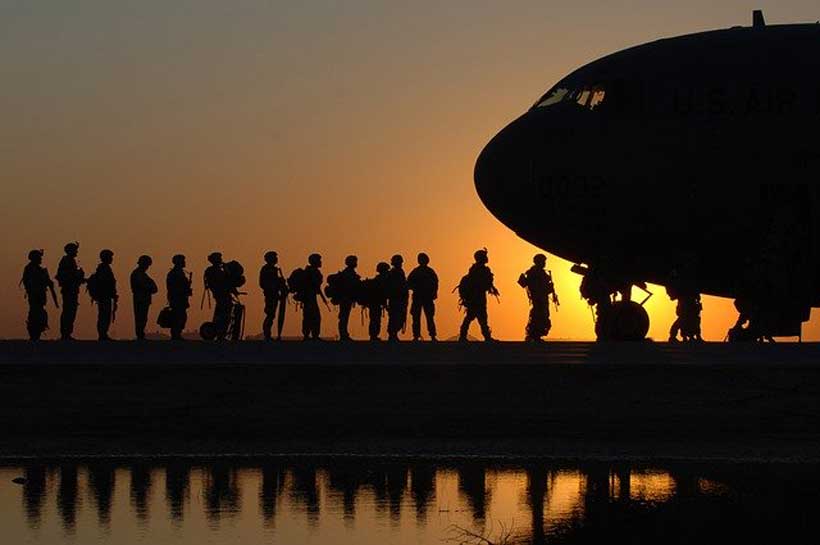 Pundits are searching for adequate analogies to explain the growing China-U.S. rivalry and predict its future direction. Two main ones appear: the pre-World War I era and the Cold War. Both have their merits. The early twentieth century pitted Germany, a rising power, against status quo Britain and France. The Cold War also shares similarities to the current situation. The United States engaged in a prolonged struggle to contain a nuclear-armed great power. However, neither the Cold War nor the First World War offers an entirely appropriate analogy to make sense of the current world order.
Wilhelmine Germany was a formidable power but it largely stood alone, cornered in the center of Europe. London, Paris, and Saint Petersburg had an easy time concentrating their forces to balance against Berlin. Although it had Asia as secondary and the rest of the globe as tertiary theaters, the heart of the Cold War was also Central Europe. There were only two great powers, the Soviet Union and the United States, wholly occupied checkmating each other. 
Today's international politics differs by the number and locations of the main protagonists. Although China legitimately attracts most of the attention, Russia remains a great power. Both China and Russia are the sole great powers of their respective regions — Asia and Europe. Both are bent on correcting the balance of power to their advantage and pushing the United States out of their neighborhood. On its side, Washington has a deep-seated interest in making sure that no great power competitor dominates Asia or Europe because both regions concentrate a big share of the world's wealth and advanced industries. Indeed, a regional hegemon in possession of such resources would be strong enough to potentially overpower the United States. 
Washington found itself in the same position during the late 1930s and early 1940s. Nazi Germany had become the strongest power on the European continent and seemed bound to dominate all of it. Imperial Japan's bid for Asian hegemony was unfolding unabated. The Americans had a vested interest in ensuring that neither Berlin nor Tokyo would seize control of their neighborhood because local powers were unlikely to get the job done on their own. It is now Beijing and Moscow occupying these roles.
Asia and China
China is the strongest state in Asia by a wide margin. No regional state can counterbalance Beijing on its own. Even a coalition of current U.S. partners — say Australia, Japan, the Philippines, Taiwan, and South Korea — would likely be too weak to seriously deter China without America's support and strength. If Washington wants to prevent a Chinese bid for regional hegemony, it needs to throw its weight behind the balancing effort.
During the World War II era, America had to work alongside allies with widely divergent interests (notably Britain, Free France, and the Soviet Union) against the would-be German and Japanese hegemons. In a similar vein, the United States needs to help repair the relations between Japan and South Korea and accommodate those who have had rocky relations with Washington (India, Vietnam) or that are non-democracies (Singapore). The sheer power of China and the challenge of putting together a working balancing coalition imposes to the United States an "Asia First" strategy in the same way that the Third Reich's superior military and industrial capabilities forced "Europe First" during World War II.
Another similarity with the World War II era is that power dynamics are rapidly changing. In Europe, the primary focus of American planners, Germany was with little doubt the strongest power on the continent. But the balance of power was evolving and the Soviet Union, still reeling from its civil war and Stalin's purges, appeared to the Germans as a rising threat. Today, Beijing is growingly wary of India, a state as populous as (and very soon, probably more than) China and enjoying economic growth rates superior to China's.
Europe and Russia
While most Asian states are directly exposed to Chinese military power, the states of Western and Southern Europe are separated from Russia by several other states in-between. Therefore, many European states feel less threatened by Russia and have been slow to balance against Moscow. Although France has been increasing its military spending and Britain vowed to redeploy heavy forces to Germany, these small incremental changes do little to correct the overwhelming military superiority of Moscow. No Western European state is ready or willing to confront Russian power head-on. Europe needs American leadership for that. It is not unlike the late 1930s, when the Soviet Union, separated from Germany by Poland, readily passed the buck of containing Berlin to London and Paris, with disastrous results.
On paper, European states — most notably Britain, France, and Germany — have enough latent capabilities to counterbalance Russian power. But geography and the collective action problem stand in the way. Indeed, Russia is not an immediate threat to Western Europe like the Soviet Union was. Today's Russian army is unable to threaten the survival of France or Germany due to the East-Central European states acting as a buffer. Even if the Western Europeans acknowledge the resurgence of Russian power and are slowly rearming, they just do not feel the same sense of urgency as in Eastern Europe.
Collective action is difficult when many actors have to provide for a common good. An instinct is to do as little balancing as possible and wait for others to take the mantle of deterring Russia. Also, with no clear leader, effective decision-making is unlikely. Berlin, London, Paris, and others will push for their own preferences, thus resulting in lowest-common-denominator policies and under-balancing. Russia would then be free to cherry-pick its small neighbors and subjugate opposition. Eventually, Western Europeans would balance more effectively; but by the time they do so, Russia will have grown its power base and will already dominate Eastern Europe, thus representing a far more formidable challenge.
NATO is a powerful but imperfect tool to contain a Russian aspirant hegemon. The misaligned interest between many western and southern states and those closest to Russia stands in the way of effective balancing. A potential cure would be to form an additional smaller and more focused alliance system of Poland as the main bulwark, the Czech Republic, Romania, the three Baltic states, and maybe Sweden. In any case, to overcome buck-passing tendencies and problems of coordination, American political leadership is inescapable.
No Easy Fix
Historical analogies are always risky and no situation ever recurs in the exact same way. Yet, if we are to compare the current international situation with a past example, the World War II analogy appears more powerful than the World War I and Cold War ones.
Indeed, the United States faces the same conundrum of having to deal with two formidable rivals on two different continents. World War II had Germany as the most powerful opponent and Europe as the theater concentrating the most resources. Now, both the strongest competitor and the main loot are in Asia. During World War II, U.S. policymakers wanted to focus their forces on taking down Germany but they also had to cope with Japan out of fear that Tokyo would successfully absorb much of East and Southeast Asia and become a far greater threat than it already was. Today, although Russia lacks the power potential of China and Asia has now more wealth than Europe, with potential hegemons in both Asia and Europe, Washington is forced into a gigantic act of dual containment. Therefore, the same dilemma that plagued the United States eight decades ago plagues the Americans of today.
There is no roadblock in the way of improving Sino-US ties
According to my long-term observations, the challenge that the US strategic circle has been confronted with in assessing Sino-US ties is: How to comprehend China? What is the best strategy for dealing with China? What is the proper topic for researching Sino-American relations? If they have a more objective perspective of China and a more reasonable understanding of China's growth, there will be less friction between China and the US, and bilateral ties will develop more smoothly. Otherwise, there will be additional difficulties and twists and turns.
Of course, the United States has no shortage of discerning and young people. Nixon and Kissinger, for example, ventured to question American society, "Should the United States open the door to China?" "Should US-China relations be broken?" They had the "Ice-Melting Theory" because the questions they presented were valid. Despite the fact that diplomatic ties have not yet been established, Nixon has decided to visit China as President of the United States.
Such an accomplishment is still remarkable and admirable. Because the topic they propose is appropriate, their efforts will live on in the annals of history and will be remembered in perpetuity. In truth, the Chinese did not have the present degree of awareness of the United States at the time, and the "Cultural Revolution" had not yet finished. Even if the sign on the edge of the Beijing airport welcoming President Nixon remained "Down with US imperialism."
Despite the removal of the Beijing Airport tagline, Nixon's successors have always had a swinging perception of China, whether clear or muddy, straight or crooked, and floating. As a result, Sino-American ties have been bumpy along the road. Because some Americans misunderstood the subject of China studies, the ensuing misconceptions appear to be a black cloud in the sky of Sino-US relations; when the dark cloud appears, the US and China will lose ground in their interactions with China.
The current challenges in Sino-US relations are likewise similar: there are both black clouds of the so-called "China threat theory" and aggressive actions continually unleashed by the US administration, which throws a shadow on US policy toward China while also casting a shade on the US itself. There are several impediments to growth. In truth, the different "evidences" of the so-called "China Threat Theory" are not difficult to understand and do not need profound knowledge or secrets that cannot be made public.
Viewing China's peaceful development trend honestly and logically is not an insurmountable challenge for Americans. Nixon and Kissinger of the United States strove hard 50 years ago not to "hide from the clouds." Today, the US likewise has no need to invent a slew of fictitious "reasons for China threats" in order to keep Sino-US ties from improving!
Otherwise, I'm not sure whether future Americans will be able to answer the question, "Who lost China?" However, as the adage goes, "the house leaks and rains," referring to the ongoing epidemic of the new crown epidemic, which prevents direct face-to-face connection. The hurdles, which include psychological and emotional barriers, have exacerbated the difficulty of removing these black clouds.
Expressions like "I am in you, and you are in me," "Everything is thriving, and everything is lost," and "Global Village" are also taught from American scholars, and they reflect true developments in Sino-US ties. As far as I am aware, virtually few researchers over the age of 40 in American academic circles have not been inspired by the thesis of "interdependence." As a result, they recognize the importance of interdependence and will not turn a blind eye to the breadth and depth of dependency between China and the United States today.
The United States and China's interdependence today is extensive, multi-layered, and multi-faceted. It is a network structure system that is vertically and horizontally interwoven and coexists peacefully. What exactly is "hehe"? It is designed to meet the demands of both China and the United States. If the difficulties of matching and matching between the two nations via peace and collaboration is unique in history, then the matching and matching accomplished between the two countries after a half-century of hard effort is also exceptional. There are few countries in the world that can be compared to it, and none that can replace it.
To put it another way, the compatibility that China and the US require may be achieved through hard work. Even though China and the United States do not share the same destiny or synergy for the time being, the American people's everyday lives are nearly inextricably linked to China. Based on this, I've understood the truth: the mutual relationship's ability to shift from danger to safety is due to their interdependence, and no one can abandon others. This is the heart and soul of Sino-American ties. There is no justification for anybody to overlook this basic due to the disagreement between them, let alone dig out the roots and harm the truth!
There is no obstacle that cannot be overcome in order for Sino-US relations to develop, because there are always more solutions than challenges. The author has firsthand knowledge of the development process that occurred after the "hard ice" of Sino-US ties was cracked. I've witnessed both the flowering spring and the dismal winter that appears to be on its way. Even if "apes on both sides of the strait couldn't cry," they can nonetheless show up. Situation in which "the light boat has crossed ten thousand huge mountains." Following the upheaval of the late 1980s, Sino-US relations were practically intolerable, and they persisted until the end of 1991, with little indications of improvement.
There is no obstacle that cannot be overcome in order for Sino-US relations to develop, because there are always more solutions than challenges. Following the upheaval of the late 1980s, Sino-US relations were practically intolerable, and they persisted until the end of 1991, with little indications of improvement. On January 24, 1992, excellent news came out of Chinese diplomacy in the midst of such a "severe winter": Following a brief conversation with Israel, they agreed to formally establish diplomatic ties without any impediments, based on the strong affinity forged in the history of the Chinese and Jewish peoples. The two countries' long-awaited wish. The positive news of the creation of diplomatic relations between China and Israel has taken the Jewish world by surprise and has had a significant impact on the inclination of the American media to report on China issues.
There are many Chinese in the United States, and most Chinese expect Sino-US ties to strengthen. Only until Sino-American ties improve will Chinese people have a place and be appreciated in the United States. Foreigners will also consider a person's "birth background," which is natural and nothing strange; if the "birth background" is favorable, they will be "admired." China is also the "birthplace" of Chinese people in the United States. Chinese in the United States have put in a lot of effort and made significant contributions to the establishment of stable and seamless Sino-US ties. This tradition is not only alive and well, but also thriving.
There are a considerable number of Americans who rely on China-related employment, business, and investment, whether in China or the United States. Only until Sino-US ties improve will they be able to focus only on China-related professions, business, and investment, and they despise "McCarthyism." As a result, they anticipate that Sino-US ties will improve, which is unavoidable.
For example, in July 1990, at the invitation of the "National Committee on U.S.-China Relations," then-Shanghai Mayor Zhu Rongji led a delegation of Chinese mayors to the United States, aiming to dispel U.S. government and opposition to China's reform and opening up through the development of Pudong.
The Sino-US relationship, which was harmed by the late 1980s instability, also sought an agreement from the US Congress to prolong China's most-favored-nation status. According to Zhu Rongji's suggestion, Shanghai organized a delegation of scholars led by Ding Xinghao from the Shanghai Institute of International Studies, Hong Wenda from the Department of Economics at Fudan University, Yao Tinggang from the Shanghai Academy of Social Sciences, and Yao Tinggang from the Department of International Politics at Fudan University. Shanghai Institute of Foreign Trade's Zhou Dunren and Zhou Hanmin are made up of five persons.
These five people's round-trip travel expenditures were not covered at the time. When the National Committee on US-China Relations learned about the situation, they quickly said that they would offer it in its entirety. American friends are very ruthless! At the time, Sino-US ties were exceedingly tense, but China had made many American friends via bilateral exchanges with the US, as well as diplomatic assets for the growth of Sino-US relations. Trusted friends will provide genuine assistance in times of need.
As a result, the Chinese mayor delegation led by Zhu Rongji's tour to the United States outperformed expectations. Friends such as the "National Committee on US-China Relations" are not only there, but numerous. This decision should be practical and in line with objective reality. Furthermore, the US still has a vast number of international challenges that cannot be managed by one country alone and necessitate China's assistance. There are still many shared interests between China and the United States that must be pursued in order for individual interests to be realized. There are several elements that benefit both China and the United States. The challenge is how to make the most of these advantageous circumstances. The overarching theme is how to persuade Americans to view China's peaceful growth trend objectively and rationally.
In sum, their concept of the character of the United States has been constantly painted and has not been in place for a long time. The examination of the character of the United States, on the other hand, differs from the policy of international affairs in the United States. The primary purpose of US strategy is to enable the US to comprehend China objectively and logically. There is still a lot of opportunity for improvement.
The impact of Biden's policies on China
The main Indications of US policy towards China have begun to become clear, and this policy reflects an American approach based on dialogue, without abandoning the militancy adopted by the administration of former President "Donald Trump". In this context, the Egyptian researcher will analyze what (the shift in the language of China's political discourse towards the policy of the new US administration and its impact on the Middle East, and the corresponding Chinese policy determinants). On the other hand, the scholar will shed light on the position of the Middle East countries, especially in the Gulf region, with the intensification of competition between the two major powers.
The moves of US President Joe Biden's administration, since he formally took office on January 2021, have focused on building a policy toward China based on alliances. This policy includes:
Trying to coordinate with Washington's allies to confront China's foreign policies.
Re-enhancing the influence of the United States in international organizations.
This trend also shows that the determinants of the US administration's policy towards China are not exclusively related to Washington's management of bilateral relations with Beijing, as much as they are affected by the management of its relations with other countries as well.
The "Biden administration" stems from a position of weakness in the East Asian region following the isolationist policies of the previous "Trump's administration", and the impact of the Corona pandemic.
Chinese officials and analysts have pointed to a crisis (the failure of the Trump administration's pressure on Japan and South Korea to increase their defense spending).
On the other hand, China's success in persuading most countries in the region to join the (Regional Comprehensive Economic Agreement) was the biggest blow to American influence.
In mid-March 2021, a "Quad Summit" was held, which brought together the leaders of (the United States, Japan, India, and Australia), and focused on China. The summit showed that "Biden" wanted to expand the scope of cooperation among the group's members, to include elements of "soft power", in addition to its military dimension.
We also note the tours of the US Secretary of State, "Anthony Blinken" and the US Defense Minister "Lloyd Austin" to Japan and South Korea as well to coordinate US efforts against China.
Washington has announced the holding of a high-level meeting in Alaska between Secretary of State "Anthony Blinken" and National Security Adviser "Jack Sullivan" on the one hand, and Chairman of the Foreign Relations Committee of the Communist Party of China "Yang Jiechi" and Foreign Minister "Wang Yi" on the other hand.
On the bilateral level with China, we note that (the Biden administration has adopted a parallel dimension based on a balance between diplomacy in issues on which the two parties agree, and deterrence in controversial files). The US strategic objective of this approach is to adopt dialogue, but to a lesser degree than the administration of former President "Barack Obama", in conjunction with maintaining the policy of confrontation, but to a lesser degree than the Trum's administration.
One of the most important contentious issues that is expected to occupy the agenda of the two countries, and which is witnessing the intensification of competition between them, is "technological competition". Chinese Professor (Wang Da), Deputy Director of the American Institute at Jilin University in China, analyzes the course of this technological competition between Washington and Beijing, saying:
The United States will continue to adopt a hard policy towards China in certain areas, such as 5G networks, quantum computing and artificial intelligence, but it will reduce the policy of "aggressive detachment in other less sensitive areas".
We note here the Biden campaign pledge during the US election battle to allocate $300 billion for innovation, and this will be the main driver behind US policy, in parallel with (Washington's endeavor to undermine China's capabilities in the field of science and technology).
On the (political level), the Biden administration seems to have no options but to be tough on China. One of the most important strategic goals of President Biden is to end the internal political division. It is understood from this that adopting a different approach from the Trump administration towards China may deepen the division further, and this complex position for the American administration means that at a time when "the files that might produce consensus between Democrats and Republicans are almost absent". Here, we can see that the "Chinese threat" appears to be the most important consensual issue on the American political scene at the moment.
American analyzes indicate that between a quarter to a third of men in the United States may lose their jobs by the middle of this century. In addition, the expansion of globalization and the accelerating digitization process caused great pressure on the working class in some crucial states, which are called (Rust Belt states), in which Biden achieved a hard or hard victory in the last presidential elections in the face of his opponent, "Trump". These are the states of (Pennsylvania, Michigan, and Wisconsin), which means that this class will determine the outcome of the US presidential election again in 2024.
Based on this complex political equation towards the US tightening policy against China, the Biden administration announced its intention to tighten trade policy with China, with the "Joe Biden administration", stressing the need to "reconsider the agreement of the first phase of trade negotiations with China and not to rush to lift trade sanctions against it".
On the (security level), the White House issued guidelines for all US agencies in the month of March 2021, we note that it "mentioned China's security risk more than 20 times".
President "Biden" pledged the importance of (strengthening the US military presence in the Indo-Pacific region), and obtaining the support of Japan, South Korea, Taiwan and Australia in the face of "China's hostile practices in the Northeast Asia and the South China Sea", in addition to the support of NATO, As essential components of the American alliance against Chinese policies in that region, according to the new American vision.
The US security document also pledged the importance of "strengthening the US partnership with India, Singapore, the Philippines, Vietnam and the rest of ASEAN countries" to undermine and besiege China.
In order to undermine and besiege Chinese influence, Washington announced in March 2021 several plans to build (a network of guided and high-precision missiles along the so-called "first island chain", which constitutes the first strategic defense line for China), and includes mainly "Taiwan and the Philippines", and as well as several islands disputed between Japan and China.
The Biden's administration's tendency to double (media and diplomatic pressures on China in connection with the human rights file in Hong Kong, Xinjiang and Tibet, and with regard to the international investigation of the source of the spread of the Corona virus, as well as the file of freedom of navigation in the South China Sea) was also clearly shown.
On the other hand, there are files around which the views of China and the United States of America converge together, according to the same American vision, and among the files of: (controlling nuclear arms, climate change, and combating epidemics), which are the foundations for points of cooperation between the two sides, as it focused Biden made his first call with Chinese President "Xi Jinping" in February 2021.
But the main dilemma that will face the "Biden administration" lies in (the different visions of most Southeast Asian countries for the security approach to confront China from the American vision itself), and the inability of the Asian countries allied to Washington to withstand Washington's strategic pressures to confront Chinese influence, which is mainly supported by policy interactions. interior in the United States. These mainly Asian countries share a common destiny with China politically, economically, geographically and historically. Moreover, most do not view US-China relations as a "zero-sum" as in Washington.
Here, we note from the foregoing, the contradiction of the policies and vision of the American administration with its allies regarding China, and therefore, the United States will have to (invent new formulations in its dealings with each country separately according to its interests), and this is the most important obstacle in Washington's relations with its allies in dealing with China.