Why Venezuela's People Are Suffering
The case that will be documented here is that Venezuela's people are suffering from a tragic national situation which actually cannot be reversed by anything that's within the power of Venezuela's Government to do or to block. In order to understand this very unfortunate reality (if one wants to understand it), one must first understand the relevant parts of the broader situation in the world that affects Venezuela. What's dooming the country isn't merely a local situation, but instead is global and environmental. It also is economic, pertaining to the role that Venezuela is playing in the global economy. But the economic factor is definitely not  of the kind that it's commonly assumed and alleged to be. It is instead very different.
Here, this very different reality will be both described and documented (instead of just founded upon assumptions — many of which are false — such as the standard, basically local, economic 'explanation' of Venezuela's troubles is, which focuses on Venezuela's socialism, or the economy's being not sufficiently capitalist).
What it all comes down to, stated in its briefest terms, is that no nation can do anything but lose money by selling the world's dirtiest oil, tar-sands oil, which costs $100+ to clean and produce, into a global oil market that's paying less than $100 (currently around $65) per barrel. Venezuela was able to sell it profitably when oil-prices were high, but is getting crushed now, because its oil is no longer profitable to produce and sell. But 95% of Venezuela's export-earnings come from oil. Unless and until oil-prices are again above $100 (which probably won't happen again, except perhaps for very brief periods), Venezuela is doomed. Venezuela's only chance to diversify its economy away from "the natural resources curse" (from which it especially suffers) was long ago, decades before the current Government came into power. That chance was missed. This ship is now sinking, and no one can save it. (And the U.S. Government and its allies have no actual interest in saving it, but only in exploiting it, parasitically.)
So, here the real history and context for what is happening in and to Venezuela will be presented, and the reader will be able easily to verify any detail of it (by means of the links) — on one's own, (not accepting anything on mere 'authority', which, in such a politically charged matter as this, is almost invariably propaganda). The reader can verify any allegation here simply by clicking onto the given link, at any point in the presentation that might seem to be questionable.
These links are directly to the items of evidence, in the specific case of: why Venezuela's people are suffering.
Here is that case — the realistic case, without any propaganda, but with only  credible news reports and source-documents as constituting its basis — regarding this question.
THE CASE
The two lands that produce the world's highest-cost-to-produce oil are Canada and Venezuela. Both extract their oil overwhelmingly from tar-sands, which is the dirtiest of all oil and thus (by far) the costliest to refine. (Thus, it's called "extra-heavy crude", and that is the least desirable type. It's also the type that, in a global-warming world, should remain in the ground, never be burned at all, as will also be explained here.)
An accurate summary statement in Wikipedia is that, "With present technology, the extraction and refining of heavy oils and oil sands generates as much as three times the total CO2 emissions compared to conventional oil,[20] primarily driven by the extra energy consumption of the extraction process." That reference at "[20]" also states: "As the price of oil rises and as conventional hydrocarbon resources become scarcer, increased exploration and production activity is occurring in heavy oil, tar sands, and bitumen deposits. While these contribute significantly to the global energy …, they also contribute a greater share to … the detriment of the global environment." (That's referring to "a greater share" of "detriment" than normal crude does.) As another source phrased this matter in more explicit terms: "85 gallons of water, two tons of soil, 700-1200 cubic feet of natural gas, and 170 pounds of greenhouse gases make one barrel of crude oil" from tar-sands. That oil is simply not usable as-is to go into refining, like, for example, the standard Brent crude is. Furthermore, to produce that barrel of tar-sands-derived oil requires also the production of tons of sheer waste, none of which is left behind from producing normal oil. The cost of dealing with that waste is not factored into the cost of the barrels of oil. For examples, the future "impact upon water supplies," and that "this water is polluted by toxic substances," are not counted in. Therefore, the full cost of such oil has never been calculated. And yet, even so, everyone recognizes that tar-sands-derived oils are the costliest to produce.
On 25 January 2013, HSBC Global Research issued a landmark report, "Oil & Carbon Revisited: Value at risk from 'unburnable' reserves". It defined the key concept of  "Unburnable reserves: The IEA's World Energy Outlook (2012 edition) estimated that in order to have a 50% chance of limiting the rise in global temperatures to 2ºC, only a third of current fossil fuel reserves can be burned before 2050. The balance could be regarded as 'unburnable'."
The oil in Canada and in Venezuela is the world's least  burnable, the most "heavy," and therefore it's not only the costliest to produce, but it's also the worst environmentally. There is consequently increasing pressure upon large investment funds such as Harvard's 39-billion-dollar endowment fund, to disinvest in fossil fuels. Because of interlocked boards of directors or trustees, and the needs that such 'charities' have to appeal to wealthy donors, these public pressures are often (as in Harvard's case) ignored, but the movement toward divestment is gradually gaining strength in the less corrupt investment funds.
On 13 December 2018, the environmental organization 350.org headlined "Landmark fossil fuel divestment reached! 1000+ institutions are withdrawing investments from coal, oil and gas companies", and announced:
The 1000th institution to divest was the Caisse des dépôts et consignations (CDC), which manages France's public sector pensions, savings, and investments worth €173 billion (USD$196 billion). It recently announced that from 2019 it will no longer invest in companies that make more than 10% of their business from coal – this implies that the top 200 companies in the coal-industry are now effectively blacklisted. …
On the momentum for divestment since 2013 – Nicolas Haeringer, an organiser who supports divestment groups globally, at 350.org said:
"This is a moral movement as well as a financial one. Just five years ago we had 181 divestment commitments and USD$50 billion shifted away from polluting industries and today we're over 1000 and approaching USD$8 trillion dollars."
This has already helped to drive many coal companies out of business. Though coal-mine owners and employees might lose from that, the entire world gains vastly more from it. Such a transition is called "progress." Transition in the opposite direction — toward more bad than good — is called "regress," or, simply, "harm." Some people call it "conservatism," but whatever it is, certainly isn't  progress. Not in any way. But that's what the U.S. Government and the Canadian Government want: extreme conservatism — not conservation. And they view Venezuela's tar-sands oil as being a prize that they could profit from if Venezuela's Government could be 'persuaded' to reduce their environmental regulations on extracting it. However, in 2012, Venezuela strengthened, instead of weakened, its environmental laws. That strengthened the motivation for the U.S. and Canada to take over Venezuela. Hugo Chavez died in 2013, and Nicolás Maduro replaced him. Then, in 2016, Maduro instituted a new policy, to weaken environmental enforcement in Venezuela. Perhaps he was hoping that this would reduce the U.S.-and-allied efforts to overthrow him. Venezuela's economy was already on the ropes. The U.S. continued its efforts to overthrow Maduro. Now desperate, he started selling off 12% of the land to international mining companies. Environmental enforcement at PDVSA also plunged, and on 24 November 2018, Bloomberg News bannered "Venezuela Is Leaking Oil Everywhere". Apparently, the weaker Maduro gets, the worse he becomes. He had entered a doomed office as the president, and seems willing to do anything not to drown in it. Apparently, the weaker he gets, the more that U.S.-allied billionaires want to take over the country, entirely on their own terms. It'll be like what had already happened in Greece, when the Syriza Party there capitulated to the international financial firms in 2015, and the Government stripped pensions, education, social services, etc., and privatized the infrastructure. But the path toward that end is quite different in Venezuela.
With the world's increasing move toward renewables, the disinvestment in oil companies will increasingly be targeted toward selling the stock in the ones that have invested the most in oil fields in Canada and Venezuela. However, the situation is radically different for Venezuela than it is for Canada. Here is why:
The biggest market for Canadian oil is just next door, the United States. Most of the oil that's imported into the U.S. comes from Canada. And, because most of the oil companies that are producing oil in Canada are U.S. owned or allied (such as in UK), the U.S. Government isn't sanctioning Canada and trying to bring its Government down by reducing Canada's oil-sales via sanctions, such as is the case with regard to Venezuela's oil-sales. The U.S. Government doesn't need to do that in order for America's corporations to become enabled to sell the oil that comes from Canada: they're already selling that oil, and Canada's Government (as well as America's Government) is already helping America's companies to do this. America's and Canada's aristocracies are allied — not only with Venezuela's aristocracy (which wants to replace Venezuela's existing Government), but also with each others' aristocracy.
Furthermore, unlike Venezuela, Canada isn't nearly 100% dependent upon its oil-sales in order to support its economy, such as Venezuela tragically is. Venezuela receives around 95% of its export-income from its oil. That's ridiculous and, for geostrategic and geoeconomic reasons, should never have been tolerated by Venezuela's Government, but it nonetheless has been tolerated by them — and, for many decades, not only by Venezuela's present Government. Indeed, Oil&Gas Journal headlined on 8 February 2010, "All about Orinoco" and reported that there had been "early efforts to produce heavy crude from the [Orinoco] belt" and these efforts "led PDVSA predecessors to output by the early 1980s of 93,000 b/d." Furthermore, "Petroleos de Venezuela SA estimated 1.18 trillion bbl of oil in place in the Orinoco in 1987 and revised that in 2006 to a median of 1.3 trillion bbl, a maximum of 1.4 trillion bbl, and a minimum of 900 billion bbl."
At that time, Richard Turcotte, of Peak Oil Matters, warned about this report, by headlining "A Look at Venezuela", and pointing out that:
Unlike the light sweet crude oil produced by the U.S. and the light oil which has made Saudi Arabia such a force, the Orinoco oil is "heavy oil" found in oil sands — similar in characteristics to the tar sands bitumen found in Alberta, Canada. (See my prior post here.) The Venezuela oil is thus much harder to extract and refine, making it more costly. Significant investments of time and money are required to provide adequate refinery capabilities. Needless to say, extracting this heavy oil is a much more energy-and time-intensive effort than is the process for extracting the more familiar light crude. It is not anyone's answer in the next few years.
Lead researcher and USGS geologist Chris Schenk admitted that their report is not asserting that the "technically recoverable" oil is in fact "economically recoverable." That's a significant distinction, and one that needs to be emphasized. All the presumed underground reserves in the world won't mean much if it makes no sense to invest the time, effort, and money to try and extract them.
The USGS nonetheless estimates that a stunning 40 – 45% of that resource will be ultimately recoverable. One prominent geologist (and a former board member of Petroleos de Venezuela SA — Venezuela's state oil company) is already on record as doubting anywhere near that amount can be recovered, and stated that much of what might actually be recoverable would in fact be too expensive to produce. 
Perhaps Venezuela's President Hugo Chavez and his predecessors were thinking that if the U.S. Government says that this oil is an asset, then it is reasonable to consider it to be an asset; but if the U.S. Government was instead merely aiming to get Venezuelans to think that it's an asset so as to keep that country accepting its existing oil-monoeconomy (its over-dependence upon oil), then ultimately as the disappointment hits when the Venezuelan people experience the poverty after having hoped and tried to develop that 'asset', the U.S. Government will become welcomed in, to take over Venezuela's failing Government. Anyway, that would be a conceivable reason why the U.S. Government would be promoting the 'economic potential' of the Orinoco belt. The aristocracy's agents (in this case the petroleum industry) tend to be very clear-eyed about what's of benefit to their paymasters. For whatever reason, the actual fact — that this oil was no asset — has remained hidden from the Venezuelan public. It still isn't publicly acknowledged by Venezuela's Government. Nor is it publicly recognized by America's.
So, this tragic error (of presuming that tar-sands oil should be developed) goes back even to well before the time of Hugo Chavez. Moreover, it's worth pointing out that the actual source of the 'error' is the petroleum industry itself, which, like the tobacco companies before it, constantly propagandized for increased production and sales, regardless of what the science says. A good example of that propaganda is the Editorial in Oil&Gas Journal on 24 January 2019, headlining "Costs, energy needs discredit 'keep it in the ground' agenda". It says: "Preemptive opposition to oil and gas projects by 'keep it in the ground' activists promises needless hardship in two broad areas." This is a denial of the entire concept of "unburnable reserves." They want, instead, to burn it all — and even to keep prospecting to find yet more  oil and gas (at this time of already greatly excessive inventories of cleaner reserves that should be burned before any of Canada's or Venezuela's filth is). They could lay off their entire teams of oil-explorers, who are wasting their time to find yet more dirty energy sources that won't ever need to be used by anybody. Either these people are stupid and insane, or else they are psychopaths who care only about keeping their existing jobs and don't care at all about the world that future generations will be experiencing. If their children knew, then what would they think of what their parents had done to the world that they will be living in?
Consequently (perhaps after — for whatever reason — listening too much to self-interested advisors), Venezuela's Government has allowed itself to become trapped by its addiction to selling its extraordinarily filthy oil. There was no Governmental demand, no sufficient priority placed upon Venezuelan firms, for them to diversify the economy away from petroleum. Neither the present Government, nor any previous Government of Venezuela, did.
Hugo Chavez and Nicolás Maduro didn't create this problem; but, now, and especially on Maduro's watch, the oil-market transformations that result from the global-warming phenomenon are accelerating; and, unlike Canada, which is part of the U.S. empire, Venezuela isn't receiving U.S. Government protection of its investors, and so there is no helping hand from the U.S. Government (i.e., from America's aristocracy) to assist Venezuela's oil sales (such as the U.S. does provide regarding Canada). There is, instead, to the contrary — as Venezuela's Government has become weaker and weaker, and has less and less public support while global oil prices have plummeted — the grabbing hand, of both the U.S. and Canadian Governments, to take over Venezuela's Government, whose biggest sin, actually, was to have left itself open to such a take-over, by its having failed to diversify its economy away from the country's doomed, and dooming, extraordinarily costly-to-refine, and undesirable to refine, oil. It's now just a coffin in the ground, but it's nonetheless still the source of virtually all of Venezuela's export sales. No government could sustain supporting such a zombie. It's a deadweight that's dragging Venezuela down and economically suffocating all Venezuelans. And the documentation that this situation exists is incontrovertible:
The current WTO report on Venezuela indicates that 96.9% of the country's exports are of "Fuels and mining products," and that over 98% of this 96.9% consists of oils. Also shown is that the biggest five importers from Venezuela account for only 1.9% of Venezuela's exports, and therefore all other countries account for 98.1%. So, when Venezuela loses its U.S. market, that would mean loss of only 0.6% of its total export market.
However, America's sanctions will additionally cause some U.S. vassal nations such as in Europe to stop importing from Venezuela. So, Maduro is very vulnerable, indeed. Diversifying the markets (to that 98.1%) isn't what was needed by Venezuelans; diversifying the economy was; and neither he nor his predecessors did any of that.
On February 2018, Petroleum Science headlined "Analysis of Venezuela's oil-oriented economy: from the perspective of entropy" and reported that, "the current breakeven price has achieved to over $100/bbl in Venezuela." Right now, oil is selling at around $65 per barrel. So, how can Venezuela make money selling its $100+ oil into the global $65 oil market? It's just not possible, at least not sustainably. The Petroleum Science article therefore said that "it is unwise for Venezuela to count on selling raw oil to support the country's economy," because any per-barrel price that's lower than Venezuela's $100+ per barrel production cost will produce a loss on the sale of that barrel of oil, and because there will be very few if any future days when the per-barrel oil-price will again be above $100. The more that the world cuts back on petroleum and increases non-carbon energy-sources, the lower that the price of oil will become. And the more that investment funds steer clear of high-carbon firms, the lower the corporate stock of those companies will sink in value. Both investors and consumers are therefore going to be turning away from them.
When global oil prices were high, Venezuela could sell even its costly-to-refine oil profitably, but those times are now long gone and probably will never return, as the world increasingly switches away from fossil fuels. Especially tar-sands oils, such as from Canada and from Venezuela, should stay in the ground, and not only because today's oil prices are too low to sustain selling them, but also because those extra-heavy oils are the worst to burn, from the standpoint of causing global warming.
As an example of this economic reality, a major U.S. corporate investor in Venezuelan oil is Chevron Corporation, and Zacks Investment Research headlined on 5 October 2011, "Chevron Sees Carabobo Oil in 2012". It stated:
According to a company executive, U.S. energy behemoth Chevron Corp. (NYSE: CVX – News) may see the start-up of an oil field in Venezuela's Orinoco Belt next year. The super-major is confident that it can commence production from Orinoco's Carabobo Project 3 – which has estimated reserves of 66 billion barrels – in the third quarter of 2012. …
Chevron holds a 34% interest in Carabobo Project 3, while Venezuela's national oil company Petroleos de Venezuela S.A. (or PDVSA) controls 60%. The remaining stake is owned by Venezuelan and Japanese firms.
Following the first production of 50,000 barrels per day, … [Chevron] is looking to boost volumes by an additional 50,000-100,000 barrels per day every two years. Carabobo 3, one of several Orinoco projects, is estimated to reach a maximum output of approximately 400,000-480,000 barrels of crude oil per day by 2016.
There is no public indication, at least not online, that even the "first production of 50,000 barrels per day" has been yet achieved, though it had been expected to occur within a year. Chevron's 2017 Annual Report (covering the year 2016) is the latest online, and it doesn't so much as even mention "Carabobo." And this was after  the 5 October 2011 prediction that "Carabobo 3, one of several Orinoco projects, is estimated to reach a maximum output of approximately 400,000-480,000 barrels of crude oil per day by 2016." Clearly, that's a poorly performing investment. Chevron's current web-page on "Venezuela" says "Chevron has a 34 percent interest in Petroindependencia, S.A., which includes the Carabobo 3 Project," but it provides no number of barrels of oil being produced there (if any) — not even now, in 2019. Bad investments die in silence and in obscurity, but good investments get trumpeted everywhere — and this one is being trumpeted nowhere.
Any oil sales from those fields will not only be delayed until when oil prices are again high enough to sell those dirty oils at a profit (which is increasingly unlikely ever to happen again). The investment values of those companies will likewise be especially hard hit as the problem of unburnable reserves becomes increasingly widely recognized and understood by the public. The public won't remain ignorant and deceived about these matters forever. This is like a Ponzi scheme.
Russia's Government seems determined never to accept this U.S. coup imposing America's "regime-change" upon the sovereign nation of Venezuela, and has made the decision to send military assets, and to invest both in Venezuela's Government and in the oil company. On January 29th, Russia's Interfax News Agency headlined in Russian, "The Ministry of Finance of the Russian Federation hopes to get external debt payments from Venezuela". The neoconservative Jamestown Foundation remarked about that on January 31st by saying that "These debts may eventually be written off by a new opposition Venezuelan government led by the self-proclaimed interim president, Juan Guaido, if it manages to push Maduro out (see EDM, January 28, 2019). Yet, even if Maduro somehow succeeds in clinging to power with Russian help, he will hardly have the resources to service the loans." That, unfortunately, happens to be true. The only sensible reason why Russia would be committing itself to protecting Venezuela's sovereignty would be in order to say to Washington that America's long string of foreign regime-changes (Iraq, Libya, Syria, Honduras, Ukraine, etc.) has now ended — to establish the principle (as Russia has recently done in Syria) that no longer will Washington's invasions and coups be tolerated, no more conquests (additions to its empire) will be allowed. Somebody has to draw the line, finally, and the other nuclear superpower could be the one to do it. Other than that, however, Russia, like other investors, can only experience losses from investments in Venezuela. Venezuela is now an asset only in "The Great Game". Russia's protecting in Venezuela the principle of national sovereignty — no coups, no conquests, at all — is as moral as America's repeatedly rejecting that principle is immoral; but, as an investment, Venezuela simply is a loss. If "The Ministry of Finance of the Russian Federation hopes to get external debt payments from Venezuela," then Russia's Ministry of Finance should be expecting to be disappointed in that "hope." But that hope wouldn't, in any case, be a sound reason for what Russia is doing there. The only "asset" to be won in Venezuela is protection of the most basic principle of international law: the independence and sovereignty of each nation. Hitler and his fascist allies, and Stalin and his communist allies, violated that principle; but now fascist America and its allies routinely violate it. Venezuela's allies (unlike Neville Chamberlain) are supporting the foundation-stone of international law: national sovereignty and independence. For the U.S. and its allies to reject the results of Venezuela's (or of Syria's or of Iran's) elections is no basis for invalidating those results, and the U.S. Government's stooge Juan Guaido is simply a Venezuelan traitor, and should be treated as such, by an appropriate trial for treason. Certainly, there is no Constitutional basis for Guaido's power-grab, despite the lies to the contrary by the putchists such as in America and its allied regimes.
All oil-exploration should therefore now stop, and existing tar-sands oil fields should simply be abandoned altogether. Only the easiest-to-refine (the "lighter") oils should be sold and burnt right now. There is going to be a rush for the exits in the stocks of those "extra-heavy oil" companies, and the only question is when it will happen. Regarding that rush, the situation is very different in Venezuela than it is in Canada, because the U.S. Government will delay as long as possible the collapse of Canada's oil-sales, but the U.S. (and Canada) want to expedite the collapse of Venezuela's — at least until and unless the current Venezuelan coup succeeds. (And Canada's Foreign Minister, Chrystia Freeland, did the key preparatory work for U.S. President Trump to pull the plug on Venezuela's Government; so, both of those governments have actually led in overthrowing and replacing Venezuela's non-U.S.-allied Government.)
Venezuela became addicted to selling its filthy oil, but now can only lose money with every barrel it sells of its oil. Each day of the company's operations is simply eating the company's seed-corn — and there is nothing like Canada has, to soften the blow. That's not only unsustainable, it has already become a crisis, and Washington is exploiting it.
PDVSA's latest online financial report is for 2016 and it shows that "Profit before income tax" was $16,317,000 in 2014, then $1,469,000 in 2015, and then $955,000 — less than a million dollars — in 2016. During the three-year period, "Current assets" declined from $55.2 billion to $54.6 billion, and "Current liabilities" declined from $55.7 billion to $50.0 billion. "Financial debt" declined from $40.0 billion to $33.9 billion. "Total assets" declined from $217.4 billion to $189.7 billion; and "Total liabilities" declined from $127.7 billion to $102.6 billion. Probably the company is already operating in the red now, but with every year of deteriorating infrastructure, just wearing out, with more and more and longer deferred maintenance, and with a bad long-term prospect for profitability, could the Government even sell the company? If Trump succeeds and PDVSA and every other state-owned asset in Venezuela becomes privatized, Venezuela's citizens will be left with nothing, and the only beneficiaries will be the international bankers, even as international investors will need to take haircuts on their existing Venezuelan loans. The oil that PDVSA sells shouldn't even be bought; it should simply remain in the ground.
According to the latest public information, PDVSA showed less than a million dollars of profit in 2016 — and the trend was downward. Anyone in Venezuela who thinks that the country can be sustained in the future, as it was in the past, from the sale of Venezuela's exceptionally costly-to-produce oil, isn't taking into account the broader picture, and the impact that the global-warming phenomenon will inevitably have upon the fossil-fuels industries.
There may be ways to jiggle the books to make PDVSA fool some investors into buying the company, but only the international bankers would be profiting from a sale of that firm.
Foreign Policy magazine, which represents America's aristocracy, headlined on 5 June 2018, "It's Time for a Coup in Venezuela", but even if that turns out to be the final solution to the Venezuelan problem for America's aristocrats, it won't solve anything for the Venezuelan public — basically like Hitler's "final solution" did nothing to benefit Germany's Jews. Germany's aristocracy did nothing for Jews then, and America's aristocracy will do nothing for Venezuelans now. They're all on their own. The leaders of the U.S.-allied nations don't want to save them, and instead follow in the fascist and Nazi tradition. The leaders in Venezuela's current Government, who want to save them, simply can't save them. It's far too late for them to start now, to do what needed to start back in "the early 1980s of 93,000 b/d" from Venezuela's Orinoco belt — which would have been for them to stop what ought never even to have been started there: extraction of that oil.
CONCLUSION
The poverty and violence that now rack Venezuela result from a broader situation in which selling what shouldn't even be bought has run its miserable course until the final act, which is a Government that has reached the stage where it can produce income only for international bankers and for the aristocrats who control them. Any oil company now that would want to buy those assets would merely be adding to its assets — chiefly the dirty oil in the ground — 'assets' (oil reserves) that can never even be used (unless the propaganda becomes even more effective in the future than it has always been until now, which might be impossible to achieve). Oil companies already have lots more of that dangerous filth than anyone except people in finance will ever be able to benefit from buying or selling.
For Venezuelans, this is a great tragedy. The U.S. and its allies are (and have been) doing everything they can to exploit the tragedy.
It's like a hungry lion chasing a fleeing exhausted deer, who now is finally trapped.
That's the ugly reality.
Author's note: first posted at strategic-culture.org
America's Deep-seated and Almost Universal Bigotry
On May 12th, Politico headlined "'A dream ticket': Black lawmakers pitch Biden-Harris to beat Trump", and reported that:
The Congressional Black Caucus may have found an answer to its Joe Biden dilemma: Vice President Kamala Harris.
Some black lawmakers are agonizing over whether to back Biden or two members of the close-knit caucus — Sens. Harris and Cory Booker — who are also vying for the White House, according to interviews with a dozen CBC members.
But with the former vice president jumping out to a huge, if early, lead in the polls, several CBC members are warming to the idea of a Biden-Harris ticket to take on President Donald Trump.
"That would be a dream ticket for me, a dream ticket!" said Rep. Lacy Clay (D-Mo.). "If she is not the nominee, that would be a dream ticket for this country."
Harris is everything the 76-year-old Biden is not. The freshman senator from California is younger, a woman and a person of color. …
America's billionaires — who love it when the public are so obsessed with "Blacks versus Whites" or "women versus men" or other such distinctions amongst the public — hire politicians and 'news'-media that play up to those distinctions instead of to themselves versus the public, because this way the public will accept those billionaires' controlling the government — as they do.
Blacks are just as bigoted as Whites, and women are just as bigoted as men — and that goes also for Jews, Christians, Muslims, and every other distinction within the public — every other rage by the public, that's being redirected away from the billionaires (who virtually own the government) to being instead against some mass of the public who DON'T control the government, and who AREN'T the cause of this country's massive economic inequalities of opportunity, and who DON'T benefit from extending the American empire by bombs (or otherwise) to Afghanistan, and Iraq, and Libya, and Syria, and Iran, and Venezuela, and Ukraine, and Russia, etcetera.
Therefore: the first question that should be asked of every Democratic Presidential candidate isn't (like it is) "man or woman?" or "Black or White?" or "Muslim or Christian?" or anything like that, but instead: Did you vote for the invasion of Iraq, and of Libya, and for economic sanctions (which are the first step toward declaring a nation officially as being an 'enemy' and thus the first step toward war) against Iran, and Syria, and Venezuela, and Russia?
Those international hostilities are just great for the billionaires' corporations, such as Lockheed Martin, but they bring billions to the billionaires and nothing but increased taxes and death and disabilty to the public and to our soldiers — and vastly worse to the people who live in the tragic lands where we are sanctioning or invading, or doing regime-change by means of coups. So: they hire the distractors.
This isn't to say that Trump isn't a racist, but it's about how the billionaires' Democratic Party agents who are in Congress deal with this in such a way that the racist distractionism is on both sides and drowns-out any authentic progressivism (that being what the billionaires of both Parties fear). Part of progressivism is an opposition to regime-change wars — international dictatorship (including not only invasions but also the earlier stages: economic sanctions, and coups). The U.S. violates international law whenever it does those, and it does the vast majority of the ones that are done. The U.S. is thus the last nation in the world that should be pontificating to other countries. Whenever the U.S. Government does it, we should all be ashamed of it.
So: the billionaires need the distractionaires.
The Congressional Black Caucus, according to Fact Check, as posted in 2008 and never since revised, "has never had a white member in its 36-year history" (and, today, that would be never in its 47-year history), so that if for example Bernie Sanders or Pete Buttigieg or maybe even the warmongering Joe Biden himself, were to apply to join and then be turned down by them, and this were to become public, then the resultant bad publicity for that Caucus would likely reduce, instead of increase, that candidate's standing with black voters. Consequently, he probably won't even apply to join.
In any case, being a member of a victimized group doesn't mean that one is less bigoted than other groups are. And who is to say that Americans weren't bigoted against Iraqis when we did to them the catastrophe that we did?
A More Nakedly Aggressive United States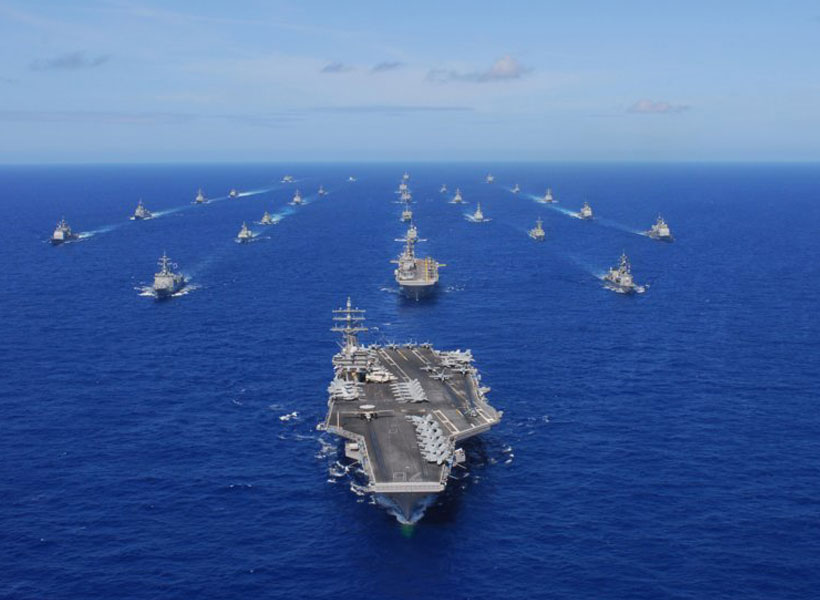 Of all the instability and unrest the US has been accused of fomenting over the last three years, no other example comes close to the lengths the US has gone to in its unilateral attempt at isolating Iran. Long accused by Russia and other major powers as the leading cause of instability in the Middle East, the recent escalation of tensions between Iran and the US forms part of a wider more troubling trend. This has included the US ratcheting up tensions with both friends and foes alike such as the escalating trade war with China, calls for regime change in Venezuela and the estrangement of its allies across both the European Union and NATO.
The last bit, regarding the US's growing differences with the EU's major powers such as France and Germany is also to a large extent directly linked with its hardline stance on Iran. This is evident in the clearly divergent stances both the US and EU have taken regarding Iran's Nuclear program. President Trump's unilateral withdrawal from the Joint Comprehensive Plan of Action (JCPOA) last year had brought about considerable shock and dismay amidst European powers that had spent years negotiating the agreement with Iran alongside the US. Signed back in 2015, the JCPOA had set a historic precedent in international diplomacy, garnering support from China and Russia as well as the US, UK, France, Germany and the EU. Based on years of painstaking negotiations it was widely hailed as presenting a successful model for Nuclear Arms Control and non-proliferation.
In fact, a number of experts had hailed the JCPOA as being even better than the Nuclear Non-Proliferation Treaty (NPT) in a number of ways. Its emphasis on monitoring other research and attempts at nuclear weaponisation beyond the involvement of nuclear materials was a major step in further expanding the role and scope of the IAEA's monitoring mechanisms. These same mechanisms which based on the consensus of world powers have been successful in both monitoring and limiting Iran's attainment of Nuclear weapons capability. The only exception has been the United States, and particularly the Trump White House that has made it a policy imperative to undo the years of work put in by both former US President Obama and Secretary of State John Kerry.
President Obama had even quite recently publicly lamented how reneging on the JCPOA not only undermined the United States credibility as a negotiating partner, but also dismantled a whole non-proliferation mechanism that was to prove crucial in addressing the growing threat from North Korea as well. As apparent in the failure of the recent talks between the US and North Korea in Vietnam, the US's seriousness and commitment to the non-proliferation regime has been openly questioned as it continues to prioritize its own geo-political imperatives. Its 'maximum pressure' campaign on Iran, which is flirting dangerously with yet another large-scale military conflict involving US armed forces, threatens to undo the last decades' painstaking rollback of US troop deployments throughout the Middle East.
Since the end of the Cold War, the US's unilateralism and more maximalist approach was never in question considering its series of interventions particularly in the Middle East. There was however a semblance of unity and International leadership which either under the aegis of the UN or NATO still more or less carried the garb of a multi-lateral consensus. That instead of simply employing naked aggression as accused of by its adversaries, the US was justified by its ideology and the success of its international diplomacy. This perhaps was best and most positively evident in the JCPOA, which had brought all the world's major powers into a concerted agreement on one of the world's most pressing issues, namely Nuclear Proliferation.
However, as the Trump administration beats its war drums to the tune of nothing short of a regime change in Iran, there is most definitely a marked difference in how the US has previously built its cases for military intervention in the Middle East. In the absence of any international support from its partners, or in the lack of any overarching ideal based on non-Proliferation or plain old human freedoms (à la Iraq), the recent case for the US military intervention in Iran appears outright indolent if not unjustified as has mostly been the case with US hegemony over the last few years.
The crisis in Venezuela and its strategic significance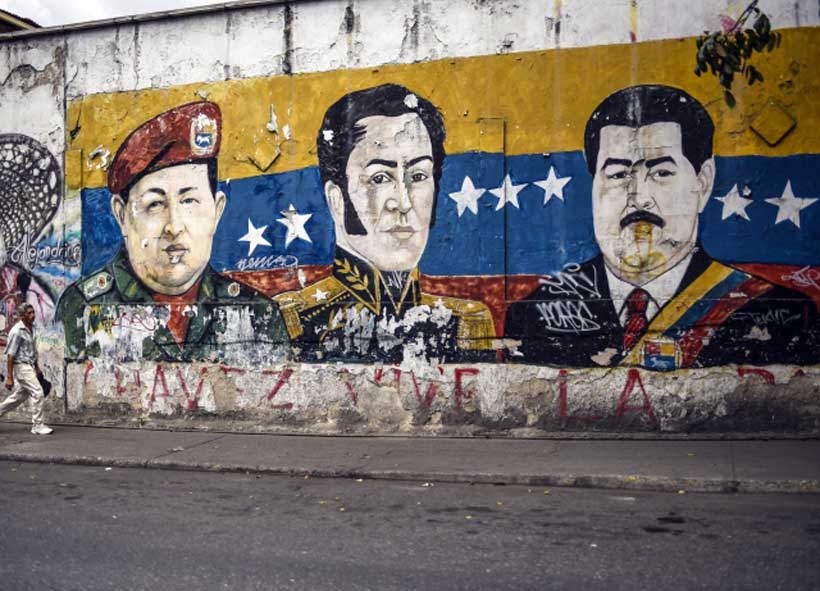 Venezuela's economy – in a country that has better oil reserves than Saudi Arabia and Iran – began with the OPEC oil price crisis, when Chavez was still alive, until the heavy fall in oil prices in 2013.
The social spending of Venezuelan "Bolivarianism" was very high and a country living on oil permanently needs stable and growing markets. This is inconceivable with the current dislocation of strategic roles within OPEC and in the context of the struggle between Iranian Sunnis and Shiites.
Saudi Arabia will decrease production as soon as prices fall – and this will be the rule for everyone.
With Maduro, the primary choice for oil – i.e. Venezuela's true economic policy -has remained in the wake of Bolivarianism. Oil resources, however, have fallen to less than half of those recorded during the Chavista boom and inflation has quickly grown to such a point that it is currently the largest in the world. It reminds us of the Weimar Republic and for the same reasons. The State of Caracas prints money with the same criterion with which newspapers in crisis print more copies.
At the beginning of the Chavista era, the inflation rate was already 29.5%. In 2005, when the oil market was still bullish, the inflation rate dropped to 14.4% instead.
Eight years after the former city bus driver in Caracas, namely Chavez, had risen to power, food prices in the capital city were nine times higher than at the beginning of Chavez' new Bolivarian regime, while salaries had decreased by 40%.
The full nationalization of the oil company PVDSA was the first step that Chavez made down to the road for total economic disaster.
Currently the oil companies operating in the Orinoco Basin – which is one of the largest in the world – do no longer make the necessary investment to make extraction possible, and nowadays oil extraction has leveled off at merely one million barrels a day.
Certainly, we need to consider the US sanctions on exports, but extraction could still halve down to half a million by the end of 2019.
Companies such as Malaysia's Petronas and even the Russian Lukoil already left Venezuela in 2014. The Iranian company Petropars did the same in early 2015 and PetroVietnam in late 2015. Finally Exxon and Conoco had to leave quickly under the threat of Venezuela carrying out a punitive nationalization, with both companies' related and immediate starting of formal proceedings before the international courts.
Moreover, there is no legal framework – not even in Venezuela-delimiting possible operations, in the case of ongoing confiscations of foreign capitalists' assets or of nationalizations. Hence those who remain, paying bribes left and right, obviously do not extract the amount of oil they could. This also applies to the Venezuelan non-oil economic sector.
Even PDVSA – the always open coffer of Bolivarianism – has reduced its oil production from 5 million barrels a day to the current one million barrels a day. Later, with the embargo imposed by the United States, this trend will continue.
The national oil company has long been heavily indebted with China and Russia, as well as with other countries, such as Iran.
China has already requested the quick and full payment of its credits. China is not used to the structural inefficiency of Latin American countries.
It is a process that China has started also with Brazil.
Furthermore, Russia has already granted a rescheduling of its Venezuelan debt, which is already three billion and seven hundred million US dollars.
Obviously, from a strategic viewpoint, Russia is interested in maintaining its own area of influence in a Latin American continent that, after Bolsonaro's victory in Brazil, is fully siding with President Trump's policies.
Hence, where possible, it is subject to Russian specific pressures.
As can be easily imagined, Venezuela's weight in the OPEC area is now less than minimal- and this creates further difficulties.
But the entire oil producers' organisation, whose relations of its Sunni area with Trump's America are currently very strong, has now a fixed rule we have already clarified: cutting production when the oil barrel prices decrease – exactly the opposite of what Venezuela currently would like to do.
Moreover, Venezuela keeps on exporting only 800,000 oil barrels a dayto the United States.
Here not only geopolitics, but also the first global commodity, namely oil, has a role to play in this respect.
For the United States, buying oil from Venezuela means trying to counter Russia's weight – although with increasing difficulty.
The United States clearly sees how Russia and China still support Venezuelan Chavism – also to recover their huge credits. Hence a geopolitical rather than economic clash between opposing blocks emerges in the country with the largest oil and gas reserves in the world.
Inter alia, with shale oil and gas the United States is becoming a net oil exporter. Hence it is ever less interested in the fate of the countries that were once powerful suppliers, but are currently only tired competitors.
Even the deep crisis of Madurism could favour the US oil and natural gas export market. Hence there is not much desire in the USA to solve the Venezuelan crisis, but only the desire to prevent Venezuela from choosing Russia, Iran, China or even the crazy and silly European Union.
Moreover, the United States has an extreme need for high oil barrel prices, so as to recover the extraction costs which are still higher than the traditional ones.
Hence, paradoxically, a regional production crisis near the US territory could even be good for the United States in the medium term.
Therefore, apart from the usual creation of petrodollars, the United States is entirely in favour of an increase in the oil barrel price- and hence indirectly in favour of tension in Venezuela.
The United States does no longer even need Venezuelan oil – as was the case in the past.
There is no more room for Venezuela to even export its oil to the Caribbean at the usual low prices – a clear sign of an old and now impossible local hegemony.
Hence, as is currently the case, the Hezbollah – currently guarding also Maduro – set in, while the Cuban intelligence services have defined a precise program for opposing Guaido's possible "counter-revolution" and also the Russian contractors of the Wagner group are present, in force, in the Venezuelan territory to defend the wells and the other nerve centres of the former Chavista regime and, currently of Maduro's regime, for which Russia has no esteem.
The relationship between Hezbollah and Chavez was very complex – and it is still so currently with Maduro.
At the beginning of Guaidò's campaign against Maduro, the members of the Lebanese militia – that was Imam Khomeini's "eye – hoisted a poster with Chavez' and Maduro's faces alongside that of Hassan Nasrallah, the leader of the Lebanese Shiite militia.
Furthermore, the Hezbollah were the first to advertise and make public the US hidden presence in favour of Guaidò in Venezuela.
The reason for this particular relationship between the pro-Iranian Lebanese Shiites and the "Bolivarian" regime is simple and concrete: right from the start, Chavez and Maduro gave carte blanche for the laundering of Hezbollah's secret funds in Venezuela, especially through drug trafficking activities.
Furthermore, the Lebanese group operating in Venezuela collected essential data on international crime, which was useful exactly for Hezbollah to find its place into the global cycles for money laundering and acquisition of illegal funds.
Even Cuba – which, despite the all-too-touted "liberalization" of the post-Castro regime, kept on serving as air passage of drugs to the United States – used the Venezuelan "Bolivarians" for money laundering activities, as well as a basis for the operational shift of South American drugs to the ever more drug-addicted United States.
Some Hezbollah's people also have important positions in Maduro's government.
Just think about Tarek el Assaimi, the 28thVice-President of Venezuela and later Oil Minister, who currently "covers" many of the Lebanese from Hezbollah that very easily acquire a Venezuelan passport.
El Assaimi has also been reported to the US Drug Administration since 2017.
Why does Iran need Venezuela?
Firstly, to avoid US trade restrictions. Iran sees the US support for Guaidò as a direct threat to its interests in Latin America, which are manifold and very widespread.
Coincidentally, the Venezuelan gold – that was said to have so far been exported to Turkey for security reasons -is currently heading for Iran.
Cuba's drug system has been essential to maintain Castro's regime as early as the time of Ochoa, who had supported the Medellin cartel in the cocaine shipments to the United States. At the time, however, the proceeds were in the banks of Noriega, the President of Panama who laundered 80% of Cuban illegal cash flows.
Now the system works in favour of Venezuela, which no longer has the financial controls that were previously unavoidable in a fully pro-American country like Panama.
Certainly, for Cuba, the Medellin cartel's drug transfer to the United States was also a purely political operation to plague the American society and make it powerless and unproductive.
It has largely already succeeded to reach this goal.
After Noriega's fall, that network has largely moved to Venezuela and is currently operating at full capacity and in full swing.
Meanwhile, the Cuban intelligence services were directly connected to the Colombian FARC and later to the Venezuelan security forces, formerly regional leaders of drug trafficking at the time.
As is the case today, since then the Cuban secret services have trained the Bolivarian intelligence services. In fact, at the time, the former eliminated most of the Venezuelan opposition to Chavez.
Indeed, after the Cuban training, Chavez' intelligence services established the Cartel de los Soles(the "Cartel of the Suns") and in fact the name comes from the "sun" insignia of Venezuelan generals.
Currently, it is precisely corruption and the illegal drug trafficking led by Maduro's generals to directly support the regime and to strengthen and fund the fight against Guaidò's forces.
The Venezuelan narcomilitaries know all too well that, if they lose power, they will soon be judged by some US or international court.
This kleptocracy removes from Venezuela's coffers an officially declared sum worth around 70 billion US dollars, but some Latin American security services speak of about 300 billion US dollars taken away for paying bribes inside the kleptocratic regime in Venezuela.
Hence an inflation triggered and maintained only by the criminal kleptocracy of those who also organize a highly lucrative drug trafficking, even within the regime and the whole country.
Furthermore the controls on money and prices, introduced by Chavez in February 2003, quickly turned Venezuela into a Mafia-State.
At the time of the founder of "Bolivarianism", the illegal system created by those price controls, was even larger than it currently is.
It should be remembered that in 2002 a military coup ousted Chavez from office for 48 hours only.
With a view to avoiding the return of the military, Chavez delegated most of the State functions to criminal gangs – and also to the very inefficient Armed Forces.
The illegal gangs were mainly two, namely the Colectivos and the Pranes.
The Colectivos took power mainly in the suburbs of Caracas.
Currently, despite having been supported and often created by the government, the Colectivos are not answerable to anyone – much less to the opposition.
The democratization of kleptocracy.
They live mainly on extortion and drug dealing.
Currently, however, they have been essential to repress Guaidò's insurgency and make some areas of Caracas support Maduro again.
The Pranes are instead criminal gangs operating within the Venezuelan prison system.
However, they have also expanded outside prisons, in collaboration with the so-called megabandas.
The "peace zones", reached after a long negotiation between criminal gangs and what remains of the police, are just eight in Venezuela.
Nowadays, the most widespread illegal activities among criminal gangs are those relating to the smuggling of subsidized fuel to Brazil and Colombia.
There is an ever more limited market for this fuel in the countries of arrival and an increasing number of buyers in Venezuela, which experiences the paradox of being a huge oil producer, but with empty pumps for its citizens.
Other key sectors, left in the hands of the bandas, are the smuggling of food and pharmaceutical products. This was the reason why the Red Cross aid could not work at the beginning of the crisis.
In Caracas people die very easily: 89 murders per 100,000 people a day.
In 2017 there were 26,616 murders – over 5,535 of which carried out by the security forces, while the others were carried out by the gangs of the Operativos para la Liberacion del Pueblo.
A network created exactly by Maduro.
Furthermore, as already seen, Venezuela is the favorite base for the Colombian narcocrime, while the hungry e Venezuelan proletariat is pushed right out of the cities of Bolivarianism towards Colombia, where the Venezuelan poor people become members of the "cartels" or victims of them.
In just one year, the last for which we have complete statistics, namely 2017-2018, at least one million Venezuelans fled to Colombia alone, with a rate of at least 37,000 citizens of the Bolivarian State who crossed the border with the territory of Bogotà everyday.
Panama, which now has no interest in the survival of Maduro's "Socialist" regime, also included 37 "big shots" from the current Venezuelan regime into a "high-risk list" for money laundering, including Maduro himself, as can be easily imagined.
That list also included Diosdado Cabello, the No. 2 of Venezuela's regime and Party, as well as other figures, well known to the Venezuelan public, such as Gustavo Gonzales Peres, the former Head of the Bolivarian Intelligence Service.
Panama is also part of the "Lima group", an organization of 14 Latin American countries in the region, which is above all opposed to maintaining the Maduro system in Latin America.
Even the European Union – with its well-known quick decision-making in foreign policy – imposed personal sanctions on figures such as Interior Minister Nestor Revarol, the President of the Supreme Court, Maikel Moreno, and even the Head of the External Intelligence Service, Gustavo Gonzales Lopez and, finally, to the aforementioned No. 2 of the regime's Party, Diosdado Cabello.
They can no longer travel to EU countries and their bank funds deposited there will be frozen.
The appeal for a general upheaval that interim President Juan Guaidò had announced on the morning of April 30th – together with the recently-released military Leopoldo Lopez, and with a military group from La Carlota air base – seems to have failed. In a country like Venezuela, the "Arab Spring" model does not work at all.
US intelligence services' greater intellectual imagination would be needed.
Meanwhile Lopez has recently taken refuge at the headquarters of the Spanish embassy in Caracas, while the Spanish government has declared it will never release Lopez to the Maduro government.
25 other rebel military applied for asylum at the Brazilian embassy, but it should be noted that Lopez had previously addressed to the diplomatic offices of Chile, although he declared – after being accepted by the Spanish diplomacy in Venezuela – he had never asked for political asylum.
Nevertheless many Venezuelans have anyway agreed to take to the streets, where two other young people have recently died, thus rising to 55 the number of victims of Maduro's repression since the beginning of this year.
Meanwhile, the opposition denounced a toll of other 74 severely injured people, followed by 168 arrests, including at least a dozen journalists.
Meanwhile Guaidò goes from one hiding place to another, but he was seen by the crowd on May 1stwhen he called for a strike of all Venezuelan workers in the short term.
Maduro responded to Guaidò's call to strike only the day after, but it was a clearly recorded TV broadcast.
Shortly afterwards, in his official capacity as Trump's National Security Advisor, John Bolton – an old heir to the neocon foreign policy – informed the international media that Defense Minister Valentin Padrino Lopez, Supreme Court President Maikel Moreno and the Director of the DG for Military Counterintelligence, Ivan Hernandez Dala, had negotiated directly with the USA to oust Maduro.
Instillation of suspicions in Maduro's elite, or also truth? Hence evident psychological war or US indecision between the choice of staging a coup inside Maduro's Party, with some US trusted elements, or the reaffirmation of US trust in Juan Guaidò?
Mike Pompeo, Trump's Secretary of State and former CIA Director, also stated that Maduro was already on a plane to Cuba, immediately after the May 1st demonstrations, but that Russia harshly ordered him to stay in Venezuela.
Could the reason underlying the US support to Guaidò's attempted coup – which is now not matched by the same support it had gained at the beginning of the insurgency – beoil, as usual?
With the oil barrel price around 50-60 US dollars, the price of Venezuelan oil is still acceptable, but we are talking about heavy hydrocarbons, which need successive and obviously expensive further refining.
Exxon-Mobil is still trying to acquire the Essequibo extraction area, where sovereignty over it is still being discussed between Venezuela and Guyana.
In Venezuela, there are still 15 billion barrels a day of not extracted oil, in addition to as many as 42 trillion cubic feet of natural gas.
It should be considered that Venezuela is still the second country – if not the first, depending on explorations- in terms of oil and gas reserves available.
The USA, however, is mainly exploiting its national basins and is selling natural gas and oil, by sea, even to some European countries.
Hence, currently for the United States the issue of Venezuelan oil and gas is not to acquire them – although the oil barrel production cost in Venezuela is still lower than the shale oil and gas of the US Permian basin – but above all to prevent those oil and gas reserves from being used by China and the Russian Federation.
In fact, in the years of the sharp drop in the oil barrel price, until 2016, Maduro chose to assign as much as 49.9% of a PVDSA subsidiary, namely CITGO, to Russian Rosneft – in exchange for a loan against the transfer of the company shares to the tune of 1.5 billion dollars directly to the Venezuelan State.
Also Russia, however, is a net exporter, and Goodness knows how powerful that country is in terms of oil and gas, with a primary focus of its markets on the EU.
In this case, however, for Russia the Venezuelan oil could be a strong way to put pressure on the United States – exactly due to the lower price of the Venezuelan crude oil – with a view to reducing the negative impact of the US (and EU) sanctions on Russia for the Ukrainian issue.
Hence, by spending a relatively little sum, namely 1.5 billion US dollars, Russia became the true arbiter of Venezuelan oil to use it as a leverage over the United States – indeed, really for purposes of blackmail against the United States.
In fact, it is by no mere coincidence that, in February 2018, a group of US investors of unclear complexion tried to buy back the Russian shareholding of CITGO, asking the Venezuelan government to accept payment to them of the remaining Russian loan and also asking Rosneft to transfer the remaining amount of the loan already granted in Venezuela to the new CITGO.
Needless to say, the offer was declined.
As always happens in these cases, the United States is also operating with economic pressures and embargoes.
It is imposing a further embargo for Petroleos de Venezuela SA, namely the whole PDVSA, which legally began in early January 2019.
This means that the proceeds from Venezuelan oil will be very limited, as if Venezuela were an economic hostage.
With a view to favouring – even among the elites of the "Maduro system" – the shift to the US camp, instead of remaining within the sphere of Russian economic control (and of Iranian control for the non-oil criminal economy).
President Trump's desire to invade Venezuela is now well-known to the international public, at least based on his statements of June 2018, when, at a meeting in the Oval Office, President Trump expressed that clear desire to the then Secretary of State, Rex Tillerson, former President of Exxon-Mobil, and also to the then National Security Adviser, General MacMaster.
It should be clarified that neither of the two advisors was favourable to the operation.
In late 2018,Maduro – increasingly under pressure as a result of the international economic crisis and of the huge internal crisis, particularly heavy for the oil-dependent countries – gave to the companies of the strong Russian mining sector access to the Venezuelan gold mines – those that had created the myth of Eldorado in Spain in the seventeenth century.
In Venezuela there are also mineral reserves of nickel, diamonds, iron, bauxite and aluminum.
Clearly, however, Latin America's new strategic and political positioning – especially after Bolsonaro's victory in Brazil – is fully in favour of the United States and, specifically, of President Trump, while the assets in favour of the Russian Federation are diminishing.
This means that Russia, along with its traditional allies, such as China, will keep Venezuela very close, especially for geopolitical purposes and ever less for strictly economic ones.
While the real strategic variable will soon be China. Will it accept to participate in Russia's very interested support for Maduro's regime, taking what remains of the Venezuelan economy, or will it accept the US proposal of taking a large part of Venezuela after breaking China's ties with Russia, at least in Latin America?