Three Horizons of Brazil–Russia Relations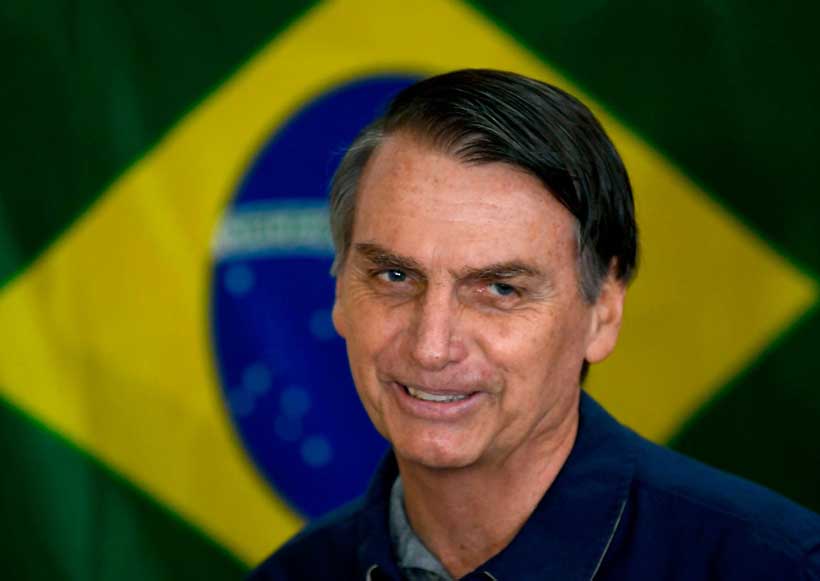 Authors: Fernando César Costa Xavier and Alexander Korolkov*
Almost a month has passed since the inauguration of the new President of Brazil Jair Bolsonaro. He and his team are not new to Brazil's national politics; during their careers, they have made quite a few statements about the country's place in the world and their vision of the development of Brazil's relations with its key partners. Still, very few political observers (and maybe even members of the new cabinet) understand what Brazil's foreign policy will be over the next four years. Thus far, we can gauge from the President's campaign promises that Brazilian diplomacy needs to transform radically and move from broad participation in international organizations and initiatives to "anti-globalism" and bilateral talks in international trade.
The person charged with implementing this project, which has the supported of President Bolsonaro's voters, is the career diplomat Ernesto Araújo, who was appointed Minister of Foreign Affairs not so much for his institutional experience as for the "correctness" of his ideas. Under his leadership, the new diplomacy should be based on an ideology composed of religious (Judeo-Christian) ultra-conservatism, programmatic anti-socialism, and vain nationalism. The implementation of this project should result in improving relations with the United States, Israel and those European countries that are led by right-wing conservatives.
Diplomacy on the Edge
As the new ruling elite in Brazil moves from words to deeds, concerns seem to have arisen that the new foreign political doctrine may cause the country economic and political damage. As a result, a group of the new President's supporters led by Vice President General Hamilton Mourão (ret.) have been attempting throughout January to mitigate a series of foreign political messages that emerged during the presidential campaign.
At the very least, such actions result in an inevitable conceptual conflict between Mourão and Minister of Foreign Affairs Ernesto Araújo. Attempts to side-line the latter and remove him from the decision-making process are already obvious, so much so that the Vice President has met with ambassadors of several countries, including China (whose influence in Brazil was proclaimed to be almost the chief threat to national sovereignty during Bolsonaro's presidential campaign), without the Minister of Foreign Affairs being present. This is at the very least unusual and goes against established practice. However, Mourão's actions have not gone unnoticed. The Brazilian media has started to call Araújo's growing isolation a "cordon sanitaire."
The USSR Standing between Brazil and Russia
Given the budding internal confrontation, it is extremely hard to predict the course that Brazil–Russia relations will take. Unlike China, Russia was not criticized directly by the new President, but this might be due to the fact that Russia was not mentioned at all during Bolsonaro's campaign. We can only guess as to his attitude towards the country.
As an ardent anti-communist, Bolsonaro is certain to view Russia at least with some suspicion because of its Soviet past. Russia probably does not quite realize it, but the USSR still remains an important fact in bilateral relations. Even though 2019 will mark 28 years since the collapse of the USSR, Brazil's right-wing politicians and a significant chunk of the population still view President Vladimir Putin as a Soviet apparatchik who never cut his functional ties to the KGB. The fact that the KGB has itself been defunct for over a quarter of a century does not matter at all, since its successor has not yet gained comparable publicity (which is probably for the better) and the KGB continues to be a grim symbol of all things Soviet.
Although influential Brazilian analysts, such as the economist Mailson da Nobrega, insist that "true socialism" died in 1991 and that Bolsonaro's crusade is pointless, for many Brazilians, the spectre of communism still lives in the Kremlin.
The support that Russia is extending to Nicolás Maduro's seriously battered government helps feed this phantasmagoria. In an interview with Brazilian TV several weeks ago, Bolsonaro expressed concern about Russia's military manoeuvres in Venezuela and, in this connection, even announced he could consider having a U.S. military base in Brazil.
This is the unstable background against which relations between Brazil and Russia are developing. Naturally, at this stage there is no initial data that would allow us to make accurate forecasts for the development of Russia–Brazil relations, but at least three major movement vectors from this bifurcation point can be seen, each of which may noticeably oscillate when confronted with an unpredictable reality. Let us call them horizons: their outlines are already visible, but it is not yet clear what lies beyond.
The First Horizon: Is a "Holy Alliance" Possible in the 21st Century?
Part of Brazil's new ruling elite considers Putin's Russia as a state that is closer to religious conservatism (linked with the Orthodox clergy) than to left-wing liberalism that ideologically stems from the "Red May," i.e. the events of May of 1968. This group is headed by Chancellor Araújo. Back in 2018, before assuming the ministerial office, he proposed a "Christian pact" with the United States and Russia. He thought that such an alliance would challenge the "globalist axis" created by China, Europe and the American left. This statement was part of a single ideological package that also included criticism of Brazil's participation in multilateral international forums and the announcement of the country's withdrawal from the UN Global Compact for Migration.
It is quite possible that this impression of moral and political alignment which, according to the Chancellor, could happen between Brazil and Russia (Bolsonaro and Putin) was bolstered by the courtesy of the Russian side in congratulating Bolsonaro on his election victory. Bolsonaro replied to the congratulations from @KremlinRussia_E on Twitter, writing "Thank you, President Putin!" in his personal account on October 29, 2018. In addition to the tweet, the Russian President also sent a congratulatory telegram.
Although Putin probably views the mercurial Bolsonaro with a certain caution, he extended a hand again in a letter sent in late December 2018 emphasizing the possibility of a strategic partnership between Brazil and Russia. A few days later, Speaker of the State Duma of the Russian Federation Vyacheslav Volodin and his deputy Olga Yepifanova represented Russia at the President's inauguration. The Russian delegation also met with the incumbent President of the Chamber of Deputies of Brazil Rodrigo Maia, who plans to be re-elected to the office with the support of Bolsonaro and his party (the Social Liberal Party).
If top level contacts do make it possible to overcome ideological fears and improve mutual understanding, Araújo is likely to pay much attention to an alliance with Russia, including possibly in the BRICS format. Brazilian diplomacy may need Russia as a counterbalance to China's influence in the bloc. For Brazil's right-wing politicians, China remains a source of a far greater number of phobias than Moscow. Despite opening its economy in recent decades, formally, China remains a communist country and is the greatest epitome of the "Red Scare" for Brazil's anti-communists. In a highly controversial article written when he was only a nominee for the office of the Chancellor, Araújo claimed that "Maoist China had to be opposed."
The Second Horizon: Realpolitik Brazilian Style
If Araújo is side-lined and the Realpolitik promoted by Vice-President Hamilton Mourão moves to the foreground, then, as surprising as it is, roads leading to Moscow still remain, although they might not be quite as straight.
In a recent interview, Mourão said he did not understand the point of an accelerated rapprochement between Brazil and Israel. It directly contradicted the idea of opening Brazil's embassy in Jerusalem, which Bolsonaro proposed in support of a similar move by Trump. In the same interview, he quite unexpected asked, "Are we ready to pay any price to be fans of the Americans?"
Could Russia consider such statements as an invitation to engage in a dialogue? We believe it could.
Such a dialogue could take place at the upcoming 11th BRICS Summit, which will be held in Brazil in 2019. Mourão, who is fluent in English, could be a useful interlocutor for the bloc partners. He pays less attention to "anti-communism" and, unlike Araújo, does not think that the issues of global warming and sustainable development that had been discussed at the 10th BRICS summit are "hijacked by left-wing ideology." Russia should use this chance to build bridges.
The Third Horizon: Getting Personal
If we forget about all groups and consider the personal impressions that the two countries' leaders can produce on each other, then Brazil–Russia relations still have a future.
Like Chancellor Araújo, Bolsonaro is an avowed admirer of President Trump. Trump has an equivocal, yet generally positive attitude towards Putin. Behind his criticism of Russia's policies and politics and the reserved attitude towards Russia that stems from domestic political factors, one can periodically glean Trump's respect for Putin and even a desire to emulate his style.
This is probably very similar to what Brazil's new president feels about the Russian leader. There is no doubt that Bolsonaro at the very least respects Putin, and probably, deep down, admires him. The similarities in their political styles appear to overcome their differences. Their supporters value their images of patriot warriors that bravely and ruthlessly fight against "enemies of the nation."
Brazilian fans who attended the World Cup in Russia were amazed by the number of souvenirs bearing Putin's image. These images are almost universally aggressive, associated with a demonstration of brute force (take the famous image of Putin riding a bear, for instance). It is possible that this practice was partially borrowed for Bolsonaro's presidential campaign, at least in the images that are spread on social networks and forming a similar cult around the new president. The two leaders are becoming increasingly similar in terms of being viewed as "saints" and "the chosen ones" by their supporters.
Bolsonaro's personal contacts with Putin and President of the People's Republic of China Xi Jinping will certainly give him a more realistic feel for geopolitics. Maybe then he will evaluate the possibilities afforded by bilateral and multilateral talks and the global community will eventually come to understand that the ideological structures erected around him are nothing but a "Potyomkin village," or smoke and mirrors.
*Alexander Korolkov, PhD in History, Expert on Latin America expert, RIAC expert
First published in our partner RIAC
Minor Successes And The Coronavirus Disaster: Is Trump A Dead Duck?
That reminder from the Bible, 'He who is without sin, let him cast the first stone' may give us pause — but not journalists who by all appearances assume exemption. And the stones certainly bruise.
Evidence for the bruises lies in the latest poll numbers. Overall, Joe Biden leads Donald Trump 50 to 43 percent, a margin that has continued to increase since January. It is also considerably wider than the few points lead Hillary Clinton had over Trump four years ago. It gets worse for Trump.
In the industrial states of Michigan and Pennsylvania, which Trump in 2016 won by razor thin margins, he is losing by over 4 percent. Also key to his victory was Wisconsin where, despite his success in getting dairy products into Canada, he is behind by a substantial 7 percent. Key states Ohio and Florida are also going for the Democrats.
Trump was not doing so badly until the coronavirus struck and during the course of his news conferences he displayed an uncaring persona larded with incompetence. Dr. Anthony Fauci, the man he fired for correcting Trumpian exaggerations became a hero and Trump the bully.
If that bullying nature won him small rewards with allies, he hit an impasse with China and Iran … while bringing the two closer to each other. Then there is the border wall, a sore point for our southern neighbor Mexico. President Lopez Obrador made sure the subject never came up at the July meeting with Trump, Thus Mexico is not paying for it so far and will not be in the foreseeable future.
The United Arab Emirates, a conglomeration of what used to be the Trucial States under British hegemony. have agreed to formalize its already fairly close relations with Israel. In return, Israel has postponed plans to annex the West Bank. Whether or not it is in Israel's long term interest to do so is a debatable question because it provides much more powerful ammunition to its critics who already accuse it of becoming an apartheid regime. However, it had become Prime Minister Netanyahu's sop to the right wing who will have to wait. Of course, the reality is that Israel is already the de facto ruler.
If Mr. Trump was crowing about the agreement signed on September 15, although it is akin to someone signing an agreement with Puerto Rico while the United States remains aloof. As a postscript, the little island of Bahrain also signed a peace deal with Israel. Bahrain has had its own problems in that a Sunni sheikh rules a Shia populace. When the Shia had had enough, Saudi and UAE troops were used to end the rebellion. Bahrain is thus indebted to the UAE.
How many among voters will know the real value of these historic (according to Trump) deals particularly when he starts twittering his accomplishments as the election nears?
There things stand. As they say, there is nothing worse than peaking too early. Bettors are still favoring Trump with their money. The longer anyone has been in politics the more there is to mine, and for an opponent to use to his/her advantage. Time it seems is on Trump's side.
U.S. Elections: Trump's Strategy of "Peace" might help
Presidential elections in the United States are around the corner and campaigns by the presidential candidates are in full swing in whole of the United States. The Republicans have nominated Donald Trump as their presidential candidate whereas the Democrats have chosen the seasoned politician Joe Biden who has also served as the vice president under the Obama administrations. Over here, a fact shouldn't be forgotten that the so-called Democrats have also imposed an unnecessary war and burden of foreign intervention on the people of America. Let it US intervention in Afghanistan, Iraq or Syria this has imposed huge financial burden on the American people that is being pay by their taxes. United States has around 200,000 troops scattered in the world. There are around 38,000 in Japan, 34,000 in Germany, 24,000 in Korea, 5,000 Bahrain, 5,000 in Iraq, 3,000 in Spain and 12,000 in Afghanistan. Under the Trump administration, much needed decision was taken by the administration for pulling out of troops from all the unwanted and unwelcomed foreign interventions. This has cost huge monetary burden and heavy taxes on the people of US. These interventions were a gift by Democrats to its people that led American to nothing.
Under Trump administration, US decided to withdrawal its troops from Northern Syria. US have around 1,000 troops positioned in the Northern Syria for deterring Iranian influence and countering ISIS expansion in the country. They have decided only to leave special operations force in Syria and will pull out the rest from the conflict zone. It is not the task that will come to an end in days it will take years and huge budget to relocate the troops. This decision might be a breath of fresh air for the Americans but it might weaken the US military positions in front of the Russian military on the globe. United States also has American military troop's presence in Germany as well. Trump administration is willing to reduce the troops in Germany by around 25%. There is around 11,900 troop's present in Germany for securing Europe's security. The Trump administration is focused on relocation and strategic repositioning of the US troops in the world. For this, the Trump administration has decided to pull out its 6,400 troops from Germany as they whole burden is on the US shoulders for costs maintaining alliance and Germany is not paying its share in the defense budget of NATO putting all the burden on the US citizens. Trump administration also slammed the European countries of not paying their due share in NATO defense budget. Italy spends about 1.22% from its budget and Belgium spends around 0.93% from its GDP on the NATO defense budget.
In addition, the Trump administration has shown that they do not want war and conflict. They have also retreated themselves from the foreign intervention drama that has led to damage to the peace of the world. Trump has given an impression that he aims to bring peace in the world not by arms but through negotiations with the conflict actors. Its example is US negotiations with Taliban's for ending the endless war fruitless war that brought destruction for Afghanistan and brutally damaged the standing of US in the world.
There are around 12,000 American troops in Afghanistan that are now reduced to 8,600 troops. The rest are sent home and some are being settled in Italy and Belgium. The Trump administration has declared to reduce the number of troop in Afghanistan by 5,000 by November and will reach 4,000 by June 2021. They are aiming to completely withdraw from Afghanistan within 14 months if a concrete peace deal is signed between Taliban's and United States.
There were more than 100,000 American troops in Afghanistan that went there to fight war on terror but are coming back empty handed. But still in even in these circumstances it will benefit the American people and their issues will be addressed in a better way. Not just this, Trump administration has also decided to withdraw its troops from Iraq that has been there for more than 19 years now putting a burden on American shoulders.
All of this decision by the Trump administration shows that under Trump USA will go for the isolationist impulses that will help them to rebuild domestically and resolve the problem of its people who are indulged in unemployment, poverty, crumbling health system particularly after the outbreak of COVID-19. The health system of United States has proven to be fragile. Despite of being the wealthiest country, its health system crumbled within days leaving thousands of people to die in waiting for their appointment. Many of the people had severe financial crisis that refrained them to go to the hospital and get them treated.
According to some sources many hospitals in New York were running out of financial and had to send people on leave because they were unable to pay them. This led to massive unemployment during such desperate times of the year. Developing countries like Pakistan coped with the virus in a better way despite of having poor health facilities.
Under Trump, USA is moving towards "American First" strategy that will lead towards massive shrinkage in the defense budget of US military. The strategy of retrenchment and aversion of foreign intervention might help Trump in winning the next elections because right now United States has more domestic issues than international problems. The flag of truce in the hand of Trump and aim of brining peace in the world might bring him back in the oval office. It seems like Trump will make USA resign from its self-proclaimed post of "world policemen" that will benefit the world and the people of USA.
Mistrust between Russia and the United States Has Reached an All-Time High
In August 2020, Politico magazine published three letters outlining their authors' views of the ways the United States, and the West in general, should build relations with Russia. The first, published on August 5 and signed by over 100 prominent American politicians, diplomats and military leaders, states that Washington's present policy towards Moscow "isn't working" and that it is time that the United States "rethink" it. The gist of the proposals is that the United States "must deal with Russia as it is, not as we wish it to be, fully utilizing our strengths but open to diplomacy."
This letter prompted a response, first from another group of former American ambassadors and political scientists (Politico, August 11) and then from several eminent politicians from Poland, the Baltic states, the Czech Republic and Slovakia (August 13). Both groups agree that now is not the time to reconsider policies toward Russia.
I am well acquainted with many of the signatories to these three statements. I worked closely with some of them during my tenure as Minister of Foreign Affairs of the Russian Federation and met some of them during negotiations. I still keep in touch with several of them, as we participate in various informal international projects. Since most parties to the emerging discussion are both highly experienced professionals and public figures, their stances on Russia are well known. The list of signatories under each statement hardly came as a surprise to anyone.
I do not think it makes sense to dwell in too much detail on the arguments presented by the parties. At the same time, proceeding from my own experience of U.S.–Russia relations, I would think that I have the right to put forward some considerations of my own.
First of all, on whether a "new reset" in relations between Washington and Moscow is either possible or desirable. One gets the impression that the authors of the letters see the "old reset" spearheaded by the Obama administration as a kind of bonus or advance offered by the United States to Russia in the hope that the latter would "behave" properly. The debate focuses on whether or not Russia has justified this "advance," and whether or not it deserves a new bonus. Personally, I cannot recall a single instance where the United States (during Barack Obama's presidency or under any other administration) gave Russia a "bonus" or "advance" of any kind, made a unilateral concession or indeed did anything that was not in the interests of the United States.
As I see it, the "reset" fully met the long-term interests of both states, particularly in security. Only a very biased observer would claim that the New START Treaty constituted a unilateral concession to Moscow on the part of Washington. Similarly, NATO's call at the 2010 Lisbon Summit for a true strategic partnership with Russia can hardly be viewed as a unilateral concession. In both instances, the interests of both parties were taken into account, as were the interests of international security in general.
Russia and the United States remain the world's leading nuclear powers, boasting the largest strategic weapons capabilities. Moscow and Washington have been engaged in mutual deterrence for decades now. However, an objective analysis of the challenges and threats to Russian and U.S. security shows that the very real dangers that do exist emanate not from the two countries themselves, but rather from processes and trends that lie outside the bilateral relations. Accordingly, any predictions about the possible and desirable prospects for interaction between the two states will be incomplete at the very least if they are taken out of the overall context of the development of the international system.
We have to admit that mistrust between Russia and the United States has reached an all-time high. It will take years, maybe even decades, to rectify this situation. However, I am confident that, sooner or later, we will have to start moving in that direction, not because one party will "wear" the other down, forcing it to make unilateral concessions or even throw itself at the mercy of the winner. First, each side has a large safety margin and is willing to continue the confrontation for many years to come. Second, history shows us that peace achieved through unilateral concession rarely lasts.
Life itself, by which I mean each side understanding the long-term need of its own security, will force the United States and Russia to resume progress towards cooperation. Such an understanding, in my opinion, has nothing to do with the elections in the two countries, or with the opportunistic calculations of individual political forces. Regardless of these calculations, the world is rapidly moving towards the line beyond which a global disaster looms with increasing clarity. Once we take a peek beyond this line, the entire world, primarily its leading states, which bear special responsibility for the fate of the world, will have to make decisions that go beyond their own immediate interests.
As for the debates on when and with whom the United States should enter into a dialogue with Russia, I believe such discussions have zero practical value. It would be extremely unreasonable and even irresponsible to defer talks in the hope that more convenient or more accommodating interlocutors will appear in the partner country or, alternatively, that a more favourable general political situation for negotiations will appear.
I would like to refer to my own experience. As Minister of Foreign Affairs, I constantly kept in touch with U.S. Secretary of State Madeleine Albright, and then with U.S. Secretary of State Colin Powell. That was in the late 1990s–early 2000s. The bombings of Yugoslavia, the war in Iraq, the Middle Eastern crisis, the expansion of NATO and many, many other events objectively made the U.S.–Russia dialogue more difficult. Obviously, our views on many issues differed greatly. But we never broke off our dialogue, not for a day, no matter how difficult it was. Strictly speaking, this is the art of diplomacy: conducting a dialogue with a difficult partner, achieving agreements where the stances of the parties veer widely and the chances of reaching a comprise appear minimal.
Critics will hasten to say that the U.S.–Russia dialogue in the early 21st century failed to prevent many conflicts and wars, and that is true. But it also helped prevent far graver consequences and, where possible, even led to the signing of important mutually acceptable agreements (New START, etc.). The experience of global diplomacy tells us that the only way to find solutions is through dialogue. The sooner our leading politicians realize it, the faster we will step away from mutual public accusations and destructive information wars waged with cutting-edge technologies and move towards earnest talks on the crucial issues of the 21st-century agenda.
Giving general advice is easy. It is even easier to take the high horse, insisting on staying faithful to one's values and principles. It is much more difficult for those who have been accorded the requisite powers to make specific decisions. As the great American economist John Kenneth Galbraith once said, "Politics is not the art of the possible. It consists in choosing between the disastrous and the unpalatable." All we can do is hope that politicians in Russia and the United States will prefer the unpalatable to the disastrous.
From our partner RIAC