Tanzania's industrialization boosted through training on investment projects
A week-long training programme aimed at assisting Tanzanian investment promotion stakeholders in identifying and managing well-planned investment projects for industrial development and undertaking prudent investment decisions concluded today in Dar Es Salaam. The United Nations Industrial Development Organization (UNIDO) provided the training to 20 participants from various Tanzanian investment promotion institutions to enhance their knowledge and skills in the preparation and appraisal of investment projects using its flagship software – Computer Model for Feasibility Analysis and Reporting (COMFAR III Expert) – dwelling on the various stages of preparing feasibility reports as well as the integration of pertinent data for analysis.
Alvaro Rodrigues, UN Resident Coordinator in Tanzania underscored the relevance of UNIDO's work in support of Tanzania's path to industrialization and towards becoming a middle-income country by 2025.
"The Government of Tanzania is keen to ensure that the issues of investment promotion are addressed in a manner that is coherent and involves the broad spectrum of stakeholders. As you are all aware, investment in industry, innovation and infrastructure is among Tanzania's development initiatives to accelerate economic growth, create jobs, reduce poverty and attain the rest of the Sustainable Development Goals (SDG)," Rodrigues said.
"This is why the entire UN family supports and complements the government efforts to ensure 'TANZANIA SASA TUNAJENGA VIWANDA' (Tanzania is industrializing now)."
The training was undertaken in the context of the Programme for Inclusive and Sustainable Industrial Development (PISID) in Tanzania implemented by UNIDO with funds earmarked by the Swedish International Development Cooperation Agency (SIDA) for the Economic Growth and Employment Outcome of the Second United Nations Development Assistance Plan (UNDAP II).
In his remarks as guest of honor during the certification ceremony, Anders Sjöberg, Ambassador of Sweden to Tanzania, noted that Sweden could serve as a benchmark for Tanzania in the attraction of Foreign Direct Investments (FDI). He emphasized that "geographical location, workforce, markets, access to finance and patience" can help establish the stable framework conditions required to attract FDI.
Stephen Kargbo, UNIDO Representative in Tanzania, encouraged the participants to provide their newly acquired skills to support domestic micro, small and medium-scale enterprises, especially those lead by women and youth.  He also praised UNIDO's partnership with the Government of Tanzania, noting: "We continue to enjoy productive leadership, guidance and strong cooperation of our line Ministry, the Ministry of Industry, Trade and Investment (MITI), in both the mainland and in Zanzibar."
Mafuta Bunini, Director of Research, Planning and Information Systems at the Tanzania Investment Centre (TIC), expressed the Government's gratitude to UNIDO and the Government of Sweden for their timely support.
Forthcoming project interventions will build upon the knowledge imparted on COMFAR to the group of professionals in order to build a concrete portfolio of bankable investment opportunities for further dissemination amongst domestic and foreign investors. The training will be carried out next week in Zanzibar, Tanzania. A follow-up advanced training on COMFAR is also planned for March 2019 in both Tanzania mainland and Zanzibar.
The training participants included representatives from the TIC, the Confederation of Tanzania Industry (CTI), the Small Industries Development Organization (SIDO), the TIB Development Bank, the Tanzania's Export Processing Zones Authority (EPZA), the Tanzania Agricultural Development Bank (TADB), the MITI, the Tanzania Trade Development Authority (TanTrade), and the Tanzania Chamber of Commerce, Industry and Agriculture (TCCIA).
Cybersecurity: A Crucial Element of Socio-economic Stability and Prosperity
Cybersecurity has become a key safeguard to future socio-economic prosperity and stability as industries are transitioning towards data- and technology-driven business models and governments grapple with the implications of the Fourth Industrial Revolution. More than 80% believe that risk of cyberattacks will increase in the year ahead. With an estimated pricetag of $90 trillion worldwide, there is a rising imperative to safeguard individuals and businesses.
Under the theme Enabling Leadership for a Secure Digital Future, over 150 leaders and experts in the cybersecurity, policy, regulation and technology fields are meeting at the second annual World Economic Forum Annual Meeting on Cybersecurity in Geneva, Switzerland, to address three priorities: Strengthening global cooperation for digital trust and security, securing future digital networks and technology, and building skills and capabilities for the digital future.
Meeting participants include government representatives from G20 countries, civil society organizations and academia, and prominent cybersecurity leaders from companies representing a cross-section of industries in the private sector. Ten international organizations, 18 countries and over 20 specialized agencies are taking part.
"As the international organization for public-private cooperation, the World Economic Forum is leading a global effort to drive systemic change on the most pressing cybersecurity issues. We believe that this change will be most impactful if the private sector and the public sector work on solutions together," said Alois Zwinggi, Head of the Centre for Cybersecurity.
Key sessions include preparing for future threats, how to secure smart cities, increasing security by replacing passwords and building cyber-resiliance. Leadership, governance and cooperation were key themes.
The Forum, as the International Organization for Public-Private Cooperation, is offering its Platform on Cybersecurity and Digital Trust to allow the participants to drive the cybersecurity agenda for the coming year, to share information on emerging cyber-threats, jointly assess the risks of emerging technologies and collaborate on urgent action to combat cybercrime.
ADB to Help Improve Rural Water Supply, Sanitation in Kyrgyz Republic
The Asian Development Bank (ADB) has approved a $27.4 million financing package to provide safe and reliable water supply and sanitation services to more than 64,000 people living in a mountainous rural area of the Kyrgyz Republic.
The program supports the government's national goal of increasing access to safe water supplies from current levels of 40% to 90%, and for sanitation services from 10% to 70%, by 2026.
ADB's assistance, comprised of a $13.7 million results-based loan and a $13.7 million grant from the Asian Development Fund, will improve water supply and sanitation infrastructure and facilities in the province of Naryn, where 29% of the population was living below the poverty line in 2017.
"Access to safe and reliable water supply and sanitation services is a basic human right and integral to the growth and development prospects of a developing country like the Kyrgyz Republic," said ADB Senior Urban Development Specialist for Central and West Asia Mr. Jude Kohlhase. "We are committed to helping the people of the Kyrgyz Republic, especially in the province of Naryn, lead healthier and more productive lives."
Access to safe drinking water and sanitation services in the Kyrgyz Republic's rural areas remain minimal. Most of the country's water supply and sanitation infrastructure is outdated, while poor water quality and sanitation costs the country over $100 million annually. Only about a quarter of rural households had piped water connections in 2014, while about 73% suffered from intermittent water supply. Only 10% of rural households have access to sanitation facilities.
The Naryn Rural Water Supply and Sanitation Development Program will include safe water sources, water storage, and treatment and disinfection systems; distribution networks for all 31 program villages; and gender-sensitive safe water and sanitation facilities in selected education and health facilities. The program will also pilot non-networked household sanitation solutions for remote areas.
The program will likewise strengthen institutional capacity of utility providers for better service delivery such as better financial management, while introducing gender-specific measures in their operations, including ensuring at least 20% female employment.
The total cost of the program is $32.9 million with the Government of the Kyrgyz Republic contributing $5.5 million in financing. ADB is also providing a $225,000 technical assistance grant for the program, which is expected to be completed by the end of 2026. ADB will also provide an additional $2.5 million grant from a small expenditure financing facility to support program implementation, including verification of the program results.
IRENA Facilitates Investment and Renewable Projects on Ground in Africa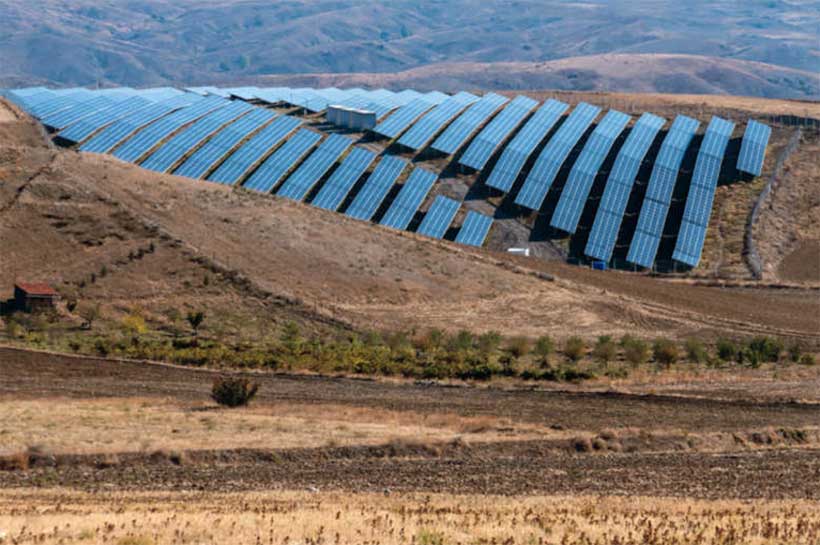 Boosting renewable energy projects on the ground requires scaling up investment. IRENA's state-of-the-art analysis of enabling policy frameworks and finance mechanisms channel public and private investment in markets like Africa, Latin America, Asia, South-East Europe and the Small Island Developing States (SIDS). Now, IRENA is taking its work one step further by increasing the Agency's on-ground impact with 15 regional and sub-regional platforms which aims at scaling up renewables deployment and investments.

One step in this new direction is the event that took place in Johannesburg as part of the Africa Investment Forum hosted by the African Development Bank. It facilitated renewable energy deal-making in Sub-Saharan Africa in partnership with Power Africa and the African Trade Insurance Agency. The event corresponds to IRENA's new direction and way forward ensuring an acceleration of the renewable energy transformation globally.
Speaking at the Investment Forum in South Africa, IRENA's Director-General Francesco La Camera underlined the importance of renewable energy to meet sustainable economic growth and Africa's climate and development ambitions. "Now more than ever, renewables have become a compelling investment proposition", said La Camera. "With renewable energy technology prices set to decline, the cost-competitiveness of renewables will strengthen further. IRENA's analysis shows that nearly a quarter of Africa's energy needs could be met from indigenous and clean renewable energy sources by 2030. This would result in a wide array of socio-economic benefits in terms of economic growth, welfare, employment and energy access. It's Possible".

IRENA has been committed to supporting African governments in their quest for a sustainable energy future. The Agency has supported countries in building attractive investment frameworks for renewables to strengthen institutional and technical capacity. It has also supported the development and financing of renewable energy projects through project facilitation tools.
"A lot remains to be done to address the key risks and barriers that hinder the scale-up of renewable investment in the region", La Camera continued. "There is no shortage of renewable energy project proposals which are competing for investor capital. But they are not always financially viable. Many proposals fail to materialize due to high cost of capital, limited access to risk mitigation solutions and long delays in projects".

By building on its extensive project pipeline in Sub-Saharan Africa with over 90 renewable energy projects, the Agency has showcased 10 renewable energy projects at the Investment Forum. Projects from Cameroon, Cote D'Ivoire, Kenya, Mali, Senegal, Sierra Leone and Togo which have a total capacity ranging from 6 MW to 70 MW – covering technologies like wind, solar, bioenergy and hydropower – were presented.

IRENA's project facilitation platform provides project owners and developers with increased visibility for their projects among financiers and other market players. Project owners have access to wide range of financial instruments provided by multiple investors from development finance institutions, private companies, utilities, private equity funds, donor and multi-donor facilities, commercial banks and more, as well as access to different services for example legal and financial advisory, environmental, project development and Engineering Procurement and Construction contracting.
More information about IRENA's project facilitation.