Sri Lanka and Tamil Nadu: Common grounds That Can Turn a New page in Bilateralism
Authors: Srimal Fernando and Harini Jayaraman*
Kanyakumari ,situated in Tamil Nadu which is the Southernmost point in India is where the waters of the Bay of Bengal and Arabian sea merge. In fact, Sri Lanka lies only  twety  two  nautical miles away from India. Tamil Nadu and Sri Lanka's historical ties go back centuries and include all areas of contemporary relevance. The nature of these relations have had mixed results as they have been marked by prosperity and disheartening periods due to numerous reasons. Looking back on the corridors of history, the age old bonds between the Indian southern state constituting of 72 million and the 20 million inhabited island nation of Sri Lanka go beyond official diplomatic relations. It might be worth mentioning that the economic and cultural integration between the island and the state have reached new heights.
One of the major reasons that can be attributed for Tamil Nadu state to have close relations with Sri Lanka is due to its vital geographical position and the other being 1.6 million Indian origin Tamils living in Sri Lanka contributing to Sri Lanka's tea industry which brings an annual revenue of US$1.5 billion. It is noteworthy to mention opening a new Indian Ocean foreign policy chapter in the mid 70s,the International Maritime boundary line(IMBL) agreement demarcating the Palk Strait waters marked a significant milestone between the Southern Indian state and the South Asian island nation. Hence, the South Indian Ocean Fisheries Agreement signed in 2006 contributed further into securing the fishing resources between the state and the island. In fact there is no doubt this significant agreement might have enhanced India's fisheries output where India exports over US$ 5.7 billion worth of sea foods annually. Another important focal point is the Tuticorin and Colombo ports that handle a major volumes of cargo between the Southern state of India and the island nation. The recent figures show that Colombo port handles more than 70% of trans-shipment containers of Indian origin(Asian Development Bank,2016).
As neighbours, Sri Lanka is one of the largest tourism markets for Tamil Nadu travellers. With respect to tourism, India is the largest market for Sri Lankan tourism. As per the recent figures released by the Tourism authorities each year over 4,00,000 Indians visit the Island nation as tourists. A significant portion of Indians travellers are from Tamil Nadu. To suit the interests of the tourists 126 flights fly from Sri Lanka to 14 different Indian cities every week. Hence, for tourism purposes both nations have simplified fast track procedures for processing visa applications. The connection between the state and the island are also strengthened on the basis of culture. In fact, Sri Lanka Buddhist Center located in Chennai is a symbolically important landmark that bridges the age old friendly ties. Since yester years, Sri Lankans are known for their love for Tamil films. In addition to that, Tamil delicacies are savoured by the islanders.
However, successful exchanges between these two places does not imply that Tamil Nadu state ties with Sri Lanka was always free of trouble. During the Island Nation's internal crisis during the 80s and 90s the economic diplomacy experienced a downfall which hurt economies of both places. Nonetheless, the neighbours did not let the trouble period break their trade bonds and they recovered from the losses in the coming years.
Over the years the Southern Indian state and Sri Lanka experimented in changing the face of the economic landscape. In this context, the India-Sri Lanka Free Trade Agreement(ISFTA) signed in 1998 turning a new page in foreign relations. Therefore, the FTA led to more scope for the Southern Indian state and the island nation to have tariff free access to  certain consumer products and gain an upper hand as suppliers. In analysing the two way trade statistics, in 2000 the trade figures which was at US$ 658 million had risen to over US$ 3 billion by the end of 2010(Handbook on ISFTA,2013). In the recent past, Sri Lanka was India's second largest trading partner among South Asian Association for Regional Cooperation(SAARC), (Economic Times,2018). As per the recent statistics in 2018,the two way trade between India and Sri Lanka crossed US$5 billion. Looking through the lens of economic diplomacy it is still too early to determine how this deep rooted Tamil Nadu and Sri Lanka's relations is expected to grow at a rapid pace in all sectors. On the more microscopic level, resolving the f issues relating to fisheries near the IMBL is clearly one of the most urgent requirement to resolve. From a purely foreign policy stand point addressing of specificities of the Indian state of Tamil Nadu and Sri Lanka obviously alters India's foreign relations with the island nation. For Sri Lanka's relations with India to flourish finding common grounds and integrating economic diplomacy with Tamil Nadu can be a new basis for opening a new page in Indo-Lanka ties.
*Harini Jayaraman, a scholar of Masters in Diplomacy, Law, Business at Jindal School of International Affairs, India and has attained a Bachelor of Science degree in Psychology from University of Madras.
Indian External Affairs Minister (EAM) Jaishankar has been a particularly busy man for the last few days. Even by his own standards, the last few days have proved intense and hectic.
A passing glance at his schedule gives us a snapshot of the scope of India's contemporary foreign policy. Tackling a whole host of multilateral, regional, trilateral and bilateral relationships in a span of ten days, he has signaled India's dexterity to engage in diverse relationships and juggle multiple balls at the same time.
The key takeaways of the last few days have been reformed multilateralism at the UN, South-South cooperation within the CELAC, CARICOM and IBSA forum, rebalancing in the Indo-Pacific through the QUAD and regional trilaterals like the India-UAE-France, India-France-Australia and India-Australia-Indonesia.
Seen by some as an ineffective talk shop, the minister also didn't shy away from the BRICS foreign ministers meeting on the sidelines of the UNGA and demonstrated New Delhi's willingness to balance ostensible contradictions with a straight face.
The minister's visit also allowed India to undertake an honest stocktaking of its bilateral partnership with Washington. The press conference with Secretary of State Blinken captures the plethora of domains which have witnessed vigorous cooperation between the two partners over the last few years.
However, like mature states covering for their own interests, some disagreements naturally surfaced between them. Primary disagreements were over New Delhi's oil imports from Russia and Washington's sustenance of F-16s to Pakistan for supposed counter-terrorism purposes.
At a community gathering, Minister Jaishankar, referring to restarting of the maintenance of the F-16S for counter-terrorism, nippily quipped that the US was "not fooling anybody by saying these things" and questioned the merits of the US-Pakistan relationship. When the Americans were asked about it, the US tried to give New Delhi a taste of its own medicine.
Experts believe that if New Delhi wishes to demonstrate "strategic autonomy" by engaging multiple sides and maintain friends in all camps by engaging the QUAD, SCO and Russia at the same time, others might also seek to do the same. After all, whether one likes it or not, interests trump values.
It is no coincidence that Pakistan's Foreign Minister Bilawal Bhutto also happens to be visiting Washington at the same time as his Indian counterpart. An urgent change in US-Pakistan ties is an important prospect from Rawalpindi's point of view. In the short-medium term, Pakistan urgently seeks western assistance for rehabilitation due to the havoc caused by the recent floods. It also seeks to mend its crumbling economy when usual creditors like Beijing seem wary of lending.
Washington, perhaps, still feels that Pakistan's geography doesn't allow it to remain immaterial in its own strategic calculus. Pakistan shares close geographical proximity, and land borders in some cases, with Afghanistan, Iran, China and India. Washington also thinks that Pakistan could provide help in stabilizing Afghanistan while it remains preoccupied with Ukraine and China.
Coming back to US-India relations, some analysts believe that the bilateral relationship, despite all its progress over the last two decades, was witnessing signs of stress. They see minister Jaishankar's visit as primarily aimed for damage control and corrective dialogue.
All said and done, the India-US partnership still remains one of the most consequential relationships of the century and holds immense potential in ensuring stability at a time when the global order is under a tumultuous flux.
BJP's 'Akhand Bharat' Dream is Not Only Problematic, Fascist Also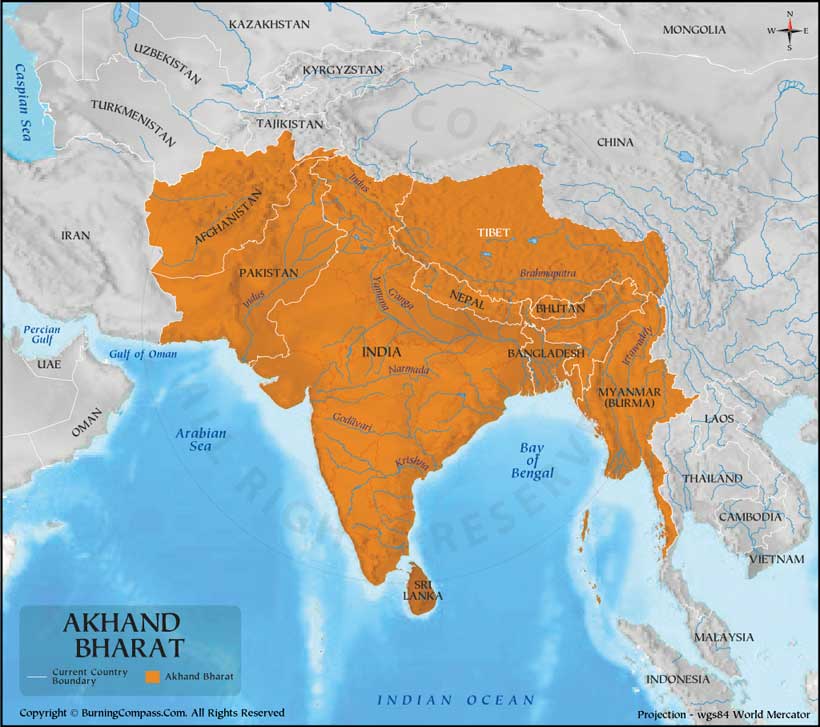 On 7th September, Assam Chief Minister (CM) Himanta Biswa Sarma made a very controversial remark about 'integrating Bangladesh and Pakistan'. Minister Sarma tried to counter Congress's 'Bharat Jodo Yatra' and remarked that "India is united. From Kashmir to Kanyakumari, Silchar to Saurashtra, we are one. Congress partitioned the country into India and Pakistan. Then Bangladesh was created. If Rahul Gandhi feels apologetic that my maternal grandfather [Jawaharlal Nehru] made mistakes, if he regrets it, then no point of 'Bharat Jodo' in Indian territory. Try to integrate Pakistan, Bangladesh and strive to create Akhand Bharat." Minister Sarma made the remark at a time when the Prime Minister of Bangladesh, Sheikh Hasina was officially visiting India, hence present in India.
Though it may seem that the BJP leader was trying to 'tease' Congress, his rhetoric is a part of BJP's controversial 'Akhand Bharat' concept- a concept of unified India that covers whole South Asia and Myanmar. The concept is therefore quite alarming for the sovereignty of all other South Asian states.
'Akhand Bharat' is a concept associated with Hindutva ideology. The concept cherishes for a mythological India that dates back to state formation and pre-partition era. The concept takes 'Hindu hegemony' as granted. Hence, the majoritarian concept is supported by right-wing Hindu nationalist parties of India such as Rashtriya Swayamsevak Sangh (RSS), Vishva Hindu Parishad (VHP), Shiv Sena, and Bharatiya Janata Party (BJP) etc.
In the contemporary world, Akhand Bharat has a contrasting relation with Westphalian order. It tries to override the concept of sovereignty based on 'so-called' historical claim and calls for physical expansion- a fascist method to increase land boundary. Even though the concept was considered as radical in its early days, the prolonging BJP rule in the last decade has made it mainstream through like-minded media coverages.
While many cherishes this united India dream, the concept also faces 'backlash' from the progressive quarter of India. Unfortunately, the growing majoritarian trend since last decade in 'World Largest Democracy' is resulting in wider acceptance of the concept within India as BJP's public support is skyrocketing. The promoters Hindutva is using India's democratic culture and manipulating large population to achieve their dream. Assam CM's latest remark mentioned in the beginning of the article while the PM of the particular country is present, also shows how mainstream the concept has become.
However, this fascist concept and Hindutva ideology is bringing adverse impact for India both internally and externally. Internally, it is contributing in the growth of right-wing politics in India. The radical interpretation of Hindu Supremacy is also dividing the population of India creating a 'Us vs. Them' narrative which is detrimental to India's federation also. For instance, when the BJP government scrapped Article 370 for Kashmir revoking its semi-autonomy, the right-wing parties were quick to acknowledge it as a part of building Akhand Bharat. In the same way, when former Pakistani Cricketer Danish Keneria expressed his desire to visit 'controversial' Ram Mandir(Temple) in Ayoddhya, the temple trust's chief also used the concept saying that "Pakistan is a part of Akhand Bharat and Hindus living there are our brothers. If he (Kaneria) wants to visit Ram Mandir and offer prayers, then he is most welcome,"
As India is a federal union among total 36 states and union entities, the Hindu Majoritarianism poses threat to its social harmony and makes other religions minority. It also poses a threat to its social harmony by fueling hate-speech, Islamophobia and misinformation- popularly known as 'WhatsApp University'.
Externally, the concept creates fear over sovereignty for other states included in Akhand Bharat map. There is always a fear in the back of the mind that India may have a 'Kautilya-like' long-term strategy to annex them. The annexation of Sikkim serves as an example for their fear, even if the case may be different. It is also a disrespect to the idea of sovereignty and self-determination for most small South Asian states. The Spillover effect of growing hate-speech and Islamophobia in India also adversely affects South Asia's communal harmonies.
Again, this fascist concept also keeps a fear of physical expansion alive in South Asia- an overall peaceful region. The concept is also problematic for small South Asian states who tries to maintain a warm and balancing relation with India for their strategic calculation.
However, the fear is also not irrational considering BJP leaders' so-called master-plan. Last year, Tripura's CM and BJP leader Biplab Deb created a controversy by revealing that BJP has plan to expand its footprint by establishing government in Nepal and Sri-Lanka. Such 'expansionist dream' is also contradicting to existing wisdom of international relations and law.
In conclusion, India is not only the world's largest democracy but also has the role of 'Powerhouse' in South Asia. It's ruling party's such expansionist dream is a symptom of fascism and is only comparable to Mussolini's great Roman empire and Hitler's Lebensraum. Hence, the growing fear of physical expansion is rational. Therefore, Akhand Bharat and related speeches by top right-wing leaders are not only problematic, fascist also.
Floods; A Challenge to Comprehensive National Security of Pakistan
Pakistan is encountering one of the major catastrophic occurrence in the present day history. The colossal floods, along with the glacier melt, have prompted 33% of the nation to submerge underwater with more than a million individuals being displaced along with a loss of above 43 billion. The rising recurrence of floods, outrageous rainfall, and heatwaves have moved environmental change from a hypothetical conversation to an intense burden on the country and its people. Looking at the human perspective, the losses are too grave to quantify. However, in political terms, they address the missing area of climate security in the state's national security paradigm, which could present existential difficulties for Pakistan.
Pakistan's comprehensive national security is under stress by the adverse consequences of outrageous weather events across different areas. It isn't just about financial security versus traditional security any longer. Comprehensive National Security can never be comprehensively achieved because national power comprises of all components and assets that facilitate the state to pursue interests. Hence, all these components, resources, and areas form the crux of what we call comprehensive security. Subsequently, to address the existence of multiple threats, an extensive perspective on national security is expected with an equivalent focus on all areas, while prioritizing climate security because of its seriousness and immediacy. The grave economic losses may be quantified in the long run but societal and political impacts also cannot be ignored. Pakistan's representative of UNICEF, Abdullah Fadil reposts that "At least 18000 schools have been damaged in the flood, which have affected an estimated 16 million children. Many children are now at heightened risk, without a home, school or even safe drinking water. There is therefore a risk of many more child deaths." International experts, humanitarians and Social workers visiting Pakistan have termed it as one of the largest catastrophe of the modern history. South Asian expert Michael Kugelman states "that the only hope within the flood victims is the International aid but it is slow to come". The international world needs to respond to the aid appeals as a collective responsibility rather than a favor to Pakistan because the climate change crisis is largely driven by the world's most industrialized countries.
The 2022 floods in the country have uprooted entire communities, finished occupations and revenue generation sources, and have drastically expanded migrations inside the country and levels of urbanization. Assume relief projects are not comprehensive and the impacted population feels that they have not been accommodated Post-catastrophe which they themselves didn't create.  Considering all this, their confidence in the legitimacy or administering authority of the state could be antagonistically affected, creating threats of mass unrest. Destroyed homes, displacement within the country, and temporary camp-like arrangements have a potential of posing critical identity challenges and meanwhile create financial instabilities among impacted communities. Such aftereffects severely hurt the societal and political segments of security, undermining comprehensive national security. Such extreme climatic disasters account for short term reliefs along with long-term impacts on the resources of state. Increased displacement within the country, increased poverty with unemployment rate on the surge creates huge risks which directly impact the comprehensive national security. Violence against women tend to rise, Children drop out of school as there exists no infrastructure, food security is challenged, health security is badly endangered and quality of human life declines in a worst possible way. Extremists, Proxies and non-state actors may capitalize on resentment felt by the displaced. In short, human security is challenged in all basic forms.  So when human security is challenged, how can a state achieve comprehensive national security which itself places human as a center point.
Another challenge which is indirectly affiliated with the climate change is directed towards military. Pakistan's military has played a crucial and a comprehensive role in flood through its rescue efforts, humanitarian relief and rehabilitation process. Military has rendered sacrifices in these flood operations especially when a Corps Commander along with senior officers embraced martyrdom in the Lasbela district in Balochistan while overlooking relief activities. The IPCC report itself states that Pakistan's Humanitarian Assistance and Disaster Relief (HADR) will only increase over time. Military resources being expended to HADR will obviously take away military's attention away from hardline security issues and put it under increased management stress in times to come.
It can be asserted that the comprehensive national security is under stress by the negative impacts of horrific weather incidents across the various sectors of the society. It isn't only about economic security versus the traditional security anymore, because today what constitutes the national power and comprehensive national security isn't only the traditional and economic security but all societal elements form a collective part of this comprehensive framework. Thus, a comprehensive outlook of national security is required with equivalent focus on all sectors, with a priority on climate and food security due to its immediacy.