Afghan Women Socio-economic Status and Gender Equality in Afghanistan
Gender inequality refers to unequal treatment or perceptions of individuals based on their gender. It results from differences in socially determined gender roles and through the biological differences between men and women we discussed in the earlier session. While gender equality is a basic right that does not require economic justification, gender equality is a key factor in contributing to the economic growth of a nation. Because women account for one-half of a country's potential talent base, a nation's social and economic development in the long term depends on whether and how it educates and engages women in the economy.
The Economic and Social Council of the United Nations has defined gender mainstreaming as follows: "Mainstreaming a gender perspective is the process of assessing the implications for women and men of any planned action, including legislation, policies or programs, in any area and at all levels. It is a strategy for making women's as well as men's concerns and experiences an integral dimension of the design, implementation, monitoring and evaluation of the policies and programs in all political, economic and societal spheres so that women and men benefit equally, and inequality is not perpetuated. The ultimate goal is to achieve gender equality."
Gender mainstreaming is a process of assessing the impact for women and men of any planned action, including legislation, policies or programs, in any area and at all levels. It considers women and men's concerns and experiences in the design, implementation, and monitoring and evaluation of policies and programs in all political, economic and social spheres to promote gender equality. Government officials and elected representatives who are involved in policy formulation, project planning, preparation of budgets, program implementation and review are responsible for gender mainstreaming
The government of Afghanistan is committed to promoting women rights as enshrined in the Constitution approved 2004 and in international treaties and conventions, including the Convention on the Elimination of All Forms of Discrimination Against Women (CEDAW) that was signed by Afghanistan in 1980 and acceded in 2003, the Millennium and subsequent Sustainable Development Goals (SDGs), and United Nations (UN) Resolution 1325 on Women, Peace, and Security. The National Action Plan for the Women of Afghanistan (NAPWA) 2007-17 is the Afghan government's plan for implementing its commitments on gender equality and women's empowerment. Specific goals include:
-The elimination of discrimination against women and the development of women's human capital and female leadership.
-NAPWA implementation focuses on sectors that are critical to improve the women's situation: security, legal and human rights, leadership and political participation, economy, work and poverty, health and education.
-To realize the government's gender equality commitments, gender is a cross-cutting in strategic and policy documents such as the ANDS/ANPDF, the NPPs.
Legal and Policy Framework for Gender Equality in Afghanistan
In Afghanistan there have been a number of systematic efforts to mainstream gender into the development process since 2001. The Bonn Agreement of 2001 setting the course for the new Afghanistan nation and government included a commitment to mainstreaming gender issues endorsing the establishment of "a broad-based, gender-sensitive, multiethnic and fully representative government". The Agreement lay the foundation for several institutional developments including the drafting of a new constitution and the establishment of a Ministry of Women's Affairs (MoWA) responsible for mainstreaming gender into the policies and programs of the ministries to ensure that gender equity concerns are addressed. The Afghanistan constitution, ratified on January 4, 2004 promotes gender equality when it states: "Any kind of discrimination and distinction between citizens of Afghanistan shall be forbidden. The citizens of Afghanistan, man and woman, have equal rights and duties before the law." (Article 22) The Afghan National Development Strategy (ANDS) provided the development framework for the nation across the key areas of security, governance, economic and social development.  The ANDS (2008 – 2013) vision for promoting gender equality across government is the "promotion of women's advancement is a shared obligation within government and it is a collective responsibility of all sectors, institutions and individuals to include women or gender concerns in all aspects of government work – from policies, to budgets, programs, projects, services and activities, including recruitment, training, promotion and allocation of benefits and opportunities."
Afghan Government's Policy Role for Socioeconomic Development of Women and Girls in the Society
The government policy can facilitate women's labor force participation including in the government as civil servants. Many governments now institute policies that encourage women to work and make it easier for them to do so. Maternity, paternity and parental leave are closely associated with women's economic participation in many parts of the world. Parental benefits enable mothers, fathers or both to take paid or unpaid time off to care for a child following birth can increase women's participation in the workforce and foster a more equitable division of childrearing. Childcare is an important factor in allowing women to reconcile professional and family obligations because women tend to bear the majority of the caregiving responsibilities in most countries. For example, a well-established daycare system can support women in employment, thereby improving the efficiency of labor markets. Legislation can help to prevent gender-biased discrimination in society and create an enabling environment to support women through, among other policies, obligatory and voluntary quotas in public and private entities, targeted subsidies to female businesses, anti-harassment and affirmative action and supervisory bodies monitoring the implementation of national policies.
Increasing Women's Participation in the Civil Service in Afghanistan
In January 2018, the Independent Administrative Reform and Civil Service Commission (IARCSC)of Afghanistan proposed a new government wide policy on equal employment opportunities for women in government. The new policy entitled "Policy on Increasing Women Participation in Civil Service" is designed to help overcome gender related discrimination in the work place. The implementation of the policy will help to resolve the problem of discrimination and biased employment opportunities.  "A discriminatory approach in employment opportunities particularly towards women violates the principles of effectiveness, ownership of activities and justice. Therefore, it is the responsibility of all to manage the working environment and employment procedures in a manner that helps to remove this fundamental issue in the civil service sector of the country," stated the IARCSC Commissioner regarding the new policy.
"Gender equality is an individual and social responsibility for all of us. These types of policies will ensure that we all change our ideas and change our actions," stated the head of the complaints board of the IARCSC. The increasing women's participation policy proposes a number of actions to improve the processes and procedures for recruiting more women in the civil service, safety in the workplace, security and social security, these proposed actions will create an enabling environment to help recruit and retain more women in the civil service. The overall goal of the draft policy is to increase the role of women in government institutions to 30 percent of the total workforce within the next two years. Currently, women comprise about 22 percent of total employees of government institutions in Afghanistan.
Women and the Afghanistan Carpet Industry
Carpet weaving is an important part of Afghanistan's history and culture and is known throughout the world for its quality. It is easy to set up a loom within the home and materials for carpet weaving are inexpensive and easy to obtain. Because of this, many Afghan women develop the skill and are able to generate income for their family without having to leave the home and children.
However, the lack of large-scale resources to cut, wash, and finish these carpets has prevented Afghanistan from fully capitalizing on one of its most valuable exportable commodities. Because there have been inadequate efforts from the government to create an enabling environment for carpet producers to do business, and a lack of investment in building the capacity of women who are involved in carpet weaving in business and marketing, much of Afghanistan's carpets are exported for finishing and final sale. Pakistan has particularly benefited, where the government has invested and given tax credits for carpet production.
Due to the lack of investment in a predominantly female handicraft industry in Afghanistan, Afghans lose the full profit of their hard work and craftsmanship, and the country loses valuable economic resources in potential taxes and revenue generation, carpet sales to expand the national economy, and development of a sustainable domestic industry from which both men and women can benefit.
Afghan Women in Security Sectors
A recent report on gender responsive budgeting in fragile and conflict-affected states noted the risk that in post-conflict countries the attention to gender equality is usually focused on the social services with less gender-specific funding for sectors important for state- and peace-building like the security sector and economic recovery. This is important to consider in Afghanistan.
In Afghanistan, the security sector (mainly Ministry of Defense, Ministry of Interior, National Directorate of Security) represents more than 40% of the national budget.  The security sector development budget is fully funded by the international community.  The Tashkeel of the security sector is about half a million employees.  To date there has been some progress towards increasing women's participation in the security sector including:
Ministry of Defense: Of 195,000 Afghan National Army representatives, 14,007 are women which is less than 1% of the total. In 2016, 400 women new recruits were studying in the National Military Academy. The Ministry of Defense is planning to increase the number of women in the Army by 5,000. A number of women within ANA have been given the opportunity to pursue higher education in universities. A number of women have also had the opportunity to use scholarships to pursue their higher education outside the country.
Ministry of Interior: Of a total 150,000 Afghan National Police, 3,269 are women (2,937 police and 389 civilian) currently working within the Ministry of Interior. 8,210 police women associations have been established within the ANP across the country with policewomen meeting regularly and discussing their challenges and finding solutions. The recruitment processes for policewomen have been good resulting in an increased number of women in ANP. There have been some technical capacity building efforts inside and outside country for police women. There have been some improvements in providing facilities such as women toilets, women changing rooms. In some provinces, the presence of women in the police headquarters has increased citizen's trust in the police force particularly among women. Women contact policewomen regularly and seek their support. In some provinces, policewomen have been successful in identifying and arresting insurgents wearing women clothing and identifying security threats, smugglers of narcotics and guns as well as those engaged with robbery and abduction of citizens.
National Directorate of Security: 700 women are currently working with the National Directorate of Security across Afghanistan. Capacity building initiatives have been conducted such as courses on improving English language, driving skills and first aid skills for women. Some women have been promoted.
Despite the progress to date, challenges remain in an effort to empower women and increase their participation in the security sector. These challenges include: 1) weak recruitment campaigns and a prevailing attitude within ANSF that women lack capacity to do specific roles; 2) Due to discrimination in a male dominated sector, there has been little efforts to put forth plans for promoting women and assigning them to more leadership roles; 3) Women often have not received weapons and equipment despite being trained to use them and often have not received uniforms; 4) Women still lack access to changing rooms and ladies toilets and child care services in police districts; 5)  Women in ANSF still face literacy, technical and capacity deficiencies.  While there have been some short-term training initiatives, the sector has not developed a long-term sustainable plan for training and capacity building of women in the security sector.
Afghan National Police: Although the tashkeel of the Afghan National Police (ANP) reserves jobs for female civil servants and police officers, women fill fewer than half these jobs. Many provincial chiefs of police are reluctant to accept female recruits. There is very little pressure on police chiefs to recruit more women, and the Ministry of the Interior, which oversees the ANP, to initiate reforms. Negative atti­tudes and practices persist after women have been recruited. Policewomen often lack basic items such as uniforms, which male colleagues receive. Many women find themselves performing menial tasks (such as making tea) and receive limited or no training opportunities to develop their careers, leaving intelligent and ambitious policewomen unmoti­vated and unfulfilled. Adequate measures to facilitate equal access, control and equal results of men and women entering the police force need to be implemented.
Recommendations
As a socioeconomic researcher, I am inclined to articulate that gender inequality is rooted in the cultural norms and values of Afghan society. So as to fight and challenge these rigid and male dominated cultural norms, the government of Afghanistan, and very particularly the educational sectors of Afghanistan should begin fighting with gender inequality from schools. Because schools are the main places where children learn cultural norms and embody them when they enter society later as civil servants and officers. Having said that I have the following suggestions for the Afghan government and responsible entities for addressing the issue of gender inequality:
First, introduce a new compulsory subject: Gender Education—aimed at developing a social and political understanding of gender in as part of the official school curriculum for both boys and girls, at the post-primary level in all state and central education boards. Explicit conversations and critical dialogues on gender bias and power should officially become part of the student experience. Defining Gender Education as a standalone curricular subject will give it legitimacy and create a stronger impetus for incorporating gender in the classroom. This will also necessitate the development of the requisite curricular and teacher materials, which the curriculum and teacher training department of Ministry of Education should create in collaboration with NGOs like the USAID Promote: Women in Government Project and other relevant governmental and non-governmental organizations.
Second, incorporate gender education compulsorily, in pre- and in-service teacher training and teacher education programs. Teachers are potentially powerful agents of social change, provided they can perceive themselves as such. Training in effective communication of gender-related issues with the community should also be included in pre-service training. All of the above implies intensive in-service training of teachers and educators, along with the development of teacher training materials and curriculum, which should be created by the Ministry of Education in collaboration with NGOs.
Together these commitments form a robust policy mandate that supports the integration of gender equality and empowerment programming in the post–primary education in schools across Afghanistan. At every social and political platform, there is a call to change deeply entrenched patriarchal 'mindsets.' School education is a good place to facilitate mindset change in a whole generation of boys and girls. To do this, it is time we made our curriculum truly progressive by including lessons in gender equality.
Pakistan-India: Old blame-game was not successful in past and may not work in future
India was in a habit of blaming and coercing Pakistan for its failures to over-come domestic issues. I a matter of fact, it has been seven decades that Pakistan was established as in independent state, but India has never accepted it and always tried to destabilize Pakistan and over-taking this country. India is still dreaming of "Akhand Baharat" (Bigger India) which includes Pakistan and many other countries in the neighborhood up to Indonesia and Australia.
In past, whenever, India coerce Pakistan, the political leadership always try to fond escape, but today the Pakistan is in the control of strong leadership, who is sincere, honest, brave and patriot.
Prime Minister Imran Khan on 19 February 2019 said Islamabad will take action if Delhi shares any actionable evidence concerning last week's suicide bombing in occupied Kashmir's Pulwama area which had targeted Indian paramilitary soldiers. But unfortunately, India has nothing except lies.
While offering cooperation and another chance at a dialogue over the Kashmir issue, the premier also warned India against any act of aggression, saying Pakistan will not hesitate in retaliating to a provocation. Pakistan is not in the position of war, but if imposed, may retaliate in a manner which suits us. However, he made it clear that he hopes better sense will prevail.
"First of all, you accused Pakistan. There was no evidence. You never thought: 'What would be in it for Pakistan?'," he said. "Would even a fool do such a thing to sabotage his own conference? And even if he the crown prince had not been visiting, what benefit would Pakistan get from it the Pulwama attack?"
"You wish to remain stuck in the past, and each time something happens in Kashmir, you want to hold Pakistan responsible. Instead of trying to resolve the Kashmir issue, start a dialogue or move forward, you want to make Islamabad your whipping boy again and again," the prime minister said, addressing Delhi. This will not work anymore. "I am telling you clearly, this is naya(New) Pakistan. It is a new mindset, a new way of thinking. We believe that it is in our interest that our soil is not used for carrying out terrorist attacks in other countries, nor do we want outsiders to come and carry out terror attacks here. We desire stability," he asserted."Today, I would like to make the Indian government an offer. Any sort of investigation you wish carried out regarding this incident about the involvement of any Pakistani, we are ready for it."If you have any actionable intelligence that a Pakistani is involved, give it to us. I guarantee you that we will take action ─ not because we are under pressure, but because they any individuals found involved are acting as enemies of Pakistan.""If someone is using Pakistan's soil to carry out terror attacks elsewhere, it is akin to enmity with us. It is against our interests."
The prime minister added that whenever Pakistan tries to initiate dialogue with India, Delhi's precondition is that terrorism must be talked about."We are ready to talk about terrorism. We want terrorism in the region to end," he stated. "Pakistan has been the worst affected by terrorism. Therefore, we are ready to talk with you."
"And after that, where does the matter go? We all know that starting a war is easy. But starting a war may be in our hands, ending it won't be. Where it the tide of war will go, God knows. That's why I hope that better sense will prevail.""This issue will only be resolved through dialogue and talks," he concluded.
Based on historical facts, "Whenever there is supposed to be an important event in Pakistan, or the country is moving towards stability, then there is always some sort of staged incident in either India or occupied Kashmir," the DG ISPR said, adding that such incidents also seem to occur when India is just months away from elections. Below is list of such incidents:
"In Dec 2001 ─ the Indian parliament attack ─ India was supposed to have general elections and the presidential election in 2002, the United Nations General Assembly was in session. It was around this time that an influx of terrorists began on Pakistan's western border following 9/11.
"When the Mumbai attack took place, our progress in the war on terror was quite good and at this time too, there were to be general elections in India from February to December.
"On Jan 2, 2016, Pathankot happened. The President of the United States' State of the Union address was due. India was to see state elections and there were foreign secretary-level talks scheduled between India and Pakistan. That was scuttled," he said.
"The Uri incident happened on Sept 18, 2016, when our prime minister was set to go to the UNGA to deliver a speech," he added.
"So this pattern shows that whenever in Pakistan there is some important event due, some staged action of this sort takes place," Maj Gen Ghafoor noted.
He pointed out that there were eight significant events to take place either in Pakistan or involving Pakistan in the period Feb-March 2019:
Saudi crown prince's visit and investment conference
Discussion on United Nations Security Council terror listing
Afghan peace talks
European Union discussion on occupied Kashmir
Hearing of Indian spy Kulbhushan Jadhav's case at the International Court of Justice
Discussion on FATF report
Meeting between Pakistan, Indian officials on Kartarpur Corridor developments
Pakistan Super League matches to be played in Pakistan
The DG ISPR also observed that India was to hold elections in the coming months even as "an indigenous struggle in occupied Kashmir is at its peak and out of India's control"."In light of these events, what benefit would Pakistan get from involvement in the Pulwama attack?" he questioned. In fact 'India should question its security forces'. "India began showering Pakistan with accusations immediately after the attack without sparing a moment to think, and without any evidence in hand," Ghafoor said."From the Line of Control onwards, Indian security forces have layered defences," he said, explaining that there were layered lines of defence, one after another."How is it possible for anyone from Pakistan to cross the LoC and go to some area where the population of security forces is greater than that of locals?"
"The Pulwama attack happened miles away from the LoC. The explosives that were employed were being used by the administration and security forces in occupied Kashmir, it didn't go there from Pakistan," Maj Gen Ghafoor said. "The car that was used was also local [to Kashmir]. It did not go there
"We do not wish to go into war, but please rest assured that should you initiate any aggression ─ first, you will never be able to surprise us. Pakistan armed forces will never be surprised by you. But let me assure you, we shall surprise you," he promised.
"We have singleness of conception ─ from the prime minister, down to a citizen, from the three chiefs down to each soldier, all political parties, and all segments of life. We have a singleness of conception, and the will and the determination, the ways and means to reach our desired end state.
The army's spokesman said that Pakistan in the 21st century was looking towards tackling issues such as education, health, and upholding the right of its citizens and future generations to live in peace ─ "not a war that you are trying to set the stage for", he admonished India. The whole nation is united on one point agenda that to defend our country at all cost.
It is worth mentioning that both Pakistan and India, are nuclear states. If any misadventure will be initiated from India, Pakistan deserve to response in its own manner which suits Pakistan most. We are peace loving nation and strongly believe in "peace and diplomacy". We keep on insisting for dialogue for last seven decades, India was always trying to escape behind any lame excuse.
India has been exposed to the rest of world and its atrocities in Kashmir has crossed all records. Let all the peace-loving nations and individuals come up to make India change its war-craze mind-set, once for all.
South Asian Geopolitics: Saudi Arabia: 1 Iran: 0?
It may be reading tea leaves but analysis of the walk-up to Saudi crown prince Mohammed bin Salman's visit and his sojourn in Islamabad suggests that Pakistan may be about to fight battles on two fronts rather than just the Indian one in the wake of this month's attacks in Kashmir.
Prince Mohammed's expressions of unconditional support for Pakistan coupled with his promise of US$20 billion in investments in addition to US$6 billion in desperately needed financial aid raise the spectre of a shift in Pakistani efforts in recent years to walk a fine line in the rivalry between Saudi Arabia and Iran.
That fine line included a 2015 Pakistani refusal to send troops to the kingdom in support of the Saudi military intervention in Yemen.
Speaking to the Arab News this week, Major General Asif Ghafoor, head of the Pakistan army's media wing, suggested that Pakistan's commitment to Saudi Arabia was equally unconditional. "Pakistan is committed to standing by its Saudi brethren," Maj. Gen. Ghafoor said.
Pakistani Foreign Minister Shah Mehmood Qureshi seemed to fine tune the officer's statement by not mentioning Yemen in his remarks to the Saudi paper and limiting Pakistan's commitment to the kingdom itself. "If anyone would create chaos in or attack the Kingdom, Pakistan would stand by its brethren Saudi Arabia," Mr. Qureishi said.
The stakes for Pakistan that borders on Iran and is home to the world's largest minority Shiite Muslim community could not be higher.
Concerned that Pakistan's position may be shifting, Iran this week dialled up the rhetoric by warning that Pakistan would "pay a high price" for last week's attack in the Iranian province of Sistan and Baluchistan that killed 27 Revolutionary Guards.
Like with India in the case of Kashmir, Iran asserted that the perpetrators, Jaish-al-Adl, were operating from Pakistani territory with at least the tacit knowledge of Pakistani authorities. In an unusual disclosure, Iran said three of the six perpetrators of last week's attack, including the suicide bomber, were Pakistani nationals.
In the past, Iran has by and large said that militants who had launched attacks were Iranian nationals rather than Pakistanis.
The tone of Revolutionary Guards chief Major General Mohammad Ali Jafari's statement holding Pakistan, alongside the United States, Saudi Arabia and Israel, responsible for the recent attack reflected Iranian concern with what may flow from Prince Mohammed's visit.
"Why do Pakistan's army and security body … give refuge to these anti-revolutionary groups? Pakistan will no doubt pay a high price. Just in the past year, six or seven suicide attacks were neutralized but they were able to carry out this one,"," Maj. Gen. Jafari said in remarks live on state television.
Initially, Iran had limited itself to blaming external powers rather than Pakistan for the attack.
Indications suggesting that Prince Mohammed's visit to Pakistan may have been about more than economic cooperation were severalfold and involved gestures that despite Pakistani denials would not have come without a price tag.
Saudi Arabia and Pakistan expressed in a little noticed declaration in their joint statement at the end of the crown prince's visit "the need to avoid politicization of the United Nations listing system."
The statement was implicitly referring to Indian efforts to get the UN Security Council to designate Masood Azhar as a global terrorist. Mr. Azhar is the head of Jaish-e-Mohammed, the group that has claimed responsibility for the Kashmir attack.
China, which at Pakistan's behest has blocked Mr. Azhar's designation in recent years, this week rejected an Indian request that it lift its veto. China asserts that Indian evidence fails to meet UN standards.
The reference to UN listing in the Saudi-Pakistani statement seemingly failed to resonate in New Delhi where Prince Mohammed stopped after visiting Islamabad.
In another tantalizing incident, Mr. Qureshi, the Pakistani foreign minister, did nothing to distance his country from a statement in his presence by Saudi State Minister for Foreign Affairs Adel Al-Jubeir accusing Iran of being the "world's chief sponsor of terrorism"
Similarly, in preparation of Prince Mohammed's talks, retired General Raheel Sharif, the Pakistani commander of the Saudi-based, 40-nation Islamic Military Counter Terrorism Coalition (IMCTC), flew from Riyadh to Islamabad for talks with prime minister Imran Khan and Pakistani chief of staff, General Qamar Javed Bajwa.
Pakistan agreed to General Sharif's appointment as commander despite its refusal to join the coalition in the belief that the 2017 Saudi request that he be seconded put the South Asian nation between a rock and hard place.
Pakistani military officials argued at the time that while the appointment would irritate Iran, refusal of the Saudi request would expose Pakistan to criticism from many more in the Islamic world.
Neither the Pakistani government nor the IMCTC gave details of General Sharif's discussions. The IMCTC, however, said in a tweet that "salient contours of IMCTC's domains and initiatives in the fight against #terrorism were discussed."
The tone and gestures during Prince Mohammed's visit contrasted starkly with positions adopted by Mr. Khan during his election campaign and immediately after he took office last year.
In his first post-election televised speech Mr. Khan made a point of discussing his country's relationship with Saudi Arabia and Iran.
"We want to improve ties with Iran. Saudi Arabia is a friend who has always stood by us in difficult times. Our aim will be that whatever we can do for conciliation in the Middle East, we want to play that role. Those tensions, that fight, between neighbours, we will try to bring them together," Mr. Khan said.
The geopolitical fallout, if any, of what for now amounts to symbolism will likely only be evident in the weeks and months to come.
Beyond Iran's toughening stance towards Pakistan in the wake of the attack on its Revolutionary Guards, tell-tale signs would be a closer Pakistani alignment with the Saud-led anti-terrorism coalition and the degree to which Pakistan-based militant launch attacks inside Iran.
Middle East scholar Michael Stephens, who heads the Royal United Services Institute (RUSI) operation in Qatar suggested that reading the tea leaves may best be done with a grain of salt.
"Geography is what it is, and Pakistan will always have to maintain a relationship with Iran (economic and security) regardless of how much cash it gets from Riyadh… Pakistan will do what's best for Pakistan, and not Riyadh, the US or Tehran. Telling everyone what they want to hear is kinda how this all works," Mr. Stephens said.
The Indo-Pak Conundrum: Victims to their Own Narratives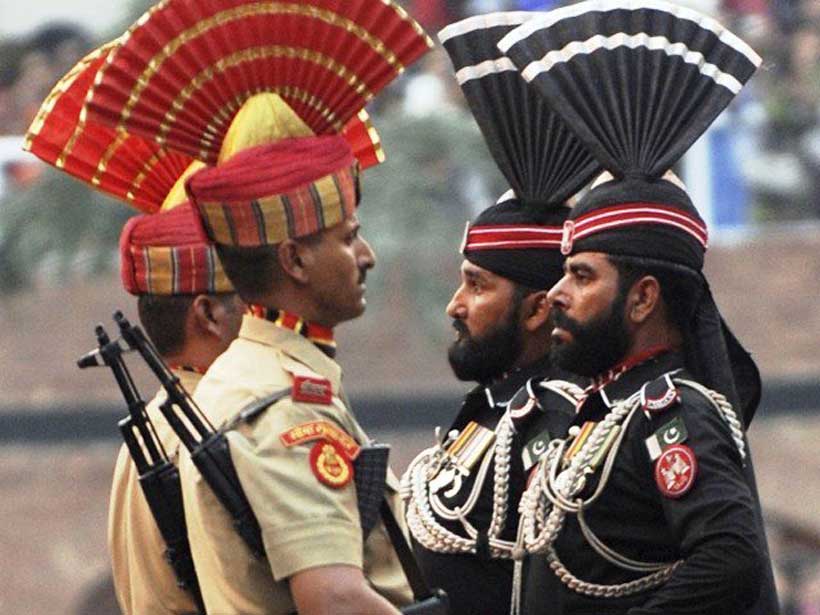 As tensions between nuclear armed India and Pakistan once again escalate in the wake of the devastating attack on Indian paramilitary personnel in Pulwama, one can't help but bemoan the Sisyphean manner in which both countries seem locked in extolling the same narratives over and again. This applies not only to those aiming to broker some semblance of peace between the two age-old rivals, but also those capitalizing on the ensuing discord and enmity for their own benefit. There seems as a result an inescapable script which both the Indian and Pakistani sides seem condemned to follow.
For those unaware of the above reference, it is perhaps better to give a brief account of Sisyphus in order to understand its relevance to Indo-Pak ties. Sisyphus of Ancient Greek legend was condemned by the Gods to rolling a giant boulder up-hill only to watch it roll back down, repeating the tasked infinitum. This punishment, meted out to Sisyphus against his hubris has since often come to denote the futility of human action, in a harsh and unforgiving world. This idea has since been presented by many artists and thinkers in relation to mankind's own search for the very meaning of existence.
In the near timeless case of India and Pakistan, Sisyphus's punishing task which he is doomed to carry out eternally, bears a striking resemblance to the futility faced by statesmen and policy-makers from both sides in reaching an agreement over Kashmir. Their inability to break free from the decades old vitriol and bad blood, and to resort to the same threats of war and retaliation have come to characterize the narrative underlying Indo-Pak ties following every major Kashmir linked attack that has taken place in India. The Pathankot and Uri attacks from two years back, the Gurdaspur attack from 2015, the 2008 Mumbai attacks as well as the 2001 attacks on the Indian Parliament in New Delhi have all served to crystallize the animosity between both countries.
All and any efforts made towards even just normalizing relations have been as a result instantly derailed. It's as if the recent strides made at the ground-breaking ceremony of the Katarpur corridor, the designation of Most Favored Nation (MFN) status with regard to trade, and the decades of people to people ties built around cultural and cricket diplomacy by countless artists, writers, poets musicians and professional athletes from both sides of the border; has all been rendered meaningless in just a matter of days following Pulwama.
It is extremely unfortunate that based on these dynamics, the very idea of brokering a sustainable and lasting peace between the two countries has itself reached mythic proportions. This gap has further widened based on the willful construction of a nationalist identity and narrative that is directly premised on the politics of 'otherness' both within and across the borders dividing India and Pakistan.
In the case of India, this aspect of otherness has reached an unprecedented scale with the rise of far right nationalist discourse premised on the principles of the BJP led Hindutva movement. In direct tension with the secular foundations of Indian democracy, many have attributed India's descent into a religious inspired nationalism as a worrying precursor to regional instability. As the ruling BJP government comes to increasingly resort to the politics of otherness as part of its bid for re-elections, many have accused it of willfully spurring anti-Pakistan sentiments in an attempt at uniting a diverse and divisive electorate against a singular common enemy.
Prime Minister Imran Khan, in his recently televised official statement on Pulwama, addressed this very issue and directly attributed it to the reason behind the bellicose rhetoric being espoused by Indian leaders. In the same speech he also reiterated Pakistan's resolve to retaliate and defend itself should tensions escalate to the point of military conflict.
This entire diplomatic exchange represents thus the same narrative that both sides have remained locked in as a result of Kashmir. The BJP led government in India, constrained by its inability to move beyond pandering to its core electorate, seems perhaps more unable than unwilling to break free from its own set narrative. On the other side, Pakistan's position has more or less been characterized as being dominated by its influential military to which its foreign policy on India has widely been accused of being held hostage from its civilian government. Both narratives are in turn deeply ingrained in the above discussed politics of otherness, to which both sides seem condemned to repeating over and again.
However, if one was to go back to Prime Minister Khan's inaugural speech from September last year, he has repeatedly claimed that both the Pakistani government and its military are on the same page with respect to its regional interests and foreign policy. Even in his statement on Pulwama, he offered in clear terms Pakistan's commitment to working with India against terrorism across the region. He has clearly indicated that he is willing to move beyond these set narratives and work towards attaining the much illusive peace between the two countries. Whether Imran Khan is successful in bridging this ever growing divide between the two countries remains to be seen. However, the fact that he has willfully acknowledged and taken up this Sisyphean task for what it is, presents some hope for those worryingly looking at the war clouds looming over the South Asian region once again.