Afghan Women Socio-economic Status and Gender Equality in Afghanistan
Gender inequality refers to unequal treatment or perceptions of individuals based on their gender. It results from differences in socially determined gender roles and through the biological differences between men and women we discussed in the earlier session. While gender equality is a basic right that does not require economic justification, gender equality is a key factor in contributing to the economic growth of a nation. Because women account for one-half of a country's potential talent base, a nation's social and economic development in the long term depends on whether and how it educates and engages women in the economy.
The Economic and Social Council of the United Nations has defined gender mainstreaming as follows: "Mainstreaming a gender perspective is the process of assessing the implications for women and men of any planned action, including legislation, policies or programs, in any area and at all levels. It is a strategy for making women's as well as men's concerns and experiences an integral dimension of the design, implementation, monitoring and evaluation of the policies and programs in all political, economic and societal spheres so that women and men benefit equally, and inequality is not perpetuated. The ultimate goal is to achieve gender equality."
Gender mainstreaming is a process of assessing the impact for women and men of any planned action, including legislation, policies or programs, in any area and at all levels. It considers women and men's concerns and experiences in the design, implementation, and monitoring and evaluation of policies and programs in all political, economic and social spheres to promote gender equality. Government officials and elected representatives who are involved in policy formulation, project planning, preparation of budgets, program implementation and review are responsible for gender mainstreaming
The government of Afghanistan is committed to promoting women rights as enshrined in the Constitution approved 2004 and in international treaties and conventions, including the Convention on the Elimination of All Forms of Discrimination Against Women (CEDAW) that was signed by Afghanistan in 1980 and acceded in 2003, the Millennium and subsequent Sustainable Development Goals (SDGs), and United Nations (UN) Resolution 1325 on Women, Peace, and Security. The National Action Plan for the Women of Afghanistan (NAPWA) 2007-17 is the Afghan government's plan for implementing its commitments on gender equality and women's empowerment. Specific goals include:
-The elimination of discrimination against women and the development of women's human capital and female leadership.
-NAPWA implementation focuses on sectors that are critical to improve the women's situation: security, legal and human rights, leadership and political participation, economy, work and poverty, health and education.
-To realize the government's gender equality commitments, gender is a cross-cutting in strategic and policy documents such as the ANDS/ANPDF, the NPPs.
Legal and Policy Framework for Gender Equality in Afghanistan
In Afghanistan there have been a number of systematic efforts to mainstream gender into the development process since 2001. The Bonn Agreement of 2001 setting the course for the new Afghanistan nation and government included a commitment to mainstreaming gender issues endorsing the establishment of "a broad-based, gender-sensitive, multiethnic and fully representative government". The Agreement lay the foundation for several institutional developments including the drafting of a new constitution and the establishment of a Ministry of Women's Affairs (MoWA) responsible for mainstreaming gender into the policies and programs of the ministries to ensure that gender equity concerns are addressed. The Afghanistan constitution, ratified on January 4, 2004 promotes gender equality when it states: "Any kind of discrimination and distinction between citizens of Afghanistan shall be forbidden. The citizens of Afghanistan, man and woman, have equal rights and duties before the law." (Article 22) The Afghan National Development Strategy (ANDS) provided the development framework for the nation across the key areas of security, governance, economic and social development.  The ANDS (2008 – 2013) vision for promoting gender equality across government is the "promotion of women's advancement is a shared obligation within government and it is a collective responsibility of all sectors, institutions and individuals to include women or gender concerns in all aspects of government work – from policies, to budgets, programs, projects, services and activities, including recruitment, training, promotion and allocation of benefits and opportunities."
Afghan Government's Policy Role for Socioeconomic Development of Women and Girls in the Society
The government policy can facilitate women's labor force participation including in the government as civil servants. Many governments now institute policies that encourage women to work and make it easier for them to do so. Maternity, paternity and parental leave are closely associated with women's economic participation in many parts of the world. Parental benefits enable mothers, fathers or both to take paid or unpaid time off to care for a child following birth can increase women's participation in the workforce and foster a more equitable division of childrearing. Childcare is an important factor in allowing women to reconcile professional and family obligations because women tend to bear the majority of the caregiving responsibilities in most countries. For example, a well-established daycare system can support women in employment, thereby improving the efficiency of labor markets. Legislation can help to prevent gender-biased discrimination in society and create an enabling environment to support women through, among other policies, obligatory and voluntary quotas in public and private entities, targeted subsidies to female businesses, anti-harassment and affirmative action and supervisory bodies monitoring the implementation of national policies.
Increasing Women's Participation in the Civil Service in Afghanistan
In January 2018, the Independent Administrative Reform and Civil Service Commission (IARCSC)of Afghanistan proposed a new government wide policy on equal employment opportunities for women in government. The new policy entitled "Policy on Increasing Women Participation in Civil Service" is designed to help overcome gender related discrimination in the work place. The implementation of the policy will help to resolve the problem of discrimination and biased employment opportunities.  "A discriminatory approach in employment opportunities particularly towards women violates the principles of effectiveness, ownership of activities and justice. Therefore, it is the responsibility of all to manage the working environment and employment procedures in a manner that helps to remove this fundamental issue in the civil service sector of the country," stated the IARCSC Commissioner regarding the new policy.
"Gender equality is an individual and social responsibility for all of us. These types of policies will ensure that we all change our ideas and change our actions," stated the head of the complaints board of the IARCSC. The increasing women's participation policy proposes a number of actions to improve the processes and procedures for recruiting more women in the civil service, safety in the workplace, security and social security, these proposed actions will create an enabling environment to help recruit and retain more women in the civil service. The overall goal of the draft policy is to increase the role of women in government institutions to 30 percent of the total workforce within the next two years. Currently, women comprise about 22 percent of total employees of government institutions in Afghanistan.
Women and the Afghanistan Carpet Industry
Carpet weaving is an important part of Afghanistan's history and culture and is known throughout the world for its quality. It is easy to set up a loom within the home and materials for carpet weaving are inexpensive and easy to obtain. Because of this, many Afghan women develop the skill and are able to generate income for their family without having to leave the home and children.
However, the lack of large-scale resources to cut, wash, and finish these carpets has prevented Afghanistan from fully capitalizing on one of its most valuable exportable commodities. Because there have been inadequate efforts from the government to create an enabling environment for carpet producers to do business, and a lack of investment in building the capacity of women who are involved in carpet weaving in business and marketing, much of Afghanistan's carpets are exported for finishing and final sale. Pakistan has particularly benefited, where the government has invested and given tax credits for carpet production.
Due to the lack of investment in a predominantly female handicraft industry in Afghanistan, Afghans lose the full profit of their hard work and craftsmanship, and the country loses valuable economic resources in potential taxes and revenue generation, carpet sales to expand the national economy, and development of a sustainable domestic industry from which both men and women can benefit.
Afghan Women in Security Sectors
A recent report on gender responsive budgeting in fragile and conflict-affected states noted the risk that in post-conflict countries the attention to gender equality is usually focused on the social services with less gender-specific funding for sectors important for state- and peace-building like the security sector and economic recovery. This is important to consider in Afghanistan.
In Afghanistan, the security sector (mainly Ministry of Defense, Ministry of Interior, National Directorate of Security) represents more than 40% of the national budget.  The security sector development budget is fully funded by the international community.  The Tashkeel of the security sector is about half a million employees.  To date there has been some progress towards increasing women's participation in the security sector including:
Ministry of Defense: Of 195,000 Afghan National Army representatives, 14,007 are women which is less than 1% of the total. In 2016, 400 women new recruits were studying in the National Military Academy. The Ministry of Defense is planning to increase the number of women in the Army by 5,000. A number of women within ANA have been given the opportunity to pursue higher education in universities. A number of women have also had the opportunity to use scholarships to pursue their higher education outside the country.
Ministry of Interior: Of a total 150,000 Afghan National Police, 3,269 are women (2,937 police and 389 civilian) currently working within the Ministry of Interior. 8,210 police women associations have been established within the ANP across the country with policewomen meeting regularly and discussing their challenges and finding solutions. The recruitment processes for policewomen have been good resulting in an increased number of women in ANP. There have been some technical capacity building efforts inside and outside country for police women. There have been some improvements in providing facilities such as women toilets, women changing rooms. In some provinces, the presence of women in the police headquarters has increased citizen's trust in the police force particularly among women. Women contact policewomen regularly and seek their support. In some provinces, policewomen have been successful in identifying and arresting insurgents wearing women clothing and identifying security threats, smugglers of narcotics and guns as well as those engaged with robbery and abduction of citizens.
National Directorate of Security: 700 women are currently working with the National Directorate of Security across Afghanistan. Capacity building initiatives have been conducted such as courses on improving English language, driving skills and first aid skills for women. Some women have been promoted.
Despite the progress to date, challenges remain in an effort to empower women and increase their participation in the security sector. These challenges include: 1) weak recruitment campaigns and a prevailing attitude within ANSF that women lack capacity to do specific roles; 2) Due to discrimination in a male dominated sector, there has been little efforts to put forth plans for promoting women and assigning them to more leadership roles; 3) Women often have not received weapons and equipment despite being trained to use them and often have not received uniforms; 4) Women still lack access to changing rooms and ladies toilets and child care services in police districts; 5)  Women in ANSF still face literacy, technical and capacity deficiencies.  While there have been some short-term training initiatives, the sector has not developed a long-term sustainable plan for training and capacity building of women in the security sector.
Afghan National Police: Although the tashkeel of the Afghan National Police (ANP) reserves jobs for female civil servants and police officers, women fill fewer than half these jobs. Many provincial chiefs of police are reluctant to accept female recruits. There is very little pressure on police chiefs to recruit more women, and the Ministry of the Interior, which oversees the ANP, to initiate reforms. Negative atti­tudes and practices persist after women have been recruited. Policewomen often lack basic items such as uniforms, which male colleagues receive. Many women find themselves performing menial tasks (such as making tea) and receive limited or no training opportunities to develop their careers, leaving intelligent and ambitious policewomen unmoti­vated and unfulfilled. Adequate measures to facilitate equal access, control and equal results of men and women entering the police force need to be implemented.
Recommendations
As a socioeconomic researcher, I am inclined to articulate that gender inequality is rooted in the cultural norms and values of Afghan society. So as to fight and challenge these rigid and male dominated cultural norms, the government of Afghanistan, and very particularly the educational sectors of Afghanistan should begin fighting with gender inequality from schools. Because schools are the main places where children learn cultural norms and embody them when they enter society later as civil servants and officers. Having said that I have the following suggestions for the Afghan government and responsible entities for addressing the issue of gender inequality:
First, introduce a new compulsory subject: Gender Education—aimed at developing a social and political understanding of gender in as part of the official school curriculum for both boys and girls, at the post-primary level in all state and central education boards. Explicit conversations and critical dialogues on gender bias and power should officially become part of the student experience. Defining Gender Education as a standalone curricular subject will give it legitimacy and create a stronger impetus for incorporating gender in the classroom. This will also necessitate the development of the requisite curricular and teacher materials, which the curriculum and teacher training department of Ministry of Education should create in collaboration with NGOs like the USAID Promote: Women in Government Project and other relevant governmental and non-governmental organizations.
Second, incorporate gender education compulsorily, in pre- and in-service teacher training and teacher education programs. Teachers are potentially powerful agents of social change, provided they can perceive themselves as such. Training in effective communication of gender-related issues with the community should also be included in pre-service training. All of the above implies intensive in-service training of teachers and educators, along with the development of teacher training materials and curriculum, which should be created by the Ministry of Education in collaboration with NGOs.
Together these commitments form a robust policy mandate that supports the integration of gender equality and empowerment programming in the post–primary education in schools across Afghanistan. At every social and political platform, there is a call to change deeply entrenched patriarchal 'mindsets.' School education is a good place to facilitate mindset change in a whole generation of boys and girls. To do this, it is time we made our curriculum truly progressive by including lessons in gender equality.
The Indo-US bonhomie: A challenge to China in the IOR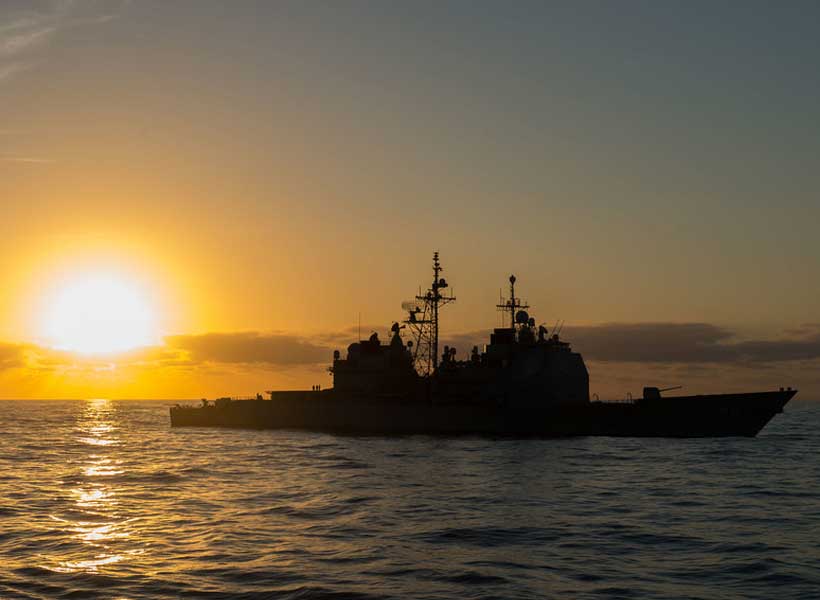 The oceans have long been recognized as one of the world's valuable natural resources, and our well-being is tied to the oceans. From providing minerals and food to coastal nations to serve as highways for seaborne trade, Oceans are highly-regarded in the geopolitics and geo-economics. In 2010, the global ocean economy was valued at $1.5 trillion, and by 2030, it is likely to surpass $3 trillion. Such a growing geostrategic and economic significance pit authoritative nations into the race.
Bounded by Africa on the west, the Indian subcontinent on the North, Australia on the East, and the Antarctic Ocean on the South, the Indian Ocean is the third largest water body. Over the years, it has become an area of competition among Washington, Beijing, and New Delhi. China, the world's second-largest economy, imports energy via sea lanes in the Indian Ocean Region (IOR), while India, an influential regional actor and competitor of China, has also significant reliance on the IOR for its trade. Therefore, the reliance of both countries on the safe transportation of resources is inevitable, and they seek dominance in this water body. The growing global leadership of China, and the Indian economic rise have heightened the strategic value of the IOR and both powers have locked horns in it.
The success of the Chinese Belt and Road initiative (BRI), which strives to enhance China's economic dominance from East Asia to Europe, hinges on the IOR. The IOR provides China with critical sea trade routes to the Mideast and Africa through BRI's flagship project: China Pakistan Economic Corridor (CPEC). China, through BRI's connectivity and economic potential, outweighs Indian influence in the IOR. Snaking its way from China's western province Xinjiang to Gawadar port on the Arabian Sea, CPEC is a counterfoil to India, diminishing India's strategic weight in the IOR. Therefore, India has an aversion to the CPEC because it ends the Chinese Strait of Malacca dilemma and makes its way through Azad Jammu and Kashmir. Having access to a port like Gawadar, China is likely to gain strategic and economic leverage in the region. Not only in India, but Beijing's grandeur BRI is not well-received in the US as well. The world's second-largest economy, China, aims to surpass the US economy in the coming years. On the accounts of the Chinese economic growth, the unipolar world order, once dominated by the US, has swapped its position with multipolar world. In addition, the US stakes are high in the IOR. With its interests in the Mideast, Africa, and Central Asia, the US is wary of China's growing influence in the IOR. As a result, the US and India share a broader spectrum of mutual interests in the IOR.
New Delhi and Washington are enjoying rapprochement in their ties so as to limit China's burgeoning influence. To materialize the quest of Washington about the freedom of navigation and maintaining open sea lanes, India spearheads the US paradigms in the IOR to curb China. For this purpose, India has eyed to magnify its naval capabilities and seeks partnership with many littoral-nations in the IOR. "Activating partnerships and expanding capabilities in the Indian Ocean are central to our quest for security," says Indian Foreign Secretary. Indian bonhomie with Japan and Australia stands as the crux of New Delhi's disposition to share warm ties with influential global actors. Australia, India, and Japan share the same US security umbrella: Checkmating the Beijing rise. These nations have translated their partnership in the Quad as a new feature of diplomacy to establish their authority in the Indo-Pacific region. Navies of India, the US, and Japan cooperate under the aegis of the trilateral Malabar Exercises, the most recent held in early November near Visakhapatnam in the Bay of Bengal and the Arabian Sea. This time, Australia was also part of the exercise. The Indian Fusion Centre-Indian Ocean Region (IFC-IOR), a naval information hub initiated by India, brings all Quad members under one roof to exchange vital maritime information in the IOR. Australia and Japan recently posted liaison officers to the (IFC-IOR), where a US liaison officer has served since 2019.
India has a long aspiration to dominate the Bay of Bengal and prioritizes closer economic ties with South Asian states to balance China's trade advantage. For its part, India is eager to visualize greater security cooperation among the littoral nations through BIMSTEC. The seven-member alliance among India, Bangladesh, Sri Lanka, Myanmar, Thailand, and Nepal aims to accelerate members' economic growth and social progress among members across multiple sectors. BIMSTEC is a platform accentuating Indian vigor and its manifests the Indian overtures against China in the IOR.
Sharing common goals in the IOR, the US perceives India as a significant ally in the region and strongly supports its maritime expansion. The rapprochement between the two sides has resulted in the significant naval build-up of Indian forces in the IOR. The construction of military bases, modernized equipment and fleets, new maritime assets, and the expansion of security ties are all part of New Delhi's push to assert itself as the region's leader. By acquiring 'blue water' capabilities, the Indian Navy aspires to undertake its traditional role, like ensuring the coastal defense of the country, providing sea-based nuclear deterrence (entailing its assured second-strike capability), projecting the nation's soft power beyond its shores, and maximizing the sphere of influence in the region. India aims to become a 200-ship navy in the next decade. In the defense budget for the year 2015-16, 16% share has been allocated to the Navy.
The Indo-US cooperation poses a considerable challenge to China's ingress in the IOR, and Pakistan is no exception. Moreover, their cooperation undermines the peace prospects and endangers stability in the IOR. Recently, the G7 summit concluded with an objective focusing to challenge China's rise. Joe Biden Administration maintained a firm line against China. Therefore, in the near future, pining hopes for preemption of the competition among authoritative nations in the IOR would be the pie in the sky.
The Taliban Are Back — And Its Fine
The Taliban have recently conquered large portions of Afghanistan and seem poised to overrun the Afghan government in Kabul. Yet, contrary to what many commentators assume, the return to power of the Taliban is not necessarily a loss for the United States. The Taliban can indeed become an asset for great power competition with China and Russia.
***
The Taliban movement scored significant territorial gains throughout the last months. It made large headways into the northern part of Afghanistan and is now surrounding several major cities, seemingly waiting for the departure of the last foreign troops before it seizes these locations. Yet, a potential takeover by the Taliban, although a hard-to-swallow pill, needs not turn into a net loss for U.S. foreign policy.
The primary — although now often forgotten — motive for NATO presence in Afghanistan was not to skirmish endlessly with the Taliban, but rather to eliminate the threat of devasting 9/11-scale attacks by Al-Qaeda and consorts. However, the current Al-Qaeda threat in Afghanistan hardly justifies U.S. and allied military action there.
First, no massive attack has occurred on U.S. soil for the last twenty years and relevant American law enforcement agencies have taken extensive precautions to make sure it will not happen.
Second, Al-Qaeda's strength in Afghanistan is now estimated to be less than 1,000 by even pessimistic reports. Advocates of a continuous Western presence in Afghanistan have yet to show how a few hundred terrorists represent an existential threat to the United States or the Free World. It stretches the imagination that seven or eight hundred soldiers of fortune pose a vital and imminent peril for America, while China and Russia now field large and modern militaries well-positioned to overrun their neighbors and make a bid for regional hegemony in East Asia and Eastern Europe.
Third, many of Al-Qaeda's recent attacks or attempts at attack on the West have little if nothing to do with Afghanistan and Al-Qaeda activities have been delocalized to other countries in turmoil. Those arguing that NATO needs to indefinitely garrison Afghanistan for the sake of a few hundred terrorists should thus logically also advocate for NATO to garrison Iraq, Libya, Mali, Niger, Syria, Yemen, and others.
Fourth, the Taliban never participated in the 9/11 attacks, and their current alliance with Al-Qaeda has a single main motive: surviving NATO presence. Once NATO is out, there is no obvious reason for them to keep working with Al-Qaeda, which may bring devastation once again upon the Taliban and Afghanistan by conducting reckless international attacks from Afghan soil. The Taliban did not fight for over twenty years to hand over the country to Al Qaeda or anyone else.
Therefore, no essential U.S. interest justifies keeping intervening into Afghan domestic politics. Furthermore, since the Trump administration, the U.S. government identifies China as its primary great power competitor and Russia as a secondary one. U.S. foreign policy is now mostly designed with Chinese power as a background. In a nutshell, Afghanistan, even under Taliban control, could become an asset for competing with China and Russia.
Beijing recently warned that the withdrawal of U.S. and NATO forces poses a major threat to regional stability. The Chinese want America to remain in Afghanistan for as long as possible; that is the unmistakable clue that the United States should exit as fast as it can. If a ferocious civil war continues, Beijing will have to reinforce its western border. Also, if the Taliban take over, Afghanistan may become more sympathetic to the plea of the Xinjiang Uyghurs and less receptive toward Chinese interests. In both cases, China will be forced to strengthen its defense in the areas bordering Afghanistan for fear of instability. Although this burden will likely remain light for China, it is still an easy and unexpansive gain for Washington, because a Chinese soldier busy garrisoning the Afghan border is a soldier unavailable for action towards Taiwan, Korea, or India.
Like the Chinese, the Russians will be forced to protect their southern borders and their Central Asian partners against a potential threat emerging from Afghanistan. To Moscow, this represents around 1,300 kilometers (800 miles) of Afghan-Tajik, Afghan-Turkmen, and Afghan-Uzbek borders to guard; this will push Russia to reorient at least some military forces towards Central Asia and thus release some pressure from NATO in Eastern Europe.
A Taliban-led Afghanistan may also further U.S. interests towards Iran and Pakistan in more indirect ways. Indeed, if the United States keeps engaging with Iran, the uneasiness of living with a Taliban Afghanistan on its eastern borders will give further incentives for Tehran to accommodate the United States, and even Israel and Saudi Arabia. If, unfortunately, Washington fails to repair its relations with Iran, Afghanistan can then become a valuable partner to contain Tehran, regardless of who is in charge in Kabul.
As noticed by former CIA Bruce Riedel, without Western presence in Afghanistan, the Afghan Taliban will be less dependent on support from Pakistan, and Pakistani Taliban will be free to focus their fight against the government in Islamabad. Indeed, Prime Minister Imran Khan made clear that he did not welcome the Taliban back in power and would seal the border with Afghanistan if they were. Consequently, with the Taliban back in office and NATO out, Pakistan will be forced to reinforce its western border, thus diminishing its capability to compete with India. Therefore, New Delhi will be more able to focus on the Chinese threat to its northern and eastern borders. Trouble emanating from Afghanistan may even become an impetus for the Pakistanis to normalize their relations with the Indians.
Since the February 2020 peace agreement, the Taliban have kept their word to refrain from attacking NATO. They are not mindless fanatics yearning for planetary devastation, but rational actors who made clear that they were only interested in ruling Afghanistan and have proven open to negotiation and adjustments. Once in office, the Taliban will have no shortage of potential threats; they will have to navigate between China, a potential hegemon in Asia, a resurgent Russia, and mistrustful governments in Iran, Pakistan, and Central Asia. Threatening or attacking Washington and its allies will be the last of their concerns. They agreed that Afghanistan should not turn into a safe haven for international terrorism again and have been busy fighting with the Afghan branch of the Islamic State. In a 2020 op-ed in The New York Times, the Taliban even touted the possibility 'for cooperation — or even a partnership — in the future.'
Afghanistan is and will remain of secondary importance for U.S. foreign policy; yet, maintaining a working relationship with a future Taliban government can offer several benefits at virtually no cost to the U.S., while turning a military defeat into a political win.
Examining the impacts of Globalization: A Case study of Afghanistan
Globalization is often considered as one of the most important and transformative events in the 21st century. It has led to the creation of multiple influential actors, rise of the information revolution and the formation of various instruments enabling cooperation and interdependence. Of the key aspects in the concept of globalization is the creation of state institutions which have allowed for monitoring, control and economic investments thus enabling greater connectivity with the people across the globe. The information revolution which came as a result of increase in technological prowess and development of communication technologies has led to the creation of virtual communication spaces. Big technological cooperation's were able to exercise influence in the social media space and enable a conducive environment of presentation of various discourses. Globalization has also had a significant influence in the manipulation, coordination and control of all manner of discourse directed at various prominent political figures. From state to non-state actors all have been impacted by globalization.
Globalization in 3rd world countries saw an interesting and significant transformation where nations sought to gain advantage of the political and economic expansion which came as a result of increased connectivity of markets and political institutions. For these 3rd World states where political and economic capital was deficient in terms of influencing regional and global dynamics, they sought to further their geo-political objectives through increased trade, cooperation, cultural diplomacy and providing their strategic assets for more influential states to utilize. Countries such as African and South Asian states utilized international institutions, communication technologies in order to further their social, political and economic interests (Hamidi, 2015 ). Afghanistan in this regard hasn't been averse to the changes effectively induced by globalization. Being a pivotal state in terms of key foreign policy objectives of states such as United States and Soviet Union, Afghanistan has seen change due to globalization. Its influence, in the cultural, political, societal and economic spheres shall be further explored in the ensuing paragraphs of this essay.
The state of Afghanistan has seen consistent and prolonged conflicts throughout its history. It's political and social landscape has been affected by continuous struggle to attain power by warring warlords. Home to many ethnicities, the Afghan conflict has also impacted various ethnic groups disproportionately with many ethnic minorities becoming victims. Economic woes combined with rigid social norms and values have all contributed to a dwindling state marred by conflict. Afghanistan before the dawn of modernism was home to one of history's notorious empires. It housed the rulers who invaded across to the rich plains of India in search of arable land for cultivation and for its natural resources. Despite its rich history Afghanistan was primarily distinguished along the lines of a tribalistic society with consistent conflict over land, domestic feuds and scarcity of resources. This all saw a radical change when during the height of the Cold War the Soviet Union, seeking to gain inroads in to South Asia invaded Afghanistan. What followed was a prolonged and protracted conflict in which not only the Afghan people but the people of neighboring Pakistan were also deeply affected in adverse ways. (Britannica , 2021 )
Afghanistan's ascendancy to the mainstream global political spectrum came as a result of America's denouncement of terrorism and the beginning of the war on terror. Post 9/11 American coalition forces invaded Afghanistan with the aim of targeting terrorists' strategic strongholds in hopes of preventing future recurrences of attacks on European states. Another primary objective of the US and NATO coalition forces was to establish a national government enabled by foreign aid of the United States and led by social representatives of the people of Afghanistan. Before the US becoming an entrant in to the Afghan conflict, Afghanistan had largely been unaffected by radical transformations by globalization. Strict adherence to religious and social norms combined with a sense of alienism was one of the dominating factors which rendered Afghanis practically immune to the effects of globalization. Furthermore, economic and social insecurity had led Afghan societies to cluster into communities in hopes of reducing these anxieties which had become a recurrent theme in the pretext of globalization (Kinnvall, 2004 ).
Globalization for Afghanistan has been what is commonly termed as a "mixed bag". For inviting international bodies to provide aid, relief and security meant a continuous rise in political influence exercised by foreign nations and institutions. Before the advent of American intervention in Afghanistan, foreign influence was mostly restricted to Afghan political elite where several key political stake holders had gained primacy in the eyes of the European governments (EUC paper series , 2017 ). The post 9/11 political spectrum was to radically effect the social political and economic spectrum of the conflict ravaged country. Foreign intervention aimed to radically change the societal fabric of a conservative afghan society and to introduce it to the global financial markets. Economic strife had complemented Afghanistan's bulging unemployment, increased violence and vilification of what was termed as 'evil, alien' concepts of democracy and capitalism. The United States had aimed for re-vitalizing an Afghan society subjugated under Taliban rule.
Afghanistan before 2001 had chronic lapses in communication infrastructure which was largely due to poverty and rigid control by the then Taliban rulers in Afghanistan. Since 2001 the communication bulge came due to a rising influx of international aid and US military deployment. Subsequently Afghan societies were able to connect, report and increase knowledge as a result of the growth in media outlets. Qualitative studies point to the conclusion drawn that content produced by BBC played a significant role in behavioral changes of Afghan society (Adam, 2005 ). The rich monopoly over the constructive discourses surrounding Afghan societies has also changed through the years as analyzed by various academics. Import of cultural and social identities and appreciation of various political voices came due to the significant influence of globalization.
The Afghan economy is another important aspect which has been significantly affected by the geo-political events and the onset of globalization. Globalization has bought with it the economic interdependence through a global financial market system aiming to liberalize and interconnect regional and state economies. Afghanistan for long had seen a frail economy compounded by elements of corruption, ceaseless conflicts and an influential control of trade routes by the Afghan Taliban. The Afghan Taliban, a pre-dominantly Pashtun organization consisting of multiple influential operating factions has for long controlled the opiate trading routes which form the bulk of Afghan domestic export. Primary trading routes had traditionally also included the Pashtun regions of Pakistan. Afghanistan's anti-Soviet role was furthered by control over such content flows which not only allowed a vast and complicated network of interconnected guerilla groups but also served as the primary produce generating capital (Mendel, 2019 ).
While many argue that globalization inherently is a positive force aiming to alleviate and provide further economic, social and political stability, contested views argue in terms of empirical evidence against the normative claim. The Afghan perspective under the subject of globalization was seen as largely as a disconnect from the rest of the world. The process of integration, Western scholars argued was through the increased presence of defense forces and international institutions aiming to uplift societal deprivations. Another interesting perspective in this regard comes during the analysis of Al-Qaeda networks which for long operating on a global level. Such a degree of efficiency combined with a global distribution of opium trade was only possible through a systematic interconnectedness with various international networks. These would then allow a vast and lucrative drug business to operate despite chronic lapses in the government institutions on economic policy and implementation of government economic models.
Afghan society under the Taliban was rigidly controlled and monitored. Consisting largely of rural tribesmen, high rates of unemployment and extreme poverty had subjected the society to the will of powerful tribal leaders who worked to further their objective of accumulating power and influence. Religion in Afghanistan has also induced a traditional society to follow principals ascribed in religious texts. Laws and structure of society were decided on the basis of a rigid code of scripture. US department of State in its report argues that "legal change occurs usually when it is followed, not when it is leads public by opinion". This argument follows in line with the narrative that while although US forces and NATO allies were able to remove a Taliban government, applying US democratic values and legal constitutions would be difficult and would ultimately fail when it came to attaining societal approval (Palmerlee, 2003 ).
Afghani society has followed traditional principals and held on cultural traditions and narratives. With globalization many academics have argued that Afghanistan's inability or the lack of want to change arises from either a poor system of governance or a strongly entrenched traditional societal structure. Despite having multiple programs and promoting organizations representative of the Afghan people, resistance to change has always come due to deeply held beliefs of the need for religious protectionism and maintaining tribal identity. This 'counter-global' stances show a societal push back of what is considered as an interference of foreign media, and institutions as a challenging force to disrupt established social norms and values. US forces therefore ever since entering into Afghanistan have found it difficult to reconcile Afghan societies thoughts and values with Western ideals of democracy and capitalism. It is one of the influential factors which allow organizations such as the Afghan Taliban to continue an armed insurgency where general acceptance of society has created the space for the Taliban to operate for a continuous period.
The political spectrum of Afghanistan has also been affected by globalization. International institutions and states have continuously aimed to impart western form of governance in Afghanistan. Foreign investments and defense deployments have continued with the pursuit of gaining political leverage and to back national governments representative of Afghanistan. Despite the continued inflow of foreign capital and operations conducted by NATO forces, the Afghan conflict has largely remained un-resolved and unchanged. The current government having the backing of powerful NATO forces has been largely unable to gain credibility and acceptability in the eyes of Afghanis. Afghanistan's continued withdrawal from globalization and a rejection to imparting new and improved means of governance has been a primary factor which hasn't allowed credible space for forms of governance like this to prosper.
The political spectrum also continues to be shaped by consistent sense of 'loss of sovereignty' This concept comes as result of a globalization where the greater influence of international institutions and foreign states is observed to have a negative impact on the states individual sovereignty. Despite the profits gained from having a highly interconnected market system and the creation of institutions to reduce the chance of conflict, such influence has been challenged by developing countries. South Asia is largely populated with people living below the average rate of income established by international organizations such as the United Nations. The people of Afghanistan belong to the poorest strata where people have the lowest levels of income followed by a large scale of unemployment and little to no foreign export except the opiate trade. International organizations and non-state actors have over the years gained increasing levels of control and influence in the governance structure of Afghanistan. Through providing aid, defense and foreign policy strategies Afghanistan government and the role of influential international actors has led to an increasing sense of loss of sovereignty by the Afghan population (Political works , 2009 ). This has allowed the continuing Afghan insurgency to gain traction and acceptance where despite being dislodged from power the guerilla paramilitary force has taken up an aggressive and largely successful campaign against the foreign led forces.
Cultural identity has been at the forefront of the debates surrounding globalization. Common conceptions of globalizations mainly discuss the normative aspects of increased communication and inter-dependence between countries. Globalization has increased interconnectivity and has led to a homogeneity of cultures and traditions. While debatable, the concept remains significant in the debate on globalization. The study on Afghanistan has largely been on political economy and connecting Afghanistan with the global financial institutions. Cultural values of democracy and westernized conceptions on human values have found little acceptance in Afghanistan and in other Muslim countries. This interesting concept can be studied by understanding the radically altering understanding of individual values and identities of Muslim cultures with that of Westernized democratic ideals. This makes it problematic where enforcement or promotion of these values then leads to cultural rifts and becomes the precursor for possible future conflict. In the case of Afghanistan cultural identity is fixated in the identification on the basis of religion and tribal identities. The celebration of the 'collective' and the promotion of shared norms and values gains greater acceptance over westernized ideas of the individual. With these fundamental differences cultural identity has been largely unchanged despite continued foreign assistance and commitment in Afghanistan (Weisberg, 2002 ).
Afghanistan for a large part of its history has seen great conflict of different scales. From internal rifts to foreign interventions the complicated and prevailing nexus in Afghanistan continues to invite academic debate till today. Globalization has increasingly allowed greater connectivity and enhanced opportunities of cooperation and increased global/regional ties. For Afghanistan the complicated situation has been further exasperated with an increasingly globalized world. With foreign interventions and rising levels of inequality and influence of non-state actors, the situation of Afghanistan continues to remain in flux. Only time will truly tell how and to what extent has globalization truly impacted Afghanistan.