What the Press Hides From You About Venezuela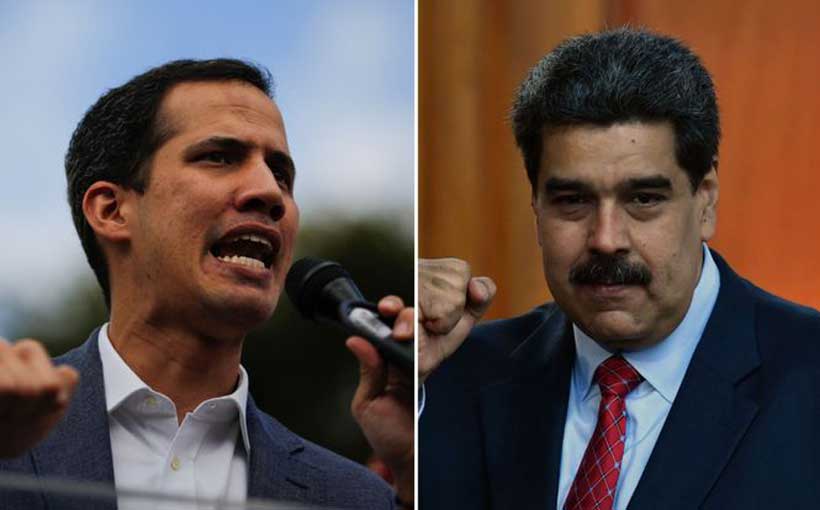 This news-report is being submitted to all U.S. and allied news-media, and is being published by all honest ones, in order to inform you of crucial facts that the others — the dishonest ones, who hide such crucial facts — are hiding about Venezuela. These are facts that have received coverage only in one single British newspaper: the Independent, which published a summary account of them on January 26th. That newspaper's account will be excerpted here at the end, but first will be highlights from its topic, the official report to the U.N. General Assembly in August of last year, which has been covered-up ever since. This is why that report's author has now gone to the Independent, desperate to get the story out, finally, to the public:
The covered-up document
On 3 August 2018, the U.N.'s General Assembly received the report from the U.N.s Independent Expert on the Promotion of a Democratic and Equitable International Order, concerning his mission to Venezuela and Ecuador. His recent travel though both countries focused on "how best to enhance the enjoyment of all human rights by the populations of both countries." He "noted the eradication of illiteracy, free education from primary school to university, and programmes to reduce extreme poverty, provide housing to the homeless and vulnerable, phase out privilege and discrimination, and extend medical care to everyone." He noted "that the Bolivarian Republic of Venezuela, and Ecuador, both devote around 70 per cent of their national budgets to social services." However (and here, key paragraphs from the report are now quoted):
Observers have identified errors committed by the Chávez and Maduro Governments, noting that there are too many ideologues and too few technocrats in public administration, resulting in government policies that lack coherence and professional management and discourage domestic investment, already crippled by inefficiency and corruption, which extend to government officials, transnational corporations and entrepreneurs. Critics warn about the undue influence of the military on government and on the running of enterprises like Petróleos de Venezuela. The lack of regular, publicly available data on nutrition, epidemiology and inflation are said to complicate efforts to provide humanitarian support.
Meanwhile, the Attorney General, Tarek Saab, has launched a vigorous anticorruption campaign, investigating the links between Venezuelan enterprises and tax havens, contracting scams, and deals by public officials with Odebrecht. It is estimated that corruption in the oil industry has cost the Government US$ 4.8 billion. The Attorney General's Office informed the Independent Expert of pending investigations for embezzlement and extortion against 79 officials of Petróleos de Venezuela, including 22 senior managers. The Office also pointed to the arrest of two high-level oil executives, accused of money-laundering in Andorra. The Ministry of Justice estimates corruption losses at some US$ 15 billion. Other stakeholders, in contrast, assert that anti-corruption programmes are selective and have not sufficiently targeted State institutions, including the military. …
… Over the past sixty years, non-conventional economic wars have been waged against Cuba, Chile, Nicaragua, the Syrian Arab Republic and the Bolivarian Republic of Venezuela in order to make their economies fail, facilitate regime change and impose a neo-liberal socioeconomic model. In order to discredit selected governments, failures in the field of human rights are maximized so as to make violent overthrow more palatable. Human rights are being "weaponized" against rivals. Yet, human rights are the heritage of every human being and should never be instrumentalized as weapons of demonization. …
The principles of non-intervention and non-interference in the internal affairs of sovereign States belong to customary international law and have been reaffirmed in General Assembly resolutions, notably [a list is supplied]. …
In its judgment of 27 June 1986 concerning Nicaragua v. United States, the International Court of Justice quoted from [U.N.] resolution 2625 (XXV): "no State shall organize, assist, foment, finance, incite or tolerate subversive, terrorist or armed activities directed towards the violent overthrow of the regime of another State, or interfere in civil strife in another State". …
The effects of sanctions imposed by Presidents Obama and Trump and unilateral measures by Canada and the European Union have directly and indirectly aggravated the shortages in medicines such as insulin and anti-retroviral drugs. To the extent that economic sanctions have caused delays in distribution and thus contributed to many deaths, sanctions contravene the human rights obligations of the countries imposing them.Moreover, sanctions can amount to crimes against humanity under Article 7 of the Rome Statute of the International Criminal Court. An investigation by that Court would be appropriate, but the geopolitical submissiveness of the Court may prevent this.
Modern-day economic sanctions and blockades are comparable with medieval sieges of towns with the intention of forcing them to surrender. Twenty-first century sanctions attempt to bring not just a town, but sovereign countries to their knees. A difference, perhaps, is that twenty-first century sanctions are accompanied by the manipulation of public opinion through "fake news", aggressive public relations and a pseudo-human rights rhetoric so as to give the impression that a human rights "end" justifies the criminal means.
Economic asphyxiation policies are comparable to those already practised in Chile, the Democratic People's Republic of Korea, Nicaragua and the Syrian Arab Republic. In January 2018, Middle East correspondent of The Financial Times and The Independent, Patrick Cockburn, wrote on the sanctions affecting Syria: There is usually a pretence that foodstuffs and medical equipment are being allowed through freely and no mention is made of the financial and other regulatory obstacles making it impossible to deliver them. An example of this is the draconian sanctions imposed on Syria by the US and EU which were meant to target President Bashar al-Assad and help remove him from power. They have wholly failed to do this, but a UN internal report leaked in 2016 shows all too convincingly the effect of the embargo in stopping the delivery of aid by international aid agencies. They cannot import the aid despite waivers because banks and commercial companies dare not risk being penalised for having anything to do with Syria. The report quotes a European doctor working in Syria as saying that "the indirect effect of sanctions … makes the import of the medical instruments and other medical supplies immensely difficult, near impossible". In short: economic sanctions kill. …
Bearing in mind that Venezuelan society is polarized, what is most needed is dialogue between the Government and the opposition, and it would be a noble task on the part of the Secretary-General of the United Nations to offer his good offices for such a dialogue. Yet, opposition leaders Antonio Ledezma and Julio Borges, during a trip through Europe to denounce the Government of the Bolivarian Republic of Venezuela, called for further sanctions as well as a military "humanitarian intervention". …
Although the situation in the Bolivarian Republic of Venezuela has not yet reached the humanitarian crisis threshold, there is hunger, malnutrition, anxiety, anguish and emigration. What is crucial is to study the causes of the crisis, including neglected factors of sanctions, sabotage, hoarding, black market activities, induced inflation and contraband in food and medicines.
The "crisis" in the Bolivarian Republic of Venezuela is an economic crisis, which cannot be compared with the humanitarian crises in Gaza, Yemen, Libya, the Syrian Arab Republic, Iraq, Haiti, Mali, the Central African Republic, South Sudan, Somalia, or Myanmar, among others. It is significant that when, in 2017, the Bolivarian Republic of Venezuela requested medical aid from the Global Fund to Fight AIDS, Tuberculosis and Malaria, the plea was rejected, because it "is still a high-income country … and as such is not eligible". …
It is pertinent to recall the situation in the years prior to the election of Hugo Chávez. 118 Corruption was ubiquitous and in 1993, President Carlos Pérez was removed because of embezzlement. The Chávez election in 1998 reflected despair with the corruption and neo-liberal policies of the 1980s and 1990s, and rejection of the gulf between the super-rich and the abject poor.
Participatory democracy in the Bolivarian Republic of Venezuela, called "protagónica", is anchored in the Constitution of 1999 and relies on frequent elections and referendums. During the mission, the Independent Expert exchanged views with the Electoral Commission and learned that in the 19 years since Chávez, 25 elections and referendums had been conducted, 4 of them observed by the Carter Center. The Independent Expert met with the representative of the Carter Center in the Bolivarian Republic of Venezuela, who recalled Carter's positive assessment of the electoral system. They also discussed the constitutional objections raised by the opposition to the referendum held on 30 July 2017, resulting in the creation of a Constitutional Assembly. Over 8 million Venezuelans voted in the referendum, which was accompanied by international observers, including from the Council of Electoral Specialists of Latin America.
An atmosphere of intimidation accompanied the mission, attempting to pressure the Independent Expert into a predetermined matrix. He received letters from NGOs asking him not to proceed because he was not the "relevant" rapporteur, and almost dictating what should be in the report. Weeks before his arrival, some called the mission a "fake investigation". Social media insults bordered on "hate speech" and "incitement". Mobbing before, during and after the mission bore a resemblance to the experience of two American journalists who visited the country in July 2017. Utilizing platforms such as Facebook and Twitter, critics questioned the Independent Expert's integrity and accused him of bias, demonstrating a culture of intransigence and refusal to accept the duty of an independent expert to be neutral, objective, dispassionate and to apply his expertise free of external pressures. …
The Independent Expert recommends that the General Assembly: (g) Invoke article 96 of the Charter of the United Nations and refer the following questions to the International Court of Justice: Can unilateral coercive measures be compatible with international law? Can unilateral coercive measures amount to crimes against humanity when a large number of persons perish because of scarcity of food and medicines? What reparations are due to the victims of sanctions? Do sanctions and currency manipulations constitute geopolitical crimes? (h) Adopt a resolution along the lines of the resolutions on the United States embargo against Cuba, declaring the sanctions against the Bolivarian Republic of Venezuela contrary to international law and human rights law. …
The Independent Expert recommends that the International Criminal Court investigate the problem of unilateral coercive measures that cause death from malnutrition, lack of medicines and medical equipment. …
The Independent Expert recommends that, until the International Court of Justice and the International Criminal Court address the lethal outcomes of economic wars and sanctions regimes, the Permanent Peoples Tribunal, the Russell Tribunal and the Kuala Lumpur War Crimes Commission undertake the task so as to facilitate future judicial pronouncements.
On January 26th, Britain's Independent headlined "Venezuela crisis: Former UN rapporteur says US sanctions are killing citizens", and Michael Selby-Green reported that:
The first UN rapporteur to visit Venezuela for 21 years has told The Independent the US sanctions on the country are illegal and could amount to "crimes against humanity" under international law.
Former special rapporteur Alfred de Zayas, who finished his term at the UN in March, has criticized the US for engaging in "economic warfare" against Venezuela which he said is hurting the economy and killing Venezuelans.
The comments come amid worsening tensions in the country after the US and UK have backed Juan Guaido, who appointed himself "interim president" of Venezuela as hundreds of thousands marched to support him. …
The US Treasury has not responded to a request for comment on Mr de Zayas's allegations of the effects of the sanctions programme.
US sanctions prohibit dealing in currencies issued by the Venezuelan government. They also target individuals, and stop US-based companies or people from buying and selling new debt issued by PDVSA or the government.
The US has previously defended its sanctions on Venezuela, with a senior US official saying in 2018: "The fact is that the greatest sanction on Venezuelan oil and oil production is called Nicolas Maduro, and PDVSA's inefficiencies," referring to the state-run oil body, Petroleos de Venezuela, SA.
Mr De Zayas's findings are based on his late-2017 mission to the country and interviews with 12 Venezuelan government minsters, opposition politicians, 35 NGOs working in the country, academics, church officials, activists, chambers of commerce and regional UN agencies.
The US imposed new sanctions against Venezuela on 9 March 2015, when President Barack Obama issued executive order 13692, declaring the country a threat to national security.
The sanctions have since intensified under Donald Trump, who has also threatened military invasion and discussed a coup. …
Despite being the first UN official to visit and report from Venezuela in 21 years, Mr de Zayas said his research into the causes of the country's economic crisis has so far largely been ignored by the UN and the media, and caused little debate within the Human Rights Council.
He believes his report has been ignored because it goes against the popular narrative that Venezuela needs regime change. …
The then UN high commissioner, Zeid Raad Al Hussein, reportedly refused to meet Mr de Zayas after the visit, and the Venezuela desk of the UN Human Rights Council also declined to help with his work after his return despite being obliged to do so, Mr de Zayas claimed. …
Ivan Briscoe, Latin America and Caribbean programme director for Crisis Group, an international NGO, told The Independent that Venezuela is a polarising subject. … Briscoe is critical of Mr de Zayas's report because it highlights US economic warfare but in his view neglects to mention the impact of a difficult business environment in the country. … Briscoe acknowledged rising tensions and the likely presence of US personnel operating covertly in the country. …
Eugenia Russian, president of FUNDALATIN, one of the oldest human rights NGOs in Venezuela, founded in 1978 before the Chavez and Maduro governments and with special consultative status at the UN, spoke to The Independent on the significance of the sanctions.
"In contact with the popular communities, we consider that one of the fundamental causes of the economic crisis in the country is the effect that the unilateral coercive sanctions that are applied in the economy, especially by the government of the United States," Ms Russian said.
She said there may also be causes from internal errors, but said probably few countries in the world have suffered an "economic siege" like the one Venezuelans are living under. …
In his report, Mr de Zayas expressed concern that those calling the situation a "humanitarian crisis" are trying to justify regime change and that human rights are being "weaponised" to discredit the government and make violent overthrow more "palatable"….
Venezuela has the largest oil reserves in the world and an abundance of other natural resources including gold, bauxite and coltan. But under the Maduro government they're not easily accessible to US and transnational corporations.
US oil companies had large investments in Venezuela in the early 20th century but were locked out after Venezuelans voted to nationalise the industry in 1973.
Other than readers of that single newspaper, where has the public been able to find these facts? If the public can have these facts hidden from them, then how much trust should the public reasonably have in the government, and in the news-media?
(NOTE: Zeid Raad Al Hussein, who "reportedly refused to meet Mr de Zayas after the visit," is Prince Zeid Raad Al Hussein, a Jordanian Prince. Jordan is a vassal-state in the U.S. empire. But Prince Hussein is a Jordanian diplomat who served as United Nations High Commissioner for Human Rights from 2014 to 2018 — hardly an unbiased or independent person in such a supposedly nonpartisan role.)
(NOTE: Here is the garbage that a reader comes to, who is trying to find online Mr. de Zayas's report on this matter. As intended, the document remains effectively hidden to the present day. Perhaps the U.N. needs to be replaced and located in Venezuela, Iran, or some other country that's targeted for take-over by the people who effectively own the United States Government and control the U.N.'s bureaucracy. The hiding of this document was done not only by the press but by the U.N. itself.)
(NOTE: On January 23rd, Germany's Die Zeit headlined  "Christoph Flügge: 'I am deeply disturbed': The U.N. International Criminal Court Judge Christoph Flügge Accuses Western Nations of Threatening the Independence of the Judges". Flügge especially cited U.S. President Trump's agent, John Bolton. That same day, the Democratic Party and Labour Party organ, Britain's Guardian, bannered "International criminal court: UN court judge quits The Hague citing political interference". This news-report said that, "A senior judge has resigned from one of the UN's international courts in The Hague citing 'shocking' political interference from the White House and Turkey." The judge especially criticised Bolton: "The American security adviser held his speech at a time when The Hague was planning preliminary investigations into American soldiers who had been accused of torturing people in Afghanistan. The American threats against international judges clearly show the new political climate. It is shocking. I had never heard such a threat." Flügge said that the judges on the court had been "stunned" that "the US would roll out such heavy artillery". Flügge told the Guardian: "It is consistent with the new American line: 'We are No 1 and we stand above the law'.")
(NOTE: On February 6th, a former UK Ambassador to Syria vented at an alt-news site, 21st Century Wire (since he couldn't get any of the major-media sites to publish it), "A Guide to Decoding the Doublespeak on Syria", and he brazenly exposed there the Doublespeak-Newspeak that the U.S. Government and press (what he called America's "frothing neocons and their liberal interventionist fellow travellers") apply in order to report the 'news' about Syria. So: how can the public, in a country such as the U.S., democratically control the Government, if the government and its press are lying to them, like that, all the time, and so routinely?)
Another Sign of Turkey Turning Away from U.S.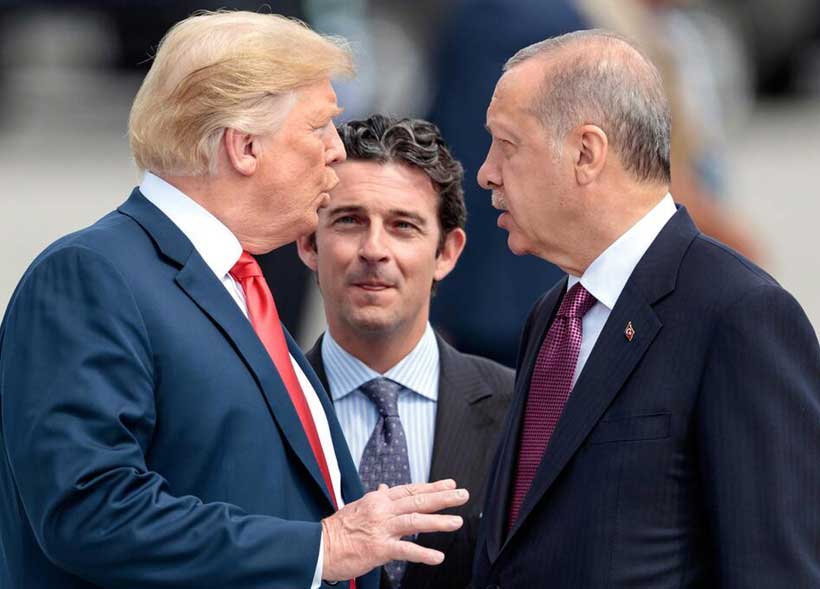 On November 6th, Ibrahim Karagül, who is an extremely influential Turkish media baron and newspaper columnist, and is considered to be a mouthpiece for Turkish Prime Minister Tayyip Erdogan's boldest positions in international relations, virtually declared war against the U.S. and its main allies in the Middle East, and called them promoters of terrorism.
In 2014, Karagul was himself described in the Al-Monitor online newspaper that's published in Washington DC, as being the "editor-in-chief of the daily Yeni Safak, which is considered one of the most dedicated mouthpieces of the government." That's the view, at least, of America's allies, Saudi Arabia and UAE, two countries that have been working with the U.S. to conquer Yemen, and that are intimately connected to the U.S. Government in the formulation of all U.S. policies regarding the Middle East. The leaders of both of those two countries were described in Karagul's November 6th article as being masterminds of terrorism. And Karagul, as his newspaper's Editor-in-Chief, actually is Yeni Safak. His opinions in the columns he writes for the newspaper are, in effect, the newspaper's editorials. Those opinions can fairly be taken to represent the opinions that Erdogan wants to become the opinions of the Turkish population, even if (for reasons of international diplomacy) he won't overtly express these views himself. (After all, Yeni Safak expresses them; he doesn't.)
Karagul said there: "The global black market for terrorism: Who requests these tenders? The EU establishes a terrorist organization, but the US and Israel are its true masters. UAE's MBZ and Saudi Arabia's MBS, the two crown princes who are 'brokers of terror'." Basically, Karagul's allegation in this article is that Washington and its closest allies (Crown Prince Mohammed bin Zayed of UAE, and Crown Prince Mohammad bin Salman of Saudi Arabia) are behind terrorism — especially behind Islamic terrorism.
However, Karagul went even farther, to implicate most especially Hamas leader, Mohammed Dahlan. Karagul's article opened: "A warning to Turkey: Hostility towards our country has a new home. There is now a fourth terrorist organization after FETÖ, PKK and Daesh. Two princes. Two 'terror barons.' Two relentless enemies of Turkey… The first intervention in our country will be conducted through this gang. Mohammed Dahlan should be declared as a ringleader of a terrorist group; there should be a bounty on his head."
He went on:
Turkey, which has been battling the Kurdistan Workers' Party (PKK), the Fetullah Terrorist Organization (FETÖ) and Daesh on the field, and their bosses at the diplomacy table, is going to be propelled into a zealous and urgent fight against a new and much more lethal terrorist organization.
The PKK, FETÖ and Daesh were the U.S., Israel and Europe's project. But this new structuring is the terror group of Egyptian intelligence, the UAE's Mohammed bin Zayed and Saudi Arabia's Mohammed bin Salman.
New terrorist organization is under Mohammed Dahlan's control
This new terrorist organization is under the control of Mohammed Dahlan, the man of dirty business, the hitman of the Middle East, who was involved in almost all the terror activities in our region. Despite having been able to project the façade that they are "fighting Iran," their sole target is Turkey.
Turkey must include this terrorist organization among the PKK, FETÖ and Daesh. This is an organization involved in every operation against Turkey, ranging from internal policy and coup attempts to money laundering, to supporting FETÖ and the PKK – and even cooperating with them – from financing Daesh, to the terror corridor and chaos in Libya and the East Mediterranean.
Erdogan had clearly gone all-out in exposing the role of Saudi Crown Prince Mohammed bin Salman behind the murder and alleged chopping-up of Washington Post columnist Jamal Khashoggi, but the animus seems now to run more broadly than that. And Karagul is going after U.S. President Donald Trump's biggest supporters in the Middle East, other than Israel's Benjamin Netanyahu.
On 24 April 2003, CNN headlined "Palestinian Security Ace: Muhammad Yusuf Dahlan" and opened:
During seven years as a security chief in the Gaza Strip, Muhammad Yusuf Dahlan arrested, and also released, many leading Palestinian militants. Along this tricky path, he skillfully cultivated influential supporters who urged his promotion.
Today, despite fierce opposition by the Palestinian leader, Yasir Arafat, Mr. Dahlan, 41, was named to an even more influential security post, with the blessing of the United States, Israel, Egypt and other countries, as well as the incoming Palestinian prime minister, Mahmoud Abbas.
Clearly, that slant was favorable toward Dahlan, and fit into Karagul's allegation that Dahlan is a secret U.S.-and-allied agent. CNN is just as much a mouthpiece for the U.S. Government as Yeni Safak is for the Turkish Government. For any of America's mainstream 'news'-media, and even for the vast majority of its 'alternative news' media, everything that is published is acceptable either to the Democratic Party or to the Republican Party, or to both — it's acceptable, in other words, to the U.S. Government. This is the case in the United States, just as it is in Turkey. The range of acceptable expression might be a bit narrower in one country than it is in the other, but what CNN said in that article was just as mainstream as is this article by Karagul.
Here is more of what Karagul said about Dahlan:
If open war has been declared against the anti-Turkey terrorist organizations founded by the U.S., Israel and Europe, it should also be the case for this organization and its activities.
Mohammed Dahlan, who is leading the organization and intelligence network, should be declared as ringleader and, as is the case with the PKK and other terrorist organizations, a bounty should be put on his head if necessary, and the region and world should be warned against this threat.
Dahlan should be held responsible for his covert and dirty actions, including involvement in coups and an assassination attempt on President Recep Tayyip Erdoğan.
A terror group hiding in UAE, Saudi palaces
This man and his gang — controlled by UAE Crown Prince Mohammed bin Zayed and Saudi Crown Prince Mohammed bin Salman — who [Dahlan] is, as a matter of fact, working for Israeli intelligence, should be identified as the most effective terrorist organization whose influence transcends the region.
Because he is protected in the palaces of some of the region's countries, hiding within the system, using all the opportunities provided by these states and carrying out terrorist activities.
He was also involved in the July 15 [2016] coup attempt in Turkey. He established a partnership with FETÖ, held coup meetings with this organization in Dubai, and provided them with financial support. Of course, he did all this under the protection of his bosses: Israel, bin Zayed and bin Salman.
They were also the ones who killed Arafat
Dahlan's murders extend all the way to Yasser Arafat's poisoning. This assassination was organized in cooperation with Israeli and Egyptian intelligence, and Dahlan is at the center. Israeli intelligence and Dahlan's men had managed to infiltrate the home of Arafat, whose personal bodyguards were shot in the head execution style.
When Hamas took over administration in Gaza, Dahlan's intelligence center was raided, and the horrifying truth were revealed. Israel's intense attacks on Gaza back then were conducted with support from Dahlan and Egyptian intelligence.
What is the most important thing here isn't whether Karagul's account is accurate or true, but the very fact that it is being published by him.
NATO is being pulled at the seams, and might not be able to hold together.
Further of significance is that Karagul equally boldly expresses a position about U.S. domestic politics, and he sides strongly with Trump against the Democratic Party, whose President Barak Obama is viewed by Erdogan as having been behind the 15 July 2016 coup-attempt to overthrow Erdogan.
When interpreting the reliability of Karagul's statements, it is especially important to recognize that Erdogan has, until now, supported both Al Qaeda and ISIS, as has been extensively documented in the few alternative news-media that are not controlled by America's Deep State. In fact, on 18 March 2019, Homeland Security Today, which was founded in 2004 by corporate suppliers to the homeland-security industries, headlined "The ISIS Ambassador to Turkey", and interviewed in Baghdad a key ISIS official who described how he had helped bring tens of thousands of jihadists from around the world to join the war in Syria in order to overthrow Bashar al-Assad, and how he had set up the system to approve each one coming in there, through Turkey. According to his account, Turkish intelligence was fully cooperative. Here's an excerpt:
"My job was to direct operatives to receive the foreign fighters in Turkey," Abu Mansour explains, referring to the network of ISIS-paid people who facilitated foreign fighter travel from Istanbul to the Turkish border towns of Gaziantep, Antakya, Sanliurfa, etc. "Most of them were paid by Dawlah [ISIS]," Abu Mansour explains, but differentiates them from ISIS members, due to their non-ideological motivations. "Most of those working on the Turkish side, their goal is money," he said. Although when asked about ISIS networks inside Turkey, he also admits, "Many in Turkey believe and give their bayat [oath of allegiance] to Dawlah. There are ISIS guys living in Turkey, individuals and groups, but no armed groups inside Turkey."
In addressing the foreign fighters, Abu Mansour explains: "[They came from] different places, from North Africa mostly. The numbers of Europeans was not a big number, 4,000 total."
"Tunis 13,000, 4,000 from Morocco. There were less fighters from Libya because they had a front there [in Libya], fighting less than 1,000. I'm just talking about up to 2015," he adds. Not surprisingly, his figures confirm data collected on the origins and numbers of foreign fighters who joined ISIS – that the most came from Tunisia. It was interesting how he can rattle off the numbers.
"So, you were more than a simple clerk working in the ISIS reception center registering new recruits?" I ask, suspecting he was much more important than that, given his grip on ISIS statistics.
"[My job was] guarding the borders between Syria and Turkey and to receive the fighters," Abu Mansour explains, smiling at being recognized as more powerful than he was originally conveying. "I oversaw reception at Tal Abyad, Aleppo, Idlib, all their borders," he answers.
It's clear he was in charge, so I ask him, "So, you were an ISIS emir?"
"Yes," he admits, seemingly happy to be "caught out" and recognized for who he really was. "At the beginning I was registering people, then I became the supervisor. I was the emir."
It is acceptable for that magazine, which is addressing American security professionals, to publish this after the 15 July 2016 coup-attempt, because Turkey now is drifting away from the American orbit; but, prior to that time, such an article would have been difficult if not impossible to publish in any 'respectable' American 'news' medium.
Erdogan definitely is against Kurdish separatists who threaten (with CIA support) to break off a chunk of Turkey and form a Kurdish nation (perhaps to include chunks also from Syria, Iraq, and Iran). However, there seems to be little, if any, evidence that he opposes jihadists. This is what everyone currently is wondering about: will he turn decisively against the jihadists, now that he is distancing Turkey from the U.S. group. But that's not really the main question here, regarding Karagul's article. The main question is whether NATO will continue to support jihadists when the jihadists are fighting to overthrown a head-of-state, such as the secular Assad, whom they want to overthrow and replace. Erdogan is no longer fully on the U.S. side about regime-change in Syria. However, the American public continue, just as before, to support these regime-change invasions. Tulsi Gabbard refers to these invasions as "regime-change wars," and she opposes it, but only 2% of polled Democrats, thus far, support her candidacy in the Democratic Party's Presidential primaries, and none of the other candidates is campaigning on this "bring-the-troops-home" theme — it separates her from all the others, and Democratic Party voters apparently oppose her strongly on it. One may then reasonably infer that at least in the Democratic Party, a continuation of those wars (which started in 2003 with Iraq, but then went to Libya, and then to Syria) is being demanded by almost all of the voters. So: if Turkey will split from NATO, then it won't be due to Turkey's support for jihadists (if it still does). It would likelier be mainly because Erdogan is striking back against Barack Obama, who had tried to overthrow him. That failed coup-attempt seems to have drastically changed Erdogan's view. He fears the American political Party that continues to honor Obama: the Democrats. He fears that they could back yet another coup-attempt against him.
In line with that interpretation, Karagul headlined a strongly pro-Trump commentary, on November 9th, "The tables have turned! Trump says: 'Stop the coup.' The opposition declares: 'Coup has started.' Powerful leaders locked in showdown with the establishment. There's now an 'Erdoğan model.' Impeachment process will fail, Trump will be reelected. Will there be an American Perestroika?" This time, he's attacking the Democrats' attempts to replace Donald Trump by Mike Pence to lead the United States, and not their attempts to replace Tayyip Erdogan to lead Turkey.
This support for Trump is despite Trump's recently having tweeted, "As I have stated strongly before, and just to reiterate, if Turkey does anything that I, in my great and unmatched wisdom, consider to be off limits, I will totally destroy and obliterate the Economy of Turkey (I've done before!)." Of course, the public don't know what Trump has communicated privately to Erdogan. It might be nothing like his bellicose public pronouncements.
Trump is widely despised by the Turkish public, but Obama was despised there only 2% less than Trump is; so, whereas Erdogan might considerably prefer Trump, his public seem not to. In this matter, he is leading them, not really following them. Furthermore, by 58% to 23%, far more (more than twice as many) Turks disapprove of NATO than approve of it — and no NATO country among the 12 that were surveyed except Greece comes anywhere near that preponderance of disapproval for NATO. This marketing organization for the weapons that are made in the U.S. and its allied nations is overwhelmingly approved of in the other 10, especially in the two most anti-Russian among those 12: Poland and Netherlands.
Because of that overwhelming disapproval of NATO by the Turkish population, Erdogan would probably not need to do much convincing of them if he were to decide to kick NATO out of Turkey's Incirlik Air Base (which contains "up to 50" huge nuclear bombs for potential use against Russia). He has bargaining chips. But if what Karagul is publishing is at all like Erdogan's view, then Erdogan is already in the process of abandoning NATO, and switching Turkey's alliances to Russia, China, and Iran. This, however, would also require him to reduce if not end his former support to ISIS, Al Qaeda, and other fundamentalist-Sunni groups — jihadist groups, which have always been financed overwhelmingly by the royals of Saudi Arabia, UAE, and Qatar — America's main Arab allies. Karagul's articles seem to indicate Erdogan is moving in that direction, too — separating Turkey from those Arab fundamentalist Sunni regimes. If so, it would be an enormous change.
Leftists make a comeback in Latin America
In Argentina and Uruguay, leftist candidates won the elections and Evo Morales could maintain his position as the president of Bolivia, but in Chile, people have protested against the U.S.-backed president.
The failure of the U.S.-backed candidate in the Argentinean election in recent days was a sign of the U.S. failure in Latin America. Leftist Alberto Fernandez, an opponent of U.S. interventionist policies, won about 48 percent of the vote in general election and was announced as the new president in the first round.
This is while countries such as Venezuela and Cuba have maintained their anti-U.S. sentiment. Although the U.S. has made an unceasing effort in the last two years to overthrow the current regime in Venezuela, it has not succeeded.
The New Left movement in Latin America, which was formed by the late Venezuelan president Hugo Chaves, has put Venezuela in many troubles but reduced U.S. influence in the region to the point that even experts suggested that Washington has lost its backyard.
The New Leftist governments emerged in Latin America in the late 20th century. Leftist leaders have distanced from some of traditional principles, but maintained the fight against American hegemony, just like their predecessors. Latin America, with rich sources of oil, gas, and uranium, as well as great opportunity for investment, has been of particular importance from a geopolitical, geostrategic and geo-economic perspective. The U.S. has put control over Latin America on its agenda since 1823 when then president James Monroe offered his plan known as the "Monroe Doctrine".
The Monroe Doctrine emphasized that as long as the U.S. had not achieved real power and growth, it cannot be considered as an active element and main actor in world politics, thus it should obtain necessary economic growth in Western Hemisphere. The doctrine also stated that South America and Caribbean are areas with high security priority whose fate is tied to the U.S. fate, and the U.S. must have a strong influence in the region to provide its own growth and development.
In the late 20th and early present century, Latin America has witnessed new developments, including the New Left movement. The New Left in Latin America was founded and developed as leaders such as Chavez in Venezuela, Luiz Inacio Lula da Silva in Brazil, Evo Morales in Bolivia, Rafael Correa in Ecuador, and Daniel Ortega in Nicaragua came to power.
Opportunities and threats
The U.S. is concerned about the presence of its rivals, especially Russia and China, in Latin America and the cooperation of these two countries with leftist states in the region. To counter China and Russia's influence, the U.S. has launched various plans to undermine leftist governments through economic crises and put its allied right-wing figures into power.
Washington's comprehensive effort to topple the Maduro administration in Venezuela is an example. On the other hand, China and Russia's approach to Latin America and the tendency of New Left countries to ally with Beijing and Moscow can be a major deterrent to the implementation of the U.S. plan in the region.
This is while the Trump administration is trying to redefine U.S. role and position in Latin America. From Trump's point of view, the wrong policies of previous governments and developments have caused the U.S. to lose its control over Latin America and the Caribbean, and instead increased the influence of U.S. rivals, including China, in the region.
In an interview with Foreign Policy, following his recent visit to Colombia, Air Force Chief of Staff General David Goldfein said that the Trump administration is making a push to strengthen alliances across Latin America as part of an effort to counter rising Chinese and Russian influence in the United States' backyard.
Goldfein said Colombia and other Latin American countries risked being locked out of U.S. and allied operations if they stopped buying military hardware from the United States and turned to other markets instead.
China has invested heavily in the region to reach Latin America's oil reserves. Beijing has now become the largest trading partner of some Latin American countries, including Brazil, Chile, Cuba and Uruguay.
Russia also continues to sell billions of dollars in arms to Latin American countries. Unlike China, which seeks to use Latin American natural resources for its economic growth, Russia's interests in this region are more strategic.
From our partner Tehran Times
Democrats take a gamble on Trump's impeachment
Despite all ups and downs, Democrats finally brought impeachment inquiry into President Donald Trump to the House of Representatives, a move which made Trump's prediction come true.
The House of Representatives passed a resolution on Thursday to launch an impeachment inquiry into Trump, thereby making formal investigations against him possible. The resolution was approved by a vote of 232 to 196.
Accordingly, the House of Intelligence Committee carries out the investigations into the impeachment and reports its findings to the Judiciary Committee that comments on the process of impeachment.
Trump has said that the House will get enough votes to impeach him, but he is certain that the Senate will acquit him of charges.
Investigations into Trump's impeachment began on September 24 following the official order of Speaker of U.S. House of Representatives Nancy Pelosi.
The order came after reports about Trump's telephone call with Ukrainian president for investigation into his possible rival Joe Biden.
During the conversation Trump asked his Ukrainian counterpart Volodymyr Zelensky for a "favor". He pressured Zelensky to investigate Joe Biden, his possible Democratic rival for the 2020 presidential election, and his son Hunter Biden who was on the board of a Ukrainian oil and gas factory. At the time, Trump had suspended $400 million military aid to Ukraine as a quid pro quo.
Why Nancy Pelosi risks?
It should be noted that some Democrats have called for Trump's impeachment since his first months of his presidency. The impeachment inquiry was popular among Democratic voters, with a recent poll showing that %73 of them favoring the impeachment.
But Republicans are strongly opposed to impeachment, and the country generally relies on Republicans. That is why Nancy Pelosi and other leading Democrats were first reluctant to officially begin an impeachment. Their calculations have so far revealed that impeachment against Trump will not have much effect on the opinion of Republicans and his supporters, a situation which will make it more difficult to remove him from the 2020 election.
Trump has described the impeachment as "fake". Pelosi said that Trump has affirmed that he had asked the Ukrainian president to take actions in favor of his political position, claiming the measures of Trump's administration were undermining U.S. national security.
"The release of the notes of the call by the White House confirms that the president engaged in behavior that undermines the integrity of our elections, the dignity of the office he holds and our national security," Pelosi said in a statement.
House Intelligence Committee Chairman Adam Schiff also said that the president should prioritize national interests rather than his personal interests. Schiff added that they will study whether Trump has exploited military aid to Ukraine to meet his demands.
Consequences of Trump's impeachment
Experts argue that Trump's impeachment and lack of a decisive leader will make the U.S. more vulnerable to other countries' plots. As Robert W. Merry recently said in The National Interest magazine, "When the president is weakened at home, then America is weakened abroad."
However, Washington's friends and enemies consider U.S. foreign policy insignificant due to political infighting at home. Instead, the great power players are seeking to limit the influence of the country rather than cooperating with it.
The recent accusations against Trump can be easily stated as a national security issue, which needs to be reformed immediately. Theoretically, military aid will be provided only if U.S. officials become convinced that they can achieve main security objectives of Washington. Therefore refusing to provide aid because of political reasons is a serious wrongdoing, showing that the personal interests of the president is superior to U.S. national interests.
Will the impeachment inquiry get the necessary vote?
Now that the House has launched an impeachment inquiry into the president, the Senate will play an important role in the process. In this case, the Senate will act as a court that decides on Trump's dismissal or survival.
To oust Trump, the votes of 67 members of the Senate is needed, which would be two-thirds of their population. Currently, there are 53 Republicans and 47 Democrats in the Senate. Therefore, Democrats need the support of 20 Republican senators.
Since the Republicans have not supported Trump's impeachment, it is highly unlikely that Trump's impeachment leads to his dismissal.
Impact of the impeachment on the 2020 presidential election
The impact of Trump's impeachment on the presidential election depends on his defense and the credibility of accusations against him. Democrats are well aware that accusing Trump of corruption and incompetence will not affect American voters. Democrats probably knew that those allegations were not strong enough to undermine Trump, but on the contrary they would undermine their positions.
By stating an issue related to U.S. national security, Democrats took the risk of impeachment. To make the impeachment strategy successful, Democrats should prove that the president has endangered U.S. national security and he may do the same in future. This claim can go beyond party politics and put unbearable pressure on Trump, Republicans and uncertain voters.
From our partner Tehran Times