We need to build more networks of women in science
Why science?
I was born in Dar Es Salaam, Tanzania with family roots in Usangi, near Mount Kilimanjaro. I was lucky. My parents were community organizers in our village, educated in finance and economics during pre-independent Tanzania. They were not scientists, but they had a clear vision for all their six children—that we would all study science. So it was a bit of a nudge followed by encouragement. They were firm believers that we needed a strong grounding in science so we could analyze the world and do anything we wanted to. They believed science provided strong analytical foundation and flexibility to pursue either science or non-science careers later in life. I am grateful for my parents' vision of science for their girls and boys.
We were an unusual family compared to the norm in East Africa at that time. Some of my brothers are now doctors, engineers, accountants, and I have a sister who audits information technology systems for a living. A lot of people commented that it wasn't the "right profession for women" but I was drawn to science because I was curious. And no matter what else I do in life now, I find I have that tendency to prod people and ideas a bit more than is typical.
How hard was it to grow up in East Africa with an interest in science?
In the '70s and '80s when I was growing up, there were a lot of good missionary schools which had a strong grounding in science. But it was not common for a girl to take physics, chemistry and biology. I had a wonderful headmistress and mentor, Mama Kamm, who believed that girls should do science, and cooking, and needlework! I then obtained a degree in immunology and biochemistry. But it became clear to me how male-dominated this field really was when I went to science competitions or events, and found myself one of the very few women participating. It seemed daunting at the time, but it helped me build the resilience I would later need to work in other male-dominated environments. That, and growing up with four brothers and a family that allowed me to compete with them.
What obstacles did you face when you left Tanzania?
I went to Glasgow, Scotland to pursue a science degree and found that if there were few women studying science at university, even fewer were from Africa. So there, I became a young African woman scientist. It was isolating, and I really had no one to look up to as a role model. This was one of the hardest parts of pursuing science. When I moved to Canada to study microbiology and immunology, it was clear that I had to work much harder than my male colleagues because expectations were so much lower for me as an African woman. I also learned that I needed to develop my own support networks for my science ambition. Because I was abroad, I had to be open to networking with non-Tanzanians: my interest in science became the glue of some of the relationships I developed then.
What perceptions need to change so more girls and women choose science as a career?
Family perception is everything. I was lucky, but not many are. Second, is the perception of your peer group. A lot of who you become in life is influenced by the people around you in your formative years. Third, societal pressure is a big hindrance. How are you perceived by your neighbours, or your friends or teachers? I think that as a girl in science you have to find a way to persevere despite those three levels of pressure. It is important to find how to build networks of women like yourself, and call on them for support and reassurance. Many of my classmates in the girls boarding school where I grew up run important scientific institutions in Tanzania, and even now, no matter where I am in the world, I reach out to this group of friends for support. Our headmistress Mama Kamm transformed the science and girls agenda in Tanzania—we still look up to her for inspiration and admiration. We have our own cohort of women who studied science. But you also have to remember that your network has to include men, because as women, we can learn from them and also count on them as our champions to change some of the misconceptions about girls and science. For example, in my case, I observed early on that my male peers tended to question authority and decisions much more than I did. When I first left Tanzania to study science, it never occurred to me to ask why my paper hadn't been published, but a man will never shy away from asking that question. I decided to learn from these colleagues and adjusted my professional behavior accordingly.
How can more girls and women choose science as a career?
You have to address self-doubt because expectations from women are often very different and lower than from our male peers. We need to have many more role models. When I was growing up, there were not many women I could look up to and think "I want to be like her." But technology has made finding these role models so much easier today. We need to use our personal stories to inspire girls. Science provided me with the fundamental DNA to do anything in my life. So while I started my career as a researcher, I later branched out to public health and policy, and today, to environment. It was my scientific foundation that made this possible. This is what I really enjoy about my new role at UN Environment: we inform the global environmental agenda through work that is grounded in science. And so the curiosity continues.
What opportunities do environmental science offer?
Environmental science is a rapidly expanding field, and as our awareness of environmental issues grows, there are more career options within environmental science for girls and women. You can pursue a degree in public health and decide to focus on environmental pollution, for example. So there are many more opportunities and options. For women, life is never clear cut and dry, no matter how much we try—we are far more nuanced in our approach to just about anything, including science. This is why I feel environmental science can only become stronger if we have more women in research, because we often bring the human angle into the science. For us to make a difference in this field, we have to start with and think of people and humanity—the social aspects of environment are equally important. These are exciting opportunities for girls and women!
3 ways leaders can help employees embrace Artificial Intelligence
Most people may be unaware how much Artificial Intelligence (AI) has become part of their lives. From GPS and predictive text on smartphones to search engines and customer service chatbots, AI is changing the way people live and work. AI involves the process of using algorithms to make sense of large amounts of data beyond human capacity to manage, with the potential to tackle more tasks than ever before imagined.
Researchers at Oxford University asked AI/machine-learning experts for their future predictions, and they said AI will replace truck drivers by 2027 and do a surgeon's work by 2053. They said there is a relatively high chance AI will beat humans at all tasks within 45 years, and that AI could automate all human jobs by 2063.
AI is increasingly used in the workplace, including for productivity tracking and numerous HR functions. Virtual assistants use proprietary AI algorithms to identify and screen candidates.
Employees first using AI may have difficulty making this transition, according to director of research and thought leadership for Dale Carnegie Mark Marone, PhD. In his publication, Preparing People for Success in the Era of AI, Marone discusses issues employees encounter adapting to AI, and steps leadership can take to help employees prepare for working alongside machines.
Marone outlines three ways leaders can ensure employee success in embracing AI: instilling trust in organizational leadership; providing transparency for employees to understand what AI does; and increasing employee confidence in their own skills to adapt to AI.
Trust.
Employees may worry about the true purpose of using AI in their company. If a solid foundation of trust in leadership is already established, it's more likely changes will be accepted positively. Trust is gained by leaders exhibiting honesty and consistency in what they say and do.
Without underlying trust, implementing AI could be perceived as a threat. Marone recommends assessing the level of trust employees have in leadership using tools like engagement assessments, pulse surveys and exit interviews. If the trust level is not optimal, leaders must improve their consistency of communication and demonstrate the organization's stated values in deed as well as word. Building trust is vital to helping employees accept challenging transitions.
Transparency.
Related to trust is transparency. Employees must understand what AI is and how it will be used in their workplace. People often fear what they don't understand. While employees may not comprehend every technical detail, leadership should explain the use of AI as clearly as possible.
Marone gives an example of employees' willingness to accept an appraisal given by AI rather than a human supervisor. In their research, 62% of respondents were more willing to accept an AI appraisal if criteria for the appraisal were completely transparent. Without transparency, only 32% of respondents would accept that appraisal. Marone explains, "People want to be sure that AI is delivering decisions that are fair and in a way that can be explained."
Transparency contributes to employees' perceptions of fairness. In the survey, 63% of respondents expressed concern about human biases built into AI systems, such as the inappropriateness of using predictive power for HR applications. Marone cites the example of an AI algorithm determining potential hires based on current company leadership, which "may suggest the desirability of hiring more white males."
Employees who trust the role of human leaders to provide AI oversight, and who perceive transparency in how AI is used, will more likely accept these new technologies.
Confidence.
Employees feeling threatened by technological advances may be insecure about their own skills to adapt. Marone found that what makes an organization more agile in the face of change is the ability of employees and leadership to adapt, learn and assess new information, ask questions and analyze situations. Agility in the age of AI requires soft skills that machines cannot replace: creativity, social skills and judgment.
With sufficient training and development of those soft skills, employees demonstrate increased confidence in accepting and using AI effectively.
It's vital that organizations lay the foundation for employees to cope with technological change. With preparation, gains achieved by adapting new technology won't be offset by losses in employee engagement. Preparing the workforce with the right attitudes, understanding and skills will make future changes more successful.
Girls Don't Code? In The Caribbean, They Lead Tech Startups
Research shows that science, technology, engineering, and mathematics (STEM) are still male-dominated fields. According to the U.S. Department of Commerce, in 2011 women occupied less than 25% of STEM jobs. Automation and advancements in technology seem to penalize women: the World Economic Forum estimates that per every 20 jobs lost to the fourth industrial revolution, women will only gain one new STEM job. For men, there will be a new STEM job for every four lost.
Luckily, a growing number of women is pursuing STEM careers, as developers, coders, or even tech entrepreneurs. The success of these women not only creates jobs and promotes economic growth; it also inspires more and more women to look beyond conventional career roles and take full advantage of the new opportunities offered by the digital revolution.
Last month, in the Caribbean, women entrepreneurs swept all five top places in the second PitchIt Caribbean Challenge, a mobile-tech startup competition organized by the Entrepreneurship Program in the Caribbean (EPIC) and sponsored by the World Bank's infoDev program and the government of Canada.
Here, these talented women talk about their journey to the finals.
Quickplate, Jamaica
For a long time, Monique Powell worked late hours. By the time she got home, she would have no choice than to order food for delivery. "I realized you were more or less limited to pizza," she recalls. "There was no reliable way to order from different restaurants and have the food delivered."
She found that many Jamaicans shared her frustration.
It didn't take Monique long to reach for a web- or app-based solution. "My professional background spanned web development, e-commerce, and marketing. With this knowledge, plus my determination to make the business work, I'd be able to lead the team and get the company off the ground."
After partnering with many of Kingston's popular eateries, in 2016 she launched QuickPlate, a mobile app that promises to help people "get good food fast" from anywhere. Customers can easily pay for meals online and track their delivery status from their phone or computer.
She sees the irony of the scarcity of female tech entrepreneurs in an increasingly industrialized world. "I'm always excited when women stand out and shine in male-dominated fields," she says. "There are more and more programs designed to introduce girls to coding and web development, and I can't wait to see what the next generation of female tech entrepreneurs will come up with."
The Interview JM, Jamaica
"My parents were always trying to help someone find a job," Angela Tait says. "As I grew older, they would ask me to review resumes or look for openings. Later, I started an informal job network to help match youth with entry-level jobs at small businesses. The struggles I saw on both sides, the job seekers' and the small business owners', eventually led to The Interview JM."
Angela's company facilitates the recruitment process for both employers and job seekers by using "innovative and modern assessment/training tools to help clients leverage their strengths." She plans to grow the business into something that can change the talent management landscape in the Caribbean.
Angela commands her company's technology. She handles operations and strategy, as well as negotiations with software partners. This, she says, requires "an intimate knowledge of all technical processes and core software we use."
"It's important to have diversity when we are talking about solving problems, which is what tech innovation does most of the time. We've seen that women can do anything and everything, so I decided that 2016 would be my 'year of yes.' I registered for the PitchIt pre-accelerator and then the competition."
Indetours App, Montserrat
Nerissa Golden always considered herself 'a solutionist.' In Montserrat, she has been looking for "ways to leverage our uniqueness in a way that preserves our identity but allows residents to make money from it." Her team has built an app that will help taxi drivers and tour operators find travelers quickly and inexpensively.
With more than 17 years of Internet experience, Nerissa is used to the idea of women as mobile tech entrepreneurs. "I taught myself about web development. I code. In 2014, I did a Caribbean Girls Can Code campaign to feature a few of the women I know who do code and are using it to change lives," she says. "Now I leave the coding to others but I try to keep up with what is changing."
SKED, Trinidad & Tobago
For Kelly-Ann Bethel it all began in August 2016 at the TV contest 'Planting Seeds'. Her $30,000 prize gave her the funding she needed to develop SKED, a business appointment-management app that allows consumers to book meetings with a wide range of businesses without having to make a phone call.
"I always loved technology businesses. Although I am not a developer myself, the scalability of tech was always attractive," she says, highlighting that the gist of her business idea is "simpler appointment booking for the Caribbean."
Kelly-Ann agrees that women are underrepresented in technology, "but that doesn't negate the women's ability to be awesome tech entrepreneurs. Although we were outnumbered at the beginning of this PitchIT competition, we still managed to win big! Girls don't code? Really?"
She wears an impressive number of hats: "I am the quintessential go-getter: I do everything except for the actual tech. I know the vision for SKED, I am the product manager, business development lead, marketer, pitch maker, finance manager…"
In the first quarter of 2017, SKED will focus on finishing the beta stage before launching, as she says, "to the many businesses that are excited and have expressed interest in using the product."
Kelly-Ann hopes to participate in an international accelerator and get enough funding to realize the vision.
D Carnival Scene, Trinidad & Tobago
In 2011, Ayanna St. Louis started to work on her idea of 'a mobile carnival concierge' to serve revelers at the carnival in Trinidad & Tobago. "I have always loved carnivals and took an interest in carnivals around the world," she explains. "Being from Trinidad & Tobago – where the carnival is the best in the world – I have always found that most other carnivals in the Caribbean are lacking in elements of 'completeness' and 'structure.' "
For PitchIt Caribbean, she competed her registration at the last minute, and she wasn't quite ready with a 'defined' pitch. When she had to pitch, she says, "everything truly came from within. For the Q&A round, I answered truthfully — as if I were using the product — how it would impact my life positively."
"I am no 'techie'," Ayanna confesses. Unlike several of the other winners, Ayanna admits that she focused primarily on a problem-solving idea, rather than a new technology. As for her next move, Ayanna is currently working on an application for another pitch event.
This feature is an outcome of infoDev, a multi-donor program administered by the World Bank Group, with a focus on entrepreneurs in developing economies.
Technological Superiority at the Heart of China-US Confrontation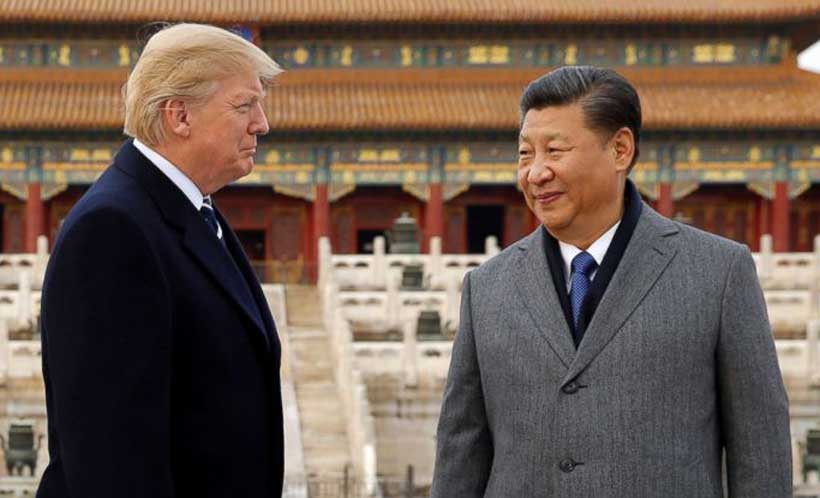 The US defense and technology sectors have become genuinely worried about Chinese significant strides in the technological sphere. Various reports have over the past couple of weeks stated that the Chinese military and technology sectors are close to achieving parity with the US.
One such report, published several days ago by the Center for New America Security, stated that China now "appears increasingly close to achieving technological parity with US operational systems and has a plan to achieve technological superiority."
In a way, the current confrontation between the US and China fits into the biggest struggle in history: a battle between sea and land peoples. China is more of a continental power than a sea one, while the US is clearly an oceanic country. The US, like its historical predecessors, be they ancient Greeks, medieval Venetian merchants, or British and French seafarers in the 19th century, has so far successfully managed to limit Eurasian powers from rising to a prime position in the major world continent.
But with China it is different. One simple example suffices to state a surprising development. Since about 1885, the United States has not had to face a competitor or even a group of competitors with a combined Gross Domestic Product (GDP) larger than its own. China surpassed the United States in purchasing power parity in 2014 and is on track to have the world's largest GDP in absolute terms by 2030. In comparison, America's Cold War adversary, the Soviet Union, was bogged down by a truly unsustainable economic system that ultimately crumbled under pressure in the 1980s. At the height of the Soviet power, its GDP was roughly 40% the size of the United States'.
As said, a guarantee to win the Cold War was the US' technological and economic preeminence. This is still at the heart of today's global competition. Both Washington and Beijing understand that bilateral trade issues are in fact disguised by a deeper rivalry which opens up in the technology and innovation sector.
It has always been the case that sea powers possessed much fewer human resources, but attenuated this problem with much larger technological advances in comparison with continental powers. What is worrying for the US, and this constitutes a fundamental shift in global history, is China's ability as a land power not only to confront the Americans with a larger population pool, but also with a highly competitive technological sector.
Several moves made by the Chinese government in the past week show China's massive technological prowess. According to state media, Beijing is allegedly creating a system to protect its technology. Exactly what this system is, is not clear, but it was suggested that the system will build a strong firewall to strengthen the nation's ability to innovate and to accelerate the development of key technologies.
The Chinese also announced that they, like the Americans are considering restricting export of Chinese technologies abroad, primarily to the US. This follows similar US moves to restrict sales to Huawei Technologies and other Chinese tech firms on national security grounds.
Thus, there are major concerns as to how the US would be able to offset the Chinese geopolitical challenge. There has always been a simple understanding in the US ruling circles, and among strategists, that it is America's technological edge which gives it fundamental superiority. If this is no longer the case, then the very foundation of the US grand strategy is at stake. US general Paul J. Selva, Vice Chairman of the Joint Chiefs of Staff, has warned that the Chinese military could reach technological parity with the United States in the early 2020s and outpace the Pentagon in the 2030s, if the US military doesn't respond to the challenge.
The course is set for future global instability, where the Americans will be more worried and the Chinese more assertive in pursuing their goals. This does not necessarily mean that a military confrontation would ensue, but it is highly likely that both states might end up investing billions, if not trillions, to develop future technologies.
Author's note: first published in Georgia Today