New Initiatives on Renewable Energy Launched at World Government Summit 2019
With thousands of high-level delegates convening in Dubai for the UAE-led global platform dedicated to shaping the future of governments worldwide, this year's World Government Summit is setting the agenda for the next generation of governments, focusing on how they can harness innovation and technology to solve universal challenges facing humanity.
One of the Summit's main areas of focus is the leveraging of knowledge, technology and international cooperation to accelerate the implementation of UN Sustainable Development Goals (SDGs). Opening WGS2019, U.N. Deputy-Secretary General Amina J. Mohammed set the agenda by sending an urgent call to delegates, noting that the achievement of the SDGs is not on track, with potentially life-threatening consequences for billions of people, and serious environmental consequences.
To overcome these challenges, the Summit convenes Global Councils on the SDGs, a unique interdisciplinary network of decision-makers from governments, international organizations, academia and the private sector coming together to share innovative practices and creative solutions needed for the implementation of the SDGs at national and global levels. As Chair of the Global Council on SDG7, the UN goal to ensure access to affordable, reliable and modern energy for all by 2030, the work of IRENA Director-General Adnan Z. Amin supports the development of innovative solutions to harness the potential of renewable energy for energy access, gender equality and the empowerment of women, healthcare, and other goals under the sustainable development agenda. "SDG7 touches on all SDG areas. Through renewable energy solutions we can provide sustainable, low-cost energy to drive the Agenda 2030 forward," Adnan Amin re-iterated to delegates during WGS19.
Following a dynamic and highly engaged meeting of the Global Council on SDG7 yesterday, the Council announced a number of new initiatives aimed at shifting SDG implementation into high gear through renewable energy. These include:
Set up collaboration platform for electrification of health centers – aimed at exploring how renewable energy can overcome pressing health gaps.
Promote certification schemes for solar PV technicians – focused on expanding training for technicians to meet growing renewable energy demand.
Explore 100% renewable energy pathway – aimed at moving renewable energy penetration far beyond electricity supply into all end use sectors.
IRENA's Director-General, alongside former UN Secretary-General Ban Ki-Moon, French Prime Minister Laurent Fabius, UN General Assembly President Maria Espinosa and many others, took part in a rich round table discussion on the nexus between climate and health issues convened by the Ministry of Climate Change and Environment and hosted Minister Dr Thani Al Zeyoudi. Mr Amin reminded the panel that this is the time to propose concrete solutions, and that much greater concrete policy action is needed to accelerate the energy revolution.
IRENA Facilitates Investment and Renewable Projects on Ground in Africa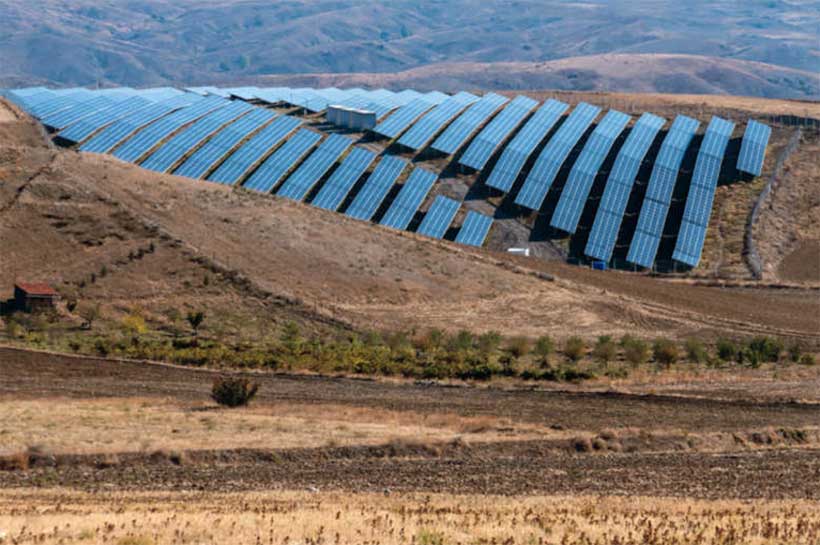 Boosting renewable energy projects on the ground requires scaling up investment. IRENA's state-of-the-art analysis of enabling policy frameworks and finance mechanisms channel public and private investment in markets like Africa, Latin America, Asia, South-East Europe and the Small Island Developing States (SIDS). Now, IRENA is taking its work one step further by increasing the Agency's on-ground impact with 15 regional and sub-regional platforms which aims at scaling up renewables deployment and investments.

One step in this new direction is the event that took place in Johannesburg as part of the Africa Investment Forum hosted by the African Development Bank. It facilitated renewable energy deal-making in Sub-Saharan Africa in partnership with Power Africa and the African Trade Insurance Agency. The event corresponds to IRENA's new direction and way forward ensuring an acceleration of the renewable energy transformation globally.
Speaking at the Investment Forum in South Africa, IRENA's Director-General Francesco La Camera underlined the importance of renewable energy to meet sustainable economic growth and Africa's climate and development ambitions. "Now more than ever, renewables have become a compelling investment proposition", said La Camera. "With renewable energy technology prices set to decline, the cost-competitiveness of renewables will strengthen further. IRENA's analysis shows that nearly a quarter of Africa's energy needs could be met from indigenous and clean renewable energy sources by 2030. This would result in a wide array of socio-economic benefits in terms of economic growth, welfare, employment and energy access. It's Possible".

IRENA has been committed to supporting African governments in their quest for a sustainable energy future. The Agency has supported countries in building attractive investment frameworks for renewables to strengthen institutional and technical capacity. It has also supported the development and financing of renewable energy projects through project facilitation tools.
"A lot remains to be done to address the key risks and barriers that hinder the scale-up of renewable investment in the region", La Camera continued. "There is no shortage of renewable energy project proposals which are competing for investor capital. But they are not always financially viable. Many proposals fail to materialize due to high cost of capital, limited access to risk mitigation solutions and long delays in projects".

By building on its extensive project pipeline in Sub-Saharan Africa with over 90 renewable energy projects, the Agency has showcased 10 renewable energy projects at the Investment Forum. Projects from Cameroon, Cote D'Ivoire, Kenya, Mali, Senegal, Sierra Leone and Togo which have a total capacity ranging from 6 MW to 70 MW – covering technologies like wind, solar, bioenergy and hydropower – were presented.

IRENA's project facilitation platform provides project owners and developers with increased visibility for their projects among financiers and other market players. Project owners have access to wide range of financial instruments provided by multiple investors from development finance institutions, private companies, utilities, private equity funds, donor and multi-donor facilities, commercial banks and more, as well as access to different services for example legal and financial advisory, environmental, project development and Engineering Procurement and Construction contracting.
More information about IRENA's project facilitation.
UNIDO and Morocco's MASEN to strengthen cooperation to deploy renewable energy technologies
The United Nations Industrial Development Organization (UNIDO) and the Moroccan Agency for Sustainable Energy of the Kingdom of Morocco (MASEN) signed a Memorandum of Understanding (MoU) to develop and implement projects deploying advanced renewable energy technologies in Morocco and targeted African countries, with the aim of creating aspirations to support African countries on their path towards inclusive and sustainable industrial development.
The partnership with MASEN complements UNIDO's ongoing activities under its flagship 'Low Carbon Low Emission Clean Energy Programme' in Africa, which seeks to reduce poverty by promoting industrial growth through renewable sources of energy. It already started in 2017, on the margins of the 22nd Session of the Conference of the Parties (COP 22) to the UN Framework Convention on Climate Change (UNFCCC), when UNIDO Director General LI Yong, and MASEN President Mustapha Bakkoury launched the Vanadium Flow Battery project to demonstrate smoothing and stabilizing electricity output. An official handover ceremony is planned to take place in Ouarzazate, Morocco, in conjunction with a workshop gathering Moroccan officials and representatives from neighboring countries.
With MASEN's support, UNIDO proposes to create a platform for the dissemination of renewable energy technologies in targeted countries while developing the local production of some technology components, thus creating grounds for achieving shared prosperity, economic competitiveness and environmental sustainability.
IRENA Concludes its Eighteenth Council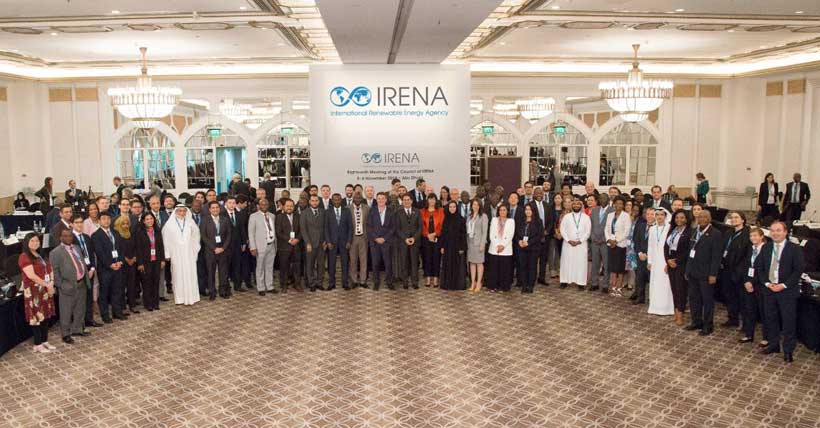 High-level representatives from 124 member countries attended the 18th meeting of the IRENA Council, held on November 5 and 6, 2019, in Abu Dhabi, to review the Agency's progress and explore its future plans to accelerate the global energy transformation to ensure a sustainable, climate-safe future.
Council Chair Mr. Guy Lentz, Luxemburg Coordinator for the EU and Inter Energy Issues, set the tone of the discussions by encouraging IRENA Council delegates to strive for a fair energy transition through renewables.
IRENA Director-General Francesco La Camera echoed the Council Chair by emphasizing the central role renewable energy plays in both sustainable development and climate action. "This morning, we reflected on the profound shift in the global energy dynamics which will result in a very different world in the coming decades. The evolution of the existing energy architecture into a low-carbon and economically vibrant system is central to the global strategy on sustainable development and climate," he said.
Ambitious renewable energy targets are now common in many countries, however, Mr. La Camera identified the gap between deployment goals and the investments necessary to achieve them as the biggest challenge facing the energy transformation.
To bridge this gap and accelerate the rate of energy transformation to meet climate goals, the Director-General proposed to the Council a Work Programme and Budget that aims to make the Agency:
More proactive: monitoring trends and recognising opportunities.
More efficient: streamlining programmatic output to more impactful activities, with a decisive shift to action on the ground.
More collaborative: developing partnerships with implementing partners, such as UNDP, taking advantage of IRENA's significant knowledge and convening power to catalyse action on the ground.
Council members lauded the Agency's decisive shift to action on the ground, supporting the Director-General's plans to improve programmatic engagement with all members, initiatives and partnerships. One of the key aspects of the discussions was IRENA's plan to take a more regional and sub regional approach to its programmatic activities. Griffin Thompson, Director of the Office of Electricity and Energy Efficiency at the U.S. Department of State, supported this approach stating, "The reality of the renewable energy transition is that there are multiple transitions and pathways. We support IRENA's proposal to work at a more regional & sub-regional level, which speaks to these nuances."
In alignment with the Agency's plans, Mr. La Camera announced the appointment of Gauri Singh, Principal Secretary of the Public Health & Family Welfare Department at the Renewable Energy Corporation and former Director of IRENA's Country Support & Partnerships Division, as the new IRENA Deputy Director-General.
On its second day, the Council's meeting followed up on discussions from the UN Climate Action Summit in New York as they related to NDC implementation and the Climate Investment Platform. The Climate Investment Platform, a partnership between IRENA, SEforALL, and UNDP, in coordination with Green Climate Fund, aims to declutter and streamline support to developing countries by accelerating action and advancing investments.
On behalf of UNDP, Pradeep Kurukulasuriya, Executive Coordinator/Director, Global Environmental Finance, Global Policy Network, spoke to Council members about the IRENA, UNDP collaboration. "Our partnership is a merging of IRENA's energy knowledge with UNDP's backbone of country offices and on-the-ground capabilities – a commonality of purpose, where UNDP draws on IRENA's expertise to accelerate the 2030 agenda."
During the Council, two side-events took place. The first lead by IRENA's programmatic division directors explored the issues facing countries with high shares of renewable energy, highlighting the importance of dialogue and the exchange of experiences amongst countries as well as offering IRENA's committed support to enhance this dialogue.
The second side event Decarbonising Complex Sectors: Paving the Way Towards a Carbon-Free Economy led by IRENA IITC Director Dolf Gielen, discussed the role renewables, green hydrogen, and advanced biofuels can play in decarbonising challenging sectors such as heavy industry, shipping, and aviation.