Exercise Aman, 2019: Understanding Peace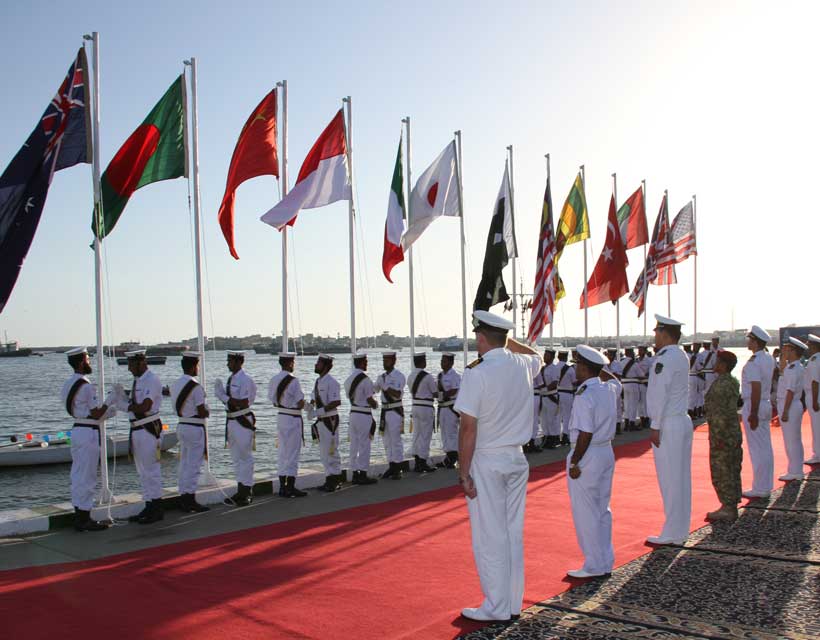 The great exponent of sea power, the American naval strategist Alfred Thayer Mahan, who died in 1914, is still read with attention by political leaders and their military advisers today. "Control of the sea," he wrote in 1890, "by maritime commerce and naval supremacy, means predominant influence in the world; because, however great the wealth product of the land, nothing facilitates the necessary exchanges as does the sea."
The seas and oceans are the principal empowering agents to make Earth home to mankind. They spread 75% of its surface and their physical, compound and natural properties make the marine condition basic to the presence of life in our planet. As pointed out by the United Nations, 'our water, drinking water, climate, atmosphere, coastlines, quite a bit of our nourishment, and even the oxygen noticeable all around we inhale, are for the most part regulated and provided by the sea.
Indian Ocean is an important ocean of the world. It comprises nearly one fifth of the entire oceans of world. In the west of Indian Ocean there lies Africa and Arabian Peninsula, to the north lies the Indian sub-continent while to east lies Australia. Pakistan is one of the littoral states of the Indian Ocean and claims its due share in Indian Ocean. The security imperatives and economic opportunities compel Pakistan to secure its wider interests in the Indian Ocean.
Pakistan has always played a positive and contributory role in promoting of regional integration and maintenance of order and peace in the Indian Ocean with special focus on North Arabian Sea (NAS) which encompass Pakistan's Exclusive Economic Zone (EEZ) and extended continental shelf. The importance of 1000km long coastline of Pakistan that extends from Sir Creek to Jiwani towards Iran is undeniable in many ways. While aligning with the foreign policy and other regional and international obligations of Pakistan, PN over the decades had undertaken certain very bold and far reaching initiatives. Exercise AMAN is one such example. PN calendar of activities also contain engagements with regional and extra regional counterparts like Exercise NASEEM-AL-BAHR with Royal Saudi Naval Forces (RSNF), THAMAR-AL-THAYAB with Royal Navy of Oman (RNO) to name a few.
Notwithstanding Pakistan, has remained a very active and important member of Coalition Maritime Campaign Plan (CMCP) under the ambit of CTF-150 operating in Gulf of Oman (GOO) and NAS from 2004 till early 2018. Pakistan also actively participated in Counter Piracy Deployment (CPD) under CTF-151 in Gulf of Aden (GOA) from 2009 till late 2017. In the aftermath of the US policy shift after coming into power of President Donald trump and to amicably discharge the international obligation to maintain order and peace at sea and to have a watchful eye for any illegal activity in NAS, PN has embarked on a Pakistan-led Regional Maritime Security Patrol (RMSP) since 2018. PN envisions a regional cooperation based on equality and sharing of information and maritime policing resources.
However to enhance global cooperation and interoperability of maritime forces and to project a soft yet firm image of Pakistan, PN initiated holding of multinational biennial Exercise AMAN in 2007. The seventh exercise of AMAN series, Exercise AMAN-2019 is taking place in Karachi started on 8th February 2019. A sizeable number of surface ships, air assets, Marines and Special Operation Forces (SOF) and observers from about 83 countries are participating in the exercise
The exercise is divided into two phases; the harbour phase which includes among other things a dynamic show of maritime air, Marines and SOF elements of Pakistan Navy. The main highlight of harbour phase is a Fleet Review which will held be off Karachi harbour at Manora. Surface combatants, Marines/SOF and air assets of PN will participate in the Fleet Review. The sea phase will comprise of combined maneuvers of participating forces in Arabian Sea aimed at enhancing interoperability and learning from each other experiences and good practices. The mega event will end with an impressive cultural show and food gala in which all the participating nations will showcase their national culture and cuisine.
Pakistan is hosting the event in order to prove her maritime capability and strength and contribution in maintaining the peace worldwide. Pakistan is a peace desirous country and does not have belligerent designs against any other nation state or country. Just like land borders, there are issues at sea which relate to territorial waters, contagious zones, exclusive economic zones and continental shelf and Pakistan is desirous to resolve them all with its neighbors in accordance with international law and expects others to reciprocate in the same spirit. Complete agreements and engagements are needed with all the stakeholders in the region and such maritime activities and naval engagements array Pakistan's yearnings for regional and global peace.
India's Stance on the USA-China Cold War
Amidst the USA and China's tussle encompassing trade war and COVID-19 blame game, India and the other Asian countries consequently have to sustain the damage. It is manifest by India's current strategies that it is all set to establish alliances with the West which is contrasting to its past reaction of staying neutral.
The country took the neutral path in 1961 when the then Prime Minister Jawaharlal Nehru signed the Non-Alignment Movement. It continued to foster its cordial ties with both the power blocks – USA and Soviet Union, presently Russia. For many decades it has managed to balance its relations with major powers of the world. India had conceived the notion that it wasn't the right time to crush between other's agendas and it found the conflict-ridden situation lucrative for itself which was discernible from the support gained from the USA and allies as well as China and Russia. However today's world scenario demands for the nation to take a stand. China, India's neighbour, is exhibiting fast and aggressive growth. It is hostile in doing so and is manoeuvring to change the world order while expanding its territories and its imperialism. India and other countries are at threat and thus must act together to curb its rigorous policies.
China's Escalating Pressure on the Asian Countries
China has been persistently exerting military pressure on many Asian countries including India. The Galwan Valley standoff which emerged on May 5 managed to take a violent turn on June 15 when 20 Indian soldiers died in the scuffle. Since then there have been several diplomatic talks between the two opponents but all in vain so far because the troops disengaged marginally. China's hostility nevertheless is not only restrained to India, it extends to other Asian nations – Vietnam, Malaysia, the Philippines, Taiwan and Japan.
Foreign Ministry of Vietnam claimed one of their fishing boats was ambushed on April 2 by two Chinese ships close to the Paracel Islands which China claims of its own. On April 14, Haiyang Dizhi ship was spotted in Vietnam's Exclusive Economic Zone according to Marine Traffic's report. Haiyang is the same ship that was recruited to explore Vietnam's oil-laden parts of the sea. The tension between Beijing and Hanoi are on rise ever since in the South China Sea.
Malaysia faced China's wrath on April 16 when Haiyang Dizhi 8 survey ship, flanked by more than 10 armed China Coast Guard and maritime militia vessels, commenced shadowing a drillship, West Capella, contracted by Malaysian oil firm Petronas to comb for oil off the coast. This Chinese action engendered reaction from the USA as it sent its warships to the area.
The Philippine Foreign Secretary Locsin informed that a "radar gun" was pointed at a Philippine navy ship off Commodore Reef in the Spratlys in the month of February. This radar aims weapons on a target prior to an actual attack. He added these actions were both violations of international law and the country's sovereignty.
A worrisome event that jolted Taiwan was intrusion of Chinese bomber and fighter planes in its air defence identification zone, not once but eight times in the past two weeks. The country became wary immediately and has deployed its patrolling jets to chase away Chinese's. Taiwan and China's clash dates long back when Taiwan acquired its de facto independence from China but with the current inclement international relations climate China bas been subjugating the neighouring country evermore.
Ishigaki in Okinawa, Japan has passed the bill to rename Senkakus island chain which is a disputed area between Japan and China. In April, Japan kept silent but worriedly watched Chinese aircraft carrier Liaoning along with its strike group making the first trip through Miyako Strait.
Above listed incidents are some of the very recent ones. China has bolstered and showcased its military, air force and navy prowess in the Asian region to allegedly divert world's attention from the pressing demand of pandemic's investigation. The USA and China have meshed their horns in this indefinite brawl but the countries in Asia have to pay its price. India has leaped towards the West in its reaction to the Chinese blitzes.
India's Alliance-Build Up with the West
USA and allies have yearned for India's partnership in their collaborative efforts to mitigate China's expansionist conducts. For many years India had played neutral in their conflicts but only recently it has started taking side. The Western powers want India's involvement because it is the world's largest democracy countering the largest autocracy and because of its proximity to the Dragon.
With China encountering allegations over the pandemic, India has taken steps that have filled West with the confidence that their goal is near to completion. The friction between India and China has swayed the Elephant into discreetly shaking hands with the Western allies. This push has led to various deals and alliance-build up between the two.
India-Australia defence deal signed on June 4 allowed them to nurture a comprehensive strategic partnership. This deal meant access to each other's military bases that will bolster their military exercises and exchanges in the Indo-Pacific region. This will also pave way for Australia's comeback to the Malabar series of naval war-game and thus succour its involvement in the Quad.
India-USA too have deepened their defence cooperation. On November 26, India and the USA carried their first sea, land and air exercises, Tiger Triumph, which was inline with the 2018 pact between the two that bestowed them to share sensitive information and strengthen their military partnership to counter China's growing maritime influence in Asia. In February this year, Donald Trump announced they would ink a $3 billion arms deal in the near future. Both the nation's commitment is conspicuous from their cooperative military exercises and deals to deter the Chinese malign activities. Siemon T. Wezemen, Senior Researcher at the Stockholm International Peace Research Institute stated, "India is now at that level where it's basically like a NATO partner even if there's no alliance."
India-France too enjoy collaborative defence undertakings. In February, India-France joint patrol was conducted from the Reunion Island. For this venture P-81 was deployed with a French Navy personnel on board. Furthermore 36 Rafael fighter jets will be delivered to India soon. It is obvious that India-France's military-to-military engagement and defence deals have shown an upsurge.
India has recently secured the chance to play a central role during the pandemic as Dr. Harsh Vardhan took the seat of WHO's Executive Board Chairman in May. In addition, India has bagged the support of 184 nations for United Nations Security Council's non-permanent chair.
From May 3-9, India joined the USA, Japan and the Philippines in the South China Sea which trumpeted its warning to China. Donald Trump has proposed to expand G-7 by giving membership to India, Russia, Australia and South Korea. It is an attempt to unite allies against China. The Dragon is not the member of this alliance even though it has the world's largest population and is the second largest economy. Russia being an ally of China has shown interest in membership but also called it biased. Russian Deputy Foreign Minister Sergei Ryabkov said, "I believe that the G7 as presented by the American side reflects a somewhat one-sided view of problems, if only because China is not among those invited to that group." It is gauged that the West is trying to manufacture new alliances to sideline China.
With a similar motive, D-10 got proposed by Boris Johnson, he conveyed his wish for India's membership to discourage 5G Huwawei Company's expansion. This alliance would be exclusively of 10 democratic member countries to engineer an alternative source of 5G technology as they suspect China's 5G dubious and involved in cyber-espionage. Additionally, there is prospective revival of the Quad which is generally compared as the North Atlantic Treaty Organisation (NATO) of Asia that will counteract China in the South China Sea.
From the above discussion the deduction is that India is sailing with the West. The Elephant is eager to build stronger relations with them to get assistance to deal with China. However, China has been sensitive about India's growing ties with the West, particularly with the USA.
Conclusion
India's stride towards tying friendship knot with the West has become a reality. Its aim of securing larger profile in the international organisations has moved a step forward. India's stand on the Cold War between the USA and China is noticed and realised by the world. More multilateral ties await India, but India must stay wary of others agendas and safeguard its own interests in signing off various deals and accepting membership of alliances.
Pakistan's endorsement of Osama Bin Laden may harm relations with Beijing
A cricket star turned politician, Imran Khan, called Taliban a terrorist group in UpFront on Al Jazeera in 2016. Answering Mehdi Hassan's quick question "Do you consider Taliban to be a terrorist group", he answered in an assuring manner that "Yes, Yes, Yes, Yes, Yes, they are. Anyone who kills innocent people is a terrorist." In an interview to Fox News, he said "And yet it was ISI that gave the information which led to the location of Osama bin Laden. If you ask CIA it was ISI which gave the initial location through the phone connection." Imran Khan changed his stance now and considers Osama Bin Laden to have died for a noble cause – a cause that is considered terrorism in the civilized world.
Recently, in the National Assembly session, he made a controversial speech in which he explicitly called Osama Bin Laden a martyr who was killed by the Americans. While the extremist segments in Pakistan may welcome the gesture of Imran Khan, Beijing will certainly see it as a potential threat even if the Prime Minister takes his words back for it was not a slip of tongue but the gesture showcases an ideology. A confused response to the most important issue pertaining to stability in Pakistan by the national leadership sends signals of mistrust to Beijing. To Beijing, stability matters the most.
China is a prisoner of its geography. The China-Afghanistan border was enacted as a result of the 1895 agreement between Russia and England – a deal involving neither the Afghans nor the Chinese. The thin strip that separates Pakistan from Tajikistan meets with Xinjiang. The western region of China lacks development and Beijing views the activities in Xinjiang autonomous province with keen eyes. China is blamed to disrespect human rights there in re-education camps. The separatist group East Turkestan Islamic Movement (ETIM) is frowned upon by the Han Chinese. Andrew Small writes in his book "The China Pakistan Axis" that a leaked Chinese government document in 1998 listed Uighur independence movements as the main threat to the stability of the Chinese state." With Xinjiang having border with eight countries including Afghanistan and Pakistan, any religious instability that can destabilize China enrages Beijing.
The extremist segments in Pakistan are accused of having links with Xinjiang's internal instability, though at a limited scale. During the Operation Silence at the Red Mosque of Pakistan in 2007, twelve Uighars were killed. This operation was launched because the Red Mosque students, considering themselves as the ultimate custodians of Islam, took the responsibility to impose a self-hypothesized version of sharia in Islamabad and abducted Chinese women accusing them to spread vulgarity. As a consequence of that operation in which the Jihadi proponent Abdul Rashid Ghazi was killed, Tehreek Taliban Pakistan (TTP) was formed. Pakistan had to bear a huge cost protecting the lives of Chinese from religious extremists. The damages done by TTP are hitherto unseen in Pakistan's history.
Pakistan has always enjoyed the support of China with the only exception of the former's sympathy toward the religious militancy. The abduction of Chinese workers and engineers from Pakistan over the course of time had given sleepless nights to many in Beijing. When the ideology of sympathizing with terrorists revive, it gives setbacks to peace efforts by the civilian and military leadership to curtail terrorism in the war against terrorism in which seventy thousand lives have been lost in Pakistan. The opposition lambastes PM Imran Khan for his callous statement of applauding Bin Laden. Trivializing a highly sensitive issue puts question mark on the role of Pakistan's intelligence agencies in countering terrorism. China looks forward to a perpetual peace that Pakistan officially claims to achieve by combatting terrorism.
For China, "it's the economy stupid". To drive the economy, China looks forward to stability. Zhu Rongji, the then premier of China, advised Pakistan's president General Musharaf in 2001, "Investors are like pigeons, when a government frightens them with poor decisions, they all fly off together". China needs a stable Pakistan and a stable Afghanistan to rise peacefully. It aims to complete the Belt and Road project by 2049 – celebrating 100 years of creation of the People's Republic of China. The China Pakistan Economic Corridor (CPEC) is its flagship project. Pakistan relies heavily on CPEC for economic growth. It is equally important for both the states. With the revival of fresh air of militant ideology, a single spark can start a prairie fire in Sino-Pak relations. Pakistan needs to think twice before appeasing extremists for it can lose the only friend in the region.
India Playing Double Game
India is playing the double game smartly. On the one hand, India is projecting that his soldiers were killed by China and occupied its territory in the Ladakh region. Nepal has issued a new Map and included Indian occupied territories. And China is at the back of Nepal for all its actions against India. Bhutan has cut-off water entering India, and again it is due to Chinese back. Bangladesh disputes are also linked to China. Confrontation with Pakistan is also backed by China. Myanmar is creating problems with India due to China. Sri Lanka and the Maldives are also against India due to China.
India wanted to prove that China is aggressive and increasing its influence in the region to victimize India. India is a victim of China and needs support from the international community, especially from the US, EU, and anti-China block. India is playing over-smart, and Indian media is over-engaged in spreading anti-China sentiments.
However, it is India, who is the aggressor and cause of instability and epic center of all evils in the whole region. Indian philosophy of "Greater India," which includes all states in the region of Arabian Pennisula to Australia, including Indonesia, Malaysia, and New Zealand. India is progressing its agenda silently and occupying its neighboring states.
India has illegally annexed: Travancore, Jodhpur, Bhopal, Hyderabad, Junagadh, Jammu and Kashmir, Ladakh, Naga Land, Sikkim, Juna Garh, etc. India is illegally occupying Nepali territories, West Bengal from Bangladesh, some areas of Myanmar, Pakistan, and China.
India has almost colonized Bhutan, a land lock small country in the Himalayan region. Nepal was coerced and penalized in the form of sanctions and cut-off supplies of basic necessities of life like food, fuel, medicine, electricity, etc., during the worst hit-disaster times.
The recent increase in terrorist attacks in Pakistan is also linked with India; there is sufficient evidence. As a matter of fact, India has no capacity to confront its neighbors directly, so it is involved in terrorism. Indian notorious Intelligence agency "RAW" is involved in cross border terrorism, espionage, and insurgencies.
Pakistan is a very liberal, democratic and open society. Pakistan enjoys the highest degree of freedom of expression. It is very convenient for India to penetrate into our community and conduct any terrorist activities. Corruption is also one aspect in Pakistan, facilitating India for terrorism. Some Indian agents in Pakistan are posing Pakistani citizenship cards (CNICs) or Passports, as a corrupt official issue them against hefty bribes.
Furthermore, just like any other free country, there are disgruntle Pakistanis or destitute Pakistanis, identified by Indian Intelligence Agency, picked and chosen for terrorism. They are brainwashed, trained, armed, funded, and exploited against Pakistan. Many international intelligence agencies are operating in Pakistan, some of them are cooperating with India too.
The sudden increase of terrorism activities in Karachi and Balochistan are witnessed, and it is feared that India might assassinate high profile political leaders in Pakistan to destabilize Pakistan. Indian evil-design and over-ambitions must be checked before irrecoverable damage is caused to Pakistan.
India is also trying to revive its relations with Russia. India was a partner with the former USSR in the era of the cold war era but turned its face in 1991 at the time of transformation of the USSR to the Russian Federation. India was of the opinion that Russia can not revive and has become impotent, can not help India anymore. Then, India hired politicians, Senators, Congresswomen in the US for lobbying. As a result of intensive marketing, finally, India joined the American Club and prevailed benefits from all Western World. The Recent attempts to come close to Russia is also a double game, on the one hand trying to gain sympathies from Russia and, on the other hand, sending a signal that if Western World does not extend undue help to India, it might be slipped to Russian block again.
As a matter of fact, Indian is an opportunist nation. It milked USSR in the 1950s, 1960s, 1970s, and 1980s and got benefits as much as possible, as long as possible. When Russia was no more beneficial for India, it turned its face toward America and the Western World. Today India is the largest beneficiary of American help after Israel.
India is not sincere with any other country in the World and just taping the opportunity to milk as much as possible and as long as possible. But India has been exposed already, and the World has seen the real face of India. Indian propaganda to show itself as a victim, to gain world sympathies is no longer accepted by the World. India is the aggressor and carries evil designs and epic-center of all evils for the regions as well as globally.