Radisson Hotel Group signs portfolio deal for six hotels in Egypt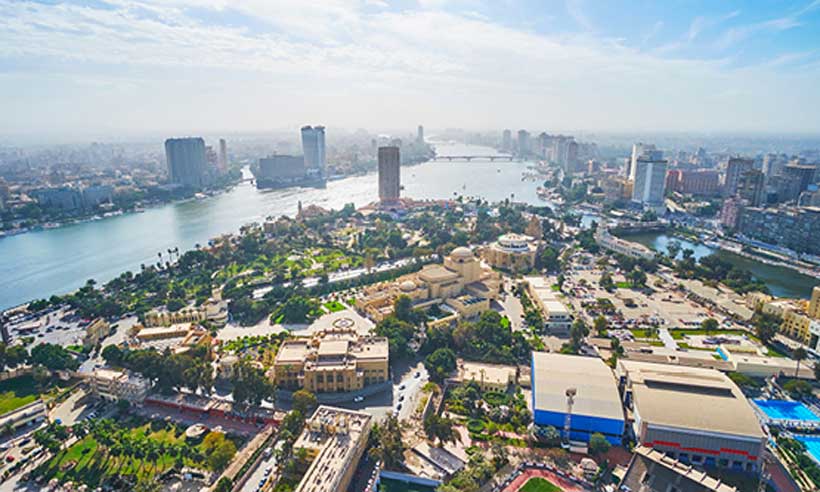 Radisson Hotel Group announced the signing of six new hotels in Egypt as part of a portfolio deal across a number of its brands. The agreement was signed with existing business partner Zaghloul Holdings, a Cairo-based business conglomerateoperating in real estate, contracting, tourism, commercial retail, entertainment and sports investment industries. The six hotels: Radisson Collection Hotel Cairo Heliopolis, Radisson Blu Serviced Apartments Cairo Heliopolis, Radisson Blu Hotel Cairo Golf City, Radisson Hotel New Cairo, Radisson Hotel & Resort Ain Sokhna and Radisson Blu Hotel & Resort Makadi Bay, Hurghada will mean Radisson Hotel Group becomes one of the largest international operators in the country and will also cement Radisson Blu's position as the leading brand in the city in the coming years.
Elie Younes, Executive Vice President & Chief Development Officer, Radisson Hotel Group, said: "It is great to expand our footprint in Egypt with six new hotels. Egypt has historically been one of the most visited countries in North Africa and we strongly believe in its tourism industry in the long run. These hotels will make a great contribution to the local employment and we thank our partner Zaghloul Holdings for their continued trust and for their contribution towards promoting tourism in the country. We are further pleased to introduce two new brands to Egypt, Radisson Collection, positioned as the premium lifestyle and affordable luxury brand and Radisson as an upscale hotel brand".
Hazem Zaghloul, owner of Zaghloul Holdings, said: "We have ambitious investment plans for the tourism sector in Egypt. We are confident in the future outlook for the sector with positive forecasts of increased visitor numbers and the significant investment in the tourism infrastructure of Egypt. We are also pleased to strengthen our relationship with Radisson Hotel Group, one of the world's largest hotel groups and our trusted hospitality business partner. We look forward to continuing our successful relationship."
Radisson Collection Hotel Cairo Heliopolis
Set to become the first Radisson Collection hotel in Egypt, the hotel will be part of a new mixed-use development that includes a shopping mall and offices. Located within the affluent Heliopolis district of Cairo, the hotel will be situated just 1km away from Cairo International Airport, the second busiest airport in Africa. The new hotel will feature 425 rooms and luxurious suites and four food and drink outlets. The meeting and events space will cover 2,000sqm and includes two ballrooms. While the leisure facilities will include a modern well-equipped gym and indoor and outdoor pools.
Radisson Collection Hotel Cairo Heliopolis is set to open in Q2 2021.
Radisson Blu Serviced Apartments Cairo Heliopolis
Situated in the same mixed-use development as the Radisson Collection Hotel Cairo Heliopolis, the serviced apartments will complement the hotel with 163 upper upscale apartments featuring one and two-bedroom and luxurious apartments. The serviced apartments will feature 400sqm of meeting rooms space and will include an outdoor pool. The Heliopolis district has a number of modern restaurants, cafes and other leisure facilities, and is home to Egypt's three largest shopping malls.
Radisson Blu Serviced Apartments Cairo Heliopolis is scheduled to open in Q3 2019.
Radisson Blu Hotel Cairo Golf City
Radisson Blu Hotel Cairo Golf City continues the Group's strategic expansion into the north of Cairo with the development of an "urban resort" located 10km from CairoInternational Airport. Situated within Obour City, the hotel will be in a prominent commercial district that includes the offices and factories of a number of pharmaceutical companies and an industrial park conveniently situated next to the hotel. Golf City offers a well-established residential community and the hotel will be located in the center of the neighborhood next to the golf course. The hotel will feature 255 rooms, a gym and dining options including two international restaurants and a tea lounge. The meeting room space will cover 220sqm.
Radisson Blu Hotel Cairo Golf City is scheduled to open in Q4 2020.
Radisson Hotel New Cairo
Radisson Hotel New Cairo will be located in New Cairo, an area south east of Cairo city and part of Greater Cairo metropolitan area. Featuring 107 rooms, a restaurant, gym and indoor swimming pool, the hotel will be the first Radisson branded hotel in Egypt. The New Cairo district houses a number of international companies, and the nearby leisure attractions comprise malls and sporting facilities including a golf course.
Radisson Hotel New Cairo is scheduled to open in Q1 2020.
Radisson Hotel & Resort Ain Sokhna, Egypt
Located in Ain Sokhna, a popular destination for domestic and international leisure guests, Radisson Hotel & Resort Ain Sokhna will feature 173 rooms and suites. The hotel will offer direct beach access in an area well known for the quality of its beaches and watersports and its proximity to the Eastern Desert. The hotel will feature an international restaurant and a nightclub. Leisure facilities will include three outdoor swimming pools and a gym. The hotel will be located 50km south from Ain Sokhna, on the western shore of the Red Sea's Gulf of Suez, which typically has a pleasant Mediterranean climate.
Radisson Hotel & Resort Ain Sokhna is scheduled to open Q4 2021.
Radisson Blu Hotel & Resort Makadi Bay, Hurghada
Radisson Blu Hotel & Resort Makadi Bay, Hurghada is set become an impressive resort in one of Egypt's main tourism centers on the Red Sea coast. The resort will feature 670 rooms and will offer direct beach access. There will be several food and drink outlets including three international restaurants, a beach restaurant and a nightclub. The resort will feature four swimming pools and a fitness center. The meeting and events space will feature six meeting rooms. The hotel will be located 25km south from Hurghada city center, along the Red Coast Sea, while Hurghada International Airport (HRG) is also 25km away.
Radisson Blu Hotel & Resort Makadi Bay, Hurghada is scheduled to open in Q3 2020.
Mandarin Oriental to Manage Luxury Residences On Fifth Avenue, New York
Mandarin Oriental Hotel Group has announced an agreement to brand and manage 69 luxurious residences, located on Fifth Avenue New York, scheduled for completion in 2021.
Mandarin Oriental Residences at 685 Fifth Avenue are being developed in an elegant 1920's building on the corner of Fifth Avenue and 54th Street. The well designed private homes will offer the exceptional service for which Mandarin Oriental is renowned.
The Residences will feature a variety of facilities including a library and lounge on the top floor of the building, with clear views over Central Park. A fully equipped gym, a spa with beauty treatment rooms, and a rooftop pool with cabanas and lounge beds will all be serviced by Mandarin Oriental. The property will also offer an all-day dining restaurant.
The owners and developers of the project are SHVO, BLG Capital and Deutsche Finance America.
"We look forward to introducing a new collection of Mandarin Oriental Residences to New York. The development will offer owners a unique pied-a-terre lifestyle in an ideal location, steps away from Central Park and Manhattan's renowned luxury shopping, museums and fine dining choices. Mandarin Oriental's attention to detail and legendary service will enhance the living experience of the residents." said James Riley, Group Chief Executive of Mandarin Oriental Hotel Group.
"What I love the most about New York City real estate is reimagining a living space, a building, and even the way we can interact with a world-renowned neighborhood," said Michael Shvo, Chairman of SHVO. "We look forward to developing these unique Mandarin Oriental residences in the heart of Manhattan and creating this one-of-a-kind offering for buyers who demand the highest level of finishes and luxury services."
Renaissance Hotels Debuts in Mexico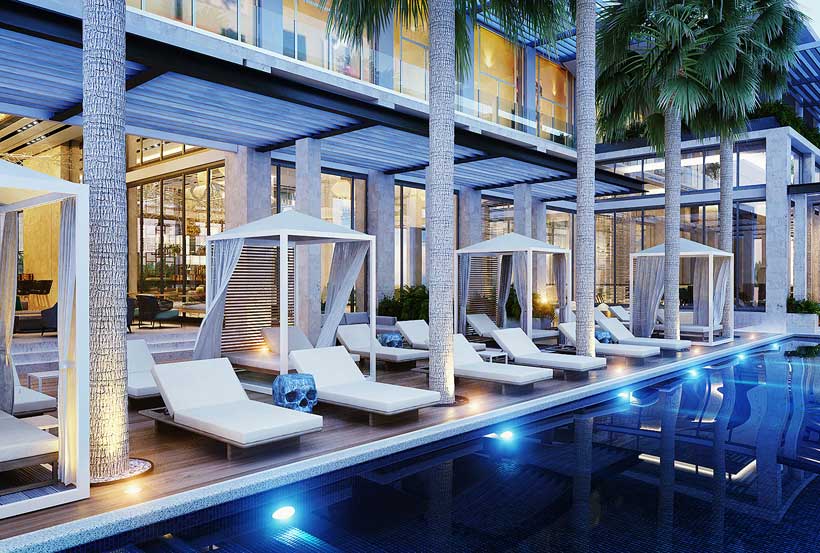 Renaissance Hotels today announced the opening of Renaissance Cancún Resort & Marina, the brand's first hotel to open in Mexico. The anticipated resort anchors the new marina in Puerto Cancún and connects travellers to both the local spirit of the neighbourhood and the destination's pristine beaches, just minutes away. Through its surprising design, entertaining evening bar rituals and engaging Navigator, the 180-room lifestyle resort is poised to anchor Puerto Cancún – home to a professional golf course designed by Tom Weiskopf, residential areas, a shopping centre with restaurants, movie theatres, and the largest marina in the area.
"We have been on a journey to evolve our hotels' design to reflect what the Renaissance brand offers today: a sense of clever theatricality and an open invitation to experience something a little unexpected during our guests' travels," said George Fleck, Vice President of Global Brand Marketing & Management, Renaissance Hotels.  "We are  thrilled to celebrate Renaissance Cancún Resort & Marina and its spontaneous high-low design that embraces the DNA of the locale and gives guests a new sense of the destination."
Led by Estudio Lemus Arquitectos in conjunction with Idea Asociados, the hotel's design takes a decidedly distinct approach to Mayan mythology, inspired by the journey a soul takes after death through the cenotes to reach the mystical underworld of Xibalbá.  Renaissance Cancún Resort & Marina thrives from stark contrasts created through materiality, different textures and a dynamic color palette – a showcase of the brand's refined design strategy, which reflects what the Renaissance brand offers today: a sense of clever theatricality and an open invitation to experience something a little different both inside and out of the hotel.
Renaissance Cancún Resort & Marina encourages travellers to discover the hidden gems that gives its neighborhoods soul through its whimsical design.  Upon arrival, guests are greeted with sweeping views of the Caribbean Sea anchored by a deconstructed wooden sculpture representing the sacred Mayan tree (ceiba). Metal wire sculptures resembling mollusks contrast the natural, wood stones and polished ceramics throughout the lobby.   From underground art created by local urban artists to an engaging pool table and reading nook in the public spaces, the hotel's interior design reframes the historic fabric of the destination with a modern energy – extending from the lobby to the guest rooms. The hotel boasts 180 guestrooms, including 11 suites, all with ocean, marina or golf course views – inspiring a sense of spontaneous discovery at every turn.
"Just as the Mayan underworld is a universe worth discovering, Renaissance Cancún Resort & Marina is a space full of stories waiting to be told," said Karina Zuñiga, General Manager.  "Stories that will awake the explorer within us, when we allow ourselves to be inspired by the unexpected."
Music as a means to stir the soul is a theme carried through the hotel's social spaces, artwork and atmosphere. Zek Bar sits center stage with a designed-DJ table beckoning travellers through the lobby and to the terrace. Savour the very best of local cuisine at Káajal Restaurant or linger for a coffee at Nüup Deli Café.  For a taste of Baja Califonia visit Merotoro and enjoy a simple yet sophisticated menu curated by Chef Jaír Téllez. Business meetings turn into ultimate moments of inspiration, whether gathering in one of the meeting rooms, the more intimate boardroom, or hosting a magnificent event on the terrace overlooking the ocean.
Distinctly local, personalized service is brought to life through the hotel's engaging Navigators, the Renaissance brand's ambassadors who connect travelers to the locale and help guests discover the neighborhood's handpicked local discoveries, including discovering Isla Mujeres or scuba diving at the Underwater museum with a private tour from the hotel's marina; enjoying a relaxed yet energetic atmosphere with Chef Jaír Téllez, just steps away from the hotel or finding Chef Tiago Aceituno's home and experiencing his farm-to-table cuisine at Mostaza.
Conveniently located 10 minutes from the city and 25 minutes from Cancun International Airport, the new Renaissance Cancún Resort & Marina is located in Puerto Cancún, an exclusive and gated community at the beginning of the hotel zone, and only steps away from the beach.  Opening rates begin at $250 per night.
March Madness® Inspires Travel Experiences
Marriott International is gearing up for game day in its third year as the Official Hotel Partner across all 90 NCAA® championships. The is a multi-year partnership with Marriott International, NCAA, Turner Sports and CBS Sports. As Spring signals the start of March Madness®, fans will prepare to travel to this year's Men's Final Four® championship in Minneapolis from April 6-8 and the Women's Final Four® championship in Tampa from April 5-7. Across the country, Marriott International hotels will welcome students, alumni, families and fans as they cheer on their favorite teams throughout the tournament.
Marriott International offers loyalty members elevated sports, food, music and entertainment experiences through Marriott Bonvoy Moments. Members have the opportunity to use their points to bid on exclusive Moments at the Men's and Women's Final Four® games, including the Ultimate Men's Final Four Weekend Experience in Minneapolis and the Ultimate Women's Final Four Weekend Experience in Tampa.  One package is available for each Men's Final Four and Women's Final Four including tickets, VIP access and overnight accommodations.
"We are passionate about the spirit of community and comradery felt by so many when traditional boundaries are broken through sports. This resonates with our hotels, as we too place a strong focus on serving all guests around the world," said Steve Heitzner, Chief Sales and Marketing Officer, Marriott International, Americas. "March Madness® and NCAA® represent more than a collegiate competition and we feel honored to be the meeting place for so many fans, students, alumni and athletes to continue the celebration after that final buzzer rings."
"This is always one of the most exciting months for our collegiate athletes and their fans who travel near and far to watch our NCAA tournament games," said Ellen Lucey, NCAA director of championships and alliances. "We are excited to have Marriott International as our corporate partner as Marriott supports our student-athletes and their achievements. The synergies between our brands are strong, which allow us to create memorable experiences for our colleges and universities and our fans."
As fans travel from Louisville, Washington, DC, Anaheim and Kansas City to Minneapolis, Marriott International hotels look forward to being the home base for the many emotional moments experienced during March Madness®. In addition to the games, here are a few reasons why hosting cities are some of the top places to visit this Spring.
Louisville, KY isn't just home of the Kentucky Derby's Churchill Downs, but it also has an incredible art scene, booming with charming local shops. Those who stay at the Aloft Louisville Downtown, a modern hotel with retro-inspired interiors, can explore the best of the city. Those musically inclined can stroll down to Fourth Street Live! and enjoy live music by new and seasoned artists.
Anaheim, CA appeals to travelers of all ages and those planning to visit Disneyland® Resort and beyond. Anaheim Marriott is located in the city's resort district offering the perfect location to explore. Guests can also head to the beach to try surfing or sailing and enjoy that California sunshine.
Washington, DC welcomes visitors to explore its many vibrant neighborhoods.  Experience the District through the eyes of a local and go beyond the traditional sites on The National Mall. The luxurious JW Marriott Washington, DC on the famed Pennsylvania Avenue is located near the Capital One Arena, making it a prime home base for gameday travelers.
Kansas City, MO is a hotspot for some of the best barbecue, has a prominent jazz heritage, and fountains galore – there are more than 200 fountains throughout the city. Between the Sweet Sixteen® and Elite Eight® games, fans can hunt down as many fountains as they can or hit up some barbecue hotspots including the famed Joe's Kansas City Barbecue, born out of a gas station. Sports fans can rest their heads after the big game at The Westin Kansas City at Crown Center.
Tampa, FL is hosting the Women's Final Four® games, and is a city to watch over the next couple of years. The city boasts many new areas to explore like Sparkman Wharf which uses shipping containers for shops and restaurants, the new Tampa Riverwalk, a 2 mile stretch – brought more to life within the last year, including Armature Works, an upscale European food hall, as well as Water Street which is close to the championship games. Part of the National Register of Historic Places, the century-old Historic Federal Courthouse has been transformed into Le Méridien Tampa in the arts and entertainment district of downtown.
Minneapolis, MN is not only an unexpected foodie haven but it is also the host of the Men's Final Four® championship. This year, in partnership with Marriott International, Buick will bring its fan favorite "Grab A Buick" fleet of vehicles to the Twin Cities in record numbers, providing fans free transportation during the Final Four® Festivities. The "Grab A Buick"  will shuttle fans around and allow them to experience the new Buick lineup while exploring all that the Twin Cities has to offer. "Grab A Buick" hubs will be set up at more than 10 Marriott International hotels, the Mall of America and local hot spots around the city to enhance the fan experience. Travelers can check the Final Four App for additional details. After the excitement of the Final Four® games, sports fans can rest easy at the W Minneapolis – The Foshay, which merges Art Deco decadence with modern urban chic and take in 360-degree views of the city from the 30th floor observation deck.