The Future of Tech: Building Quantum Technology With Ion Beam Accelerators
Authors: Aliz Simon and Nicole Jawerth*
Quantum technology is paving the way for smaller, faster and more flexible electronics than ever before, such as Magnetic Resonance Imaging scanners the size of smartphones and quantum computers that are thousands of times more powerful than traditional computers. Now on the brink of the second quantum revolution, which promises new ways to measure, process and transmit information, scientists are working on accelerator-based techniques for developing new materials that could speed up development of quantum technologies.
"The first quantum revolution was about building devices based on the ability to control photons and electrons, which led to the personal computer, LED lighting, even GPS and the Internet. In the second revolution, it's about controlling the quantum state of individual atomic systems to create more advanced technology that is capable of solving previously impossible problems," said David Jamieson, Professor at the University of Melbourne and chair of the IAEA coordinated research project behind this work: 'Ion beam induced spatio-temporal structural evolution of materials: accelerators for a new technology era'.
The coordinated research project, launched in December 2016, has brought together leading scientists from Australia, China, Croatia, Finland, Italy, India, Israel, Singapore, Spain and the USA. The main aim of the project is to develop novel, accelerator-based ion beam techniques for creating and characterizing modified material required for new quantum technologies.
"Accelerator-based techniques involve high-energy ions that allow us to create atomic-scale modifications, or defects, in materials such as silicon and diamond, or two-dimensional materials, such as graphene. We can then control the quantum states of these individual atomic-scale defects in the materials, which in turn gives us the capability to control single atoms, including the spin of electrons or nuclei. The result is new materials with the characteristics necessary for advancing quantum technology," said Jamieson.
Research has already shown ways these techniques can be used to modify materials. For example, single, accelerated ions can be implanted into materials, such as diamonds, used for semiconductors to form colour centres with quantum states that are useful for sensing electric and magnetic fields in single living cells. The colour centres can also release photons encoded with quantum states to, for example, transmit information that is secure against eavesdroppers. These materials can be integrated into conventional microelectronic devices such as laptops, smart watches and navigation devices.
The same techniques can also be used to investigate new types of radiation detectors based on diamond, such as radiation sensors that will be able to withstand high levels of radiation for use in radiotherapy treatment for cancer. In the longer term, they can also form the basis of a photonic quantum internet that connects a large-scale array of quantum information processors.
"New quantum technologies could open the door to transformational advances in secure communications, information technology and high precision sensors and provide new solutions to pressing challenges in fields such as medicine, industry, and security, shaping global development in the 21st century," said Paolo Olivero, Associate Professor at the University of Torino in Italy and a participant in the project. "But there are still some major hurdles to address before many of these technologies become a reality."
Last month, the project participants met to discuss fast-track solutions for addressing key challenges such as characterizing the behaviour of defects in certain systems, such as colour centres formed in diamond by implanted nitrogen atoms and an adjacent network of atom-sized vacancies, as well as how to control defect engineering in two-dimensional materials such as graphene when using low and medium-energy ions. Their meeting included discussions on testing and refining quantum theories with experimental data to tackle those problems and identify ways to translate theories into new devices.
The four-year project will also further facilitate research across the field by supporting other key research programmes around the world, such as the Quantum Technologies Flagship at the European Union, the National Innovation and Science Agenda in Australia and the National Quantum Initiative in the United States of America, among others. There will also be opportunities for scientific collaboration and training in conjunction with the project, such as the Joint ICTP-IAEA Advanced School on Ion Beam Driven Materials Engineering: Accelerators for a New Technology Era held last October.
The future is quantum
The first quantum revolution transformed the world into the highly connected, technology-driven society we see today. With the second revolution, we can soon expect ultra-high precision clocks, sensors for medical diagnostics, customized drug designs using quantum computers and more sophisticated machine learning.
It will also enable the development of quantum computers that are able to crack problems unsolvable with current methods. These computers use basic units of information called quantum bits or 'qubits', which are a more complex and powerful version of the information-carrying 'bits' used today in conventional computing.
Prototypes of 10 to 50 qubit computers are already accessible online and being used to develop quantum software for practical applications and for training the next generation of personnel in quantum information technology. Single qubits are also now being used in laboratories as sensors to exploit quantum superposition and entanglement for non-invasive diagnostics at the cellular level.
In anticipation of progress in the field of quantum technology, researchers are already setting up longer-term projects to harness the potential of these new developments, such as a new 10-year project called Q-LEAP to create novel quantum-based sensors for studying processes in the human brain. These sensors could vastly improve the detection of brain functions, such as real-time tracking of human thought, and improve the resolution of medical images. The project will use, among others, the accelerator-based techniques and expertise developed through this IAEA coordinated research project.
*Nicole Jawerth, IAEA Office of Public Information and Communication
Toward Closing the Gender Gap in Nuclear Science
Authors: Miklos Gaspar and Margot Dubertrand*
Women make up less than a quarter of the workforce in the nuclear sector worldwide, hurting not only diversity within the industry, but also competitiveness, experts have said. Many organizations, including the IAEA, are actively working to increase the share of women in all job categories.
"Although there are many talented and highly-skilled women within the nuclear industry, we are still vastly under-represented. There is still work to do," said Gwen PerryJones, Executive Director of Operations Development at the Wylfa Newydd nuclear power plant in the United Kingdom. "Diversity in the workplace benefits us all, and I fully support initiatives that encourage women to enter the industry and help them see routes to senior positions."
Women who have made it to leadership roles are making a significant contribution. Muhayatun Santoso, a senior researcher at Indonesia's National Nuclear Energy Agency (BATAN), has led ground-breaking research into the use of nuclear techniques to measure air pollution in many of Indonesia's cities. Her work contributed to Bandung, Indonesia's third largest city, receiving the ASEAN Environmentally Sustainable Cities Award in 2017.
"Air pollution is a major problem across urban areas in Indonesia, with a surge in industrial activity and traffic increasing the amount of toxic substances in the air," she said. "I am proud to be able to help my country tackle this major problem."
Agneta Rising, Director General of the World Nuclear Association, is a leading specialist on nuclear energy and the environment. While she was Vice President for the Environment at Vattenfall AB, Sweden's state-owned nuclear and hydropower operator, she headed a pan-European department focused on energy, environment, and sustainability. She is also the co-founder and former President of Women in Nuclear (WiN). During her presidency, WiN quadrupled in size.
"Women are essential to the strong development of the global nuclear sector. To be the most competitive, a business needs to have the best people working for it. The nuclear industry should have programmes to attract and recruit women, otherwise they would be missing out on the competitive advantage their talents could bring," said Rising. "When the workforce better reflects the diversity of society, including the representation of women, it also helps to build society's trust in nuclear technologies."
At present, women make up only 22.4% of the workforce in the nuclear sector, according to data from the IAEA.
Women in Nuclear
The goal of WiN, a non-profit organization with 35,000 members in 109 countries, advocates for stronger roles for women in nuclear science and technology and to increase awareness of the importance of gender balance in historically maledominated fields. It also promotes these areas to women making career choices.
"While there is a growing proportion of women in senior technical positions in every branch of nuclear science and technology, women are still under-represented," said Gabriele Voigt, President of WiN and former manager of nuclear facilities and laboratories in Germany and at the IAEA.
"Part of the problem is that too few young women study science, technology, engineering, and mathematics in secondary and higher education," she said. "Another issue is the omnipresent glass ceiling and bias — whether conscious or unconscious — that is difficult to confront in the work environment."
WiN is helping to change that by increasing girls' exposure to nuclear-related topics from a young age and by building a strong network of women and creating access to role models for the next generation. Some countries, including with the help of the IAEA, are introducing nuclear science to high school students with a particular emphasis on girls.
"Presenting science, and particularly nuclear science, to girls at an early age is the best way to achieve a higher proportion of female scientists in this field," said Micah Pacheco, regional science supervisor at the Philippines' Ministry of Education, under whose watch several schools in the Manila area have introduced nuclear science and technology education programmes. "Nuclear is fun — girls should see that!"
The IAEA's progress on gender parity
As of the end of 2017, the proportion of women in the professional and higher categories at the IAEA reached 29%, compared to 22.5% ten years earlier. Director General Yukiya Amano has stated that he would like to achieve gender parity at the most senior level by 2021.
"The Agency has taken concrete steps to improve the representation of women in the Secretariat through targeted recruitment efforts and awareness-raising activities, and we've seen improvement in the representation of women at the Agency," said Mary Alice Hayward, Deputy Director General and Head of the Department of Management at the IAEA. "But we are conscious of the challenges that remain. Gender equality in the workplace requires more than improving the statistics — it also means making sure the IAEA is a place where women want to work."
This includes creating a supportive environment, such as flexible working arrangements that enable staff members to combine work and family responsibilities, as well as special outreach campaigns to young women highlighting the benefits of working at the IAEA.
An example of success in reaching gender parity in senior roles at the IAEA was in the Division of Information Technology. While it is historically a male-dominated field, an active campaign and sourcing strategy resulted in targeted outreach to many qualified women candidates.
At the Office of Legal Affairs, the majority of professional staff are women.
"Not only do we have a female Director, two of the three Section Heads are also female, meaning 75% of the senior staff are women," said Director Peri Lynne Johnson. "Furthermore, we have 11 female lawyers and ten male lawyers, and we try to ensure parity among our interns."
*Margot Dubertrand, IAEA Office of Public Information and Communication
We need to build more networks of women in science
Why science?
I was born in Dar Es Salaam, Tanzania with family roots in Usangi, near Mount Kilimanjaro. I was lucky. My parents were community organizers in our village, educated in finance and economics during pre-independent Tanzania. They were not scientists, but they had a clear vision for all their six children—that we would all study science. So it was a bit of a nudge followed by encouragement. They were firm believers that we needed a strong grounding in science so we could analyze the world and do anything we wanted to. They believed science provided strong analytical foundation and flexibility to pursue either science or non-science careers later in life. I am grateful for my parents' vision of science for their girls and boys.
We were an unusual family compared to the norm in East Africa at that time. Some of my brothers are now doctors, engineers, accountants, and I have a sister who audits information technology systems for a living. A lot of people commented that it wasn't the "right profession for women" but I was drawn to science because I was curious. And no matter what else I do in life now, I find I have that tendency to prod people and ideas a bit more than is typical.
How hard was it to grow up in East Africa with an interest in science?
In the '70s and '80s when I was growing up, there were a lot of good missionary schools which had a strong grounding in science. But it was not common for a girl to take physics, chemistry and biology. I had a wonderful headmistress and mentor, Mama Kamm, who believed that girls should do science, and cooking, and needlework! I then obtained a degree in immunology and biochemistry. But it became clear to me how male-dominated this field really was when I went to science competitions or events, and found myself one of the very few women participating. It seemed daunting at the time, but it helped me build the resilience I would later need to work in other male-dominated environments. That, and growing up with four brothers and a family that allowed me to compete with them.
What obstacles did you face when you left Tanzania?
I went to Glasgow, Scotland to pursue a science degree and found that if there were few women studying science at university, even fewer were from Africa. So there, I became a young African woman scientist. It was isolating, and I really had no one to look up to as a role model. This was one of the hardest parts of pursuing science. When I moved to Canada to study microbiology and immunology, it was clear that I had to work much harder than my male colleagues because expectations were so much lower for me as an African woman. I also learned that I needed to develop my own support networks for my science ambition. Because I was abroad, I had to be open to networking with non-Tanzanians: my interest in science became the glue of some of the relationships I developed then.
What perceptions need to change so more girls and women choose science as a career?
Family perception is everything. I was lucky, but not many are. Second, is the perception of your peer group. A lot of who you become in life is influenced by the people around you in your formative years. Third, societal pressure is a big hindrance. How are you perceived by your neighbours, or your friends or teachers? I think that as a girl in science you have to find a way to persevere despite those three levels of pressure. It is important to find how to build networks of women like yourself, and call on them for support and reassurance. Many of my classmates in the girls boarding school where I grew up run important scientific institutions in Tanzania, and even now, no matter where I am in the world, I reach out to this group of friends for support. Our headmistress Mama Kamm transformed the science and girls agenda in Tanzania—we still look up to her for inspiration and admiration. We have our own cohort of women who studied science. But you also have to remember that your network has to include men, because as women, we can learn from them and also count on them as our champions to change some of the misconceptions about girls and science. For example, in my case, I observed early on that my male peers tended to question authority and decisions much more than I did. When I first left Tanzania to study science, it never occurred to me to ask why my paper hadn't been published, but a man will never shy away from asking that question. I decided to learn from these colleagues and adjusted my professional behavior accordingly.
How can more girls and women choose science as a career?
You have to address self-doubt because expectations from women are often very different and lower than from our male peers. We need to have many more role models. When I was growing up, there were not many women I could look up to and think "I want to be like her." But technology has made finding these role models so much easier today. We need to use our personal stories to inspire girls. Science provided me with the fundamental DNA to do anything in my life. So while I started my career as a researcher, I later branched out to public health and policy, and today, to environment. It was my scientific foundation that made this possible. This is what I really enjoy about my new role at UN Environment: we inform the global environmental agenda through work that is grounded in science. And so the curiosity continues.
What opportunities do environmental science offer?
Environmental science is a rapidly expanding field, and as our awareness of environmental issues grows, there are more career options within environmental science for girls and women. You can pursue a degree in public health and decide to focus on environmental pollution, for example. So there are many more opportunities and options. For women, life is never clear cut and dry, no matter how much we try—we are far more nuanced in our approach to just about anything, including science. This is why I feel environmental science can only become stronger if we have more women in research, because we often bring the human angle into the science. For us to make a difference in this field, we have to start with and think of people and humanity—the social aspects of environment are equally important. These are exciting opportunities for girls and women!
How to protect your data from cyberattacks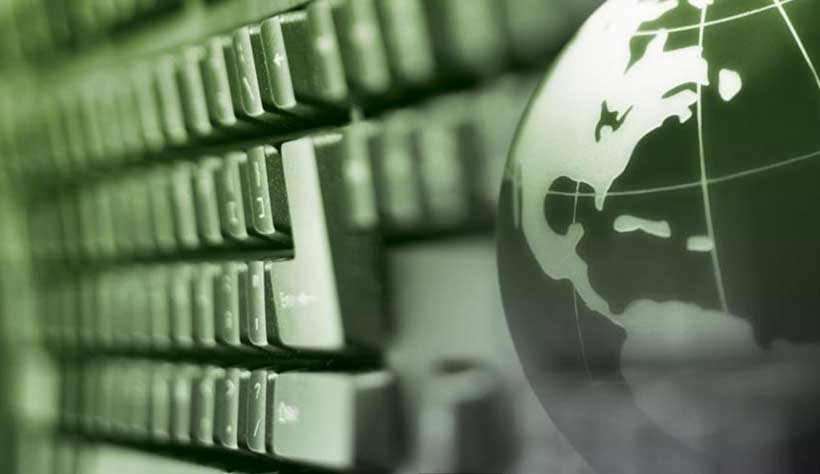 Crime used to mean things like break-ins and thieves swiping packages from your doorstep. But now there's an increasing number of cybersecurity threats that are also crimes of opportunity. With more and more people using unfamiliar networks and doing lots of online shopping, bad actors have plenty of targets to choose from. By following these simple steps for data protection, you can keep your digital information secure.
Be careful when using insecure Wi-Fi networks
If you're traveling or out shopping, you may find yourself on an unfamiliar Wi-Fi network. Many stores, airports and rest stops offer free Wi-Fi as a convenience, but often those networks aren't secured. That makes it especially risky to make online purchases because the traffic from your device can be easily monitored and stolen. If you are using public Wi-Fi networks, then browsing to any website, make sure your connection is encrypted and secure by looking for the lock icon in the top left of the address bar. Also, always double check that the address you are navigating to is what you expected. Many modern devices, like the ASUS NovaGo, now feature built-in LTE, which offers a more secure experience for your online shopping.
Don't rely on passwords alone
Passwords and user IDs are a staple of cybersecurity, but they can only get you so far. To further ensure your data stays protected, consider using password management and verification apps. They let you use your face, fingerprint, eyes or other methods to access your data across devices. For example, the Microsoft Authenticator app adds an extra level of security with two-step verification that allows you to access your Microsoft account and apps quickly and securely without having to remember a password.
Avoid phishing scams
With so many companies emailing promotions, it can feel like your inbox is under assault. In fact, it very well could be. Some of those emails may be phishing scams designed to steal your private information. To protect your data, don't click on any unfamiliar links and carefully review all notifications from your bank to catch any potentially fraudulent activity.
Remember, scammers can be sophisticated. They may use personalized emails to gain your confidence or replicate the style of a well-known financial services company. If an email or link looks the slightest bit suspicious, don't click it. Go directly to your bank or other online account to confirm the information independently.
Back up your data
If all your data is stored in one place, it's vulnerable. Bad actors can lock up your device and demand payment to release your files. That's why backing your data up to the cloud is critical for protecting your files against ransomware attacks. The cloud allows you to safeguard your data and access it from multiple devices. Cloud storage services are secure and can also let you easily transfer your data if you're upgrading to a new device.
Utilize privacy screens
Preventing people from looking over your shoulder and stealing your information is the simplest and easiest way to protect your personal data. When online shopping in public, use privacy screens to hide your information. Some devices, like the HP EliteBook x360 and HP Spectre x360, have integrated privacy screens that instantly shield your screen with the push of a button. If your device doesn't come with one built in, you can purchase a privacy screen.
Keep software current
Using a modern operating system with the latest security updates and built-in anti-virus protection is the best way to ward off unwanted intrusions. Major tech companies continually upgrade software to account for the latest cybersecurity threats so you can be confident your data is protected. By keeping your software current, you can avoid many cyberattacks before they cause problems.