Seven Unforgettable Valentine's Day Experiences at Hilton Hotels Around the World
Roses, chocolates and heart-filled greeting cards can only mean one thing: it's Valentine's Day again. But while all those things are sweet, what's more romantic than a spontaneous getaway to a faraway place with your love?
If you're searching for some Valentine's Day inspiration, look no further than Hilton, which has lined up a wide variety of romantic experiences and getaways.
How about a zodiac-themed dinner with 12 dishes on a 34th-floor rooftop in Thailand, a stunning sunset hike among Arizona's scenic Red Rocks, a royal-like Cadbury House Valentine's Day ball in the U.K. or a spin in an Italian sports car on a rooftop track that was featured in "The Italian Job" and overlooks the Alps?
No need to pinch yourself – these are all options at hotels around the globe where you can indulge, relax and explore. But those who can't quite manage to dash away can still draw inspiration to think outside the box right where they are, or even start planning to up their game for Valentine's Day 2020 or other special occasions before it.
Below are some options and inspiration for every kind of lover this year:
Hilton Sedona Resort at Bell Rock (Sedona, Arizona): Hilton Sedona Resort at Bell Rock, which is located along the Red Rock Scenic Byway, is offering several ways to enjoy Valentine's Day with romantic partners or friends, including the Love on the Rocks package. The two-day retreat starts with a bottle of sparkling wine, followed by a luxurious spa treatment with an included $150 eforea Spa credit. Make the trip extra romantic with a complimentary bouquet of fresh flowers and a pre-stay call with the concierge to assist with personal requests. For outdoor lovers, hikers and sunset chasers, Hilton Sedona will be offering a romantic grab-and-go picnic basket for two filled with French baguettes, gourmet meats and cheeses, assorted truffles and more for a picnic feast on the Red Rocks.
Hilton Pattaya (Pattaya Chonburi, Thailand): At Hilton Pattaya, the multi-award winning Horizon Rooftop Bar and Restaurant offers a zodiac-themed four-course set dinner with twelve special shared dishes representing each zodiac sign. This includes 'Pure and Pristine' inspired by Virgo – Fine de Claire oysters with two styles of topping including tuna tartar and spicy gazpacho salsa; 'Exploration of Crab' inspired by Cancer – king crab and soft shell crab tempura salad with spicy Sriracha sauce and mayonnaise sauce; 'Traditional with a Twist' inspired by Taurus – a combination of Tournedos Rossini or French steak dish topped with seared foie gras and truffle with Asian taste of oyster sauce, and 'A Wise Choice' dessert dish inspired by Capricorn – buckwheat blini with frozen goat cheese mousse, lemon crème and boysenberry jam. Priced at THB 5,950 ($188 USD) per couple and available only on Feb. 14, 2019 from 6pm – 11pm.
DoubleTree by Hilton Hotel Bristol South – Cadbury House (Bristol, United Kingdom): Doting couples looking for somewhere to enjoy a romantic meal together this Valentine's Day are invited to celebrate their love at the Cadbury House Valentine's Ball. Spend the holiday like the royals within the stunning, castle-like setting of DoubleTree by Hilton Hotel Bristol South – Cadbury House, and enjoy sparkling wine and canapes on arrival followed by a three-course dinner specially designed to help make hearts flutter. Entertainment at the ball includes the singing duo Double Impact, who will get pulses racing with a set of crooner classics.
DoubleTree by Hilton Turin Lingotto (Turin, Italy): This Valentine's Day, treat your loved one to a once-in- a-lifetime experience with the Red Passion Valentine's Special. Begin your romantic getaway with a bottle of champagne upon arrival and then head up to your Presidential Suite to admire the magnificent view overlooking the Alps while enjoying the scent of 100 red roses, a gift from our hotel staff. Then, make your way up to the former FIAT rooftop test track, featured in the movie "The Italian Job." Here you will have the unique opportunity to drive a luxurious Ferrari Portofino until sunset – a car enthusiast's dream. The next day, wake up to an intimate breakfast in bed followed by a relaxing couple's massage by Dolomitic Water, the award-winning cosmetic line.
Conrad Dublin (Dublin, Ireland): For this year's Valentine celebrations, Conrad Dublin is offering an Over-the-Top Valentine's Package guaranteed to impress loved-ones. Activities include a private helicopter ride around the city on a day of their choice, a luxury picnic in the Iveagh Gardens, and a meet-and-greet with the hotel's resident poet who will create a bespoke poem inspired by them. On an evening of their choice, lovebirds will enjoy pre-dinner drinks with a complimentary bottle of Dom Perignon served in exquisite Waterford Champagne flutes they can keep as a memento, followed by a romantic in-suite dinner.
Conrad London St. James (London, U.K.): Conrad London St. James is offering couples an extravagant horse-drawn carriage ride around the city as part of their 'Ultimate Valentine's Experience'. Guests will embark on a romantic tour through some of London's finest attractions, including Green Park, Buckingham Palace, Victoria Embankment, Big Ben and Westminster Abbey. A delicious Valentine's Afternoon Tea will await them upon their return to the hotel, featuring a collection of teas selected by tea experts around the world and accompanied by a glass of Rose Champagne. The following morning, the happy couple will enjoy a luxurious breakfast for two in the privacy of their Deluxe One-Bedroom Suite.
Rome Cavalieri, a Waldorf Astoria Resort (Rome, Italy): Rome Cavalieri, one of Waldorf Astoria's 30 properties worldwide, is offering a romantic drive in a vintage FIAT 1100 around the city's iconic landmarks, discovering stunning piazzas, monuments and ancient ruins. The drive ends with a visit to a local chocolate atelier where guests will have the opportunity to create their very own chocolates to take home.
Think outside: 5 ways to disconnect and enjoy the outdoors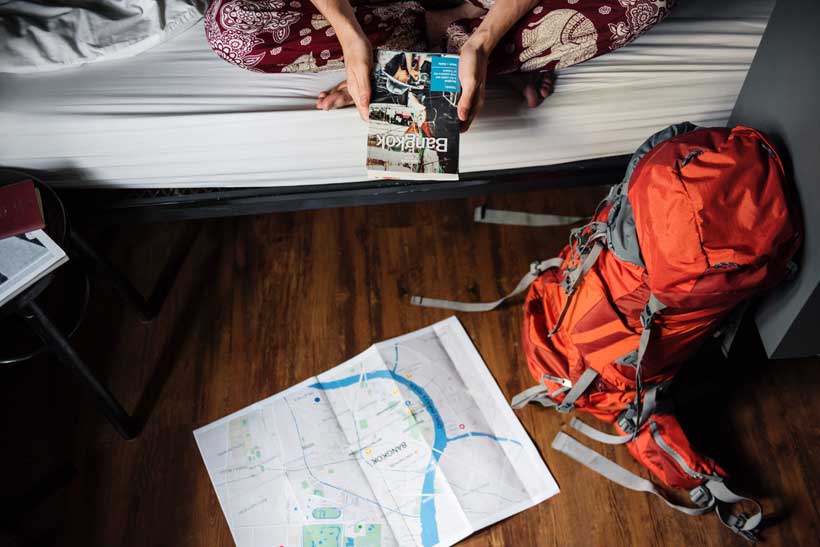 Life is hectic, full of demands at work and home. Add digital distractions like computers, cell phones, tablets and more, and it's no wonder many people are experiencing record-high levels of stress.
One simple solution is to shift your perspective by spending more time outdoors. When you do an enjoyable activity outside, stress begins to melt away as you bask in the fresh air, sunshine and beauty of nature.
This doesn't mean you have to be a savvy outdoor adventurer. There is a growing movement of people of all ages and walks of life embracing nature by finding new ways to discover the world around them. If you feel the draw of the outdoors, consider these five ideas for disconnecting and enjoying activities outside:
1) Try something new
When you challenge yourself by trying a new outdoor activity, you gain confidence and build lasting memories. You might also find new connections with a shared perspective. Curious about fishing? Look for local opportunities and guides. Want to learn how to rock climb? Research local classes and clubs. Interested in an experience of a lifetime? Explore the many options Polaris Adventures provides. These expertly tailored trips throughout the country let you try new ride-and-drive experiences that you're sure to never forget.
2) Take a hike
One of the easiest ways to explore the outdoors is something that virtually anyone can do: hiking. Put on comfortable, sturdy athletic shoes and have fun discovering the parks and forests around you. Whether you opt for paved trails or a more challenging path through the forest, it's a wonderful way to have fun by yourself or with others. Make a day of it by packing lunch or other snacks for mid-hike picnics where you can take in the grandeur of Mother Nature.
3) Explore the open road
There's something freeing about the open road and exploring the nation's highways, byways and hidden winding roadways. The fresh air and breeze in your face is second only to the sights and sounds of the new surroundings you experience as you explore cities, towns and country sides. As you look for your next adventure, try an alternative to a car or motorcycle that provides an exhilarating experience, such as a three-wheeled motor vehicle. These vehicles are as fun to drive as they look, plus most can comfortably seat two people for joint outdoor exploration.
4) Head off road
Find endless possibilities beyond the pavement. Few things can compare to traveling off road and discovering hidden spots and new places. With Polaris off-road vehicles, the options are only limited by your desire to explore. Pack up your gear and head out knowing you're in a machine made to journey through the forests, deserts, mountains and beyond. Go at your own speed and see where it takes you.
5) Wander the water
Whether it's a pond, lake, river or ocean, the water is equal parts soothing and exhilarating. It provides countless opportunities to spend time outside, depending on your personal preferences. Fish from the shoreline. Rent a canoe or kayak to discover bays and sandbars. Kick back and explore on a Bennington Pontoon. Try your hand at paddle boarding. When in doubt, just plan a beach day with a group of friends or the whole family.
As life continues to pull people in every direction, it's more important than ever to take a moment and spend time outside. With these ideas, it's easier than ever to enjoy connecting with others and the outdoors. For more ideas about what to do outside, visit Polaris.
Trips that transform: How airline miles can transform a child's life
Maksim was just a few months shy of 2 years old when his parents rushed him to the emergency room for severe flu-like symptoms, only to find that their little boy was suffering from kidney failure. Since that day, Maksim has spent most of his six years in and out of hospitals, doctors' offices and dialysis treatments.
After receiving a life-saving kidney transplant from his father, Maksim and his family had to remain vigilant to protect him from any risk of infection by limiting his daily activities and exposure to other people. He has not had the life most children enjoy, as he is unable to go to school and play with other children.
Despite all of this, Maksim has always kept a positive attitude, as his parents observed: "His joy blows us away." Maksim's parents have chosen to put some of their own plans on the back burner while coping with his mounting medical needs and getting Maksim the care he needs to survive. Most of what Maksim knows and remembers in his short life is being sick — a life filled with needles, surgeries, side effects from medications, dialysis, hospitalizations and more.
Until Maksim's social worker told his family about Make-A-Wish(R).
Maksim is fascinated by sharks, and he wanted to visit Hawaii to spend time at the ocean. "I like playing with shark toys," Maksim said. "And I have a lot of shark books! I love when my parents read to me."
Due to medical delays, it was awhile before Maksim would be able to take such a trip, but once his wish came true, his parents described his wish trip to Hawaii as "pure joy."
"Every waking moment outside of his medical care was focused on him having fun," Maksim's parents said. "We all got to pause life's responsibilities and focus on fun and family. It was such a unique opportunity to take time out and do something special, because he has to live with this affliction for the rest of his life. At the end of the day, there just isn't much time left to spend together because there is always something else demanding your attention. Being granted time away like this brings tears to our eyes."
At Make-A-Wish, 77 percent of children's wishes involve some form of travel. Make-A-Wish has the resources to grant only half of those wishes. To make all of those life-changing wishes come true, the organization needs more than 3 billion airline miles or points and 25,000 room nights every year.
If you have unused or close-to-expiring airline miles/points, you can make a difference in the life of a child battling a critical illness. Donate your miles or points through participating travel sponsors, including American Airlines, United Airlines, Southwest Airlines, JetBlue and Delta Air Lines. And, once you donate miles and points to Make-A-Wish, they never expire.
Here's how you can help:
1. Visit wish.org/travel.
2. Select the airline(s) of the miles/points you would like to donate.
3. Know you have transformed the lives of wish kids and their families with your donation!
Your gift of airline miles/points is crucial for children with critical illnesses. That's because a wish trip creates an opportunity for a child to experience life beyond illness. It's also a chance for a family like Maksim's to reconnect and get much-deserved respite.
When asked what his favorite part of his wish trip to Hawaii was, Maksim responded, "I think the whole trip was my favorite part!"
To learn more about Make-A-Wish, visit wish.org or check out #TripsThatTransform on Instagram to see some of the amazing places wish families have experienced, thanks to Make-A-Wish donors and partners.
Top 4 Drives around Beverly Hills and L.A. to Experience in a 2019 Maserati Levante SUV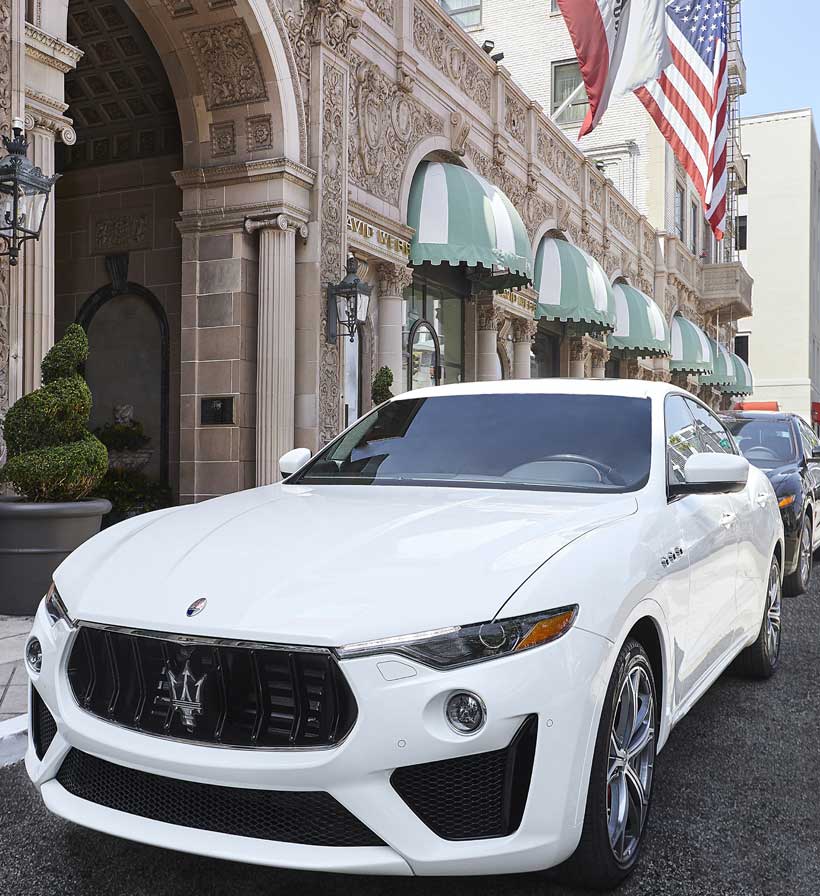 With a deep history of more than 100 years of Italian craftsmanship, Maserati's DNA is a balance of luxurious, sophisticated style paired with the soul of a race car. And as part of a new stay-and-drive package at Beverly Wilshire, A Four Seasons Hotel, the following driving tour suggestions will help guests experience the famed Maserati lifestyle and all that Beverly Hills and Los Angeles has to offer.
Rodeo Drive "Italian Craftsmanship" Loop
1 mile (1.6 kilometre) loop that takes approximately 10 minutes without traffic
Undeniably one of the most famous streets around the globe, experience luxury on this loop around the legendary Rodeo Drive. Expertly pairing Maserati's history of creating exquisite masterpieces with the storied history of Beverly Wilshire, A Four Seasons Hotel, car aficionados and enthusiasts will enjoy the best of Beverly Hills from a Maserati Levante.
Starting Point: Beverly Wilshire, A Four Seasons Hotel – 9500 Wilshire Blvd, Beverly Hills, California 90212
Depart Beverly Wilshire, A Four Seasons Hotel, originally built on the Beverly Auto Speedway. The then American board track, built in 1919, was home to speeding Model Ts and saw the likes of prominent race car drivers such as Jimmy Murphy and Harlan Fengler before the Hotel's opening in 1928.
Head west on Wilshire Blvd (0.1 miles).
Make a slight right onto N Camden Drive (0.3 miles).
Turn right at the 2nd cross street onto S Santa Monica Blvd (390 feet).
If you look to your left you will pass the Bang & Olufsen store, which is one of the brands that develops sound systems for Maserati.
Turn right onto Rodeo Drive.
On the right before you get to Brighton Way you will see BVLGARI at 401 N Rodeo Drive.  This legendary Italian jeweller creates one of a kind timepieces for Maserati owners.
Continue down Rodeo Drive and on your right you will see the Ermengildo Zegna store at 337 N. Rodeo Drive.  Zegna and Maserati are long standing partners and Zegna exclusively creates an optional silk interiors and soon to come in Spring 2020 a leather woven interiors for Maserati.
If you continue down Rodeo Drive to Wilshire Blvd you will be back at the renowned, Beverly Wilshire, A Four Seasons Hotel. Make a left on Wilshire Blvd, then a right on El Camino Drive, entering through the guard gates modelled after the Buckingham Palace gates.
End Point: Beverly Wilshire, A Four Seasons Hotel – 9500 Wilshire Blvd, Beverly Hills, California 90212
Mulholland Drive Scenic Overlook
6.2 miles (10 kilometres) that takes approximately 20 minutes without traffic
Pro Tip: Program 8591 Mulholland Drive, Los Angeles, California 90046 into your GPS
Best done in the daytime, stop at this popular overlook to see the city stretching into the distance beneath, complete with breath-taking views.
Starting Point: Beverly Wilshire, A Four Seasons Hotel – 9500 Wilshire Blvd, Beverly Hills, California 90212
Head east on Wilshire Blvd toward S El Camino Drive (479 feet).
Turn left onto N Beverly Drive (1.7 miles).
Stay left and continue  onto Coldwater Canyon Drive (2.8 miles).
Turn right onto Mulholland Drive.
Destination will be on the left.
End Point: Mulholland Scenic Overlook 8591 Mulholland Drive, Los Angeles, California 90046
Pacific Coast Highway to the Getty Villa
13.4 Miles (22 kilometres) that takes approximately 31 minutes without traffic
Pro Tip: The Getty Villa 17985 Pacific Coast Hwy, Pacific Palisades, California 90272 can be added to the GPS
Enjoy scenic coastal views as you travel on one of American's most scenic roadways, the Pacific Coast Highway to the esteemed Getty Villa. Offering an experience of ancient Greek and Roman art in a setting that recreates a first-century Roman villa, the museum is home to J. Paul Getty's antiquities collection. The two-floor museum displays art that spans the 7,000 years from the end of the Stone Age to the fall of the Roman Empire and is complemented by stunning fountains and gardens.
Starting Point: Beverly Wilshire, A Four Seasons Hotel – 9500 Wilshire Blvd, Beverly Hills, California 90212
Head south on S Rodeo Drive toward Charleville Blvd (0.5 miles).
Turn right onto W Olympic Blvd (1.8 miles).
Continue straight to stay on W Olympic Blvd (0.1 miles).
Turn left onto Overland Ave (1.1 miles).
Use the left 2 lanes to turn left to merge onto I-10 W (0.2 miles).
Follow I-10 W and CA-1 N to Getty Villa Drive 13 min (9.6 miles).
Merge onto I-10 W (2.8 miles).
Keep left to stay on I-10 W (1.7 miles).
Continue onto CA-1 N (5.1 miles).
Turn right onto Getty Villa Drive.
End Point: The Getty Villa 17985 Pacific Coast Hwy, Pacific Palisades, California 90272
Peterson Automotive Museum
2.3 miles (3.7 kilometres) that takes approximately 7 minutes without traffic
Pro Tip: Program 6060 Wilshire Blvd, Los Angeles, California 90036 to the GPS
Known as the entertainment capital of the world, Los Angeles not only invented the magic of movies and television, but in turn is recognised as the driver behind the nation's passion for vehicles due to Hollywood's influence on crafting captivating car movies throughout the years. To learn more about Hollywood's impact on the car culture, visit the Petersen Automotive Museum. Featuring more than 300 vehicles, make sure to visit the Made in Italy installation, which guides guests through the manufacturing process of the Maserati Levante, and the new Hollywood Dream Machines: Vehicles of Science Fiction and Fantasy, which explores the cult classic films and stories, bringing them to life through props, design drawings and physical vehicle models.
Starting Point: Beverly Wilshire, A Four Seasons Hotel – 9500 Wilshire Blvd, Beverly Hills, California 90212
Head east on Wilshire Blvd towards El Camino Drive (2.3 miles).
Turn right onto S Fairfax Ave (89 feet).
Turn left into Petersen Automotive Museum Parking.
End Point: Petersen Automotive Museum 6060 Wilshire Blvd, Los Angeles, California 90036