Roads to peace: EU supports reconnecting Eritrea and Ethiopia
Commissioner for International Cooperation and Development Neven Mimica is visiting Eritrea today, where he launches an initial €20 million project to rebuild the road connection between the Ethiopian border and Eritrean ports.
During his visit, Commissioner for International Cooperation and Development, Neven Mimica meets with the President of Eritrea Isaias Afwerki to discuss the situation in the region and explore ways for the EU and Eritrea to step up political relations and dialogue on matters of concern to both sides.
On this occasion, Commissioner Mimica said: "The European Union is committed to support Eritrea and Ethiopia in delivering their historic peace agreement, which ended twenty years of conflict. To back this, we are launching a €20 million programme to rebuild the roads connecting both countries. This will boost trade, consolidate stability, and have clear benefits for the citizens of both countries through the creation of sustainable growth and jobs."
The new project will be financed through the EU Trust Fund for Africa and through the United Nation's Office for Project Services (UNOPS). It will rehabilitate road connections between the Ethiopian border and Eritrean ports to boost trade and create jobs. This is the first phase of a broader support to Eritrea, which is planned to scale up later this year.
This co-operation is part of the EU's new dual track approach of strengthening political dialogue with Eritrea, notably encouraging political and economic reforms and improvement of human rights, as well as pursuing development cooperation to tackle root causes of poverty, and to reinforce the peace agreement and economic integration.
Background
In July last year, Eritrea and Ethiopia signed an historic peace agreement ending 20 years of conflict. This provides a major opportunity for economic development and stability in the region. The rapprochement has already yielded benefits for the Eritrean population, with re-opened borders, resumed communication and the reduction in the price of basic commodities.
One of the commitments of the peace agreement is that 'transport, trade and communications links between the two countries will resume'. To achieve this requires rehabilitating the main arterial roads between the Ethiopian border and the Eritrean port of Massawa, which is the focus of this road project.
EU mobilises over €18 million for the Central African Republic in 2019
As many people continue to suffer in the Central African Republic (CAR), the European Union continues to stand in solidarity with the people in need in the country and announces €18.85 million in humanitarian assistance for 2019. This additional support brings EU humanitarian assistance in CAR to more than €135 million since 2014.
Christos Stylianides, Commissioner for Humanitarian Aid and Crisis Management, said: 'For the EU, the humanitarian situation in the Central African Republic is not a forgotten crisis. We will continue providing assistance to bring life-saving relief to the people in need. We remain, however, concerned about violence levelled against civilians and aid workers in the Central African Republic. Innocent people and humanitarian workers are not a target.'
EU humanitarian funding in the Central African Republic aims at:
helping conflict-affected people whose basic survival depends on humanitarian assistance. Internally displaced people, host communities and returnees are provided with food aid, emergency health and nutrition treatment, water and hygiene, shelter, basic essential items, education, and support to their livelihoods;
preventing violence and providing medical, psychosocial and legal support to victims of violence and human rights breaches;
tackling the food and nutrition crisis with assistance for families in need and for people at high risk of undernutrition, and support to the health sector to step up malnutrition prevention and treatment;
supporting the delivery of aid to areas where poor infrastructure and ongoing fighting make access difficult for humanitarian workers.
The Central African crisis has also an impact on the entire region as 592,000 refugees have sought refuge in neighbouring countries to which the EU is providing support as well.
Background
Since 2013, violent conflict has plunged the Central African Republic into turmoil and a protracted humanitarian crisis. Despite a new peace agreement signed in February 2019, people continue to be affected by violence. Attacks against civilians have been a major driver of the humanitarian situation in the country, leading to mass displacements and a total rupture of their means of subsistence, mainly agriculture.
More than half of the Central African Republic's population is in need of humanitarian assistance to survive and a quarter of the population is displaced. An estimated 1.8 million people are suffering from a severe lack of food, and almost 38% of children under five years suffer from chronic malnutrition. Almost two thirds of the population has no access to health care, while access to basic social services remains largely dependent on humanitarian actors.
New mandate must bring equality for women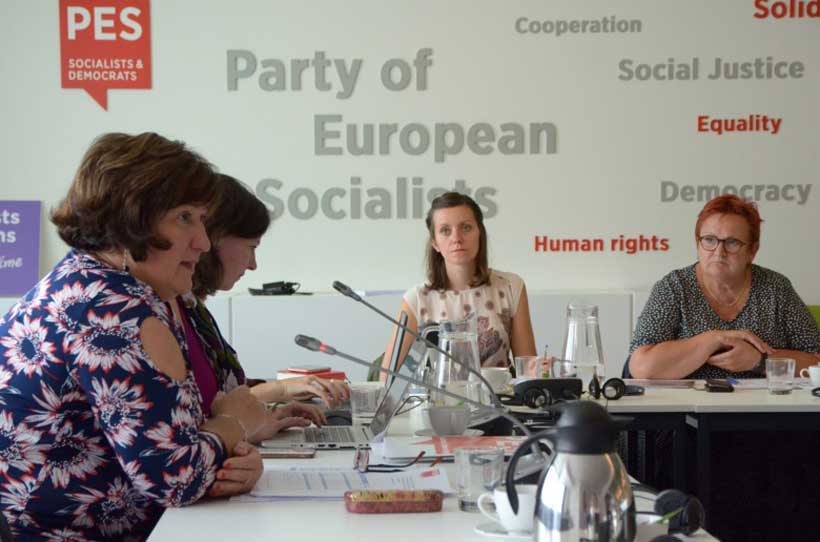 Gender equality and parity within the institutions must be priorities for the next mandate, PES Women said today as it released a statement 'Call for a feminist Europe'.
PES Women – which promotes gender equality and women's representation both inside and outside the Party of European Socialists – was gathering for the first time since the European elections.
PES Women members unanimously adopted Call for a feminist Europe, reiterating and outlining the steps the EU institutions must take to achieve greater gender equality.
PES Women President Zita Gurmai, said:"We are entering the ninth mandate of the European Parliament, and yet we have still not achieved gender equality. Last month's vote saw an increase in the number of women elected to the European Parliament, which is very welcome. But despite this, no institution comes close to ensuring equal representation in decision-making for women, or gender equality more generally. So after the PES feminist campaign, this is what we are reiterating today. It is time for a feminist Europe where every woman and girl can exercise her freedoms, choices and rights."
2020 marks the 25th anniversary of the Beijing Platform for Action – an agenda for women's empowerment adopted at the UN's Fourth World Conference on Women (Beijing, China, 1995). As this anniversary is approached, Call for a feminist Europe picks up many of the areas the Platform for Action identified.
The PES Women statement calls for:
Gender-balanced committees, committee chairs and heads of delegations in the European Parliament;
That national governments propose two candidates, a woman and a man, for Commissioner to ensure gender parity in the Commission's college;
Gender equality as a stand-alone European Commission portfolio, and as a priority of the Commission President or Vice-President, and a feminist approach to overall Commission policy-making;
The European Commission to introduce gender budgeting, and more resources to strengthen women's rights, including for the European Institute for Gender Equality;
All institutions to amplify their ambitions to create and adopt legislation that improves the lives of women and girls in Europe; and, reaffirm their aim to achieve full gender equality, including through training for staff and policy-makers on gender mainstreaming.
All institutions to introduce reporting mechanisms and mandatory training for staff and elected members on all types of harassment and sexism.
The statement also advocates for an ambitious and binding EU Gender Equality Strategy that ends all gender gaps – especially the gender pay gap, makes the work-life-balance Directive a reality, empowers women, combats gender-based violence, and ensures access to sexual and reproductive rights. This was a key proposal of PES Common Candidate Frans Timmermans, who PES Women continue to fully support for the President of the European Commission.
Together with Iratxe Garcia Perez, newly elected President of the Social Democratic Group, PES Women will continue its commitment to women's rights, further enhancing the chances of successfully taking forward gender equality policies in the European Parliament.
Read Call for a feminist Europe here.
Juncker Plan reaches almost €410 billion in triggered investment across the EU
As of June 2019, the deals approved under the Juncker Plan amount to €75 billion in financing and are located in all 28 Member States. Some 952,000 start-ups and small and medium-sized businesses (SMEs) are expected to benefit from improved access to finance.
Currently, the top five countries ranked in order of investment triggered relative to GDP are Greece, Estonia, Bulgaria, Portugal and Latvia.
The EIB has approved €55.2 billion worth of finance for infrastructure and innovation projects, which should generate €252.5 billion of additional investments, while the European Investment Fund (EIF), which is part of the EIB Group, has approved €19.8 billion worth of agreements with intermediary banks and funds to finance SMEs, which are expected to generate €155.9 billion of additional investments.
European Commission Vice-President Jyrki Katainen, responsible for Jobs, Growth, Investment and Competitiveness, said: "With these latest figures we have reached a new milestone, surpassing €400 billion in investment mobilised across the EU. This is a huge achievement and shows that by using a small amount of the EU budget as a guarantee, you can attract private investment for the public good. We are on track to reach our goal of €500 billion by the end of 2020, and the Commission will continue to mobilise investments under the InvestEU Programme from 2021 onwards."
Based on the projects approved until July 2018, the Commission and the EIB estimate that the Juncker Plan has already supported 750,000 jobs and increased EU GDP by 0.6%. By 2020, the Juncker Plan is set to create 1.4 million jobs and increase EU GDP by 1.3%.
Background
The Investment Plan for Europe – the Juncker Plan – focuses on strengthening European investments to create jobs and growth. It does so by making smarter use of new and existing financial resources, removing obstacles to investment, and providing visibility and technical assistance to investment projects. The European Fund for Strategic Investments (EFSI) is the central pillar of the Juncker Plan. It provides a first loss guarantee, allowing the EIB to invest in more, often riskier, projects.
On 6 June 2018, the Commission proposed for the next long-term EU budget 2021-2027, to create the InvestEU Programme, bringing EU budget financing in the form of loans and guarantees under one roof. The new programme will consist of the InvestEU Fund, the InvestEU Advisory Hub and the InvestEU Portal. After negotiations with the Member States, on 18 April the European Parliament gave its green light to the InvestEU Programme.