3 Ways Samsung's 2019 Smart TVs Will Change How You Interact with Your TV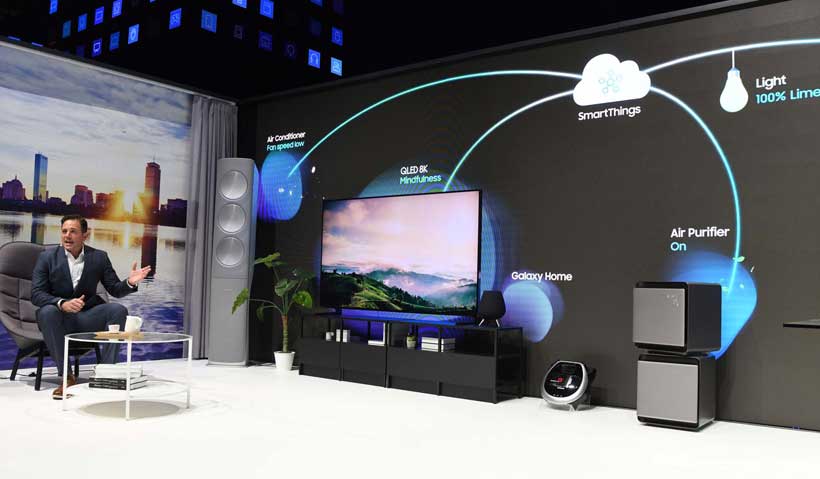 Showcased at CES 2019, Samsung's 2019 Smart TVs signify the next stage in the evolution of intelligent displays, as the screen becomes a hub for content and device connectivity in the home. This year's lineup builds on the innovations of previous years, including the Universal Guide and the One Remote Control, to bring an enriched experience to the home. Equipped with the new Bixby, a voice-powered AI assistant, not only do the 2019 Smart TVs enhance your content experience, but they also widen the reach of connected living.
Below are three key developments for Samsung's 2019 Smart TVs that will change the way you think about content and connectivity at home.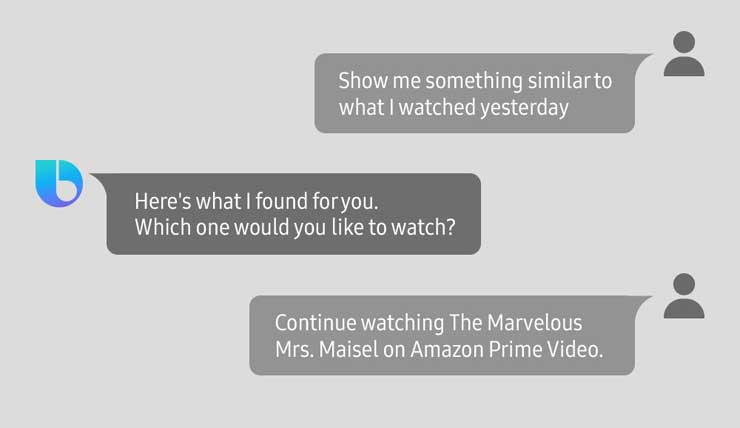 Stronger Partnerships, Even More Content
Samsung has expanded its partnerships to provide a greater variety of content to viewers in 2019. From Over The Top (OTT) and live TV streaming, to free channels and lifestyle media, a large range of content and services are now available to choose from.
What's more, Samsung announced it will offer iTunes Movies and TV Shows and Apple AirPlay 2 support on 2019 Samsung Smart TV models beginning this spring. In an industry first, a new iTunes Movies and TV Shows app will debut only on Samsung Smart TVs in more than 100 countries. AirPlay 2 support will be available on Samsung Smart TVs in 190 countries worldwide.
A More Intelligent Search for Content
With such a vast library of content, sometimes you need a little help finding just what you want to watch, when you want to watch it. The 2019 Smart TVs are equipped with an advanced Universal Guide that analyzes a user's preferences and viewing patterns to provide personalized content suggestions.
Bixby is an AI platform that asks intuitive questions, encouraging sequential conversations to better understand what users have in mind. Just like how people get to know each other better through each conversation they have, Bixby learns more about a user's preferences from each interaction, so the AI platform can make informed suggestions about what to watch.
Users also have more options than ever to quickly and easily find and control their favorite content with just their voice by using new Bixby and the AI Remote
Seamless Connectivity throughout the Home
Samsung 2019 Smart TVs will allow you to control devices around the home with the integrated Smart Thingsdashboard.
SmartThings seamlessly connects and controls smart home devices, delivering an unparalleled connected living experience. Using a SmartThings Hub and Works With SmartThings products from leading smart home brands, users can create automations that control devices or run scenes whenever certain conditions – such as the time of day, device status or the arrival and departure of family members – are met. For example, set the lights to turn on when you arrive home using SmartThings sensors or when your smartphone is nearby using location awareness.
Thanks to the open ecosystem, Samsung's 2019 Smart TV lineup is also capable of seamless interaction with Amazon's Alexa and the Google Assistant. Users can navigate a range of simple operations such as turning the power on/off, controlling the volume, changing channels and launching apps all with their voice assistant of choice.
Whether it's by expanding content partnerships, enhancing AI capabilities or strengthening device connectivity, Samsung is committed to providing users with individual personalization and tailored services for its Smart TVs in 2019. Stay tuned in the coming weeks for more details on Samsung's 2019 Smart TV lineup.
Deloitte Debuts 'Blockchain In a Box' (BIAB)
Deloitte today introduced "Blockchain in a Box" (BIAB) designed to provide intuitive, tangible blockchain demonstrations and experimentations. It is a mobile, self-contained technology platform capable of hosting blockchain-based solutions across four small-form-factor compute nodes and three video displays, as well as networking components that enable integration with external services, such as traditional cloud technologies. Each compute node accepts Secure Digital (SD) card media, facilitating rapid selection and exchange of demo solutions tailored to specific client needs.

"Deloitte custom built this solution based on client interest in understanding blockchain capabilities in live interactions," said Linda Pawczuk, principal, Deloitte Consulting LLP and U.S. blockchain leader and co-leader of global blockchain group. "What's often misunderstood about blockchain is that it is an entirety of a technology solution — when in reality, it's a technology component that enables larger business applications and approaches. Our mobile demonstration is practical, tactical and most importantly, tangible to clients."

Deloitte has demonstrated the BIAB to several clients and to the broader blockchain and emerging technology community at multiple conferences, including Consensus 2019.

"Each time we have used the BIAB to facilitate exploration, the reaction is that of curiosity and excitement where the audience leaves with a deeper understanding of blockchain and how the use cases are implemented," said Chih-Wei Yi, principal, Deloitte & Touche LLP. "It helps to demystify blockchain and is a refreshing and well-grounded approach versus traditional slideware-based demonstrations."
Earlier this year, Deloitte released its annual Global Blockchain Survey, which revealed that blockchain investment continues to surge as new, practical business applications gain traction and business leaders begin to see beyond the "hype cycle." Eighty-three percent of the 2019 survey respondents said their organizations see compelling use cases for blockchain, and more than half (53%) reported that blockchain technology has become a critical priority for their organization this year — a 10 percentage point increase over last year.
Creating a common approach to the digital economy and Industry 4.0
The United Nations Industrial Development Organization (UNIDO) participated in a forum of the Commonwealth Telecommunications Organisation (CTO) to discuss how international organizations can promote the development of the ICT infrastructure and new technologies in order to realize digital economies.
Mr. Bernardo Calzadilla-Sarmiento, UNIDO's Director of the Department of Trade, Investment and Innovation, highlighted UNIDO's role and functions in leveraging the potential of Industry 4.0 to meet the sustainable development goals (SDGs). Technical cooperation, developing new norms and standards, and the convening of stakeholders and partnerships to share best practices are ways of enabling this.
"Industry 4.0 is going to bring about far reaching changes and governments must implement best practices to address these important challenges."
More than a dozen international bodies took part in the forum, including the African Union, ASEAN, the OECD and the World Economic Forum, who all agreed that public-private partnerships are key to combat the existing digital divide, both in terms of infrastructure and technical solutions, which include building capacities and using innovation in ICT.
The International Telecommunication Union further highlighted the need to support the development of and harmonization of international standards, which survey the readiness of enterprises for Industry 4.0.
APEC Strengthens Trust with Data Protection System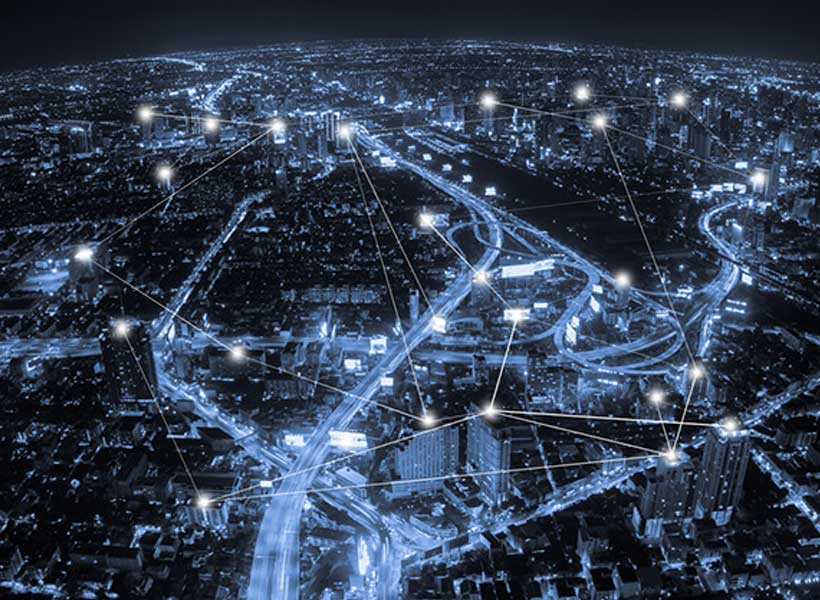 Data protection in the Asia-Pacific region has just received a significant boost with the appointment of the Infocomm Media Development Authority (IMDA) by Singapore as its accountability agent. Singapore joined the APEC Cross-Border Privacy Rules (CBPR) system in March last year and has become the third economy after the United States and Japan to operationalize the system.
Adopted in 2011 and endorsed by the 21 APEC Leaders, the CBPR system allows participating businesses and other organizations to develop their own internal rules and policies consistent with the specific CBPR program requirements upon which the certification is based in order to secure cross-border data privacy.
As accountability agents, IMDA will ensure the privacy policies and practices of participating organizations comply with the APEC CBPR and Privacy Recognition for Processors (PRP) through independent third party assessments before certifying them.
"The appointment of the IMDA by Singapore as the new accountability agent of the CBPR system shows the deep commitment from members to pursue a better data protection mechanism that does not hinder innovation and development," said Shannon Coe, Chair of the APEC Electronic Commerce Steering Group.
Data protection is an urgent issue for businesses in the region, which is home to 45 per cent of the world's internet users—about 1.99 billion people. People and businesses are connected globally, with more and more data flowing across borders.
"Trust is key to the growth and development of the digital economy," added Coe. "A strong data protection system is beneficial for both businesses and consumers and furthers participation in the digital economy."
The approval of the IMDA as an accountability agent in Singapore was reached by the Joint Oversight Panel of the APEC Electronic Commerce Steering Group, which administers the APEC CBPR system. IMDA will join other accountability agents such as Schellman & Company, TrustArc in the United States and the Japan Institute for Promotion of Digital Economy and Community (JIPDEC) in Japan.
"In APEC, we are working to include more people to participate in the economy through digital trade and related processes. We can achieve this by ensuring that we have the right system in place to protect consumers' data. This builds not only trust, but confidence for both consumers and the businesses," said APEC Secretariat Executive Director, Dr Rebecca Sta Maria.
There are currently eight participating APEC economies in the CBPR system, including Australia, Canada, the Republic of Korea, Japan, Mexico, Singapore, Chinese Taipei and the United States.