Top New Timepieces for 2019
Each January, watch lovers look to Geneva and the Salon International de la Haute Horlogerie (SIHH), awaiting the latest timepiece launches from some of the world's most fascinating watch luxury brands and independent watchmakers. The novelties introduced at SIHH define the horological trends for the year to come.
Stephen and Jared Silver make a pilgrimage to Switzerland every year to select new and rare timepieces for their high horology salon. Here are a few of the newest timepieces from Stephen Silver Fine Jewelry's portfolio of featured watchmakers, launched this week to the world in Geneva, and coming soon to Silicon Valley.
Historic Maisons
The Historic Maisons corridor of SIHH houses some of the most storied brands in watchmaking history; however, their offerings for 2019 were anything but traditional. For 2019, these brands channeled the best of their heritage while pushing horology further with experimental new materials and clever complications.
BOVET Brainstorm® Chapter One
BOVET takes the inclined "writing slope" case design of the Brands GPHG award-winning Récital 22 timepiece, and translates the distinctive case shape in sapphire for its new Récital 26 Brainstorm® Chapter One. The inclined case crafted of light, ultra-transparent sapphire facilitates new perspectives and arrangements of its complex mechanisms and indicators, which include a flying tourbillon, three-dimensional moon phase, big date, and 10-day power reserve indicator.
Greubel Forsey Balancier Contemporain
Greubel Forsey unveiled the new Balancier Contemporain, the first timepiece by the brand that measures under 40mm. With 225 components, a 72 hour power reserve, and an unrivaled level of finishing, this is going to be one of the big winners from the show this year.
Hermès Arceau L'Heure De La Lune
The new Hermès Arceau L'Heure De La Lune retains the playful nature of Hermes' flagship watch collection but introduces twin hemispheric moon phases. The dual moon phase indicators, beautifully crafted in mother-of-pearl, command full attention and rotate in an out of view behind lacquered date and time discs against a dial of meteorite or aventurine, all housed within a 43mm white gold case.
Carré des Horlogers and The Independents
The Carré des Horlogers and outlying independent brands, exhibiting elsewhere in Geneva during the show, did not disappoint in 2019. Their independent spirit and imagination were on full display this year, and these maverick watchmakers introduced some of the year's most buzzworthy new timepieces, each more visually engaging and technically complex than the next.
MB&F HM6 Final Edition
MB&F announced its new HM6 Final Edition just before SIHH commenced, marking the latest and final chapter of one of the brand's most successful and unconventional wristwatch series to date. The HM6 Final Edition has been updated with a rare stainless-steel case and a revised central dome, which allows an improved, panoramic view of its flying tourbillon.
HYT – H²0
HYT's new H²0  bridges past and future with its mix of traditional elements like guilloche ornamented yellow gold and futuristic red fluid accents which transformed the brand's signature production technique into an eye-catching design element.
Laurent Ferrier Galet Annual Calendar Montre Ecole
For 2019, independent watchmaker Laurent Ferrier updated his beloved Galet Annual Calendar Montre Ecole with a new movement, the LF126.01, and introduced a stunning blue dial. As always, Laurent Ferrier will issue this model in an extremely limited production.
Ressence Type 2
Ressence has set out to improve the mechanical watch in every way, and this year, the brand set out to design a smarter mechanical watch. The new Type 2 comes equipped with a unique power saving function, its e-Crown®, which will automatically hold the barrel of the mechanical movement if it sits idle for more than 12 hours. To resume timekeeping, the wearer need only double tap the sapphire e-Crown®. The e-Crown® can also register two time zones, set via a Bluetooth enabled smartphone app.
URWERK UR-105 CT Maverick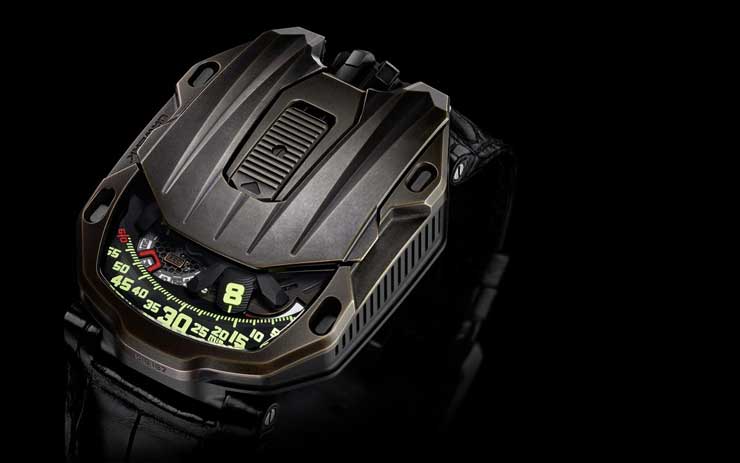 URWERK introduced the New UR-105 CT Maverick in a limited-edition of just 22 pieces. The brand designed the watch in honor of artists, eccentrics, inventors, and individualists who make their own colorful mark on the world. The hallmark of the UR-105 CT Maverick is its raw bronze bezel, whose rich patina will evolve and deepen the more it is worn.
The New Jaeger Lecoultre Polaris Date Limited Edition
Following the successful launch of the Jaeger‑LeCoultre Polaris collection at the Salon International de la Haute Horlogerie in Geneva last year, the Grande Maison is extending the Polaris line with a special new creation: the Jaeger‑LeCoultre Polaris Date. Produced in a limited series of 800 pieces, the new Jaeger‑LeCoultre Polaris Date combines the Manufacture's high-watchmaking expertise with contemporary proportions, vintage design motifs, and several important aesthetic changes.
A new watch with classic appeal
Drawing inspiration from the 1970 Polaris II, the Jaeger‑LeCoultre Polaris Date features a new hand-lacquered, blue double-gradient dial with sunrayed, grained and opaline finish, unique to this special model. The central disc and main dial now each incorporate a shimmering, color-change effect—from deep turquoise to a brilliant shade of royal blue. The blue rubber Clous de Paris strap, also unique to the model, is color-matched to the inner bezel, which, like the original Memovox Polaris and Polaris II, rotates for added functionality.
Keeping with the signature look of the Polaris collection, the Jaeger‑LeCoultre Polaris Date is instantly recognizable thanks to its elongated Arabic numerals, trapezoidal hour markers, and baton-style hands. These elements are each treated with Super-LumiNova™ to provide maximum legibility in low-light scenarios. For this application, the luminescent coating is vanilla-tinted, another nod to the famed Polaris watches of the 1960s and 1970s. Still, the Jaeger‑LeCoultre Polaris Date is a fundamentally modern creation. Hewn from stainless steel, the case measures 42mm in diameter and has two prominent crowns—one to adjust the time, the other to control the aforementioned rotating bezel. Incorporating brushed and hand-polished surfaces, the case's graceful appearance belies its real-world sporting credentials, as the Jaeger‑LeCoultre Polaris Date is water resistant to 200 meters.
Inside, a self-winding mechanical movement delivers all the precision and craftsmanship one would expect from Jaeger‑LeCoultre. The in-house Calibre 899A/1 faithfully keeps the seconds, minutes, hours, and date (displayed through a dedicated window at the three o'clock position) while offering a power reserve of 38 hours. It's secured by a closed caseback, which has four special engravings, including a SCUBA diving insignia, the Jaeger‑LeCoultre crest, and the phrase "1000 HOURS CONTROL", denoting the assembled watch has undergone 1,000 hours of testing before leaving the Manufacture in the Vallée de Joux, Switzerland. Finally, the words "Limited edition – One of 800" are inscribed near backing's outer edge.
An evolving tradition
The Jaeger‑LeCoultre Polaris Date is the latest addition to the Jaeger‑LeCoultre Polaris collection, which is inspired by the iconic Memovox Polaris. This historic model was developed at the suggestion of the American market, and produced between 1965 and 1968. Today, the original Memovox remains synonymous with adventure and technical innovation, as it introduced a revolutionary amplified underwater alarm function for divers. The watch is also remembered for its distinct, sophisticated design code: a three-ring concentric dial layout, rotating inner bezel, and multi-crown case. The new Jaeger‑LeCoultre Polaris collection pays homage by continuing to carry these visual elements, but has been entirely redesigned for the modern era, with shorter lugs, a slimmer bezel, ergonomic crowns, and a sapphire glass box crystal.
The Jaeger‑LeCoultre Polaris Date will be available from August 22, this new model will be offered exclusively to North American customers online (www.jaeger-lecoultre.com) before it arrives in retail and at wholesale boutiques September 1.
A Radiant, Fully Gem-Set Version Of Dazzling Rendez-Vous Moon
Throughout history, watchmakers have explored astronomical phenomena, harnessing their technical skills to express the movements of the moon and stars in mechanical form. Indeed, the origins of time measurement itself lie in mankind's ability to understand the rhythm of the cosmos.
For Jaeger‑LeCoultre, the moon and stars have a special resonance, due to the exceptional clarity of the night sky above its home in Switzerland's Vallée de Joux, and this year its watchmakers and artistic craftsmen return to the celestial theme. To coincide with the 76th Venice International Film Festival – La Biennale di Venezia, La Grande Maison presents a dazzling new interpretation of that most beloved of astronomical complications, the moon phase.
DAZZLING RENDEZ-VOUS MOON
The moon: Luna. Symbol of romance and femininity. The source of nature's ebb and flow, the cycle of the seasons, and inspiration for artists and poets. The closest heavenly body to Earth, yet still so enigmatic.
Dazzling Rendez-Vous Moon pays tribute to feminine strength and beauty, presenting La Grande Maison's emblematic moon phase function in a magnificent new setting. Echoing the serene beauty of the night sky, the icy sparkle of diamonds is warmed by pink gold and complemented by glowing white mother of pearl.
This new, fully gem-set interpretation of Dazzling Rendez-Vous follows the launch of Dazzling Rendez-Vous Night & Day (in white gold or pink gold) and Dazzling Rendez-Vous Moon (in white gold) at SIHH in January this year, followed by the ruby-set Dazzling Rendez-Vous Red, on the occasion of Shanghai International Film Festival in June.
The Dazzling Rendez-Vous Moon bezel comprises 108 diamonds, forming two concentric rings around the watch case. There's an airy quality to these glittering circles, thanks to the claw (or 'griffes') setting of the outer ring of 36 stones. A classical jewellery technique – indeed, it was employed by Jaeger‑LeCoultre's craftsmen for Model 101, the celebrated High Jewellery design of the 1920s – it requires great precision. Designed to maximise the presence of each stone, the setting allows light to pass through the diamonds from every angle, while minimising the visible metal. In Dazzling Rendez-Vous the fine gold claws hold the diamonds high, giving an impression that they're almost floating around the watch case, rather than anchored to it. To complete the case, diamonds are also set into the lugs and the winding crown.
The sumptuous, fully-set bracelet is a masterpiece of the jewellery crafts: Jaeger‑LeCoultre's gem-setters have bezel-set 310 diamonds (22.27 carats), linking them seamlessly together to form a river of diamonds that wraps around the wrist as softly as a ribbon.
The moonlight-white mother-of-pearl dial abounds with subtle details: on an outer ring, diamonds mark the hours; on the main hours ring, each of the applied pink gold numerals is set on a separate mother-of-pearl 'tile', all anchored by an inner circle of 47 diamonds.
It is a perfect setting for a romantic and lovely moon phase display. Visible through an opening at 6 o'clock, the new design features a shiny mother-of-pearl moon floating against a starry aventurine night sky, and playing hide-and-seek behind a cloud of carved mother-of-pearl as it cycles through its different phases over the course of a month.
Uniting La Grande Maison's artistic skills with its renowned technical acumen, the Dazzling Rendez-Vous Moon is powered by the Calibre 925/A1 – a self-winding mechanical movement developed and produced in-house and providing a power reserve of 38 hours. The transparent sapphire case-back reveals some fine decoration and finishing in the classical style: blued screws, circular graining, Côtes de Genève and the pink gold signature winding rotor with Côtes de Genève decoration.
The Jaeger‑LeCoultre Dazzling Rendez-Vous Moon is a fitting tribute to the beauty of the night sky.
Savvy suitcase: 5 versatile jewelry styles to define your look and minimize packing
Do you have an upcoming trip planned? Whether you're going for a relaxed beach look or heading downtown to dazzle in the city lights, you want to plan outfits that make you feel great and fit the occasion. Jewelry is the go-to for defining your look, but you can only bring so many pieces. What's the best solution?
When you travel, it's great to have versatile pieces of jewelry that minimize your packing, but not your style. From adjustable necklaces to hoops with added charms, the experts at Jewelry Television (JTV) recommend these pieces to provide looks for every trip and travel memory! Here are some versatile pieces of jewelry and tips for mixing and matching to create distinct looks without overpacking your accessories:
By taking some adjustable necklaces or magnetic extenders, you can wear the same pieces several times and achieve a different look. Wear it alone or adjust the length and layer it with a multi-strand necklace to complement various necklines on different outfits. You can also get an ensemble that enables you to rotate the chains or gemstones to create coordinated looks to match your attire.
2. Endless strands or lariat style necklaces
Endless strands are long-length, no-clasp necklaces that can be worn long and layered, wrapped or even knotted. A lariat necklace has a design of its own; unlike traditional necklaces it has a lariat in place of a clasp, providing a lot of flexibility for styling. Very versatile, an endless strand or lariat style necklace can be worn several different ways to create or complete your look. Wear it long or short, wrap it around to layer, or drape the ends down your back to accent an open or low-back outfit. You can also wear the lariat style necklace as a belt for an alternative vibe.
3. Interchangeable pendants or charms
A versatile set of earrings with interchangeable charms complements multiple outfits, and changing out the charms is a breeze. For example, a set of filigree hoops can be worn alone or you can swap out the charms for four unique looks. The same versatility can be achieved with one chain and multiple pendants to create the look of extra necklaces without the extra baggage.
4. Stackable bracelets and rings
Want a fashion-forward jewelry look for your next trip? Layering and stacking is a trend everyone loves and is perfect for creating different styles with minimal effort. Choosing stackable bracelets enables you to vary your look from minimalist to fully layered — and everything in between. It's easy to mix and match to create different styles. For rings, layer them on one finger or spread them across multiple fingers to transform your look from daytime to evening or one event to the next.
5. Consider alternative jewelry
Depending on your trip and what excursions you have planned, you may be tempted to bring your best tennis bracelet or gemstone pendant, but to keep jewelry safe, consider options that create the same high fashion look for less. Also, if you're headed to the beach, consider leaving your diamond ring secured at home and wear a Bella Luce ring in its place.
As always, the JTV experts recommend transporting your jewelry in a travel-proof jewelry roll for safekeeping. For more tips and to explore versatile jewelry styles, visit https://www.jtv.com/traveltips.