Top New Timepieces for 2019
Each January, watch lovers look to Geneva and the Salon International de la Haute Horlogerie (SIHH), awaiting the latest timepiece launches from some of the world's most fascinating watch luxury brands and independent watchmakers. The novelties introduced at SIHH define the horological trends for the year to come.
Stephen and Jared Silver make a pilgrimage to Switzerland every year to select new and rare timepieces for their high horology salon. Here are a few of the newest timepieces from Stephen Silver Fine Jewelry's portfolio of featured watchmakers, launched this week to the world in Geneva, and coming soon to Silicon Valley.
Historic Maisons
The Historic Maisons corridor of SIHH houses some of the most storied brands in watchmaking history; however, their offerings for 2019 were anything but traditional. For 2019, these brands channeled the best of their heritage while pushing horology further with experimental new materials and clever complications.
BOVET Brainstorm® Chapter One
BOVET takes the inclined "writing slope" case design of the Brands GPHG award-winning Récital 22 timepiece, and translates the distinctive case shape in sapphire for its new Récital 26 Brainstorm® Chapter One. The inclined case crafted of light, ultra-transparent sapphire facilitates new perspectives and arrangements of its complex mechanisms and indicators, which include a flying tourbillon, three-dimensional moon phase, big date, and 10-day power reserve indicator.
Greubel Forsey Balancier Contemporain
Greubel Forsey unveiled the new Balancier Contemporain, the first timepiece by the brand that measures under 40mm. With 225 components, a 72 hour power reserve, and an unrivaled level of finishing, this is going to be one of the big winners from the show this year.
Hermès Arceau L'Heure De La Lune
The new Hermès Arceau L'Heure De La Lune retains the playful nature of Hermes' flagship watch collection but introduces twin hemispheric moon phases. The dual moon phase indicators, beautifully crafted in mother-of-pearl, command full attention and rotate in an out of view behind lacquered date and time discs against a dial of meteorite or aventurine, all housed within a 43mm white gold case.
Carré des Horlogers and The Independents
The Carré des Horlogers and outlying independent brands, exhibiting elsewhere in Geneva during the show, did not disappoint in 2019. Their independent spirit and imagination were on full display this year, and these maverick watchmakers introduced some of the year's most buzzworthy new timepieces, each more visually engaging and technically complex than the next.
MB&F HM6 Final Edition
MB&F announced its new HM6 Final Edition just before SIHH commenced, marking the latest and final chapter of one of the brand's most successful and unconventional wristwatch series to date. The HM6 Final Edition has been updated with a rare stainless-steel case and a revised central dome, which allows an improved, panoramic view of its flying tourbillon.
HYT – H²0
HYT's new H²0  bridges past and future with its mix of traditional elements like guilloche ornamented yellow gold and futuristic red fluid accents which transformed the brand's signature production technique into an eye-catching design element.
Laurent Ferrier Galet Annual Calendar Montre Ecole
For 2019, independent watchmaker Laurent Ferrier updated his beloved Galet Annual Calendar Montre Ecole with a new movement, the LF126.01, and introduced a stunning blue dial. As always, Laurent Ferrier will issue this model in an extremely limited production.
Ressence Type 2
Ressence has set out to improve the mechanical watch in every way, and this year, the brand set out to design a smarter mechanical watch. The new Type 2 comes equipped with a unique power saving function, its e-Crown®, which will automatically hold the barrel of the mechanical movement if it sits idle for more than 12 hours. To resume timekeeping, the wearer need only double tap the sapphire e-Crown®. The e-Crown® can also register two time zones, set via a Bluetooth enabled smartphone app.
URWERK UR-105 CT Maverick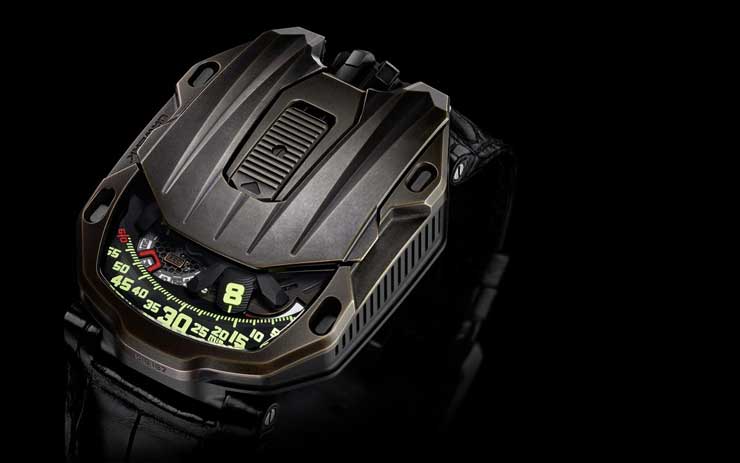 URWERK introduced the New UR-105 CT Maverick in a limited-edition of just 22 pieces. The brand designed the watch in honor of artists, eccentrics, inventors, and individualists who make their own colorful mark on the world. The hallmark of the UR-105 CT Maverick is its raw bronze bezel, whose rich patina will evolve and deepen the more it is worn.
Breitling Celebrates a Powerful Partnership with the Premier Norton Edition
The Breitling Premier Norton Edition is a potent representation of a partnership between two iconic brands that share intriguingly similar timelines and powerful legacies. The watch expresses the style and performance expect­ed from a maker of refined Swiss watches and a motorcycle brand renowned for its exclusive British engineering.
The Breitling Premier B01 Chronograph 42 Norton Edition celebrates the partnership between the prestige watch brand Breitling and British motorcycle company Norton, known worldwide for its high-performance motorcycles. The watch is part of Breitling's Premier collection, a family of elegant watches defined by their fashionable flair. The new Norton Edition is a distinctive interpretation of the Premier that makes a bold urban chic style statement. Willy Breitling was famously quoted as saying: "When a man puts on his Breitling, there is the unmistakable stamp of impeccable taste." A Norton motorcycle is a similar sign of its owner's personal flair.
Breitling CEO Georges Kern says that his brand has striking parallels with Norton Motorcycles: "Breitling and Norton are both innovative and entrepreneurial and have powerful legacies. This new watch honors the great partnership between these two aspirational brands." He smiles and adds, "I think that anyone who puts one on might suddenly imagine 'Born to be Wild' playing somewhere in the background."
Stuart Garner, CEO of Norton, agrees: "Breitling's new Premier Norton Edition incorporates DNA elements from both brands, offering wristwatch and motorcycle fans the opportunity to express their individuality, and perfectly embodies the nature of our brands."
A Watch That Reflects Two Great Brands
Breitling and Norton Motorcycles share a strong heritage. Both were founded in the nineteenth century by visionaries who gave their names to their companies and, to a large extent, defined their industries. When James Lansdowne Norton set up his company – a manufacturer of "fittings and parts for the two-wheel trade" – in 1898 and produced his first motorcycles in 1902, Léon Breitling had already been making watches in the Swiss Jura Mountains for more than a decade. And both brands have also been featured in James Bond films – 007 wore a Breitling Top Time in 1965's Thunderball and a Norton Dominator SS had a supporting role in Spectre (2015).
The Breitling Premier B01 Chronograph 42 Norton Edition reflects the cultures and values of these two great brands. Its 42-millimeter stainless-steel case, water-resistant to 10 bar (100 meters) is distinctive: a "Norton" logo is engraved on a plate on the left side of the case, and the transparent caseback features a printed Norton motorcycle and logo.
The elegant black dial with golden numerals and hour and minute hands offers an intriguing contrast to the brown vintage raw-leather strap that will appeal both to watch enthusiasts and serious motorcyclists. The model is also available with a stylish stainless-steel bracelet. The silver subdials – a chronograph minute counter at 3 o'clock and a small seconds subdial at 9 o'clock – against the black dial indicate the Breitling Manufacture Caliber 01 at the heart of this watch, which delivers an impressive power reserve of approximately 70 hours.
The COSC-certified chronometer features a black tachymeter scale on a white inner bezel around the dial, with "TACHYMETER" inscribed in red. The hour and minute hands are coated with Super-LumiNova®, which makes them highly legible on any route a biker might choose, from a city street to a remote back road.
The Premier B01 Chronograph 42 Norton Edition is just the beginning of a special partnership between two extraordinary brands. Some new surprises will be announced throughout the year.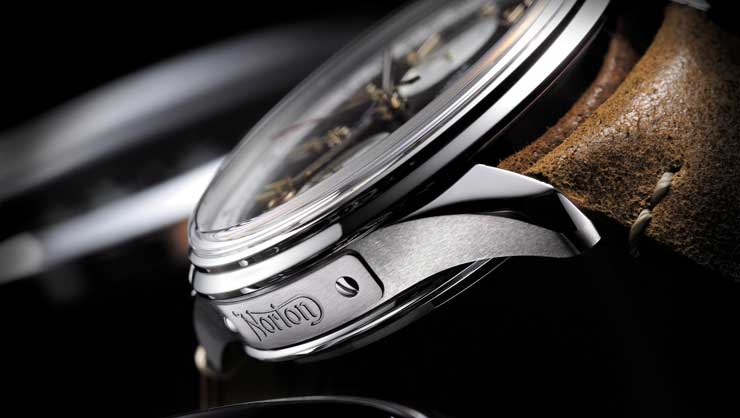 The Ultimate Accessory for Your Premier B01 Chronograph Norton Edition: The Norton Commando 961 Café Racer MKII Breitling Limited Edition Motorcycle
When you slip on your Premier Norton Edition watch, you will be wearing a timepiece that reflects a partnership between two great brands. And you might find yourself longing for a powerful, stylishly iconic motorcycle worthy of the watch. Our friends at Norton have created the perfect solution. The Commando 961 Café Racer MKII Breitling Limited Edition recalls the classic appearance and style of the great old style café racers but offers modern state-of-the-art components and engineering. Its 961 cc engine was developed in-house by Norton and delivers the performance you would expect from one of the world's great motorcycle brands. This special Breitling Limited Edition is being created in a series limited to 77 motorcycles. It is distinguished by a vintage Breitling "B" engraved on the clutch box, Breitling-designed speedometer and tachometer dials, and a black-on-black vintage "B" stitched into the saddle. This incredible statement-making motorcycle is available for purchase through Norton's distribution network.
Breitling Premier: Style, Purpose, and Action
In the 1940s, Breitling introduced the first Premier watches, its first collection of truly elegant timepieces, which were defined by their fashionable flair. The new Breitling Premier collection, launched in 2018, combines purpose with style, delivering quality, performance, and timeless design that are worthy of Breitling's proud legacy.
The original Breitling Premier watches made powerful fashion statements and were perfect accompaniments to the remarkable changes taking place all over the world in the 1940s. The models in the new collection extend and renew that legacy – they reflect the heri­tage and the historic design codes of a great brand, but they also express an urban flair and a passion for excellence. They reflect a proud history, yet will never go out of style. Further, their elegance, performance, and quality are everything you would expect from Breitling, which now, more than ever, is an authentic brand for individuals of style, purpose, and action.
Infinitely Blue: A Much- Anticipated Collaboration Between Two Creative Firebrands
Behind this gentle blend of cool blues burns an ardent artistic collaboration between Garage Italia and Hublot. This marks the start of a brand new collaboration with no shortage of projects for the future, and the first of a three-part concept entitled "Sky, Earth, Sea". Enthusiasts will recognise the idiosyncratic style of Lapo Elkann and the innovative approach of the Haute Horlogerie brand, fused within a diameter of 45 mm. This collector's timepiece will be available from May 2019 in a limited edition of just 100 pieces. 

What challenge could be more inspiring for these pioneers of style and performance than conceptualising the immensity of the sky, the earth and the sea? Hublot and the Italian design team have completely revamped the chronograph movement, adorning it with the signature symbols of the Milanese brand. Encircled by the first ever bezel in sky blue ceramic, the dial wraps the Italian logo in undulating shades of azure that recall the deep waters of far-flung archipelagos. The ceramic case, decked out entirely in Garage Italia blue, complements the full rubber strap finely patterned with imaginary ocean waves.
Who better to evoke the theme of the elements than Lapo Elkann, his team and their ideas lab, a custom shop where style meets the transcendence of movement in the ceaseless pursuit of perfection. Exploration, innovation and technological feats galvanise and attune the innate passion of these two partners driven by the challenges they constantly address, and in which they love to lose themselves.
Hublot X Wild Customs X Laurent Picciotto Power Trio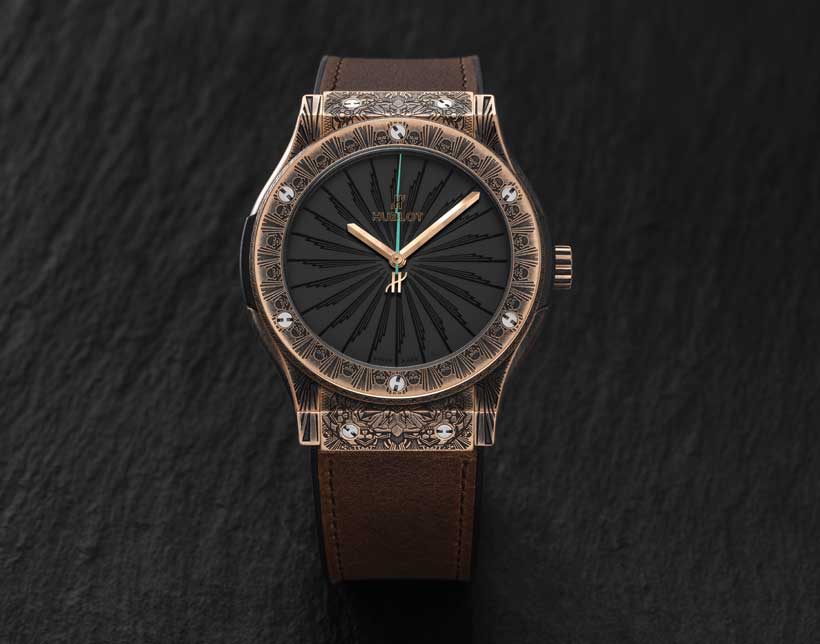 Wild Customs. Hublot. Rock, guitars and watches – fused together by Laurent Picciotto. Their joint creation: the Classic Fusion Wild Customs. A watch that uses iconography to tell the story of rock'n'roll, and symbolises the revolution the independent guitar maker is about to unleash on the music world with the Gyrock – an innovative mechanism designed by Laurent Picciotto. In aged titanium or bronze, the Classic Fusion Wild Customs is the very embodiment of chutzpah and innovation. A love affair between watchmaking and music.
Everybody knows Laurent and his passion for exquisite machines – watches, electric guitars, motorbikes… Ardent, original, innovative and surprising, he is a key player in the watchmaking world. Often the first to see the magic in off-the-wall projects, he is unique and different. It was with him that we opened the world's first Hublot boutique at 271, Rue Saint- Honoré 75001, Paris. By coincidence, Wild Customs and Hublot Saint-Honoré, of which he is the owner, both came into being in 2008. So when we were designing a watch for Hublot Paris Saint-Honoré, we were immediately taken with his idea to create a watch as Wild as his guitars.– Ricardo Guadalupe CEO of HUBLOT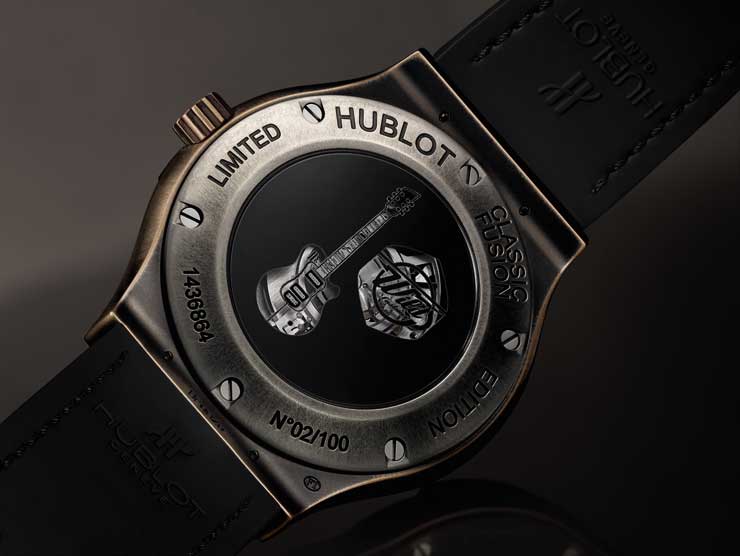 Hublot and Wild Customs – two adventures I have been following since they began, and that share the same depth of passion and rock'n'roll attitude. Their passions run parallel in many ways: expertise, mechanical brilliance, emotion and fearless innovation, time and time again.
– Laurent Picciotto, Founder of Chronopassion and Boutique Hublot Paris Saint-Honoré, Owner of Wild Customs

As the world's first Hublot boutique opened at 271, Rue Saint-Honoré in Paris, the City of Light was awakening to the sound of Wild Customs electric guitars – instruments conceived at the place where the boldest expressions of craftsmanship, jewellery making and industrial design come together. The point of fusion of these two worlds is Laurent Picciotto, a passionate, adventurous collector and lover of fine watches and electric guitars. His pioneering spirit awakened an affinity with Hublot from the moment the Big Bang was conceived, and also propelled him into the Wild Customs adventure, where his goal is to revolutionise the electric guitar industry.

Together, they have created the Classic Fusion Wild Customs, a watch that showcases the distinctive design and creative force that drives them. A wild, rock'n'roll spirit that inspires them to innovate ever further by designing brand new materials and revolutionary mechanisms. The Swiss watch brand has obtained several patents for its products: scratch-resistant Magic Gold, coloured ceramics and sapphire crystals and its Unico, Meca-10 and Tourbillon manufacture movements. Wild Customs will unveil the Gyrock, its patented mechanism designed to revolutionise the use of pickups on an electric guitar, in Nashville this July.

Rock'n'roll, Innovation and the Avant Garde
The body of its 45-mm case is cut from blackened bronze or aged titanium in tribute to the "relic" technique employed by luthiers. Engraved on the bezel, stylised skulls – a classic emblem of rock music – alternate with an Art Deco pattern that adorns the watch from case to dial. An homage to the avant-garde spirit and the industrialisation of the early twentieth century, inspired by the famous Empire State Building and its magnificent hall. Exuding the energy of rock music, the lightning seconds hand in surf green celebrates the pioneering spirit of the 1950s and 1960s – the golden age of the electric guitar – and its unrivalled creativity. The watch is driven by a self-winding mechanical movement. Featuring a strap in brown vintage leather or black leather stitched onto rubber, the Classic Fusion Wild Customs is available in a limited edition of 2×100 numbered pieces, accompanied by a plectrum in blackened bronze and aged titanium and an exclusive presentation case inspired by the two brands.
The Classic Fusion Wild Customs is available exclusively from the Hublot Boutique at 271 Rue Saint-Honoré, 75001 Paris until the end of July, and from other partner boutiques from August.