Nanjing, China: Come for the culture, stay for the food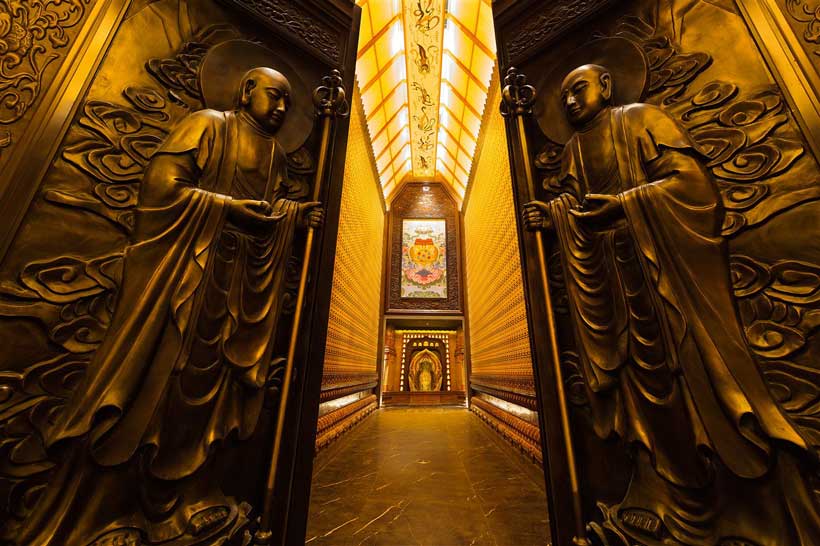 Savvy travelers know Nanjing as a hidden treasure, offering an array of rich historical and cultural sites for visitors to explore. Located in Jiangsu Province just outside of Shanghai, this city of more than 8 million sits along the Yangtze River, with the majestic Purple Mountain rising in the east. One of China's four ancient capital cities, Nanjing enjoys a relaxed pace compared to mega-cities like Beijing and is easy to navigate, with modern public transportation and plenty of taxis. Once you've enjoyed Nanjing's cultural traditions and historical attractions, relax and enjoy the remarkable hospitality and incredible food.
Here are a few highlights of the perfect Nanjing travel itinerary.
Travel back in time
Nanjing is one of China's most significant cities, having served as the capital of 10 Chinese dynasties and regimes over 1,800 years. Located in the Purple Mountain scenic area, the Xiaoling Tomb of the Ming Dynasty is one of the largest imperial tomb complexes in China and mausoleum of the dynasty's founding emperor, Zhu Yuanzhang. When approaching the tomb, be sure to see the half-mile long Sacred Path, guarded by four pairs of stone warriors and 12 pairs of mythical creatures. Also constructed in the Ming Dynasty (1368-1644), Nanjing's City Wall was once one of the longest city walls in the world. More than 15 miles of the wall are still intact, welcoming visitors from around the world. In Nanjing's walkable downtown area, the Presidential Palace is a massive compound where Chinese revolutionary Sun Yat-sen was declared the first provisional president of the Republic of China in 1912. It later served as headquarters for Chiang Kai-Shek's Kuomintang government (1946-49).
Revel in the culture
Nanjing Museum is one of the first museums established in China and is still one of the country's largest. Visitors explore exhibits ranging from ancient civilization through the early days of the Republic. Nanjing is home to distinctive folk arts such as Nanjing Cloud Brocade, one of the most exquisite and sophisticated weaving methods in Chinese history, dating back 1,600 years. At the Cloud Brocade Museum, visitors watch expert craftsmen weave the intricate textiles, incorporating materials such as silk, gold, silver thread and peacock feathers. Visit the Nanjing Folk Museum to see traditional handicrafts such as Chinese puppet shoes, clay figurines and paper cuttings. Visitors can watch handicraft demonstrations or participate in workshops to learn the techniques. Explore the rich Buddhist traditions of China at Nanjing Niushoushan Cultural Park, a centuries-old sacred site that contains an opulent palace built into the side of the mountain.
Take part in a festival
Plan your visit in February or March, and you may see countless red lanterns lighting up the streets near the Confucius Temple during the Qinhuai International Lantern Festival. Dates are based upon the lunar calendar and change annually. In late February through mid-March, enjoy the Nanjing International Plum Blossom Festival, showcasing 35,000 beautiful plum trees scattered throughout a 250-acre park on Purple Mountain. In June, the Nanjing Dragon Boat Festival hosts dragon boat races, with festivities including traditional food such as zongzi — rice dumplings with nuts, wrapped in bamboo leaves. September and October mark the Hairy Crab Festival, celebrating the peak time to enjoy the delectable crustaceans from nearby Gucheng Lake.
Enjoy the beauty
The Qinhauai Scenic Area is a must-see, including gardens, historic architecture, shops and the breathtaking Confucius Temple. Take a leisurely boat cruise on the Qinhuai River to admire the sights while you enjoy local snacks and listen to traditional music. Xuanwu Lake Park is a former imperial lake garden showcasing a distinct color for each season: pink cherry blossoms in spring, emerald lotus leaves in summer, golden ginkgoes and red maples in autumn and snow-covered pines in winter.
Satisfy your cravings
Discover Nanjing's culinary scene, known for refined dishes that focus on seasonal ingredients while balancing taste and color. Nanjing is famous for its duck, as well as river fish and shrimp. Nanjing salted duck is the city's signature dish. Other popular choices include Peking duck, pan-fried beef dumplings, pidu noodles, soup buns and sesame pancakes. You'll never run out of options to try when exploring Nanjing's exciting, delicious cuisine.
Visiting Nanjing is easier than you can imagine. Nanjing Lukou International Airport is 40 miles from the city center, and nonstop flights are available from several North American gateways. Many visitors travel by bullet train to Nanjing, as it is 3 1/2 hours from Beijing and just 90 minutes from Shanghai. More than 100 hotels offer a variety of options, from budget to luxury accommodations, including international brands like Jumeirah, Fairmont, Shangri-La, Hilton, Sofitel, Renaissance and Westin. Make your trip to China memorable by exploring all it has to offer — through the vibrant, historic city of Nanjing.
Ready to plan your Nanjing experience? Visit gotonanjing.com for more information.
New York City As Seen On Screen
Whether it be an unplanned holiday trip, an epic clash to save the world, friends experiencing daily life in the five boroughs or anything in between, storytellers in film and television have long chosen New York City as their setting. No matter your favorite genre, a trip to NYC is an opportunity to see where some of these iconic scenes came to life, including:
For the sitcom lover
Friends
While Friends was primarily filmed in a studio, the West Village apartment where Rachel, Monica, Joey, Phoebe, Ross and Chandler live and hang out is a real building on the corner of Bedford and Grove Streets. At its street level, you will find Mediterranean restaurant The Little Owl in the same space as the Central Perk café where Rachel works and Phoebe famously performs "Smelly Cat." Additionally, the neighborhood houses a number of prominent Off-Broadway theaters including The Lucille Lortel Theatre, where aspiring actor Joey performs in the show's earlier seasons.
How I Met Your Mother
While retracing Ted's 11-season search for his wife, be sure to grab a drink at McGee's, the Midtown Manhattan bar that inspired the gang's go-to spot, MacLarens; try what Marshall declares to be the best burger in NYC at '21' Club; tour the Columbia University campus where Ted (unwittingly) first meets his wife; and have a legen…wait for it…dary time at NYC icons featured in the series, such as the American Museum of Natural History and Empire State Building.
30 Rock
The iconic address of the studio where Liz Lemon, Jack Donaghy, Jenna Maroney and Kenneth Parcell make the sketch comedy show TGS with Tracy Jordan is the actual home of NBC Studios. The Tour at NBC Studios offers a behind-the-scenes look at 30 Rockefeller Plaza, including Saturday Night Live, the source of showrunner Tina Fey's inspiration for the beloved comedy.
Seinfeld
Contrary to Jerry and friends' experiences, nobody will yell, "No soup for you!" at The Original Soupman on West 55th Street in Midtown or at the eatery's kiosk in Times Square. Meanwhile, Morningside Heights' Tom's Restaurant (Monk's Diner) has all the great no-fuss comfort food and 75-cent coffee the cast enjoyed on-screen. Finally, Gray's Papaya really does have some of the best hot dogs in the City—"better than filet mignon!" if you ask Kramer.
For the hopeless romantic
When Harry Met Sally
Thirty years later, you can still have what Sally was having at Katz's Delicatessen on the Lower East Side, double date at the Upper West Side's Café Luxembourg, and enjoy the beautiful scenery of Washington Square Park, where Sally first tells Harry to "have a nice life" at the beginning of the film.
You've Got Mail
Relive this '90s romance at sites of important scenes such as Café Lalo on the Upper West Side, "The Most Famous Café in the City"; Zabar's, the great local market where Joe saves Kathleen's Thanksgiving; and the 91st Street Garden in Riverside Park where the film concludes as the pair realize their feelings for each another.
For the girls' trip planner
New York City has often been said to be the series' fifth character, and fans can get retail therapy at the Greenwich Village boutiques Carrie and friends frequented, snack on cupcakes at Magnolia Bakery, walk with a loved one to the middle of the Brooklyn Bridge, and do your best to catch a foul ball (and a date) at a New York Yankees game—to live like Carrie and the girls.
Gossip Girl
On Manhattan's Upper East Side, visitors can climb the steps of The Met Fifth Avenue, where Blair and company famously held lunch breaks, before heading further uptown to the Museum of the City of New York, filmed as the Constance Billard and St. Jude Schools. After getting spotted at these elite schools, you can check out the home of Chuck Bass and the Van der Woodsen family at the Lotte New York Palace, just five blocks north of Grand Central Terminal, where Serena makes her dramatic entrance to the show in season 1.
Girls
See where Hannah, Marnie, Jessa and Shoshanna try to navigate their early 20s. In Greenpoint, Brooklyn, enjoy a latte at Café Grumpy, the real coffee shop that is fictionally managed by Ray and frequented by the girls, and venture to Manhattan to see when the story begins as Hannah's parents tell her they will no longer financially support her, at Murals on 54 restaurant.
For the superhero superfan
Avengers
While the film's famous battle of New York included scenes all over the City, most of the action takes place in Midtown Manhattan. Captain America, Iron Man, Thor, Black Widow and Hawkeye first meet the alien attackers in front of Grand Central Terminal, while Stark Tower is a couple of blocks west at 4 Times Square, formally the Condé Nast Building. In the end, Hulk defeats Loki for good, with Manhattan still standing, in front of the historic Chrysler Building before Thor beams him back to Asgard for trial from Bethesda Terrace in Central Park.
Batman
The masked hero that earned NYC the nickname "Gotham" has been portrayed in areas throughout the City for more than 80 years. With his Wayne Enterprises headquartered at One Liberty Plaza, just a block from the World Trade Center in Lower Manhattan, Batman defeats Bane in the final fight scene of the Dark Knight trilogy on the steps of the New York Stock Exchange while the Queensboro, Brooklyn and Williamsburg bridges also play prominent roles in the film.
Spiderman
Your friendly neighborhood Spiderman has made harrowing rescues all over NYC over the years. In the original Spiderman film, Peter Parker saves love interest Mary Jane from the Green Goblin in Times Square before defeating the villain on Roosevelt Island. Other high-flying fights in the films take place at the Empire State Building, Statue of Liberty and Ellis Island.
For the thriller enthusiast
Ghostbusters
The 1984 paranormal film has found new life in New York City thanks to the Ghostbusters Experience at Madame Tussauds New York in Times Square where visitors can fight ghosts through a hyperreality experience. In addition, the functioning firehouse Hook & Ladder Company 8 (Ghostbusters headquarters), Spook Central (55 Central Park West) and The New York Public Library – Stephen A. Schwarzman Building are film locations that can be visited.
Men in Black
Agent K and Agent J fight aliens all over the five boroughs in this action-packed trilogy. In two of the most prominent scenes, Agent J chases and captures the first alien he encounters on the job in the Guggenheim Museum on the Upper East Side, and the agents save the galaxy in Corona Park, Queens, after thwarting a hidden spaceship that lived atop the World's Fair site for years.
Ocean's 8
In addition to the Costume Institute Gala at The Met, targeted by the crew in the film and featuring "Camp: Notes on Fashion" this May, several prominent NYC landmarks are featured in the latest installment of the Ocean's franchise. The TWA Flight Center at JFK, soon to be the TWA Hotel (opening May 15), houses the fashion show where Debbie Ocean and crew recruit an integral teammate; the Cartier Mansion guards the necklace they are after; and a Bushwick, Brooklyn, loft acts as the team's headquarters.
For the whole family
Home Alone 2
Although Kevin didn't mean to visit New York City, he managed to check out some of the best attractions in Midtown Manhattan while he was there. As he successfully thwarted the bandits' plan to rob Duncan's Toy Chest (filmed at FAO Schwarz), Kevin also enjoyed all the amenities offered at The Plaza Hotel, caught a show at Carnegie Hall from a VIP point of view, fed the pigeons in Central Park and met family at the Rockefeller Center Christmas Tree.
School of Rock
Imposter substitute teacher Dewey Finn and his students put on a show for their "final exam" in a Battle of the Bands shot inside Staten Island's St. George Theatre, while their yearlong practice at Horace Green Prep School was filmed at the borough's Wagner College.
The Muppets & Sesame Street
At the Museum of the Moving Image in Astoria, Queens, The Jim Henson Exhibition provides an illuminating behind-the-scenes look into the creation of iconic productions The Muppets and Sesame Street, filmed to this day at Kaufman Astoria Studios. Character sketches, scripts, clips and unseen footage are among the nearly 300 items on display celebrating Henson's work and Legacy.
Night at the Museum
Although the American Museum of Natural History on the Upper West Side closes at 5:45pm, you can still see the exhibits protected by night guard Larry Daley in the film, seven days a week. One of the most prominent characters, Rexy, is now in a temporary solo exhibit including fossils, virtual reality experiences and life-size T. rex models that explore this famous predator in greater depth than ever before.
In addition to providing the backdrop to some of the most iconic moments in TV and film history, NYC is home to countless live television experiences and various film and TV festivals. For a deeper dive on a film- and TV-inspired visit, go to nycgo.com. Visitors looking to explore TV and movie locations with the help of an expert can also check out curated experiences by On Location Tours.
Why Al Maryah Island? Everything about Abu Dhabi's newest business and lifestyle destination
Abu Dhabi, meaning Land of the Gazelle, has been at crossroads of commerce and culture for centuries. Today, the Emirate, is a modern, cosmopolitan hub for travellers from around the world to explore this growth. Al Maryah Island is the perfect vantage point for this. The new heart of the the capital offers visitors and residents exceptional business and lifestyle experiences. Here are our top three reasons to choose Four Seasons for your next visit to Abu Dhabi:

Location, location, location
Director of Rooms, Mark Syputa feels Four Seasons Hotel Abu Dhabi at Al Maryah Island is perfectly positioned to offer business and leisure travelers the best of the UAE's capital:
"What I love about Al Maryah Island is that you have all the conveniences of direct connections to downtown Abu Dhabi, with the added benefits of being able to walk to Abu Dhabi Global Market and the surrounding office towers. Add to that the close proximity to key cultural attractions (like Louvre Abu Dhabi, Sheikh Zayed Grand Mosque, Qasr al Watan, and Qasr al Hosn) and the highest density of amazing restaurants & bars in all of Abu Dhabi; I can't think of anywhere else I would rather live, work & play in our capital city."

World-class shopping and dining
Al Maryah Island has a wealth of world-class dining and shopping. Exotic flavors from near and far are the biggest attraction with over forty options including our very own award-winning restaurants Butcher & Still, and Cafe Milano; not to mention, Zuma, Coya, and Le Petit Maison. Guests can also shop until they drop in The Galleria, the city's most exclusive shopping experience filled with the luxury brands. This is only set to amplify with the city's latest mega-mall Al Maryah Central opening mid-2019 with over 400 retail outlets and 100 restaurants.

Health & Wellness focus
Health & Wellness is another key focus. The Island is fortunate to have one of the region's premier hospitals, Cleveland Clinic, which has some of the world's best doctors and highly personalized care. On property, Dahlia Spa in Four Seasons Hotel Abu Dhabi, encapsulates this holistic wellness approach by providing guests a results-driven approach through customised experiences crafted by an international team of spa experts.
A magical visit to Villa de Leyva, just hours from Bogota
Just a few hours from the bustling Colombian capital lies Villa de Leyva, a tranquil town littered with whitewashed stone houses dating back to the early 17th-century. The colonial-era town, northeast of Bogota and with a warmer climate, boasts winding cobbled streets situated around what's claimed to be the largest stone square in South America. A day trip to the town can be easily arranged with the assistance of Four Seasons Hotels Bogota or Four Seasons Hotel Casa Medina Bogota.
Visitors can explore the Pozos Azules, a series of bright blue artificial pools, which are situated only a five minute drive away from the central plaza. Other activities include a visit to architect Octavio Mendoza's 5,400-square-foot house, which is made entirely out of clay. The Casa Terracota is an abstract piece of art, which one could imagine Antoni Gaudí would be proud to call his home. The clay abode can be explored on by foot and is just a 30-minute walk from the central square. Mendoza refers to his work as the largest piece of pottery in the world.
Members of staff at Four Seasons Hotels Bogota can also assist guests in planning activities for the day trip to the town. Guests who are interested in adventure activities can rent mountain bikes and cycle around the mountainous and historical trails of the town. Cycling tours are also available, which stop off at all of the main points of interest, while some offer coffee and wine tasting.
The local people of Villa de Leyva offer a warm and hospitable welcome, and there are plenty of local family-run restaurants, bakeries, and shops. A few minutes walk from the main central plaza are winding cobbled streets lined with artisan gifts and crafts, which are made by locals. One shop, in particular, serves fresh home-made hummus.
The town, which is part of the Boyaca department of Colombia, is formerly a colony of Spain and gained independence in 1812. Visitors may also recognise the town from Gabriel García Marquez's novel Love in the Time of Cholera, as the main character Florentino Ariza spends part of his life in Villa de Leyva. As well as a rich historical significance, the place also has a strong scientific background. The valley in which it's located is rich in fossils and even has a paleontology museum dedicated to the hundreds of artifacts that have been discovered.