Italy making its way back to Africa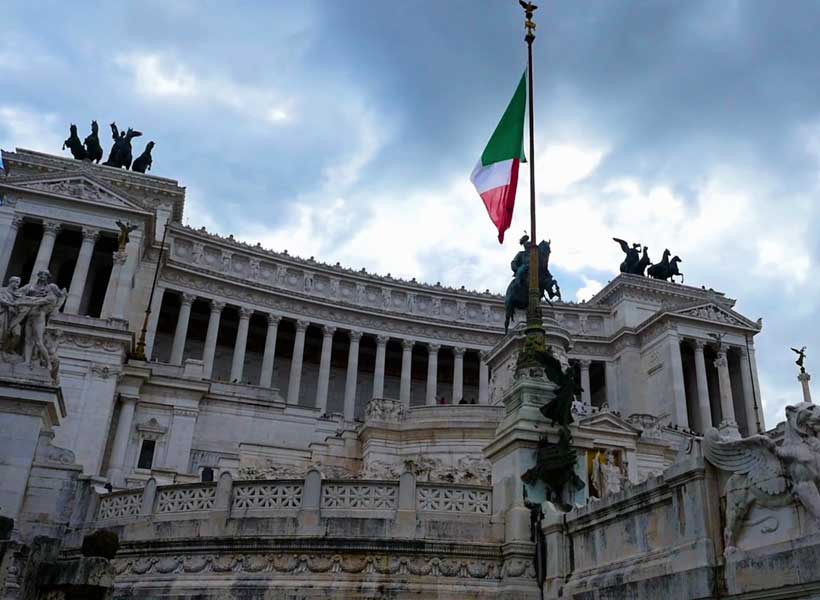 The countries of the Horn of Africa (Ethiopia, Eritrea, Djibouti and Somalia) have recently been the focus of attention of Italian diplomacy, with the need to find political partners in Africa to resolve the migrant crisis, the signing of a long-awaited peace deal between Ethiopia and Eritrea in 2018, China's rapidly expanding influence in neighboring Djibouti amid the French and US military presence there making the region a strategically important hub.
Rome would like to see an end to Ethiopia's "landlocked imprisonment" on the Red Sea coast of Eritrea and Djibouti, restore Italy' presence in the region, based on its colonial past, and ensure Italian companies' participation in the construction of a strategically important transport infrastructure in the region where they could be entrusted with looking at the possibility of building a railway connecting the Ethiopian capital Addis Ababa with the Eritrean port of Massawa.
The share of Somalis, Ethiopians and Eritreans in the migration flows from Africa to the European Union via Chad, Sudan and Libya has been traditionally high. Italy, which currently ranks third after China and the United Arab Emirates in terms of investment in Africa, wants to help reduce migration by investing in the Horn of Africa countries' economy and transport infrastructure to improve the economic situation in the region and bring locally produced goods to foreign markets.
With 90 percent of Ethiopian exports going to Djibouti, a country with a population not exceeding 900,000, this helps check the number of Ethiopians heading to the EU, since the country depends on Djibouti, Eritrea and Somalia both in terms of infrastructure and also from the standpoint of ensuring political stability in these countries.
While still remaining a poor country, Ethiopia keeps growing fast economically, raking in an impressive yearly growth of 10.3 percent between 2007 and 2017, compared to the regional average of just 5.4 percent. According to experts at the Washington-based Center for Global Development, Ethiopia, with its fast-growing population and relatively cheap labor, will soon emerge as an "African China" in terms of production volumes.
Addis Ababa is also active diplomatically, promoting closer ties with Kenya and Sudan. Italy, for its part, is staking on Ethiopia as an economic and political springboard for expanding its foothold in the Horn of Africa and extrapolating this presence into the Arabian Peninsula via the Red Sea and towards the Indian Ocean.
It is apparently with this goal in mind that, while traditionally maintaining a partnership with Ethiopia and having access to the Indian Ocean, Rome seeks a more dynamic relationship also with Kenya. Italian donor NGOs are currently working in Kenya, and Italian exports to this East African country now exceed €182 million. According to Italy's Foreign Development Assistance Program (la Cooperazione allo Sviluppo Esteri), Somalia enjoys a priority position here with €270 million worth of Italian grants expected to come in the next 20 years.
Chad and Niger, which border on Libya, are a logical continuation of the Sudan – Eritrea – Ethiopia – Djibouti – Somalia – Kenya geopolitical chain being built by Rome. This explains why Italian Prime Minister Giuseppe Conte visited Ndjamena and Niamey in January after stopovers in Ethiopia and Eritrea.
Chad and Niger play a key role in balancing the international security system in the Sahel region, where Italian troops serve as part of a multinational force deployed there. Since the collapse of the Libyan state, Niger and Chad have been viewed by Rome as Europe's southern border. Rome credits the 80 percent drop in migrant flows from these two countries to Libya to its cooperation with Chadian and Nigerian partners.
Meanwhile, the broad outlines of a rivalry between European powers, above all Italy and France, for control over strategically important African regions and their resources are already visible.
France fears that Italy's diplomatic successes in Africa could eventually give Rome political and/or economic control over a vast region stretching from Algeria to Kenya, which in turn could politically separate French-speaking North Africa from Central Africa.
Algeria, Tunisia, Mali, Mauritania and Burkina Faso, which have been a traditional zone of French influence, have not been overlooked by Rome either with an Italian embassy expected to open in Burkina Faso shortly.
Rome's expanding foothold in Kenya and Somalia is geographically taking it to Madagascar on the east coast of Africa, which is a place where France has its own interests too.
The present cool in Franco-Italian relations, stemming from the two countries' conflicting views on the migrant problem and the ways to solve it, as well as the degree of political and legal sovereignty EU member states not sharing the views of Brussels, Paris and Berlin on matters pertaining to foreign and domestic economic policy, gives us a reason to expect the competition between Italy and France in Africa to heat up.
First published in our partner International Affairs
To Silence the Guns, Africa Should Tap its Diaspora
For the year 2020, the African Union, chaired by South Africa, will pursue as its principal aim the silencing of the guns. It has its work cut out, as the continent also braces itself for combating the COVID-19 outbreak. The number of terrorist attacks in Africa has grown from some 400 annual attacks in 2007 to over 2,000by 2016, with well over 13,182 killings. In the most recent report by the Global Terrorism Index, two of the countries which saw highest increases in terrorist attacks were in Africa; Egypt and Somalia, with deaths increasing by 123per cent and 93 per cent respectively from 2017. The continent's gun-wielding forces, therefore, come in various forms, as terrorist groups have mushroomed all over the continent, and are increasingly unpredictable and internationalised; with African groups being allied to jihadist groups from the Middle East, whilst also recruiting locally, using ethnicity as a benchmark. Whilst effective, this approach works mainly because of its moorings with the local context. Consider Burkina Faso for example, where "the combination of poverty, a lack of public services, security forces' inefficiency and neighbouring countries' instability has contributed to the growing radicalisation of civil populations," according to a recent study by Mahamoudou Savadogo, who adds that the brutality and geographic reach of tactics used by the terrorists in turn increases the likelihood of support by local communities in locales where the government has an absence or, when present, approaches them with suspicion, curbs liberties and civil rights as well as developmental assistance.
Economics and terrorism have well-documented interaction. The latest Global Terrorism Index (GTI) report notes that the global economic impact of terrorism was US$33 billion in 2018. Some context is needed here. For example, compared to other forms of violence, terrorism is a small percentage of the total global cost of violence, which was equal to 14.1 trillion dollars in purchasing power parity terms. However, it should be noted that these numbers are on the conservative side, and do not account for the indirect impacts on business, investment and the costs associated with security agencies in countering terrorism. As the same report acknowledges, "terrorism also has wide-ranging economic consequences that have the potential to spread quickly through the global economy with significant social ramifications." In the global context, Africa is also among the more disproportionately affected regions.
Countries facing terrorist activity are found to have lower economic growth through lower investment on physical and human capital, higher cost of capital, and lower non-military consumption. Perhaps the most direct manner through which terrorism affects economic outcomes is in its discouragement of foreign tourism. Overall, terrorism has been found to decrease foreign direct investment flows by exerting a significant impact on the allocation of productive capital and reducing the expected returns to investment, and at the same time terrorism encroaches on bilateral trade flows by raising trading costs and hardening borders. This is particularly worrisome for Africa, in light of its goal of accelerated intra-continental trade through the Continental Free Trade Agreement, whose other face is free movement of people.
The economic time-lag effects of terrorism can vary depending on the conflict status of a country. Observers have noted that terrorism has an economically and statistically significant negative impact on tourism. For example, an empirical study of the Caribbean after September 11 attacks – which had an effect on tourism to the Caribbean due to its regional proximity to the US and the use of the US as a stop-over by many Caribbean-bound tourists – the relationships between terrorism and low tourism tended to be at their strongest in for two years following the incident. In the case of Nigeria, in 2019 the cost of terrorism in terms of lost GDP per year is estimated at 0.82% as the government had to appropriate funds to combating terrorism, the reduced tourism potential notwithstanding.
The correlation of inequality and terrorism within and across countries has led to appeals for international aid from within the continent itself. This appears to have universal consensus and goes with common-sense assumptions. However, such consensus may be unwarranted as such a path may not be linear.
In a 2018 study focused on the role of aid in offsetting terrorism in the 1984–2008 period with 78 countries by African Governance and Development Institute's Professor Simplice Asongu and colleagues found that foreign aid cannot be used as a policy tool to effectively address a negative effect of terrorism on FDI. This is echoed by a 2017-publishedanalysis of 38 countries in Sub-Saharan Africa, the Middle East and North Africa, and South Asia for the 2006–2014 period by Godwin Okafor and Jenifer Piesse who found foreign aid was insignificantly related to decreasing terrorism. In my own 2017 study, I noted Djibouti and Uganda to be the sole exceptions, whilst there were mixed results from Kenya.
The diaspora and expatriates (themselves a consequence of the instability in the continent)on the other hand remain an untapped channel for combating terrorism in the continent as well as offsetting the flight of capital in the wake of perceived vulnerability.
A study which focused on Sub-Saharan Africa found that terrorism incidences and remittances were positively correlated, with each incidence of terrorism coinciding with remittance receipts of between US$250, 000 and US$1, 000, 000.In a roundabout fashion, terrorism may lead to an increase in financial inflows, with remittances rivalling and, in some cases, surpassing FDI and foreign aid in many countries in the developing world as a source of foreign income which could in turn decrease the socio-economic causes of terrorism. As the continent grapples with the problem of terrorism, the solutions to its economic causes increasingly appear to lie within the continent itself, as well as its diaspora, which had been the AU's theme for 2019, who could be more actively institutionalised.
Terrorism stands to be a destructive force for the AU's significant but precarious gains, including accelerated intracontinental trade, people movement, and gains in FDI. In turn, silencing the guns will, therefore, hinge on economic policymaking and confidence-building and renewed social contracts between the governments and their populaces. If nothing, ensuring this (through its various arms, including the African Peer Review Mechanism), is the raison d'être of the AU, especially in the crises-ridden days presently underway.
The Mandera triangle crisis: Somalia and Kenya diplomatic face-off
While the COVID-19 was morphing from an epidemic into a catastrophic global pandemic, captivating the global news, a diplomatic confrontation is unfolding in the horn of Africa between Somalia and Kenya.
On 2 March, fighting between the Somali National Army (SNA) and the regional Jubaland paramilitary forces erupted in the border town of Beled Hawo killing 21 combatants on both sides and civilians. The fighting in Beled Hawo spilled across into Kenya's territory as the SNA pursued the retreading Jubaland paramilitaries into the Kenyan border town of Mandera. On 4 March, Kenya accused Somalia of ''unwarranted attack'' on its territory as the two East African nations traded accusations of internal political interference.
To understand the crisis in the Mandera triangle – a converging point of Somalia's, Kenya's and Ethiopia's borders and the towns of Beled Hawo, Mandera and Suuf on each side of the borders, respectively – one has to grasp the intricacies of the horn's new geopolitical reconfigurations, Villa Somalia's long-term political agenda and Kenya's geopolitical anxieties and concerns of Ethiopia's increasing influence in Somalia.
Somalia's governance model confusion
After nearly 30 years-long intra-tribal and warlords-based civil war, now, Somalia seems to be descending into a looming intra-federal states and central government military confrontations. The recent fighting in Beled Hawa between the SNA and a regional paramilitaries signal the commencement of a new civil war in the country – unless quickly resolved.
At the root of this violence lie confusions on which governance model suites Somalia best and its interests. Federal member states (FMS) like Jubaland and Puntland, coupled with their political and ideological difference with the Federal government of Somalia (FGS), envision a loosely connected federal system where federal member states have more powers as the central federal state a la a Swiss confederacy model. Contrary to this, the current administration of President Mohamed Abdullahi ''Farmajo'', with its nationalist and centralist tendencies conceives a 'strong' Somali state with a relatively autonomous and subordinate regional states.
The current governance model crisis in Somalia is also compounded by the slow constitutional review process which would have stipulated clearly the division of powers between the FGS and its constituent FMS.
Furthermore, the Somali governance model crisis also took a geopolitical dimension: neighbouring countries and Gulf States have been courting federal member states hence by-passing the central government. The Current administration's siding with Qatar and a strong diplomatic relation with Turkey has worried Gulf powers. This has created a situation where FMS with the implicit support of Gulf powers and neighbouring countries challenge the central government.
Villa Somalia's political end-game
Since the election of President Mohamed Abdullahi ''Farmajo'' in 2017, a more assertive and centralist policies laden with Somali nationalism rhetoric has been observed in Mogadishu. In a speech while on a visit to Kenya delivered in the Somali embassy in Nairobi, the president lamented that Somalis are tired of political chaos, disintegration and accused some leaders of the federal member states of being unpatriotic and treasonous.
In its effort for recentralisation the central federal government had influenced the regional elections in Konfur Galbeed state and Galmugud state and got elected in both states leaders who were allied to the central federal government.
Furthermore, the ascent to power by Abiy Ahmed in 2018 in Ethiopia seems to have favoured the current administration in Mogadishu. In Abiy Ahmed, President Farmajo had found an ally who made sure that Ethiopia only engages with the FGS in Mogadishu. This has created the perception in the Somali public that Ethiopia has ceased interfering in Somali politics. The new-found close relations between Somalia and Ethiopia had worried Kenya which sees the bordering Jubaland state of Somalia as a buffer zone against the terror group Al-Shabab and as its sphere of influence. Prof. Peter Kagwanja observed that with Abiy Ahmed in power in Ethiopia and President Farmajo's centralist and Somali nationalist tendencies, a new Somali-Oromo ''cushitic allience'' is emerging in the horn that will put in risk Kenya's geopolitical interest.
More crucially, with elections in the corner in Somalia in 2020/21, Mogadishu is flexing its powers over what it considers rogue federal member states. After two days of fighting in Dhusamareeb, the capital of Galmudug state, the leaders of the armed sufi group Ahlu-Sunna Wal-Jamaa (ASWJ) surrendered and were detained by the Somali army on 29 February.
Then, the central federal government turned its gaze on Jubaland state and its leader Ahmed Mohamed Islam ''Madobe'', a close ally of Kenya. Madobe got himself re-elected as the president of Jubaland state last year in an election the FGS refused to recognize. In a show of support his inauguration was attended by some Kenyan members of parliament spear-headed by Majority leader Adan Duale Barre. Amid an exchange of internal political interference accusations between Kenya and Somalia, the first shots were fired in Beled Hawo, Somalia and spread into Mandera, Kenya. Furthermore, Abdirashid Janan, a fugitive Jubaland warlord with an arrest warrant from the Federal government resided and mobilised his Jubaland paramilitaries from Mandera, Kenya with the displeasure of Mogadishu.
Time for de-escalation, dialogue and cooperation
Diplomatic relations between Kenya and Somalia have reached their lowest point this year. Amid an increase in terror attacks by Al-Shabab in both Somalia and Kenya's North-Eastern region, both nations have to de-escalate diplomatic tensions and cooperate closely in security matters.
On 9 March, President Uhuru Kenyatta sent his interior minister Fred Matiangi to Mogadishu in an effort to de-escalate tensions with Somalia. This is a step in the right direction. The interior minister also travelled to Addis Ababa in a bid to iron out conflicting geopolitical interests with Ethiopia.
Finally, Somalia needs to have a constitutional review process before the elections on how to peacefully and efficiently institute and implement its federal system. While the Somali state in the Weberian sense, has a right to violence and coercion within its territory, nevertheless, regional states like Puntland and Jubaland are armed to the teeth and a violent confrontation would be a recipe for a new civil war. With Al-Shabab still terrorizing Somalis, Villa Somalia has to mobilize its meagre military resources against the terror group and employ internal diplomacy channels to engage and reconcile with regional states. Dialogue is paramount for Somali politics at this moment.
Meet this Year's African Change-makers
This year's 115 most promising artists, activists, academics, executives and political leaders under the age of 40 today join the World Economic Forum's community of Young Global Leaders. They are pushing boundaries, achieving firsts, innovating and breaking traditional rules to improve the world.
The Forum of Young Global Leaders was founded in 2004 by Klaus Schwab, Founder and Chairman of the World Economic Forum, to create a world where leaders take responsibility for a sustainable future, while meeting increasingly complex and interrelated challenges. Today, the Forum counts 1,300 members and alumni, representing more than 115 countries. Notable members include Yao Chen, actress, Amal Clooney, lawyer, Hilary Cottam, author, Wanuri Kahiu, Filmmaker, Carlos Alvarado Quesada, President of Costa Rica, Jack Ma, Founder of Alibaba,and Jimmy Wales, Founder of Wikipedia.
YGLs are active in today's most exciting and dynamic fields and work with a focus on impact. In the past year, they have collaborated together to accelerate refugee entrepreneurship to unlock local talent and inject an estimated GDP of $56 million from Kenya's Kakuma camp into the global economy. They have worked to solve waste management challenges by focusing on improving treatment capacity in Indian plants, and more broadly, they have equipped young generations with the tools to effectively influence politics and policy.
This year, over half the new members are women, and nearly half of Young Global Leaders are from emerging economies. They represent a diverse group with an ability to enhance understanding and promote action.
Members of the new class will take part in a five-year programme that includes executive education courses, group expeditions and opportunities to collaborate and test ideas with a trusted network of peers. This will also be an opportunity for them to identify ways in which their ground-breaking work can advance new models of innovation and make a difference in their communities.
African YGLs will benefit from the Dangote Fellowship, made possible by the Aliko Dangote Foundation (ADF). The aim of the fellowship is to increase the quality and quantity of young African leaders across the continent by supporting the engagement of African YGLs in the community, such as those from small enterprises or the non-business sector. The Fellowship helps YGLs from Africa attend YGL and Forum events.
"By championing these promising and accomplished leaders we hope to create positive ripple effects that benefit entire communities. In response to a startling decline in trust in leadership over the past decade, these Young Global Leaders inspire the world through their dynamism, passion and integrity," said Mariah Levin, Head of the Forum of Young Global Leaders at the World Economic Forum.
Civil Society
Yetnebersh Nigussie, Ethiopian Lawyers with Disabilities Association, President and Co-Founder
Education
Faraja Nyalandu, Shule Direct, Founder and Executive Director
Food and Beverage
Shani Senbetta, Kidame Mart, Founder and Chief Executive Officer
Governmental
Paula Ingabire, Minister of Information Communication Technology and Innovation of Rwanda
Kojo Oppong Nkrumah, Government of Ghana, Minister of Information
Health and Healthcare
Chinny Ogunro, Africa Health Holdings, Managing Director
Fredros Okumu, Ifakara Health Institute, IHI, Director of Science
Information Technology
Aurélie Adam Soule, Government of the Republic of Benin Minister of Digital Economy and Communications
Tunde Kehinde, Lidya Founder
Media Entertainment and Information
Larry Madowo, BBC World News Africa Business Editor
Mayur Patel, Kwesé iflix, Chief Executive Officer