The sky's the limit as architects design UN17 eco-village in Copenhagen
It's a building project with towering ambitions—to use all 17 of the UN's Global Goals as a sustainability blueprint for a 35,000-square-metre eco-village being built on the southern outskirts of Copenhagen.
Amid dire warnings about the need to rapidly rein in carbon dioxide emissions, Danish architects Lendager Group, and project partners Årstiderne Arkitekter, want their 400-home development in Ørestad South to set a new standard for sustainable construction.
"We see the Sustainable Development Goals as a global tool with a holistic approach to the world's sustainability challenges. A tool and a language that can be understood across sectors and countries," Lendager says in its project description for the UN17 Village development.
UN17 Village will house 830 people, including around 175 children and 100 older residents. Five housing blocks will be built using recycled concrete, wood and glass. Some of the construction materials will be sourced from Lendager UP, the branch of Lendager that provides upcycled building materials, and the company will also use various subcontractors.
Construction is due to begin at the end of 2019, or early 2020, depending on the weather, and the work is scheduled to be completed in 2023.
It seems fitting that this innovative project is going ahead in Copenhagen. The Danish capital was the 2014 European Green Capital and aims to become carbon neutral by 2025.
For Lendager chief executive officer and company founder Anders Lendager, the development will act as a compass to guide others, including governments, businesses and individuals, towards sustainability in construction.
"The real change in the building sector still awaits but the tipping point is close," he said. "We need to use the Sustainable Development Goals, the circular economy, upcycling, etc. as tools to create regenerative buildings and cities that give back and restore what we have destroyed over the past decades."
There can be no denying the urgent need to reimagine our cities: UN Environment's latest Emissions Gap Report showed that global carbon dioxide emissions rose again during 2017, after a three-year hiatus, to reach historic levels. Only 57 countries are on track to bridge their emissions gap—the space between where their emissions levels are likely to be and where they need to be.
Cities and urban settlements must be at the heart of renewed efforts to cut emissions. By 2050, two-thirds of the world's population is expected to live in cities, and urban areas already account for 70 per cent of greenhouse gas emissions.
"In response to multiple challenges facing our cities, integrated urban systems offer a way to cater for infrastructure that is key for quality of life, while enabling cumulative gains for resource efficiency and addressing climate change," said Martina Otto, head of the Cities Unit at UN Environment.
"At UN Environment, we support policies and technical solutions that spur greater integration across sectors that usually are planned, designed and operated in silos. In terms of scale, the neighbourhood is particularly suited to being an innovation lab and delivering proof of concept. But we don't stop there; we work towards bringing these good examples to scale, engaging across the different levels of governance and through public-private partnerships," she said.
As well as addressing poverty, hunger, inequality and environmental degradation, the Sustainable Development Goals include specific targets to make cities and settlements "inclusive, safe, resilient and sustainable". Lendager and its partners took this challenge to heart and their designs came out on top in a competition to select architects for the UN17 Village project.
The development will include rainwater collection facilities capable of recycling 1.5 million litres of water each year. The water will be treated and recirculated and used in the wash house and in the bath house. Water heating will be based on geothermic energy, while solar panels will also be used. Each building will also have a rooftop garden.
"The buildings are designed to limit energy consumption and to produce and recycle energy," Lendager said. "Focusing on universal access to energy, increased efficiency and the use of renewables is crucial to create resilience to environmental issues like climate change."
One cluster of buildings is designed to produce more energy than it needs and will distribute power and heating to other buildings, testing the efficacy of a smart closed system.
The building complexes, as well as individual apartments, are designed to be resilient to climate change with vegetation and green areas to help counteract the loss of vegetation and biodiversity caused by urban growth.
There will be around 3,000 square-metres of communal spaces for residents and the people of Ørestad. There will also be a conference centre, an organic restaurant, greenhouses and food-sharing and food-growing facilities.
The innovative project is an example of the kind of out-of-the-box thinking that UN Environment hopes will abound at March's fourth UN Environment Assembly. The motto for the meeting is: think beyond prevailing patterns and live within sustainable limits.
"The innovations we are introducing provide solutions for a new, more inclusive and less harmful way of doing things," Lendager says. "Sixty per cent of the housing needed by 2030 globally has not yet been built. The UN17 Village shows how we can support growing populations without compromising on sustainability."
As part of its bid to tackle poverty, the project will provide 100 unskilled jobs for marginalized workers and challenge contractors to include them in their teams. The Village also aims to produce enough food for 30,000 meals every year by growing crops on the roofs and in the greenhouses.
"The crops will be served in the local restaurant, which will also help distribute the leftovers for free. We also want to integrate a food waste handling system by offering a designated area where people can share and pick up redundant food for free. The production of vegetables reduces transport costs and emissions, but it also plays an important role in community-building and education," Lendager says.
He believes cities must ultimately become regenerators of energy, water, biodiversity, materials and humanity but admits mindsets still need to change.
"We are seeing examples of sustainability emerging in commercial housing, social housing, office buildings and so on—projects showing that sustainable buildings are a better investment. But we still have work to do."
RASAI: The car-sharing tool seeking to breathe life into Pakistan's congested cities
When Hassam Ud-din started studying in Islamabad in Pakistan, he had a three-hour round-trip commute from his home in Rawalpindi. He hated sitting in traffic jams, breathing dirty air and burning up fuel and money. Eventually he moved closer to Islamabad but, not content with solving the problem for himself, he's now come up with a fix to help others.
Ud-din has created an Internet tool that matches drivers with passengers looking for an affordable way to get to work or elsewhere. Called RASAI, the Urdu word for accessibility, the website and app aim to fill spare seats and empty trunks and create a more efficient travel system that offers low-income travellers more opportunities while also tackling pollution.
"I realized that people are limited in the opportunities they have by the radius of where they can go easily and cost-effectively," said Ud-din, who has a passion for maps and route planning and studied transportation engineering.
In Pakistan, it is quite common to see people seeking lifts on the side of the main roads. After conducting a survey that found that more than 60 per cent of vehicles were using only half their capacity, Ud-din realized it would be possible to harness this tradition.
"It was already happening in an informal way so what we did was we gave people an option to digitize their daily route. People can go to our website or app and register their route with us and the timings and we can find them passengers to take on their way," the 26-year-old said, noting that most people tend to use the website to set up monthly rides.
Only 17 per cent of Pakistan's population of around 200 million own cars but the country's cities are still blighted by congestion and foul-smelling fumes. The Health Effects Institute's State of Global Air report last year found that Pakistan, Bangladesh and India had experienced the steepest increases in air pollution levels since 2010.
Authorities are starting to act: for example, in 2020 Karachi will launch a zero-emission Green Bus Rapid Transit network, with 200 buses fuelled by bio-methane, or cow poo. However, the need for affordable transport is still great.
For Ud-din, the answer lies in the vehicles that are already on the roads.
"Our main aim was to create a virtual transit network … where you don't have an infrastructure but the capacity on the roads is optimized for you and you are able to use it quite efficiently," he says.
Around 1,400 vehicles are registered on RASAI's website, with most customers setting up lifts on a month-by-month basis. Passengers who find a lift using RASAI usually pay a nominal amount to help cover fuel costs, but the trips are still more affordable than other methods.
Ud-din had to overcome people's resistance to sharing their cars. Some were concerned about possible security issues or cultural differences. But Ud-din found a way to circumvent that hesitation by linking his service to the existing concept of pick-drop taxis.
"We need to be disruptive in the tech and the value proposition but it's good to be conservative when you pitch it to the customer and try to relate it to something that is already there," he said.
While one of Ud-din's main priorities was to provide affordable transport for people on lower incomes, he also wanted to address traffic pollution.
"(RASAI) helps solve the pollution problem directly and indirectly: if four people go in one car instead of taking their own cars, that reduces emissions. Indirectly, if those cars are not on the road, that reduces both congestion and pollution."
Ud-din's innovation won a grant from UN Environment as part of the Asia-Pacific Low-Carbon Lifestyles Challenge, which supports young people with cutting-edge ideas to foster energy-efficient, low-waste and low-carbon lifestyles.
Ud-din says the grant boosted his team's morale, while the mentoring he received as part of the award allowed him to think more clearly about turning his idea into a viable business model.
"The financial support was crucial to hone the product and cover the expenses required. These kinds of startups require a lot of capital to start because they require a critical mass," he said.
Commenting on the winners of the challenge, UN Environment's Acting Executive
Director Joyce Msuya said the innovations were just the latest examples of a long history of ingenuity in the region.
"The four billion inhabitants of Asia and the Pacific have seen both sides of the development ledger more vividly than most. Standards of living have skyrocketed as traditional consumption and production models have gone into overdrive," she wrote in a recent opinion piece.
"Yet, environmental debt accrued by these global habits is increasingly obvious: climate change, pollution, habitat loss and ecosystem destruction. If we continue to make the same choices, our future looks bleak."
The innovative spirit shown by inventors like Ud-din will take centre-stage at the fourth UN Environment Assembly in March, where the motto will be to think beyond prevailing patterns and live within sustainable limits.
For Ud-din, who spent a year in Silicon Valley as part of the Global Cleantech Innovation programme, technology will play a critical role in finding new solutions to environmental challenges, just as it has enabled on-demand services to facilitate our increasingly digital lives.
"Tech allows us to leverage resources that we might not even have known we have. Take Airbnb: people had spare rooms and the tech allowed them to make them available on a platform, and now it's a valuable company," Ud-din said. "In the same way, we are saying that if you are driving somewhere and you have spare capacity, that's an asset you can leverage."
Interview with Renzo Piano
Renzo Piano, winner of the 1998 Pritzker Prize and the 2002 UIA Gold Medal (among others), is one of the most prolific architects of our time, with an architectural repertoire that numbers over 50 landmark buildings spread right across the world. Today, he is perhaps best known for his iconic designs of the Georges Pompidou Centre (Paris, France) and The Shard (London, United Kingdom).
Born in 1937 to a family of builders in Genoa, Italy, Piano went on to found the Renzo Piano Building Workshop in 1980, which now has offices in Paris, Genoa and Berlin. He also established the Renzo Piano Foundation, a non-profit organisation dedicated to the promotion of the architectural profession through educational programs and activities.
But Piano, it seems, is far from slowing down: he recently volunteered his services to his hometown of Genoa, where he is designing a replacement for the Morandi Bridge, which tragically collapsed in August 2018.
The UIA Secretariat caught up with Mr. Piano just before the New Year to talk about the 1970 UIA-endorsed competition that marked a milestone in his early career: The Georges Pompidou Centre.
What attracted you to the competition for the Georges Pompidou Centre?
There was an idea in the competition brief that Richard [Rogers] and I found particularly interesting: the creation of a "house of culture". André Malraux, culture minister from 1959-1969, came up with the idea of establishing a "house of culture" in every French city; a place where the different disciplines could intertwine, from music to literature to art. We liked that idea.
The other thing about this competition was the chairman of the jury, Jean Prouvé: my idol! Prouvé served as a great example to me, not just because of his talent for designing buildings, but also because of the ethics of his architecture, manifest mostly in his work with Abbé Pierre. He was an icon!
How did you feel when you won the competition?
Imagine: you're 34-years-old, you've done a bit of work, but mostly small contracts, and somebody gives you the opportunity to build the Georges Pompidou Centre: How do you feel? Very surprised! We never expected to win – I mean, there were 681 entries!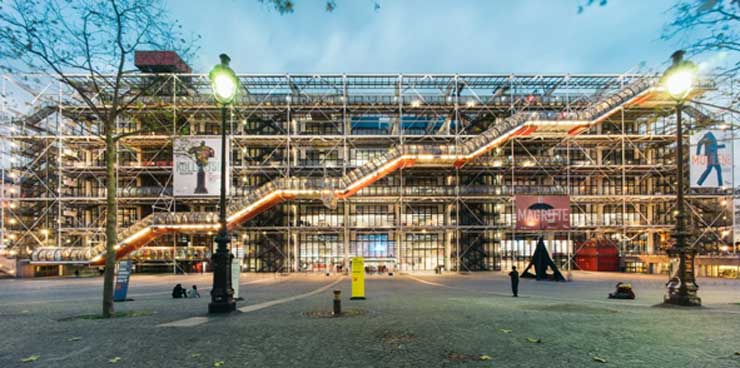 What impact did this competition have on your career?
It had a huge impact: it gave us self-confidence and the courage to fight for our ideas. When we won that competition, we were projected into a new dimension. Up until then, we were small fry! Then suddenly we found ourselves working with big construction companies, and those kinds of companies are always telling you "impossible, Mr. Piano, impossible"! But our experience with the Georges Pompidou Centre taught us how to defend our ideas and not to let them fade away under the pressure of opposition. Though, of course, you have to be careful; you have to be sure the idea you're defending is a good one! Once you're sure of that, you have to be prepared to put all your energy into upholding your idea, day after day.
What advice would you give an architect entering a design competition?
Firstly, I would encourage any young architect to enter competitions. I myself got about 80% of my work through competitions. Even the new Palais de Justice, in Paris, was a competition. Nobody asks you to design buildings like that without a competition process first.
Secondly, forget tactics. One of the reasons why Richard and I won the competition for the Georges Pompidou Centre was because we never thought we could actually win, so we had zero strategy with regards to the jury. We were just focused on finding the right idea for that revolutionary period after May 68. Don't waste your time trying to conform to what you think the jury is looking for, or you'll never find true inspiration. Just concentrate on digging deep inside yourself, brainstorming with your colleagues, and looking for the right idea. Then, only then, you might win!
Pakistani innovators design cheap and climate-friendly flat-pack homes for refugees
Three years ago, Mohammed Saquib and his fellow students Yaseen Khalid and Nabeel Siddiqui were seeking inspiration for their final year university project. The Syrian crisis was at its peak and with the plight of refugees filling news bulletins, they decided to try to address the desperate need of some of the world's most vulnerable people for shelter.
As they began their research, they discovered that Pakistan itself was facing a shortage of 10 million houses, with many people living in overcrowded, unsanitary informal settlements.
"There was no innovation in the construction industry in Pakistan and so we realized we needed to make a prototype, a house that could be assembled by anyone in minimal time and should be affordable as well," said Saquib, who studied civil engineering at NED University of Engineering and Technology in Karachi.
Post-graduation, the trio founded ModulusTech, a startup that produces low-cost, energy efficient, flat-pack modular homes that can be used to house refugees but could also serve non-governmental organizations or government agencies seeking to build classrooms or health clinics in rural areas. The houses can also be used in the construction and tourism sectors.
"Each house is 16×16 square feet, with electricity and plumbing and everything pre-integrated in the panel walls. Each house costs around US$3,000 and the lifespan is about 30 years. The houses can be assembled in just three hours, using three people," said Saquib.
"Primarily, we were targeting refugees and internally displaced people and we wanted them to be able to assemble these houses and get a feeling of ownership … According to a United Nations report, a refugee stays on average 17 years in temporary shelter so we designed (the house) according to this," the 26-year-old added.
The houses are built around a steel frame with walls made of recyclable materials such as fibre cement composites and wood plastic composites. Glass wool insulation ensures the houses are energy-efficient and cost-effective. It is estimated that a ModulusTech house has a carbon footprint that is up to 52 times lower than traditional concrete homes.
When the team tested the homes in the Thar desert, where the outside temperature was around 50 degrees Celsius, the temperature inside was around 35 degrees, Saquib says.
In 2017, ModulusTech was accepted into The Nest I/O, a Pakistani startup incubator. Since then, the team has won a slew of awards and was selected by the Pakistani office of the United Nations Industrial Development Organization (UNIDO) to represent the country at the world's first Global Manufacturing Industrial Summit in Germany last year.
ModulusTech hopes that government departments or relief agencies will buy its houses to set up in refugee camps or other settlements where displaced people are gathered. Pakistan is home to around 1.4 million registered Afghan refugees, and around 400,000 people have been displaced internally by conflicts, violence or extreme weather events like floods.
ModulusTech won a grant from UN Environment as part of the Asia-Pacific Low-Carbon Lifestyles Challenge, which supports young people with cutting-edge ideas to foster energy-efficient, low-waste and low-carbon lifestyles.
"With this money, we have set up our own factory and we have labour and a proper manufacturing facility," Saquib said, adding that the business training offered as part of the award was also very useful.
Dechen Tsering, UN Environment's director for the Asia-Pacific region, said ModulusTech's innovation was an example of the ingenuity needed to tackle some of the world's biggest problems, with this project particularly geared toward helping some of the most vulnerable people.
Around one billion people live in informal settlements around the world, with millions more living in buildings that are not environmentally friendly. Rapid urbanization and economic growth challenge communities to sustainably expand capacity, heightening the need for innovation in building systems and infrastructure.
"Improving lifestyles across Asia and the Pacific must be an inclusive endeavour, and Mohammed … (is) demonstrating how we can get it done," Tsering said.
Global ingenuity and innovation across all sectors will take centre-stage at the fourth UN Environment Assembly in March. The motto for that meeting is to think beyond prevailing patterns and live within sustainable limits.
So far ModulusTech has sold around 30 units, mostly to businesses in the construction industry who sought structures for washrooms and site offices. They are also in talks with United Nations agencies about possible uses for their product.
As they seek to build their market, the team are already working to upgrade their basic model by installing a solar-powered water purification system. They are also incorporating a second storey into their designs.
For Saquib, architects, designers and engineers have a critical role in fighting for a better environment, but education is also key.
"As a nation, we really don't care about climate change now. Signing a Paris (climate change) agreement or creating a Pakistan vision for 2025 will not solve this issue. You have to go to ground level," he said. "Global warming and our response in Pakistan should be part of the schools' curriculum … It is the government's duty to raise awareness of this issue."
He admits it is frustrating that the environmental benefits of ModulusTech's flat-pack housing is not recognized locally.
"We have built this house and nobody is looking at how sustainable it is, for example that the lifespan is 30 years. No one cares about that," he said, adding that this lack of knowledge means designers must also take on the mantle of educators.
"We must educate but we have to take baby steps. People just care about the cost. They don't care about the energy analysis," he said.  "But we are trying our best to educate them, and we really highlight our achievements, like the fact that the houses save 45 tonnes of carbon dioxide emissions per house. That's a huge thing right now."