Miraval opens its second wellness destination in Texas Hill Country
Hyatt brings its nationally acclaimed Miraval spa and wellness brand to Austin, Texas with the opening of Miraval Austin. Set on 220 acres of picturesque land overlooking Lake Travis, Miraval Austin is the brand's second wellness resort to open outside of its flagship property in Tucson, Arizona.
"We are incredibly proud to open Miraval Austin as we embark on an exciting period of expansion at Miraval," said Marc W. Ellin, global head of Miraval Group. "For over 20 years, Miraval has been dedicated to inspiring total mind, body and spirit wellness by offering guests authentic experiences rooted in mindfulness.  As we open Miraval Austin, we look forward to welcoming Miraval's loyal guests, as well new audiences to experience the fulfillment, pleasure and growth that come with a Miraval experience."
Offering 117 beautifully appointed guestrooms and suites, a serene Life in Balance Spa, a 10-acre farm and ranch and a state-of-the-art Life in Balance Culinary Kitchen, Miraval Austin combines the celebrated Miraval Arizona experience with groundbreaking new treatments and wellness programs that pay homage to Austin's rich cultural heritage and breathtaking natural surroundings.
ACCOMMODATIONS
Miraval Austin's 117 guestrooms and suites designed by award-winning firm Hart Howerton are relaxing havens built in harmony with nature. Using a soft neutral color palate, guestrooms combine bespoke furniture, specially-selected fabrics and local, hand-crafted accessories and art to create a restorative atmosphere. In keeping with the Miraval brand's ethos, the rooms have been designed to enhance guests' sleep experience with Miraval bedding, black out shades and sleep-enhancing amenities, including Miraval's signature cell phone sleeping bag. Each room will also feature a selection ZENTS' all-natural bath amenities in large-format, reusable bottles to further reinforce the brand's commitment to sustainability.
LIFE IN BALANCE SPA
Conceptualized by renowned designer Clodagh, the Life in Balance Spa at Miraval Austin draws inspiration from the surrounding Balcones Canyonlands Preserve to create a serene environment that promotes relaxation, balance and a sense of wellbeing. The 20,000 square foot Life in Balance Spa boasts 30 treatment rooms, a spa pool, relaxation rooms, salon, sauna, steam room and spa retail boutique.
In addition to offering a selection of Miraval Arizona's most sought-after spa experiences, the Life in Balance Spa at Miraval Austin offers a series of innovative treatments that push boundaries and bring new meaning to the concept of "farm to treatment table." Highlights include Pranayama-ḍīna, a transformative experience that combines the power of breathwork with a floating massage, and Wild Harvest Herbal Healer, a celebration of nature and community in which guests pick herbs from the farm to be used in a luxurious massage.
To enhance the spa experience, the Life in Balance Spa at Miraval Austin worked with acclaimed organic skincare company, Laurel, to create a petal pecan mask inspired by the on-property farm. Miraval Austin and Laurel have also created an exclusive spa treatment, the Spiritual Warrior Facial, that utilizes energies of plants and gemstones to bring guests on a spiritual facial journey.
HEALTH AND WELLNESS PROGRAMMING
For those looking to open their mind, body and soul, Miraval Austin's team of highly regarded specialists have designed an extensive menu of integrative wellbeing offerings that span fitness, yoga, meditation, culinary, nutrition, and art.
Those seeking inner peace can enjoy a variety of yoga and meditation practices such as Crystal Meditation, which aligns the body with the energy of the earth and Qoya, a women's movement practice that combines yoga, breathwork and intention setting.
For guests looking to step out of their comfort zones, Miraval Austin's challenge course features activities including slacklining, archery and hatchet throwing.
Home to Miraval Austin's fitness classes, the 5,000 square foot Body Mindfulness Center features cutting-edge Technogym equipment and a fitness studio for activities including Cardio Drumming, Bosu Blast and spinning classes.
THE RANCH AT MIRAVAL AUSTIN
Developed at Miraval Arizona over 20 years ago, the brand's famed equine programming will also be central to the Miraval Austin experience. The Cypress Creek Ranch at Miraval Austin offers an expertly developed curriculum that expands upon Miraval Arizona's original programming with new workshops.
CULINARY OFFERINGS
At the core of Miraval Austin's culinary program is the 10-acre Cypress Creek Organic Farm that provides fresh produce for the property's kitchen and spa and is home to many of the property's interactive culinary programs.
Miraval Austin also features an innovative Life in Balance Culinary Kitchen outfitted by Williams Sonoma. Like at Miraval Arizona, the stunning demonstration kitchen hosts healthy cooking classes and workshops, including Plant-Based Cooking, Conquering the Blade, Restoring Bone Broth and Wheat-Free Baking.
In keeping with the Miraval brand's commitment to serving real, local food, and Hyatt's overall commitment to Food Thoughtfully Sourced, Carefully Served, Miraval Austin's signature restaurant, Hilltop Crossings Kitchen, offers a hand-crafted menu of healthy, Texas-inspired dishes created from ingredients sourced from the property's farm and local purveyors. The resort also offers the Discovery Pool Café and The Nest, Miraval's signature smoothie bar offering coffee and smoothies during the day and mindful craft cocktails and light bites in the evenings.
RETAIL
The Preserve Provision Company, Miraval Austin's retail outlet, brings Austin's rich cultural and artistic heritage to guests by offering a hand-curated selection of art, jewelry, clothing and skincare products sourced from local artisans and craftsman.
Hyatt acquired the Miraval brand in January 2017 as a key step in Hyatt's strategy to engage with high-end travelers in more ways beyond traditional hotel stays and to further complement its existing wellbeing offerings. Miraval operates as a standalone brand within Hyatt's portfolio adding to Hyatt's core purpose to care for people so they can be their best.
Ten Unexpected Ways to Explore the World's Best Hotel
In announcing Four Seasons Resort Bali at Sayan as the winner of its annual readers' survey, Travel + Leisure highlighted the resort's "sense of calm" combined with "innovative and modern" new experiences awaiting guests.
"Obviously, to be named No. 1 a hotel must be consistently excellent across the board," said the magazine's editor-in-chief Nathan Lump. "It's got to have good bones, yes, and it needs to have great people who can build on those bones to transform the place into an experience. At the Four Seasons I especially appreciated how often I was surprised by something I saw or tasted or did, which reminded me that the most memorable hotels and resorts are also about creativity, experimentation, and innovation."
Here are just ten of the innovative experiences available at Four Seasons Sayan, for our guests to connect to the heart and soul of Bali:
LEARN YOURSELF, OR LEAVE IT TO THE EXPERTS: Challenge your other half to a cook-off at Bali's first custom-designed riverside cooking school, Sokasi. Under the guidance of Chef Suta, take a tour of the local markets and the resort's own vegetable gardens. Learn to make all-time Balinese favourites or opt for a plant-based menu, in keeping with Ubud's heritage as the island's wellbeing hub. If you would rather leave the local cuisine to the experts, join the exclusive Chef's Table Dinner and savour a 7-course menu including 12-hour roast duck and 4-hour suckling pig cooked just for you at Sokasi.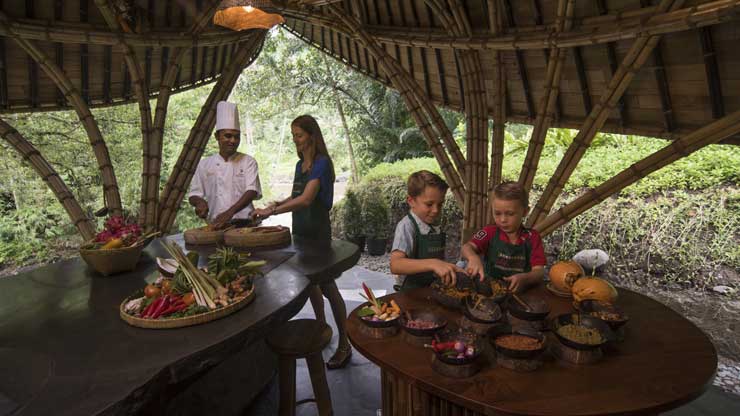 CAN YOU KEEP A SECRET? If so, hop into our open-air vintage VW to visit a secluded water temple, far from the selfie crowds. Bathe in the cool, blessed spring water and refresh your body and soul with a Balinese water purification ritual. Guests are asked to resist the temptation to tag/name this temple on social media, out of respect for the village's wish to preserve its tranquility.
TAKE THE ROAD LESS TRAVELLED: Another way to get off the beaten track and meet the locals is with complimentary guided tours like the 60-minute Sayan Village Walk or Cycling experience. For a bigger challenge, sign up for the exclusive Bongkasa Cycling Tour through a pristine and rarely-visited rice farming village.
LAUGH THOSE WORRIES AWAY: A great way to release any stress or tension you've been bottling up is by laughing your heart out with Putu Purnama at Laughter Yoga. Because laughter fixes everything. Don't believe us? Give it a try!
I BELIEVE YOU CAN FLY: It's also true that you can fly! Bali's only certified AntiGravity Yoga will have you swaying and swinging through the air to deeply stretch muscles and release happy hormones. A pure silk hammock strong enough to support a baby elephant will safely help you into inverted poses even from your first lesson. The benefits may even see you walk out a little taller.
FLOAT AWAY DOWN THE RIVER: Navigate your way along Bali's longest river, the Ayung, which is a main source of the UNESCO Heritage-listed subak irrigation system for traditional rice farming. The Four Seasons Private Rafting experience is as scenic as it is fun; there's even a part where you can hop out and float on your back down the river, looking up into the forest canopy above. The experience conveniently lands directly at Riverside Pool, where a hearty lunch awaits you.
ROOF-TOP DINING: Enjoy the dramatic views high above the treetops from the elliptical rooftop lotus pond with a Private Romantic Dinner, or even a Sunrise Canopy Breakfast. Definitely worth waking up early for – even while on holiday – to catch the first light of day from this stunning vantage point.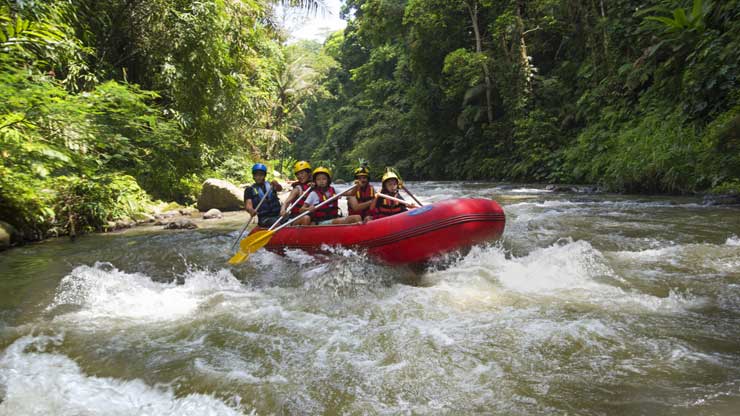 ROCK-A-BYE BABY: Don't remember being rocked to sleep as a baby? Let yourself be taken back to this nurturing childhood ritual with a Sacred Nap by Ibu Fera, immersed in the tranquility of the Sayan Valley. For families, if the little ones refuse to take a rest, let them burn off their energy at Pici Pici Kids Club while you enjoy the luxury of an afternoon nap.
RE-BALANCE YOUR ENERGY: Embrace the healing energy of the Sayan Valley with chakra rebalancing spa treatments. Our seven signature Chakra Ceremonies each have a corresponding Chakra Yoga class to further enhance the benefits. Take a private consultation with our wellness experts to find out which of your energy wheels may need an adjustment, and learn which yoga poses are recommended for your specific needs, to help protect yourself against negative energy forces in future.
LET'S DANCE: Marvel at the beautiful costumes and incredible skill on display at a Balinese dance performance in the Lobby, against a backdrop of the lush valley. Even if you've seen a performance before, it is definitely worth seeing one here. The dance troupe from the local village is accompanied by a full gamelan orchestra, and it is an amazing spectacle. The dancers will happily pose for photos afterwards and even teach you a few steps!
Manchester United and Marriott International Announce Global Marketing Partnership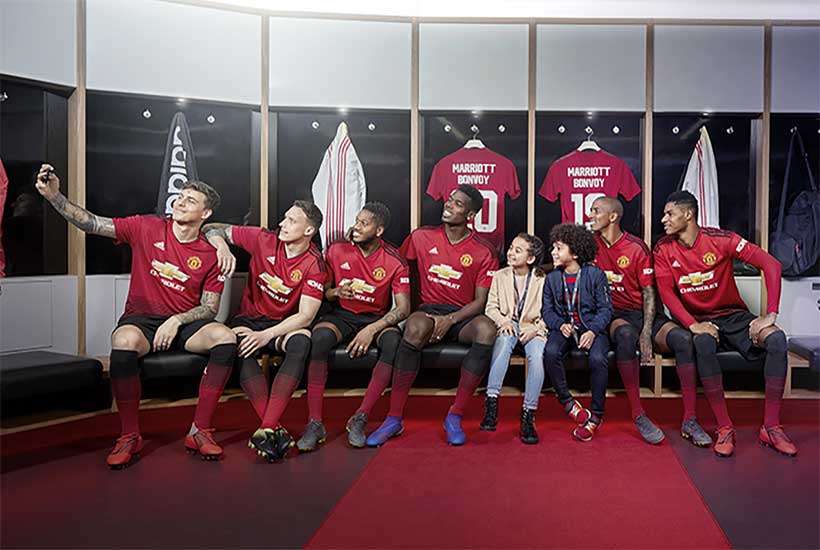 Marriott International and Manchester United today announced a multi-year marketing partnership, giving the 120 million members of the Marriott Bonvoy travel programme exclusive opportunities for once-in-a-lifetime Manchester United football experiences – including the chance to become the club's Stadium Announcer or Kit Manager for the day.
The new partnership launches today with a film that features familiar faces from the Manchester United first team and team management, bringing these magical moments to life.
Manchester United Group Managing Director Richard Arnold comments:
"Marriott International is the leader in its field and we're excited to be partnering with them as Marriott launches its new travel programme, Marriott Bonvoy. Together we look forward to creating some unforgettable moments for Marriott Bonvoy members, inspired by the thrill and excitement that only Manchester United can create for fans around the world."
With the Marriott Bonvoy travel programme, members have access to its extraordinary portfolio of global brands and properties in 130 countries and territories, as well as unmatched member benefits and exclusive Marriott Bonvoy Moments' experiences.
Marriott International Global Marketing Officer, Karin Timpone, comments:
"We are thrilled to offer compelling benefits to Marriott Bonvoy members, now expanded to include unique Manchester United experiences. This marketing partnership enables our members to access special VIP game experiences by using the points they've accumulated during hotel stays for unprecedented, exclusive experiences."
Marriott Bonvoy Moments enables members to redeem points to purchase any of 8,000 lifestyle, entertainment, sport, culinary and more experiences globally. Exclusive Manchester United Moments that members can bid points for include:
'Stadium Announcer' Experience – Marriott Bonvoy members will have the chance to go behind the scenes at the iconic 'Theatre of Dreams,' shadowing the stadium announcer with their pre-match preparations. Prior to the game, the member and a guest will soak up the atmosphere pitch side, before enjoying VIP hospitality, including match tickets and a meet and greet with a former player.
Welcome the Team on arrival at Old Trafford – Members and their guest arriving at Old Trafford on matchday will head pitch side to meet a Manchester United legend before making their way to the player's tunnel to be in prime position to welcome the team as they step off the coach and head into the dressing room to prepare for the game.
'Kit Manager' Experience – Members will be able to add a final finesse to the home dressing room at Old Trafford pre-game as they shadow the first team Kit Manager. The member and a guest will help prepare the match kit ahead of the players' arrival before heading pitchside to be met by a Manchester United Legend. After the hard work is done, the member will be able to sit back and relax whilst enjoying pre and post-match VIP hospitality.
6 Secrets About the New Four Seasons Hotel in Bengaluru
Here are the six most anticipated experiences at Four Seasons Hotel Bengaluru at Embassy ONE that we bet you can't wait to discover:
Tucked away as a sunken sanctuary, our Poolside is the best kept secret of the hotel. This little green oasis has a resort-like atmosphere with lush landscaping all around the expansive 100-foot (30-meter) pool filled with crystal-clear water. Take some time to lounge here sunning yourself, or try one of the tropical cocktails at the Pool Bar.
Our contemporary Asian brasserie, Far & East offers a tantalizing selection of fresh and imaginative Japanese, Chinese and Thai dishes in a bold, striking space on the 21st floor. Tuck into sumptuous dim sum while enjoying all the activity around as our chefs get busy in the vibrant show kitchens.
Bangalore is known to many as the Garden City. Inspired by this nickname, our Butterfly Garden and Ribbon Lawn bring the lushness of the city alive and enable quiet, meditative moments. Redeem yourself in our little green spots and enjoy the outdoors.
Our afternoon teas at The Lounge & Terrace are quite the highlight with freshly baked cakes and scones that are best enjoyed if you have some time to linger. Savour a relaxed afternoon tea, light bites, or our freshly brewed coffee.
The custom built, supersized pizza oven in CUR8 is not just a piece of art with carefully crafted wooden logs stacked around it. The pizza oven also doles out the most delicious pizza, made even more special with our chefs' imaginative toppings. At breakfast time, let our chefs tempt you with baked quail egg on rusty potatoes or Catalan egg with chorizo as an alternate experience at the pizza counter. And if you thought that this was the place just for savoury experiences, wait till you've tucked into our special chocolate pizza, topped with marshmallows and berries.
Did you know that our hotel is pet friendly? We welcome your furry friend to stay with you, provided he or she is well within 15 kilograms (33 pounds) in size.