Miraval opens its second wellness destination in Texas Hill Country
Hyatt brings its nationally acclaimed Miraval spa and wellness brand to Austin, Texas with the opening of Miraval Austin. Set on 220 acres of picturesque land overlooking Lake Travis, Miraval Austin is the brand's second wellness resort to open outside of its flagship property in Tucson, Arizona.
"We are incredibly proud to open Miraval Austin as we embark on an exciting period of expansion at Miraval," said Marc W. Ellin, global head of Miraval Group. "For over 20 years, Miraval has been dedicated to inspiring total mind, body and spirit wellness by offering guests authentic experiences rooted in mindfulness.  As we open Miraval Austin, we look forward to welcoming Miraval's loyal guests, as well new audiences to experience the fulfillment, pleasure and growth that come with a Miraval experience."
Offering 117 beautifully appointed guestrooms and suites, a serene Life in Balance Spa, a 10-acre farm and ranch and a state-of-the-art Life in Balance Culinary Kitchen, Miraval Austin combines the celebrated Miraval Arizona experience with groundbreaking new treatments and wellness programs that pay homage to Austin's rich cultural heritage and breathtaking natural surroundings.
ACCOMMODATIONS
Miraval Austin's 117 guestrooms and suites designed by award-winning firm Hart Howerton are relaxing havens built in harmony with nature. Using a soft neutral color palate, guestrooms combine bespoke furniture, specially-selected fabrics and local, hand-crafted accessories and art to create a restorative atmosphere. In keeping with the Miraval brand's ethos, the rooms have been designed to enhance guests' sleep experience with Miraval bedding, black out shades and sleep-enhancing amenities, including Miraval's signature cell phone sleeping bag. Each room will also feature a selection ZENTS' all-natural bath amenities in large-format, reusable bottles to further reinforce the brand's commitment to sustainability.
LIFE IN BALANCE SPA
Conceptualized by renowned designer Clodagh, the Life in Balance Spa at Miraval Austin draws inspiration from the surrounding Balcones Canyonlands Preserve to create a serene environment that promotes relaxation, balance and a sense of wellbeing. The 20,000 square foot Life in Balance Spa boasts 30 treatment rooms, a spa pool, relaxation rooms, salon, sauna, steam room and spa retail boutique.
In addition to offering a selection of Miraval Arizona's most sought-after spa experiences, the Life in Balance Spa at Miraval Austin offers a series of innovative treatments that push boundaries and bring new meaning to the concept of "farm to treatment table." Highlights include Pranayama-ḍīna, a transformative experience that combines the power of breathwork with a floating massage, and Wild Harvest Herbal Healer, a celebration of nature and community in which guests pick herbs from the farm to be used in a luxurious massage.
To enhance the spa experience, the Life in Balance Spa at Miraval Austin worked with acclaimed organic skincare company, Laurel, to create a petal pecan mask inspired by the on-property farm. Miraval Austin and Laurel have also created an exclusive spa treatment, the Spiritual Warrior Facial, that utilizes energies of plants and gemstones to bring guests on a spiritual facial journey.
HEALTH AND WELLNESS PROGRAMMING
For those looking to open their mind, body and soul, Miraval Austin's team of highly regarded specialists have designed an extensive menu of integrative wellbeing offerings that span fitness, yoga, meditation, culinary, nutrition, and art.
Those seeking inner peace can enjoy a variety of yoga and meditation practices such as Crystal Meditation, which aligns the body with the energy of the earth and Qoya, a women's movement practice that combines yoga, breathwork and intention setting.
For guests looking to step out of their comfort zones, Miraval Austin's challenge course features activities including slacklining, archery and hatchet throwing.
Home to Miraval Austin's fitness classes, the 5,000 square foot Body Mindfulness Center features cutting-edge Technogym equipment and a fitness studio for activities including Cardio Drumming, Bosu Blast and spinning classes.
THE RANCH AT MIRAVAL AUSTIN
Developed at Miraval Arizona over 20 years ago, the brand's famed equine programming will also be central to the Miraval Austin experience. The Cypress Creek Ranch at Miraval Austin offers an expertly developed curriculum that expands upon Miraval Arizona's original programming with new workshops.
CULINARY OFFERINGS
At the core of Miraval Austin's culinary program is the 10-acre Cypress Creek Organic Farm that provides fresh produce for the property's kitchen and spa and is home to many of the property's interactive culinary programs.
Miraval Austin also features an innovative Life in Balance Culinary Kitchen outfitted by Williams Sonoma. Like at Miraval Arizona, the stunning demonstration kitchen hosts healthy cooking classes and workshops, including Plant-Based Cooking, Conquering the Blade, Restoring Bone Broth and Wheat-Free Baking.
In keeping with the Miraval brand's commitment to serving real, local food, and Hyatt's overall commitment to Food Thoughtfully Sourced, Carefully Served, Miraval Austin's signature restaurant, Hilltop Crossings Kitchen, offers a hand-crafted menu of healthy, Texas-inspired dishes created from ingredients sourced from the property's farm and local purveyors. The resort also offers the Discovery Pool Café and The Nest, Miraval's signature smoothie bar offering coffee and smoothies during the day and mindful craft cocktails and light bites in the evenings.
RETAIL
The Preserve Provision Company, Miraval Austin's retail outlet, brings Austin's rich cultural and artistic heritage to guests by offering a hand-curated selection of art, jewelry, clothing and skincare products sourced from local artisans and craftsman.
Hyatt acquired the Miraval brand in January 2017 as a key step in Hyatt's strategy to engage with high-end travelers in more ways beyond traditional hotel stays and to further complement its existing wellbeing offerings. Miraval operates as a standalone brand within Hyatt's portfolio adding to Hyatt's core purpose to care for people so they can be their best.
IMARAT signs Agreement to Construct its Fourth Hotel in Collaboration with Marriott International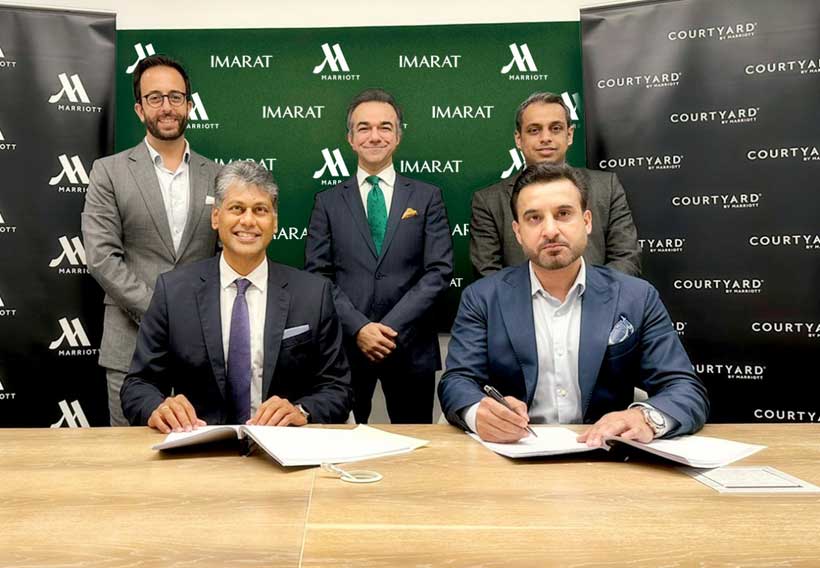 IMARAT Group has signed a franchise agreement with Marriott International to develop a Courtyard by Marriott project in DHA Multan. The signing ceremony took place at Marriott International's Office in Dubai.
Marriott International was represented in the ceremony by Satya Anand, President, Europe Middle East & Africa, Phil Andreopoulos, Chief Operating Officer, Owner and Franchise Services, Europe, Middle East & Africa, Chadi Hauch, Regional Vice President – Development, Middle East and Ziad Abi Raad, Director Lodging Development.
The event was attended by Chairman IMARAT Group, Mr. Shafiq Akbar, Director IMARAT Hospitality, Mr. Farhan Javed, IMARAT's Chief Commercial Officer, Mr. Saad Ahmed Awan.
Chairman IMARAT Group, Mr. Shafiq Akbar, while speaking on the occasion, said, "On this day, we are elated to witness the culmination of years of effort; a collaboration with Marriott International to construct Courtyard by Marriott in DHA Multan. I see this project as the 'Jewel of South Punjab', a state of the art hospitality initiative that will give Pakistan's, particularly South Punjab's hotel and tourism sectors a much-needed economic boost".
Satya Anand, President, Europe, Middle East & Africa, Marriott International commented, "We are delighted to strengthen our relationship with the IMARAT Group and expand our portfolio of in Pakistan. There is an unmet demand for hotel accommodation in South Punjab and with the Courtyard by Marriott Multan we look forward to supporting the expansion of the hospitality landscape in the market."
Expressing his views at the signing ceremony, Group Director IMARAT Hospitality, Farhan Javed said, "IMARAT envisions and executes projects to take the hospitality sector of Pakistan to a level where we are at par with the international standards. By offering the best services in the hospitality business, Courtyard by Marriott is unquestionably on the verge of creating a benchmark in the sector."
Since it first opened its doors more than 35 years ago, Courtyard by Marriott has been dedicated to creating an environment where great things can happen. Today, Courtyard is the hotel brand of choice for ambitious and enterprising guests who see business travel as a driver of personal fulfillment and professional growth.
Courtyard by Marriott is expected to be an ideal fit South Punjab and Multan. Multan, being the fifth-most densely populated city in Pakistan, serves as South Punjab's economic and cultural hub. The new collaboration between Imarat and Marriott International aims to meet the demand for quality hospitality accommodation in the market.
IMARAT Group, one of Pakistan's top real estate player, continues to construct and develop major projects that are coherent with the concept of transforming the real estate dynamics in the country. IMARAT's top notch construction and property management seeks to assist Pakistan in making a name in the international hospitality sector.
Hilton Signs Six New Luxury Hotels in Asia Pacific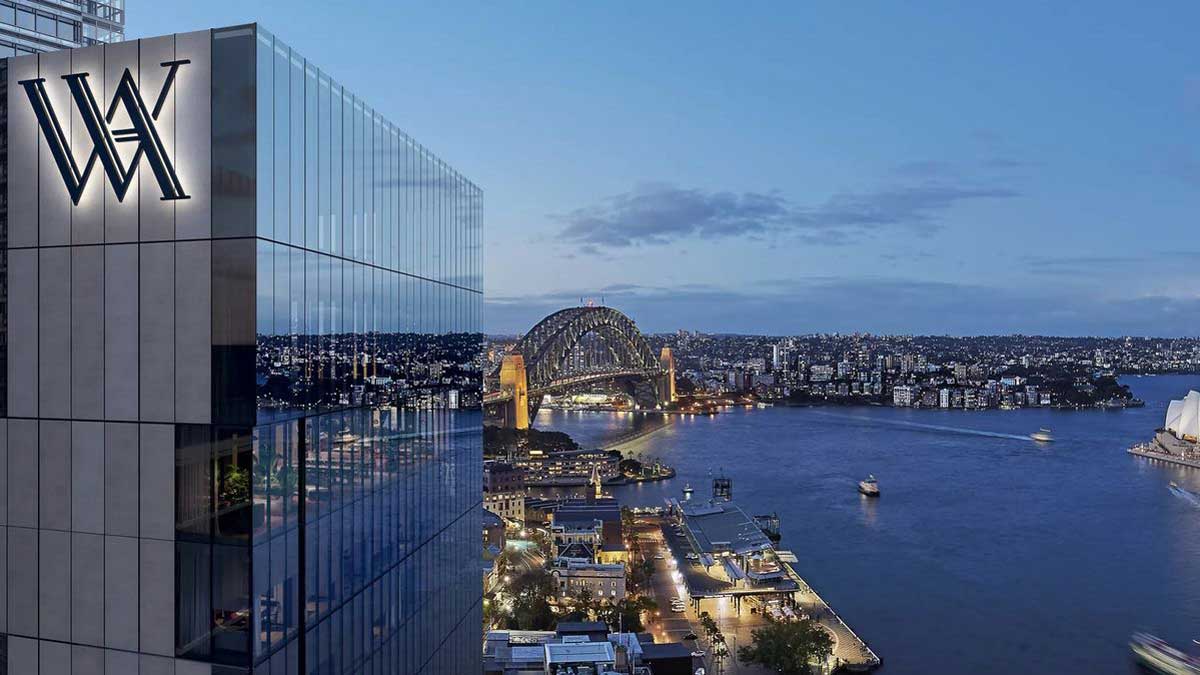 Leading global hospitality company Hilton (NYSE: HLT) has announced six landmark signings in Asia Pacific (APAC) across its portfolio of luxury brands – Waldorf Astoria Hotels & Resorts, Conrad Hotels & Resorts and LXR Hotels & Resorts – in the year to date, a mark of growing optimism in luxury travel across the region.
With the signing of Waldorf Astoria Xi'an, Waldorf Astoria Shanghai Qiantan, Waldorf Astoria Kuala Lumpur, Waldorf Astoria Sydney, Conrad Nagoya and an LXR Hotels & Resorts property in Bali, Hilton's pipeline of luxury hotels in the region increases to 20. When these hotels open in the coming years, travellers will enjoy an exquisite portfolio of more than 50 luxury hotels across Asia Pacific.
With a growing middle class, increased consumer spending and an underserved lodging market, Asia Pacific presents a US$10 trillion consumption growth opportunity over the next decade.
Alan Watts, president, Asia Pacific, Hilton said, "Hilton is Asia Pacific's fastest growing hospitality company, and that signals the confidence that owners and developers have in our ability to capture growing demand and deliver strong returns in APAC's most sought-after destinations. We share the optimism that owners and developers have about the future of luxury travel and appreciate the importance they place on partners and brands that will optimize their yield. As we continue to pursue quality organic growth and enhance our network effect, we too stay focused on prioritizing the right partnerships to deploy the right brands in the right locations."
Post-pandemic recovery has prompted increasing owner and developer interest in hospitality real estate, as the APAC hotel investment volume in 2021 grew 46% year-on-year to exceed US$12 billion, and investors focused on acquiring luxury or resort assets. The luxury travel segment is also expected to burgeon as 42% of APAC consumers who intend to take an international trip seek out luxury experiences.
"These signings mark an incredible moment for our luxury brand portfolio as we expand Waldorf Astoria, Conrad, and LXR throughout five countries in the region, offering even more opportunities for travelers to immerse in our authentic approach," said Dino Michael, senior vice president & global category head, Luxury Brands, Hilton. "From Waldorf Astoria's intuitive service, to Conrad's bold design and LXR's culturally immersive experiences, the hotels continue to showcase innovation and deliver on what guests are looking for in their stay. This expansion reinforces the appeal of the brands globally, and is a true testament to the team members who bring luxury to life."
Hilton's latest signings mark a further closing of key city gaps as its award-winning luxury brands debut or expand in key travel destinations such as Japan, Australia, Malaysia, Indonesia and China.
China in particular holds great potential in shaping the future of luxury travel as it is home to the world's largest consumer economy and is set to become the largest luxury goods market by 2025. Travel demand is also shifting as the country's new generation of young and discerning travelers seeks higher levels of personalization, wellbeing, sustainability and quality in their luxury travel experience.
The signings of Waldorf Astoria in Xi'an and Shanghai Qiantan put the brand on track to double its portfolio in China and offer its unrivalled luxury in eight world-class hotels. When open, Waldorf Astoria Xi'an will be one of the tallest buildings in this ancient capital of the 13 Dynasties. Designed by the famed design firm, Yabu Pushelberg, the hotel will draw inspiration from the city's rich millennia-old culture and integrate oriental elegance into modern design. Waldorf Astoria Shanghai Qiantan will mark the city's second Waldorf Astoria hotel. Located in Shanghai's brand-new CBD – the New Bund area – the hotel will boast panoramic views of the Huangpu River and immerse guests in the tranquility and glamour of China's commercial capital.
Today, there are more than a dozen Conrad hotels operating in China. When the other nine hotels in the country's pipeline open – including Conrad Shenzhen and Conrad Chongqing next year – guests will be able to enjoy the discreet yet sophisticated luxury that the brand is known for in more than 20 destinations.
Four Seasons Hotel New York Downtown Celebrates New York Fashion Week with Acts of Love
Four Seasons Hotel New York Downtown, the award-winning luxury lifestyle hotel located in the heart of TriBeCA, is launching Acts of Love – three dedicated moments for guests and locals to engage during Fashion Week. From Friday, September 9 through Thursday, September 14, 2022, the Hotel lobby will be transformed into a vibrant and whimsical escape.

Three Acts of Love will take over the lobby of Four Seasons Hotel New York Downtown:
Love is the Scent of Fresh Blooms: Famed artistic director and celebrity floral designer Jeff Leathamwill curate five dazzling floral arrangements that will flow throughout the lobby. Leatham's bold and colourful vision will unfold through cascading designs that will transform the lobby into THE Instagram spot to visit during Fashion Week. Guests can also pick the perfect flower to take home from the Four Seasons flower cart.
Love is a Letter from the Heart: Guests can immerse themselves in the lost art of letter writing at the bespoke Letters of Love postcard experience in collaboration with fashion designer Christian Siriano, who created custom-designed postcards exclusively for Four Seasons.
Love is Sweet: After dropping the postcard in the heritage mailbox, guests can enjoy a sweet treat from the specialty gelato cart.
The Spa at Four Seasons Hotel New York Downtown is ready to pamper and treat Fashion Week guests who need a respite from the busy week with Acts of Love that focus on self-care and wellness.
Guests can book an appointment to experience NextHealth's IV Therapy during a special pop up at The Spa. Four IV treatments will be available including:
Glamour IV to enhance the skin's overall glow from the inside out with revitalizing and collagen-boosting ingredients such as vitamin C, L-Lysine, and biotin that will leave skin looking supple and hair feeling hydrated.
Super Immune IV to supercharge the immune system with a potent combination of vitamin C, magnesium, vitamin B5, antivirals, and other essential vitamins and minerals for boosted bodily defences.
Energy Plus to fuel and enhance mental and physical vitality with energy-boosting ingredients such as L-Carnitine, vitamin B12, and potent amino acids.
Detox to encourage the elimination of toxins and harmful substances with powerful ingredients such as lysine, taurine, and antioxidants for a fully refreshed feeling.
The Spa is launching new skincare products and services with Augustinus Bader, the science-backed and award-winning luxury skincare brand best known for The Method Facial. The Method uses Augustinus Bader's groundbreaking technology to create a one-of-a-kind, highly sophisticated facial experience. The facial promotes a sequence of personalized regenerative processes for skin hydration, firmness, evenness, and protection against environmental aggressors.
Four Seasons Hotel New York Downtown is the official hotel partner for Vogue's inaugural Vogue World Fashion Experience. Fashion Week guests will receive a special welcome amenity created by Executive Chef Maria Tampakis and three expert Four Seasons executive pastry chefs including: Rhonda Ashton, Four Seasons Jackson Hole; Eddy Dhenin, Four Seasons Minneapolis; and Rob Differ, Four Seasons One Dalton Street, Boston.
The Acts of Love experience will be open to guests and locals during the following times:
Friday, September 9: 4:00– 8:00 pm
Saturday, September 10: 1:00– 4:00 pm
Sunday, September 11: 4:00– 8:00 pm
Monday, September 12: 8:30 am – 12:30 pm
Tuesday, September 13: 4:00– 8:00 pm
Wednesday, September 14: 4:00– 8:00 pm