Countries urged to act on universal social protection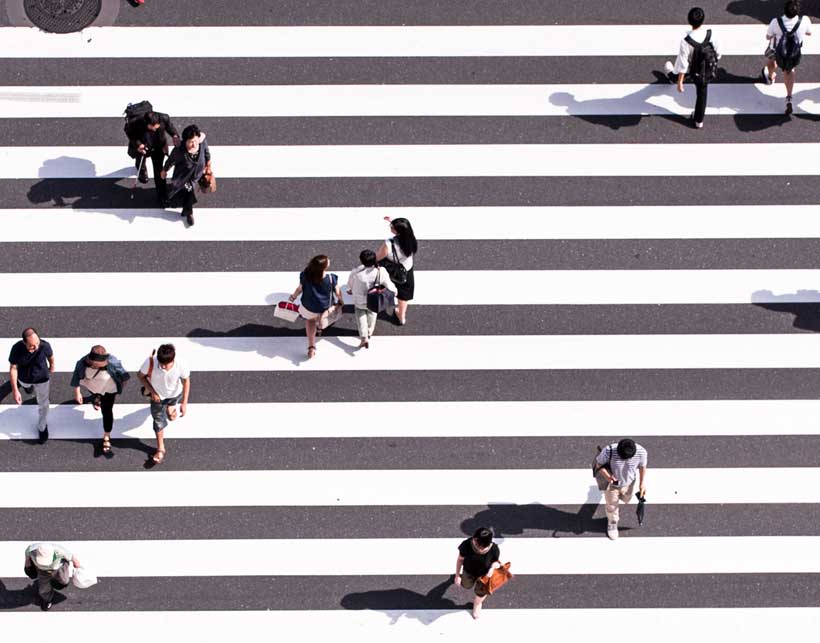 Countries have been called on to develop their national social protection systems, which comprise basic, lifelong social security guarantees for all, for health care and income security.
A Call to Action  to this effect was issued by members of the Global Partnership for Universal Social Protection  (USP2030), who convened at a high-level conference at the International Labour Organization (ILO) headquarters on 5 February 2019. The Call to Action refers to earlier member State commitments, particularly to end poverty, undertaken within the Sustainable Development Agenda .
Universal social protection ensures that anyone who needs social protection can access it at any time. This includes child benefits, pensions for older persons and benefits for people of working age in case of maternity, disability, work injury or for those without jobs.
"The ILO Constitution teaches us that poverty anywhere is a threat to prosperity everywhere. Social protection for anyone in need, at any age, helps ensure against that threat," said Deborah Greenfield, ILO Deputy Director-General.
Countries in many parts of the world have achieved universal coverage, such as Bolivia, Cabo Verde, Lesotho, Mongolia, Namibia, South Africa and Timor Leste. Mongolia, for instance, has been able to provide universal old age and disability pensions, as well as universal maternity and child benefits.
However, more than half of the global population (4 billion people) still has no access to even one social protection benefit. Forty-five per cent of the global population receives only one social protection benefit. Progress has been best in old-age pensions, with 68 per cent of older persons receiving a pension. However, child and family benefits are limited to one third of the world's children: 1.3 billion children do not have social protection. The numbers worsen for persons with disabilities: only 28 per cent receive social protection benefits.
"Social protection is an essential tool for reducing poverty and a fundamental human right," said Michelle Bachelet, UN High Commissioner for Human Rights. "Enshrined in the Universal Declaration of Human Rights, this right protects persons in situations of vulnerability, including the elderly, unemployed, sick, injured or living with a disability and those in need of maternity care, so they can retain their fundamental dignity," she added.
In many countries, there are still large coverage gaps and inadequate benefits. One challenge, discussed by meeting participants, is the long-term willingness and capability of governments to invest in the expansion of social protection to all, including informal and gig economy workers and women who may work their whole lives but receive no pension.
"Universal social protection is critical: it raises household incomes, consumption and savings, boosting aggregate demand and enhances people's resilience in the face of shocks, such as those that may result from climate change and structural transformations coming, for example, from new technology affecting work," said Michal Rutkowski, Senior Director, Social Protection and Jobs Global Practice, World Bank.
Another challenge is how to secure sustainable and equitable financing for social protection. According to the Organization for Economic Co-operation and Development (OECD), developing countries spend just 7 per cent of GDP on social protection whereas OECD countries spend nearly three times that.
"It's time to make universal social protection a reality. It's sound economic policy," said Isabel Ortiz, ILO Director of Social Protection. "To the question about how to finance universal provision," she added, "there is fiscal space to extend social protection even in the poorest countries, some of which have been using a number of alternative options supported by international organizations."
Universal social protection is achieved through national policies and programmes that provide equitable access to all people and protect them throughout their lives against poverty and risks to their livelihoods and well-being. This protection can be provided through a range of mechanisms, including via cash or in-kind benefits, contributory or non-contributory schemes, and programmes to enhance human capital, productive assets and access to jobs. The provision of a social protection floor for all people in developing countries costs as little as 1.6 per cent of their gross domestic product (GDP) on average.
"There is a strong business case for social protection. We need to invest in it for development to occur and not wait for development to put it in place. Additional finance can be provided by the private sector, cash transfers and governments who fight tax evasion and avoidance," said Gabriela Ramos, Chief of Staff and G20 Sherpa, OECD.
National action is required in five areas: protection throughout the life cycle; universal coverage; country-level ownership; sustainable and equitable financing, both domestic and international; and participation and social dialogue.
The Global Partnership for Universal Social Protection (USP2030) supports countries, accelerating progress in building their social protection systems. All countries are invited to join the partnership.
Solutions to Strengthen Digital Infrastructure for Learning in India
As part of its Education 4.0 India initiative, the World Economic Forum has launched a new Education 4.0 India Report on how digital and other technologies can address learning gaps and make education accessible to all.
The Education 4.0 India report is the result of a collaboration between the World Economic Forum, the United Nations Children's Education Fund (UNICEF) and YuWaah (Generation Unlimited India). It tracks the progress and findings of the Education 4.0 India initiative, which focuses on how Fourth Industrial Revolution technologies can enhance learning and reduce inequalities in access to education among children in India. The report also explores challenges and identifies solutions that can be realized as scalable interventions to enable India's youth to participate in the evolving workspace.
Education 4.0 India aims to address the disparities in India's education sector and to empower and engage young people. It proposes a roadmap to improve India's school system and serves as a call to action to all stakeholders in the ed-tech space to come together to transform the sector.
The report also provides a framework for the development of scalable pilots that can be implemented by state governments and ecosystem partners. This includes best practices that can augment the existing education ecosystem and be useful for a wide range of stakeholders. The report identifies gaps in foundational literacy and numeracy, teacher professional development, school-to-work transition and connecting the unconnected and suggests solutions with five common building blocks – curriculum, content, capacity, community and digital infrastructure.
Jeremy Jurgens, Managing Director, World Economic Forum, said: "The COVID-19 pandemic has widened the gaps in learning outcomes among school children in India. These gaps have been magnified for children particularly from disenfranchised and vulnerable families who face innumerable socio-economic issues that also have been worsened by the pandemic. Through the Education 4.0 India initiative, the Forum, together with UNICEF India and YuWaah, aims to offer insights and recommendations that transcend the education landscape in India and can achieve global impact. This is the first partnership for the Forum and UNICEF at the country level."
Dhuwarakha Sriram, Chief of Generation Unlimited (YuWaah), Youth Development and Partnerships, UNICEF, said: "UNICEF and YuWaah have been working towards expanding learning, skills development, social impact and economic opportunities for young people in India. Coming together for the Education 4.0 India initiative with the World Economic Forum, the partnership aims to boost the efforts of the Government and private sector in these areas and to implement solutions at scale, while leaving no young person behind. The partnership drives a multistakeholder response to identify challenges, opportunities and priorities to develop solutions that can transform India's education sector."
Terry Durnnian, Chief of Education, UNICEF, said: "With the Education 4.0 initiative, World Economic Forum, UNICEF and YuWaah are working with partners to make education more accessible and inclusive for all children with a focus on the most vulnerable. The partnership aims to reduce drop-out rates, and improve learning outcomes by using more adaptive learning systems and community engagement. It leverages the power of collaborative thinking to identify and frame priority areas that would accelerate the progress on National Education Policy 2020 and be a game changer for the education ecosystem in India."
The Education 4.0 India initiative has convened over 40+ partners from education, technology, private, government, academic and start-up sectors. The report is a result of their deliberations and is aimed at building a robust strategy that can be widely implemented, while being cost-effective and sustainable. Under four themes – foundational literacy and numeracy, teacher professional development, school-to-work transition, and connecting the unconnected – the report identifies gaps and outlines interventions, each substantiated by case studies and an implementation roadmap to bring impact on scale.
Pakistan's Economy Slows Down While Inflation Rises Amid Catastrophic Floods
Pakistan's economy is expected to grow by only 2 percent in the current fiscal year ending June 2023. According to the World Bank's October 2022 Pakistan Development Update: Inflation and the Poor, the slower growth will reflect damages and disruptions caused by catastrophic floods, a tight monetary stance, high inflation, and a less conducive global environment. Recovery will be gradual, with real GDP growth projected to reach 3.2 percent in fiscal year 2024.
Poverty in the hardest-hit regions will likely worsen in the context of the recent flooding. Preliminary estimates suggest that – without decisive relief and recovery efforts to help the poor – the national poverty rate may increase by 2.5 to 4 percentage points, pushing between 5.8 and 9 million people into poverty. Macroeconomic risks also remain high as Pakistan faces challenges associated with a large current account deficit, high public debt, and lower demand from its traditional export markets amid subdued global growth.
"The recent floods are expected to have a substantial negative impact on Pakistan's economy and on the poor, mostly through the disruption of agricultural production," said Najy Benhassine, the World Bank's Country Director for Pakistan. "The Government must strike a balance in meeting extensive relief and recovery needs, while staying on track with overdue macroeconomic reforms. It will be more important than ever to carefully target relief to the poor, constrain the fiscal deficit within sustainable limits, maintain a tight monetary policy stance, ensure continued exchange rate flexibility, and make progress on critical structural reforms, especially those in the energy sector."
This Update also outlines potential strategies to manage the impacts of high inflation. Inflation in Pakistan is expected to reach around 23 percent in FY23, reflecting flood-related disruptions to the supply of food and other goods, higher energy prices, and difficult external conditions, including tighter global monetary conditions. The Update shows that the high inflation will disproportionately impact the poor.
"While relief measures are needed to cushion the impacts of flooding, it will be critical to ensure that these are targeted towards those most in need," said Derek H. C. Chen, author of the report. "Pakistan has previously resorted to energy subsidies, but our analysis shows that such measures disproportionately benefit better-off households, while imposing unsustainable fiscal costs. Going forward, the priority should be to tame inflation through sound macroeconomic policies. These should be accompanied by measures to provide targeted relief to those hit hardest by rising prices, including through expanded social protection programs, and to address the distortions that discourage trade and productivity."
The Pakistan Development Update is a companion piece to the South Asia Economic Focus, a twice-a-year World Bank report that examines economic developments and prospects in the South Asia region and analyzes policy challenges faced by countries. The Fall 2022 edition titled Coping with Shocks: Migration and the Road to Resilience, launched on October 6, 2022, shows that growth in South Asia is dampening due to recent major global and regional shocks including rising inflation; the impacts of the global food, fertilizer and fuel shortages; the economic crisis in Sri Lanka; and the catastrophic floods in Pakistan. It also analyzes the impacts of COVID-19 on migration and the role labor mobility and migration can play in facilitating economic development.
First EU TalentOn brings science to life in competition to solve global challenges
By HORIZON STAFF
Criss-crossed by a network of canals, the city of Leiden (pop. 120 000) is just 16km north of Dutch capital The Hague. It has been welcoming scholars since the first university in the Netherlands was established here in the late 16th century.
Recognised as a centre of scientific study from the 17th century onwards, it is fitting then that this year, Leiden is the European City of Science 2022 and the city threw open its doors to the first ever EU TalentOn competition, an event where young academics from all over Europe compete to find the best solutions to major challenges.
The three-day intensive event sees teams of four collaborating to develop new solutions to some of society's most important challenges in a short timeframe.
The pressure-cooker format means that time is limited so the normally deliberative approach of scientists is thrown out in favour of a fast turnaround time from idea to solution.
Big challenges
The challenges were drawn from the five EU Missions which are Adaptation to Climate Change, Cancer, Restore our Oceans and Waters, 100 Neutral and Smart Cities and a Soil Deal for Europe. The EU Missions pool resources to devise concrete solutions to some of our greatest challenges by 2030. Follow the link for more information about the Horizon EU Missions.
Teams of four competed for cash prizes in each Mission category while the overall winner of the inaugural EU TalentOn as decided by a jury of 18 was a project called ROOTED, by the team SoilFix.
'We developed a platform that will allow people to restore urban soils in their neighbourhoods or in the vicinity of their buildings' said Roberta Gatta, the SoilFix spokesperson who explained the project to Horizon Magazine.
Soil community
She describes the purpose of the SoilFix platform. 'This is a community-based project so people can spot an area in their neighbourhood where they think there is a need for some kind of restoration of the soil. They report it, start crowdfunding and make the transformation happen.'
The platform brings citizens living in urban communities into contact with soil experts who give scientific advice and partners who plan and coordinate the project. Community engagement and expert advice are key to improve soil health because even in urban areas, soil forms a complex ecosystem that needs to be kept in balance.
For example, even soil bacteria have communities and it's far better if these microorganisms are from the local environment. 'Our idea was to somehow restore the biodiversity of these soils and to supply local (microbial) strains to the soil,' said Roberta.
There have also been unfortunate cases where trees planted in an urban area to green it have been welcomed initially but within a few years, the growing roots undermine nearby houses.
Within a couple of days, these four scientific strangers combined their knowledge, worked out the science and business models of the platform, and built a demonstration app they dubbed ROOTED to show how it works. They included educational elements to attract students because they are likely to be involved in such community projects.
'Our major point is to reduce the concrete in our cities and make our cities greener,' said Roberta, 'And more like Leiden, let's say,' she said, half-joking.
Greenery lacking
The four members of SoilFix had never met before applying for EU TalentOn. They are from different countries and scientific disciplines but during the early brainstorming sessions, they found they had one thing in common. They each come from cities that have a distinct lack of greenery.
'This was the first thing we noticed when we arrived in Leiden. The whole idea is based on the difference between Leiden and our cities.'
Beyond the scientific elements, the real challenge for the SoilFix team was to create a product. The EU TalentOn is unique in the way it introduces highly specialised academics to the world of business and challenges them to come up with consumer-facing solutions.
'We decided to go behind the science and try to create something that everyone could understand, not only scientists. And for us this was the challenge,' said Roberta. 'Try something that was not entirely science, but that can share science with people.'
Comfort zones
'Many of the scientists are challenged to get outside of their comfort zones because usually they might have several months or even years to evolve their research projects,' said Henrik Scheel, the "Mission Navigator" and head coach for the teams at the EU TalentOn. 'And now they're asked in two days to define a problem and come up with a world-changing idea.'
Scheel is based in Silicon Valley, the high-tech innovation hub in California which is home to technology companies like Apple, Google and Intel. 'Silicon Valley' is a byword for transformative, rapid innovation. He works as an investor and business founder but also as an educator, coaching students in entrepreneurial skills.
'I spend most my time working with young innovators around the world on helping them bring their ideas to life,' says Scheel, 'And solve big problems in their communities and in their countries and regions.'
With the effects of the pandemic and climate change being keenly felt, amongst other things, have there been any noticeable changes in the world of innovation in recent years in his view?
Changed innovation
One thing that's clear to him is, 'People are a lot more ambitious' now. Investors and entrepreneurs have a new attitude, they want to build businesses that make money while doing good, 'not just create another app to order pizza or hail a cab,' said Scheel.
Another feature he's seeing is that European start-ups will operate in the US and elsewhere but stay rooted in Europe. 'There's a lot of collaboration and the world has just become a lot more globalised,' said Scheel. 'Teams are born global and stay that way, with distributed teams that are able to grow much faster and be more agile.'
EU TalentOn's ambition is to promote an entrepreneurial mindset in scientists. The SoilFix team are actively developing their idea to take their idea to the next level. Used to resolving challenges in a lab, they are learning how to navigate the maze of business rules and legal requirements.
But it's as Scheel tells his students, 'The bigger the challenge, the bigger the opportunity.' He is a big fan of the EU TalentOn format in which academics must think more like entrepreneurs.
'I do think one of the big opportunities here is to merge these two worlds, the start-up world and the more academic scientific world,' he said. 'And by bringing those things together, you can have real scientific projects that are being tested and brought to life much faster than what is currently being done.'
his article was originally published in Horizon, the EU Research and Innovation Magazine.