The Opening Of W Dubai- The Palm Marks First W Escape In The Middle East
The desert just got hotter. W Hotels Worldwide, part of Marriott International Inc., today announced the opening of W Dubai – The Palm, located on the Palm Jumeirah, the largest man-made island in the world and one of Dubai's most iconic attractions. W Dubai – The Palm is the newest W Escape, the W brand's playful spin on the traditional resort experience and is set to add a new beat to the already dynamic and pulsating city. With its electrifying style, evocative design and eclectic destination restaurants led by world-class chefs including Massimo Bottura and Akira Back, W Dubai – The Palm will shine bright in the famed City of Gold.
"Much like W has redefined modern luxury, Dubai is a city that is firmly in charge of writing its own narrative, fearlessly embracing the future through design, technology and global culture," said Anthony Ingham, Global Brand Leader, W Hotels Worldwide. "The energy and marvel of this incredible city make it the perfect destination for a W Escape – our unique take on a resort holiday – where the bold style, iconic service and signature scene of a W come to play."
Splendor of Sight and Sound
The breathtaking design of W Dubai – The Palm celebrates the evolution of one of the most dynamic cities in the world, seamlessly juxtaposing the organic, natural curves of sand dunes and coastline with the marvel of the geometric lines of the city's skyscrapers. It begins with the hotel's iconic "W" sign patterned to resemble an evaporated desert river bed and the WHEELS (valet) area reminiscent of a falage, a cavernous riverbed covered by palm fronds. Leading guests into the hotel is a stunning display of Orsoni glass tiles in colors inspired by overgrown foliage which reflect the golden sun on the horizon. A head-raising, five-story atrium envelopes the Welcome Desk, a nod to desert fortresses and citadels of long ago. Golden trusses comprised of framed boxes sparkle throughout the space, representing different stages of modern construction in Dubai, a common sight of the ever-changing cityscape, and sit upon carpets that depict the island's surrounding waters reflecting both construction and clouds. Completing the dramatic entrance is "The Soundwave" – a 6.5 ton, 30m long visual vector that represents a W sound wave. With 640 glass pieces, the towering fixture puts on a show of its own, illuminating in alternating intensities and colors to reflect the beats of the DJ in the neighboring W Lounge.
The W Lounge (lobby) is a stage to see and be seen and celebrates the city's well-known love of opulence with several geometric fixtures that mimic the raw, natural form of gold. An artistic interpretation of a traditional fire pit sits in the center of the W Lounge, signifying the bonfires that Bedouin tribes would gather around during their desert travels years ago. Connecting the W Lounge to the nearby VIP Lounge is a 13.5-meter sofa in muted earth tones, representing a desert mountain range – the skyscrapers of the past.
Hit Escape
All 350 guest rooms and suites offer uninterrupted views and dreamy amenities. Curved walls are intricately tiled to glisten like the lights and colors of the sea at various times of the day, bringing the shoreline into each room. Modern graffiti adorns the walls of every room, featuring lyrics in Arabic from an iconic song by Lebanese singer, Fairouz.
After checking in, guests can check out the incredible amenities of W Dubai – The Palm, including the hotel's multiple pools that sit in a wave-like pattern in the center of the Escape to form the W brand's iconic WET® Deck experience directly facing a fabulous beach with views of the Dubai skyline. Here, guests can swim, soak up the sun and enjoy signature beverages while listening to live DJ performances. The W brand's signature AWAY® Spa invites guests to 'Stroll in and Strut out' offering ten treatment rooms, a steam room, sauna, experiential showers, a hammam and a couples' suite. Guests are treated to a design inspired by the underwater perspective of a pearl diver, where iridescent shells reflect the sunlight that peeks through the ocean above. Relaxing, social and surreal, the space also features a Beauty Bar for touch-ups and 'Quick Fix' treatments. Lastly, guests can sweat it out at FIT (gym) which boasts state-of-the-art equipment overlooking the WET Deck, beach and skyline views, featuring abstract art inspired by the graceful forms of both jellyfish and the parachutes of adventure-seeking skydivers.
Indulge the Senses
W Dubai – The Palm is set to infuse even more decadence into Dubai's booming, multicultural culinary landscape with six beverage and food destinations. Translated as "I will be right back," Torno Sobito is the first restaurant outside of Italy by global culinary genius, Chef Massimo Bottura – whose Osteria Francescana has been feted as the "World's Best Restaurant." The new destination restaurant borrows the phrase from the signs that hang in closed store fronts along the Italian Riviera of Massimo's childhood. From the minute guests step through the doors to the last morsel, Massimo mixes deeply personal nostalgia with the decidedly avant garde in a masterful yet playful menu of his favorite recipes. The dishes and design of Torno Subito lean in to Dubai's reputation for all things playful. Guests dig into Massimo's favorite bites inside converted rescue boats and pedalos (paddle boats) and can choose a flavor from the roving gelato cart. Massimo, like W, has an eye for irreverence, which is evident in the options for decadent pasta bowls ordered by size: medium and large. Guests dine in a 60's-esque wonderland, decked with woven green chairs, life sized beachfront imagery, bold metallic accents adorning the ceilings and walls, and lighting reminiscent of dressing rooms and marquees from the golden age of Hollywood.
Pro snowboarder turned adrenaline-fueled culinary master Chef Akira Back brings his modern taste of Japanese cuisine prepared with a Korean essence to the Middle East for the first time at Akira Back. The entrance is marked by a vortex, meant to instantly transport guests to Back's world. Inside, the design is inspired by "Wabi-Sabi," the Japanese art of finding beauty in imperfection and acceptance of the natural progression of growth, life and death. The walls of Akira Back are accented with shattered porcelain intricately arranged in inlaid concrete patterns.
SoBe (short for South Beach) is an adults-only playground inspired by the eclectic and vibrant spirit of Miami. This is the only rooftop bar in Dubai where guests can watch the sun sink into the Arabian Sea with 360-degree views to watch as the Dubai skyline lights up each night. Serving up eclectic live DJ performances, imaginative cocktails, and even tattoo artists, there will be nothing else like it in the city.
LIV offers guests greener, lighter, fresher and brighter options for breakfast, lunch and dinner and was designed using only upcycled materials, meaning no new materials were created to build the venue. The restaurant is sprinkled with artwork inspired by the patterns left on beaches by sand bubbler crabs, the official mascot of W Dubai – The Palm.
Scene Stealer
W Dubai – The Palm adopts a bold approach to take events from ordinary to extraordinary. Featuring over 2,000 square meters of event space, W Dubai sets the stage for any elaborate occasion. The sprawling 1,215-square-meter Great Room boasts an extraordinary oval shape, sensually designed with rotating walls letting in (or blocking out) the dazzling Arabian sun. Custom lighting features allow W Dubai to personalize each event, lighting up the scene with a myriad of colors. The Green Room serves as a holding area for events and weddings and features light pendants reminiscent of wedding bands and carpeting adorned in henna-like patterns.
"We are excited to bring the W brand to Palm Jumeirah with the highly anticipated opening of W Dubai – The Palm," said Alex Kyriakidis, President and Managing Director, Middle East and Africa, Marriott International. "As our first W Escape in the region, W Dubai – The Palm combines the city's unique allure with the brand's bold design and dynamic lifestyle and gives it a locally relevant twist. With game-changing style, amplified entertainment and innovative culinary offerings, this W Escape will inject a fresh vibe into the local hospitality scene and offer the most sought-after luxury getaway for locals as well as global jet-setters."
Navarino Agora, a microcosm of handpicked experiences to launch on 1 July 2023
Costa Navarino, the sustainably driven destination in the Mediterranean, located in the Greek region of Messinia, southwest Peloponnese, introduces Navarino Agora. This new curated marketplace and incubator of art and culture will enrich the Messinian experience for everyone who visits or lives in the region. The contemporary take on the ancient agora concept, is in a privileged seaside setting at the Navarino Waterfront area and will open on 1 July.
Navarino Agora will welcome all guests and homeowners of Costa Navarino, as well as locals and visitors of Messinia, in a vibrant, multicultural environment where tradition meets modernity. The new market will showcase handpicked retail, restaurants and street food venues, an open-air cinema, VR entertainment, alongside a rich program of events featuring music and dance performances, art and book exhibitions, antiques bazaar and much more, introducing visitors to both local and international cultural experiences.
Across more than 20 retail venues, visitors will find a wide range of luxury and handcrafted clothing, shoes and beachwear, accessories, eyewear, jewellery, beauty and health products, books and homeware, alongside beauty and travel services, and a museum shop.
Various partnerships which encapsulate Costa Navarino's multifaceted character and experience-based philosophy, will enrich the offering at Navarino Agora.
As part of the collaboration between the internationally acclaimed Kalamata Dance Festival and the Captain Vassilis and Carmen Constantakopoulos Foundation, Navarino Agora will host two dance performances during July. Within the same month, further events which aim to showcase the local cultural heritage will be held in partnership with the Foundation, starting with a music performance inspired by Ancient Messinia, while the first book bazaar will also take place.
In August, the first antiques bazaar will be held, while a classical music concert, part of the "International Kalamata Music Days" festival, will welcome visitors.
Through the strategic partnership with the Athens School of Fine Arts, students will showcase their work during the "Art Market" that will be held in September. Within the same month, the open-air cinema will host the curated program "Oxbelly Nights" in collaboration with Danaos Cinema and the renowned Greek nonprofit Oxbelly, founded by producer Christos V. Konstantakopoulos, presenting the opportunity to enjoy masterpieces on the big screen and have a discussion of the film with talent in attendance.
In a welcoming environment where creativity flourishes, Navarino Agora will also play host to portrait sketching, storytelling of myths and legends, and regular music and dance performances in association with local cultural organizations.
Complemented by a wide variety of dining options, ranging from Mediterranean and fusion cuisine to street food venues with Greek, Middle Eastern and seafood flavors, alongside ice-creams, wines and beverages, visitors will benefit from an abundant choice of offerings. The gastronomy front is further enriched through olive oil tasting sessions, introducing participants to its discerning characteristics and subtle flavors. Furthermore, Navarino Agora will host local cheese and wine pairings, a lively open-air market with fruit & vegetables, and a wine festival in October.
Hilton Expands Presence in Mexico with the Debut of Hilton Monterrey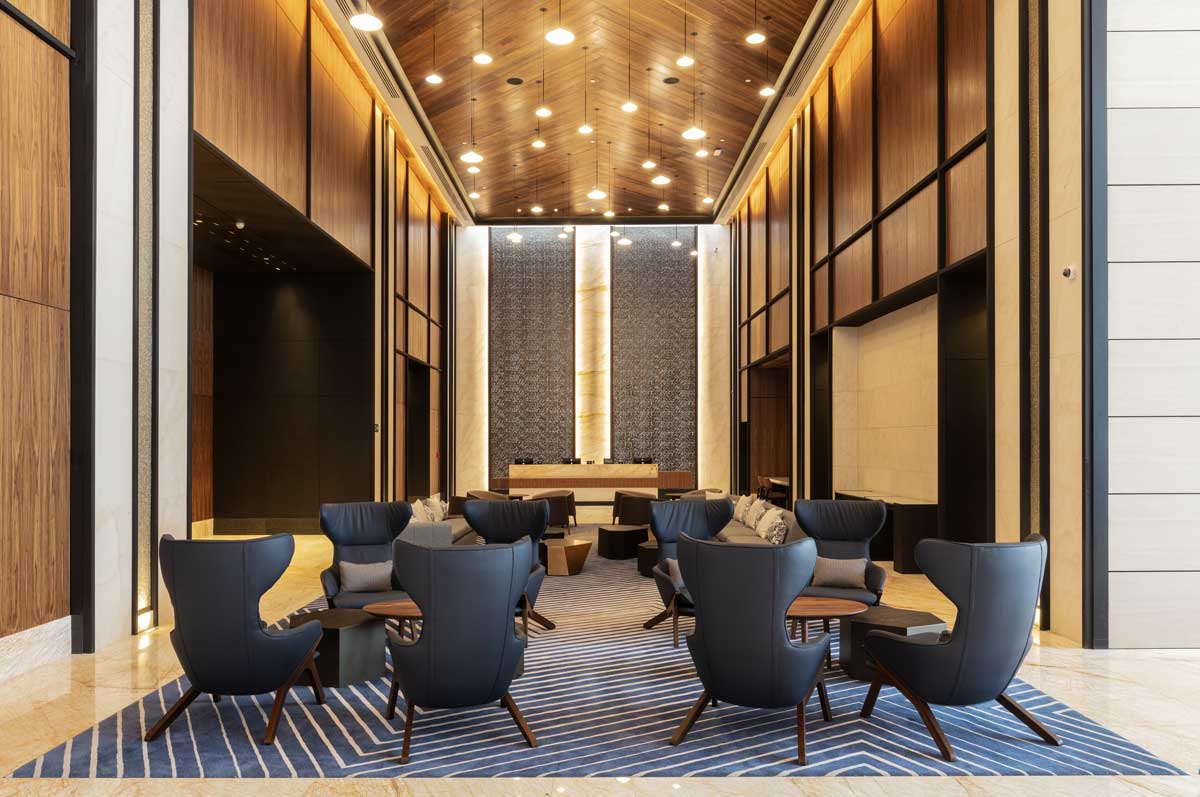 Hilton today announced the opening of Hilton Monterrey, located in the business and financial district of the capital city of Nuevo León, Mexico. With an emphasis on efficient design and conscious travel, from its farm-to-table restaurant and energy-conserving technology, the 225-room property provides a modern urban oasis with the intuitive service and world-class amenities of Hilton Hotels & Resorts to deliver an exceptional stay for mindful business and leisure travelers.
"As our ninth Hilton property in this thriving metropolis and industrial hub, we are delighted to debut Hilton Monterrey as part of our growing portfolio in Mexico," said Jorge Giannattasio, senior vice president and head of operations, Caribbean and Latin America, Hilton. "We look forward to welcoming guests and locals alike to this stylish hotel where they can experience our elevated accommodations and enjoy a cocktail at the rooftop bar, served with our signature hospitality for which Hilton is known."
Hilton Monterrey is conveniently located just 23 miles from Mariano Escobedo International Airport in the heart of the commercial district and connected to Galerías Valle Oriente Mall. The modern city of Monterrey lies north of the Sierra Madre Oriental Mountain range. Although historically known as an industrial city, Monterrey is rich in history and art, with the hotel located five miles away from the Mexican History Museum, Paseo Santa Lucía, the Museum of Contemporary Art and Fundidora Park.
"We're thrilled to bring Hilton Hotels & Resorts to Monterrey, growing our flagship brand's ever-expanding presence and best-in-class hospitality offerings in Mexico," said Leonard Gooz, global brand head, Hilton Hotels & Resorts. "Hilton Monterrey offers thoughtful service, energizing, inviting spaces beautifully designed to reflect the destination, locally influenced dining options and memorable meetings and events, delivering an exceptional stay for business and leisure travelers alike."
Accommodations with Inspired Design
Under the creation of world-renowned hospitality design firm Hirsch Bedner Associates (HBA), Hilton Monterrey's design concept highlights the city's contrast of urban architecture and its surrounding natural beauty. A neutral palette offset by dark contrasting tones and elements of misty blue reflects the area's beautiful landscape. Elements of stone, wood and metals combine to create a tranquil ambiance for relaxation or work.
Hilton Monterrey's 225 rooms offer guests a choice of unobstructed city skyline views or sweeping mountain views paired with amenities that deliver the comfort and convenience for which Hilton is known, including complimentary high-speed Wi-Fi, 55-inch flat-panel HDTVs, a dedicated work desk, rainfall shower, ample closet space and more. The design places high importance on energy efficiency, from heat recovery systems to save natural gas, to water-saving toilet tanks and showers, and an automation system that maintains the rooms at a certain temperature when guests are out exploring the city.
The elegantly appointed presidential suite represents the height of sophistication at Hilton Monterrey with its floor-to-ceiling windows, spacious living area, kitchenette, well-appointed king bed, desk for a quiet work area, access to the Executive Lounge, and oversized, modern bathroom with a free-standing soaking tub.
Dining to Inspire the Senses
Hilton Monterrey is home to three onsite dining experiences for guests and locals alike. Chef Alejandro González leads Hilton Monterrey's culinary vision using innovative techniques and creating experiences that go beyond the senses with dishes inspired by the traditional cuisine of Mexico and grounded on sustainable practices and respect of the seasonality of the local ingredients.
Farm-to-table seasonal restaurant Härth is open for breakfast, lunch and dinner, serving local and international cuisine with sustainable ingredients from local and regional vendors. Dishes that will tantalize the taste buds include shrimp ravioli with spicy tuna tartar in a Huancaína sauce and Tetela, a triangular corn tortilla filled with duck confit, breaded egg yolk and pea sprouts, served over homemade mole. The hotel's signature Härth Bar, located adjacent to Härth, serves all-day fresh cocktails with seating available on its terrace. On the rooftop, guests can discover Wander, the hotel's rooftop bar and lounge serving up the best views in the city along with cocktails and a special selection of international street food.
Flexible Meetings and Events Space
With eight meeting spaces spanning over 12,000 square feet, Hilton Monterrey's flexible event space can accommodate a variety of settings from small social gatherings to large business conferences. Venues include an exquisite pre-function foyer and outdoor terrace, the triple-height, 24-foot ceiling Magnolia ballroom that can host up to 600 attendees, a boardroom and individual meeting rooms named after native trees of Nuevo León, all with onsite catering support available.
Hilton Monterrey participates in Hilton Honors, the award-winning guest loyalty program for Hilton's 19 world-class brands. Hilton Honors members have access to instant benefits, including a flexible payment slider that allows members to choose nearly any combination of Points and money to book a stay, an exclusive member discount and free standard Wi-Fi, and access to the Hilton Honors mobile app.
Hilton Monterrey is the latest addition to Hilton's rapidly expanding portfolio in Mexico, where guests are currently welcomed at approximately 90 hotels and resorts, with approximately 25 additional properties in development.
IMARAT signs Agreement to Construct its Fourth Hotel in Collaboration with Marriott International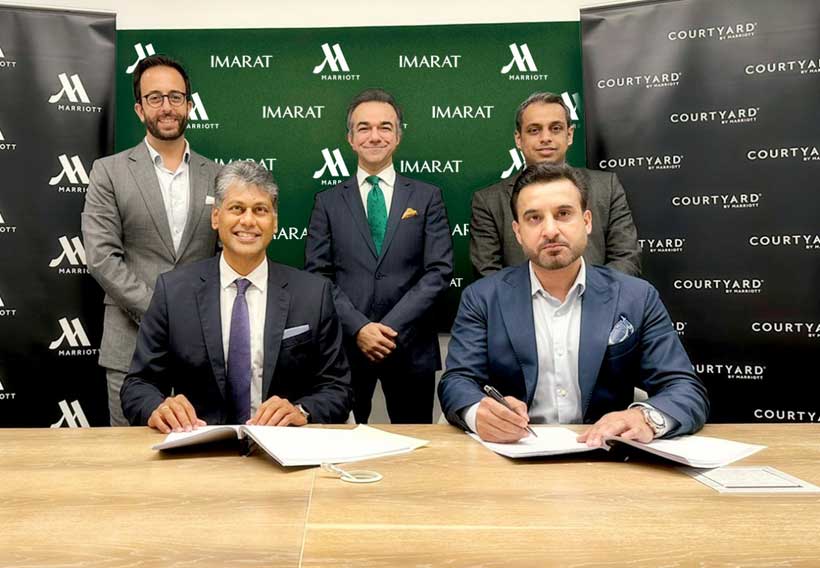 IMARAT Group has signed a franchise agreement with Marriott International to develop a Courtyard by Marriott project in DHA Multan. The signing ceremony took place at Marriott International's Office in Dubai.
Marriott International was represented in the ceremony by Satya Anand, President, Europe Middle East & Africa, Phil Andreopoulos, Chief Operating Officer, Owner and Franchise Services, Europe, Middle East & Africa, Chadi Hauch, Regional Vice President – Development, Middle East and Ziad Abi Raad, Director Lodging Development.
The event was attended by Chairman IMARAT Group, Mr. Shafiq Akbar, Director IMARAT Hospitality, Mr. Farhan Javed, IMARAT's Chief Commercial Officer, Mr. Saad Ahmed Awan.
Chairman IMARAT Group, Mr. Shafiq Akbar, while speaking on the occasion, said, "On this day, we are elated to witness the culmination of years of effort; a collaboration with Marriott International to construct Courtyard by Marriott in DHA Multan. I see this project as the 'Jewel of South Punjab', a state of the art hospitality initiative that will give Pakistan's, particularly South Punjab's hotel and tourism sectors a much-needed economic boost".
Satya Anand, President, Europe, Middle East & Africa, Marriott International commented, "We are delighted to strengthen our relationship with the IMARAT Group and expand our portfolio of in Pakistan. There is an unmet demand for hotel accommodation in South Punjab and with the Courtyard by Marriott Multan we look forward to supporting the expansion of the hospitality landscape in the market."
Expressing his views at the signing ceremony, Group Director IMARAT Hospitality, Farhan Javed said, "IMARAT envisions and executes projects to take the hospitality sector of Pakistan to a level where we are at par with the international standards. By offering the best services in the hospitality business, Courtyard by Marriott is unquestionably on the verge of creating a benchmark in the sector."
Since it first opened its doors more than 35 years ago, Courtyard by Marriott has been dedicated to creating an environment where great things can happen. Today, Courtyard is the hotel brand of choice for ambitious and enterprising guests who see business travel as a driver of personal fulfillment and professional growth.
Courtyard by Marriott is expected to be an ideal fit South Punjab and Multan. Multan, being the fifth-most densely populated city in Pakistan, serves as South Punjab's economic and cultural hub. The new collaboration between Imarat and Marriott International aims to meet the demand for quality hospitality accommodation in the market.
IMARAT Group, one of Pakistan's top real estate player, continues to construct and develop major projects that are coherent with the concept of transforming the real estate dynamics in the country. IMARAT's top notch construction and property management seeks to assist Pakistan in making a name in the international hospitality sector.