The Opening Of W Dubai- The Palm Marks First W Escape In The Middle East
The desert just got hotter. W Hotels Worldwide, part of Marriott International Inc., today announced the opening of W Dubai – The Palm, located on the Palm Jumeirah, the largest man-made island in the world and one of Dubai's most iconic attractions. W Dubai – The Palm is the newest W Escape, the W brand's playful spin on the traditional resort experience and is set to add a new beat to the already dynamic and pulsating city. With its electrifying style, evocative design and eclectic destination restaurants led by world-class chefs including Massimo Bottura and Akira Back, W Dubai – The Palm will shine bright in the famed City of Gold.
"Much like W has redefined modern luxury, Dubai is a city that is firmly in charge of writing its own narrative, fearlessly embracing the future through design, technology and global culture," said Anthony Ingham, Global Brand Leader, W Hotels Worldwide. "The energy and marvel of this incredible city make it the perfect destination for a W Escape – our unique take on a resort holiday – where the bold style, iconic service and signature scene of a W come to play."
Splendor of Sight and Sound
The breathtaking design of W Dubai – The Palm celebrates the evolution of one of the most dynamic cities in the world, seamlessly juxtaposing the organic, natural curves of sand dunes and coastline with the marvel of the geometric lines of the city's skyscrapers. It begins with the hotel's iconic "W" sign patterned to resemble an evaporated desert river bed and the WHEELS (valet) area reminiscent of a falage, a cavernous riverbed covered by palm fronds. Leading guests into the hotel is a stunning display of Orsoni glass tiles in colors inspired by overgrown foliage which reflect the golden sun on the horizon. A head-raising, five-story atrium envelopes the Welcome Desk, a nod to desert fortresses and citadels of long ago. Golden trusses comprised of framed boxes sparkle throughout the space, representing different stages of modern construction in Dubai, a common sight of the ever-changing cityscape, and sit upon carpets that depict the island's surrounding waters reflecting both construction and clouds. Completing the dramatic entrance is "The Soundwave" – a 6.5 ton, 30m long visual vector that represents a W sound wave. With 640 glass pieces, the towering fixture puts on a show of its own, illuminating in alternating intensities and colors to reflect the beats of the DJ in the neighboring W Lounge.
The W Lounge (lobby) is a stage to see and be seen and celebrates the city's well-known love of opulence with several geometric fixtures that mimic the raw, natural form of gold. An artistic interpretation of a traditional fire pit sits in the center of the W Lounge, signifying the bonfires that Bedouin tribes would gather around during their desert travels years ago. Connecting the W Lounge to the nearby VIP Lounge is a 13.5-meter sofa in muted earth tones, representing a desert mountain range – the skyscrapers of the past.
Hit Escape
All 350 guest rooms and suites offer uninterrupted views and dreamy amenities. Curved walls are intricately tiled to glisten like the lights and colors of the sea at various times of the day, bringing the shoreline into each room. Modern graffiti adorns the walls of every room, featuring lyrics in Arabic from an iconic song by Lebanese singer, Fairouz.
After checking in, guests can check out the incredible amenities of W Dubai – The Palm, including the hotel's multiple pools that sit in a wave-like pattern in the center of the Escape to form the W brand's iconic WET® Deck experience directly facing a fabulous beach with views of the Dubai skyline. Here, guests can swim, soak up the sun and enjoy signature beverages while listening to live DJ performances. The W brand's signature AWAY® Spa invites guests to 'Stroll in and Strut out' offering ten treatment rooms, a steam room, sauna, experiential showers, a hammam and a couples' suite. Guests are treated to a design inspired by the underwater perspective of a pearl diver, where iridescent shells reflect the sunlight that peeks through the ocean above. Relaxing, social and surreal, the space also features a Beauty Bar for touch-ups and 'Quick Fix' treatments. Lastly, guests can sweat it out at FIT (gym) which boasts state-of-the-art equipment overlooking the WET Deck, beach and skyline views, featuring abstract art inspired by the graceful forms of both jellyfish and the parachutes of adventure-seeking skydivers.
Indulge the Senses
W Dubai – The Palm is set to infuse even more decadence into Dubai's booming, multicultural culinary landscape with six beverage and food destinations. Translated as "I will be right back," Torno Sobito is the first restaurant outside of Italy by global culinary genius, Chef Massimo Bottura – whose Osteria Francescana has been feted as the "World's Best Restaurant." The new destination restaurant borrows the phrase from the signs that hang in closed store fronts along the Italian Riviera of Massimo's childhood. From the minute guests step through the doors to the last morsel, Massimo mixes deeply personal nostalgia with the decidedly avant garde in a masterful yet playful menu of his favorite recipes. The dishes and design of Torno Subito lean in to Dubai's reputation for all things playful. Guests dig into Massimo's favorite bites inside converted rescue boats and pedalos (paddle boats) and can choose a flavor from the roving gelato cart. Massimo, like W, has an eye for irreverence, which is evident in the options for decadent pasta bowls ordered by size: medium and large. Guests dine in a 60's-esque wonderland, decked with woven green chairs, life sized beachfront imagery, bold metallic accents adorning the ceilings and walls, and lighting reminiscent of dressing rooms and marquees from the golden age of Hollywood.
Pro snowboarder turned adrenaline-fueled culinary master Chef Akira Back brings his modern taste of Japanese cuisine prepared with a Korean essence to the Middle East for the first time at Akira Back. The entrance is marked by a vortex, meant to instantly transport guests to Back's world. Inside, the design is inspired by "Wabi-Sabi," the Japanese art of finding beauty in imperfection and acceptance of the natural progression of growth, life and death. The walls of Akira Back are accented with shattered porcelain intricately arranged in inlaid concrete patterns.
SoBe (short for South Beach) is an adults-only playground inspired by the eclectic and vibrant spirit of Miami. This is the only rooftop bar in Dubai where guests can watch the sun sink into the Arabian Sea with 360-degree views to watch as the Dubai skyline lights up each night. Serving up eclectic live DJ performances, imaginative cocktails, and even tattoo artists, there will be nothing else like it in the city.
LIV offers guests greener, lighter, fresher and brighter options for breakfast, lunch and dinner and was designed using only upcycled materials, meaning no new materials were created to build the venue. The restaurant is sprinkled with artwork inspired by the patterns left on beaches by sand bubbler crabs, the official mascot of W Dubai – The Palm.
Scene Stealer
W Dubai – The Palm adopts a bold approach to take events from ordinary to extraordinary. Featuring over 2,000 square meters of event space, W Dubai sets the stage for any elaborate occasion. The sprawling 1,215-square-meter Great Room boasts an extraordinary oval shape, sensually designed with rotating walls letting in (or blocking out) the dazzling Arabian sun. Custom lighting features allow W Dubai to personalize each event, lighting up the scene with a myriad of colors. The Green Room serves as a holding area for events and weddings and features light pendants reminiscent of wedding bands and carpeting adorned in henna-like patterns.
"We are excited to bring the W brand to Palm Jumeirah with the highly anticipated opening of W Dubai – The Palm," said Alex Kyriakidis, President and Managing Director, Middle East and Africa, Marriott International. "As our first W Escape in the region, W Dubai – The Palm combines the city's unique allure with the brand's bold design and dynamic lifestyle and gives it a locally relevant twist. With game-changing style, amplified entertainment and innovative culinary offerings, this W Escape will inject a fresh vibe into the local hospitality scene and offer the most sought-after luxury getaway for locals as well as global jet-setters."
Hilton Signs Six New Luxury Hotels in Asia Pacific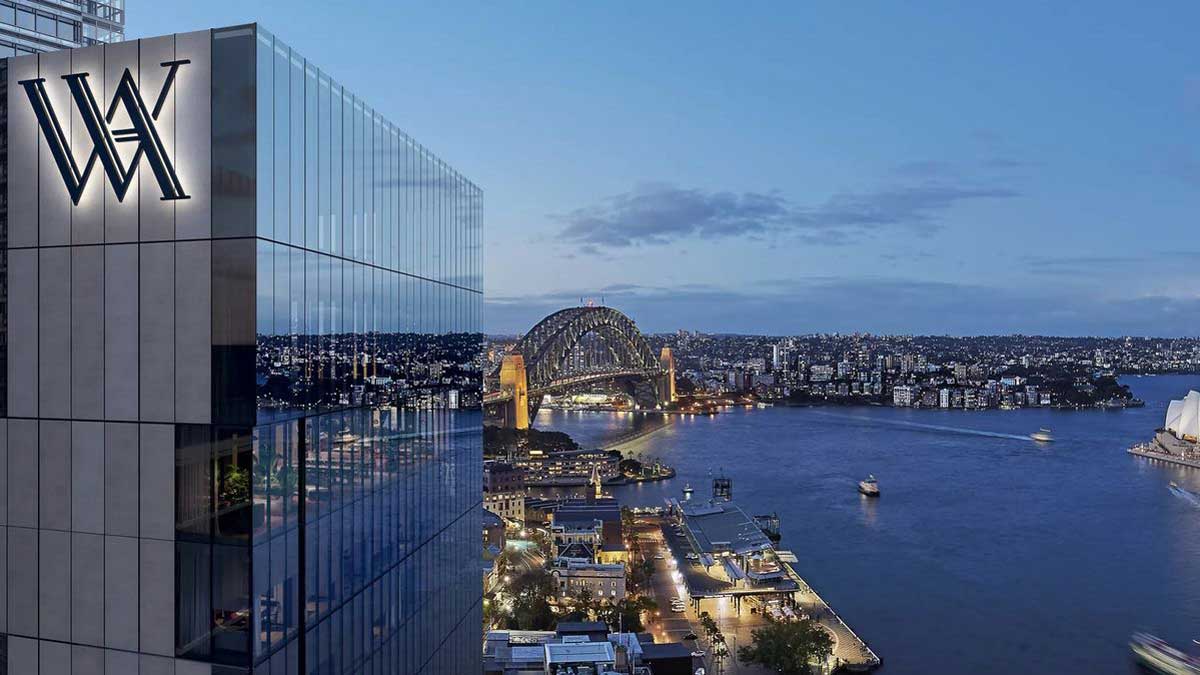 Leading global hospitality company Hilton (NYSE: HLT) has announced six landmark signings in Asia Pacific (APAC) across its portfolio of luxury brands – Waldorf Astoria Hotels & Resorts, Conrad Hotels & Resorts and LXR Hotels & Resorts – in the year to date, a mark of growing optimism in luxury travel across the region.
With the signing of Waldorf Astoria Xi'an, Waldorf Astoria Shanghai Qiantan, Waldorf Astoria Kuala Lumpur, Waldorf Astoria Sydney, Conrad Nagoya and an LXR Hotels & Resorts property in Bali, Hilton's pipeline of luxury hotels in the region increases to 20. When these hotels open in the coming years, travellers will enjoy an exquisite portfolio of more than 50 luxury hotels across Asia Pacific.
With a growing middle class, increased consumer spending and an underserved lodging market, Asia Pacific presents a US$10 trillion consumption growth opportunity over the next decade.
Alan Watts, president, Asia Pacific, Hilton said, "Hilton is Asia Pacific's fastest growing hospitality company, and that signals the confidence that owners and developers have in our ability to capture growing demand and deliver strong returns in APAC's most sought-after destinations. We share the optimism that owners and developers have about the future of luxury travel and appreciate the importance they place on partners and brands that will optimize their yield. As we continue to pursue quality organic growth and enhance our network effect, we too stay focused on prioritizing the right partnerships to deploy the right brands in the right locations."
Post-pandemic recovery has prompted increasing owner and developer interest in hospitality real estate, as the APAC hotel investment volume in 2021 grew 46% year-on-year to exceed US$12 billion, and investors focused on acquiring luxury or resort assets. The luxury travel segment is also expected to burgeon as 42% of APAC consumers who intend to take an international trip seek out luxury experiences.
"These signings mark an incredible moment for our luxury brand portfolio as we expand Waldorf Astoria, Conrad, and LXR throughout five countries in the region, offering even more opportunities for travelers to immerse in our authentic approach," said Dino Michael, senior vice president & global category head, Luxury Brands, Hilton. "From Waldorf Astoria's intuitive service, to Conrad's bold design and LXR's culturally immersive experiences, the hotels continue to showcase innovation and deliver on what guests are looking for in their stay. This expansion reinforces the appeal of the brands globally, and is a true testament to the team members who bring luxury to life."
Hilton's latest signings mark a further closing of key city gaps as its award-winning luxury brands debut or expand in key travel destinations such as Japan, Australia, Malaysia, Indonesia and China.
China in particular holds great potential in shaping the future of luxury travel as it is home to the world's largest consumer economy and is set to become the largest luxury goods market by 2025. Travel demand is also shifting as the country's new generation of young and discerning travelers seeks higher levels of personalization, wellbeing, sustainability and quality in their luxury travel experience.
The signings of Waldorf Astoria in Xi'an and Shanghai Qiantan put the brand on track to double its portfolio in China and offer its unrivalled luxury in eight world-class hotels. When open, Waldorf Astoria Xi'an will be one of the tallest buildings in this ancient capital of the 13 Dynasties. Designed by the famed design firm, Yabu Pushelberg, the hotel will draw inspiration from the city's rich millennia-old culture and integrate oriental elegance into modern design. Waldorf Astoria Shanghai Qiantan will mark the city's second Waldorf Astoria hotel. Located in Shanghai's brand-new CBD – the New Bund area – the hotel will boast panoramic views of the Huangpu River and immerse guests in the tranquility and glamour of China's commercial capital.
Today, there are more than a dozen Conrad hotels operating in China. When the other nine hotels in the country's pipeline open – including Conrad Shenzhen and Conrad Chongqing next year – guests will be able to enjoy the discreet yet sophisticated luxury that the brand is known for in more than 20 destinations.
Four Seasons Hotel New York Downtown Celebrates New York Fashion Week with Acts of Love
Four Seasons Hotel New York Downtown, the award-winning luxury lifestyle hotel located in the heart of TriBeCA, is launching Acts of Love – three dedicated moments for guests and locals to engage during Fashion Week. From Friday, September 9 through Thursday, September 14, 2022, the Hotel lobby will be transformed into a vibrant and whimsical escape.

Three Acts of Love will take over the lobby of Four Seasons Hotel New York Downtown:
Love is the Scent of Fresh Blooms: Famed artistic director and celebrity floral designer Jeff Leathamwill curate five dazzling floral arrangements that will flow throughout the lobby. Leatham's bold and colourful vision will unfold through cascading designs that will transform the lobby into THE Instagram spot to visit during Fashion Week. Guests can also pick the perfect flower to take home from the Four Seasons flower cart.
Love is a Letter from the Heart: Guests can immerse themselves in the lost art of letter writing at the bespoke Letters of Love postcard experience in collaboration with fashion designer Christian Siriano, who created custom-designed postcards exclusively for Four Seasons.
Love is Sweet: After dropping the postcard in the heritage mailbox, guests can enjoy a sweet treat from the specialty gelato cart.
The Spa at Four Seasons Hotel New York Downtown is ready to pamper and treat Fashion Week guests who need a respite from the busy week with Acts of Love that focus on self-care and wellness.
Guests can book an appointment to experience NextHealth's IV Therapy during a special pop up at The Spa. Four IV treatments will be available including:
Glamour IV to enhance the skin's overall glow from the inside out with revitalizing and collagen-boosting ingredients such as vitamin C, L-Lysine, and biotin that will leave skin looking supple and hair feeling hydrated.
Super Immune IV to supercharge the immune system with a potent combination of vitamin C, magnesium, vitamin B5, antivirals, and other essential vitamins and minerals for boosted bodily defences.
Energy Plus to fuel and enhance mental and physical vitality with energy-boosting ingredients such as L-Carnitine, vitamin B12, and potent amino acids.
Detox to encourage the elimination of toxins and harmful substances with powerful ingredients such as lysine, taurine, and antioxidants for a fully refreshed feeling.
The Spa is launching new skincare products and services with Augustinus Bader, the science-backed and award-winning luxury skincare brand best known for The Method Facial. The Method uses Augustinus Bader's groundbreaking technology to create a one-of-a-kind, highly sophisticated facial experience. The facial promotes a sequence of personalized regenerative processes for skin hydration, firmness, evenness, and protection against environmental aggressors.
Four Seasons Hotel New York Downtown is the official hotel partner for Vogue's inaugural Vogue World Fashion Experience. Fashion Week guests will receive a special welcome amenity created by Executive Chef Maria Tampakis and three expert Four Seasons executive pastry chefs including: Rhonda Ashton, Four Seasons Jackson Hole; Eddy Dhenin, Four Seasons Minneapolis; and Rob Differ, Four Seasons One Dalton Street, Boston.
The Acts of Love experience will be open to guests and locals during the following times:
Friday, September 9: 4:00– 8:00 pm
Saturday, September 10: 1:00– 4:00 pm
Sunday, September 11: 4:00– 8:00 pm
Monday, September 12: 8:30 am – 12:30 pm
Tuesday, September 13: 4:00– 8:00 pm
Wednesday, September 14: 4:00– 8:00 pm
Hilton Dubai Palm Jumeirah Opens on Palm West Beach
Hilton celebrates the opening of Hilton Dubai Palm Jumeirah. Located on the popular Palm West Beach, the hotel is the perfect escape for couples, families, friends and solo travelers looking to enjoy sunset views, a temperature-controlled pool, event spaces, a tranquil spa and more. Featuring 608 guest rooms and suites along with ten enticing culinary concepts, it is poised to become one of the top leisure and events destinations in Dubai. 
"Hilton Dubai Palm Jumeirah opens as an iconic addition to the world-famous palm shaped island and promises guests an exceptional beachfront resort experience as well as outstanding dining options," said Jochem-Jan Sleiffer, president, Middle East, Africa and Türkiye, Hilton. "We are delighted to bring our flagship Hilton Hotels & Resorts brand to this prominent location on the Palm Jumeirah, adding to the choices Hilton offers for an incredible stay in Dubai, the world's leading visitor destination."
The hotel is home to several new dining concepts unique to the property including Zing Beach Bar which offers refreshing craft drinks and a wide selection of light bites at the water's edge, and the cool, calm and connected SocialBee which features a delightful menu designed around locally-sourced honey. Mowsem, the hotel's all-day dining destination, serves an exciting array of global cuisine, whilst Australian Jones the Grocer, located on the beach and already a favourite among residents, is the perfect breakfast spot for fresh and delicious artisan food.
Launching later this year, Factory by McGettigan's will become the ultimate neighbourhood hangout with its Irish charm, delicious artful drinks, sharing plates, and an ever-changing line up of live entertainment.
CLAW BBQ will dial up the Southern hospitality with mouthwatering must-have grills, seafood, shakes and retro arcade games in a fun and vibrant setting.
Also opening later this year, Barfly by Buddha Bar will be located on the 13th floor of the property, offering sunset views of the sea, Bluewaters Island, the glittering Dubai Marina skyline and the Palm Jumeirah. This restaurant, bar and lounge will boast an exquisite dining and drinking experience, set to a soundtrack of uplifting music mixed by talented DJs.
The renowned Trader Vic's and Tahitian Village will launch just as the good weather returns and will serve up simmering plates of island-style cuisine alongside delicious and popular Mai Tais.
Aside from the culinary experiences, the property offers one of the longest pools in Dubai, a state-of-the-art fitness centre and the award-winning eforea Spa that provides comprehensive relaxation experiences, eight well-appointed treatment rooms, a dedicated spa suite and a Moroccan Hammam for individuals and groups. For young guests, the Pirates Kids Club has an indoor and outdoor area, and a dedicated kid's pool. The hotel will also feature a pristine private beach with breathtaking city views, daybeds and a range of watersports activities.
Additionally, the property has several meeting and event spaces designed for all occasions, including the outdoor Ocean Terrace that can cater for up to 800 people – perfect for weddings and large events.
Leonard Gooz, global brand head, Hilton Hotels & Resorts said, "Across the world, Hilton Hotels & Resorts properties are located in sought-after destinations for guests who know that where they stay matters – and Hilton Dubai Palm Jumeirah is no exception. With its prime location on the spectacular Palm Jumeirah, the hotel provides guests with the ultimate vacation where they can enjoy beachside living, Hilton's world-renowned hospitality and a memorable stay."
Hilton Hotels & Resorts marks its continued global growth by reaching its 600th property with the recent openings of Hilton Dubai Palm Jumeirah and Hilton Hiroshima. As Hilton's flagship brand, Hilton Hotels & Resorts continue to offer exceptional stay experiences to guests for over a century at hotels located in the most sought-after destinations around the world. In addition to the latest milestone openings, the brand recently grew its all-inclusive footprint with the opening of Hilton Tulum Riviera Maya All-Inclusive Resort and Hilton Cancun, an All-Inclusive Resort. Hilton Hotels & Resorts also debuted the largest hotel in Asia Pacific with the opening of Hilton Singapore Orchard and made its highly anticipated entry in the Maldives with Hilton Maldives Amingiri Resort & Spa
Hilton Dubai Palm Jumeirah joins 33 other Hilton properties operating in the UAE. The hotel is part of Hilton Honors, the award-winning guest-loyalty program for Hilton's 18 distinct hotel brands. Members who book directly have access to instant benefits, including a flexible payment slider that allows members to choose nearly any combination of Points and money to book a stay, an exclusive member discount, free standard Wi-Fi and the Hilton Honors mobile app. Book direct at Hilton.com, through the Hilton Honors app or through other official Hilton channels for more perks and a price match guarantee. Hilton Honors members can redeem Points using the Points Explorer tool.