The Opening Of W Dubai- The Palm Marks First W Escape In The Middle East
The desert just got hotter. W Hotels Worldwide, part of Marriott International Inc., today announced the opening of W Dubai – The Palm, located on the Palm Jumeirah, the largest man-made island in the world and one of Dubai's most iconic attractions. W Dubai – The Palm is the newest W Escape, the W brand's playful spin on the traditional resort experience and is set to add a new beat to the already dynamic and pulsating city. With its electrifying style, evocative design and eclectic destination restaurants led by world-class chefs including Massimo Bottura and Akira Back, W Dubai – The Palm will shine bright in the famed City of Gold.
"Much like W has redefined modern luxury, Dubai is a city that is firmly in charge of writing its own narrative, fearlessly embracing the future through design, technology and global culture," said Anthony Ingham, Global Brand Leader, W Hotels Worldwide. "The energy and marvel of this incredible city make it the perfect destination for a W Escape – our unique take on a resort holiday – where the bold style, iconic service and signature scene of a W come to play."
Splendor of Sight and Sound
The breathtaking design of W Dubai – The Palm celebrates the evolution of one of the most dynamic cities in the world, seamlessly juxtaposing the organic, natural curves of sand dunes and coastline with the marvel of the geometric lines of the city's skyscrapers. It begins with the hotel's iconic "W" sign patterned to resemble an evaporated desert river bed and the WHEELS (valet) area reminiscent of a falage, a cavernous riverbed covered by palm fronds. Leading guests into the hotel is a stunning display of Orsoni glass tiles in colors inspired by overgrown foliage which reflect the golden sun on the horizon. A head-raising, five-story atrium envelopes the Welcome Desk, a nod to desert fortresses and citadels of long ago. Golden trusses comprised of framed boxes sparkle throughout the space, representing different stages of modern construction in Dubai, a common sight of the ever-changing cityscape, and sit upon carpets that depict the island's surrounding waters reflecting both construction and clouds. Completing the dramatic entrance is "The Soundwave" – a 6.5 ton, 30m long visual vector that represents a W sound wave. With 640 glass pieces, the towering fixture puts on a show of its own, illuminating in alternating intensities and colors to reflect the beats of the DJ in the neighboring W Lounge.
The W Lounge (lobby) is a stage to see and be seen and celebrates the city's well-known love of opulence with several geometric fixtures that mimic the raw, natural form of gold. An artistic interpretation of a traditional fire pit sits in the center of the W Lounge, signifying the bonfires that Bedouin tribes would gather around during their desert travels years ago. Connecting the W Lounge to the nearby VIP Lounge is a 13.5-meter sofa in muted earth tones, representing a desert mountain range – the skyscrapers of the past.
Hit Escape
All 350 guest rooms and suites offer uninterrupted views and dreamy amenities. Curved walls are intricately tiled to glisten like the lights and colors of the sea at various times of the day, bringing the shoreline into each room. Modern graffiti adorns the walls of every room, featuring lyrics in Arabic from an iconic song by Lebanese singer, Fairouz.
After checking in, guests can check out the incredible amenities of W Dubai – The Palm, including the hotel's multiple pools that sit in a wave-like pattern in the center of the Escape to form the W brand's iconic WET® Deck experience directly facing a fabulous beach with views of the Dubai skyline. Here, guests can swim, soak up the sun and enjoy signature beverages while listening to live DJ performances. The W brand's signature AWAY® Spa invites guests to 'Stroll in and Strut out' offering ten treatment rooms, a steam room, sauna, experiential showers, a hammam and a couples' suite. Guests are treated to a design inspired by the underwater perspective of a pearl diver, where iridescent shells reflect the sunlight that peeks through the ocean above. Relaxing, social and surreal, the space also features a Beauty Bar for touch-ups and 'Quick Fix' treatments. Lastly, guests can sweat it out at FIT (gym) which boasts state-of-the-art equipment overlooking the WET Deck, beach and skyline views, featuring abstract art inspired by the graceful forms of both jellyfish and the parachutes of adventure-seeking skydivers.
Indulge the Senses
W Dubai – The Palm is set to infuse even more decadence into Dubai's booming, multicultural culinary landscape with six beverage and food destinations. Translated as "I will be right back," Torno Sobito is the first restaurant outside of Italy by global culinary genius, Chef Massimo Bottura – whose Osteria Francescana has been feted as the "World's Best Restaurant." The new destination restaurant borrows the phrase from the signs that hang in closed store fronts along the Italian Riviera of Massimo's childhood. From the minute guests step through the doors to the last morsel, Massimo mixes deeply personal nostalgia with the decidedly avant garde in a masterful yet playful menu of his favorite recipes. The dishes and design of Torno Subito lean in to Dubai's reputation for all things playful. Guests dig into Massimo's favorite bites inside converted rescue boats and pedalos (paddle boats) and can choose a flavor from the roving gelato cart. Massimo, like W, has an eye for irreverence, which is evident in the options for decadent pasta bowls ordered by size: medium and large. Guests dine in a 60's-esque wonderland, decked with woven green chairs, life sized beachfront imagery, bold metallic accents adorning the ceilings and walls, and lighting reminiscent of dressing rooms and marquees from the golden age of Hollywood.
Pro snowboarder turned adrenaline-fueled culinary master Chef Akira Back brings his modern taste of Japanese cuisine prepared with a Korean essence to the Middle East for the first time at Akira Back. The entrance is marked by a vortex, meant to instantly transport guests to Back's world. Inside, the design is inspired by "Wabi-Sabi," the Japanese art of finding beauty in imperfection and acceptance of the natural progression of growth, life and death. The walls of Akira Back are accented with shattered porcelain intricately arranged in inlaid concrete patterns.
SoBe (short for South Beach) is an adults-only playground inspired by the eclectic and vibrant spirit of Miami. This is the only rooftop bar in Dubai where guests can watch the sun sink into the Arabian Sea with 360-degree views to watch as the Dubai skyline lights up each night. Serving up eclectic live DJ performances, imaginative cocktails, and even tattoo artists, there will be nothing else like it in the city.
LIV offers guests greener, lighter, fresher and brighter options for breakfast, lunch and dinner and was designed using only upcycled materials, meaning no new materials were created to build the venue. The restaurant is sprinkled with artwork inspired by the patterns left on beaches by sand bubbler crabs, the official mascot of W Dubai – The Palm.
Scene Stealer
W Dubai – The Palm adopts a bold approach to take events from ordinary to extraordinary. Featuring over 2,000 square meters of event space, W Dubai sets the stage for any elaborate occasion. The sprawling 1,215-square-meter Great Room boasts an extraordinary oval shape, sensually designed with rotating walls letting in (or blocking out) the dazzling Arabian sun. Custom lighting features allow W Dubai to personalize each event, lighting up the scene with a myriad of colors. The Green Room serves as a holding area for events and weddings and features light pendants reminiscent of wedding bands and carpeting adorned in henna-like patterns.
"We are excited to bring the W brand to Palm Jumeirah with the highly anticipated opening of W Dubai – The Palm," said Alex Kyriakidis, President and Managing Director, Middle East and Africa, Marriott International. "As our first W Escape in the region, W Dubai – The Palm combines the city's unique allure with the brand's bold design and dynamic lifestyle and gives it a locally relevant twist. With game-changing style, amplified entertainment and innovative culinary offerings, this W Escape will inject a fresh vibe into the local hospitality scene and offer the most sought-after luxury getaway for locals as well as global jet-setters."
Unveiling Twenty Grosvenor Square: Four Seasons Private Residences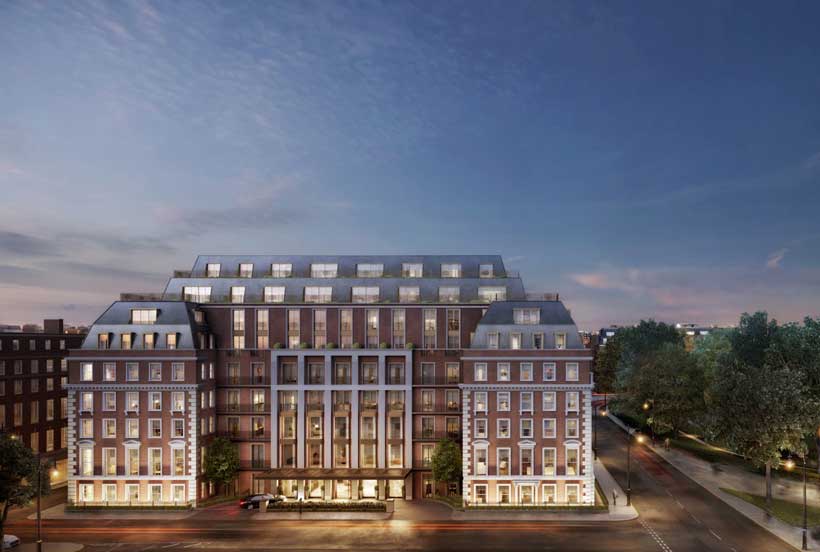 Finchatton, the renowned property development and design firm, in partnership with Four Seasons Hotels and Resorts, the world's leading luxury hospitality company, today unveil the first look at Twenty Grosvenor Square, A Four Seasons Residence, the very first standalone Private Residences from Four Seasons.
Located on one of London's finest squares in the heart of Mayfair, the landmark address of historical significance offers 37 residences, masterfully designed by Finchatton, in collaboration with award winning architects Squire & Partners, with high-touch, legendary service and an incredible complement of amenities provided by Four Seasons. The residences – a combination of three, four and five bedroom apartments – are inspired by the building's historic past and include exquisite design features such as elegant classical drawing rooms, soaring ceilings, media rooms, family and professional kitchens, and separate access for staff.
The 250,000 square feet (23,225 square metres) prestigious development also includes a private wine cellar; a spa with a 80 foot (25 metre) swimming pool; a treatment suite with steam room and sauna; vitality pool; a state-of-the-art fitness centre; crèche; games room; a cinema; business suite; garden library and landscaped courtyard garden.
The Lifestyle Experience at Twenty Grosvenor Square
Setting new standards in luxury London real estate, Twenty Grosvenor Square is the world's first standalone Four Seasons Private Residences. Along with the highly personalised services and amenities one would expect at a luxury hotel or resort, Four Seasons also acts as the property managers of the residences once open, one of the only branded residential companies to do so.
Twenty Grosvenor Square combines the best of hotel services and private ownership, with the assurance that each home is being cared for to the highest standards of quality by Four Seasons. Together, Finchatton and Four Seasons are offering a product that is far beyond anything seen on London's residential market to date.
"Twenty Grosvenor Square marks an exciting milestone for our brand, debuting Four Seasons first ever standalone property in a top luxury market, within one of the best addresses in London, and in a building with a remarkable history," says Paul White, President, Residential, Four Seasons Hotels and Resorts. "With our partners at Finchatton, the building has been exquisitely restored and, together with Four Seasons dedicated service and property management, residents will be immersed in the world of Four Seasons with an exclusive lifestyle experience."
Andrew Dunn and Alex Michelin, Co-founders, Finchatton remarked, "Our vision for Twenty Grosvenor Square was to deliver a lifestyle that transcends any other residential scheme in London. Passionate about craftsmanship, architecture and great design, we wanted to deliver a building with exceptional amenities and the highest level of service in the very heart of London's most desirable postcode."
About Twenty Grosvenor Square, A Four Seasons Residence
Residents of Twenty Grosvenor Square, A Four Seasons Residence have access to a concierge, security, catering and in-residence dining, housekeeping, a world-class spa, fitness and wellness facilities and the option of membership to Mayfair's most sought-after members' clubs including Annabel's and Harry's Bar, as well as Wentworth golf and country club.
Residents also benefit from a designated Four Seasons Director of Residences. Acting exclusively for the residents of Twenty Grosvenor Square, the Director of Residences' enviable little black book of contacts, from the world's leading personal trainers and internationally renowned nutritionists to top executive chefs, will enhance the day-to-day life of residents at Twenty Grosvenor Square.
Twenty Grosvenor Square's Historic Roots
Reclaiming its title as the most coveted address in London, Twenty Grosvenor Square has a rich and storied past. Once the Headquarters of the US Naval Forces in Europe, and from where General Dwight Eisenhower orchestrated the D-Day landings during the Second World War, the square itself has been home to royalty, prime ministers, actors, musicians and artists and featured in literary masterpieces from Austen, Dickens and Wilde.
Masterful architectural detailing, both inside and out from award-winning architectural practice Squire & Partners, acknowledges the history and character of the building. Twenty Grosvenor Square has been lovingly created behind the retained historical façade of Grosvenor Square – which has been extended with a contemporary stepped mansard – a new façade on North Audley Street drawing from the rich history and context of the area.
Henry Squire, Partner, Squire & Partners says, "Timeless architecture is understanding that a building is part of an evolutionary process that connects the past and future in the present. For Twenty Grosvenor Square, the past and future are connected with the creation of a new façade intertwined with a retained façade, through contemporary use of traditional materials, reinterpreting classical proportions and details in a modern way and using current day technologies to re-imagine ancient craft."
Benefitting from Finchatton's nearly 20 years of experience of designing and building some of the world's most exceptional homes, the vision for Twenty Grosvenor Square is best described as sophisticated, timeless elegance with an emphasis on traditional craftsmanship and exquisite finishes.
Jiin Kim-Inoue, Design Director at Finchatton, and the Finchatton team have carefully choreographed a perfect sequence of spaces, from the grand entrance lobby and extensive amenity areas through to each square foot of every individual residence. Vast windows flood the rooms with natural light, while voluminous proportions and meticulously considered layouts create spaces that are grand and yet utterly warm and welcoming.
With an emphasis on traditional craftsmanship and exquisite finishes Twenty Grosvenor Square sees unrivalled excellence in choice of materials and interior furnishings. From Italian book-matched marble and Tai Ping silk rugs to Loro Piana cashmere wall panels and De Gournay hand-painted silk wallpaper, the Finchatton design team has travelled the world to source materials and meet suppliers. Further works have also been commissioned from the likes of cutting-edge Czech manufacturer LASVIT and British leather-etching artist Mark Evans.
At Twenty Grosvenor Square, A Four Seasons Residence, Finchatton has again reinforced its reputation as London's leading property design firm with a profound understanding of how people want to live, while Four Seasons solidifies its position as a leader in luxury lifestyle and branded residential offerings.
Marriott Bonvoy Brings Once-In-A-Lifetime Manchester United Experiences to Asia Pacific
Members of Marriott International's travel program, Marriott Bonvoy can enjoy an exclusive series of experiences during Manchester United's pre-season tour in Perth, Singapore and Shanghai. As part of the multi-year marketing partnership between Marriott International and Manchester United, over 130 million Marriott Bonvoy members can look forward to once-in-a-lifetime exclusive experiences with Manchester United players and legends – including the chance to travel on the team's exclusive charter plane.
"With Marriott Bonvoy Moments, we are committed to offering differentiated and unique experiences that fuel the passions of our members. Our partnership with Manchester United drives our members' passion for sports by providing VIP access to the games and opportunities to be closer to their sporting idols," highlighted Alan Tsui, Vice President, Digital, Loyalty and Portfolio Marketing, Marriott International Asia Pacific. "Together with Marriott Tours & Activities, we offer approximately 120,000 experiences in 1,000 destinations available for purchase or by redeeming points, giving members more ways to redeem their points for travel, sports, music, and culinary experiences they are most passionate about."
Unveiled earlier this year, the partnership between Marriott International and Manchester United allows Marriott Bonvoy members to look forward to creating unforgettable moments and receiving unmatched member benefits – including Manchester United experiences during the team's visit to Perth, Singapore and Shanghai from today till 25 July 2019 through Marriott Bonvoy Moments. Marriott Bonvoy Moments gives members exclusive and VIP access to concerts, culinary experiences, premier sporting events and more — starting at only 1,000 points. Members may redeem their points for either fixed-price experiences or auction-style experiences.
Marriott Bonvoy Moments with Manchester United in Asia Pacific
With the Manchester United partnership, Marriott Bonvoy members will have the opportunity to partake in local experiences with Manchester United players and legends, which includes:
Manchester United's Pre-Season Tour kick off in Perth, Australia – Marriott Bonvoy members can get closer to the action with access to exclusive experience with Manchester United Legends Bryan Robson and Denis Irwin and acclaimed chef Guy Grossi at Garum. During the matches against Perth Glory and Leeds United, members will enjoy a VIP hospitality experience within the VIP Sports Bar at Optus Stadium.
Manchester United Pre-Season Tour Match vs. Inter Milan in Singapore – Marriott Bonvoy members can enjoy a VIP hospitality experience in the Manchester United suite at Singapore National Stadium. Members will also have access to an exclusive experience with Manchester United Legend, Bryan Robson. In addition to a meet and greet, members can enjoy a local Mooncake making workshop with Robson and Executive Chef Bryan Wong from Wan Hao Chinese Restaurant.
Manchester United's Pre-Season Tour in Shanghai – Already sold out, the ultimate fan experience will see two Marriott Bonvoy members experience the Manchester United Pre-Season Tour in Asia like a first team player by joining the team on their exclusive charter plane as they travel from Singapore to Shanghai. Additionally, they will have access to a Manchester United training session, have their pictures taken pitch side with a Club Legend and enjoy hospitality to the match against Tottenham Hotspur F.C. Other experiences available in Shanghai include training at the Manchester United Soccer School for children and adults with Dwight Yorke; as well as VIP hospitality at the match against Tottenham Hotspur F.C, which are still available to bid on.
Marriott Bonvoy is poised to elevate the experience for members with their favourite Manchester United players and legends.
Check-In From the Skies: Waldorf Astoria Arrives in Dubai's Financial Centre
Today, the highly anticipated Waldorf Astoria Dubai International Financial Centre (DIFC) opens its doors, joining two other Waldorf Astoria properties in the UAE and reinforcing the brand as the pinnacle of luxury in the region. The 275-room hotel is a welcome addition to Dubai's bustling financial district, bringing a slice of the French Riviera with its stylish rooftop bar and pool, a piece of New York City with acclaimed restaurant Bull & Bear and a timeless design that evokes the elegance of the 1960s.
Waldorf Astoria DIFC occupies the 18th to 55th floors of the Burj Daman, a complex featuring residences and office towers. Guests will enjoy a unique reception and check-in experience on the 18th floor, which is also home to the hotel's dining and wellness facilities and acts as the true heartbeat of the hotel. All 275 guest rooms, including 46 suites and 28 residential suites, offer breathtaking, unobstructed views of the downtown Dubai skyline, which can be viewed through floor-to-ceiling windows in each room. Guests can reach The Dubai Mall, Burj Khalifa and The Dubai Fountain within minutes during their stay in one of Dubai's most vibrant districts.
"We are delighted to expand our luxury presence in the region with the opening of Waldorf Astoria DIFC which is located in an important economic hub within the region," said Rudi Jagersbacher, President, Middle East, Africa & Turkey, Hilton. "Earlier this year, His Highness Sheikh Mohammed bin Rashid Al Maktoum approved the launch of DIFC 2.0 which will add 13 million square feet of space to the Centre. We are pleased to be part of this rapidly growing district and look forward to delivering unparalleled experiences to guests staying in DIFC."
Inspired by the iconic architecture, lifestyle and mid-modern style of the 1960s, the hotel exudes a contemporary elegance and understated luxury. With its stylish furniture, multifunctional design peppered with marble, ebony, brass and bronze materials, the hotel boasts a sleek and contemporary look.
In line with Waldorf Astoria's legacy of culinary expertise, Waldorf Astoria DIFC is primed to be a best-in-class dining destination. All restaurants and bars are located on the 18th floor, a stunning location from which to view the city.
Bull & Bear: Inspired by the original once located in the Waldorf Astoria New York, Bull & Bear is the hotel's signature restaurant which offers a twist on the legendary eatery. Diners can enjoy imaginative cuisine in a stylish, relaxed setting.
St Trop: An oasis in the heart of the city, St. Trop serves up a slice of the French Riviera in DIFC. This stylish rooftop lounge ⁠— with its pool, whirlpool, timber decking and bright colours ⁠— is perfect for drinks and light bites from day to night. Truly an urban escape, St Trop brings laidback poolside chic to Dubai's financial district.
Peacock Alley: Peacock Alley is an elegant lounge and bar ideal for both sophisticated gatherings and informal gatherings. The term "Peacock Alley" was coined to portray the daily promenade of people through the original colonnade connecting The Waldorf and The Astoria hotels in New York City. The iconic venue is present at all Waldorf Astoria hotels worldwide ⁠— and this historical part of New York heritage is now in DIFC.
For those looking to unwind, the Waldorf Astoria Spa ⁠— with its floatation tank, hydrobath, hammam and Vichy shower ⁠— is a sanctuary of relaxation in the middle of the city. Secluded on the 18th floor, the spa offers four treatment suites and the hotel's fitness centre offers state-of-the-art equipment and views of Dubai's skyline from 18 floors up.
The hotel offers five elegant, innovative settings, including a unique library concept which houses an open kitchen. The hotel also features spacious meeting rooms, a grand ballroom with a pre-function area and a sophisticated boardroom that is perfect for corporate meetings. All spaces have a residential, personal feel, providing the ideal setting for every type of event.
"We are thrilled to bring Waldorf Astoria to DIFC and offer True Waldorf Service in such a thriving and dynamic location within the city," said Dino Michael, Global Head, Waldorf Astoria Hotels & Resorts. "From Bangkok to Amsterdam, Waldorf Astoria properties are set in landmark locations all over the world, and Waldorf Astoria DIFC is a remarkable addition to our growing portfolio in the Middle East and beyond."
Waldorf Astoria DIFC joins two award-winning Waldorf Astoria properties in the UAE ⁠— Waldorf Astoria Dubai Palm Jumeirah and Waldorf Astoria Ras Al Khaimah ⁠— and is the brand's first city-based hotel in the country. Like all Waldorf Astoria properties in the world, Waldorf Astoria DIFC offers True Waldorf Service: graceful, anticipatory service from the moment a guest books through checkout.
Waldorf Astoria DIFC is part of Hilton Honors, the award-winning guest-loyalty program for Hilton's 17 distinct hotel brands. Members who book directly have access to instant benefits, including a flexible payment slider that allows members to choose nearly any combination of Points and money to book a stay, an exclusive member discount, free standard Wi-Fi and the Hilton Honors mobile app. Book direct at Hilton.com, through the Hilton Honors app or through other official Hilton channels for more perks and a price match guarantee.
To celebrate the hotel's opening, Hilton Honors members will earn an additional 5000 Points per night, with a minimum stay of three nights ⁠— for bookings through 30 December 2019, when booking directly with Hilton.