The current geopolitical shifts in the Middle East
Syria's three-party strategic system, with the minor addition of the United States and its now remote allies on the field, is undergoing a radical transformation.
This is also due to the clear signs that the United States is sending to everyone that concern, in particular, their quick leaving Syria.
President Trump is not entirely wrongly when he says that Syria "has always been an old friend" of Russia and hence the Syrian issue is in Russia's traditional area of interest.
This is true but, if we all thought this way, in the mid-nineteenth century China would have been reduced to its  coastal regions only.
In geopolitics we do not talk with the logic of a golf club.
However, if the United States does no longer care about Syria, said country and its equilibria will still deal with the United States.
In fact, the United States will soon be bottled up in its  CENTCOM of Tampa, which could no longer operate directly and effectively in Northern Africa (with the jihad going on in Central Africa and in Mediterranean Africa),nor in Iraq and Afghanistan, where the play has gone too far with the agreement between the US contingents and the Taliban.
Exactly the Taliban, the Islamic "students" that the Pakistani allies, apparently very loyal to the United States, trained with their excellent intelligence services and sent to fight against the United States.
At the time, however, the United States was a close ally  of India and hence prevented Pakistan from having the  strategic depth it absolutely needed to oppose the first Indian nuclear salvo and respond to the second one.
And not even the United States could now use the Al Udeid Command located in Qatar, the CAOC that the United States itself  has put in difficulty, by following Saudi Arabia against the "terrorist" Qatar and hence – with a great leap in logic –  "Iran's friend ". What about Saudi Arabia?
Hence the Americans have also been bottled up in their   beautiful and very recent Al Udeid base, controlled by all the Arab forces on the field as if they were hyperactive children.
Therefore, by now, the game in Syria involves only three countries, namely Iran, Israel and Russia.
While the reborn "Syrian-Iraqi Caliphate" is reconquering some areas around Deir Ezzor and is directly threatening  the Kurdish areas and the major Syrian cities of the region.
Another crazy variable, which could bring the United States back into play and prolong the time needed for the stabilization of the Syrian territory, which is exactly what the "Caliphate" wants.
Meanwhile, however, the two Kurdish groups have allied with the Syria led by Bashar al-Assad and now know that the real player of US interests in Syria is Turkey.
Iran, Israel and the Russian Federation. This is the starry sky above Syria. Hence much closer negotiations than in the past on the control of the Syrian territory between Israel and the Russian Federation, the only real regional actors interested in controlling the whole Syrian territory.
Here Iran's intelligence and security policy comes into play, with good technical knowledge and the ability to play its political weight well.
The weight of Iranian intelligence services is lower than others' in Syria, but it is certainly not negligible.
Clearly Russia does not care much that Iran takes its continuous line of connection between Iran and the Lebanese Central and Southern coasts.
However, that was an idea of the past. Currently the issue is much more complex. Today the Russian Federation cannot fail to put Israeli interests at the core of its strategic Middle East choices.
Nevertheless, if Iran takes its advanced control network on the border of the Bekaa-Golan Valley – that Israeli  re-conquered in 1975 – Russia will no longer hold Syria, which will have an immense territory – covered by Iranian lines southwards – to free itself from the Russian Federation's control and then fall into Iran's hands.  Exactly what Iran is waiting for.
Iran must not have stable bases or buffer areas in Syria. This is also in Russia's interest. It would be a trouble for Russia and Israel altogether, if that happened.
Nor should we forget the level of pressure that the Lebanese-Iranian axis over (and inside) the Bekaa-Golan region could exert on the Russian bases of Latakia and Tartus, in the Mediterranean, in addition to Iran's tension on the Russian facilities of Humeinim, on an airport, and finally on the T4 base (Thiyas) in the Homs Governorate, east of Palmira.
Let us not even forget the Russian base of Sharyat, at the 50th Air Brigade in the Homs area.
The "corridor" – as the Iran's "Islamic Revolutionary Guard Corps" currently calls it – runs from Iraq to Syria, precisely to DeirEzzor.
It is a real and powerful strategic target for Iran that has not -but absolutely wants-an outlet to the Mediterranean, under its full control and not under the now irrelevant organization of Lebanese security.
It goes up to the Southern Lebanese coasts, obviously passing not only through the capital city, but also through Deir Qanun, Kafra and, finally, the Litani river.
However, with a parallel connection between Beirut and the Hezbollah command of the Litani area.
Hence, the Russian strategic thinking is currently simple: to prevent Iran's further expansion to Syria, as well as to mainly avoid the persistence of the conflict in that area, and to maintain good relations with Israel.
In fact – and this is particularly interesting to us – the Russian Federation has partially deactivated its S-300 missile defenses that operate in Syria and will also do so in the future.
The S-300s are a sequence of long-range surface-to-air missiles manufactured by Russia.
As clearly seen in Syria, they operate very effectively against aircraft, cruise ships and ballistic missiles.
Its radars are capable of chasing over 100 targets simultaneously, since they can engage in battle 24-36 of them at the same time.
The missile range of the S-300sis between 150 and 200 kilometers, with fully automatic operation.
Hence what does Iran want?
Firstly, it wants Russia not to selectively deprive the S-300 systems in the case of aircraft, missiles and carriers arriving in the corridor or the Bekaa-Golan region from Israel.
In addition, some experts of the Iranian intelligence services have noted a strong correlation between the organization of the Israeli attack forces and the timing and positions of the new Hezbollah and Pasdaran launching points.
In fact, in mid-January, Russia announced that the training of Syrian troops for using the S-300s would be completed in March, when the S-300 batteries should become operational.
But they will probably be "operated" selectively and, in any case, always under the immediate and active control of the Russian Supreme Command.
Iran, however, hopes for a miracle, i.e. that the weapons of a quasi-ally of Israel – namely Russia that is currently in Syria – become the best defense against Israel's attacks on the Iranian-Lebanese "corridor".
For Iran, the optimal target would be the dual and simultaneous attack between the Bekaa-Golan region and the Litani river, coordinated by actions south of the Israeli border supported by the Palestinian Islamic jihad.
We will talk about it later.
In fact, we should not forget the many small organizations of the radical Palestinian universe, which can no longer be connected with the Sunni axis that, indeed, does no longer wants to annoy Israel.
This happens precisely against Iran. It is a broad political-military axis mainly orphan of Hamas, which is now a criminal-business organization still devoted to raise funds among the most gullible and naïve Western "democrats".
Or even worse.
Two Islamist Norths and a South, with a new master, namely Iran, simultaneously allied against the Jewish State.
This is the strategic dream of the Shiite Republic of Iran.
Russia, however, still wants to carry out joint actions with Iran, but always outside Syria.
Moreover, since the beginning of the Russian conflict in Syria, in 2015, it has been openly recognizing the central role played by Israel.
In fact, Russia wants its cake (the common interests with Iran, especially in the oil sector) and eat it, too (the full and reliable alliance with Israel).
Russia still wants to do much business with Iran in Venezuela, where both actors operate with great care.
Russia, however, also wants to collaborate with Iran for the Arab League's recent and future peace initiatives, which should create a new climate of stability throughout the Greater Middle East.
It would be nice to believe it.
Conversely, also based on the official documents of the meetings with Russia, Iran immediately wants to use the "corridor" for a diagonal attack against Israel and later acquire Syria as large part of a Shiite territory. It also wants to operate as an ally of Russia – only and always in oil terms – between Qatar, Bahrain and the Emirates, which are areas in which the Russian Federation has been working very well in recent years. Iran, however, is working worse there.
Hence Iran could strengthen its positions in Syria, especially to force Russia to surrender there, as well as to also force it into a harsher position towards Israel.
Nevertheless, should Iran do so, it could lead to the strong tendency – in agreement between Russia and Israel – to immediately and harshly close the "corridor" and quickly get rid of the massive presence of Pasdaran and Hezbollah.
Hence, also Iran must consider its strategic equation well.
Moreover, reverting to the positions on the ground, Russia is taking additional five months to train the Syrians to use the S-300s.
With ongoing connections of the equipment both with the Humeinym base in Syria, but above all with the Russian Central Air Command in Moscow.
Putin will leave not even his field knife uncontrolled on the Syrian territory.
We have already seen the results of Russia's very strict tactical and operational control of the Syrian forces, which would have certainly not achieved these excellent and quick results if they had not had patient and constant guardians from Moscow.
Obviously Russia does not want any relationship between its weapons on the Syrian territory and any attack against Israeli targets.
This implies that Russia wants to be absolutely sure that no Syrian and Iranian force, whether airborne or not, can use the S-300s against the Jewish State.
This approach has always been part of the Russian "Grand Strategy", unlike the relationship between Russia and Iran that has been cold and only technical throughout the development of the Syrian wars.
Who knows what could happen if the Hezbollah bases on the Mediterranean were to prevent or harm the Russian operations between Latakia and Tartus.
Russia knows all too well it cannot trust Iran, but it will still try to make it carry out operations outside its great unitarian and Mediterranean Shiite dream-although this will certainly be very difficult.
What would happen if the Israeli aircraft, searching for Iranian targets on the Galilee-Bekaa-Golan line, bombed an S-300 or something else and created a severe dispute with Russia?
What would happen if all this could also trigger a short-term struggle between Shiite powers, in the North, in addition to local Syrian populations, also hit by the "Zionist entity"?
This, too, would be the incident preferred by the Shiite Republic of Iran, which is now trying to unleash a great all-out clash, on Syrian Southern borders, to lay all the blame on Israel. This would make Hezbollah and Pasdaran shift from the guerrilla warfare phase to the "people's war" phase, which is more suitable for them.
Or we could also think of a mediation in which the bases of the precision-guided missiles brought from the "corridor" to Northern Lebanon and the Bekaa region are destroyed by Israel's quick operations, which eliminate them all, while the S-300s around Damascus are still silent.
Clearly time is pressing.
Everything still depends on Russia's ability to blackmail Iran, which – indeed -is fading ever more.
A possible solution could be a strong demonstration action by Israel on the skies of the advanced Hezbollah missile positions, not envisaging the use of S-300s, thus also allowing to reduce risks significantly.
While the "corridor" – which annoys both Russia and Israel – would be well closed in the meantime.
All this can only be done by the end of March.
Another option could be a bilateral operation between the North and the South, between Russia and Israel, but only on the "corridor", which isolates the batteries of Hezbollah missiles and makes it clear to the "Party of God" that the missiles are no longer needed. It should also make clear that the missiles will not be repaired or "fueled" and that their communications with Iran will be very problematic.
Obviously if the United States does not fully leave Syria, there will be no argument that will make Iran go away from Bashar al-Assad' Syria.
It is their favourite counterargument.
Like two blind people, lost in their dream of the great Shiite region or the even greater Middle East "democracy", Iran and the United States justify each other, but without being able to do much any longer.
Furthermore, in a few choice words, Russia asked Netanyahu to use his influence on President Trump to immediately make the remaining US troops – that are there without a precise strategic idea – withdraw from Syria.
Inter alia, the demand to the Israeli Prime Minister implied the Russian request to make the American soldiers withdraw also from the Al Tanf base.
It is a large base located on the border between Syria and Iraq, in the Homs Governorate.
Clearly for the Russians who operate much in that area, the Al Tanf base –  the old headquarters of a "coalition against terrorism" organized by the United States and later left to the "Free Syrian Army", which is now an umbrella of terrorist groups that is currently self-named  "Revolutionary Commando Army" – is a constant danger.
It is also obvious that this old base is only a remnant – however currently jihadist, albeit certainly "moderate" – of an old set of US forces in Syria.
The request for Netanyahu to put pressure on President   Trump, with a view to putting an end to these two issues, had been made to Israel about six months ago, in late September, but without results. Clearly Israel does not fully trust Russia yet. And Russia does not want other "godfathers" for Israel in the global world, since the United States has now been "branded" or blocked outside the Middle East.
Also upon Russia's explicit direct requests, President Trump has not yet clarified the issue of the Al Tanf base, thus being vague about its possible future use, although associating the timing for its closure with that of the now certain evacuation of all US troops from Syria.
Both Israel and Jordan, however, have made an explicit request to the United States to keep the Al Tanf base open.
Why?
Simply because this position is excellent to prevent Russia (and probably also Iran) from closing a base where also Jordanian illegal forces operate, since Al Tanf is right on Jordan's border.
Israel does not want to be sealed in that important region  by a base in Russian hands, with dangerous friends, while it does not even want to deprive its friendly country, namely Jordan, of a very useful base for possible bilateral operations.
Nevertheless, if Israel were to accept Russian pressure for the Al Tanf base – which is only an annoying mirage for it -Russia could make a nice gift to Israel.
In fact, it could prevent pro-Iran forces from slipping between the Jordanian and Israeli borders, thus recreating, elsewhere, another more artisanal and less sophisticated "corridor".
Hence, Israel will ask Putin for some things before scrapping the Al Tanf base: firstly, to create an effective, controllable and real distance of at least 80 kilometers between the Iranian and pro-Shiite lines and Israel's Northern borders.
How? Currently the control systems are manifold and very accurate, but the point is that we must be able to react before the start of the operation and 80 kilometers are always too few.
However, if the Russian Federation could guarantee an effective and armed line of control between its Iranian allies and the Israeli border, the negotiations could be made. Basically, it would be convenient also for Russia.
Hence, how can we convince Putin? Reminding him that being fooled by an ally is certainly not the best way to become the hegemonic country of the Greater Middle East.
Others did the same and we saw how they ended up.
Israel' second request to Russia is to stop arms trafficking, by air, from Iran to Syria and Hezbollah.
So far Russia has never accepted this.
It must also be made clear, however, that if Russia does notget carried away by Iran in Syria, there could be a successful diarchy between Israel and the Russian Federation in the future, with all the allies they have in common in the Gulf, and no power outside the region could bother them.
For Russia the message could also be persuasive – and even credible.
Finally Israel wants the factories near the Syrian-Iranian bases on the Syrian territory, which usually produce   precision materials for Hezbollah missile launches, to be completely and permanently scrapped.
Easier said than done. Iran could re-establish them elsewhere, in Jordan or in the Lebanon, or even in Iraq.
In that case, however, they could easily be checked in due time, even for a future targeted attack.
Here, probably, an agreement could easily be reached.
Not even Russia likes this production of weapons, which it cannot fully control.
And here comes Russia's trump card: if no global negotiations with Iran are made, there will be no military operation on the Syrian skies that will enable Israel to have peace.
This is true – but it is also true that the Israeli air operations give Russia the strong power to be credible with Iran.
There is no way out. Either we make Iran understand that its "corridor" does not work or cannot work – and hence it can only give few and not even effective missiles to the Shiite Lebanese – or nothing can be done about it.
This is a possible agreement of convenience between Israel and Russia.
Furthermore, in any case, the missile operations of the Lebanese Shiites could be used not only for a real war, but above all to terrorize, change and distort the behaviour of the Israeli population and government.
As already mentioned, the leaders of the Palestinian Resistance Committees, operating south of the Israeli border, were cheerfully hosted by Hezbollah in Beirut on January 30 last.
Hence the issue here would be to have -from the Palestinian Resistance Committees and before the elections scheduled in Israel on April 9 – a series of missile attacks, especially in the Gaza Strip, a perfect point for the real attack, but also for distracting Israel in relation to a strong action from the North.
The timing gap between the two is essential for the success of the Iranian-Shiite-Palestinian operation.
Furthermore, the Palestinian Resistance Committees are small organizations in Hamas' hands.
This means that Hamas has become Hezbollah's direct counterpart in the South.
In this case, the issue lies in avoiding – with the usual intelligence operations – mass missile attacks, which should take place about three weeks before the elections. The right psychopolitical timing.
We could also envisage, however, a quick and surgical attack by Israel on Hamas before their operations, with a view to belittling them vis-à-vis their funders and associate the fate of Hamas with that of these new pro-Shiite groups.
As Marsha Lazareva languishes in jail, foreign businesses will "think twice" before investing in Kuwait
IF THERE IS one thing to glean from the case of Marsha Lazareva, it's that foreign businesses must now think very carefully before investing in Kuwait.
For more than a year, Lazareva, who has a five-year-old son and is one of Russia's most successful female investors in the Gulf, has been held in the Soulabaiya prison by Kuwaiti authorities. Those authorities claim she 'stole' half a billion dollars, a claim she strenuously denies.
Human rights groups and prominent officials, including the former FBI director, Louis Freeh, and Jim Nicholson, former Chairman of the Republican Party and former US Ambassador to the Vatican, have called for her release and expressed concerns about the apparent absence of due process in a country where Lazareva has worked for over 13 years. Both Freeh and Nicholson visited Kuwait in recent weeks with Neil Bush, son of the late President George H. W. Bush. Bush has said Lazareva's incarceration 'threatens to darken relations between the U.S. and Kuwait, two countries that have enjoyed a long and prosperous relationship.'
Russian officials have been equally concerned. Vladimir Platonov, the President of the Moscow Chamber of Commerce and Industry, confirmed that a single witness gave testimony in Kuwaiti court, and only for the prosecution. 'I myself worked in prosecution for more than eight years, and I cannot imagine any judge signing off on an indictment like this,' he said. 'One fact of particular note is that Maria was given 1,800 pages of untranslated documents in Arabic.'
Serious questions surrounding the safety and future viability of investing in Kuwait are now being raised. Through The Port Fund, a private investment company managed by KGL Investment, Lazareva has contributed hundreds of millions of dollars to local infrastructure and economic development projects during her time in the country. Until 2017, when a Dubai bank froze $496 million without cause, she had worked largely unobstructed.
But as things stand, more foreign investment is unlikely to be forthcoming. Jim Nicholson has said that the 'imprisonment and harassment' of Lazareva 'threatens' U.S. support. adding that the 'willingness of the U.S. to do business with Kuwait' is based on 'its record as a nation that respects human rights and the rule of law'. Mark Williams, the investment director of The Port Fund and a colleague of Lazareva's, has called on international investors to 'think twice before doing business in this country'.
These comments will surely concern the Kuwaiti government, who said last year that FDI was 'very crucial' to the success of its Kuwait Vision 2035 road map. In September 2018, the FTreported that the government planned to reverse its traditional position as an investor in order to diversify its economy, carrying out a series of reforms designed to facilitate foreign investment and assist investors.
But despite these changes, which have propelled Kuwait to 96th—higher than the Middle East average—in the World Bank's 'Ease of Doing Business' report, investors may be unwilling to take the risk so long as Lazareva remains in jail. Lazareva's lawyers have accused Kuwait of violating international law by breaching a long-standing bilateral investment treaty with Russia. Lord Carlile of Berriew, QC has brought the case to the attention of the British public and the EU, writing in The Times that 'there is no evidential basis to justify any claim of dishonesty, corruption or any other criminal wrong'. He added: 'Anyone thinking of doing business in Kuwait should read on with mounting concern.'
What's worth remembering is that Kuwait is an important, long-standing ally of the UK, and a country generally seen as stable and fair. It is equally a major non-NATO ally of the United States, where there are more than 5,000 international students of Kuwaiti origin in higher education. But these relationships, and the investment to which they have historically led, have been cast into doubt. And it now seems certain that relations will continue to sour so long as Marsha Lazareva languishes in Soulabaiya.
Economic reform in the Gulf: Who benefits, really?
For Gulf leaders, long-overdue economic reforms were never going to be easy.
Leaders like the crown princes of Saudi Arabia and the United Arab Emirates, Mohammed bin Salman and Mohammed bin Zayed, quickly discovered that copying China's model of economic growth while tightening political control was easier said than done. They realised that rewriting social contracts funded by oil wealth was more difficult because Gulf Arabs had far more to lose than the average Chinese. The Gulf states' social contracts had worked in ways China's welfare programmes had not. The Gulf's rentier state's bargain—surrender of political and social rights for cradle-to-grave welfare—had produced a win-win situation for the longest time.
Moreover, Gulf leaders, struggling with mounting criticism of the Saudi-UAE-led war in Yemen and the fall-out of the killing of journalist Jamal Khashoggi, also lacked the political and economic clout that allowed China to largely silence or marginalise critics of its crackdown on Turkic Muslims in the troubled northwestern province of Xinjiang.
The absence of a welfare-based social contract in China allowed the government to power economic growth, lift millions out of poverty, and provide public goods without forcing ordinary citizens to suffer pain. As a result, China was able to push through with economic reforms without having to worry that reduced welfare benefits would spark a public backlash and potentially threaten the regime.
Three years into Mohammed bin Salman's Vision 2030 blueprint for diversification of the economy, Saudi businesses and consumers complain that they are feeling the pinch of utility price hikes and a recently introduced five per cent value-added tax with little confidence that the government will stay the course to ensure promised long-term benefit.
The government's commitment to cutting costs has been further called into question by annual handouts worth billions of dollars since the announcement of the reforms and rewriting of the social contract to cushion the impact of rising costs and quash criticism.
In contrast to China, investment in the Gulf, whether it is domestic or foreign, comes from financial, technology and other services sector, the arms industry or governments. It is focused on services, infrastructure or enhancing the state's capacities rather than on manufacturing, industrial development and the nurturing of private sector.
With the exception of national oil companies, some state-run airlines and petrochemical companies, the bulk of Gulf investment is portfolios managed by sovereign wealth funds, trophies or investment designed to enhance a country's prestige and soft power.
By contrast, Asian economies such as China and India have used investment fight poverty, foster a substantial middle class, and create an industrial base. To be sure, with small populations, Gulf states are more likely to ensure sustainability in services and oil and gas derivatives rather than in manufacturing and industry.
China's $1 trillion Belt and Road initiative may be the Asian exception that would come closest to some of the Gulf's soft-power investments. Yet, the BRI, designed to alleviate domestic overcapacity by state-owned firms that are not beholden to shareholders' short-term demands and/or geo-political gain, contributes to China's domestic growth.
Asian nations have been able to manage investors' expectations in an environment of relative political stability. By contrast, Saudi Arabia damaged confidence in its ability to diversify its oil-based economy when after repeated delays it suspended plans to list five per cent of its national oil company, Saudi Arabian Oil Company, or Aramco, in what would have been the world's largest initial public offering.
To be sure, China is no less autocratic than the Gulf states, while Hindu nationalism in India fits a global trend towards civilisationalism, populism and illiberal democracy. What differentiates much of Asia from the Gulf and accounts for its economic success are policies that ensure a relatively stable environment. These policies are focused on social and economic enhancement rather than primarily on regime survival. That may be Asia's lesson for Gulf rulers.
Author's note: first published in Firstpost
Ratcheting up tension: US designation of Revolutionary Guards risks escalation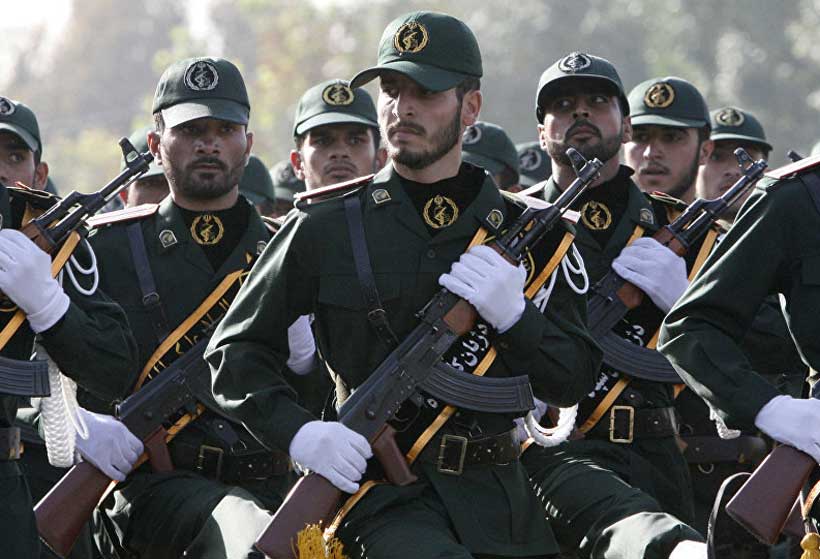 The stakes in the Middle East couldn't be higher.
Suspicion that the United States' intent is to change the regime in Tehran rather than its officially stated goal of forcing Iran to curb its ballistic missile program and support for militias in Lebanon, Gaza and Yemen was heightened with this week's decision to designate the Iranian Revolutionary Guards Corps (IRGC) as a terrorist organization.
It was the first time that the United States labelled a branch of a foreign government as a terrorist entity, particularly one that effects millions of Iranian citizens who get conscripted into the military and for whom the IRGC is an option.
"Today's unprecedented move to designate the IRGC as a Foreign Terrorist Organization demonstrates our commitment to maximize pressure on the Iranian regime until it ceases using terrorism as tool of statecraft," tweeted Mr. Trump's national security adviser, John Bolton..
The designation effectively blocks Mr. Trump's potential successor from possibly returning to the 2015 international accord that curbed Iran's nuclear program, complicates any diplomatic effort to resolve differences, and changes the rules of engagement in theatres like Syria where US and Iranian forces operate in close proximity to one another.
"Through this, some US allies are seeking to ensure a US-Iran war or to, at a minimum, trap them in a permanent state of enmity," said Trita Parsi, head of the National Iranian American Council, referring to Saudi Arabia and Israel.
The designation was likely to embolden advocates in Washington, Saudi Arabia and Israel of a more aggressive covert war against Iran that would seek to stoke unrest among the Islamic republic's ethnic minorities, including Baloch, Kurds and Iranians of Arab descent.
Both Saudi Arabia and Israel were quick to applaud the US move. Israeli prime minister Benyamin Netanyahu, on the eve of a hard-fought election, claimed credit for the suggestion to designate the IRGC. The official Saudi news agency asserted that the decision translates the Kingdom's repeated demands to the international community of the necessity of confronting terrorism supported by Iran."
The risk of an accident or unplanned incident spiralling out of control and leading to military confrontation has also been heightened by Iran's response, declaring the US military in the greater Middle East a terrorist entity.
The US move and the Iranian response potentially put US military personnel in the Gulf as well as elsewhere in the region in harm's way.
The designation also ruled out potential tacit US-Iranian cooperation on the ground as occurred in Iraq in the fight against the Islamic State and in Afghanistan. That cooperation inevitably involved the IRGC.
Beyond geopolitical and military risks, the designation increases economic pressure on Iran because the IRGC is not only an army but also a commercial conglomerate with vast interests in construction, engineering and manufacturing.
It remained however unclear to what degree the sanctions would affect the IRGC, which, already heavily sanctioned, does much of its business in cash and through front companies.
US policy, even before the IRGC designation, had already raised the spectre of a nuclear race in the Middle East. The designation increases the chances that Iran will walk away from the nuclear agreement.
Saudi Arabia has however already been putting in place the building blocks for its own nuclear program in anticipation of Iran abandoning the agreement and returning to its full-fledged, pre-2015 enrichment project.
The IRGC goes to the heart of the Iranian regime. It was formed to protect the regime immediately after the 1979 revolution at a time that Iran's new rulers had reason to distrust the military of the toppled shah.
Some of the shah's top military and security commanders discussed crushing the revolution at a dinner on new year's eve 1978, some six weeks before the shah's regime fell. It was the shah's refusal to endorse their plan that foiled it. The shah feared that large-scale bloodshed would dim the chances of his exiled son ever returning to Iran as shah.
The IRGC has since developed into a key pillar of Iran's defense strategy which seeks to counter perceived covert operations by the United States, Saudi Arabia and Israel by supporting proxies across the Middle East.
It is a strategy that has proven both effective and costly, Iran's failure to address fears that the strategy is an effort to export its revolutions and topple the region's conservative regimes, particularly in the Gulf, has raised the cost.
To be sure, the Iranian revolution constituted a serious threat to autocratic rulers. It was a popular revolt like those more than 30 years later in the Arab world. The Iranian revolt, however, toppled not only an icon of US power in the Middle East and a monarch, it also created an alternative form of Islamic governance that included a degree of popular sovereignty.
The revolution unleashed a vicious cycle that saw Gulf states fund the eight-year long Iran-Iraq war in the 1980s in which up to one million people died; Saudi Arabia wage a four-decade long US$100 billion campaign to globally propagate ultra-conservative, anti-Shiite, anti-Iranian strands of Islam; repeated attempts to stoke ethnic tensions among Iran's disgruntled minorities, and Iranian counter measures including support for proxies across the Middle East and violent attacks against Americans, Israelis, Jews and regime opponents in various parts of the world.
"Given that the IRGC is already sanctioned by the US Treasury, this step is both gratuitous and provocative. It will also put countries such as Iraq and Lebanon in even more difficult situations as they have no alternative but to deal with the IRGC. It will strengthen calls by pro-Iran groups in Iraq to expel US troops," said Barbara Slavin, an Iran expert at the Washington's Atlantic Council