Andy Warhol: From A to B and Back Again
The San Francisco Museum of Modern Art (SFMOMA) announces the exclusive West Coast presentation of the critically acclaimed exhibition, Andy Warhol—From A to B and Back Again on view from May 19 through September 2, 2019. Spanning the artist's 40-year career and featuring more than 300 works on three different floors of the museum, the exhibition includes paintings, drawings, graphics, photographs, films, television shows as well as a personal time capsule of ephemera. The retrospective features examples of the artist's most iconic pieces in addition to lesser-known abstract paintings from later in his career. Uncannily relevant in today's image-driven world, Andy Warhol—From A to B and Back Again provides new insight into Andy Warhol himself by examining the complexities of this enigmatic artist more than 30 years after his death in 1987. The show's title is taken from Warhol's 1975 book, The Philosophy of Andy Warhol (From A to B and Back Again), a memoir featuring the artist's musings on fame, love, beauty, class, money and other key themes that frequently appear in his work.
"He's a complicated figure and a complicated artist," said Gary Garrels, Elise S. Haas Senior Curator of Painting and Sculpture at SFMOMA. "His inner emotions, his psychic self were not his subject matter. Warhol is constantly labeled a Pop artist, but all that happened within a couple of years and then he moved on and the work goes quite dark and explores questions of gender and sexual identity, fame, subcultures. At the time of his death, the consensus was that Warhol was no longer relevant. But the last major retrospective in 1989 was a wake-up call: this is an artist we have to reckon with."
First presented at the Whitney Museum of American Art in New York and curated by Donna De Salvo, Deputy Director for International Initiatives and Senior Curator at the Whitney, with Christie Mitchell, senior curatorial assistant, and Mark Loiacono, curatorial associate, this exhibition provides an opportunity for new generations to reconsider Andy Warhol, one of the most influential, inventive and important American artists. Warhol's understanding of the growing power of images in contemporary life anticipated our social media-focused world and helped to expand the artist's role in society making him one of the most recognized artists of the 20th century.
Andy Warhol—From A to B and Back Again also showcases SFMOMA's impressive holdings of many of the artist's most important works including National Velvet (1963), Liz #6 (Early Colored Liz) (1963), Triple Elvis (Ferus Type), (1963), Silver Marlon (1963), Robert Mapplethorpe (1983) and self-portraits.
THE EXHIBITION
Andy Warhol—From A to B and Back Again will be presented on three floors of SFMOMA: two, four and five.
On the museum's second floor, two galleries of works on paper offer a detailed look at Warhol's earliest drawings from the 1940s and hand-drawn commercial illustrations created for advertising in the 1950s. These early drawings lay the groundwork for many of the techniques and approaches he would use throughout his career. This portion of the exhibition includes delicate, gilded collages and sketches of shoes for the Miller Shoe Company, and illustrations for publications such as Glamour Magazine and The New York Times.
On display in SFMOMA's fourth-floor special exhibition galleries, the exhibition takes visitors chronologically through the arc of Warhol's career and his production in painting, drawing, photography, film and installation. The first half of the exhibition opens with his best known work from the creatively active period of 1960–68, with his earliest paintings such as Dick Tracy (1961) and Superman (1961), followed by the groundbreaking, iconic Pop Art paintings, Green Coca-Cola Bottles (1962), 192 One Dollar Bills (1962) and the sculpture, Brillo Boxes (1969, version of 1964 original). The exhibition then highlights Warhol's depictions of celebrities, including Elvis, Elizabeth Taylor and Jacqueline Kennedy. In a dedicated black box gallery adjacent to the early Pop Art work, samples of Warhol's films and videos will be on view including his series of Screen Tests featuring Ethel Scull, Edie Sedgwick and Billy Name (1964–65).
Subjects take a darker turn in Warhol's Death and Disaster paintings (1963–64) memorializing car crashes, the electric chair and a benign yet sinister can of tuna fish contaminated with botulism. An eye-popping gallery filled with 16 colorful Flower paintings (1964) will be installed on top of Warhol's Cow Wallpaper (1966) for a bold immersive experience. Visitors will have a chance to experience Silver Clouds, Warhol's sculptural installation of shiny Mylar balloons created in 1966, the point at which he declared himself to be done with painting.
Warhol's work of the 1970s and 1980s focuses on post-Pop artwork, which Garrels observes are "very unknown to most people." In these galleries Warhol shifts his focus with a massive portrait of Chairman Mao (1972), followed by a gallery featuring photographs and paintings of trans women and drag queens from the 1970s, which provide a look into Warhol's fascination with the elusiveness and complexity of gender and identity. A separate suite of photographic self-portraits of Warhol in drag provides a different view into the artist's carefully cultivated persona. A large single gallery is dedicated to Warhol's grand experiments with abstract painting, featuring a gold Shadow painting (1978) and two large-scale Rorschach paintings (1984). Warhol's influence on the young artists of the East Village in the 1980s is highlighted through collaborative works created with Jean-Michel Basquiat and Keith Haring. Also on display is an unpacked personal time capsule, one of 610 created over the course of the artist's life.
Two galleries in the museum's fifth floor Pop, Minimal and Figurative Art presentation feature a 1970s "facebook" of wall-to-wall grids of large-scale silk-screened portraits representing a "who's who" of celebrities, cultural icons, gallerists, athletes and business leaders. These galleries feature nearly 40 portraits such as Halston (1975), Dominique de Menil (1969), Liza Minnelli (1978), Pelé (1977), Leo Castelli (1975), Mohammad Reza Shah Pahlavi (1976) and Gianni Versace (1979–80), as well as the artist's mother, Julia Warhola (1974). For the subject, a Warhol portrait provided social validation and an immediate status symbol; for Warhol these commissions were a consistent revenue stream that supported his studio and desire to explore other more personal ventures. Warhol's television shows and videos are on display in the city gallery on this floor.
THE ARTIST
Andy Warhol was born Andrew Warhola in Pittsburgh, PA in 1928. In 1949, he graduated from Carnegie Institute of Technology (now Carnegie Mellon University) with a Bachelor of Arts in pictorial design.  Shortly after graduation, Warhol moved to New York City, where he would live for the rest of his life, and began what would become a vaunted career as a commercial artist, for which he earned numerous awards and accolades. Despite his commercial success, Warhol was determined to pursue a career as a fine artist. He first exhibited his work at the Hugo Gallery in 1952, though he did not gain recognition in the fine art world until 1962 when the Ferus Gallery in Los Angeles staged his groundbreaking exhibition of Campbell's Soup Can paintings. Through the 1960s, Warhol exhibited at Ferus, Stable Gallery, Castelli Gallery, Sonnabend Gallery and internationally to great acclaim. He established "the Factory" in 1963, the same year he began his pioneering work in film. In 1965, Warhol announced his "retirement" from painting to pursue filmmaking full-time; underground films such as Empire (1964) and The Chelsea Girls (1966) remain some of his most influential works.
In 1968, Warhol was shot in a near-fatal assassination attempt, but by 1969 he had founded Interview magazine and his interest in producing work across all media—including sculpture, video and performance—was reignited. In 1975, Warhol published The Philosophy of Andy Warhol (From A to B and Back Again) and by the late 1970s had expanded his practice to cable television shows with Andy Warhol's Fashion, Andy Warhol's Fifteen Minutes and Andy Warhol's T.V. Warhol's work of the late 1970s and 1980s exhibits an increased interest in abstraction and collaboration and often reflexively returns to his own earlier work and iconography. His late work speaks to a voracious interest in current events and enthusiasm for artists from the East Village scene such as Keith Haring and Jean-Michel Basquiat, with whom he collaborated. In February 1987, Warhol died after a brief illness following routine gallbladder surgery. The Andy Warhol Diaries, his infamous account of his own life from the mid-1970s up to his death, was published posthumously in 1991.
Major exhibitions during Warhol's lifetime include his first institutional solo exhibition at the ICA Philadelphia in 1965, a 1968 exhibition at the Moderna Museet, Stockholm, a 1970 retrospective organized by the Pasadena Art Museum, which traveled extensively and Andy Warhol: Portraits of the 70s organized by the Whitney Museum in 1979–80. The final exhibition of his work during his lifetime, at Robert Miller Gallery, New York, in January 1987, debuted a new series of stitched photographs.  Warhol's work is collected by significant institutions across the world including major repositories at SFMOMA, the Whitney Museum of American Art, Tate, The Museum of Modern Art, The Art Institute of Chicago, The Museum Brandhorst, Munich, The Museum Ludwig, Cologne, The Marx Collection at the Hamburger Bahnhof, Berlin, the National Gallery of Art, Washington, D.C. and the Andy Warhol Museum, Pittsburgh.
CATALOGUE
The exhibition is accompanied by a full-color, 400-page scholarly monograph edited by Donna De Salvo spanning all periods of Warhol's career and including paintings, sculpture, drawings, prints, videos, photographs, archival and printed material, installations, films and media works. A contextualizing essay by De Salvo is complemented by essays and contributions from Jessica Beck, Okwui Enwezor, Trevor Fairbrother, Hendrik Folkerts, Bill Horrigan, Bruce Jenkins, Branden W. Joseph, Barbara Kruger, Glenn Ligon, Michael Sanchez and Lynne Tillman, as well as a plate section with 450 images. The catalogue is published by the Whitney and is distributed by Yale University Press.
San Francisco Museum of Modern Art
151 Third Street
San Francisco, CA 94103
UN Geneva open exhibition "The World In Faces"
On November 24, United Nations Geneva hosts "The World in Faces", an exhibition of photos by the renowned Russian photographer Alexander Khimushin. The artist personally presented a collection of artistic photos of representatives of different peoples of the world, photographed in authentic national costumes in their habitat. The 170 large artistic portraits of more than 100 indigenous peoples around the world are on display in the main hall of UN Geneva's Palais des Nations. A big part of the exhibition is dedicated to the indigenous communities of Russia's Siberia and the Far East.
"It is gratifying that the exhibition at the UN this year takes place as the world celebrates the International Human Rights Day. It is a great pride and honour for me to present my photo project at the UN, especially on this momentous day", said Alexander Khimushin.
The idea to create a collection of photographic portraits of indigenous peoples in national dress and in their native environment was born in 2014, when Alexander had already accumulated a considerable amount of work done in the most exotic locations – from Samoa and Fiji to Swaziland. Since then, he has never stopped traveling around the world, and his project is growing and becoming a phenomenon.
In 2018, Khimushin went to the Russian Arctic – Taimyr. The result was a series of portraits of the region's indigenous inhabitants – Dolgans, Nganasans, Enets, Nenets, Evenks.
"Taimyr is unique in that it is a distant, cold place. For me, this was not something new, since I grew up in Yakutia (the Far East of Russia is the cold pole on the planet), but it is the peoples living there – the Nenets, Dolgans, Nganasans, they have a unique culture, their way of life and reindeer husbandry have been preserved. It was interesting to visit, thanks to Norilsk Nickel (The world's largest producer of palladium, one of the largest producers of Nickel, platinum and copper), to get to these places. I would like to return to Taimyr, shoot more there, if there is such an opportunity, "the artist noted.
The Norilsk Nickel company, which takes an active part in the fate of the small peoples of the Arctic, supported the Khimushin project.
"Nornickel has always interacted with the indigenous peoples of the Russian North in an atmosphere of friendship and mutual assistance. This year, the company's relations with the indigenous peoples reached a new level. Based on the UN principles and objectives of sustainable development, we study, with the involvement of leading international experts and the scientific community, the socio-cultural specifics of indigenous life in Taimyr, and the traditions and historical memory of the peoples living in the region. This helps us make our support to indigenous peoples more targeted and effective. Cultural projects and support of traditional folklore and handicrafts are one of the most important components of our projects", said Mikhail Kuznetsov, Nornickel's Director of Federal and Regional Programmes.
Nornickel regularly participates in projects intended to foster economic and social development of Taimy's indigenous communities. In 2020, Nornickel signed a cooperation agreement with organisations representing the interests of the indigenous communities of the North inhabiting the Taimyr Peninsula. Together with them, and based on proposals from the chiefs of indigenous communities, a comprehensive plan for the development of the peoples was developed for a total of RUB 2 bn. The plan is designed for five years. The programme will run until 2024 and includes support for traditional activities, protection of the indigenous habitat, and financing of new homes, hospitals, museums etc.
The photo exhibition will run until December 10, 2021.
Sezzadio: The small village where the great history of the Aleramici began
Men and women of culture, united by the idea of the Euro-Mediterranean Federation on Ancient Medieval Migration, challenges this difficult period of the pandemic with new historical research activities to rediscover and transmit the desire to return to normality.
As part of the project of "Le Vie Aleramiche Normanno Sveve" in Sezzadio, a village near Alessandria where Aleramo was born had been visited on the initiative of the Mayor, Enzo Daniele, the Councilor for Culture Piercarla Bocchio and the local head of FAI Anna Maria Gobello, collected the texts to create an "Aleramici Library" which will be closely linked to the "Aleramici Research Center of Sezzadio". Two honorary presidents are members of our technical-scientific committee: Francesco Barone of the University of Catania, one of the leading experts in the Aleramici history of Sicily and Salvatore Lo Re, historian and President of the National History Society of Piazza Armerina, City of foundation aleramica which, soon, will see the Municipal Library enriched with a section dedicated to the study of its origins. Therefore, a study workshop will be commenced to work in synergy with the parallel Sicilian structure: the prestigious Palermo "Officina Studi Medievali" headed by Prof. Diego Ciccarelli.
Sezzadio, the place of origin of this fascinating story: it is said, in fact, that the noble Aleprando, on a pilgrimage to Rome, stopped in this small town near Acqui Terme with his wife about to give birth and that Aleramo was born here. The municipal administration of Sezzadio, after having already undertaken various projects to enhance the small center of Alessandria and installed explanatory signs at the entrance to the village to highlight its extraordinary historical importance, has enthusiastically joined the proposal of the promoters of the project, Fabrizio Di Salvo and the UNESCO Club of Piazza Armerina, (represented by the President Anna Maria Di Rosa Placa and the Secretary Lavinia Garsia) and took the opportunity to give life to a research center that will be formed in network with the Workshop of Medieval Studies in Palermo and the research activity in Piazza Armerina, a real study center dedicated to ancient medieval immigration "on the contrary".
The fundamental activity was Fabrizio Di Salvo's visit to Sezzadio last summer which allowed to define the membership of the Municipality of Sezzadio to the Euro-Mediterranean Federation on Ancient Medieval Migrations, by virtue of which it benefits from the support of the Coordinator for Northern Italy, Nadia Ghizzi.
The work of identifying the texts and training the library was supported by our technical-scientific committee which boasts among its ranks the Byzantinist Walter Haberstumpf, Prof. Salvatore Trovato, former professor of Linguistics and Glottology at the Department of Humanities of the University of Catania, the Director of Sibrium Magazine and President of the Center for Prehistoric and Archaeological Studies of Varese Lucilla Caramella, Luigi Piano, the President of "Italia Medievale", Maurizio Calì, (who collaborated directly in the creation of the library), as well as the teachers and researchers of prestigious international universities, such as the distinguished medievalist Henri Bresc and Joanna Drell of the University of Richmond in the USA.
To realize the intent of making culture available to all, it is essential to give our research a European breath and make people understand how much the history of the Middle Ages, which took place in a Europe different from the current one, was well-defined in its supranational scope. The project connected France, Italy, and Germany and, in particular, the Municipalities of Hauteville-La-Guichard in France, (where the myth has it that Tancredi, the future lord of Hauteville and progenitor of the Altavilla family, saves the life of Duke Riccardo II of Normandy on a hunting trip); of Göppingen, in Baden-Württemberg near Stuttgart, (where tradition has it that the Swabian dynasty was born) and of Piazza Armerina, a city in Sicily founded by Aleramici in the 12th century. The cultural triangulation will also expand in Sezzadio, in the spirit of continuing to create links between historically similar realities and, currently, it takes the form of collaboration between the municipal administrations, anticipating and preparing the future twinning.
Thanks to the dedication of those who embraced and developed the project from the beginning, today, the Euro Mediterranean Federation for Ancient Medieval Migrations stands out for the adhesion of important figures from the world of culture, of high-level institutions, such as the Library of Alexandria of Egypt, of numerous Italian Municipalities, of Universities and Associations. Despite the interruptions due to the pandemic, the Project has given rise to numerous initiatives such as conferences, lectures, and meetings, and the production of a documentary film shot in the European lands touched by this research: Piedmont, Sicily, France, Turkey, Germany, Greece, and Ukraine.
A powerful work, curated for four years by Fabrizio Di Salvo, which collects precious contributions from excellent scholars and returns the atmosphere of medieval Europe thanks to the choice of splendid locations, such as the Castle of Pomaro in Monferrato, to the costumes of the ancient Samantha Panza's "Principessa Valentina" tailoring from Asti-Italy and coordinated by Gianni Gallo. The exceptional protagonist is the actor Walter Siccardi, an extraordinary interpreter in the role of Aleramo. The shields that recall the emblems of the Aleramici dynasties and parts of the sets used for the shooting will be donated by the Euro-Mediterranean Federation to the Aleramici Research Center in Sezzadio.
We will continue our incessant work of research and historical reconstruction, hoping that it will create opportunities for recovery, resilience, and increasingly nourish the dialogue between people who are only apparently distant.
Squid Game, Style influence and Sustainable consumption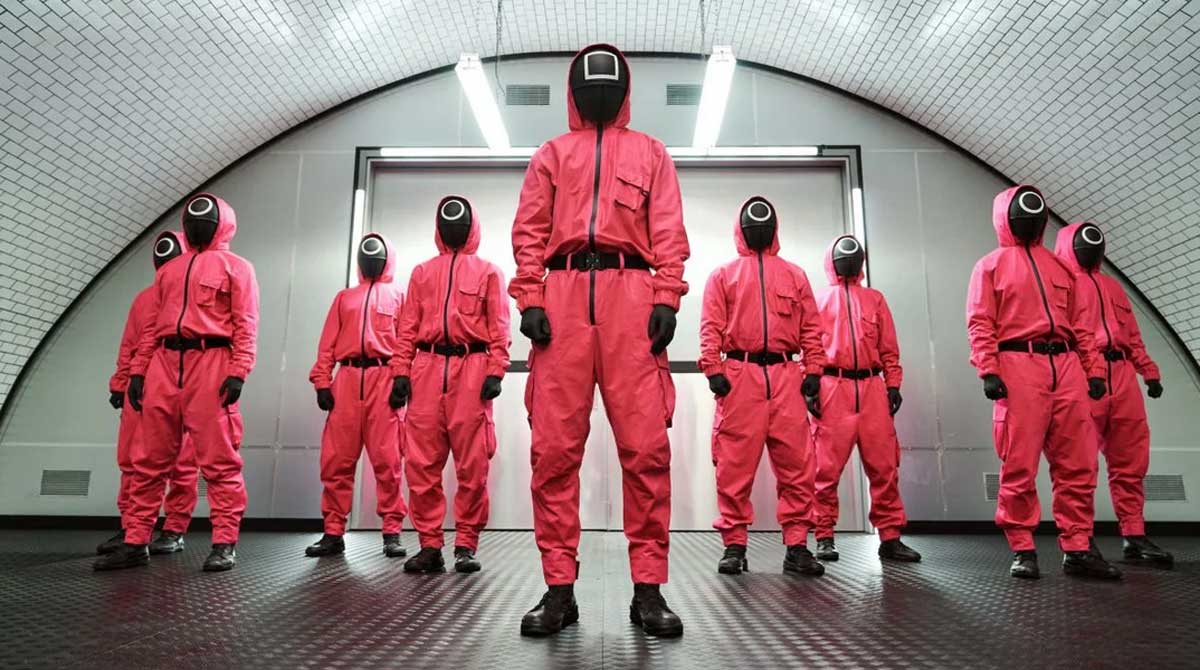 Have you heard about the recent South Korean drama blockbuster named Squid Game yet? It was released on Netflix on Sept. 17, 2021, and has quickly earned a worldwide audience. Since debuting, it has been viewed by more than 100 million people and has become the no. 1 trending in top 10 lists in 94 countries around the world.
Not only topped the list, but the South Korean drama has also created a trend that has influenced fashion style around the world and dominated the online platforms such as Google, Facebook, Instagram, and several online shopping websites: Amazon, eBay, Shoppee, and so on. On Google.com, you will find more than 223,000,000 results in only 0.53 seconds; on Amazon.com, the term "Squid Game costume" has also become a top finding, even when you have just typed only two characters "sq", the full term "Squid Game costume" will appear and you can find more than a thousand of results about this kind of clothes. 6,150 results for Squid Game costume appear when searching on eBay. On Instagram and Facebook, the hashtag #SquidGameCostume has recently become the most popular key hashtag and could be the influent style this winter.
Unlike trending superhero movies like Captain American, Avengers, with characters wearing specialized and inconvenient costumes for daily use, "Squid Game" is full of players wearing banal teal-green tracksuits. And this style of wearing tracksuits has been promoted by luxury fashion brands such as Louis Vuitton and Channel in recent years, because of its convenience and full of fashion, suitable for almost everyone from children, young people, and adults. That's why the seemingly simple tracksuits in "Squid Game" turned out to be more trending.
The green tracksuit will likely become popular because of its convenience and ease of production, but it's not the only known outfit, one that's probably even more sought-after is the set of hot pink boiler suits and black masks watch the spectacle. Halloween is just around the corner, this type of costume has the potentiality to become another "red jumpsuits and Salvador Dalí masks" – a phenomenon that comes from the previous hit Money Heist. Clearly, Squid Game costume could be a perfect choice for the one who is looking for the new and trending Halloween costume, and fashion influencers may have to queue in line after Squid Game this Halloween and winter.
With marketing strategies in all aspects that an ordinary person can reach just by picking up the smartphone, it is not difficult for "Squid Game" to be accessible through advertisements, and finding a way to win in marketing could be more easily for fashion companies and even companies that are not engaged in the fashion industry. Netflix even sells Squid Game t-shirts and hoodies on its website, and it seems that marketing the products of trending movies will become the marketing trend in the future.
However, from the environmentalist or sustainable consumption supporters' perspective, the influences of the fads can go against what they're pursuing. Sustainable consumption is the use of services and related products, which responds to basic needs and brings a better quality of life while minimizing the use of natural resources and toxic materials as well as the emissions of waste and pollutants over the life cycle of the service or product so as not to jeopardize the needs of future generations. Sustainable consumption is closely related to sustainable production and sustainable lifestyles. When thinking about the relationship of a hot trend like Squid Game and its influence, we could see the 4M plus model (4M +) including Mass media marketing -Mass outfit obsession – Mass production – Mass consumption, and the plus could be the Mass damage for the environment. It may seem to be not a kind of mass production if it only happens once in a blue moon and only happens for one movie/show, but in fact, it is an unstoppable game that every director wants to win. Fashion's influence could be a tool to reach the top trending show of the year and also be a push for the fashion industry and consumption later.
So, is the top trending show doing well in marketing and promoting fashion consumption by creating style influence, definitely Yes, but is it promoting sustainable consumption? I am not sure.