The Kashmiri's indomitable fighting spirit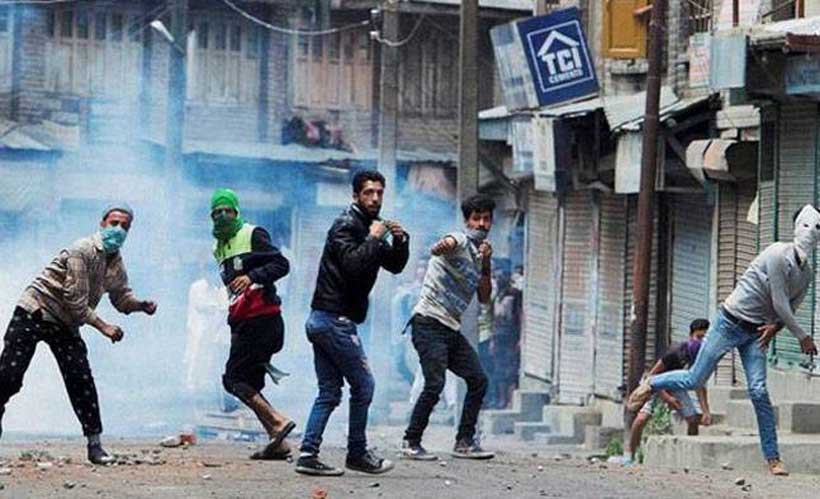 The Kashmiri has been ruled by Shah Mirs and Sultans (1339-1586), Mughals (1586-1751), and dogra (1846-1947).An immutable lesson of history is that they never reconciled with foreign rule. If they could no longer fight an invader with arms, they pelted stones on invaders (Moghul).  The stone throwers were called dilawars. Even when they could do nothing, they hated the Moghul by calling them shikas mogle (misery or disaster).It baffles one's imagination how the Kashmiri has sustained his struggle over hundreds of years, dogra oppression for 101 years (1846-1947), and Indian yoke for over 71 years. Historians agree that when oppression becomes unbearable, the oppressed become apathetic (Toynbee's Challenge and Response Theory). A kind of mental degradation follows that saps ability to fight challenges around. Even civilisations disappear for inability to respond to repressive environment. Ibn-e-Khaldoon's asabiya (spirit of national cohesion) also suggests that a nation's spirit is likely to be smothered by a challenge which is too heavy. The Kashmiri's struggle for freedom defies history. Neither the dogra nor the Indian could gag them.  The struggle for freedom has continued unabated for over 173 years.
Human rights violations have been documented and denounced by International human-rights organisations, as well as India's National Human Rights Commission. They have have brought into limelight the Kashmiri's mysterious disappearances, their custodial deaths, and countless rapes of hapless Kashmiri women.
There are landmark events in Kashmiris' struggle for freedom like July 31, 1931.  This day is observed throughout the world as Martyrs' Day, besides the fifth of February, Kashmir Solidarity Day. On this day, in year 1931, 22 Kashmiris sacrificed their lives to express their resentment against the despotic dogra rule. Several events served as a prelude to this fateful day. These included ban on prayer-leader (Imam) Munshi Mohammad Ishaque to deliver Eid sermon in the Municipal Park of Jammu, desecration of holy Quran, and also trial (in  camera) of Kashmiri youth Abdul Qadeer by the dogra's kangaroo court. Qadeer's offence was that he had pointed his finger towards maharajah's palace and shouted "destroy its every brick".
The July 13 event happened in spite of dogra rulers' efforts to gag Kashmiris' voice during the preceding period (1846 to 1931). The struggle for freedom continued in the post-1931 period.  India marched its forces into the Valley and annexed Kashmir on October 27, 1947.  The self-conceited basis for India's aggression was a fake instrument of accession.  The world community does not recognise this so-called accession instrument.  As such, the United Nations granted right of self-determination to the Kashmiri.  This right is enshrined in the UN's resolutions of 1948 and 1949.
Let us have a glimpse of the dogra's reign of terror in Kashmir. To stifle the Kashmiri's fighting spirit, the dogra punished even Kashmiri children who played with fork-slings (ghulail in Urdu) and stones (Muhammad Yousaf Saraf, Kashmiris Fight for Freedom, vol. 1, p. 50).  Nowadays,
Indian forces fire pellets (called `birdshots') with pump-action shot-guns against unarmed protesters or stone throwers, even women, and children five to eight years' old. A New
York Time report portrays a gruesome picture("An Epidemic of 'Dead Eyes' in Kashmir as India Uses Pellet Guns on Protesters", New York Times  Aug 28, 2016`)  It says` the patients have mutilated retinas, severed optic nerves, irises seeping out like puddles of ink'. Doctors call them `dead eyes'.  A similar report in Washington Post (December 12, 2017) is no less poignant.
The Indian forces fire bullets or gun-pellets to kill or blind stone-throwers. Under the dogra rule, the Kashmiri were treated no better than beasts of burden.  Instead of donkeys and horses, Kashmiri Muslims were used to transport goods across Gilgit, Leh and Skardu.  They carried luggage on their backs across glaciers as high as 17,000 feet.  Thousands of them perished along the way each year owing to frost bites, fall from a precipice, and hunger or sickness.  The dogra caravans were not humane enough to stop for a while in the snowy passes to look after the injured porters (or 'human beasts of burden').
Besides performing the forced labour, the Kashmiri had to pay heavy taxes.  Whole of their produce was confiscated by the dogra.  Little was left for tillers and their children to eat. On every item, the oppressed Kashmiri had to pay multiple taxes.  Take shawls.   Not only the shawl-makers were taxed, but also the other intermediaries like importers of pashmina (wool) from Ladakh, and storekeepers, whether wholesalers or retailers (ibid. p. 280-81).
The regressive revenue system resulted in a famine during winter of 1877.  People began to die of starvation.  Instead of releasing grain stocks from the royal go-downs, the maharajah's constabulary drowned the starved, crying people in the Wullar Lake.  Saraf writes: "Whole boat-loads of starving people have been conveyed by the Maharajah's officials to the Woolar Lake, and there drowned" (ibid. p. 294).
The reign of terror by Indian forces (now estimated at over seven lac regulars and security personnel) who replaced the maharajah's constabulary on October 27, 1947 is no less gruesome.  Like the dogra, Indian rulers are mercilessly exploiting Kashmiris' economic resources. Bulk of locally-generated electricity is being diverted to Indian states. The tourism industry is in shambles.  Highly – educated people have no jobs.  With no inflow of tourists, the shopkeepers have no business.
The lesson from Kashmiris' struggle for freedom is that repression or palliatives like elections in occupied Kashmir are no good.
Plebiscite, as promised in UN resolutions is the only solution  for the Kashmir's long struggle for freedom.
Nepal need lobbying group in Brussels
For most common Europeans; Nepal is not "known" country as like India or China. Yet, they might have heard of Mt. Everest—the world's highest peak. Yes, it is in Nepal. Nepal surrounded by India on three directions (East, South and West) and China on the Northern side. American's often blame for looking Nepal from the India's lens and they usually deny this. Europeans also more or less follow the same American pattern. For more than 250 years of its official existence as a country "Nepal" it has been struggling to survive in between two fastest growing economies of the world: i.e India & China. Nepal's international exposure is limited. It too has Embassy in Brussels. But Nepali academic, capital and diplomatic lobbying in this de-facto capital of the Europe is negligible.
These days, two debate in Nepal is heating up. First: Sino-US proxy war in Nepal & second: Nepal-India border dispute. The US had already identified, China as its core rival. So, conflict between them is not new. Nepal has been the interest for the US since 1960s during the time of CIA brokered Khampa movement in Nepal. China being the immediate neighbor of Nepal has a natural interest in Nepal. Belt & Road Initiative(BRI) is the China's signature grand strategy whereas Indo-Pacific Strategy( IPS) is the US strategy. Both BRI & IPS are playing the "geopolitical" flute in Nepal. They have started bottom up to down diplomatic strategy to persuade Nepali lawmakers and leaders. If pro or anti comments made on IPS or BRI each party put watershed on each others. Recently, Millennium Challenge Corporation(MCC) awarded $500 million grant to Nepal for the time limited period of 5 years. Nepal became eligible for this grant by passing 16 out of 20 indicators in the Score Card developed by MCC. This Score Card is assessed in three policy categories: Ruling Justly, Investing in People and Encouraging Economic Freedom. This grant will be used on the Electricity Transmission Project and the Road Maintenance Project. Electricity Transmission Line will be constructed from Lapsephedi-Glachi, Galchi-Damauli, Glachi-Hetauda and Damauli-Sunwal as well as road upgrading will be from Hetauda-Bhimphedi, Dharan-Basantpur, Kadmaha-Gaighat and Amelia-Dhankhola roads. But, this grant has been deadlock within ruling Nepal Communist Party in Nepal: whether to approve it by parliament or not? Is it the part of the IPS or not? Is there any threats of American Military arrival after approval of this grant? Such questions are heating up debate in Nepal. Some report support that; China is heavily influencing to derail this grant in Nepal as this is the US funded support. So, being rival of the US; China doesn't want American influence in its front yard.
Second debate is: India had constructed link road passing from Lipulekh to Kailash Mansarovar. This is a 80 KM link road which had shorten the trip to Kailash Mansarovar by one week. This road was inaugurated by India's Defense Minister; Mr. Rajnath Singh on 8th May, 2020. After inauguration of this road, it erupted protest in Nepal. The relationship of Nepal with India was already low at a time when India had shown Kalapani in its side on the new released map of November 2019. Historical facts suggest us that, India had encroached Nepali land Kalapani during the Sino-India war of 1962. This high altitude Kalapani where Lipulekh is based provided India better strategic location to observe Tibet. The Indian Military Mission was established in Nepal-China borer since 1952 and continued till 1969 to protect India from Chinese threats . There were altogether 18 Indian Check Post in Nepal-China border(Tinker, Taklakot, Muju, Mugugawn, Chharkabhot, Kaisang, Thorang, Larkay Pass, Atharasaya Khola, Somdang, Rasuwagadhi, Tatopani, Lambagar, Namche, Chepuwa Pass, Olangchungola, Thayachammu, Kalapani and Chayangthapu). Among them, all 17 Check Post were removed in 1969 but Check Post on Kalapani remained as it is. Since then, removing Indian presence in Kalapani became the strong slogan of nationalism for left politicians in Nepal especially after 1990.
Countering to the Indian move on constructing link road in Nepali land; Nepal had responded by releasing its new map on May 2020 that incorporates Kalapani, Lipulekh and Limpiyadhura in Nepali land. In June, 2020 Nepal had even ratified this map via parliament. This had given serious blow to several Indian politicians regarding the Nepali move. Indian Foreign Ministry had responded by saying "noted" on the new released map by Nepal. The central problem of the border dispute between Nepal and India is the source of Kali river. India believes that the source of Kali river is Kalapani area whereas Nepal believes that the source of Kali river is Limpiyadhura. Sugauli Treaty of 186 between Nepal and British India had clearly mentioned that, " East of Kali river is Nepal and the West of Kali river is the British India". However, India interpretation of the demarcation of border based on Suguali Treaty differ. This has created a dispute between Nepal-India border.
Way forward
Underlining above two heated debate; Nepal need proper international lobbying to secure its national interest from foreign powers. Brussels host more than 200 embassies as well as consulates and it is one of the vibrant diplomatic hub of the world. It is second city after Washington DC to be active number of lobbyist. According to DR2 Consultants; there are 15,000 and 30,000 active lobbyists representing corporate companies, industry, agriculture and many other sectors. So, Nepal need to establish its lobbying group in Brussels to strengthen Nepali voice in European Parliament and across Europe like other foreign governments who has also lobbying group in Brussels represented by Consulting firm and Think Tank. Corporate Europe Observatory had said, it research found examples of lobbying for 15 foreign governments in Brussels– Armenia (Burson-Marsteller), Azores (APCO), Belarus (Bell Pottinger), Botswana (Hill & Knowlton), Bulgaria (Alber & Geiger, Burson-Marsteller, Dominique de Villepin), Ethiopia (DLA Piper), Georgia (Aspect Consulting, Kreab), Jersey (White & Case), Kazakhstan (BGR Gabara, APCO), Pakistan (Alber & Geiger), Portugal (Kreab & Gavin Anderson), Republika Srpska (Hill & Knowlton), Russia (GPlus, Hill & Knowlton), Sri Lanka (Bell Pottinger) and the Ukraine (APCO). At last, Nepal need to re-modify its diplomatic working pattern based on timely manner and current practice; so that it will make her able to survive in between the two fastest growing economies of the world.
Covid-19 and Digital Education Failure in Pakistan
The Covid-19 pandemic has gripped life globally. Education system is getting worst in many countries because digital education. As coronavirus control measures spread throughout South Asia, universities such as India, Pakistan and Afghanistan find themselves poorly prepared for online learning or distance learning because their campuses are closed and their students return home, some remote areas are without internet facilities and offline facilities to continue the classes system.
Pakistan's Higher Education Commission (HEC) asked universities to engage faculty and quickly develop online courses and broadcast those to the students in view of the coronavirus situation in the country. Coronavirus pandemic has endangered us all and online education is the solution for the safety of the faculty and the students. But there are some issues regarding online system in Pakistan, most of the students don't have smart phones and internet facility which leads to failure. Before Covid-19 the education system was not up to the mark, after this pandemic era it badly effect the students and their future. Many students return from abroad because of this pandemic era, after the flights suspension most of the students stuck in their home country and facing problems such as study, financial and time research.
Pakistan has already faced university closure in Pakistan in the past due to the terrorist attack and the political threats but that time universities did not adopt the online education system for students. A suddenly change to online learning is create many challenges to the system as majority of student do not have their smart phones and personal computer for online classes. On the other side there are many other Government schools in Pakistan like "Government High School Barranga Bakkhar" which i have visited personally and asked some question with MR Asim Shahzad (School Teacher). He told that government is not providing books to their student, and students do not have smart phone access even from their parents due to poor condition.
Boarding students have left for their homes located mostly in less developed areas, and the international students from different counties move to their home town. Another Student Muhammad Abbas from Pakistan who is Studying PHD in Zhengzhou China went back to his city Lahore, near Shezan factory, when the closure of academic institutions was announced. He said, he is on Chinese government Scholarship about 4500 yuan per month. After pandemic cause china has stop funding to all scholarships students except one or two universities from March onwards until 1 September 2020. It is very hectic situation for all PHD scholars, its creates financial, study, also lead to fail in research without labs availability he said.
In some countries like China where community transmission of the virus has reduced significantly, schools are reopening in phases by employing rotation models which use time and the school space flexibly. This seems like a plausible way forward. Although, it is interesting and ironic to note how the serious measures that are being put in place to protect children from a deadly disease are not very far from their everyday routine in schools i.e. sitting in assigned seats, usually remaining in the same room all day long, walking along a marked track, listening passively to instructions, and enjoying limited time outdoors.
Perhaps this lockdown has given us an idea of ​​how we can improve our educational institutions to ensure that students get the maximum possible benefits. We can use this as an opportunity to redesign learning spaces / communities, in collaboration with parents, to further facilitate student learning. More than anything, this abrupt wake-up call should prompt all relevant stakeholders to reflect on the true purpose of schools and the future of learning in this country.
Students try to convince experts through all possible forums to review the decision about classes and exams online, but unfortunately their voices are simply ignored. Instead of suggesting academics with a logical path forward in this crisis situation, the administrators appointed at HEC and HEI are introducing policies to increase confusion among students. In the meanwhile Pakistan digital learning system failed due to covid-19. Most of the student have out their focused towards studies/education.
The provision of quality education is the sole responsibility of the government and educational institutions. HEC is mandated to guarantee the quality of education without compromising established standards. This unfortunate situation requires an intelligent contribution from all concerned. Advanced countries, the World Health Organization (WHO) and the Prime Minister of Pakistan himself advise people to learn to live with the coronavirus for a certain period until such time as no lasting treatment is invented to fight the virus. Given this prevailing scenario, the government, HEC and universities are required to take a futuristic, achievable and positive approach to safeguard the valuable time of millions of students across the country and the sole purpose of education.
Sino-India Emerging Rivalry: Implications for Stability of South Asia
India and China, both heirs to ancient civilizations, have emerged today as the two most powerful and influential Asian nations in terms of their economic clout and geopolitical standing in the international arena. The two countries recognize the need to eliminate enduring mistrust between them and have been focusing on building a rational partnership underpinned by China's pragmatism. However, despite the recognition that cooperation may be in their mutual interest, this will be easier said than done. India-China relations have always been complexing with multifaceted regional and global dimensions, which have complicated their bilateral relationship. Even as India and China have crossed a long road from being friends to adversaries to rational partners, a factor which has been constant in the conduct of their affairs, is the that they are neighbors who have as much to gain from each other as to fear from the other. Both the states clearly understand that cooperation could work to their mutual advantage and benefit. Any conflict between the two countries would not only jeopardize their national security but would also have serious implications for their regional and global security perspectives. Tensions along the India-China border high in the Himalayas have again flared up the situation between both the countries. Thousands of soldiers from both sides have been facing off just a few 100m from each other in Ladakh's Galwan Valley. China has objected to India building a road through the valley connecting the region to an airstrip, possibly sparking its move to assert control over the territory along the border that is not clearly defined in places. India and China engaged in a similar standoff for 73 days at Dokhlam, at the other end of their disputed border in 2017, when Indian troops were mobilized to counter what was seen as moves by the Chinese side to expand its presence along the border with Bhutan. The situation was later defused through diplomatic channels
In political realism, power is the capability to make another state do something it would not otherwise do and vice versa. What makes a state powerful is its capability to influence the other. The South Asian region is home to one fourth of the world's population which is the least economically unified regions in the world. Intraregional trade remains well below its potential due to historical political tensions and mistrust because of cross-border conflicts and security concerns. Since the advent of the 21st century, China has been conducting multi-dimensional cooperation with all the South Asian countries (Afghanistan, Bangladesh, Bhutan, India, Maldives, Nepal, Pakistan, and Sri Lanka). China's major interests in South Asia include promoting stability in both Pakistan and Afghanistan in order to curb the influence of extremists, to facilitate trade and energy corridors throughout the region that China can access, and to increase its presence in the Indian Ocean Region . India fears that China's investment in South Asian ports not only serves its commercial interests, but also facilitates China's military goals. India perceives the Chinese presence in South Asian countries as a design to thwart what was once considered as India's sphere of influence.
China has so far been successful in influencing South Asia because of many factors. One of the major reasons is that China has managed to project itself as a neighbour that would not interfere in the internal affairs of other countries least of all in the internal affairs of its friends and partners. In the light of its "Good Neighbourhood" policy, China's increased diplomatic and economic engagements in South Asia are aimed to enhance its strategic influence in the region. China is focusing on construction of a chain of airfields and ports at Gwadar-Pakistan, Hambantota-Sri Lanka, Myanmar, and Chittagong-Bangladesh has part of its "String of Pearls" strategy, which also includes China's influence in South China Sea, the Strait of Malacca, the Indian Ocean, the Arabian Sea and the Persian Gulf. India, on the other hand has been trying to consolidate influence over its smaller South Asian neighbours other than Pakistan and holds almost complete sway over the SARRC setup. Defining Indian strategic environment, former Indian Prime Minister Atal Bihari Vajpayee once stated, "India's strategic environment extends from the Persian Gulf to the Strait of Malacca, across the entire Indian Ocean, including Northwest Central Asia and Afghanistan, East Asia, China and Southeast Asia. Our strategic thinking must be extended to these horizons Line".
The changing alliances and power equilibrium among the United States, China, India, and Pakistan bear key implications on the inter-state rivalry and the consequent crisis dynamics in South Asia. Since the introduction of the US Indo-Pacific Strategy 2018, mutual suspicion and hostility between India   have intensified. There is a shift in the regional dynamics with the United States and India being on one side and Pakistan-China on the other. These changing dynamics will have significant implications for U.S. policy toward South Asia and crisis management down the road. Previously, the US had rendered constructive support in Pakistan-India crisis management. This role was taken up due to US perception of India-Pakistan's relative power balance. However, US strategic interests in Asia Pacific region. Since Pakistan finds itself unable to serve as China's balancer against India in the region, the immediate solution in Chinas calculus has been to strengthen Pakistan's capacity and potential for economic growth and stability through the China-Pakistan Economic Corridor (CPEC), a fusion of infrastructure projects and funding aimed at reviving Pakistan's economy. The CPEC will also serve China's own strategic interest to reach out to the world through the shortest trade corridor offered by Pakistan due to its geopolitical location.
It is widely believed across the Chinese political circles that Indian aggression in the region is generally triggered by China's support to Pakistan. India's increasing inclination and reliance on the US has resulted in a heightened aggressive regional outlook of Prime Minister Modi. For instance, India's revocation of Article 370 followed five months after India-Pakistan- brinkmanship resulting from the Pulwama crisis. The Indian decision to break the occupied state of Jammu and Kashmir into two union territories had directly challenged the territorial claim of Ladakh by China. China's support to Pakistan is not perceived as China's good will but as a concession extracted due to India's might. Therefore, India might make even more encroachments on the LAC if China's support for Pakistan increases. However, the change in China's policy orientation regarding South Asia's crisis management does not suggest that China will actively expedite or facilitate a crisis in the region. Traditionally, China has resorted to mediation for Pakistan-India crises. China can be helpful under a situation when US treats crisis management in the region as a significant priority and Chinese cooperation as an inevitable factor. But Beijing's relations with Washington have deteriorated in the past few years. Beijing has been seeking to highlight issues of convergence that can lead to cooperation with US to improve bilateral ties. In case the US wishes to mutually manage a crisis in the South Asian region, Beijing might be open to cooperation. However, it is also expected that China might not assist in seeking a solution that would continue to capitalize on US need for cooperation. In the light of the current great power competition between US and China, crisis management in the South Asian region might be another case of collateral damage.