Sexual Diversity in Hindi Cinema: A Beginning
Bollywood, or as the more politically correct call it the "Hindi Film Industry", released last week what is advocated as the first commercial film to portray love between two women characters in 'Ek Ladki Ko Dekha Toh Aisa Laga' (When I Saw a Girl I Felt That Way). A sterner breakthrough was in1996 when 'Fire', a path-breaking mainstream film boldly represented same-sex love between two women worn-out from their conjugal lives to find companionship in one another. Gatekeepers of Indian tradition and culture vandalized theatres and ran smear-campaigns against the film; it was way ahead of its time. The later Hindi films did little justice to aptly represent diversity by only typecasting characters to fit into the stereotypes of queer men as effeminate and reducing cross-dressers to a mere punch line.
The misrepresentations and badly written jokes were unobjectionable and continued to amuse the audience and homosexuality was typecast into a box of fallacies.  Homophobia persisted, if not strengthened, as influential politicians and famous yoga gurus condemned homosexuality as immoral and abnormal but treatable disease. Some went so far as to call it a Western import, an idea that was flowed in to corrupt the Indian purity. The retrograde legal standing on homosexuality as an unnatural activity remained a hurdle to depict properly the gravity of the issue in mainstream cinema. Yet, the fact remains that these films only reflected homophobia that truly exist in the society.
Following the decriminalization of homosexuality in India in September 2018, a six months later about woman struggling to come out to her family is exceptional. The film plays safe within the realm of a conventional narrative without going overboard. Not pushing the envelope to advocate for a radical change in thoughts and action, the film simply speaks for acceptance. But does it really get its message across?
Perhaps not. The movie's representation of homosexuality is washed out akin to the superficial dealing of homosexuality in India. It does not even do as much as show some physical intimacy between the main leads. It revolves around the obsolete narrative of a protective family that is oppressive to protect the woman. It shows a self-sacrificing situation where she is ready to marry a man only because she needs to put her family first, even before herself.
By doing this, the film is toying into a genre of a submissive female, a storyline that has always been exploited by Indian films. The act of women as submissive to the demands of the family by suppressing their desires to save the honor which lies in their character is outdated. For a film woke enough to speak about homosexuality openly, these outdated narratives were unnecessary as they tend to reinforce the norms that need to be eradicated from Indian cinema.
It goes without saying that Indian content is consumed across a huge geographical region, covering the whole of South Asia and also across Indian communities all over the world. A form of cultural hegemony has been established as local content is dominated by Indian content, thwarting native culture in the process. For the more diverse and liberal audience that consume these films it is concerning whether such things will also be internalized in more open societies.
However, delving into a topic that is untouched but essential in today's time, it is one baby step that will gauge the standing of the society on homosexuality. It is not to say that the issue has gained much acceptance largely. Sexual minorities in India continue to be marginalized and their struggles to fit as ordinary or to be treated equally into the society is crushing. Progressive films are one way to get on board to bring the required change.
Nevertheless, it is only with slight trepidation that filmmakers can proceed to depict 'bold' issues on screen. The presence of a paternalistically stringent censor board has always been a hurdle to pass. Fringe groups backed by strong political connections are almost at the ready to vandalize a film set and put a bounty on the director and actors for distorting Indian culture.
23 years after the fate of 'Fire', little has changed about acceptance – both in cinema and society. More progressive films in the mainstream might be a long way ahead in India, especially since the formula of success is doused in skewed gender representations. However, one can only hope for stronger scripts that stir the audience, incite dialogue, and then bring the change we have always wanted to see.
Women outnumber men in higher education but gender stereotyped subject choices persist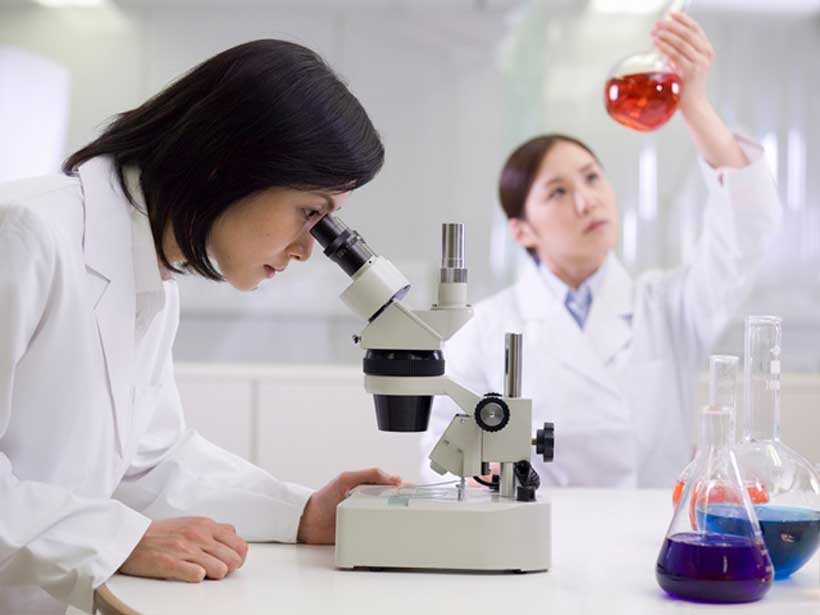 Education is essential to achieving gender equality. From the earliest schooling to the highest levels of post-graduate study, education influences the opportunities that can shape people's lives.
This is why education and training of women is one of the 12 critical areas of concern in the Beijing Platform for Action, while target 4.5 of the Sustainable Development Goals (SDGs) calls for the elimination of gender disparities in education by 2030.
In the UNECE region girls tend to outperform boys in terms of learning outcomes in schools, and women outnumber men in tertiary education (university level and beyond) in almost all countries of the region.
Women remain in the minority, however, as students of stereotypically "masculine" subjects such as ICT and engineering, although in recent years they have begun slowly gaining ground.
Tertiary level graduates
In 39 out of the 47 UNECE countries with data, more than 55 per cent of tertiary graduates are women. Iceland has the highest share, with 66 per cent women. Seven countries are close to gender parity, with the share of women ranging from 48 to 55 per cent, and only in Uzbekistan are women in a clear minority, with 38 per cent of tertiary graduates.
After decades of increase in women's participation in higher education, women substantially outnumbered men among tertiary level graduates in most countries by 2012. Since then, women's share has declined in 32 out of the 47 countries with data. Whilst in Azerbaijan and Turkey fewer than half of tertiary graduates were women in 2012, more women have entered tertiary education in these countries since and the 2017 data already show gender parity there.
Subject choices of women and men
The subjects studied at tertiary level by women and men can reflect stereotypes of "masculine" and "feminine" subject areas. Some subjects may be preferred by potential employers and may affect occupational segregation once graduates enter the labour market. Information and Communication Technologies (ICT) and Engineering, Manufacturing and Construction (EMC) are two broad groups of subjects where male students have historically predominated.
Women remain a minority among ICT students in the UNECE region, with percentages ranging from 11 in Belgium to 33 in Greece. The four countries with the largest share of women among ICT students are all in the Balkan region. Among students of EMC, the share of women is somewhat higher, but still falls far short of parity, ranging from 14 per cent in Georgia to 44 per cent in North Macedonia.
In both of these subject groups, the recent trend shows small gains for women in some countries but reductions in others. Overall, progress towards gender equality in these two typically male-dominated subject areas is uneven and slow.
UNECE Beijing+25 Regional Review Meeting
Progress in achieving gender equality in education will be one of the areas in focus at the upcoming Beijing+25 Regional Review Meeting for the UNECE region, with a particular emphasis on how women and girls can enter currently male-dominated fields.
The Beijing Declaration and Platform for Action of 1995 (Beijing Platform for Action) is the most ambitious road map for the empowerment of women and girls everywhere. In 2020, it will be 25 years since the Beijing Platform for Action outlined how to overcome the systemic barriers that hold women back from equal participation in all areas of life.
The Beijing+25 Regional Review Meeting (29-30 October 2019) will take stock of where the UNECE region stands on keeping the promises of the Beijing Platform for Action. Bringing together government representatives and key stakeholders from the UNECE region, the meeting will tackle a number of obstacles that keep girls and women from realizing their full potential. UNECE is joining forces with the UN Women Regional Office for Europe and Central Asia to deliver a two-day multi-stakeholder meeting to exchange concrete policies to accelerate the realization of gender equality. The outcomes of the meeting will feed into the global review of the Beijing Platform for Action taking place at the sixty-fourth session of the Commission on the Status of Women in New York from 9 to 20 March 2020.
Call for Action from Leaders and Business on Violence against Women
Spiralling levels of violence against women in Africa require immediate action from governments and businesses, including tangible measures to create safe spaces, experts from across the continent told the World Economic Forum on Africa today.
Protesters in South Africa have taken to the streets and social media to demand action, following the rape and murder of a Cape Town university student who was attacked in a post office. Uyinene Mrwetyana was just the latest of many victims of brutal assaults in a region where approximately 45% of women and girls over 14 years have experienced physical or sexual violence.
"I'm dumbfounded by the idea that we can continue with business as usual," said Namhla Mniki-Mangaliso, Director of African Monitor, who urged technology companies to take a lead in delivering solutions. "It would take a click of a finger for a tech company to say we are going to deploy a software that can assist us with an emergency response system for poor women in South Africa free of charge."
The potential for technology to help in the fightback highlights the need for businesses to think creatively, given that cyberbullying can also contribute to discrimination in the first place. Mniki-Mangaliso said the wider business community should also step up to the plate by backing a gender-based fund to address the deep-rooted problems behind the rising tide of physical and sexual assaults.
Hafsat Abiola-Costello, President and Chief Executive Officer of the Women in Africa Initiative, said Africa could learn from China, where decisive action was taken to ban harmful practices like foot binding and polygamy. African governments, by contrast, too often fail to enforce bans on polygamy or genital mutilation, thereby reinforcing a culture of discrimination against women that becomes embedded from childhood.
The failure to protect women is not just a moral issue; it also comes with a high economic cost. "Who drives African communities? It's our women. Our women can drive Africa's development, if given the chance, if protected, if their rights are respected," Abiola-Costello said. "Africa missed the first industrial revolution, we missed the second, we missed the third. If we don't address this issue, we will miss the fourth."
Obiageli Katryn Ezekwesili, who spearheaded the #BringBackOurGirls campaign in Nigeria and is a fellow of the Robert Bosch Academy, said calls for women to help drive African development will simply ring hollow if violence is not addressed. "The world lacks the moral pedestal to stand on to ask girls to aspire if we cannot have the back of those who are vulnerable," she said.
With 16,000 deaths due violence against in women every year in South Africa alone, Akudo Anyanwu, Associate Dean at Johns Hopkins University, said: "Our presidents and the leaders in government need to come out and take a position. We need to have our leaders come out and call crimes a crime."
Young women learn government fundamentals in nationwide leadership program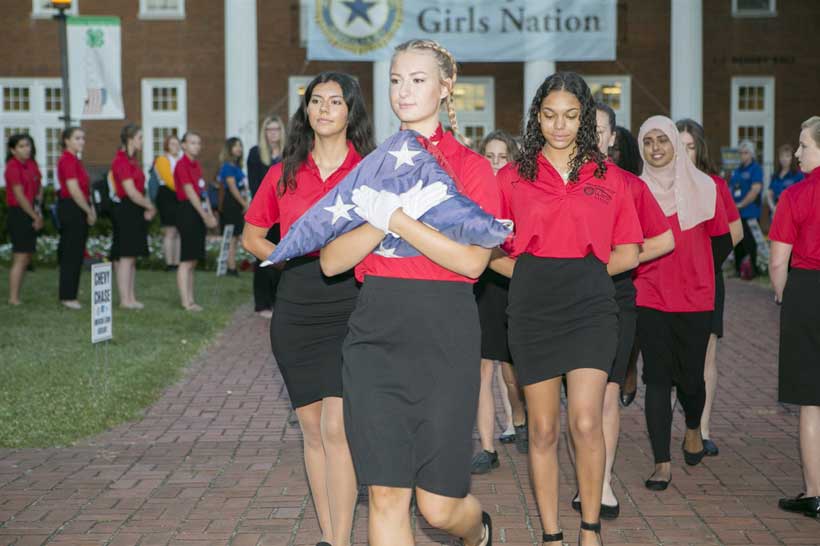 This July, two teenage girls from every state in the country met in Washington, D.C., for the 73rd annual American Legion Auxiliary Girls Nation. This one-week government-in-action leadership development program is designed to educate future leaders on U.S. government fundamentals and the rights, privileges and responsibilities of citizens.
The girls selected to go to ALA Girls Nation are chosen from week-long ALA Girls State programs in each state. The young women become "senators" for a week and participate in mock political campaigns and debates, visit historical sites, and meet their real-life counterparts on Capitol Hill. For a number of the participants, the program's impact extends beyond the weeklong event: Many go on to serve in the military and credit ALA Girls Nation as their source of inspiration.
New ALA member and U.S. Army Capt. Virginia Clark, stationed at Fort Benning in Georgia, is an ALA Girls Nation alumna. Though she says she has always been patriotic, her experiences at ALA Girls State and ALA Girls Nation helped her realize she wanted to serve her country. "Being around really motivated people made me realize I wanted to be around people who were spending their time doing things rather than looking for the next great party," Clark said.
Reflecting on where she has been and where she is going, Clark says she owes it all to the American Legion Auxiliary. "I wouldn't have gotten into West Point without ALA Girls State and ALA Girls Nation … I 100 percent owe, I think, my current life and my career — I met my husband at West Point — to the fact that I went to ALA Girls State and ALA Girls Nation."
For some girls, the Washington, D.C., leadership program is their first opportunity to connect with peers with common interests. For others, it is the first time they encounter students whose perspective differs from their own. For all, it is a moment in time where similarities and differences come together to symbolize strength, democracy and freedom.
Former ALA Girls State and ALA Girls Nation attendee Allyson Snelling, who is attending the U.S. Military Academy at West Point, chose a career in the military because she "loves everything it represents." She adds, "The values and lessons I've learned during my short time at West Point have made me a better person and leader." Snelling said the program taught her the power of one voice and the importance of communicating with others. "Being able to communicate with someone you may completely disagree with is becoming a lost art," she said. "ALA Girls Nation taught me that it doesn't matter if you agree; it matters that you understand."
ALA Girls Nation alumnae have gone on to hold leadership roles in industries spanning government, media, education and law, and many have become high-ranking members of the military.
Notable alumnae include Jane Pauley, national media personality; Susan Bysiewicz, lieutenant governor of Connecticut; retired Lt. Gen. Michelle D. Johnson, former superintendent of the U.S. Air Force Academy and former Air Force aide to the President; Ann Richards, former governor of Texas; and Susan Porter-Rose, former chief of staff to First Lady Barbara Bush, among many others. ALA Girls Nation is proud to be a foundation of support to the future strong women of this great nation.
The American Legion Auxiliary (ALA) is a nonpartisan organization committed to advocating for veterans' issues, mentoring America's youth and promoting patriotism. They advance the mission of The American Legion, incorporated by Congress in 1919 as a patriotic veterans organization founded on four pillars: Veterans Affairs & Rehabilitation, National Security, Americanism and Children & Youth.