The Collapse of the INF Treaty as a Motivation?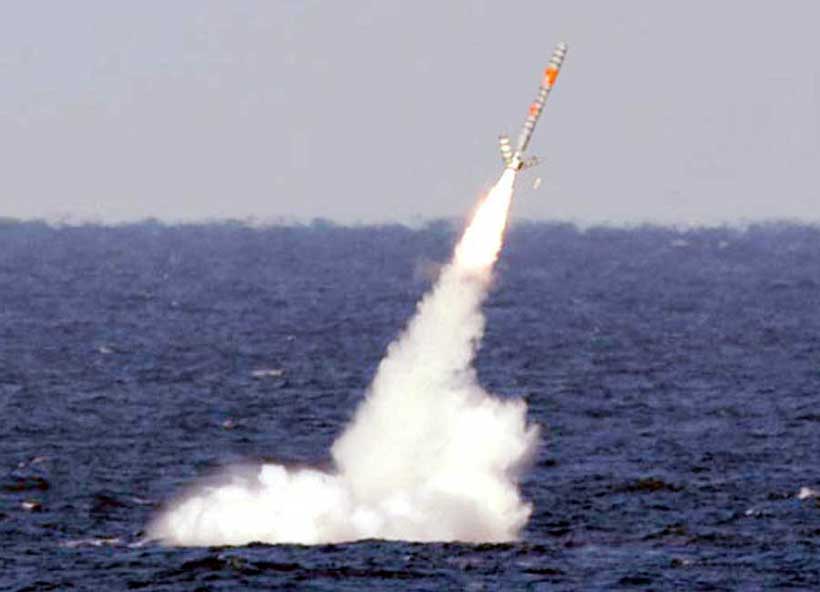 Despite the attempts of Russian and U.S. sides to find common ground on the Intermediate-Range Nuclear Forces (INF) Treaty, it appears that the agreement will cease to exist this year. So what next?
Fighting for Opinions
Russia has been demonstrating a rather high degree of flexibility of late, including publicly, by stating its readiness to reveal its "controversial" 9M729 land-based cruise missile and then holding a presentation on it (even though the scale of the event was, apparently, smaller than the one that was originally proposed to the U.S. partners).
Despite the fairly simple diagrams of the 9M729 and 9M728 missiles displayed on their transport-and-launch containers and the launcher's similarity to that of the "Club-M system that was first demonstrated back in 2007 as part of the setup for the land-based variant of the Kalibr missile (even though it was a shorter-range version intended for export), this information appears to be quite interesting. Furthermore, the data supplied by Russian sources largely confirms the assumption that the warhead is the main feature of this new cruise missile for the Iskander-M tactical missile system. At the same time, it is possible that the "new but not-so-new" launcher had been planned all along, but did not emerge until now due to concerns about possible breaches of the INF Treaty, and that it was only greenlighted once an appropriate, militarily significant cruise missile had emerged that met the INF requirements and required a new launcher type (other than the "classic" 9P78-1 one). It may very well be that the new launcher is not suitable for 9M723-series quasi-ballistic missiles, and there are questions about its compatibility with the accompanying transporter-loader vehicle; however, the missile's increased accuracy and power (and possibly its enhanced capability to overcome enemy missile defences) was clearly considered to be very valuable.
Unfortunately, the key NATO and EU member nations ignored the presentation, and not necessarily of their own volition [2]. The United States, for its part, continues to express concerns about the 9M729 cruise missile breaching the INF Treaty, demanding the destruction of both the missile and the associated launchers under Washington's supervision.
On February 2, the United States will start the process of "suspending" its obligations regarding the INF Treaty. The Ministry of Foreign Affairs of the Russian Federation has already described the decision as being "legally void." Washington, however, sees this as a way to develop missiles that would be otherwise prohibited by the Treaty. It should be noted that the United States started planning research and development in this field several years back, and the first test launches may be expected in the near future. It could start with test-launching land-based versions of its air- or sea-launched cruise missiles, for example. Another possible pioneer might be a new tactical missile being developed as part of the Precision Strike Missile programme (formerly known as Long Range Precision Fires), which is to replace the good old ATACMS programme. Raytheon is a participant in the project with its DeepStrike project, whose advertised maximum range stands at the marvellously precise figure of 499 kilometres.
What Next after INF Treaty?
If the United States notifies Russia (and the other post-Soviet states) on February 2 about its withdrawal from the Treaty, how will the situation unfold over the next six months? [3]
The worst-case scenario would involve the rapid development and deployment by Russia and the United States of conventional and nuclear medium- and short-range missiles on both sides of the NATO–Russia border: in Russia's Western Military District (including Kaliningrad exclave) and throughout Central and Eastern Europe. It would take at least a year for the respective missile units to become fully operational, but even announced planse on their deployment would ruin whatever is left of the European security architecture, including the Russia-NATO Founding Act. Western Europe is unlikely to support such processes; however, Eastern European countries may be willing to host U.S. offensive systems within the framework of bilateral agreements. This may indeed trigger a crisis in the West, including within NATO and the EU, but Russia is sure to suffer much more from such a return to the Missile Scares of the 80s. Moscow is much closer to NATO borders today than it was back then due to geography and political developments, and the the military threat emanating from the Alliance is playing a serious role in the way Moscow' perceives this threat policy-wise. Russia will certainly need to take into account the drastic reduction in decision-making times should hostilities break out, which could result in pre-delegation of the authority to use nuclear weapons to lower levels of the command chain, or even in fully automating this process, given the heightened interest in the topic on the part of the country's top political and military leadership. It is partially because of these risks that it would be a bad idea to rush to deploy new missile systems, thus poring fuel to the simmering conflicts.
It is much more likely that all the actors involved will exercise some degree of self-restraint. The interested parties could state their intentions to refrain from unprovoked deployments of missile systems. This would prevent any restrictions on R&D efforts, while at the same time facilitating a relatively stable strategic military architecture. Other possibilities include agreements that would restrict the geography of possible deployments – for example, Europe could be declared an area free from intermediate and shorter range missiles. However, such a decision would have a negative impact on the theoretical possibility of developing a global regime (not even a prohibitive regime, but just a restrictive or more transparent one) that would involve China, India, Pakistan, Iran, Israel and other actors.
In addition, if all the parties involved were prepared to withdraw from the INF Treaty, they could coordinate joint decisions on payloads for non-strategic missiles to be deployed. The Treaty does not distinguish between nuclear and conventional warheads, which is something worth revisiting in any eventuality [4]. Such a discussion would help the parties to return to the broader topic of control over tactical nuclear weapons, especially given the fairly interesting proposals that have emerged recently.
The possibility of some arrangements between European countries and Russia deserves special attention. Here, the key objective is to change the perception both in Moscow and in the European capitals: it is not about splitting the transatlantic unity or driving a wedge between Western and Eastern Europe. On the contrary, the emergence of a purely European arms control regime should help the disintegrating U.S.–Russia system of treaties remain in place. This, however, would require both parties to act fairly boldly.
The Future of New START and Arms Control
It should be stressed here that, unless the United States resorts to overly provocative activities in terms of deploying new intermediate and shorter range missile systems aimed directly at the Russian strategic nuclear forces (SNF), then Russia will continue with the current pace and targets for the modernization of its SNF as permitted by the New START Treaty.
In early 2019, the U.S. media ran a Russian letter to the United States Senate Committee on Foreign Relations. The document explained Russia's position with regard to the allegations of the United States that Moscow had failed to observe the INF Treaty [5]. Without going into much detail as to the essence of the mutual accusations, it should be noted that Washington's failure to embrace a constructive approach presents the key threat to prolonging New START beyond 2021. Most importantly, Russia is presumably prepared to agree to a system of so-called "cabinet-level written political commitments". Those are possible with regard to the cap on the total number of ballistic missile launch tubes on U.S. Ohio-class submarines (with the exception of those intended to make up for the missile potential of any lost launchers). A similar principle could be applied to upgraded Tupolev Tu-22M3M long-range bombers, which can theoretically be retrofitted with in-flight refuelling capabilities (thus boosting their range beyond 8000 kilometres) and the ability to release air-launched cruise missiles with a range of over 600 kilometres. This would turn such aircraft into heavy bombers under New START. The aforementioned letter states that Russia has no such intentions with regard to this bombers, but a relevant formal written commitment might prove to be a useful instrument of trust and security. This aspect of arms control may yet come to the fore should Russia-U.S. relations deteriorate further, including under the influence of domestic political processes in the United States.
Russia and the United States managed, in previous decades, to reach a very high level in terms of sharing reliable information on their strategic nuclear forces, and it would be a real pity to see this potential go to waste. However, it is becoming increasingly obvious that these relations are very much unique. It is quite possible that we will return to a time when there were no legally binding restrictions on Russian and U.S. nuclear forces. This might be the point at which a new polycentric nuclear order will begin to form. To begin with, it would be advisable to develop a system of measures aimed at building confidence and transparency, as the existing asymmetry in the arsenals of the nuclear powers dooms any potential attempts to introduce universal or proportional constraints to failure. It is possible that the principle of "commitments" and other such solutions currently being discussed by Russia and the United States with regard to the controversial issues of New START could contribute to the foundation of such a "post-bipolar" regime. China, for one, might prove more willing to embrace a regime like that than a full-blown international treaty complete with stringent restrictions and mandatory inspections.
To conclude, let us revisit the founding principles: Why do countries need arms controls at all? Without getting bogged down in theoretical considerations, such controls resolve two problems: they mitigate risks by increasing the transparency and understandability of the doctrines and structure of the potential adversary's armed forces, while optimizing one's own military structure thanks to streamlining the range of defence programmes and curtailing the number of weapons and equipment in active service. It would appear that, today, the INF Treaty is failing to meet these goals, at least in the eyes of the U.S. administration. Whether or not this is because of Russia's alleged breach of the Treaty or a perceived threat from third countries is of secondary importance.
1. It is noteworthy that, according to Kommersant, "following the [Russian] Foreign Ministry's news conference on January 18, the U.S. Embassy in Moscow held a briefing on the topic. However, instead of foreign ambassadors, only political advisors to the representatives of EU member states were invited. One of the people who attended the meeting later revealed to Kommersant that the audience had been informed that the Foreign Ministry event had presented nothing but 'propaganda,' and that Russia was 'in severe breach of the INF Treaty.'"
2. It is noteworthy that, according to Kommersant, "following the [Russian] Foreign Ministry's news conference on January 18, the U.S. Embassy in Moscow held a briefing on the topic. However, instead of foreign ambassadors, only political advisors to the representatives of EU member states were invited. One of the people who attended the meeting later revealed to Kommersant that the audience had been informed that the Foreign Ministry event had presented nothing but 'propaganda,' and that Russia was 'in severe breach of the INF Treaty.'"
3. Procedurally, withdrawing from the Treaty in and of itself is an interesting case in terms of the theory and practice of international law. One of the best articles on this topic was published on the LAWFARE website in the autumn of 2018.
4. Nuclear warheads are normally weigh slightly less and somewhat less precision-critical than conventional munitions, meaning that a nuclear-tipped missile of the same class may have a longer range.
5. Unfortunately, the Ministry of Foreign Affairs of the Russian Federation has not yet published an official Russian translation of the document.
First published in our partner RIAC
The East Expands into NATO: Japan's and South Korea's New Approaches to Security
The 2022 NATO Summit in Madrid can be seen as a momentous occasion not just for NATO but also for security in the Asia-Pacific. For the first time in NATO's 73-year-long history, Japanese and South Korean leaders participated in the meeting as "Asia-Pacific partners". For the first time, the Alliance named China a threat in their documents. However, having approached the hic sunt dracones (here be dragons) mark, NATO and its partners will soon have to think about the limits and purpose of expanding the organization's areas of activity.
The Bargaining Yen
Fumio Kishida was Japan's first premier to ever attend a NATO summit. Japan's leader called for enhancing Tokyo's ties with NATO based on the 2014 Individual Partnership and Cooperation Programme. However, he also proposed permanently attaching representatives of Japan's Self-Defense Forces to NATO's headquarters, mutually exchanging observers at military drills, as well as to regularly involve Japan, Australia, New Zealand, and South Korea in NATO's activities.
We should note Japan's rather loose interpretation of the concept of indivisible security. For instance, Russia and China insist that the security of any state cannot be bolstered at the expense of other states. However, Kishida believes that security in Europe and the Indo-Pacific are inseparable from each other; therefore, attempts to change the status quo by force in any region should be stopped through joint efforts.
As part of the steps taken to assist European partners amid the events in Ukraine, Tokyo imposed additional sanctions on 70 Russian individuals and companies since Japan "is not ready to provide any military support to the Alliance." In exchange, Japan hopes that NATO will fully support Japan's course for militarization. Particularly, Japan is expected to publish its revised National Security Strategy to replace the 2013 Strategy by the end of 2022. Over five years, "the land of the rising sun" will ramp up its defense capabilities by significantly increasing its spending (up to 2% of the GDP) and by stepping up its interactions with the U.S. It is also possible that the Strategy will, for the first time, name China as a clear and present danger to Japan—previously, Tokyo avoided openly labelling China as its adversary.
The West heard the Japanese leadership's message of European stability being impossible without eliminating the threats in the Asia-Pacific. Ultimately, the NATO 2022 Strategic Concept that determines the activities of member states for the next ten years states that Beijing's "ambitions and coercive policies challenge our interests, security and values." Principal threats include China's non-transparent conventional and nuclear military build-up, malicious hybrid and cyber operations, confrontational rhetoric and disinformation, attempts to control key technological and industrial sectors, critical infrastructure, and strategic materials and supply chains, and creating strategic dependencies intended to subvert the rules-based international order, including in the space, cyber and maritime domains.
The list would certainly have been incomplete without sending an alarm regarding the deepening strategic partnership between Moscow and Beijing. NATO's Madrid Summit declaration also contains a statement on competition with China and on Beijing's challenge to NATO members' security and development.
At the summit's sidelines, Kishida attended a trilateral meeting with U.S. President Joe Biden and South Korea's President Yoon Suk Yeol, and then a quadrilateral meeting with South Korea's President and Australia's Prime Minister Anthony Albanese and New Zealand's Prime Minister Jacinda Ardern. The leaders discussed the threats from China and North Korea, while the U.S. President reaffirmed guarantees to every party present military aid in case of an attack on their states. At the same time, it appears that the idea of putting China on NATO's agenda and generally under the organization's purview had been spearheaded by Washington that has less and less strength and willingness to challenge the "dragon" to an honest battle.
Korean Tanks in Polish Woods
Similar to Japan's leader, South Korea's President Yoon Suk Yeol noted in his debut NATO summit address that security in any given region has global ramifications. Consequently, a crisis cannot be resolved through the efforts of a regional alliance or union. Therefore, South Korea's President announced plans to consistently bolster security cooperation between Washington, Seoul, and Tokyo, primarily for counteracting the threat of North Korea's nuclear missile program. Moreover, since, in Yoon Suk Yeol's opinion, Pyongyang's actions posit a major threat to peace and stability and to the non-proliferation regime, all NATO members will need to assist in resolving this problem. Generally, South Korea raised the issue of North Korea's denuclearization at every event at the Madrid Summit, including the plenary session, the three-party meeting between the leaders of the U.S., Japan, and South Korea, and a dozen of bilateral talks.
In turn, in order to bolster European security, Seoul is ready to expand its economic interactions with NATO states—in particular, to ensure uninterrupted deliveries of semi-conductors—assist in building NPPs and modernizing power facilities, and also ramp up military technical cooperation. Among the successes already achieved by the South Koreans is an agreement to deliver FA-50 jet trainers/light combat aircraft, K-2 main battle tanks, K-9 self-propelled howitzers and AS21 IFVs to Poland, and to participate in building NPPs in the UK, the Czech Republic, Poland, France, Romania and the Netherlands.
Curiously, unlike Japan, Yoon Suk Yeol avoided in every way directly mentioning Beijing in connection with threats to global and regional security. Moreover, Seoul believes that South Korea's interactions, both with NATO and otherwise, should not be aimed against any specific country. Even though some surveys indicate that only 26% of South Koreans have a positive opinion of China, the country's leadership is not prepared to oppose Beijing and fully commit to U.S.-led containment initiatives. Besides, in the near future, Yoon Suk Yeol's administration will have to explain to China its own plans to deploy a second THAAD missile defense unit and Seoul actively arming its navy, air force, and ground forces with state-of-the-art strike missile weapons.
Despite of both Japanese and South Korean leaders attending the 2022 NATO Summit, questions still remain regarding normalizing relations between Seoul and Tokyo. The parties noted that there is potential for improvements and the problems of the past and the future would need to be discussed together. At the same time, internal forces in both states have very mixed feelings concerning the prospects of setting up practical interactions on security issues. Kishida's government is concerned with South Korea's growing military capabilities, unacceptable compensation demands to victims of the Japanese occupation, and its intractable stance on the Liancourt Rocks (Dokdo/Takeshima islands). Particularly, Japan vehemently protested Korea's military drill around the islands on July 30, 2022, although this time the drill was far more modest than before and did not involve a beach landing. One of the few shared sentiments between Seoul and Tokyo is their negative attitude to North Korea's nuclear missile program, although Japan's current potential for resolving this matter via talks is small since Tokyo has virtually completely severed contacts with Pyongyang.
Beyond the Purview
According to Le Monde, NATO's focus on the events in Ukraine does not mean that the Alliance is ignoring threats emanating from beyond the organization's traditional purview, for instance, like those from the Asia-Pacific. Asia-Pacific's "collective West" representatives gradually expanding their involvement in the region evidences both the Alliance's transformation into a certain global security body, and Seoul's and Tokyo's transforming approaches to protecting their interests by expanding their partnership network.
Japan is already a member of the Quadrilateral Security Dialogue (QUAD) whose principal and implicit goal is to form a counterbalance to China. In Kishida's opinion voiced on June 10, 2022 at the Shangri-La Dialogue in Singapore, Russia's actions in Ukraine may spur a similar scenario in Asia Pacific, particularly toward Taiwan, especially given a recent surge in the regional activities of China's People's Liberation Army. That, however, did not prevent Japan from sending a parliamentary delegation, including two former defense ministers, to Taipei to "discuss extensively the regional security situation in Taiwan, especially in the context of the Russia-Ukraine military conflict." In this situation, it would be odd to expect anything from Beijing except a protest boosted by military aircraft patrolling around the island.
Yoon Suk Yeol seems intent on significantly increasing South Korea's role in regional affairs by using the image of a liberal democracy in a crusade against authoritarian regimes around it. However, Seoul intends to wage such a battle solely against the neighboring regime, and even that is not quite a real crusade with clearly defined results. Getting North Korea, to abandon its nuclear weapons though intimidation during an exacerbating East Asian crisis is utterly impossible, particularly in view of Kim Jong Un's proclaimed readiness for any military action against the U.S.
NATO believes that comprehensive security cooperation with "partners in Asia Pacific" should be conducive to making the international situation more predictable. However, given the Alliance's track record, should it interfere in the Korean Peninsula or in the Taiwan Strait, there will be little cause to expect a positive outcome.
From our partner RIAC
A war where the machine decides who to kill! (LAWs wars)
Which country wants to be attacked by an AI-controlled system with no one in command? Which country wants their soldiers to be killed by an autonomous machine, and potentially, some civilians by mistake? The answer is evidently no one! No country wants that. But which country intends to possess such weapons, then the answer is more ambiguous. The last report of the Group of Governmental Experts (GGE) reflects this. After a week (25-29 July) of discussion at the Palais des Nations, UN Geneva, the adopted report is hollowed without meaningful conclusion or commitments.
Lethal autonomous weapons
Lethal autonomous weapons (LAWs) are military system that can autonomously search for and engage targets based on programmed constraints and descriptions. LAWs are also known as killer robots.
Autonomous weapons have existed for many years; for example, land mines trigger and kill or an injury without any human action. With emerging technology, including AI, we understand the interest of certain states to include these technologies in weapons to improve their autonomy. Since the 70s, the US has used the Phalanx CIWS, which can autonomously identify and attack incoming missiles. With AI, its capacities are considerably increased! Continuing with the example of mines, Russia's anti-personnel mines of the POM-3 type are particularly deadly. They are disseminated in the land of operations but do not explode immediately. When activated, they rise in the air before exploding and causing multiple ravages, which can be fatal within a radius of 16 meters. Equipped with sensors and software, they choose their target, when they explode or not, depending on the identity of the people or equipment that approach. There are, unfortunately, so many other systems that will be too long to cite here. To conclude this part, in Libya in 2020, a Kargu 2 drone hunted down and attacked a human target. According to a report from the UN Security Council's Panel of Experts on Libya, published in March 2021. This may have been the first time an autonomous killer robot armed with lethal weaponry attacked human beings. [https://en.wikipedia.org/wiki/Military_robot]
We quickly understand all potential ethical and legal issues. Autonomous systems can make mistakes; who is responsible then? Like mine killed millions of civilians, new systems may have bias and kill unstintingly, with no one to stop them. The range of potential problems is extensive.
A slow-downed convention
For nine years, the Convention on Certain Conventional Weapons or CCW, also known as the Inhumane Weapons Convention, has tried to regulate it with its GGE. For the most ambitious, it would be a question of agreeing on a treaty, or another international instrument, which would guarantee the prohibition that a weapon can operate autonomously, i.e., without the intervention of human supervision. Many Latin Americans, and European states are now advocating for this outright ban. The answer is less clear-cut for other states, including the USA. They consent to the prohibition of specific weapon systems as well as to a certain regulation but refuse a binding legal framework. Finally, Russia is slowing down all negotiations and reducing its content.
Russia and the game of consensus
A majority of States are now convinced of the need to act significantly, even asking for more days to debate in 2023. But the main problem is the rule of consensus, which prohibits any discussion breakthrough".
Many little disagreements, for instance, delegations, wasted time discussing whether the CCW is an appropriate forum or the only appropriate forum for dealing with the issue of autonomous weapons.
These discussions have even been theatrical when Russia attacked many times the presence of civil societies to limit their intervention and participation in informal meetings. It was a tool to slow down the discussion, focusing the debate on organizational points. At the same time, we can also be afraid that this Russian posture is appearing in others GGEs. Meanwhile, some other states, like Israel and India, are discrete and do not oppose it. They probably use this condition to their advantage. Russia is doing all the work for them.
Therefore with the refusal of a few states, all the details about elements and possible measures for an agreement on autonomous weapons were removed. All conclusions about what kinds of control are necessary, and possible processes to achieve that control, were taken out. The present conclusions section just outlines the types of proposals discussed, recognizes ethical perspectives, and repeats the respect for international humanitarian law. It confirms then that states are responsible for wrongful acts in accordance with international law [link to report], so no new laws.
Not only are the conclusions disappointing, but the way the discussion was carried out was disappointing, and the mandate for 2023 remains uncertain.
We can not wait on CCW, the urgency of the problem is too critical.
The slow process is to the advantage of countries using these technologies. The Russian POM-3 mines, for instance, have been used in Ukraine, accordingly to Human Right Watch. The development and deployment by Russia and other countries will continue as long as no agreement is reached. LAWs have to be outlaws! And the CCW seems not to be anymore the right platform.
Escalating Big Power Contestation on Taiwan: Can It Lead to War?
Xi Jinping is seeking to hide his humiliation over US Speaker Nancy Pelosi's visit to Taiwan. His premature and unjustifiable warning to the US about the visit caused him embarrassment, and Pelosi's purposeful visit after the warning not only hyped it, but humiliated him. China is using its Three Warfare Concept which entails public opinion warfare, psychological warfare, and legal warfare along with aggressive military posturing, air violations, firepower power exhibition and some symbolic economic boycott of Taiwan, thus creating heightened tension around Taiwan as a face saving exercise to amuse its domestic constituency. China is attempting to turn it as an opportunity to stoke national sentiments in favour of Xi Jinping on 'Anti America' theme highlighting Chinese mutilated version of his heroics to ensure that he doesn't lose out on his third term in the 20th National Congress of the Chinese Communist Party (CCP) later this year.
The US side has likewise been under similar pressures. Following the announcement of Pelosi's visit and the contentious debate between President Xi Jinping and Joe Biden, the US found itself in a difficult situation. The USA was unable to cancel the trip in response to Xi's warning because doing so would have indicated that Joe Biden was caving in to Chinese pressure. This would have been catastrophic for the Biden Administration, which is already struggling to recover from the disaster in Afghanistan and the difficulties brought on by the Russia-Ukraine War. Although the visit was a risky move, it is still unclear whether the US will follow it up by replacing strategic ambiguity with strategic clarity to support Taiwan in any prospective Chinese attack or not.
Can it Lead to War?
With unprecedented military posturing by China, live missile fire East of Taiwan close to its coastline, and US aircraft carrier and maritime forces located not too far, the situation is tense and prone to accidental trigger causing escalation. It does not make any strategic sense for China to invade Taiwan, as it has all the negatives except false bravado, with bright chances of loss of face globally and domestically, in case the operations fail; hence, likely to contend with activities short of war.
Chinese strategist Qiao Liang, a retired PLA Air Force Major General, has warned that taking Taiwan by force is 'Too Costly'. Chinese redline of "Taiwan going nuclear/declaring independence" has not been crossed as yet, giving no justification for China to cross US red line of 'Changing status Quo by Force'. Xi Jinping may find it too costly to take such a risk before sealing his third term. The military drills near Taiwan have been conducted by Taiwan and US also in past and the much publicised blockade of Taiwan through military drills, if prolonged may invite similar military drills by US and other democracies in Malacca Strait too, to block Chinese Sea Lines of Communication, beyond the realm of optics of the current Chinese aggressive posture, and it is well aware of this vulnerability.
Taiwanese President Tsai has bravely given bold statements during visit of Speaker Pelosi and earlier to take on Chinese aggression. Taiwan with its national spirit, modern arsenal from US, determined armed forces and US backing is unlikely to give a walkover, although the first onslaught of potential offensive will have to be borne by it, till global response gets activated. Comparisons are being made with Hong Kong, but the major differences is that leadership, hierarchy in Hong Kong and police was manipulated by CCP, whereas the leadership in Taiwan is strong and resolute refusing to give in to Chinese coercion. The need for amphibious assault due to terrain friction makes Chinese misadventure in Taiwan more difficult than Hong Kong.
Chinese amphibious capabilities to capture Taiwan are suspect, more so if US warships like the USS Ronald Reagan are around. China has enough missile arsenals to destroy Taiwan, but such a massive destruction of Han Chinese (95 percent of Taiwanese population is Han), who have relations, investments and inseparable linkages with their relatives in mainland and vice versa will not go well with domestic population of mainland. Over two million Taiwanese live in China, mostly in Coastal areas, and over 20 per cent have married there.
This will also destroy Chinese and Taiwanese economy, which does not suit Chinese leadership struggling to revive its economy marred by trade war, failing BRI and COVID effect. China is top destination for Taiwanese export accounting for approximately 40% of total exports, with Taiwan having overall trade surplus of US$104.7 billion in 2021 with China.
A public opinion poll in Taiwan in 2020 indicated 73 percent people identified themselves as Taiwanese, who were against China, and 77 percent supported democratic movement in Hongkong and this figure has increased in last two years. Getting Taiwanese under its wings will also bring a fresh democratic wave in China, which CCP may not be used to handle. Taiwanese people do not want to sacrifice their democratic freedom and prosperity, which is the main reason for success of President Tsai. The conflict if imposed by China will be deadly and Chinese, who want to win without fighting are not known for their appetite to accept body bags of Han Chinese, for a cause which doesn't give them economic benefit but takes it away its dream of national rejuvenation, as indicated by General Qiao.
Why Taiwan is a US-China Issue?
PRC may keep claiming Taiwan to be its domestic issue, but it has much greater external dimensions. Diplomatically US may claim to follow 'One China Policy' but it treats Taiwan no less than an ally. The Taiwan Allies International Protection and Enhancement Initiative (TAIPEI) Act of 2019, effective from March 26, 2020 is an indication. The Taiwan Relation Act,1973, Taiwan Travel Act signed 2019, and National Defence Authorisation Act signed earlier this year to facilitate sale of state of the art weaponry and joint exercises justify the statement. US will always like to trade and strategically partner with democratic Taiwan outside Beijing's influence, and not Taiwan under CCP.
In any potential invasion of Taiwan, the spill over of the battle space to Japan is obvious due to geographic proximity, an ally which US is obligated to protect. Chinese initial offensive can be on Taiwan, but US could join forces with its allies in the region to use their sea and air advantages to cut off Beijing's maritime lifeline in and outside South China Sea. Chinese supply lines outside Nine dash line are still vulnerable to choking, and it will draw out PLA to get into war outside its comfort Zone. Taking Taiwan by force, therefore involves mobilisation of all its combat resources, expecting an escalation from limited war to an all-out war, as the operation amounts to crossing US redline of "No Change in Status Quo of Taiwan". Economically Chinese heavy reliance on the US dollar is far from over, and such a war over Taiwan would be a massive economic blow to China, that would see capital flooding out, and companies moving of the country, much sooner than it thought.
Way Ahead
If Chinese aggressive posturing, air incursions and military drills announced for four days end as scheduled without escalation, may be that situation may still remain under control, as US and Taiwan have also done military drills in that region earlier. If it escalates into an attempt to unite Taiwan by force, it will certainly up the ante with US, prove China as irresponsible bully, may lead to loss of life of Han Chinese both ways, lead to economic destruction of its one of the largest investors and jeopardise China's goal of national rejuvenation. Internationally, China may have miscalculated US resolve and Taiwan's resistance and all may not go their way. If Chinese ambitions grow beyond global tolerance, it has bright chances to bring rest of the world against China. While the visit of Nancy Pelosi may have given a strong message to China, but the US resolve is still under test, because Taiwan can't be expected to handle Chinese aggression alone, more so if it has been hyped by super power contestation. US therefore must consider starting similar military exercise in Malacca Strait with other navies to remind China of its vulnerable SLOC before it starts blocking Taiwanese shipping.
The aggressive posturing in Taiwan Strait, South and East China Sea will continue, even if the current crisis slows down. PRC's aim is to pressurise President Tsai Not to declare independence, keep pressure on, hope DPP loses next election and work out favourable arrangements with opposition likely to be favourable to China. Neither China nor US want war, but none wants to give walkover as well, hence this strategic gaming and posturing is on and will continue.