Compassion, not sanctions on Venezuela
The crisis in Venezuela will not be solved by sanctions that "can lead to starvation", a UN-appointed rights expert said on Thursday. Special Rapporteur Idriss Jazairy, who reports to the Human Rights Council, issued the warning against the background of widespread suffering in the South American country, linked to spiralling economic woes and deep political uncertainty.
An estimated three million people have left the oil-rich country since 2015, while supporters of self-appointed interim President Juan Guaidó, continue to demonstrate against the government of the incumbent, Nicolás Maduro, who was re-elected last May amidst allegations of electoral irregularities and a widespread opposition boycott.
"Sanctions which can lead to starvation and medical shortages are not the answer to the crisis in Venezuela," Mr. Jazairy said in a statement, prompted by the imposition of sanctions on Venezuela's national oil company by the United States.
"I am especially concerned to hear reports that these sanctions are aimed at changing the government of Venezuela," he added, while also noting his concern about reports of serious rights violations that include "the growing risk of violence and implicit threats of international violence".
In a call for "compassion" for the people of Venezuela, Mr. Jazairy, who is UN Special Rapporteur on the negative impact of the unilateral coercive measures, insisted that "precipitating an economic and humanitarian crisis…is not a foundation for the peaceful settlement of disputes".
Such "coercion" by outside powers "is in violation of all norms of international law", the rights expert maintained, before calling on the international community to engage in constructive dialogue with Venezuela to find solutions to problems that include hyperinflation and the fall in oil prices.
In a recent statement issued by the office of António Guterres, the UN Secretary-General urged parties to "lower tensions" in Venezuela and called for all relevant actors to commit to inclusive and credible political dialogue.
Concerned by reports of casualties during demonstrations and unrest in and around the capital, Caracas, the UN chief also called for a transparent and independent investigation of those incidents.
Last Saturday, the UN Security Council met to discuss the situation in the country, in which the UN's top political official said that dialogue and cooperation were vital to ending the crisis.
The meeting was requested late last week by US Secretary of State Mike Pompeo following days of political unrest and deadly clashes in Venezuela between protesters and security forces.
The UN human rights office OHCHR reported on Tuesday, that at least 40 had been killed in the unrest, including 26 shot by pro-Government forces. More than 850 were detained following demonstrations in the past week, including 77 children.
"We must try to help bring about a political solution that will allow the country's citizens to enjoy peace, prosperity and all their human rights," Rosemary DiCarlo, the UN Under Secretary-General of Political and Peacebuilding Affairs, urged the 15-member body.
Nearly all 30 million Venezuelans are affected by hyperinflation and a collapse of real salaries, Ms. DiCarlo warned, citing shortages of food, medicine and basic supplies, along with a deterioration of health and education services and basic infrastructure such as water and electricity.
Mr. Jazairy, urged all countries to avoid applying sanctions unless approved by the Security Council, as required by the UN Charter.
First international treaty to address violence and harassment comes into force
The first international treaty on violence and harassment in the world of work comes into force on June 25th 2021 – two years after it was adopted by the ILO's International Labour Conference (ILC).

To date, six countries have ratified the Violence and Harassment Convention, 2019 (No. 190) – Argentina, Ecuador, Fiji, Namibia, Somalia and Uruguay. Ratifying countries are legally bound by the provisions of the Convention a year after ratification.

Together with Recommendation No. 206 , Convention No. 190 recognizes the right of everyone to a world of work free from violence and harassment and provides a common framework for action.
It provides the first international definition of violence and harassment in the world of work, including gender-based violence and harassment.

Violence and harassment at work takes a range of forms and leads to physical, psychological, sexual and economic harm. Since the adoption of the Convention, the COVID-19 pandemic has further highlighted the issue, with many forms of work-related violence and harassment being reported across countries since the outbreak began, particularly against women and vulnerable groups.

To mark its entering into force the ILO will launch a global campaign to promote its ratification and implementation. The campaign aims to explain in simple terms what the Convention is, the issues it covers and how it seeks to address violence and harassment in the world of work.
"A better future of work is free of violence and harassment," said Guy Ryder, the ILO Director-General in his message to launch the global campaign.

"Convention 190 calls on all ILO Member States to eradicate violence and harassment in all its forms from the world of work. I urge countries to ratify the Convention and help build, together with employers and workers and their organizations, a dignified, safe and healthy working life for all."

The global campaign will be launched during the ILO Action Week on Convention No. 190 , which takes place 21-25 June 2021.

The Action Week calls for renewed commitment from countries to ratify and implement the Convention.

The Action Week begins on 21 June with a virtual high-level dialogue . The speakers will include the ILO Director-General, Ministers of Labour from Argentina and Madagascar, and representatives of the International Organisation of Employers (IOE), the International Trade Union Confederation (ITUC) and the Inter-Parliamentary Union (IPU).

Following the Action Week, the ILO will launch a guide aimed at helping constituents and other stakeholders promote and implement the Convention and Recommendation. The guide covers core principles and measures that countries can take to prevent, address and eliminate violence and harassment in the world of work, including examples of national laws, regulations and policies.
Famine risk spikes amid conflict, COVID-19 and funding gaps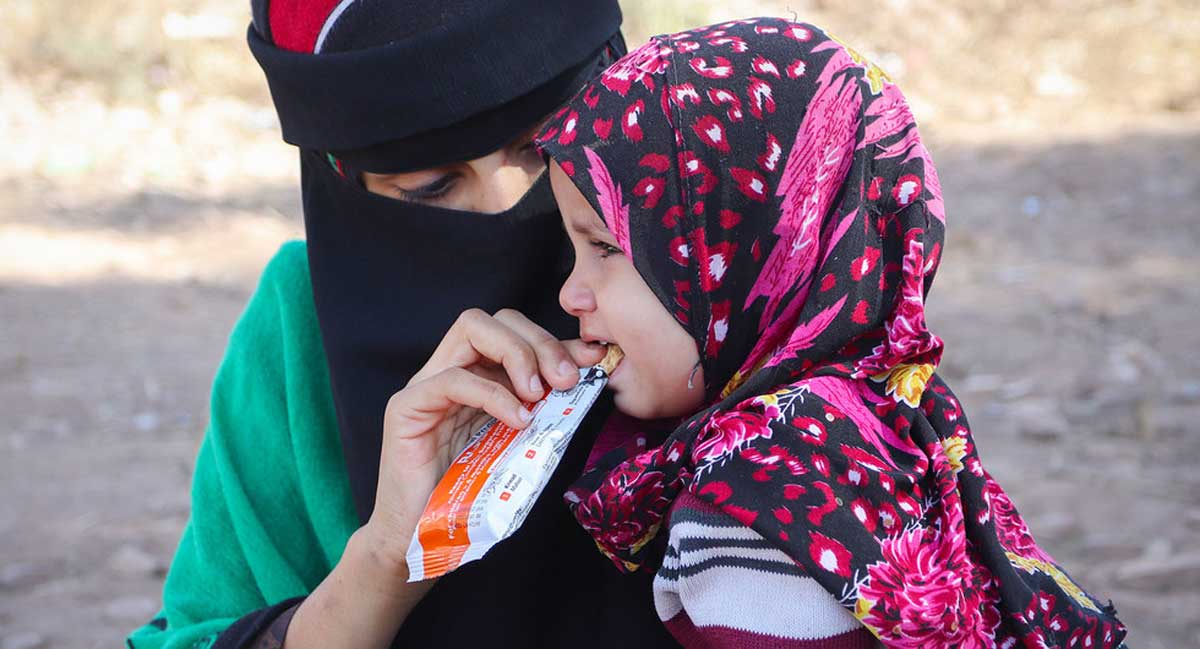 The impact of conflicts old and new, climate shocks and COVID-19, in addition to a lack of funding, have left millions more on the verge of famine than six months ago, the World Food Programme (WFP) said on Friday.
In an appeal for $5 billion "to avoid famine" and support the "biggest operation in its history", WFP spokesperson Phiri Tomson said that millions of refugees faced "uncertainty and hunger" as the impact of the pandemic on emergency aid budgets became clearer.
"The number of people teetering on the brink of famine has risen from 34 million projected at the beginning of the year, to 41 million projected as of June", he said. "Without immediate emergency food assistance, they too face starvation, as the slightest shock will push them over the cliff into famine conditions."
From bad to worse
According to the latest IPC food insecurity assessments – which humanitarians use to assess needs on a scale of one to five – the 41 million "are people who are in IPC phase 4 – emergency", the WFP spokesperson explained.
New refugee influxes linked to conflict and drought have increased needs for people in "IPC phase 5 – catastrophe" and "that number stands at 584,000 people", Mr. Phiri continued. "These are people in Ethiopia's Tigray region, Madagascar, particularly the southern part; South Sudan, especially as we are now at the height of the lean season in that country, and Yemen."
'Brutal choices'
Launching its Global Operational Response Plan, the UN agency highlighted operations in no less than eight countries and regions where it has had to make "brutal choices" because of significant funding shortfalls.
In practice, this has meant reduced rations "across east and southern Africa, as well as the Middle East…among some of the world's most vulnerable people who rely on WFP to survive", said Mr. Phiri.
"In some cases it's 40 per cent, in some cases it's 25 per cent, in some cases it's 60 per cent…The fact is, the assistance we provide is a basic need, the assistance we provide is just enough to help people get by."
West and Central Africa in crisis
For many vulnerable aid recipients in West and Central Africa, the COVID-19 pandemic has left them without the opportunity to work to supplement their rations and unable to pay for increasingly expensive staple foods. "Countries like Chad, Niger and Burkina, Mauritania; these are all countries of concern, including Sierra Leone as well," said Mr. Phiri, after a warning by the UN agency that the world was no longer moving towards Zero Hunger.
"Progress has stalled, reversed, and today, more than 270 million people are estimated to be acutely food insecure or at high risk in 2021," it said in a statement.
Forced displacement at record level, despite COVID shutdowns
The number of people fleeing wars, violence, persecution, and human rights violations, rose last year to nearly 82.4 million people, a further four percent increase on top of the already record-high of 79.5 million, recorded at the end of 2019.
According to the UN Refugee Agency flagship Global Trends Report published on Friday, the restrictive COVID-19 pandemic did not slow forced displacement around the world, and instead could have left thousands of refugees and asylum seekers stranded and vulnerable.
The new 'one percent'
Despite COVID-related movement restrictions and pleas from the international community for a concerted global ceasefire, displacement continued to occur – and to grow. As a result, more than one percent of the world's population – or 1 in 95 people – is now forcibly displaced. This compares with 1 in 159 in 2010.
The agency explains that while the full impact of the pandemic on wider cross-border migration and displacement globally is not yet clear, data shows that arrivals of new refugees and asylum-seekers were sharply down in most regions – about 1.5 million fewer people than would have been expected in non-COVID circumstances, reflecting how many of those seeking international protection in 2020 became stranded.
New and old crises
According to UNHCR, several crises – some new, some longstanding and some resurfacing after years – forced 11.2 million people to flee in 2020, compared to 11.0 million in 2019.
The figure includes people displaced for the first time as well as people displaced repeatedly, both within and beyond countries' borders.
By the end of 2020, there were 20.7 million refugees under UNHCR's mandate. Another 48 million people were internally displaced (IDPs) within their own countries.
Driven mostly by crises in Ethiopia, Sudan, Sahel countries, Mozambique, Yemen, Afghanistan and Colombia, the number of internally displaced people rose by more than 2.3 million.
When considering only international displacement situations, Syria topped the list with 6.8 million people, followed by Venezuela with 4.9 million. Afghanistan and South Sudan came next, with 2.8 and 2.2 million respectively.
Turkey continued to host the largest number of refugees with just under 4 million, most of whom were Syrian refugees (92%). Colombia followed, hosting over 1.7 million displaced Venezuelans.
Germany hosted the third-largest population – almost 1.5 million, with Syrian refugees and asylum-seekers as the largest group (44%). Pakistan and Uganda completed the top-5 hosting countries, with about 1.4 million each.
The COVID-19 crisis also hit the forcibly displaced hard, who faced increased food and economic insecurity as well as challenges to access health and protection services.
At the peak of the last year, over 160 countries had closed their borders, with 99 States making no exception for people seeking protection.
According to UNHCR, the dynamics of poverty, food insecurity, climate change, conflict and displacement are increasingly interconnected and mutually reinforcing, driving more and more people to search for safety and security.
A call to end the suffering
UNHCR is urging world leaders to step up their efforts to foster peace, stability and cooperation in order to halt and begin reversing nearly a decade-long trend of surging displacement driven by violence and persecution.
"Behind each number is a person forced from their home and a story of displacement, dispossession and suffering. They merit our attention and support not just with humanitarian aid, but in finding solutions to their plight", reminded the UN High Commissioner for Refugees, Filippo Grandi.
In a statement, Mr. Grandi underscored that while the 1951 Refugee Convention and the Global Compact on Refugees provide the legal framework and tools to respond to displacement, a much greater political will is needed to address conflicts and persecution that force people to flee.
"The tragedy of so many children being born into exile should be reason enough to make far greater efforts to prevent and end conflict and violence," he added.
Girls and boys under the age of 18 account for 42 percent of all forcibly displaced. They are particularly vulnerable, especially when crises continue for years.
New UNHCR estimates show that almost one million children were born as refugees between 2018 and 2020. Many of them may remain refugees for years to come.
Low rate of return
The agency emphasized that over the course of 2020, some 3.2 million internally displaced and just 251,000 refugees returned to their homes –a 40 and 21 percent drop, respectively, compared to 2019. Another 33,800 refugees were naturalized by their countries of asylum.
Refugee resettlement registered a drastic plunge with just 34,400 refugees resettled, the lowest level in 20 years – a consequence of a reduced number of resettlement places and COVID-19.
"Solutions require global leaders and those with influence to put aside their differences, end an egoistic approach to politics, and instead focus on preventing and solving conflict and ensuring respect for human rights," urged Grandi.
The UN Refugee agency reminded that 2020 is the ninth year of uninterrupted rise in forced displacement worldwide. There are twice as many forcibly displaced people than in 2011 when the total was just under 40 million.