Human trafficking cases hit a 13-year record high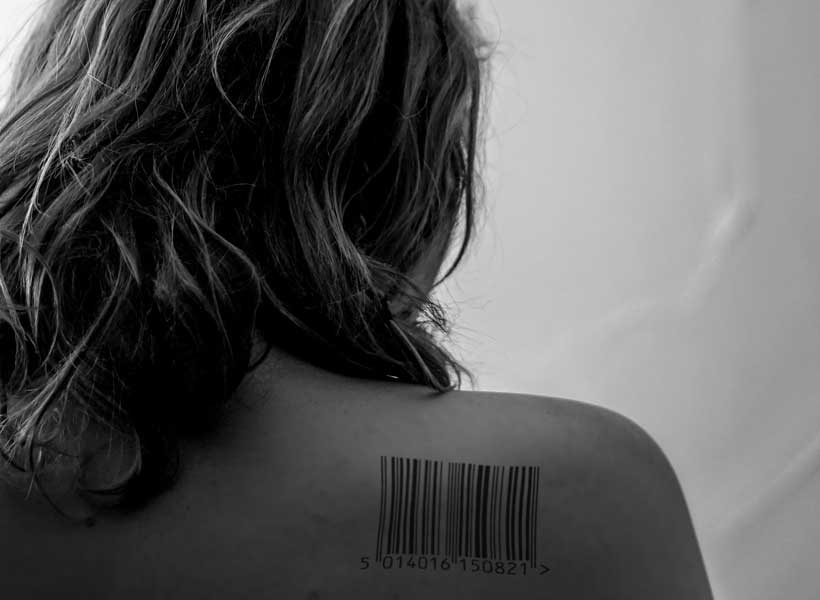 The latest Global Report On Trafficking In Persons, released on Tuesday by the United Nations Office on Drugs and Crime (UNODC) at UN headquarters in New York, shows a record-high number of cases detected during 2016, but also the largest recorded conviction rate of traffickers.
"The report was undertaken for a simple reason: if we want to succeed in confronting human trafficking in all its manifestations, we must better understand its scope and structure," said Yury Fedotov, UNODC's Executive Director as he presented the report in New York. "We need to appreciate where human trafficking is happening, who are its victims and who is perpetrating this crime."
According to the latest figures compiled by UNODC, the record conviction and detection rates could either be a sign that countries have strengthened their capacity to identify victims – such as through specific legislation, better coordination among law enforcement entities, and improved victim protection services – or, that the number of actual instances of trafficking has increased.
While in 2003 fewer than 20,000 cases had been recorded, the number of cases recorded in 2016 had jumped to over 25,000.
Despite improvements in data collection, impunity prevails
Over the last decade, the capacity of national authorities to track and assess patterns and flows of human trafficking has improved in many parts of the world. UNODC's report notes that this is also due to a specific focus of the international community in developing standards for data collection. In 2009, only 26 countries had an institution which systematically collected and disseminated data on trafficking cases, while by 2018, the number had risen to 65.
However, many countries in Africa and Asia continue to have low conviction rates, and at the same time detect fewer victims which, UNODC stresses, "does not necessarily mean that traffickers are not active".
In fact, the report shows that victims trafficked from areas of the world with low detection/conviction rates are found in large numbers in other areas of the world, suggesting that a high degree of impunity prevails in these low-reporting regions.
"This impunity could serve as an incentive to carry out more trafficking," the report warns.
Women and girls remain a major target
"Traffickers the world over continue to target women and girls," wrote Executive Director Fedotov, in the report's preface. 'The vast majority of detected victims of trafficking for sexual exploitation and 35 per cent of those trafficked for forced labour are female."
The report notes "considerable regional differences in the sex and age profiles of detected trafficking victims." In West Africa, most of the detected victims are children, both boys and girls, while in South Asia, victims are equally reported to be men, women and children. In Central Asia, a larger share of adult men is detected compared to other regions, while in Central America and the Caribbean, more girls are recorded.
Sexual exploitation, the top form of trafficking
Most of the victims detected globally are trafficked for sexual exploitation, especially in the Americas, Europe, and East Asia and the Pacific. In sub-Saharan Africa and the Middle East, trafficking for forced labour is the most commonly detected form. In Central Asia and South Asia, trafficking for forced labour and sexual exploitation are equally prevalent,
Other forms of human trafficking include: girls forced into marriage, more commonly detected in South-East Asia; children for illegal adoption, more common in Central and South American countries; forced criminality, mainly reported in Western and Southern Europe; and organ removal, primarily detected in North Africa, and Central and Eastern Europe.
"Victims can be in restaurants, fisheries, brothels, farms, homes, and even organ trafficking and illegal adoption," said Rani Hong, who survived child trafficking herself as she was taken from her family in India at age 7, submitted to intimidation, physical abuse and slavery, until she was sold for illegal adoption in Canada and later the United States.
"I was told by my witnesses that when I came into the United States, I was not able to walk because I had been locked in a small cage. This is what this industry is doing, and this is what happened to me."
Many other forms, such as trafficking for exploitation in begging, or for the production of pornographic material, are reported in different parts of the world.
Armed conflict and displacement, a key driver of human trafficking
The report shows that armed conflicts can increase vulnerability to trafficking in different ways as areas with weak rule of law and lack of resources to respond to crime, provide traffickers with a fertile terrain to carry out their operations, preying on those who are desparately in need.
Armed groups and other criminals may take the opportunity to traffic victims – including children – for sexual exploitation, sexual slavery, forced marriage, armed combat and various forms of forced labour. This is the case for example in sub-Saharan Africa, North Africa and the Middle East, South-East Asia and elsewhere.
In some refugee camps in the Middle East, also, it has been documented that girls and young women have been 'married off' without their consent and subjected to sexual exploitation in neighbouring countries.
In addition, recruitment of children for use as armed combatants is widely documented. UNODC's report notes that within conflict zones, armed groups can use trafficking as a strategy to assert territorial dominance, spread fear among civilians in the territories where they operate to keep the local population under control. They may also use women and girls as 'sex slaves' or force them into marriages to appeal to new potential male recruits.
The study shows that in all the conflicts examined for the report, forcibly displaced populations (refugees and internally displaced families) have been specifically targeted: from settlements of Syrian and Iraqi refugees, to Afghans and Rohingya fleeing conflict and persecution.
Notably, the risk faced by migrants and refugees travelling through conflict areas, such as Libya or parts of sub-Saharan Africa, is also well documented: in Libya, for example, militias control some detention centres for migrants and refugees and are coercing detained migrants and asylum seekers for different exploitative purposes.
"While we are far from ending impunity, we have made headway in the 15 years since the Protocol against Trafficking in Persons entered into force," said UNODC's chief Mr. Fedotov, as he noted that "nearly every country now has legislation in place criminalizing human trafficking".
"The international community needs to accelerate progress to build capacities and cooperation, to stop human trafficking in conflict situations and in all our societies where this terrible crime continues to operate in the shadows," he stated in the report's preface.
Women outnumber men in higher education but gender stereotyped subject choices persist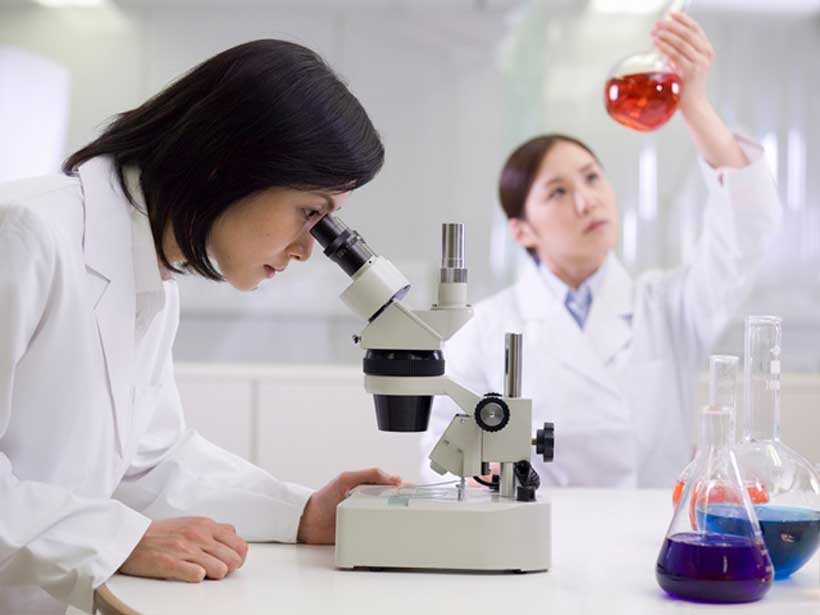 Education is essential to achieving gender equality. From the earliest schooling to the highest levels of post-graduate study, education influences the opportunities that can shape people's lives.
This is why education and training of women is one of the 12 critical areas of concern in the Beijing Platform for Action, while target 4.5 of the Sustainable Development Goals (SDGs) calls for the elimination of gender disparities in education by 2030.
In the UNECE region girls tend to outperform boys in terms of learning outcomes in schools, and women outnumber men in tertiary education (university level and beyond) in almost all countries of the region.
Women remain in the minority, however, as students of stereotypically "masculine" subjects such as ICT and engineering, although in recent years they have begun slowly gaining ground.
Tertiary level graduates
In 39 out of the 47 UNECE countries with data, more than 55 per cent of tertiary graduates are women. Iceland has the highest share, with 66 per cent women. Seven countries are close to gender parity, with the share of women ranging from 48 to 55 per cent, and only in Uzbekistan are women in a clear minority, with 38 per cent of tertiary graduates.
After decades of increase in women's participation in higher education, women substantially outnumbered men among tertiary level graduates in most countries by 2012. Since then, women's share has declined in 32 out of the 47 countries with data. Whilst in Azerbaijan and Turkey fewer than half of tertiary graduates were women in 2012, more women have entered tertiary education in these countries since and the 2017 data already show gender parity there.
Subject choices of women and men
The subjects studied at tertiary level by women and men can reflect stereotypes of "masculine" and "feminine" subject areas. Some subjects may be preferred by potential employers and may affect occupational segregation once graduates enter the labour market. Information and Communication Technologies (ICT) and Engineering, Manufacturing and Construction (EMC) are two broad groups of subjects where male students have historically predominated.
Women remain a minority among ICT students in the UNECE region, with percentages ranging from 11 in Belgium to 33 in Greece. The four countries with the largest share of women among ICT students are all in the Balkan region. Among students of EMC, the share of women is somewhat higher, but still falls far short of parity, ranging from 14 per cent in Georgia to 44 per cent in North Macedonia.
In both of these subject groups, the recent trend shows small gains for women in some countries but reductions in others. Overall, progress towards gender equality in these two typically male-dominated subject areas is uneven and slow.
UNECE Beijing+25 Regional Review Meeting
Progress in achieving gender equality in education will be one of the areas in focus at the upcoming Beijing+25 Regional Review Meeting for the UNECE region, with a particular emphasis on how women and girls can enter currently male-dominated fields.
The Beijing Declaration and Platform for Action of 1995 (Beijing Platform for Action) is the most ambitious road map for the empowerment of women and girls everywhere. In 2020, it will be 25 years since the Beijing Platform for Action outlined how to overcome the systemic barriers that hold women back from equal participation in all areas of life.
The Beijing+25 Regional Review Meeting (29-30 October 2019) will take stock of where the UNECE region stands on keeping the promises of the Beijing Platform for Action. Bringing together government representatives and key stakeholders from the UNECE region, the meeting will tackle a number of obstacles that keep girls and women from realizing their full potential. UNECE is joining forces with the UN Women Regional Office for Europe and Central Asia to deliver a two-day multi-stakeholder meeting to exchange concrete policies to accelerate the realization of gender equality. The outcomes of the meeting will feed into the global review of the Beijing Platform for Action taking place at the sixty-fourth session of the Commission on the Status of Women in New York from 9 to 20 March 2020.
Call for Action from Leaders and Business on Violence against Women
Spiralling levels of violence against women in Africa require immediate action from governments and businesses, including tangible measures to create safe spaces, experts from across the continent told the World Economic Forum on Africa today.
Protesters in South Africa have taken to the streets and social media to demand action, following the rape and murder of a Cape Town university student who was attacked in a post office. Uyinene Mrwetyana was just the latest of many victims of brutal assaults in a region where approximately 45% of women and girls over 14 years have experienced physical or sexual violence.
"I'm dumbfounded by the idea that we can continue with business as usual," said Namhla Mniki-Mangaliso, Director of African Monitor, who urged technology companies to take a lead in delivering solutions. "It would take a click of a finger for a tech company to say we are going to deploy a software that can assist us with an emergency response system for poor women in South Africa free of charge."
The potential for technology to help in the fightback highlights the need for businesses to think creatively, given that cyberbullying can also contribute to discrimination in the first place. Mniki-Mangaliso said the wider business community should also step up to the plate by backing a gender-based fund to address the deep-rooted problems behind the rising tide of physical and sexual assaults.
Hafsat Abiola-Costello, President and Chief Executive Officer of the Women in Africa Initiative, said Africa could learn from China, where decisive action was taken to ban harmful practices like foot binding and polygamy. African governments, by contrast, too often fail to enforce bans on polygamy or genital mutilation, thereby reinforcing a culture of discrimination against women that becomes embedded from childhood.
The failure to protect women is not just a moral issue; it also comes with a high economic cost. "Who drives African communities? It's our women. Our women can drive Africa's development, if given the chance, if protected, if their rights are respected," Abiola-Costello said. "Africa missed the first industrial revolution, we missed the second, we missed the third. If we don't address this issue, we will miss the fourth."
Obiageli Katryn Ezekwesili, who spearheaded the #BringBackOurGirls campaign in Nigeria and is a fellow of the Robert Bosch Academy, said calls for women to help drive African development will simply ring hollow if violence is not addressed. "The world lacks the moral pedestal to stand on to ask girls to aspire if we cannot have the back of those who are vulnerable," she said.
With 16,000 deaths due violence against in women every year in South Africa alone, Akudo Anyanwu, Associate Dean at Johns Hopkins University, said: "Our presidents and the leaders in government need to come out and take a position. We need to have our leaders come out and call crimes a crime."
Young women learn government fundamentals in nationwide leadership program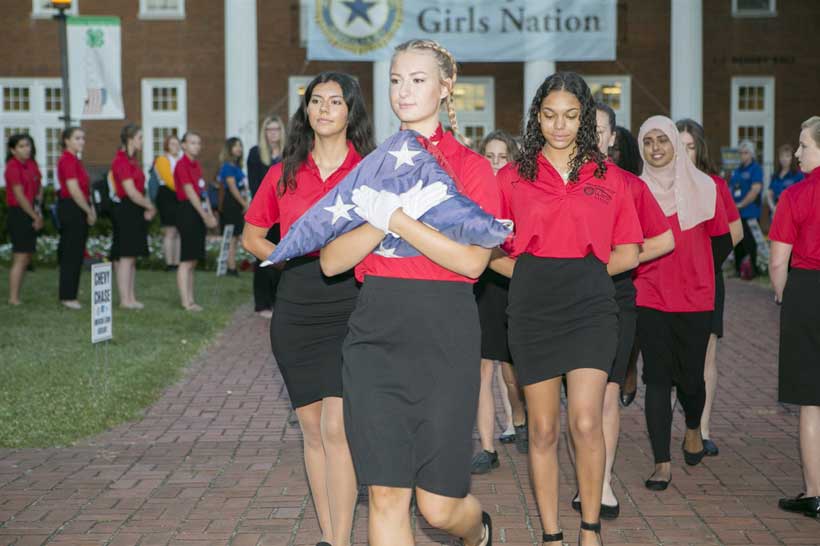 This July, two teenage girls from every state in the country met in Washington, D.C., for the 73rd annual American Legion Auxiliary Girls Nation. This one-week government-in-action leadership development program is designed to educate future leaders on U.S. government fundamentals and the rights, privileges and responsibilities of citizens.
The girls selected to go to ALA Girls Nation are chosen from week-long ALA Girls State programs in each state. The young women become "senators" for a week and participate in mock political campaigns and debates, visit historical sites, and meet their real-life counterparts on Capitol Hill. For a number of the participants, the program's impact extends beyond the weeklong event: Many go on to serve in the military and credit ALA Girls Nation as their source of inspiration.
New ALA member and U.S. Army Capt. Virginia Clark, stationed at Fort Benning in Georgia, is an ALA Girls Nation alumna. Though she says she has always been patriotic, her experiences at ALA Girls State and ALA Girls Nation helped her realize she wanted to serve her country. "Being around really motivated people made me realize I wanted to be around people who were spending their time doing things rather than looking for the next great party," Clark said.
Reflecting on where she has been and where she is going, Clark says she owes it all to the American Legion Auxiliary. "I wouldn't have gotten into West Point without ALA Girls State and ALA Girls Nation … I 100 percent owe, I think, my current life and my career — I met my husband at West Point — to the fact that I went to ALA Girls State and ALA Girls Nation."
For some girls, the Washington, D.C., leadership program is their first opportunity to connect with peers with common interests. For others, it is the first time they encounter students whose perspective differs from their own. For all, it is a moment in time where similarities and differences come together to symbolize strength, democracy and freedom.
Former ALA Girls State and ALA Girls Nation attendee Allyson Snelling, who is attending the U.S. Military Academy at West Point, chose a career in the military because she "loves everything it represents." She adds, "The values and lessons I've learned during my short time at West Point have made me a better person and leader." Snelling said the program taught her the power of one voice and the importance of communicating with others. "Being able to communicate with someone you may completely disagree with is becoming a lost art," she said. "ALA Girls Nation taught me that it doesn't matter if you agree; it matters that you understand."
ALA Girls Nation alumnae have gone on to hold leadership roles in industries spanning government, media, education and law, and many have become high-ranking members of the military.
Notable alumnae include Jane Pauley, national media personality; Susan Bysiewicz, lieutenant governor of Connecticut; retired Lt. Gen. Michelle D. Johnson, former superintendent of the U.S. Air Force Academy and former Air Force aide to the President; Ann Richards, former governor of Texas; and Susan Porter-Rose, former chief of staff to First Lady Barbara Bush, among many others. ALA Girls Nation is proud to be a foundation of support to the future strong women of this great nation.
The American Legion Auxiliary (ALA) is a nonpartisan organization committed to advocating for veterans' issues, mentoring America's youth and promoting patriotism. They advance the mission of The American Legion, incorporated by Congress in 1919 as a patriotic veterans organization founded on four pillars: Veterans Affairs & Rehabilitation, National Security, Americanism and Children & Youth.