Support for US Iran policy out of left field: China dramatically reduces trade with Tehran
China has dramatically reduced its trade with Iran in line with US sanctions, raising questions whether Iran will remain committed to an international agreement that puts severe limits on its nuclear endeavours.
Reduced Chinese trade also suggests that Iran is likely to face increased obstacles as it seeks to blunt the impact of the harsh US sanctions imposed last year in a bid to force the Islamic republic to change its regional and defense policy.
China's apparent willingness to accommodate the sanctions is remarkable given Beijing's declared efforts to salvage the 2015 international agreement that curbed Iran's nuclear program as well as its escalating trade and technology dispute with the United States.
Bourse & Bazaar, a self-described media and business diplomacy company operated by Esfandyar Batmanghelidj, the founder of the Europe-Iran Forum, disclosed China's reduced trade on almost the same day that the US Justice Department filed criminal charges against Chinese telecommunications giant Huawei and its chief financial officer Meng Wanzhou.
The Justice Department asserts that the company and Ms. Meng violated Iran sanctions in addition to stealing US robotic technology.
Based on a review of trade data from China's General Customs Administration, Bourse & Bazaar concluded that Chinese trade with Iran had dropped by 70 percent in the first two months after the re-imposition of US sanctions.
In addition, China's Bank of Kunlun, the vehicle China used in the past for business with Iran because it had no exposure to the United States and as a result was not vulnerable to US sanctions, said in December that it would restrict its business with Iran to humanitarian trade, effectively excluding all other transactions.
China replaced Europe as Iran's main trading partner in 2012 at a time that Iran was under United Nations sanctions. Those sanctions were lifted with the conclusion of the nuclear agreement in 2015.
Bourse & Bazaar said Chinese exports to Iran had dropped to US$400 million in the period from October to December of last year compared to US$1.2 billion in the same period in 2017.
"China may be abandoning the policy of sustaining trade with Iran in direct contravention of US sanctions, introducing both economic risks in regards to Iran's continued industrialization and political risks in regards to Iran's continued compliance with the JCPOA," the report said, referring to the nuclear accord by the initials of its official designation, the Joint Comprehensive Plan of Action.
The report said that Iran relies on China for the import of badly needed industrial machinery and technology funded by its oil exports.
Iranian oil exports to China rebounded after the US gave China and seven other countries a six-month waiver but that did not revive Chinese exports, the report said.
Chinese compliance with US sanctions, at least in terms of trade could put to the test Iran's declared commitment to the nuclear agreement in the wake of US President Donald J. Trump's withdrawal from the accord last May.
Iran has said its continued commitment would be determined by whether the accord remained in its interest, determined primarily by the ability and willingness of the other signatories to the agreement –China, the European Union, Britain, France, Germany and Russia – to help it blunt the impact of the US sanctions.
The signatories have so far maintained that Iran has complied with the agreement even if the European Union recently sanctioned Iran's intelligence ministry for allegedly targeting Iranian dissidents in the Netherlands, Denmark and France.
Germany subsequently banned Mahan Air, an Iranian airline sanctioned by the United States, from landing at its airports, asserting that Mahan Air had ferried fighters and weapons to Iranian-backed forces in Syria. Mahan Air operated four flights a week to Duesseldorf and Munich.
The signatories' position appeared to be supported by a Worldwide Threat Assessment by the US intelligence community that in effect concluded that the Trump administration's Iran policy had so far failed.
"We continue to assess that Iran is not currently undertaking the key nuclear weapons-development activities we judge necessary to produce a nuclear device," Director of National Intelligence Daniel Coats told the Senate Intelligence committee in a hearing on the 42-page report.
The report warned that US policy could empower Iranian hard-liners; had sparked at best only sporadic uncoordinated anti-government protests in the Islamic republic; had failed to persuade Iran to change its regional and defense policy; and could prompt it to pursue more aggressive policies to counter perceived US, Saudi and Israeli attempts to destabilize the regime in Tehran.
Disclosure of Chinese willingness to comply to some degree with US sanctions as well as the European sanctions come in advance of a conference in Warsaw next month convened by the United States to discuss peace and security in the Middle East.
The conference, to which Iran has not been invited, is widely seen as a US effort to bolster support for its Iran policy. Russia and EU foreign policy chief Federica Mogherini have said that they would not be participating in the meeting.
An article in China's state-owned Global Times discussing the Warsaw meeting under the headline, Poland is getting closer to US, but should China be worried? noted that Poland had arrested on espionage charges a former Chinese employee of Huawei and was considering banning the company.
The European Union, in a bid to blunt the impact of the US sanctions, is believed to be on the verge of launching a financial clearing house known as the Special Purpose Vehicle (SPV) that would allow European companies to continue to trade with Iran in accordance with EU law and could be open to other partners such as China.
The vehicle is being conceived as an alternative to the Brussels-based Society for the Worldwide Interbank Financial Telecommunication (SWIFT) international financial messaging system used by more than 10,000 banks worldwide.
The US has blacklisted tens of Iranian banks and pressured SWIFT into agreeing to steer clear of handling transactions of those banks.
The Bourse & Bazaar report warned that continued Chinese refusal to buck US sanctions and ensure Iran has the necessary industrial machinery and technology to keep its economy running would fuel unemployment in the country that could be "devastating and destabilizing."
The report said Iran was more likely to withdraw from the nuclear agreement in a move that could significantly raise tensions in the Middle East as a result of Chinese rather than European compliance with US sanctions.
"If the nuclear deal collapses due to extraordinary economic pressures in Iran, China may be to blame," the report said.
As Marsha Lazareva languishes in jail, foreign businesses will "think twice" before investing in Kuwait
IF THERE IS one thing to glean from the case of Marsha Lazareva, it's that foreign businesses must now think very carefully before investing in Kuwait.
For more than a year, Lazareva, who has a five-year-old son and is one of Russia's most successful female investors in the Gulf, has been held in the Soulabaiya prison by Kuwaiti authorities. Those authorities claim she 'stole' half a billion dollars, a claim she strenuously denies.
Human rights groups and prominent officials, including the former FBI director, Louis Freeh, and Jim Nicholson, former Chairman of the Republican Party and former US Ambassador to the Vatican, have called for her release and expressed concerns about the apparent absence of due process in a country where Lazareva has worked for over 13 years. Both Freeh and Nicholson visited Kuwait in recent weeks with Neil Bush, son of the late President George H. W. Bush. Bush has said Lazareva's incarceration 'threatens to darken relations between the U.S. and Kuwait, two countries that have enjoyed a long and prosperous relationship.'
Russian officials have been equally concerned. Vladimir Platonov, the President of the Moscow Chamber of Commerce and Industry, confirmed that a single witness gave testimony in Kuwaiti court, and only for the prosecution. 'I myself worked in prosecution for more than eight years, and I cannot imagine any judge signing off on an indictment like this,' he said. 'One fact of particular note is that Maria was given 1,800 pages of untranslated documents in Arabic.'
Serious questions surrounding the safety and future viability of investing in Kuwait are now being raised. Through The Port Fund, a private investment company managed by KGL Investment, Lazareva has contributed hundreds of millions of dollars to local infrastructure and economic development projects during her time in the country. Until 2017, when a Dubai bank froze $496 million without cause, she had worked largely unobstructed.
But as things stand, more foreign investment is unlikely to be forthcoming. Jim Nicholson has said that the 'imprisonment and harassment' of Lazareva 'threatens' U.S. support. adding that the 'willingness of the U.S. to do business with Kuwait' is based on 'its record as a nation that respects human rights and the rule of law'. Mark Williams, the investment director of The Port Fund and a colleague of Lazareva's, has called on international investors to 'think twice before doing business in this country'.
These comments will surely concern the Kuwaiti government, who said last year that FDI was 'very crucial' to the success of its Kuwait Vision 2035 road map. In September 2018, the FTreported that the government planned to reverse its traditional position as an investor in order to diversify its economy, carrying out a series of reforms designed to facilitate foreign investment and assist investors.
But despite these changes, which have propelled Kuwait to 96th—higher than the Middle East average—in the World Bank's 'Ease of Doing Business' report, investors may be unwilling to take the risk so long as Lazareva remains in jail. Lazareva's lawyers have accused Kuwait of violating international law by breaching a long-standing bilateral investment treaty with Russia. Lord Carlile of Berriew, QC has brought the case to the attention of the British public and the EU, writing in The Times that 'there is no evidential basis to justify any claim of dishonesty, corruption or any other criminal wrong'. He added: 'Anyone thinking of doing business in Kuwait should read on with mounting concern.'
What's worth remembering is that Kuwait is an important, long-standing ally of the UK, and a country generally seen as stable and fair. It is equally a major non-NATO ally of the United States, where there are more than 5,000 international students of Kuwaiti origin in higher education. But these relationships, and the investment to which they have historically led, have been cast into doubt. And it now seems certain that relations will continue to sour so long as Marsha Lazareva languishes in Soulabaiya.
Economic reform in the Gulf: Who benefits, really?
For Gulf leaders, long-overdue economic reforms were never going to be easy.
Leaders like the crown princes of Saudi Arabia and the United Arab Emirates, Mohammed bin Salman and Mohammed bin Zayed, quickly discovered that copying China's model of economic growth while tightening political control was easier said than done. They realised that rewriting social contracts funded by oil wealth was more difficult because Gulf Arabs had far more to lose than the average Chinese. The Gulf states' social contracts had worked in ways China's welfare programmes had not. The Gulf's rentier state's bargain—surrender of political and social rights for cradle-to-grave welfare—had produced a win-win situation for the longest time.
Moreover, Gulf leaders, struggling with mounting criticism of the Saudi-UAE-led war in Yemen and the fall-out of the killing of journalist Jamal Khashoggi, also lacked the political and economic clout that allowed China to largely silence or marginalise critics of its crackdown on Turkic Muslims in the troubled northwestern province of Xinjiang.
The absence of a welfare-based social contract in China allowed the government to power economic growth, lift millions out of poverty, and provide public goods without forcing ordinary citizens to suffer pain. As a result, China was able to push through with economic reforms without having to worry that reduced welfare benefits would spark a public backlash and potentially threaten the regime.
Three years into Mohammed bin Salman's Vision 2030 blueprint for diversification of the economy, Saudi businesses and consumers complain that they are feeling the pinch of utility price hikes and a recently introduced five per cent value-added tax with little confidence that the government will stay the course to ensure promised long-term benefit.
The government's commitment to cutting costs has been further called into question by annual handouts worth billions of dollars since the announcement of the reforms and rewriting of the social contract to cushion the impact of rising costs and quash criticism.
In contrast to China, investment in the Gulf, whether it is domestic or foreign, comes from financial, technology and other services sector, the arms industry or governments. It is focused on services, infrastructure or enhancing the state's capacities rather than on manufacturing, industrial development and the nurturing of private sector.
With the exception of national oil companies, some state-run airlines and petrochemical companies, the bulk of Gulf investment is portfolios managed by sovereign wealth funds, trophies or investment designed to enhance a country's prestige and soft power.
By contrast, Asian economies such as China and India have used investment fight poverty, foster a substantial middle class, and create an industrial base. To be sure, with small populations, Gulf states are more likely to ensure sustainability in services and oil and gas derivatives rather than in manufacturing and industry.
China's $1 trillion Belt and Road initiative may be the Asian exception that would come closest to some of the Gulf's soft-power investments. Yet, the BRI, designed to alleviate domestic overcapacity by state-owned firms that are not beholden to shareholders' short-term demands and/or geo-political gain, contributes to China's domestic growth.
Asian nations have been able to manage investors' expectations in an environment of relative political stability. By contrast, Saudi Arabia damaged confidence in its ability to diversify its oil-based economy when after repeated delays it suspended plans to list five per cent of its national oil company, Saudi Arabian Oil Company, or Aramco, in what would have been the world's largest initial public offering.
To be sure, China is no less autocratic than the Gulf states, while Hindu nationalism in India fits a global trend towards civilisationalism, populism and illiberal democracy. What differentiates much of Asia from the Gulf and accounts for its economic success are policies that ensure a relatively stable environment. These policies are focused on social and economic enhancement rather than primarily on regime survival. That may be Asia's lesson for Gulf rulers.
Author's note: first published in Firstpost
Ratcheting up tension: US designation of Revolutionary Guards risks escalation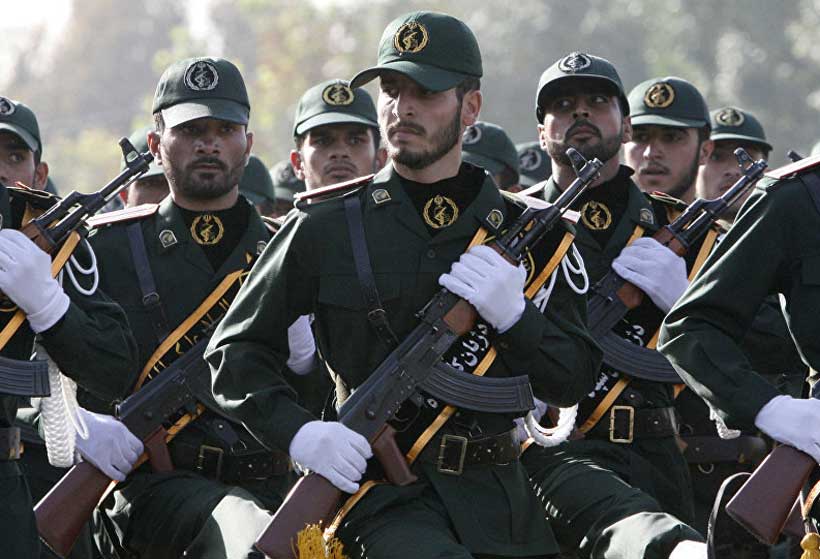 The stakes in the Middle East couldn't be higher.
Suspicion that the United States' intent is to change the regime in Tehran rather than its officially stated goal of forcing Iran to curb its ballistic missile program and support for militias in Lebanon, Gaza and Yemen was heightened with this week's decision to designate the Iranian Revolutionary Guards Corps (IRGC) as a terrorist organization.
It was the first time that the United States labelled a branch of a foreign government as a terrorist entity, particularly one that effects millions of Iranian citizens who get conscripted into the military and for whom the IRGC is an option.
"Today's unprecedented move to designate the IRGC as a Foreign Terrorist Organization demonstrates our commitment to maximize pressure on the Iranian regime until it ceases using terrorism as tool of statecraft," tweeted Mr. Trump's national security adviser, John Bolton..
The designation effectively blocks Mr. Trump's potential successor from possibly returning to the 2015 international accord that curbed Iran's nuclear program, complicates any diplomatic effort to resolve differences, and changes the rules of engagement in theatres like Syria where US and Iranian forces operate in close proximity to one another.
"Through this, some US allies are seeking to ensure a US-Iran war or to, at a minimum, trap them in a permanent state of enmity," said Trita Parsi, head of the National Iranian American Council, referring to Saudi Arabia and Israel.
The designation was likely to embolden advocates in Washington, Saudi Arabia and Israel of a more aggressive covert war against Iran that would seek to stoke unrest among the Islamic republic's ethnic minorities, including Baloch, Kurds and Iranians of Arab descent.
Both Saudi Arabia and Israel were quick to applaud the US move. Israeli prime minister Benyamin Netanyahu, on the eve of a hard-fought election, claimed credit for the suggestion to designate the IRGC. The official Saudi news agency asserted that the decision translates the Kingdom's repeated demands to the international community of the necessity of confronting terrorism supported by Iran."
The risk of an accident or unplanned incident spiralling out of control and leading to military confrontation has also been heightened by Iran's response, declaring the US military in the greater Middle East a terrorist entity.
The US move and the Iranian response potentially put US military personnel in the Gulf as well as elsewhere in the region in harm's way.
The designation also ruled out potential tacit US-Iranian cooperation on the ground as occurred in Iraq in the fight against the Islamic State and in Afghanistan. That cooperation inevitably involved the IRGC.
Beyond geopolitical and military risks, the designation increases economic pressure on Iran because the IRGC is not only an army but also a commercial conglomerate with vast interests in construction, engineering and manufacturing.
It remained however unclear to what degree the sanctions would affect the IRGC, which, already heavily sanctioned, does much of its business in cash and through front companies.
US policy, even before the IRGC designation, had already raised the spectre of a nuclear race in the Middle East. The designation increases the chances that Iran will walk away from the nuclear agreement.
Saudi Arabia has however already been putting in place the building blocks for its own nuclear program in anticipation of Iran abandoning the agreement and returning to its full-fledged, pre-2015 enrichment project.
The IRGC goes to the heart of the Iranian regime. It was formed to protect the regime immediately after the 1979 revolution at a time that Iran's new rulers had reason to distrust the military of the toppled shah.
Some of the shah's top military and security commanders discussed crushing the revolution at a dinner on new year's eve 1978, some six weeks before the shah's regime fell. It was the shah's refusal to endorse their plan that foiled it. The shah feared that large-scale bloodshed would dim the chances of his exiled son ever returning to Iran as shah.
The IRGC has since developed into a key pillar of Iran's defense strategy which seeks to counter perceived covert operations by the United States, Saudi Arabia and Israel by supporting proxies across the Middle East.
It is a strategy that has proven both effective and costly, Iran's failure to address fears that the strategy is an effort to export its revolutions and topple the region's conservative regimes, particularly in the Gulf, has raised the cost.
To be sure, the Iranian revolution constituted a serious threat to autocratic rulers. It was a popular revolt like those more than 30 years later in the Arab world. The Iranian revolt, however, toppled not only an icon of US power in the Middle East and a monarch, it also created an alternative form of Islamic governance that included a degree of popular sovereignty.
The revolution unleashed a vicious cycle that saw Gulf states fund the eight-year long Iran-Iraq war in the 1980s in which up to one million people died; Saudi Arabia wage a four-decade long US$100 billion campaign to globally propagate ultra-conservative, anti-Shiite, anti-Iranian strands of Islam; repeated attempts to stoke ethnic tensions among Iran's disgruntled minorities, and Iranian counter measures including support for proxies across the Middle East and violent attacks against Americans, Israelis, Jews and regime opponents in various parts of the world.
"Given that the IRGC is already sanctioned by the US Treasury, this step is both gratuitous and provocative. It will also put countries such as Iraq and Lebanon in even more difficult situations as they have no alternative but to deal with the IRGC. It will strengthen calls by pro-Iran groups in Iraq to expel US troops," said Barbara Slavin, an Iran expert at the Washington's Atlantic Council