SCO External Relations and Focus on Regional Cooperation
The world has trekked from a hegemonic uni-polarity towards bipolarity and now the phenomenon of globalization has given rise to a multipolar world in current international relations which indicates that more and more countries are having influence over world politics, economy and security as opposed to past. The scales of global politics are now tipping in the favour of regionalization and multilateralism. Eurasia and especially Central-Asia has emerged as the most important region in respect of strategic location, natural resources, man power and economic potential in recent times.
Such speculations about Eurasian region are not newly found. A cursory glance at the map purposes that supremacy over Eurasian region would guarantee supremacy over African continent, Western hemisphere, and its peripheries. Currently, Eurasia has about 75% of the world's population and about three-fourth of the world's energy sources. It was perhaps the realization of the potential of Eurasian region that prompted the countries in this region to formulate Shanghai Cooperation Organization (SCO). SCO was formulated to enhance regional cooperation between these countries to optimize mutual benefits and minimize shared threats.
SCO is the world's largest organization in terms of member countries having largest portions of world's overall population and world's total energy resources. Currently SCO has eight permanent member countries out of which four members are international nuclear powers. Furthermore, SCO member countries have 18% of the total of world's road network. The charter of SCO was signed in 2002 by founding countries including China, Russia, Kazakhstan, Kyrgyzstan, Tajikistan and Uzbekistan to mark the establishment of the organization. Pakistan and India were accepted into organization as members in 2017. Additionally, Afghanistan, Belarus, Iran and Mongolia has been given the status of observer states. United States' request of observer state membership was rejected by the organization. The possible reason of rejection is the presence of US forces in the central Asian member countries of the organization which is in conflict with the regional cooperation goals of the organization. Furthermore, the cooperation of member countries over terrorism and security will most likely curb US interference in the region and will accelerate economic and trade exchange in the region.
The objectives and accomplishments of SCO is to ensure regional cooperation in politics, economy and security as a priority and expand that cooperation to culture, health, education, tourism, technology, media and sports and to mitigate the evils of terrorism, extremism and separatism in the region.SCO has signed multiple MOUs (Memorandum of Understanding) with different international and regional organizations to achieve its objectives. A Memorandum of Understanding (MoU) was signed between the United Nations and SCO to prevent human trafficking, drug smuggling, and organized transnational crimes. SCO signed a MoU with ASEAN (Association of Southeast Asian Nations) to cooperate over issues of arms trafficking, money laundering and transnational terrorism in the region.  Furthermore, CSTO (Collective Security Treaty Organization) and SCO signed a memorandum to combine efforts to maintain regional stability, security and counter terrorism. To increase cooperation over trade, economy, transportation and infrastructure, a Memorandum of Understanding was signed between ECO (Economic Cooperation Organization) and SCO.
All members enjoy equal status when it comes to decision making process. Decisions can only be made through consensus. This structure ensures that all countries have their concerns met at this platform regardless of the opportunities or potential they have to offer. This structure is unique to the organization and has met with appreciation as well as criticism from the international forums. Experts seem divided over the fact whether the structure will promote or demote regional cooperation. It is assumed that the extent of diversity in the countries involved can make it difficult to reach consensus. However, it is important to note that these countries have shared concerns over security and economy which has gathered them over the platform of SCO in the first place. It is the realization of the fact that only regional connectivity can capitalize the potential of this region that has prompted these countries to form this organization. Consensus based decision making process will tap into the resources and potential of all countries and prevent exploitation of smaller countries to pave the way of regional connectivity that is stable and long term in nature.
Member countries of SCO have already started projects that are connecting the region for trade and economic exchange. These include One Belt One Road (OBOR) or Belt and Road Initiative (BRI) project by China. This initiative plans to build roads and infrastructure that will connect China to Europe through Central and South Asia through Silk Route and simultaneously linking China to Southeast Asia, gulf countries and North Africa. This project has already started and its objective is to not just build road but overall infrastructure that will help the growth of mutual trade and economic exchange by connecting the region. The advanced phase of BRI involves construction of trade zones, industrial parks, and energy sources in the connecting countries along its way. The project also aims to achieve regulating the industry standards across the region, standardizing trade rules, hassle free currency exchange and sharing credit information.
Through the platform of SCO, BRI project and EAEU (Eurasian Economic Union) are linked and different agreement between China and Russia have been signed to ensure cooperation in this regard. This link will enable BRI and EAEU to reciprocate each other in achieving their goals.  The materialization of conflict between Russia and China was a real possibility because of contrast of interests in the region. However, SCO has eliminated that possible threat to regional connectivity in Eurasia by joining both the countries on its platform.
Other projects of trade and transport connectivity in the region have found integration with BRI through the platform of SCO. These include INSTC (International North-South Transport Corridor) by India and Nurly Zhol project by Kazakhstan. INSTC is a project of launching freight from India to Europe through central Asia and Nurly Zhol is a project of building transportation infrastructure in Kazakhstan. SCO has facilitated the smooth amalgamation of these projects with BRI by gathering the concerned countries on a platform that gives them equal say in the process of making any decision related to Eurasian region. It does not only help economic development in the region but accelerates transnational relations by creating a sense of security among the member countries. Additionally, it preventing exploitation of smaller regional countries through consensus based structure.
Furthermore, SCO will also strengthen culture ties through new visa opportunities. Road transport licensing will increase cross border trade and tourism from Pacific Ocean to Baltic Sea in the region. Furthermore, transportation by road will only require single entry permit and the transnational transportation activities will be observed by joint commission of the member states of SCO.
This comes as no surprise that like any other international cooperation organization, SCO has some challenges that may hinder the process of achieving greater regional connectivity in Eurasia. Afghanistan is a destabilizing factor in the whole region that may pose a threat to achieving stability in central Asia. Although, Afghanistan has obtained the status of observer state in SCO, it needs urgent attention of the organization for its infrastructural reconstruction. The traditional hostility among India and Pakistan may also find its way into the organization in future and form opposing blocks in the organization. However, until now, there have been no such conflicts. Additionally, China and Russia may find themselves locking horn over creating their hegemony in the region in future.
The overall history of achievements by SCO makes the challenges in the region seem important but resolvable. Still, the dream of greater regional connectivity in Eurasia is still to be achieved and SCO is just the first step towards it. SCO is a good start towards regional cooperation as a platform and all factors point to an optimistic future of the organization in achieving regional connectivity.
"Westlessness" of the West, and debates on China during Munich Security Conference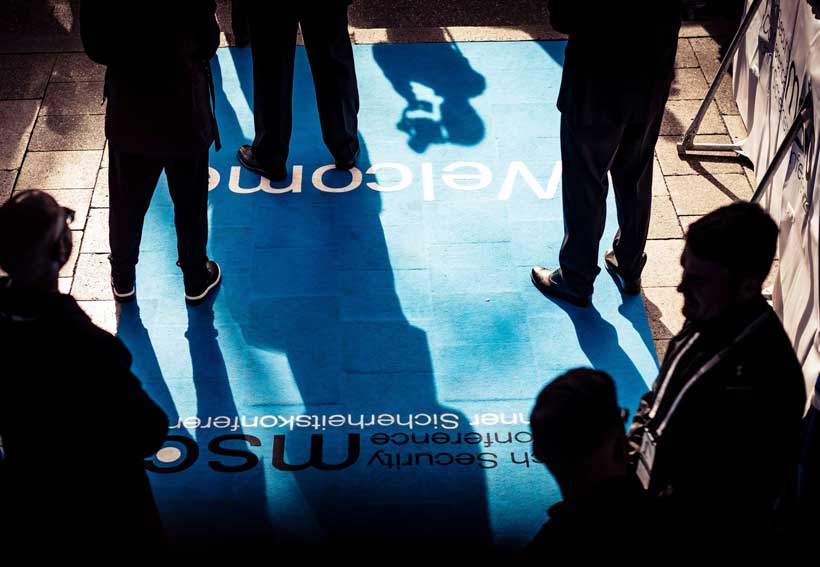 The Munich Security Conference, which traditionally brings together heads of state and government, foreign and defense ministers in February, is usually expected to bring some kind of intrigue. This time round, the role was claimed by the conference report, titled "Westlessness," whose main message was the loss by Western countries of their global leadership and, as a consequence, the growth of nationalist sentiment in Western countries and the loss of their monopoly on resolving international conflicts.
Expectably enough, Russia and China were blamed for the world and the West itself becoming "less Western." The organizers of the Munich Conference urged China to responsibly handle its role as the world's new non-Western center of power, and expressed hope that China would over time "adopt liberal values and become a "responsible stakeholder" in a liberal world led by the West."
A pretty unlikely scenario though. A separate chapter in the report's "Actors" section is devoted to China. Describing China as the "Meddle Kingdom" (similar to the Middle Kingdom), the authors view the country's growing economic might and political sway as a potential threat to the world order that exists today.
The authors are concerned about looming Chinese superiority in foundational emerging technologies like artificial intelligence, quantum computing, and connectivity technology, as well as surveillance technology and "know-how" in the field of internet regulation. In the case of 5G, they write about an intense debate over how to balance close economic ties with China amid growing security concerns. And, in a truly Freudian slip, they write about "the growing concern that the future holds a technological segregation of the world into those countries operating on Western technologies and norms and those running on Chinese ones."
The section of the report on China is chock-full of graphs, charts and diagrams reflecting European fears of Chinese technology and investments. However, when carefully examined, these charts show that despite strong opposition from Washington and Brussels, more than half of "respondents" perceive technologies and investments from China positively.
The participants in the Munich Conference also spent a lot of time trying to present the coronavirus epidemic as a "Chinese threat," even though China's Foreign Minister Wang Yi said in Munich that his country would soon be able to check the spread of COVID-19.
Speaking at the conference, Russia's Foreign Minister Sergey Lavrov emphasized: "We are prepared to join efforts on other pressing issues of the global agenda, including epidemiological threats. We are ready to work together on other pressing issues on the world agenda, including epidemiological threats. In this regard, I would like to note China's open and responsible approach to international cooperation in combating the spread of the coronavirus."
The Munich conference never found a cure to the problem of "Westlessness" though. Well, maybe they should look at themselves instead of faulting China, Russia and others? At least, Russian and Chinese representatives reaffirmed their readiness to engage in a constructive and inclusive dialogue.
From our partner International Affairs
Does NATO respond positively to the Turkish supererogation?
Turkey is once again turning to the West, while over the past two years, it had been distancing from the West and trying to collaborate with Russia due the success of the Astana peace process on the Syrian conflict.
Damascus's strategic patience is over because Ankara has failed to fulfill its commitments regarding retaking the areas captured by terrorists backed by Turkey. The Syrian army's widespread advances over the last two weeks in areas occupied by terrorist forces in the northwest have led to Ankara's reaction and increased tensions between Syria and Turkey. Along with wresting control over the strategic Damascus-Aleppo highway, the Syrian army carried out successful operations in recapturing 1500 km2 of Syrian territory and about 100 towns and villages in west and south Aleppo, especially key towns of Khan Tuman and Saraqib. Following the Syrian army's operations, the Turkish government has sent thousands of troops and military equipment to the outskirts of Idlib to prevent the continued advance of the Syrian forces.
Turkey's moves were due to greenlight by the U.S., NATO, and the EU, which have so far not been in Ankara's favor; rather they have resulted in massive casualties and the loss of six military bases in Syria's territory.
Recently, Turkish Defense Minister Hulusi Akar called on the North Atlantic Treaty Organization to support the Turkish military in order to halt the Syrian army's offensive against Idlib, the stronghold of the latest Turkish-backed terrorist elements.
Obviously, the move by Turkey has broken the commitments to the Sochi agreement and the Astana process, with the aim of holding its place in NATO. This is a wish that seems unlikely to come true, given the chaotic situation of NATO and the West's distrust of Turkey.
Accordingly, it is certain that Idlib and its outskirts will soon be completely liberated because of the high motivation and ability of the Syrian army. The liberation will definitely thwart all hostile policies that Turkey has adopted in Syria for many years and will bring heavy defeat for Ankara.
The developments in Syria in recent days shows that Turkey is no longer trustworthy as it has explicitly violated Syria's sovereignty as an independent state. There have been some accords on Syria, such as the Sochi agreement, regarding the establishment of a safe zone in Idlib, while Turkey has not considered the slightest value for the agreements.
From our partner Tehran Times
Lithuania: To serve or not to serve in the army
It is well known that in 2015 Lithuanian authorities reintroduced compulsory military service due to the potential threat caused by the Russian Federation.
It should be said, that young Lithuanians do not appreciate the idea and try to avoid the service in every possible way. They even are not afraid of penalties and imprisonment.
In order to force them to serve Lithuanian authorities are inventing new "tools" to make the process of avoidance the conscription harder.
From the beginning of 2015 all Lithuanian men aged 19-26 had to perform compulsory military service in the Lithuanian Armed Forces for a period of 9 months if fate decided.
The matter is the way of choosing the men who will serve is more than surprising. They say that 2 percent of men are randomly selected to complete vacancies in the army within the year. The lists of military conscripts then are published on the Internet. But "randomly" could also mean "nobody knows how they are selected."
At the beginning of this year authorities lowered the age range at which men are called up for mandatory military service to 18-23 years and banned volunteer soldiers from holding seats in the parliament and municipal councils.
Defence Minister Raimundas Karoblis said that the aim of lowering the conscription age is to ensure that conscripts' military service causes the minimum possible disruption to their civilian lives.
The matter is the way of choosing the men who will serve is more than surprising. They say that 2 percent of men are randomly selected to complete vacancies in the army within the year. The lists of military conscripts then are published on the Internet. But "randomly" could also mean "nobody knows how they are selected."
In reality the Ministry of National Defence can't meet its recruitment goals.
The system includes Lithuanians living abroad who are forced to leave their home and come back for the service. The government of Lithuania doesn't care that men living overseas have their personal life, own career paths and financial responsibilities.
The military authorities are trying to take immigrants for service on purpose, not caring about their personal problems, including health issues and financial commitments.
They also discriminate homosexual men by giving them specific tests to find out how gay they are, including a talk with the psychiatrist. Because homosexuality is still a sickness in Lithuania, with existing laws against gay people.
A lot of Lithuania men who decided not to come back for the service, are often wanted by police, and in some circumstances might end up in prison for up to 3 years.
Thus, in December 2019, 24-year-old Marius H. from Kedainiai was prosecuted for not visiting the military registration and enlistment office, but did not change his position. He said later that he would not go to serve, it is not in his interests. He has a well-paid job in Belgium and is not going to change his way of life. So he paid penalty (800 euros) and left for Belgium. And he is not the only one in the country who has made such choice.
Evidently, it is impossible to solve the problem in that way, using methods of coercion and punishment. Unfortunately, reintroducing of compulsory military service was the decision of the authorities, finding the ways to avoid it is the choice of youth. If the government doesn't respect the citizens, the citizens have a right not to obey their decisions.