Republic of Korea to Host ADB's 53rd Annual Meeting in 2020
The Asian Development Bank (ADB) has announced that the 53rd Annual Meeting of its Board of Governors will be held in Incheon Metropolitan City, Republic of Korea from 2–5 May 2020.
This will be the third time the Republic of Korea will host the meeting. It hosted ADB's 37th Annual Meeting in Jeju Island in 2004 and ADB's 3rd Annual Meeting in Seoul in 1970.
The Annual Meeting is the largest gathering of the bank and a unique opportunity for ADB Governors to engage in focused discussion on development issues and challenges facing Asia and the Pacific. About 3,000 participants regularly join the meeting, including finance ministers, central bank governors, senior government officials, members of the private sector, representatives of international organizations and civil society organizations, youth, academia, and the media.
"2020 marks the 20th year since the Republic of Korea graduated from being a recipient of official development assistance and transitioned to a donor," said ADB President Mr. Takehiko Nakao. "As host of next year's Annual Meeting, we are excited about the country sharing its development experiences and successes with the international community."
For the 52nd Annual Meeting of ADB's Board of Governors this year, registration is now open. The Annual Meeting will be held from 1–5 May 2019 in Nadi, Fiji, marking the first time a Pacific island country will host the event.
The Republic of Korea is a founding member of ADB. Before its graduation from ADB borrowing, cumulative approvals to the country totaled $6.3 billion. ADB approved loans to the Republic of Korea from 1968 to 1988 amounting to $2.3 billion, and then provided $4 billion in 1997 in support of reforms after the financial crisis.
The Republic of Korea has contributed $7.4 billion in capital subscription and contributed and committed over $643 million to ADB's Asian Development Fund. Commercial and official cofinancing by the Republic of Korea amounted to $4.2 billion comprising of 42 investment projects and 5 technical assistance. Furthermore, it has contributed $122 million to 2 trust funds: (i) the e-Asia and Knowledge Partnership Fund; and (ii) the Future Carbon Fund.
World Bank Group and CES Announce Global Tech Challenge Winners
World Bank Group and CES announced the winners of the Global Tech Challenge at CES®2021.
The result of a partnership between the Consumer Technology Association (CTA) and the World Bank Group, the Global Tech Challenge was launched at CES 2020 to reward scalable and innovative technological solutions in three main areas: digital health in East Africa, resilience in India and gender equality around the world. Technology solutions that helped communities respond to the COVID-19 pandemic were also prioritized.
Selected among over 1,000 applications, three winners were selected for gender equality, 10 for resilience and 17 for digital health. More details about the selected innovations can be accessed here for health, resilience and gender equality.
Global Tech Challenge winners will have the opportunity to access financial and/or technical assistance to pilot and scale their solutions on the ground with private sector companies, governments and within development projects financed by the World Bank Group, one of the largest sources of funding and knowledge for developing countries.
"From closing the digital divide to building resilience in the face of natural disasters or pandemics, innovation can solve some of the most pressing development challenges. The World Bank Group is pleased to support impactful programs focused on bringing equal access to connectivity to women in developing countries and to recognize cutting-edge solutions such as AI-enabled robots to rebuild homes in post-disaster areas. Now is the time to scale up solutions that have proven effective, so that no one is left behind in the new digital era," said Makhtar Diop, the World Bank's Vice President for Infrastructure.
"Disruptive technologies are a fundamental driver of economic growth and job creation—and key to solving development challenges around the world. At IFC, we are proud to support the private sector in bringing these technologies to emerging markets, with innovations that range from portable ultrasound devices that can detect COVID-19 to medical tools that provide real-time cardiac diagnoses even in remote areas," said Stephanie von Friedeburg, Interim Managing Director and Executive Vice President, and Chief Operating Officer at IFC.
"We are thrilled to be continuing our work with the World Bank so the world's best and brightest innovators at CES can collaborate with the World Bank Group to enter new markets, provide solutions and aid in development," said Karen Chupka, EVP, CES, Consumer Technology Association (CTA).
Owned and produced by CTA, CES 2021 will be an all-digital experience connecting exhibitors, customers, thought leaders and media from around the world. CES 2021 will allow participants to hear from technology innovators, see cutting-edge technologies and the latest product launches, and engage with global brands and startups from around the world. For over 50 years, CES has been the global stage for innovation, and CES 2021 will provide an engaging platform for companies large and small to launch products, build brands and form partnerships.
2020, one of three warmest years on record
The COVID-19 pandemic was not the only long-term crisis the world will remember from 2020. In terms of climate change, the year was also one of the three warmest on record, and rivalled 2016 for the top spot, the UN weather agency said on Wednesday.
"The confirmation by the World Meteorological Organization (WMO) that 2020 was one of the warmest years on record is yet another stark reminder of the relentless pace of climate change, which is destroying lives and livelihoods across our planet", said Secretary-General António Guterres.
He pointed out that at 1.2 degrees of warming above pre-industrial levels, the world is already witnessing unprecedented weather extremes in every region and on every continent.
"We are headed for a catastrophic temperature rise of 3 to 5 degrees Celsius this century", he warned. "Making peace with nature is the defining task of the 21st century. It must be the top priority for everyone, everywhere." 
Powerful force
La Niña, which began in late last year, is expected to continue into the early-middle part of 2021. 
"The exceptional heat of 2020 is despite a La Niña event, which has a temporary cooling effect", said WMO Secretary-General Prof. Petteri Taalas.
La Niña and El Niño effects on average global temperatures are typically strongest in the second year of the event.
"It is remarkable that temperatures in 2020 were virtually on a par with 2016, when we saw one of the strongest El Niño warming events on record", he added. "This is a clear indication that the global signal from human-induced climate change is now as powerful as the force of nature". 
The extent to which the continued cooling effects of La Niña this year may temporarily diminish the overall long-term warming trend remains to be seen. 
Following atypical patterns
WMO pointed to sustained heat and wildfires in Siberia, diminishing Arctic sea ice and record-breaking hurricanes in the Atlantic as being among the climate events that most stood out in 2020.
The UN weather agency also reminded that temperature is just one climate change indicator. Greenhouse gas concentrations, ocean heat content, global mean sea level, sea ice extent and extreme events are also factors.
Backed by science
WMO's consolidated global temperature update incorporates information from five leading international sets of data.
It also uses datasets that combine millions of meteorological and marine observations, including from satellites, with models to produce a complete reanalysis of the atmosphere.
"The combination of observations with models makes it possible to estimate temperatures at any time and in any place across the globe, even in data-sparse areas such as the polar regions", according to WMO. 
Looking to the future
The Paris Agreement aims to limit global warming to well below 2°C, preferably to 1.5°C degrees, compared to pre-industrial levels.
However, the global average temperature in 2020 had already approached the lower limit of the temperature increase that the Agreement seeks to avert.
Moreover, there is at least a one-in-five chance that the average global temperature will temporarily exceed 1.5 °C by 2024, according to WMO's Global Annual to Decadal Climate Update, led by the United Kingdom's Met Office.
The 2021 Met Office annual global temperature forecast also suggests that next year will again be one of the earth's hottest years. 
Updating its provisional December report, WMO will issue its final publication in March, which will incorporate temperature figures, information on all leading climate indicators and selected climate impacts.
Step up action and adapt to 'new climate reality'-Report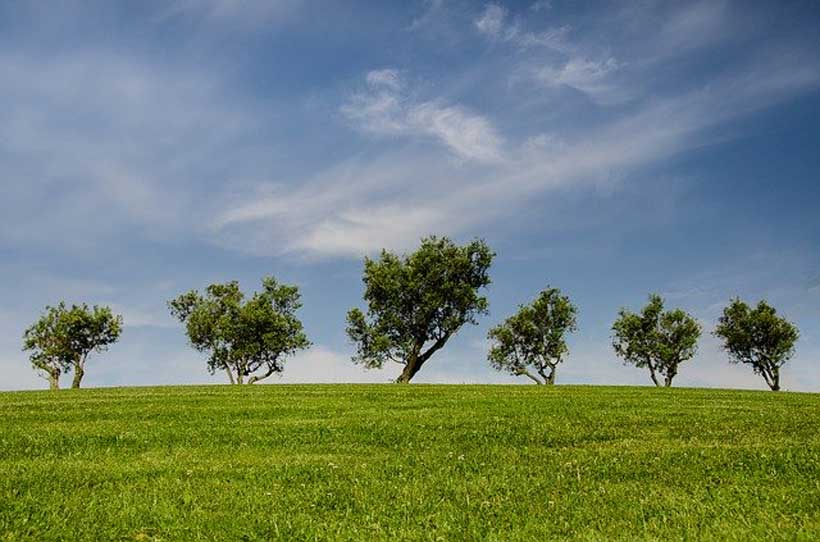 Though countries have made progress in planning for climate change adaptation, there are significant financing shortfalls in getting them to the stage where they provide real protection against droughts, floods and rising sea levels, a new UN environment report has found.
According to the 2020 Adaptation Gap Report, released on Thursday by the UN Environment Programme (UNEP), as temperatures rise and climate change impacts intensify, nations must urgently step up action to adapt to the new climate reality or face serious costs, damages and losses.
"The hard truth is that climate change is upon us," Inger Andersen, UNEP Executive Director, said in a news release announcing the findings.
"Its impacts will intensify and hit vulnerable countries and communities the hardest, even if we meet the Paris Agreement goals of holding global warming this century to well below 2 degrees Celsius and pursuing 1.5 degree Celsius."
Global commitment needed
Annual adaptation costs in developing countries are estimated at $70 billion, but the figure could reach up to $300 billion in 2030, and $500 billion in 2050. Almost three-quarters of nations have some adaptation plans in place, but financing and implementation fall "far short" of what is needed, according to the UNEP report.
Stepping up public and private finance for adaptation is, therefore, urgently needed.
"As the Secretary-General has said, we need a global commitment to put half of all global climate finance towards adaptation in the next year … this will allow a huge step up in adaptation, in everything from early warning systems to resilient water resources to nature-based solutions," Ms. Andersen added.
Adaptation is a key pillar of the Paris Agreement on Climate Change. It aims to reduce countries' and communities' vulnerability to climate change by increasing their ability to absorb impacts.
Nature-based solutions
The UNEP report also underscored the importance of nature-based solutions as low-cost options that reduce climate risks, restore and protect biodiversity, and bring benefits for communities and economies.
Its analysis of four major climate and development funds: the Global Environment Facility (GEF), the Green Climate Fund (GCF), the Adaptation Fund, and the International Climate Initiative (IKI), suggested that support for green initiatives with some element of nature-based solutions has risen over the last two decades.
Cumulative investment for climate change mitigation and adaptation projects under the four funds stands at $94 billion. However, only $12 billion was spent on nature-based solutions, a tiny fraction of total adaptation and conservation finance, it added.
Cutting emissions will reduce costs
Cutting greenhouse gas emissions will reduce the impacts and costs associated with climate change, according to the report. Achieving the 2 degrees Celsius target of the Paris Agreement could limit losses in annual growth to up to 1.6 per cent, compared to 2.2 per cent for the 3 degrees Celsius trajectory.
UNEP urged all nations to pursue the efforts outlined in its December 2020 Emissions Gap Report, which called for a green pandemic recovery and updated Nationally Determined Contributions (NDCs) that include new net-zero commitments.
"However, the world must also plan for, finance and implement climate change adaptation to support those nations least responsible for climate change but most at risk," the UN agency added.
"While the COVID-19 pandemic is expected to hit the ability of countries to adapt to climate change, investing in adaptation is a sound economic decision," it said.