Railways could provide much greater benefits for energy and the environment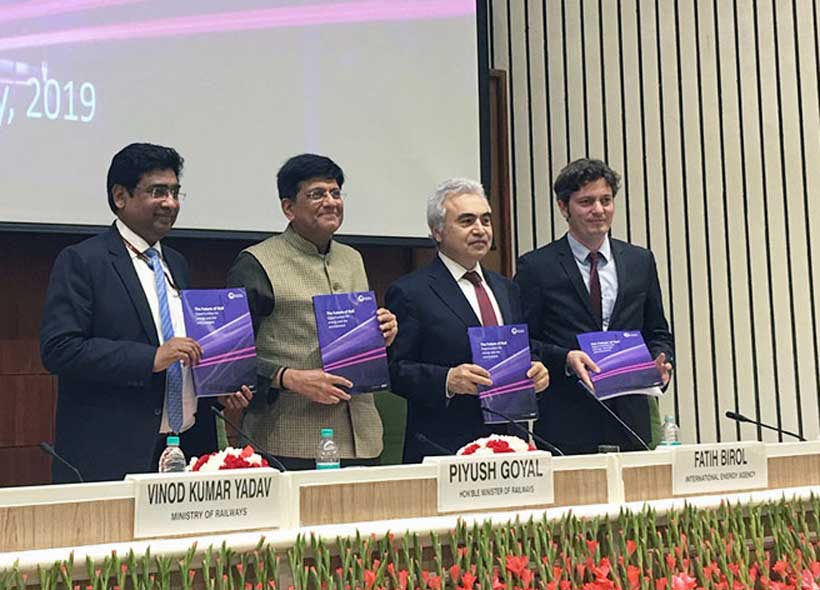 Rail is among the most energy efficient modes of transport for freight and passengers, yet is often neglected in public debate, according to a new report by the International Energy Agency prepared in cooperation with the International Union of Railways (UIC).
The Future of Rail is the latest in the IEA series shining a light on "blind spots" in the energy system, which are issues that deserve more attention from policymakers. It was released today in New Delhi by IEA Executive Director, Dr Fatih Birol, at an event opened by India's Minister of Railways, Shri Piyush Goyal.
The transport sector is responsible for almost one-third of final energy demand, nearly two-thirds of oil demand and nearly one-quarter of global carbon dioxide (CO2) emissions from fuel combustion. Therefore changes in transportation are fundamental to achieving energy transitions globally. While the rail sector carries 8% of the world's passengers and 7% of global freight transport, it represents only 2% of total transport energy demand, highlighting its efficiency.
"The rail sector can provide substantial benefits for the energy sector as well as for the environment," said Dr Fatih Birol. "By diversifying energy sources and providing more efficient mobility, rail can lower transport energy use and reduce carbon dioxide and local pollutant emissions."
The Future of Rail includes a Base Scenario that projects the evolution of the railways sector to 2050 on the basis of announced policies, regulations and projects. It also includes a High Rail Scenario to demonstrate the energy and environmental benefits of a more significant shift of passengers and goods to rail transport. While the High Rail Scenario requires about 60% more investment than in the Base Scenario, global CO2 emissions from transport peak in the late 2030s, air pollution is reduced and oil demand is lowered.
The report includes a specific focus on India. "Rail serves as a vital lifeline of India, playing a unique social and economic role," said Dr Birol. Rail remains the primary transport mode in the country, providing vital connections within and between cities and regions, and guaranteeing affordable passenger mobility that has long been a government priority. Rail passenger traffic in India has increased by almost 200% since 2000 yet prospects for future growth remain bright. Construction has started on India's first high-speed rail line, the total length of metro lines is set to more than triple in the next few years, and two dedicated freight corridors are on track to enter operation by 2020.
In all countries, including India, the future of the rail sector will be determined by how it responds to both rising transport demand and rising pressure from competing transport modes.Rising incomes and populations in developing and emerging economies, where cities are growing exponentially, are set to lead to strong demand for more efficient, faster and cleaner transportation, but the need for speed and flexibility tend to favour car ownership and air travel. Rising incomes also drive demand growth in freight, where higher incomes, have sharply increased demand for rapid delivery of higher value and lighter goods.
Portugal can use its economic recovery to build up resilience
Portugal's economic recovery is now well established, with GDP back to pre-crisis levels, a substantially lower unemployment rate and renewed investment and domestic consumption now joining a robust export sector to drive the economy. Efforts should now focus on reducing vulnerabilities to build resilience to future shocks, according to a new OECD report.
The latest OECD Economic Survey of Portugal forecasts GDP growth for 2019 and 2020 of 2.1% and 1.9% respectively. A drop in the unemployment rate to below 7% and rising earnings are driving consumption, adding to the economic lift from tourism and manufacturing, which were behind much of the 60% rise in export volumes that the Portuguese economy experienced from 2009 to 2017.
The Survey, presented in Lisbon by OECD Secretary-General Angel Gurría alongside Portuguese Minister Assistant to the Prime Minister and for the Economy Pedro Siza Vieira and Deputy Minister and Secretary of State of Finance Ricardo Mourinho Félix, says Portugal should now take the opportunity to further shore up its public finances and banking sector.
To improve living standards and address still-high levels of poverty and inequality, Portugal should also aim to raise productivity, which has stalled in recent years, and get the long-term unemployed back into jobs.
At around 120% of GDP, Portugal's public debt is falling but still among the highest in the OECD, limiting the country's ability to respond to external shocks. Reducing the debt will require ongoing fiscal consolidation and further measures to offset the rising costs of ageing, including optimising health spending and further reducing pathways to early retirement. On the revenue side, the tax base could be broadened by reducing consumption tax exemptions and expanding the use of environmental taxes.
In the banking sector, there is a need to reduce the share of non-performing loans, which have declined since a peak in 2016 but remain high by OECD standards.
"Portugal has made tremendous progress restoring its economy to health since the financial crisis, but challenges remain in public finances and the financial sector," said OECD Secretary-General Angel Gurría. "The more Portugal can do to build up resilience while its economy is turning over nicely, the better it will be able to weather any future shock, ensuring the sustainability and inclusiveness of its economic recovery."
External risks to Portugal's outlook could include a slowdown in economic activity in major trading partners and future rises in Eurozone interest rates.
The Survey includes a thematic chapter on efficiency in the judicial system and its effect on productivity and economic performance. It notes that despite reforms to reduce the time needed to resolve a civil or commercial case in the court system, cases still typically run longer than in other OECD countries. The report also highlights the importance of continuing efforts to foster integrity and promote transparency in both the public and business sectors, as a key priority.
A second thematic chapter focuses on Portugal's export performance. With exports still relatively low as a share of GDP, it recommends doing more to improve competitiveness on international markets, to open up to external trade and to participate in global value chains. This could include removing barriers to competition, to further encourage exporting firms to compete on price and quality, and making efforts to improve domestic infrastructure and skills.
Navigating Sri Lanka's Demographic Change
The latest edition of the World Bank's Sri Lanka Development Update (SLDU) finds the island in a challenging macroeconomic landscape. The post-conflict high growth momentum has decelerated. A volatile global environment and structurally weak competitiveness continue to weaken growth and external sector performance. High interest costs mask limited fiscal improvement.
The report's special focus examines the challenges associated with a change in demographic composition and suggests that a multi-year program of policy reforms and institutional strengthening could help prepare Sri Lanka for the decades ahead.
The SLDU, which analyses key developments in Sri Lanka's economy over the past six months, notes that while post-conflict growth has decelerated, the outlook remains stable, conditional on political stability and reform implementation.
Sri Lanka is stepping up to the plate at a time when the global environment remains turbulent. Key reforms, such as the implementation of the Inland Revenue Law, passing of the Active Liability Management Act, are helping to prepare for heightened external debt refinancing risks in 2019 and beyond.
"It is important to consolidate on previous reforms to ensure maximum benefits," says Fernando Im, an author of the SLDU and the senior country economist for Sri Lanka-Maldives. He explains that future reforms could yield high development impacts, such as further strengthening public finance management and supporting the implementation of a social registry to improve coverage and targeting of social safety nets.
Below are some of the recent developments highlighted in the report:
Sri Lanka's debt portfolio carries significant risks
At an estimated 83 percent of its Gross Domestic Product, Sri Lanka's central government debt level is high. As the country approached upper middle-income status, it has been borrowing on more commercial terms with increased cost and risk.
The majority of foreign currency denominated debt is now largely made up of market borrowings including International Sovereign Bonds (ISBs) and Sri Lanka Development Bonds (SLDBs), which in 2017 accounted for 53 percent, up from just 3 percent of total foreign currency denominated debt in 2000.
In total, maturities of bullet repayments on Eurobonds from 2019 to 2023 and from 2025 to 2028 alone amount to USD 12.15 billion. The SLDU notes that this is new territory for the country and could expose the island nation to refinancing risks.
In response, the government has adopted policies designed to address these risks, however, the slow progress of key structural reforms remains a cause for concern. It is hoped that improvements in debt management will help manage costs and risks of the portfolio, develop the domestic financial market and improve access to finance.
Despite the fast poverty reduction, there remain areas with significant poverty
Over the past two decades, Sri Lanka's economy expanded at a rapid pace and the country has done much to address extreme poverty with a decline from 15.4 percent in 2013 to 9.7 percent in 2016, as measured against the World Bank's international poverty line of $3.20 per day for lower middle-income countries.
Measures, such as the expansion of the Samurdhi programme in 2015, offered dividends although better targeting of social assistance would have resulted in larger gains. However, it is vital to note that a large number of people remain just a small shock away from falling back into poverty, says the report, noting that adverse weather conditions have become increasingly influential in recent years.
Critically, there is a disparity between various districts, with the highest poverty headcount being reported in the Northern and Eastern provinces, where regions like Ratnapura, Kandy and Badulla account for more than a quarter of the poor population combined. It is clear, Sri Lanka must design different strategies to address the varied issues around human capital, basic services, the availability of jobs and access to markets.
Sri Lanka is undergoing profound demographic change – the country needs to do more to prepare
Like many other countries in the world, Sri Lanka is staring down a dramatic demographic shift – Sri Lanka's share of working-age population peaked in 2005 and it is expected to gradually decline over time. This has implications for labor supply, service delivery in sectors such as health and education, and of course for pensions, employment and public finances overall.
A particular concern are the limited savings and instructional support mechanisms in place to support this rapidly expanding elderly population. Increasing costs mean that programs such as the Public Servants Pension Scheme (PSPS) could struggle to deliver on their benefit promises over the long run, while the EPF – the employer-based defined contribution saving scheme for formal private sector workers – appears inadequate to meet the costs associated with over two decades of retirement.
As can be expected formidable challenges exist, but improving various aspects of delivery systems will prove critical to broadening worker coverage. By prioritising educational attainment, addressing the skills mismatch that hurts new graduates in the market, and nurturing entrepreneurship, younger people could be encouraged to participate in the workforce. Finally, improving female labour force participation could also help buffer the adverse impacts of demographic factors on growth.
Poor working conditions are main global employment challenge
Poor quality employment is the main issue for global labour markets, with millions of people forced to accept inadequate working conditions, according to a new report from the International Labour Organization (ILO).
New data gathered for the World Employment and Social Outlook: Trends 2019  (WESO) show that a majority of the 3.3 billion people employed globally in 2018 had inadequate economic security, material well-being and equality of opportunity. What's more, progress in reducing unemployment globally is not being reflected in improvements in the quality of work.
The report, published by the ILO, cites the persistence of a number of major deficits in decent work, warning that, at the current rate of progress, attaining the goal of decent work for all, as set out in the Sustainable Development Goals  (SDGs), particularly SDG 8 , seems unrealistic for many countries.
"SDG 8 is not just about full employment but the quality of that employment," said Deborah Greenfield, ILO Deputy Director-General for Policy. "Equality and decent work are two of the pillars underpinning sustainable development."
The report cautions that some new business models, including those enabled by new technologies, threaten to undermine existing labour market achievements – in areas such as improving employment formality and security, social protection and labour standards – unless policy-makers meet the challenge.
"Being in employment does not always guarantee a decent living," said Damian Grimshaw, ILO Director of Research. "For instance, a full 700 million people are living in extreme or moderate poverty despite having employment."
Among the issues highlighted is the lack of progress in closing the gender gap in labour force participation. Only 48 per cent of women are in the labour force, compared to 75 per cent of men. Women also make up far more of the potential, underutilized, labour force. Another issue is the persistence of informal employment, with a staggering 2 billion workers – 61 per cent of the world's workforce – categorized as such. Also of concern is that more than one in five young people (under 25) are not in employment, education or training, compromising their future employment prospects.
The annual report also highlights some pockets of progress. Should the world economy manage to avoid a significant downturn, unemployment is projected to decline further in many countries. There has also been a great decrease in working poverty in the last 30 years, especially in middle-income countries, and a rise in the number of people in education or training.
Main regional findings
Africa
Only 4.5 per cent of the region's working age population is unemployed, with 60 per cent employed. However, rather than indicating a well-functioning labour market, this is because many workers have no choice but to take poor quality work, lacking security, decent pay and social protection.
The labour force is projected to expand by more than 14 million per year. Economic growth rates until 2020 are expected to be too low to create enough quality jobs for this fast-growing labour force.
Northern America
Unemployment is expected to reach its lowest level, 4.1 per cent in 2019.
Both employment growth and economic activity are projected to begin declining in 2020.
People with basic education are more than twice as likely to be unemployed as those with advanced education.
The sub-region is a leader in digital labour platforms. Close monitoring of such work is a growing issue for policy-makers.
Latin America and the Caribbean
Despite rebounding economic growth, employment is expected to rise by only 1.4 per cent per year in 2019 and 2020.
The relatively slow fall in regional unemployment figures is a result of different labour market conditions in individual countries.
Informality and poor job quality remain pervasive in all types of employment.
Arab States
Regional unemployment is projected to remain stable at 7.3 per cent until 2020, with unemployment in non-Gulf Cooperation Council (GCC) countries reaching double that of the GCC.
Migrant workers account for 41 per cent of total regional employment, and in GCC countries more than half of all workers are migrants, on average.
The women's unemployment rate, at 15.6 per cent, is three times that of men. Youth are also disproportionately affected and the youth unemployment rate is four times the adult rate.
Asia and the Pacific
Economic growth continues, albeit at a slower rate than in previous years.
The regional unemployment rate is projected to remain at around 3.6 per cent until 2020, below the global average.
Structural transformation has moved workers out of agriculture, but this has not created significant improvements in job quality; a large proportion of workers lack job security, written contracts and income stability.
While social protection has been significantly extended in some countries, it remains extremely low in those countries with the highest poverty rates.
Europe and Central Asia
In Northern, Southern and Western Europe, unemployment is at its lowest in a decade and is set to continue falling until 2020.
In Eastern Europe the number of people in employment is expected to shrink by 0.7 per cent in both 2019 and 2020, but a simultaneously shrinking labour force means the unemployment rate will fall.
Long-term unemployment is as high as 40 per cent in some countries.
Informality remains widespread, at 43 per cent, in Central and Western Asia.
Working poverty, poor job quality and persistent labour market inequalities remain concerns.