40 Hyatt Hotels Expected to Open Throughout West Coast United States By 2021
Hyatt Hotels Corporation today announced that Hyatt expects 40 new hotels to open in California, Oregon and Washington by the end of 2021, fueling Hyatt's regional brand growth by nearly 45 percent. The new executed properties – under management and franchise agreements – will join 89 Hyatt-branded hotels that are currently open and operating in California, Oregon and Washington.
The West Coast is a priority for developers due to business demand from several strong markets in cities like San Diego, San Francisco, Portland, Ore., and Seattle. Further reasons to support Hyatt's strategy to focus on West Coast growth includes corporate and leisure travelers from Asia, where Hyatt has strong brand name recognition.
"The West Coast U.S. is a primary area of focus for Hyatt, and we see enormous potential to grow our portfolio of brands in this region," said Jim Chu, global head of development and owner relations, Hyatt. "Today's announcement further demonstrates the overall strength and resonance of Hyatt-branded hotels with developers, owners and guests."
Most notably, new West Coast properties include Hyatt House San Jose/Cupertino (March 2019) to be located in the heart of Silicon Valley, the 350-room Grand Hyatt at SFO (Summer 2019) which will be the only hotel on airport grounds, the 600-room Hyatt Regency Portland at Oregon Convention Center (Early 2020) and Thompson Hollywood (Early 2020). These will complement the recently opened Hyatt Regency Seattle, the largest hotel in the Pacific Northwest, per number of rooms (1,260) and meeting space (103,000 square feet).
Complete list of new West Coast U.S. properties:
Park Hyatt
Park Hyatt hotels provide discerning, affluent business and leisure guests with elegant and luxurious accommodations. Each Park Hyatt hotel is custom designed to combine sophistication with distinctive regional character. parkhyatt.com
Park Hyatt Los Angeles at Oceanwide Plaza (Calif.), 184 guestrooms, 2020
Park Hyatt Los Angeles Residences at Oceanwide Plaza (Calif.), 164 residences, 2020
Grand Hyatt
Grand Hyatt hotels celebrate the iconic in small details and magnificent moments, providing sophisticated business and leisure travelers with elegant accommodations, extraordinary restaurants, bars, spas and fitness centers, as well as comprehensive business and meeting facilities. grandhyatt.com
Grand Hyatt at SFO (San Francisco, Calif.), 351 guestrooms, Summer 2019
Andaz
Andaz hotels draw upon surrounding neighborhoods to craft distinctively local experiences, fully immersing guests in each inspiring destination through unique expressions of local culture. Andaz hotels are designed to reflect their surroundings and feature an innovative service model that creates a barrier-free and non-traditional environment. andaz.com
Andaz Palm Springs (Calif.), 150 guestrooms, Fall 2019
The Unbound Collection by Hyatt
The Unbound Collection by Hyatt brand is designed to provide a portfolio of unconventional upper-upscale and luxury properties ranging from historic urban gems to contemporary new build hotels, boutique properties, and resorts. Each hotel is one-of-a-kind and offers story-worthy and extraordinary experiences for our guests. unboundcollectionbyhyatt.com
A hotel within The Unbound Collection by Hyatt brand, located in Hollywood, Calif., 64 guestrooms, Late 2019
Destination Hotels
Destination Hotels is a collection of more than 40 upscale and luxury independent hotels, resorts and residences across North America. Serving as both the explorer and the guide, Destination hotels ensure a sense of genuine belonging and the chance to encounter life-enhancing discoveries. destinationhotels.com
A hotel within the Destination Hotels brand, located in Oceanside, Calif., 226 guestrooms, Q4 2020
Hyatt Regency
The Hyatt Regency brand prides itself on connecting travelers to who and what matters most to them. Conveniently located in urban and resort locations in more than 30 countries around the world, Hyatt Regency hotels serve as the go-to gathering space for every occasion, offering a one-stop experience that puts everything guests need right at their fingertips. hyattregency.com
Hyatt Regency Portland at the Oregon Convention Center (Ore.), 600 guestrooms, Early 2020
Thompson Hotels
Founded in 2001, Thompson Hotels is an award-winning international hospitality brand that delivers a new take on modern luxury at the refined edge of travel. Each location offers a stunning, carefully layered and dynamic urban or resort setting that molds into the surrounding community. thompsonhotels.com
Thompson Hollywood (Calif.), 190 guestrooms, Early 2020
Hyatt Centric
Hyatt Centric hotels are full service lifestyle hotels located in prime destinations that are created for millennial-minded guests who view their hotel as more than a place to stay. Hyatt Centric hotels help guests discover the world's most compelling destinations like an in-the-know local. hyattcentric.com
Hyatt Centric Mountain View (Calif.), 168 guestrooms, Spring 2019
Hyatt Centric Korea Town Los Angeles (Calif.), 310 guestrooms, Fall 2021
Hyatt Centric Downtown Sacramento (Calif.), 172 guestrooms, Fall 2020
Hyatt Centric Downtown Portland (Ore.), 215 guestrooms, January 2020
Hyatt House
Hyatt House hotels are designed to welcome guests as extended stay residents. Apartment-style suites with fully equipped kitchens and separate living areas remind guests of the conveniences of home. hyatthouse.com
Hyatt House San Jose/Cupertino (Calif.) 148 guestrooms, March 2019
Hyatt House San Jose Airport (Calif.) 165 guestrooms, April 2019
Hyatt House LAX (Los Angeles, Calif.), 129 guestrooms, February 2020
Hyatt House Davis (Calif.) 118 guestrooms, July 2020
Hyatt House Los Angeles USC Medical Campus (Calif.), 200 guestrooms, August 2020
Hyatt House Sacramento Airport – North Natomas (Calif.), 92 guestrooms, November 2020
Hyatt House Pomona (Calif.), 100 guestrooms, November 2020
Hyatt House Livermore (Calif.), 130 guestrooms, March 2021
Hyatt House Seatac Airport (Seattle, Wash.), 139 guestrooms, April 2021
Hyatt Place
Hyatt Place hotels offer a modern, comfortable and seamless experience, combining style and innovation to create a casual hotel environment for today's multi-tasking traveler. From the lobby to the guest rooms to in-hotel dining, every touchpoint is designed with the high value business traveler in mind. hyattplace.com
Hyatt Place San Jose Airport (Calif.) 190 guestrooms, March 2019
Hyatt Place Santa Barbara (Calif.), 88 guestrooms, April 2019
Hyatt Place Fresno, California (Calif.), 126 guestrooms, April 2019
Hyatt Place Vacaville California (Calif.), 136 guestrooms, July 2019
Hyatt Place Bakersfield (Calif.), 120 guestrooms, September 2019
Hyatt Place LAX (Los Angeles, Calif.), 272 guestrooms, February 2020
Hyatt Place Sacramento Airport – North Natomas (Calif.), 109 guestrooms, November 2020
Hyatt Place Pomona (Calif.), 115 guestrooms, November 2020
Hyatt Place Sunnyvale (Calif.), 90 guestrooms, January 2021
Hyatt Place Hayward (Calif.), 119 guestrooms, January 2021
Hyatt Place Paso Robles (Calif.), 131 guestrooms, February 2021
Hyatt Place Livermore (Calif.), 90 guestrooms, March 2021
Hyatt Place San Carlos (Calif.), 103 guestrooms, March 2021
Hyatt Place SeaTac Airport (Seattle, Wash.), 237 guestrooms, April 2021
Hyatt Place Vancouver Washington (Wash.), 113 guestrooms, September 2020
Hyatt Place Portland – Pearl District (Ore.), 176 guestrooms, November 2020
Joie de Vivre
Since its founding in San Francisco in 1987, the Joie de Vivre brand has made curating playful travel through local connections and eclectic experiences its signature. Each Joie de Vivre hotel is an original concept designed to reflect its neighborhood. jdvhotels.com
A hotel within the Joie de Vivre brand, located in Oceanside, Calif., 161 guestrooms, Q4 2020
El Capitan, a Joie de Vivre Hotel (Merced, Calif.), 114 guestrooms, Q1 2020
tommie
tommie is a carefully edited hotel and gathering place that inspires guests to author their own experiences.  By focusing on the essentials and providing fun, relevant choices, the tommie brand offers a fresh lens for the youthful and open-minded to explore, connect and discover. tommiehotels.com
tommie Hollywood (Calif.), 212 guestrooms, Q1 2020
The term "Hyatt" is used in this release for convenience to refer to Hyatt Hotels Corporation and/or one or more of its affiliates.
Radisson Blu unveils the rebirth of a Kyiv legend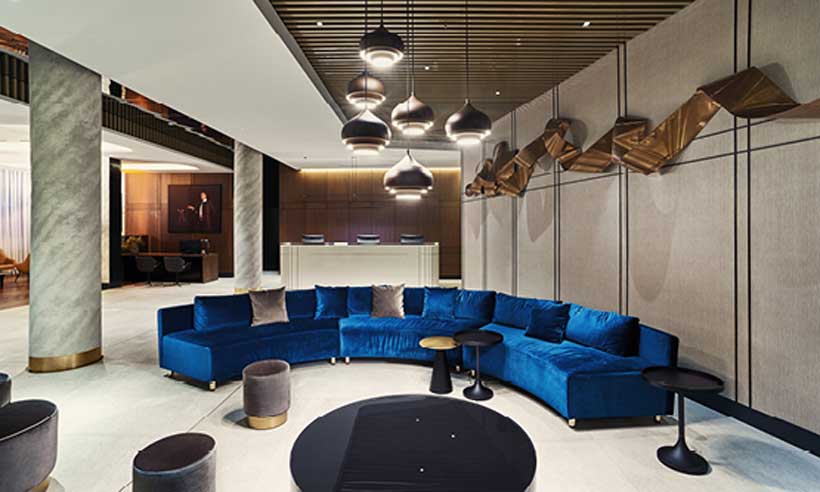 Radisson Blu, the upper upscale hotel brand that delivers a positive and personalized service in stylish spaces, is delighted to announce the reopening of a Kyiv legend following its complete refurbishment. With 254 newly renovated guest rooms, a conference area, lobby and lobby bar, the Radisson Blu Hotel, Kyiv near Golden Gate in Ukraine's capital has undergone a remarkable transformation.
The Radisson Blu Hotel, Kyiv presents its new look after a full renovation of the entire hotel – completed in partnership with OMO Design. Combining stylish design (where the local heritage is interpreted through modern materials), comfortable social areas for guests, and attention to the smallest details, the hotel aims to provide unforgettable experiences on every visit to the renewed Kyiv legend.
Jesper Henriksen General Manager at Radisson Blu Hotel, Kyiv, says: "When it came to the renovation and redesign of Kyiv's first-ever international branded hotel, we did not want to simply recreate the previous style. We wanted to integrate and reflect the local heritage, to show the connection with the Golden Gate, the Yaroslaviv Val street and the original historic building style. For this purpose, we looked for a Ukrainian designer who could do it in a proper way. And, today, we are proud to present the rebirth of a Kyiv legend."
Natalia Shchyra, the British-Ukrainian designer, Principal at OMO Design, said:"We call this project timeless. The hotel's building is located at the site of the ancient city wall, the Golden Gate, and near the UNESCO world heritage site of St. Sophia Cathedral. This means it carries a powerful ancient energy within its walls. Our vision was to blend the hotel's contemporary atmosphere with the elements of the rich local historic heritage. The interior's calm modern harmony of wood and stone is contrasted by the artworks and artifacts of the past century, where each piece has its own story. It has been a pleasure to work with the Radisson Blu team who provided inspiration for many design solutions."
Each art element in the space has its own story. The timeline ribbon in the center of the lobby carries the ebb and flow of historical events. Photography in the style of old masters magically captures the members of the hotel team. Glass walls at the entrance reproduce the fragments of the old city walls. Small decor elements re-imagined from ancient artefacts and accessories get a revival with a modern interpretation.
First opening in 2005, the Radisson Blu Hotel, Kyiv became the first internationally branded hotel in the city. It the began its full renovation in 2017. The first step in the process saw the entire conference area on the ground floor renewed – not only in its design, but in all the engineering elements such as the audio and visual equipment.
Between 2017-18 all guest rooms were renovated, with new room design by Lundwall Architects. This well-known Nordic design bureau adapted Nordic design traditions to complement the unique and original setting in Kyiv. The rooms are now a combination of simplicity, minimalism and functionality that fit the needs of the hotel's multinational mix of guests.The interiors are complemented by modern art –photos of Kyiv made by famous Ukrainian photographers.
The renovation process covered everything, from wall coatings to furniture and lamps. The combination of materials and colors like grey and violet now creates a unique comforting atmosphere in the rooms. Industrial elements and forms are gracefully combined with natural wooden elements and textiles, completing the ambiance by adding mirrors, glass surfaces and lamps.
In 2019, the final stage of the renovation was carried out – refurbishing the lobby, main entrance and lobby bar.
Karl-Maria Pfeffer, CEO at Raiffeisen Property International Gmbh, said: "It is our great pleasure to reopen this landmark hotel, which has always had a pioneering role in Kyiv. We are confident that it will continue to do so for the next decade."
Mandarin Oriental Announces Luxury Hotel in Nanjing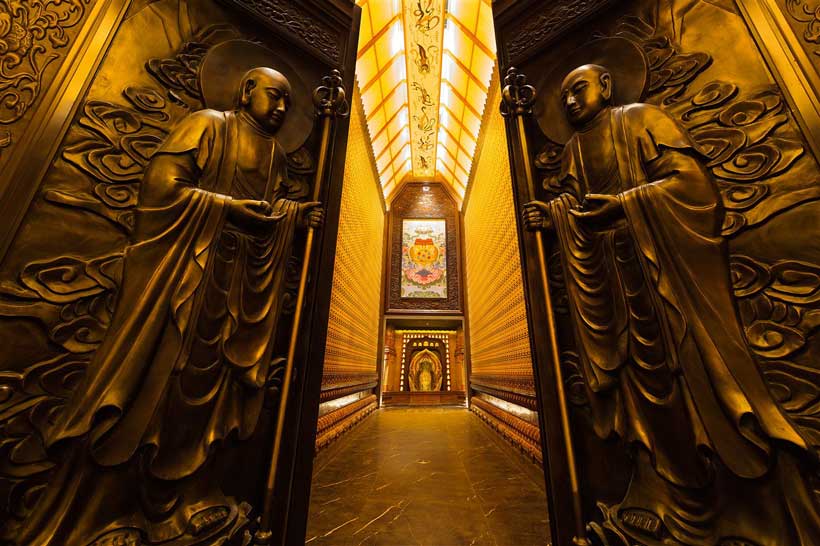 Mandarin Oriental Hotel Group has announced that it will manage a luxury hotel in Nanjing, the capital of Jiangsu Province in China, scheduled to open in 2022.
Mandarin Oriental, Nanjing will be located on the Qinhuai River and in close proximity to historic landmarks including the Gate of China, which forms part of one of the longest ancient city walls in the world built by the first emperor of the Ming Dynasty over 600 years ago.
The hotel will feature 106 rooms and suites with views of the river and the ancient city wall. There will be three restaurants and bars, including an all-day dining option, a Chinese restaurant and a Lobby Lounge. There will also be a range of adaptable meeting facilities, and a large ballroom that will cater to events and social functions.
The hotel will also have a Spa at Mandarin Oriental providing treatments and therapies, as well as an indoor swimming pool and fitness centre.
Mandarin Oriental, Nanjing will form part of a wider mixed-use development owned by Nanjing Shengxiangyuan Property Development Co. Ltd., an affiliated company of Hongkong Land, in partnership with China Merchants Group and Country Garden Group. In addition to the hotel, the development will comprise premium retail space and residential luxury homes.
The site is well located for leisure travellers to the city, being a short walk to popular tourist attractions, including the Confucius Temple quarter and the Old East Gate, which was originally built in the Ming Dynasty. The overall development will also be well served by good transportation links.
Nanjing is the capital of Jiangsu Province situated on the south bank of the Yangtze River. The city has a long and unique history dating back to the third century A.D. Today it is the political, cultural and economic centre of the province, as well as one of the major urban centres on the Yangtze River for commerce, trade, finance, tourism and logistics.
"We are delighted to announce this project in a Chinese city with strong historic roots which today is a vibrant centre for tourism, commerce, finance and trade as well as an important provincial capital," said James Riley, Group Chief Executive of Mandarin Oriental. "We look forward to collaborating with Hongkong Land and its partners, to create a truly iconic property in the historic Jiangsu capital," he added.
"Nanjing is one of China's most prominent destinations, and this overall development will be the city's most prestigious. We are pleased to be partnering with Mandarin Oriental to create a truly exceptional lifestyle experience in this prime location. We believe this extraordinary project will become the new landmark for the city," said Nanjing Shengxiangyuan Property Development Co., Ltd.'s Board of Directors.
St. Regis Hotels Debuts On Venice's Esteemed Grand Canal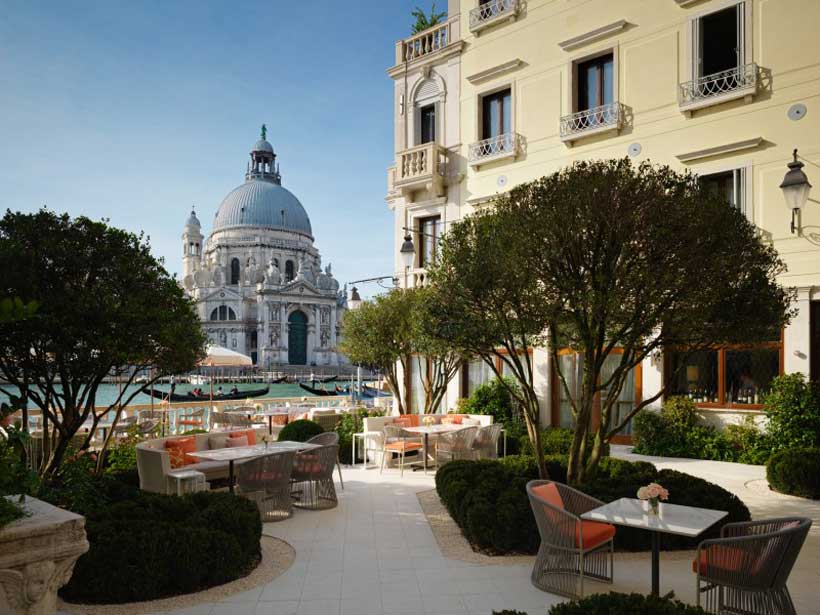 St. Regis Hotels & Resorts today announced the debut of The St. Regis Venice, located steps away from Piazza San Marco and boasting the largest waterfrontage in Venice. The opening follows a two-year, full-scale renovation, restoring the grandeur of the former Grand Hotel Britannia, which opened in 1895 – the same year as the inaugural Venice Biennale. The hotel offers 169 guestrooms and suites, many of which boast private terraces or Juliet balconies for sweeping views of Venice's iconic landmarks. Situated across the Grand Canal from Punta della Dogana, the hotel marries its celebrated heritage with the St. Regis brand's modern design and bespoke service throughout a unique collection of five Venetian palaces, with the oldest dating back to the 17th century. The hotel's spacious secluded garden sets the hotel apart, making it a lifestyle destination where guests and locals alike can enjoy remarkable views of the Grand Canal. The St. Regis Venice marks the brand's third location in Italy, joining The St. Regis Florence and The St. Regis Rome.
Venice is one of the world's most inimitable cities; one which has inspired royalty, artists, merchants and jet setters alike for more than fifteen centuries," said Jenni Benzaquen, Vice President of Luxury Brands – Europe, Marriott International. "The St. Regis Venice unites the captivating spirit of the city with the timeless sophistication and service of the brand, re-interpreting Venice's rich history through a modern lens."
From its ideal location at the mouth of the Grand Canal, The St. Regis Venice offers unparalleled vistas of some of Venice's most celebrated landmarks, including the Santa Maria della Salute Basilica and the Punta della Dogana Museum. Behind the hotel lies Calle XXII Marzo, a street which is home to elite boutiques and contemporary art galleries, which allows for seamless access to the Grand Teatro La Fenice, the city's temple to opera. With Piazza San Marco a four-minute walk from the hotel, guests will find Venice's famed attractions within easy reach.
Throughout its storied history, The St. Regis Venice, in its various guises, has played host to a roster of illustrious guests, global influencers and tastemakers. The five 'palazzi' that make up the hotel enjoy a position of privilege overlooking the Grand Canal, with Badoer Tiepolo being the oldest palazzo, which dates back to the 17th century. By the 19th century, palazzi Tiepolo, Barozzi and Regina were converted into the Grand Hotel Britannia, more recently known as Hotel Europa & Regina. The Grand Hotel Britannia attracted notable intellectuals and socialites as well as renowned painters J.M.W. Turner, John Singer Sargent and Claude Monet, who in the autumn of 1908 was inspired by the hotel's spectacular views during his stay as a guest and worked to capture the passage of light in his artwork. It is recorded in the book "Monet in Venice" by Philippe Piguet that Claude Monet's wife, Alice, remarked in her daily letters to her daughter during their stay, "the views from our hotel room are the most magnificent of all Venice, and it's all for Monet!"The hotel was also the first in Venice to have electricity in every room.
Evolutionary and Avant-Garde: A Modern-Day Venice, by Design
Led by London-based interior design studio Sagrada, The St. Regis Venice boasts 129 guestrooms and 40 suites with a third of the rooms overlooking the hotel's luxurious gardens, as well as the Grand Canal. Following an extensive restoration, each room has been reverently furnished to cherish the artistic and cultural heritage of the building, while also embracing the evolution of La Serenissima and the St. Regis brand's spirit of modern glamour. The exquisitely-designed suites include a two-bedroom, art-inspired Presidential Suite – a true contemporary artist's residence overlooking the Grand Canal – and a three-bedroom Penthouse Suite with a wraparound furnished terrace showcasing extraordinary views over Venice from three separate viewpoints. The five Roof Garden Suites spectacularly combine garden-inspired interiors with uninterrupted vistas and contemporary touches while furnished terraces offer a quietly seductive atmosphere. Set against twilight tones, the Venetian Suites showcase crafted details of modern design, influenced by the artistic heritage of the city, while the colour palette of the Monet Suites pay homage to the reflection of light across the Grand Canal. As a hallmark of the St. Regis experience, all guests have access to the signature St. Regis Butler service. Honoured to maintain a long-standing tradition of making guests feel at home, the St. Regis Butler is poised to provide an ever-present, yet unobtrusive, service attending to guests' every need.
A Muse of the Arts
Inspired by the Venetian masterpieces of former guest and Impressionist painter Claude Monet, the interiors of the refined guestrooms showcase a distinctive colour palette that represents how light changes throughout the day from dawn to dusk. The design of the public spaces pays homage to Carlo Scarpa, one of Venice's greatest artists and architects. Venetian styling is seen throughout the hotel in tailored fabrics and custom, handcrafted furnishings inspired by the gentle curves of gondolas, the patterns of the Doge's Palace, the pavements of St. George's churchyard and the water flow of the canal.
Inspired by the artistic heritage of the city, an eclectic collection of artwork and sculptures will also be curated, bringing ancient Venice to today's luxury travellers in a modern way. Paying homage to the hotel's tradition of welcoming famed artists, The St. Regis Venice will host artists from around the world to take residence and create unique pieces inspired by the hotel and its beloved locale. The hotel's first resident artist, Parisian Olivier Masmonteil, has been commissioned to create original artworks for the Gran Salone and the Monet Suites. The Venetian tradition of glassmaking also lives on, celebrated through a partnership with Glasstress. This unique partnership marries contemporary art and historical glass blowing techniques, inviting world class artists of various disciplines to collaborate with Murano Maestros (masters) to create one-of-a-kind glass works of art.
Cultivating the Vanguard: A Social Beacon for Contemporary Connoisseurs
Uncompromising glamour extends naturally to the hotel's restaurants and bars, which offer a range of exquisite dining and beverage options. Authentic, modern Italian cuisine will be celebrated at Gio's, the hotel's signature restaurant anchored by the Grand Canal and the hotel's private garden, and which promises to shake up Venetian and Italian traditions. Dishes will be elevated and perfected at the table, with the freshest ingredients to reflect the season. With immediate access to the inviting garden, the mood of the restaurant transitions seamlessly from a smart-casual setting during the day, to a more refined scene in the evening, as the nightly St. Regis champagne-sabering ritual begins.
The secluded garden, with curated landscaping, reflects a modern interpretation of classic Venice, further complemented by geometric patterning, curlicue topiary, flowering plants and fluid pathways. Designed to provide a refined space for local tastemakers and guests to mingle, the garden is set to become Venice's choice address for relaxing and socialising. With extraordinary views across the Grand Canal, the social heart of the hotel provides an opportune occasion to sample the famous Spritz from the roaming, custom-made Spritz Trolley, or enjoy the Santa Maria –the hotel's unique twist on the brand's signature cocktail, the Bloody Mary. Playful sculptures blend with the garden's décor and discreet seating to offer guests a moment for introspection away from the crowds.
The intimate Arts Bar is a journey of the senses, serving art-inspired modern and classic cocktails with a flourish. The collection of drinks comprised of old favourites and new creations reflect masterpieces by celebrated avant-garde artists. Notable artworks include pieces from Banksy, Yayoi Kusama, Jeff Koons, and more. Upending tradition, the mood is set by modern Jazz interpretations, live or DJ-led, with convivial service. As dusk descends, the area transforms, unfolding into the early hours as casual elegance spills onto the outdoor terrace.
Advocating total relaxation, The St. Regis Venice will feature the Spa Suites, in partnership with Carita Paris. Treatments may be cultivated around time – permitting short but effective beauty lifts, or longer, more in-depth therapies and programmes. For those keen to uphold their fitness regimes, the fully equipped Exercise Room with Technogym® equipment provides an ultra-modern environment for targeted workouts.
Social Gatherings
For larger celebrations and more formal functions, The St. Regis Venice offers a choice of areas that can be easily personalised to host guests, supported by an extensive menu of locally-sourced cuisine. Crafted occasions can be held in the Library, with its urbane atmosphere and curated selection of books and art; in the well-appointed Lounge; or in its adjacent Astor Boardroom. The Canaletto Room will embody the modern spirit of a Venetian palazzo, with its impressive ballroom making an ideal backdrop for celebrations and events. Finally, the secluded garden and private terraces lend themselves to unforgettable moments beside breath-taking views.