Players' Skewed Maps complicate Eurasia's 21st Century Great Game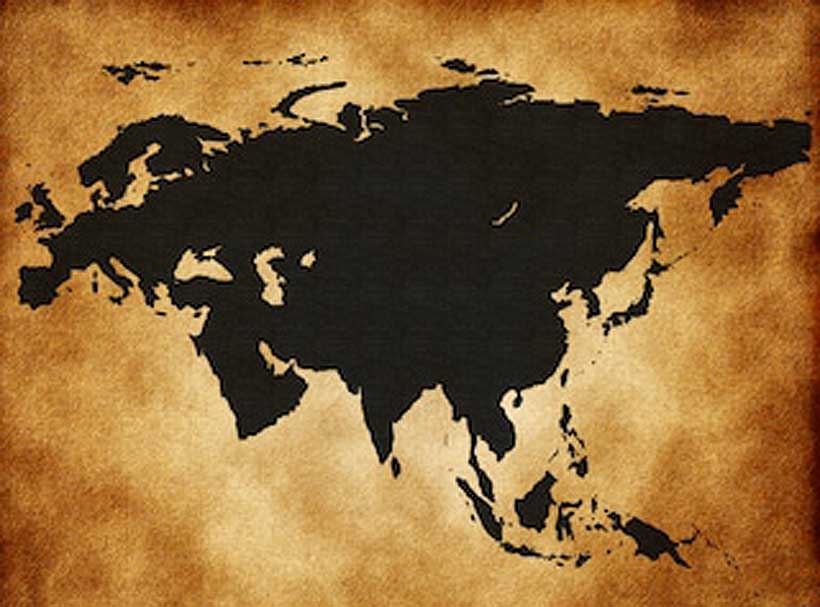 The United States and China are playing Eurasia's 21st century Great Game from different but equally skewed maps. While the US map appears to be outdated, the Chinese map portrays a reality that is imagined.
If the skewed realities of both China and the United States have one thing in common, it is in strategist Parag Khanna's mind the fact that neither realizes that the Great Game's prize, a new world order, has already been determined.
"We are living – for the first time ever — in a truly multipolar and multicivilizational order in which North America, Europe and Asia each represents a major share of power," Mr. Khanna says in his just published book, The Future is Asian.
While the United States sees the Great Game as an as yet open-ended battle for influence in Europe and Asia and looks at Russia as a European rather than a Eurasian power, China overestimates what its future position, aided by its US$1 trillion infrastructure and energy-driven Belt and Road initiative, is likely to be.
The skewed perceptions of both the United States and China create spaces for multiple other powers like Russia and various Middle Eastern states to carve out positions of their own.
China, nonetheless, alongside Russia has one advantage. In contrast, to the United States, it adopts the notion put forward by former Portuguese Europe minister Bruno Macias that the number of the world's continents is shrinking from seven to six. Increasingly, Europe and Asia no longer see their common landmass as two separate continents and are gravitating towards what Mr. Macias calls a "supercontinent."
Mr. Khanna implicitly acknowledges Mr. Macias' notion by concluding that contrary to perceived Chinese expectations "ultimately, China's position will be not of an Asian or global hegemon but rather of the eastern anchor of the Asian – and Eurasian – mega-system."
China's perceived other advantage, its economic and financial muscle, in the juggling for position on the new supercontinent is also proving to be its Achilles Heel.
The belief that the driver of the Belt and Road is geopolitics rather than economics is bolstered by predictions that none of China's Indian Ocean port projects have much hope of financial success.
A Financial Times study last year concluded that 78 countries targeted by China for project development are among the world's most risky economies. On a scale of one to seven, the highest level of country risk, Belt and Road countries ranked 5.2, a significantly higher risk than the 3.5 average for emerging markets. They had a median rating by Moody's, the credit rating agency, that was the equivalent of non-investment junk investment grade.
The risk was reflected on the balance sheets of major Chinese state-owned companies that build, operate and invest in many Belt and Road projects. The study reported that China's top internationally active construction and engineering contractors were almost four times more highly leveraged than their non-Chinese competitors.
In a bid to avert a financial crisis, the government has ordered state-owned companies to reduce their debt burden, in part by attributing greater importance to the viability of overseas projects.
The risk to China is not purely economic. It is also geopolitical and reputational. Increasingly, China is forced to focus short term less on the Great Game itself and more on countering the negative effect of a growing perception that China's projection of the Belt and Road as a mutually beneficial proposition is more fantasy than fact.
A growing number of countries, like Pakistan, Malaysia, Myanmar and Nepal, question the benefits of Belt and Road projects and are resisting China's often onerous commercial and funding terms.
Ironically, China's immediate rivals in efforts to maintain its status and ensure that it does not lose hard-won ground are not the United States, India or Japan but its newly assertive, geopolitically ambitious friends in the Gulf, Saudi Arabia and the United Arab Emirates as well as Iran.
That is nowhere truer than in Pakistan, a Belt and Road crown jewel, where Saudi Arabia and the UAE have exploited to their advantage Chinese irritation with Pakistani demands to shift the emphasis of the China Pakistan Economic Corridor (CPEC) from infrastructure and energy to agriculture, job creation and the enabling of third-party investment, primarily from countries in the Gulf.
Chinese chagrin has been evident in China's hesitancy to respond to Pakistani requests for help in averting a financial crisis.
Filling the gap, massive Saudi and UAE aid and investment to the tune of US$30 billion in balance of payment support, deferred oil import payments and investment in the troubled Pakistani province of Balochistan that borders Iran has helped the government of Imran Khan avoid asking the International Monetary Fund (IMF) cap in hand to bail it out.
China fears that Pakistan's mounting dependence on Saudi Arabia and the UAE coupled with a US campaign intended to curb Iran's regional projection potentially complicates the security of its massive US$45 billion plus investment that to a large extent targets Balochistan.
The United States and Saudi Arabia see Balochistan as a possible launching pad for possible efforts to destabilize the Islamic republic by stirring unrest among its Baloch population and other ethnic minorities.
Increased Saudi and UAE influence in Balochistan could, moreover, suck China into the escalating maelstrom of the two countries' rivalry with Iran.
Ironically, Saudi and UAE investment has at the same time shielded China from potentially embarrassing disclosure of the financial terms of CPEC-related projects that the IMF was demanding as part of any bailout. Media reports said that Pakistan had informally told the IMF that it would be paying China US$40 billion over 20 years for US$26.5 billion in Chinese funding of CPEC-related projects.
The impact of Saudi Arabia and the UAE, like much of the rest of the Middle East, goes far beyond Balochistan. It also puts its mark elsewhere on the Eurasian supercontinent. In the words of analyst Galip Dalay, the Middle East or West Asia will, for better or for worse, shape each other.
"The contemporary Middle East is no longer the geopolitically US-centric space that the Europeans once knew. Europe can respond in several ways: proceed with its largely ad-hoc, incoherent and crisis-driven policies of recent years; continue to be incorporated into someone else's game plan, as with the French-German involvement in the Russian-led Astana (peace) process for Syria; or craft a more coherent policy towards the region, with a strong emphasis on democratisation, reform, good governance, inclusion and reconciliation… If Europe doesn't engage and invest in the transformation of the Middle East, regional developments will dramatically transform it, whether through radicalism, refugees, terrorism, xenophobia or populism. Interactions between Europe and the Middle East will be transformative, for better or for worse.," Mr. Dalay said.
The Middle East is similarly crucial to the success of China's Belt and Road with Iran and Turkey representing key nodes that further the rise of Eurasia through Chinese-funded rails that link the Atlantic coast of Europe to the People's Republic.
The Middle East's impact is one facet of a bigger game in which world and regional powers are competing for position in Mr. Khanna's multipolar and multicivilizational order.
Robert Malley, a former Obama National Security Council official and head of the International Crisis Group argues that autocratic and authoritarian leaders are testing the limits of the Great Game as the power of Western nations erodes and embattled concepts of multilateralism no longer serve to constrain them.
"As the era of largely uncontested U.S. primacy fades, the international order has been thrown into turmoil. More leaders are tempted more often to test limits, jostle for power, and seek to bolster their influence—or diminish that of their rivals—by meddling in foreign conflicts… Having annexed parts of Georgia and Crimea and stoked separatist violence in Ukraine's Donbass region, Russia is now throwing its weight around in the Sea of Azov, poisoning dissidents in the United Kingdom, and subverting Western democracies with cyberwarfare. China obstructs freedom of navigation in the South China Sea and arbitrarily detains Canadian citizens… Saudi Arabia has pushed the envelope with the war in Yemen, the kidnapping of a Lebanese prime minister, and the gruesome murder of dissident journalist Jamal Khashoggi in its consulate in Istanbul. Iran plots attacks against dissidents on European soil. Israel feels emboldened to undermine ever more systematically the foundations of a possible two-state solution" to the Israeli-Palestinian conflict, Mr. Malley said.
By implication, Mr. Malley was suggesting that efforts to push the envelope were enabled by the US' failure to recognize that Europe and Asia were becoming one supercontinent.
That failure was mirrored in the U.S. National Security Strategy published in 2017 by the White House and a study by Rand Corporation in 2018 designed to conceptualize current geopolitics as an era of intensifying international competition.
Rather than recognizing an increasingly evident divergence of interests between the United States and Europe, the study suggested that the US would continue to have the opportunity, if it chooses, to lead a predominant coalition of value-sharing democracies and other largely status quo states to help preserve stability."
The study appeared to downplay any divergence by reducing differences to "identity-fuelled nationalism" that aims to recapture (countries') "rightful place" in world politics," a reference to Russia, China, Iran and North Korea as well as European nations grappling with the rise of nationalist, populist and far-right forces and a Middle East that is shaping Europe through highly emotive issues such as migration, political violence and religious identity.
The US focus on Russia as a European rather than a regional power with global ambitions also means that it underestimates Moscow's play in the Middle East despite its military intervention in Syria.
Russia national security scholar Stephen Blank argues that President Vladimir Putin's strategy in the region is rooted in the thinking of Yevgeny Primakov, a Middle East expert and linguist and former spymaster, foreign minister and deputy prime minister, who like Mr. Khanna envisioned the emergence of a multi-polar, multi-civilizational world with Eurasia at its centre.
Mr. Primakov saw the Middle East as a key arena for countering the United States that would enable Russia, weakened by the demise of the Soviet Union and a subsequent economic crisis, to regain its status as a global and regional power and ensure that it would be one pole in a multi-polar world.
By identifying the region as a preferred battleground, Russia benefitted in the words of historian Niall Ferguson from the fact that its significant oil reserves made it "the only power that has no vested interest in stability in the Middle East."
Mr. Blank argued that "in order to reassert Russia's greatness, Primakov and Putin aimed ultimately at strategic denial, denying Washington sole possession of a dominant role in the Middle East from where US influence could expand to the Commonwealth of Independent States (CIS)," a regional grouping of post-Soviet nations.
They believed that if Russia succeeded it would force the United States to concede multi-polarity and grant Russia the recognition it deserves. That, in turn, would allow Mr. Putin to demonstrate to the Russian elite his ability to restore Russia to great power status.
Syria offered Russia the opportunity to display its military prowess without the United States challenging the move. At the same time, Russia leveraged its political and economic clout to forge an alliance with Turkey and partner with Iran. The approach constituted an effort to defang Turkish and Iranian influence in the Caucasus and Central Asia.
Similarly, Russia after brutally repressing religiously inspired Chechen rebels in the 1990s, was proving to be far defter than either China or the United States at promoting politically pacifist or apolitical Islam in a complex game of playing all sides against the middle.
Russian engagement runs the gamut from engaging with militants to cooperating with Muslim autocrats to encouraging condemnation of the kind of Islam adopted by partners such as Saudi Arabia.
Said Dmitri Trenin, director of the Carnegie Moscow Center and a former Russian military officer: "Russia is not the Soviet Union. It does not see the Middle East as a region that it can dominate. Displacing the United States from the leading position in the Middle East is way above Russia's capacity, and keeping the region in its sphere of influence is way above Russia's resources. Russia has certainly benefited from waning U.S. interest in the Middle East as, absent an active America, Russia can act with more confidence and ease."
Describing Russia as "a lonely power," Mr. Trenin went on to say that the difference between Russia and the Soviet Union was that the "Soviet Union was heavily engaged around the Middle East in spending money on an ideological and geopolitical project, the Russian Federation is active in the region trying to make money. The Soviet Union was about an idea. Russia's idea is about Russia itself."
In the Great Game's jostling for position, Mr. Trump's America First approach mirrors Mr. Trenin's portrayal of Russian policy. That leaves China tied up in the contradictions of a policy that is packaged in assertions of lofty ideals but like the United States and Russia is in effect first and foremost about the pursuit of Chinese interests.
Challenges faced by Japan to become a permanent member of UNSC
Abstract: Through this report I will be addressing the challenges faced by Japan to become a permanent member of the United Nations Security Council. This idea was first floated by Japan on the world stage in 2004 when the then Prime Minister Junichiro Koizumi in his UN General Assembly speech outlined how Japan wanted to become a member and contribute to global security and world peace. Internally with the economic boom of the Japanese economy and the successful development of the country it was felt that Japan should now challenge for the permanent membership of the UNSC, but the factions within the LDP and especially those who support the pacifist nature of Japan do not wish for the country becoming a permanent member of UNSC. Japan in the late 90s and early 2000s has already become one of the largest contributors to the United Nations and other regional and multilateral groupings it even had sent it forces in the UN peace keeping missions and was an active ally of the United States supporting its every decision and contributing either through its military or through economic aid thus helping them earn the phrase "a bank with a flag". It was the idea of the so-called realist hawks who wanted this idea to become a reality. In this following report I argue the challenges faced by Japan which is still acting as an impediment in its quest for a permanent seat in UNSC.
Background
Japan has steadily worked at obtaining a permanent seat on the UN Security Council for more than three decades (UNSC). Unfortunately, a variety of local and international obstacles have prevented it from realizing its long-standing goal. Japan has prioritized "UN-centered" diplomacy as a cornerstone of its foreign policy since its admission to the UN in 1956. As Japan became a global economic giant in the 1970s, it was expected to take on a bigger role within the UN system. Since the latter part of the 1980s, when Japan reached its economic zenith and its people felt the need for a "total Japan" contribution to world peace and prosperity, the country has been driven to become a real power player in international politics by becoming one of the select few privileged countries with veto rights at the UNSC. At this time, Japan also overtook the United States as the largest net giver of official development assistance (ODA), which improved Tokyo's reputation among recipient nations all over the world. Tokyo came to the conclusion that winning a permanent seat on the UNSC should be the next step in gaining greater respect from the international community since it would give Japan more influence over creating a new international order. Many people said that the UN's structure and operations needed to be changed immediately after the Cold War ended in order for it to become a vibrant organization fulfilling the primary goal for which it was formed.
However, there was no consensus on the method of such reforms among the actual actors or even those outside of international politics. Tokyo considered it acceptable to press for its desire to be recognized as a permanent member of the UNSC as various sectors of international society began to focus on various parts of the UN. Japan tried to convince others of the benefits of allowing Tokyo to play a significant role during the late 1980s and early 1990s—a pivotal moment for the UN. From a critical standpoint, it is nearly universally acknowledged that since its founding in 1945, the UNSC has grown more and more unrepresentative. The P5 (World War Two winner states) are a self-declared oligarchy that crafted the UN Charter to ensure their respective elevated positions. With the 9/11 attack and the US and West's focus now on the global war against terror Japan thought it was the right time to pitch in this idea of becoming a permanent member of UNSC.
It was in 2004 when Japan formally expressed its interest to become a member of UNSC. In a speech delivered at the General Assembly on September 21, 2004, Prime Minister Junichiro Koizumi highlighted Japan's intention to join the Security Council as a permanent member, saying that Japan's commitment to global peace and security was a solid enough justification for membership.
Outside Challenges
Japan as a nation might lack hard power due to the Article 9 of its constitution which has the "No war" clause, but in terms of soft power Japan is a serious competitor. Given its non-military pacifist posture and the new realities of globalization, Japan views its soft power as the sole way available to exercise global influence. Soft power is linked to Japan's long-term goal in the international community of promoting civil society, with its human and social resources. Japan is also an active supporter of peace and security missions of US though its troops do not participate in military actions but rather participate as logistic support and other non-action related activities. Although the nature of these factors varies, worldwide populations turned off by "hard power" and the "abuse of power" thus view Japan as a role model that is unique from the US and other Western countries and want it to be represented in the UNSC. Britain has previously pledged to support G4 alliance aspirations among the current P5 countries (Japan, Germany, India and Brazil). The European Union has refrained from expressing its position, despite France having expressed support for Japan's application for a permanent seat on the UNSC. Russian resistance appears to have subsided over time, and it has no intention of opposing the veto rights of future UNSC members. However, many people continue to passionately oppose Japan's mission, primarily its Asian neighbors. Recently, China has stepped up its opposition to Japan's request. Furthermore, the proposed G4 reform plans leave more than 1.2 billion Muslims without any permanent representation on the UNSC, making this subject very contentious and harming the UN's reputation in the Middle East's flashpoints as well as among Muslims. The first significant effort against a proposed SC expansion was the "Uniting for Consensus" group, which was led by Pakistan, South Korea, and Italy. The majority alliance suggested increasing non-permanent membership to 20 members, however the unaltered five-nation permanent line-up to remain unchanged. Washington has categorically rejected the G4 proposal, essentially blocking Japan's candidacy for permanent membership in the UNSC. From an American perspective, Japan's formation of the G4 alliance for backing wide expansionist policies on the Council made the US "uncomfortable" and diminished Washington's support for Tokyo's application to become a permanent member.
Another problem for Japan is how the world perceives its contribution to the UN. The term "chequebook diplomacy" is used to show Japan's contribution in the global order which is a misperception. The main cause of this misconception is that Japan's international position has, up until now, mostly been decided by its bilateral connections (especially security arrangements) with the US, meaning that the US has an influence over its UN diplomacy. Because of this, some people think that adding Japan as a permanent member would only give the US another voice on the Council and not alter the power dynamic.
Another hurdle or one might even tip it towards Japan's favor would the fact that Japan is not a nation which possesses nuclear weapon while the current permanent members of the UNSC are all those nations which possess nuclear weapons. This gives Japan both an edge and a disadvantage in its bid for permanent membership in the UNSC. While the advantage is that if Japan succeeds to become a permanent member it might become the only nation which not only has an active army but rather has a self-defense force unlike the current existing member countries. This is also a tremendous achievement considering that Japan is surrounded by hostile enemies around it in the form of North and South Korea and China who not only object to Japan's membership but also at times have test fired weapons close to the Japanese shores or are currently in a dispute in the South China sea. With the hostile neighbors who oppose Japan due to its colonial past and still feel that Japan might act as an aggressor once it joins the UNSC acts as another hurdle to the Japanese membership.
A new trend which can be see as another hurdle to Japanese membership can be in the case of how no representation is to be seen in the G4 and in the permanent membership of UNSC from the continents of Africa and Middle east. While there is ample representation seen from the west these two places find no representation in either the G4 or the UNSC. This seriously raises the issue that a) neither any Muslim country representation is there and b) there is no continental representation for Africa. This also adds to the Japanese misery that South Africa which is another peaceful, economically well off and most importantly a democratic country like Japan and home of one of the most prominent leaders of 21st century does not get a representation.
The middle east which as a region is a) most prominent for world powers due to the rich energy resources it possesses b) has rich economies like Saudi Arabia, Qatar, Kuwait finds no representation. With the ongoing Ukraine- Russia crisis and the global energy crisis it is important that this region gets representation in the UNSC. This also solves the crisis of no Muslim nation finding a representation in the UNSC since these countries are majority Islamic nations.
Another contentious issue is the veto power given to the Permanent Members. Although they have stated they won't use it until it is reviewed a few years down the road, the G-4 does not completely nullify the veto power for new permanent members. The African Group, however, is still adamant that the new members have complete veto power, which has in the past blocked reform proponents from coming to an agreement. The United Kingdom and several others agree with France's demand for a voluntary suspension of the veto in circumstances of mass crimes. However, the United States is opposed to veto reform. China and Russia oppose limiting their ability to veto. Since extended permanent members are likely to be directly or indirectly involved in many of these crises, having too many permanent members with veto power may actually hinder the UN's ability to deal with issues in many different regions of the world. Therefore, even if Japan becomes a member of the UNSC it would be moot considering how diluted the council might become if the set considerations are not met.
Internal Challenges
Japan is a constitutional republic, yet the bureaucracy has a significant impact on decision-making, to the point that officials in several ministries write and review legislation this acts as a burden for Japan in its bid in the permanent membership of UNSC. Japan is a pacifist country meaning that it believes that war and violence is unjustifiable. After the devastation faced by Japan in the World War 2 and the drafting of its constitution many within the country believe that Japan should refrain from wars. This pacifist constitution coupled with the way the various factions of LDP think and the opposition party possess a strong resistance internally for Japan to join UNSC. With the rise of revisionism in Japan and with people like Junichiro Koizumi and Shinzo Abe coming to power the revisionist stance about joining the UNSC and changes in the constitution with a specific focus to the Article 9 can be seen. Previously we have seen how there are substantial efforts to change the interpretation of the Article 9 but they all have been shot down by the opposition and factions of LDP. Factions like Heisei Kenkyūkai, Shikōkai, Kōchikai and Shisuikai and opposition parties like Rikken-minshutō, Nippon Ishin no Kai, Nihon Kyōsan-tō, Reiwa Shinsengumi, Shakai Minshu-tō and Minshutō make it very difficult for Japan to bring changes to the Article 9 and further up its bid in the UNSC.
Conclusion
The above listed challenges pose a real threat to Japanese bid to become a permanent member of the UNSC. As it's said that charity begins at home so is in the case of Japan as well. Japan needs to ensure that every faction of the ruling LDP as well as the opposition parties come to a consensus about Japan joining the UNSC and changing its pacifist constitution. While trends can be seen towards people demanding a change in the constitution as found in the media polling such as Asahi Shimbun Polling which reported that "the gap between those who opposed and those who favored revision shrank to 3 percent, with 46 percent opposed and 43 percent in favor." If such trends continue and with the continued (Council on Foreign Relations, n.d.) threats posed by China and North Korea are felt by the population of Japan coupled with a charismatic leader like the current PM Fumio Kishida, Japan would be able to change the pacifist Article 9 which would allow the country to come on an equal platform along with other G4 countries further allowing them to finish the pacifist era of post-world war Japan and allowing Japan to reach new heights.
On the global level as well once the internal issue of Article 9 is solved Japan would be allowed to contribute its forces to fight in the UN Peacekeeping missions rather than just sending them for humanitarian aid or logistical support. This would also in a way help diminish the idea of Japan being a "bank with a flag" at the global stage.
While to counter the image of Japan being under the umbrella of Washington, Japan has to start distancing itself from the shadow of US as it is harming Japan's image at the global level further prohibiting its international relations in many ways. While the Japanese passport is the most powerful passport in the world sadly the Japanese diplomacy is not the strongest and this can be seen as Japan only has bilateral relations with the UN member states which are seriously getting harmed by Japan siding with US as was seen in the 1973 oil crisis where Japan also suffered due to its decision to side with united states in its support for Israel. This has also led to the fact that some countries like Russia apposing new additions to the permanent council as it says it's going to corrode the powers of the permanent council. Also, the tag that Tokyo is under Washington's umbrella due to its influence on Japan's decision making also limits the support for Japan in its bid. Countries like Russia and China are therefore skeptical of allowing Japan. Thus, PM Fumio Kishida and his successors need to become more independent and have to create a separate identity for the nation which is not that difficult considering the soft power of Japan. As per the BBC' World Service poll 2021 only the nation of China and Pakistan are the two where there is more than 30% negative perception of Japan.
As for the expansion of the G4 and representation from continents of Africa and South America is concerned there is not much that Japan can do in this case. While there is representation for Asia in the form of China these 2 continents are the world's emerging economies and do deserve a representation to make UN more representable which was not the case when UN was formed. In all in such a scenario the only thing which Japan can do is to keep on continuing with its cheque book diplomacy coupled with its soft power capability garnering more interest in its favor and turning the countries who currently oppose its entry into its favor like South Korea, Italy and Pakistan or the Uniting Consensus Group.
The claim for a Muslim nation from the middle east becoming a member of permanent council is a vague claim as an organization like UN is not a platform for the promotion of any religion rather it is an organization which works to promote world peace which does not require a religious angel to it.
Lastly, the backyard of Japan is never going to support its bid in the UNSC and nothing can change that reality. No amount of economic aid or soft power can counter this as the war crimes committed by Japan during the World War era are still very much etched in people's memory. As per the BBC' World Service poll 2021 China has a 71% negative opinion of Japan, South Korea has a 20% negative opinion and Russia has a 7% negative opinion about Japan. While this is an improvement from 2017 standards Japan still has a long way to cover in order to join the UNSC and it needs to start working on it internally only then should it focus on the external issues.
Territorial Disputes Between Russia and Japan: Will They Ever End?
Russia and Japan have had a long history fraught with tensions over issues of power and domicile. The First Russo-Japanese war was fought from 1904 to 1905, when Russia backed out from its understanding with the Japanese, to remove military presence from Manchuria and de-escalate tensions over territorial expansion. The Japanese attacked the Russian naval base at Port Arthur. Post the battle of Tsushima, in 1905, the Treaty of Portsmouth was drawn up with mediation of US President Roosevelt, according to which Russia reneged on its expansionist objectives regarding East Asia, and allowed for Japanese imperialism to spread over the Chinese mainland and the Korean peninsula.
After the second world war, from all the major powers of the world, these two were the ones unable to formally adhere to any treaty prescribing the normalisation of bilateral relations . A key point of contention in this ever going conflict is the matter of the rightful domicile of the four islands in the Sea of Japan region- Kunashiri, Shikotan, Etorufu and Habomais, collectively known as the 'Southern Kuril' islands in Russia, and 'northern territories' in Japan .
Even predating the first Russo-Japanese war, territorial disputes between the two began as early as 1855, when the Treaty of Commerce, Navigation and Delimitation was entered into between the Japanese and Russian Empires in Shimoda, Shizuoka Prefecture, on which the treaty was named. This treaty allowed for the imports and exports of goods on the Japanese ports of Nagasaki, Shimoda, and Hakodate. In addition, the line designating the border between the two was established on the line between Etorofu and Urup. According to an additional clause, the island of Sakhalin (or Karafuto) would remain "unpartitioned" Another pact in 1875, gave Japan the opportunity to exchange 18 Kuril Island territories for the Sakhalin region under Russian control. Apart from the sense of strategic security these islands bring, the sea surrounding them continues to remain of great economic importance to the marine and fishing industry.
In 1941, amid the second World War , Japan and the Soviet Union signed the Soviet-Japanese Neutrality Pact in April, which asked both parties to observe non-aggressive behaviour towards each other. In the Yalta conference held in 1945, Roosevelt, Churchill, and Stalin reached a consensus that "the Soviet Union shall enter into war against Japan" on condition that "the southern part of Sakhalin as well as the islands adjacent to it shall be returned to the Soviet Union" and that "the Kuril Islands shall be handed over to the Soviet Union." The San Francisco Peace Treaty was signed in the aftermath of the Second World War, according to which Japan was supposed to renounce all claim to the Kuril islands as well as the part of Sakhalin they had claimed through the treaty of 1875.
In 1956, Japan and the USSR came to an understanding aiming to cease all war aggression towards each other and restore their diplomatic and trade ties via a declaration of peace. This declaration became important as it was the foundation based on which future negotiations over territorial sovereignty would take place and is still taking place till now. Article 9 of the Joint Declaration stated that the Soviet Union "agrees to transfer to Japan the Habomai Islands and the island of Shikotan, [with] the actual transfer of these islands to Japan to take place after the conclusion of a Peace Treaty."
During the period of the Cold War, Stalin refused to entertain any possible discussion regarding the disputed land. Nikita Khruschev, however, offered up the islands of Shikotan and Habomai to the Japanese, in an attempt to sway them away from the influence of the USA, however this did not materialise due to American intervention.  However, this did not sour budding diplomatic ties between USSR and Japan, but at the same time, there wasn't much progress or regression either. Perhaps the USSR, became too focused on America and its most powerful and strategic allies and Japan, in the course of this, became an afterthought. In the decades before the Soviet disintegration, USSR remained firm in its stance of a territorial dispute not even having justifiable grounds, and claimed that these islands were rightfully part of their territory. The Soviet Union declared the matter no longer a viable topic of negotiation citing the outcomes of the Yalta Agreement (February 11, 1945), the Cairo Declaration (November 27, 1943), the Potsdam Proclamation (July 26, 1945; accepted by Japan on August 14, 1945) and the San Francisco Peace Treaty (September 8, 1951) in which Japan renounced south Sakhalin and the Kurile Islands. From the Japanese perspective,  the  Yalta agreement is illegitimate as Japan, the main party concerned was not a participant in this understanding between the Allied powers – the US, UK and the Soviet Union . The Japanese then, in retaliation,  again started building closer networks with the Americans.
It was only when Mikhael Gorbachev gained power that the Soviet State acknowledged the existence of such a dispute. Through negotiations with the Japanese, Gorbachev aimed to rebuild the soviet economy by laterally also discussing economic partnerships with the Japanese. This, in Boris Yeltsin's time, was something that was faced with a lot of domestic resistance, and he could only bring the matter of a few islands of the Northern Kuriles to the table. Soon after, resistance on the Soviet front grew, and the talks were unfruitful. Thus, fresh from disintegration, the new Russian state now, instead focused on building an alliance with a party more aligned with its strategic interests: China.
By the dawn of the new millennium, the heads of state of both Moscow and Tokyo, Boris Yeltsin and Prime Minister Hashimoto, both weary of the actions of their traditional allies (China and the USA), once again embarked on an attempt to strengthen ties by resolving this territorial dispute. The Japanese proposed the handover of the Kurile territories in exchange for offering economic assistance, which once again did not find many takers within Russia, and negotiations once again broke down. In 2003, Japan's Prime Minister and Putin gave their approval to a ten-point "action plan" with agendas not limited to bilateral ties and territorial dispute resolution. Since then, Japan and Russia have increased cooperation on a number of fronts, including fishing, shipbuilding, and other marine activities. Another reason why Japan stays interested in maintaining peaceful ties with Russia is because of the hugely lucrative opportunities for Japanese tech firms in Russia.
Another major impediment on the path to progress was when Russia annexed Crimea in 2014. The Japanese publicly denounced Russia and urged its economic partner to adhere to the ways of a rules based world order. It suspended "consultation for easing visa regulations" and froze "negotiations of a new investment agreement." Later that year, at the Asia Pacific Economic Summit in Beijing, Shinzo Abe and Vladmir Putin once again sat at the negotiation table to revive bilateral ties.
Japan's previous Prime Minister Shinzo Abe, in an attempt to revive bilateral cooperation, proposed an eight-point economic cooperation plan, which had the ultimate objective of resolving the territorial dispute. It seemed like an integral move to make sure that Japan remains a key player in East Asia, in the face of deepening Sino-Russian ties.
Once again, the ongoing Ukraine Crisis has proved to be a dealbreaker in any possible negotiations that could have taken place between Russia and Japan regarding the Northern Territories or Kurile Islands, as Japan publicly condemned Russia once again for its ruthless invasion of Ukraine in a G7 meeting in early 2022. Currently, Russia, with Putin as head of state, is already agitated and overdrawn due to Russia's invasion of Ukraine and its repercussions, and the condemning punitive actions it is at the receiving end of by NATO and its allies. Similarly, it has also expressed its paranoia and need for security by posting naval fleets in the Sea of Japan.
In the long course of history between Japan and Russia, who are bound together by physical proximity, one can see that economic opportunities were always a way to strengthen bilateral ties. In today's age, Japan has the technology and Russia has the resources, which, if put together, could bring in the next big thing in the energy sector. However, as with many other old territorial disputes, sentiments of national pride are deeply linked to these territories, making it even more difficult to come to a resolution. The people inhabiting the disputed land, too, root for this dispute to end so that they can enjoy the benefits of confirmed political identities. The indigenous people of this territory, the Ainu, had lived in isolation and were undocumented until the twentieth century. The people living on Sakhalin consider themselves stateless, and want to return home. However, given the ongoing and worsening Ukrainian crisis, it does not seem like either Japan or Russia will want to sit at the negotiation table anytime soon, and like many other instances in international relations, this issue too will remain unresolved for a few more years to come.
China: Past, Present and Future
The Chinese are proud people and they have a rich history and culture of which they are so proud. Currently, China is the second largest economy in the world after of course the USA and it has a military power that many countries can be envious of but in recent times China is facing some downturns and economic pitfalls, as well as protests against Xi Jinping's current regimes, covid lockdown which is kind of out of place in China, considering China has a hard grip over its citizens and has strict surveillance over the country even the super-rich and big private industry are not free from this tight grip.
China's economic and Global political rise
Prior to 1978, China's economy was in poor shape but after economic and trade liberalization in 1979 under the leadership of Deng Xiaoping China's economic rise was meticulous in almost every case be it domestic or international. If we look back at the past from 1953 to 1978 China's yearly economic growth was 6.7% but after the various economic reforms from 1978 to 2013 China's economy grew by 9.5%. At the same time as having a growing economy, China was also growing its political influence throughout the world. During the cold war era, China was relatively a minnow in world politics but after the fall of the soviet union in 1991 China began to come to a more prominent role and this was largely possible due to the absence of any global hegemonic power except the USA also USA themselves to some extent helped China in their endeavours for example in 1972 then US president Richard Nixon and foreign secretary Henry Kissinger visited China and recognized mainland China that we know today replacing Taiwan and thus China replaced Taiwan as the permanent member at the UN security council this work of Nixon also led to loosening US economic and trade controls and finally giving China a seat at the WTO in 2001 all of this was done to combat the soviet union but led to the rise of China. This growth of China was pessimistically addressed by John Mearsheimer, the R. Wendell Harrison Distinguished Service Professor at the University of Chicago. According to Mearsheimer in an article titled "The Rise of China Will Not Be Peaceful at All" in The Australian, November 18, 2005 he wrote that "If China continues its impressive economic growth over the next few decades, the US and China are likely to engage in an intense security competition with considerable potential for war. Most of China's neighbours, to include India, Japan, Singapore, South Korea, Russia and Vietnam, will join with the US to contain China's power." This is just what happened and we are seeing it with our very own eyes although Russia can be Regarded as a friend not per say but rather a well-wisher to China.
The present Status
Currently China is facing economic downturns as well as a series of protest regarding covid lockdowns. According to data given by Asian development bank economic growth of China is expected to be 3.3% amid covid restrictions and is projected to grow 4.5% in 2023. For the coming two years the Chinese growth will be significantly lower than the past this can be attributed to some factors such as Zero covid policy which has downgraded exports significantly also there is the loss of investors due to government crackdowns on tech giants such as 'Alibaba.com', according to BBC tencents recent quarter profit fell by 50% and Alibaba's net income fell half. After being elected a record third time as president in October 2022 at the 20th CCP congress xi is now giving focus on national security and this can be seen in his politburo standing committee and 24 member central committee which lacks economic expertise and faced departure of premier Li Keqiang who oversaw Chinese economy since the leadership of Hu Jintao. The current committee consists of mainly loyalists like Zeng Youxia who was the vice chairman of the central Military commission who are Xi's allies and is expected to work to fulfill Xi's security goals. China is also facing an nationalist rejuvenation which any regard as 'The return of Red China" , Kevin Rudd who is the president of Asia society and served as both prime minister and foreign minister of Australia discussed in his article in the 'Foreign Policy' Magazine that China is facing ideological shifts and taking policy that are far from economic and mainly focusing on security and military aspects which are somewhat different from the past and is emphasizing on the Marxist-Leninist methodology it has even been stated in the annual work report of the party given during the congress that the party members are required to have idea on worldview and the methodology of Marxism-Leninism and apply this idea to understand the challenges of current times.
What does the Future Hold?
'The Belt and Road initiative'(BRI) was Xi's most prominent project during his first two terms and it can be speculated that in the next five years the project will be on the way to be fulfilled as China is aiming for more economic integration and political economic dominance in the Asian continent also there is the challenge of a economic downturn along with weak domestic demand and swelling debt. And there is the problem of aging population along with low birth rates, growing pension cost and social security expenditure, according to 'World Economic Forum' 18.9% which is 267 million people are above 60 years and this may rise to one-third of the population before 2050 and this can be fought by upgrading healthcare system, social welfare and make active aging integral part of economic growth linking health with wealth and common prosperity. Along with domestic challenges Xi's China will face some global challenges also specially with USA and Taiwan. The Biden administration took recent steps to deter China from becoming world's largest supplier of semi-conducters and then there is the threat of a war with Taiwan which was provoked by US house speaker Nancy Pelosi's 2 august Taiwan visit after which created backlash from Chinese authorities and as a response to that China launched 11 ballistic missiles into the waters around China and the current situation is very much uncertain.
China is currently undergoing changes both economically and politically with rise of nationalism and Xi Jinping's ambition to make China a global power. The world will certainly feel China's rise in the years to come and wether Xi is in power after five years or not his impact will be felt in Chinese politics and throughout the world.