Vladimir Putin in Serbia: Brotherhood and geopolitics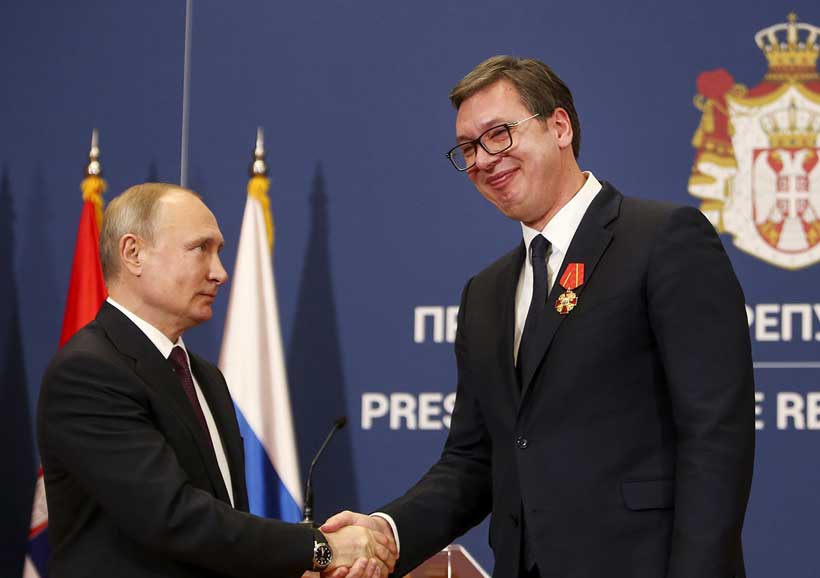 President Vladimir Putin visited Serbia on January 17, making his first official trip to Serbia since 2014 and fourth since coming to power. Several-hour program was marked by the signing of more than twenty agreements. Also, contracts were signed to such areas as nuclear energy, space exploration, as well as digital technology, innovation and investments in high-tech and strategic areas. In particular, parties signed a Joint Statement on Strategic Partnership between the Russian Federation and the Republic of Serbia on the construction of the Center for Nuclear Science. However, the key issue of the Russian-Serbian summit talks was energy issues. Instead of the South Stream gas pipeline project, which was actually blocked by the West, Russia successfully builds the Turkish Stream pipeline, one of which is designed to supply Russian gas further to Europe. Serbia is objectively interested in becoming a key regional player in the system of transit of Russian gas further towards Central Europe. Moscow is ready to invest 1.4 billion dollars in expanding the infrastructure necessary for laying the Turkish Stream gas pipeline in Serbia. As part of the Russian-Serbian negotiations, an agreement was reached on additional investments in the amount of 230 million euros for the reconstruction of the local railway with a length of 210 kilometers by RZD, as well as in the construction of centralized operation centre, which will control all rail traffic in Serbia.
Mutual trade is growing, and  in 2017 it amounted around 2 billion dollars and continued to increase last year. Russian investments in the Serbian economy exceeded $ 4billion. Cooperation with the concern Gazprom Neft allowed the Oil Industry of Serbia company to become a leader in the energy market of the Balkan region. Export of Russian natural gas to Serbia have increased and Gazprom company is planning to increase them even more with plans to expand the capacities of the Banatski Dvor storage facility as well as the gas pipeline network in Serbia. Total Russian investments in Serbia in the next two years could reach $ 500 million, Kirill Dmitriev, head of the Russian Direct Investment Fund, said. Also, Russian president said they discussed military cooperation between two countries.
President Putin had separate meetings with Serb politicians from Bosnia-Herzegovina and Montenegro. He met with Republika Srpska president Zeljka Cvijanovic and Bosnia-Herzegovina Presidency President Milorad Dodik and with the leaders of the strongest opposition party in Montenegro – Andrija Mandic and Milan Knezevic.
Vladimir Putin awarded Aleksandar Vucic with the Order of Alexander Nevsky, and they jointly visited both the graveyard of the Russian soldiers who participated in the liberation of Belgrade during the Second World War, and the city's largest Temple dedicated to Saint Sava, where they put the final pieces in a new mosaic. The city was ornamented with Russian and Serbian flags. During the joint press conference, Russian president reflected on the normalization process between Serbia and Kosovo, emphasizing that Russia supports a mutually acceptable solution of Belgrade and Pristina, but based on the UN Resolution 1244. President Putin stated, that Kosovo's authorities have recently undertaken provocative actions that have further undermined the regional stability, such as establishing the Armed Forces. "The Resolution 1244 does not allow the existence of any armed formations in Kosovo except for the United Nations contingency. We share the concerns of Serbia, because we know that these steps lead to instability in the Balkans. Our support will continue.", stated Putin. Russia's President pointed out that trade of goods between Serbia and Russia has reached the value of two billion Euros, while the procurement of natural gas is also on the rise.
Situation on the ground
The main reasons for the visit of Vladimir Putin to Belgrade were to agree on Serbia's entry into the free trade area with the Eurasian Economic Union, arrange further military-technical cooperation, and ensure Serbia's determination to participate in the Turkish Stream project. It is clear that under the rule of Aleksandar Vucic, Serbia will not enter into free trade with Eurasian Economic Union, while Russian energy projects are supported. One of the main reasons why Aleksandar Vucic received the Order of Alexander Nevsky is the military – security cooperation, which during the rule of Alexander Vucic significantly improved. Serbia received six fighter jets "MIG 29" from Russia, and in accordance with the military-technical  cooperation with Belarus, this year four fighter jets "MIG 29" will be delivered. And together with the four Serbian fighter jets "MIG 29" will be sent for modernization to Russia, so Serbia will have a squadron of fighter jets equipped with modern weapons and radars. The upgrade process will cost around 185 million euros. Also, according to announcements, Serbia has already signed contracts with Russia worth around 280 million euros for the purchase of four MI-35M combat helicopters, three Mi-17 B5 transport helicopters and also for Pantsir-S1 self-propelled, medium range surface-to-air missile system.
However, Serbia has much stronger cooperation with the West. Serbia concluded with NATO an Individual Partnership Plan (IPAP) in 2015, according to which NATO received the right to use the Serbian infrastructure. Today, in Serbia personnel of NATO member countries have the opportunity to move freely throughout Serbian territory and have diplomatic immunity. From 2012 to 2017 Serbia held 98 military exercises with NATO and only 12 with Russia. Exercise "Serbia 2018" was the largest NATO civilian exercise in history of the Alliance, which was held from 8 to 11 October in Serbia. Around 2,000 participants from 38 countries practiced wide range of emergency responses. Maintaining such a large exercise in Serbia, was a direct provocation of Russia, because Russian Humanitarian Center in Nis is intended for elementary disasters and emergency situations. Also in January is expected the adoption of the new Individual partnership action plan (IPAP). The draft of the agreement has been submitted to NATO officials and their answers is the only thing left, stated head of delegation to NATO's Parliamentary Assembly and a member of the Security Services Control Board  Dragan Sormaz. During  2018, Serbian army took part in two major NATO-exercises as an observer, and Serbian soldiers were engaged in ten exercises which were organized or participated by NATO member countries. At the same time, employees of the Russian-Serbian Humanitarian Center in the city of Nis did not received diplomatic immunity.
In a visit to Belgrade in April 2017, the late Senator John McCain noted that the United States is Serbia's most important defense partner with the two countries engaging in ninety joint military activities per year. And most importantly, the NATO Liaison Office in Belgrade is located in the building of the Serbian Defense Ministry, just one floor beneath the office of the defense minister. Another project of the Serbian government, which attracts the attention is the announced construction of a highway between Serbian city of Nis, Kosovo's Pristina and Albania's Durres, so that Serbia could get its harbor on the Adriatic. However, why would Serbia need highway to port in Durres, when Serbia has port of Bar in Montenegro. Especially having in mind that a lot of Serbs live in Bar, as well as throughout Montenegro. The answer is simple, the highway Nis – Pristina – Durres is needed by NATO troops, for a better and safer move to Bulgaria, in case of disabling the passage of NATO ships through Bosphorus.
In terms of economic cooperation, things are also clear, the value of Serbian-Russian trade has indeed increased to over 2 billion euros, but the value of Serbian trade with EU is around 11 times larger-almost 25 billion, and 63% of Serbia's foreign trade is with the EU countries. When Aleksandar Vucic praise how he refused Western pressure to impose sanctions against Russia, that is only because of the Serbian nation and the majority of its voters. When he would officially introduced sanctions to Russia, he would turn the majority of the Serbian people against him. Even though agriculture is the biggest development chance of Serbia, Aleksandar Vucic did not allow Serbia to enter seriously on the big Russian market in 2014, at that time, Aleksandar Vucic refused to grant state grants to Serbian farmers.
Bearing in mind the popularity of Vladimir Putin in Serbia, Aleksandar Vucic wanted to use President Putin's visit for his personal political interests, as a response to the weekly protests against him that have been going since the beginning of December. The ruling party has organized transport of many of its members from across the country to greet Putin and politicaly exploit his arrival. The participiants were carrying the banner titled "One of the 300 million"( there's a saying among Serbs "Us and Russians 300 million" although that number is actually much smaller), which was an obvious reference to the title of the protests against Aleksandar Vucic, which is "One of the five million". Vucic planned that Putin would address the people in front of the Temple of Saint Sava, sending a message that Russia supports Alexander Vucic's policy. President Putin rejected that. Vladimir Putin addressed the people in front of the Temple of Saint Sava with the words in serbian: "Thank you for your friendship!"
Conclusion
Vladimir Putin in Belgrade was greeted by more than 120 000 people. In addition, he is the most popular politician in Serbia. It's hard to find an example that more than 120,000 people in a European country are gathered on the streets of the capital to welcome the president of another country. The statement by Russia's President Vladimir Putin that Russia will support any Belgrade-Pristina agreement within the framework of Resolution 1244, is encouraging. That is exactly what must be the basis of Russian policy towards the current Serbian authorities. Because in the case of the acceptance of Aleksandar Vucic's plan to divide Serbs and Albanians, the consequences for Serbia would be catastrophic. It is in the interest of Russia that its main ally in the Balkans become economically and demographically strong, but under the rule of Alexander Vucic things are going in the other direction. This primarily refers to demography.  Around 60 000 people leave Serbia per year, while around 40 000 die more than it is born. In other words, Serbia decreases annually for nearly 100 000 people. These are the results of the Aleksandar Vucic's rule.
Russia needs a new strategy towards Serbia. Russian investments, which in addition to the energy sector, should also focus on Serbian agriculture. By investing in Serbian agriculture, Russia would significantly strengthen its position in Serbia and economically strengthen Serbia. Vladimir Putin's visit has also shown the strengthening of russophobia by NGOs funded by the West. A situation similar to that with Montenegro. In Montenegro, the absolute majority of the population advocated brotherly relations with Russia, and in all polls, the majority of the population was opposed to joining NATO. However, the West has enabled the creation of an authoritarian system in Montenegro, led by Milo Djukanovic, which with undemocratic methods, has brought Montenegro into NATO. Almost the same is now done with Serbia. Aleksandar Vucic, who runs with methods almost identical to Milo Djukanovic, is a person who fulfilled or wanted to fulfill all the strategic requirements of the West. How willing he can go in that direction could be seen when the Serbian Orthodox Church openly opposed his plan of division with the Albanians. Then, direct attacks by the media in Serbia, as well as members of his government, were launched to the Serbian Orthodox Church. In line with the above, it is necessary to enable the opening of the pro-Russian television with national frequency in Serbia, to strengthen pro-Russian NGO movements, to strengthen local patriotic movements. A mistake similar to that with Milo Djukanovic, must not be repeated.
First published in our partner International Affairs
How a U.S. Colony Works: The Case of Germany
On 15 July 2022, Britain's Reuters news agency headlined "70% of Germans back Ukraine despite high energy prices, survey shows", and reported that "Some 70% of those polled backed Germany's support for Ukraine, … found the survey conducted between July 12-14 by broadcaster ZDF." ZDF is funded by the German Government — German taxpayers.
Germany's AfD Party is one of the two Parties in Germany that are less than enthusiastically backing Germany's anti-Russia position, the other such Party being "Die Linke" or "The Left" Party, which is Germany's only socialist democratic Party, despite West Germany's "Social Democratic Party" calling itself "democratic socialist" while being neither.
The AfD Party issued a press release, on 25 August 2022, "Stephan Brandner: Skandalöse "Politische Filter" beeinflussen NDR-Berichterstattung" or "Stephan Brandner: Scandalous 'political filters' influence NDR reporting." It reported that Mr. Brandner, who is an AfD Member of the German Parliament, said that
After the self-service affair about the now hated RBB director Schlesinger, reminiscent of feudal structures, an online magazine now reports that employees on North German radio complain about 'political filters' from their superiors. According to the report …, public service broadcasting executives act like 'ministerial press officers'. …
As an AfD politician I am not surprised. After all, ARD and ZDF only report on the AfD with a 'political filter' and, for example, no longer invite AfD politicians to talk shows. … Compulsory contributions [by taxpayers, to 'public broadcasting'] should be abolished.
Mr. Brandner provided no evidence for any of his allegations. (That's the way politics is in a dictatorship. How can the public vote intelligently if they are routinely accepting allegations that are being made without supplying documentation? That's a dictatorship by lies and liars, and no democracy-capable public would accept it. In science, what is not documented to be true is assumed to be false — not assumed to be true. A democratic country operates on the basis of science, not on the basis of faith.)
However, this doesn't mean that Mr. Brandner's allegations there are necessarily false. One reason why they could very well be true is that there are six Parties in Germany, and the current governing coalition consists of the three that take the hardest line against Russia, and for America, and for the post-2014, U.S.–coup, anti-Russian, Ukrainian Government. The ruling coalition, those three Parties, are called the "traffic-light coalition", and include the rabidly neoconservative (or pro-U.S.-empire) anti-Russian Green Party, plus the U.S. Democratic Party-allied so-called "Social Democratic Party," plus the rabidly libertarian or "neoliberal" (pro-free-market, anti-regulation, and generally U.S.-Republican-Party-allied) Free Democratic Party; and they EXCLUDE (or give the red light to, and prevent from participating in the Government) the three least-anti-Russian Parties, which are The Left Party (the authentic democratic socialists, or progressives, ideologically opposed to any imperialism), the AfD Party (nationalists), and the U.S.-Republican-Party-allied CDU/CSU Christian Democratic and Christian Social Union Party.
Brandner raised an important question, without providing any evidence regarding its solution. But here are some relevant facts, regarding the extent to which Germany's Government tolerates corruption (which includes corruptness of a Government and of its 'news'-media):
On 14 December 2021, I did an analysis comparing the anti-corruption laws in three nations, and headlined "Political Corruption in U.S., Germany, and Russia". I concluded that
Although this is a very incomplete indicator of a country's corruptness, it does present the U.S. in a very favorable light, and present Germany (11 out of 12 "No"s [meaning no law against corruption]) as being rather astoundingly corrupt. Russia is midway between those two, perhaps because after Yeltsin's abominable rule, Putin cleaned up Russia's Government, but a lot of that job still remains undone, even after 21 years.
Germany's Government was more shaped by Truman than perhaps any in the world except America's own Government. But, from the present indicator, America's vassal nations would appear to be even more corrupt than the imperial center, the U.S., itself, is — at least insofar as their political campaign-finance laws ("what's written in black and white" in the lawbooks) are concerned.
Here was the summary, specifically regarding Germany:
Following here will be answers that are solidly grounded in the written laws of each of these three countries (though not necessarily reflecting how those laws are enforced — or not), regarding the 12 most clearly important questions that were studied. I present those dozen questions in the order that seems to me to provide the clearest sequence in order for the reader to interpret them, not in the order that was employed by the source:
"8. Is there a ban on anonymous donations to candidates?" "There are no explicit provisions regarding donations to candidates."
"2. Is there a ban on donations from foreign interests to candidates?" "There are no explicit provisions regarding donations to candidates."
"18. Is there a limit on the amount a donor can contribute to a candidate?" "There are no explicit provisions regarding donations to candidates."
"10. Is there a ban on donations from corporations with government contracts to candidates?" "There are no explicit provisions regarding donations to candidates."
"4. Is there a ban on corporate donations to candidates?" "There are no explicit provisions regarding donations to candidates."
"6. Is there a ban on donations from Trade Unions to candidates?" "There are no explicit provisions regarding donations to candidates."
"5. Is there a ban on donations from Trade Unions to political parties?" "There are [is] no explicit … ban on donations from Trade Unions to political parties"
"3. Is there a ban on corporate donations to political parties?" "Ban on donation from corporate bodies, but accepted if it is a business enterprise, of whose shares more than 50 per cent of shares are owned by Germans …"
"9. Is there a ban on donations from corporations with government contracts to political parties?" "No."
"14. Is there a limit on the amount a donor can contribute to a political party during a non-election specific period?" "No."
"16. Is there a limit on the amount a donor can contribute to a political party during an election?" "No."
"27. Are there provisions requiring donations to go through the banking system?" "No."
Consequently, Brandner's allegations might be expected to be true, simply because Germany, especially after the U.S. Government blew up the Russian gas pipelines to Germany and yet Germany's Government continues to be a U.S. vassal-nation, despite that U.S. act of war against both Germany and Russia. This indicates Germany's Government to be extremely corrupt, willing to ditch its own population in order to please its U.S. masters.
Europe's former imperial countries are now desperate U.S. colonies
India is no longer a colony of the UK, but Germany and other European countries have become — now quite obviously — colonies of the United States, and their economies will be financially bled by the world-bestriding U.S. imperialist center, just like the UK and other European nations had previously (and infamously) exploited India and its other colonies.
The U.S. Government's having blown-up the Nord Stream gas pipelines from Russia to Europe — after years of efforts to sabotage them more subtly by other, more 'diplomatic' (but less permanent), means — will leave Europe permanently forced to pay vastly higher rates to America and other liquefied natural gas (LNG) suppliers, and no longer with even a hope of receiving the far less-expensive Russian gas, which, until recently, fueled so many European firms to international competitiveness. Now, there's no longer even a hope for Europe to avoid sliding into the usual model of colonies, as being banana republics, of one sort or another.
It was so natural for Russia to be Europe's main energy-supplier, because Russia is a part of Europe, on the same continent as the other European nations, and therefore could pipeline its energy to them, and Russia had a surfeit of energy while the other European nations had a surfeit of need for it. That's the way international capitalism is supposed to function, but imperialistic capitalism is instead international fascism, and it survives and grows only by exploiting other nations. From now on, the European nations, other than Russia, will, for at least a long time (because those giant gas-pipelines have been destroyed) be paying the world's highest prices for energy (containerized and shipped, instead of simply pipelined), and buying much of it from Europe's imperial center, which is increasingly recognizable now as being Europe's real enemy: America. They will be paying tribute to the emperor — the billionaires who control the USA. These are the puppet-masters behind "the free world" (as their 'news'-media refer to it), which is actually the new international-fascist empire. As Barack Obama called it, America is "the one indisensable nation," which means that all other nations (in this case, the ones in Europe) are "dispensable." Now, these former imperial nations will finally get a taste of what it's like to be a "dispensable nation."
Here are some of the key U.S. operatives in Europe, who managed this situation, for the U.S. owners — brought this situation about (before Joe Biden's agents ultimately just pulled the plug on the whole operation):
Boris Johnson, Olaf Schulz, Annalena Baerbock, Robert Habeck, Ursula von der Leyen, Josep Borrell, Anders Fogh Rasmussen, Jens Stoltenberg, Emmanuel Macron, Mario Draghi — and, of course, behind the scenes, the billionaires who funded those leaders' political careers (via political donations, plus those billionaires' news-media and their other mass-public-opinion-forming organizations). These key agents will no doubt be paid well, in their retirements, regardless of what the public might think of them after their 'service to the public' is over.
Exporting Religious Hatred to England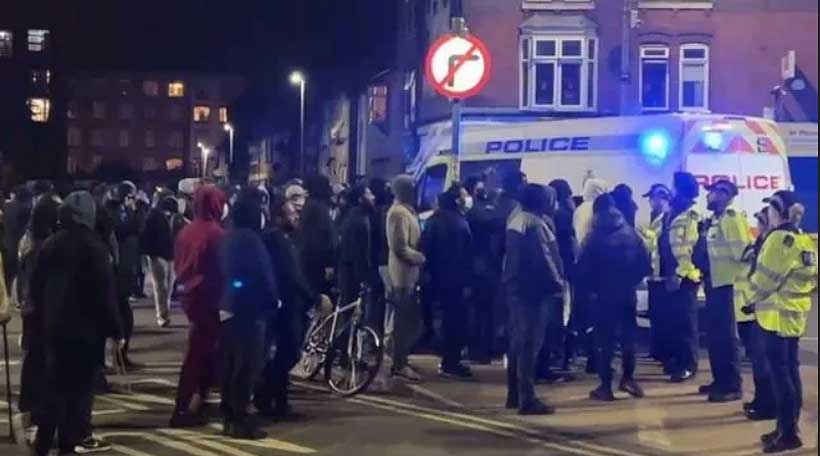 Not a place hitting the main news channels often, Leicester is a small town of 250,000 inhabitants about a hundred miles north of London and 40 miles east of Birmingham the UK's second largest city.
But an imported ideology is now the cause of religious violence that has profoundly affected Leicester's ethnic community of South Asians. This Hindutva ideology represents a belief in the transcendence of Hinduism and its culture.
Leicester prides itself as a city of tolerance and diversity where different religions and races all live together in relative harmony — a sort of 'live and let live and mind your own business' philosophy that had worked until recently. But under the surface simmering tensions burst forth recently. The trigger was a South Asia Cup cricket match between Indian and Pakistan held in Dubai and won by India.
Couple Hindutva with India's win and groups of Hindu young men were keen to demonstrate their might, and did so on isolated young Muslims. The latter then formed their own groups ready for revenge.
Where were the police one might ask. Well, a couple of beaten up Asian teenagers did not register as exhibiting anything more than random teenage violence. They were slow to react and did not discuss the ominous truth of religion as the prime mover behind the violence.
Civic leaders on both sides are now trying to quell the attacks. But the damage has been done and the seeds of ill-feeling have been sown within the community meaning Hindus vis-a-vis Muslims and vice versa.
India's per capita GDP is higher than for Pakistan or Bangladesh, the two countries bordering it, which together constitute the subcontinent. Thus the three countries are similar culturally. The next question to ask is why then is India hugging the bottom on the 2020 World Happiness Report, next to ill-fated war-torn places like Yemen. India is ranked 144 while its rival and neighbor Pakistan, although lower in per capita GDP, ranks a shocking (for India) 66. Bangladesh also ranks much higher than India at 107, despite its devastating floods and typhoons.
Perhaps the answer lies in the pervasive hate that is the currency of the ruling BJP (Bharatia Janata Party), a currency spent liberally during general elections to the detriment of the Congress Party, which has stood for a secular India since independence.
But hate yields more votes as BJP leaders Norendra Modi and Amit Shah know well. After all, they came to power via the destruction of the historic nearly five century old Babri Mosque, built on a Hindu holy site in an effort to ally Hindus by an astute Babur, the Mughal whose hold on India, just wrested from the Muslim Pathan kings, was still weak. It worked for Babur then; its destruction worked for the BJP in the 21st century
Has India become more civilized since?