The Rarest And Most Unique Precious Stone To Watchmaking
Hublot again dares to be DIFFERENT, for the FIRST time ever setting a baguette-cut version of the most UNIQUE precious stone on a watch.
First – Unique – Different
"The Big Bang Paraíba embodies Nature at its most beautiful. A stone unearthed from the rich soils of Brazil, a natural alloy of gold, copper and manganese, a captivating blue lagoon colour that holds the gaze in an almost magnetic embrace".
Ricardo Guadalupe, CEO of Hublot
The World's Rarest And Most Desirable Stone Adorns The Big Bang
For the first time ever, a watchmaker has decorated a watch with the turquoise brilliance of a cuprian elbaite. Hublot has electrified its Big Bang with the naturally vibrant and intense colours of the Paraíba Tourmaline, a stone whose rarity can only be fully appreciated when learning that, on average, a single Paraíba Tourmaline is mined for every 10,000 diamonds.
With its unique colour, this stone has fascinated jewellers since it was first discovered in 1989 in the Brazilian state of Paraíba. Its rarity makes it more expensive than traditional precious stones such as diamonds, emeralds and rubies. The secret of this magnetic stone's colour lies in its fusion of gold, manganese and copper; an incandescent glow seems to illuminate the stone from within.

Ethical Stones
Certified by the world's largest gemmological laboratories, the Paraíba Tourmalines set into Hublot's Big Bang are mined from the Rio Grande region of Brazil. Thanks to its long-term partnership with Pierre Salanitro, Hublot benefits from an exclusive agreement with a mine that operates in an environmentally sustainable way, and complies fully with local and international governing ethics. The mine strives to preserve the earth that yields this unique material, and is committed to reforestation of the region, only using clean water for its extraction operations to prevent soil pollution.
The Additional Challenge Of Baguette-Cutting
While the Paraíba Tourmaline is an extremely rare stone, certain cuts are more exclusive than others. One such example is the baguette cut, which requires stones of a perfectly uniform colour. This is why five times more raw material was required for the initial stone selection, and also why, when each stone was baguette-cut, only 70% of these could be set – 30% were rejected due to breakage or insufficiently uniform quality or colour. This stone, more fragile than emerald, requires considerable expertise and dexterity both to cut and to set, and the process can take up to three times longer than that for a diamond.
An Ultra-Confidential Collection
A blue that radiates green, a turquoise reminiscent of a blue lagoon whose depth is enhanced by sunshine, the colour of a Paraíba Tourmaline changes thanks to its extreme sensitivity to light. A watch you can't take your eyes off, that almost invites you to dive in.
Breguet Type 20 Only Watch 2019
This year once again, Breguet joins Only Watch, the major international charity project sponsored by the Monegasque Association against Muscular dystrophy. This biannual event has been held since 2005 and has benefited from the support of Breguet and the high patronage of HRH Prince Albert II since the very beginning. An exceptional auction sale conducted by Christie's will be taking place in Geneva for the benefit of medical research on muscular dystrophy on Saturday, November 9, 2019.
In homage to both watchmaking and aviation, Breguet is reissuing a unique version of its Type 20 pilot chronograph from the fifties in a form that is very faithful to the original, both esthetically and mechanically.
The dial of the watch is inspired by the very rare civilian and military models with a bronze-colored dial sold at the time. Its steel case preserves the historical diameter of 38.30 mm, the unique curved horns with lateral bevel, and the pear-shaped crown, typical of the first-generation military models delivered to the French Air Force and Naval Air Force. The Type 20 Only Watch 2019 is faithful not only visually to the watch that it is inspired from, but also in its movement: the Valjoux 235 13 lignes, which is derived directly from the Valjoux 222 14 lignes used in the fifties. The movement blank of this manually wound, column-wheel chronograph was restored back to working order, so as to ensure the Type 20 Only Watch 2019 is endowed with the same proportions and functions. This movement is, of course, fitted with the flyback function, without which it could never be a true Type 20 pilot chronograph.
Hublot Special Edition Timepiece For Morocco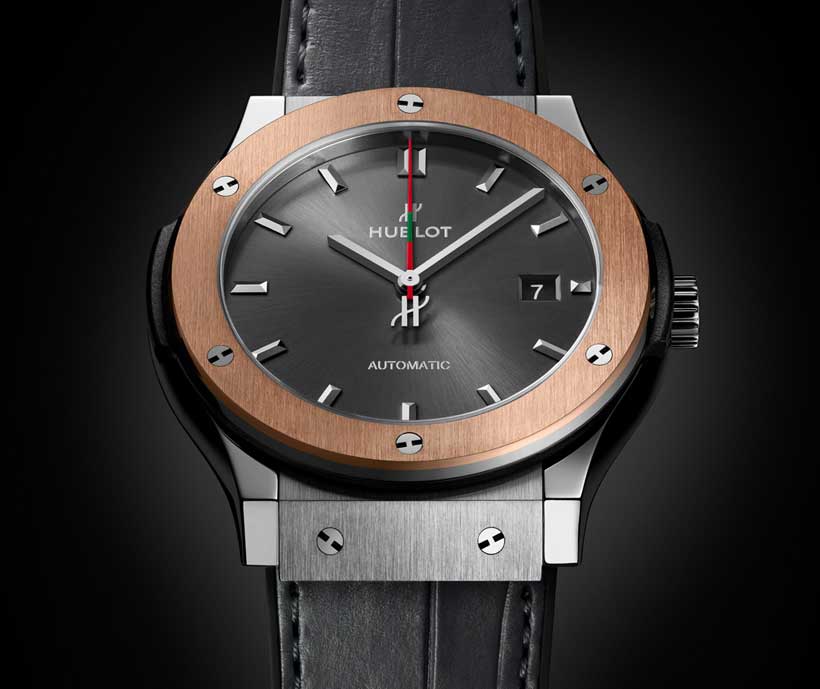 The Hublot boutique in Casablanca has been redesigned in line with the brand's new architectural concept inspired by the Art of Fusion, combining luxury with modernity, innovation with tradition, and now invites its customers to a more welcoming space. To mark this occasion, Ricardo Guadalupe, CEO of Hublot, and David Tedeschi, Regional Director for Latin America & the Caribbean and the Middle East & Africa, joined Kamal Sefrioui, Chairman and CEO of Mystère, partners of the brand in Morocco, in welcoming customers, watch collectors and members of the press at the boutique. An exclusive timepiece, the Classic Fusion 42 mm "Morocco" Special Edition, has been created on this occasion in honour of Morocco.

We are delighted to have a Hublot boutique in Casablanca. This new space perfectly reflects our brand codes. We are confident that our customers in Morocco will be enchanted by this limited edition timepiece.– Ricardo Guadalupe CEO of HUBLOT

Morocco has a rich history and culture; we wanted to pay tribute to the country with this special edition. We look forward to seeing the watch on the wrists of Hublot fans who have greatly supported the brand in the country.– David Tedeschi Regional Director for Latin America & the Caribbean and the Middle East & Africa

The boutique, located on Aïn Harrouda Avenue, was inaugurated during an official ceremony on June 18; guests had the opportunity to discover the boutique's exceptional new interior, created through a fusion of materials including glass, marble, metal, wood and leather. Large Pop Art paintings inspired by iconic models from the watch Manufacture give a nod to the world of art.

The Classic Fusion 42mm Special Edition "Morocco" is inspired by the Moroccan national flag. This watch, with its titanium case and 18K King Gold bezel, has a sport-luxe look while remaining classic. The timepiece is dotted with subtle references in the colours of the Moroccan flag; the dial has a red and green seconds hand, and the case back crystal features a tracing of the flag's iconic green pentagram on a red background.

This limited edition of 25 pieces has been created to mark this occasion and will be available to customers of Hublot and Mystère in Morocco.
Saluting science with a space pioneer
Created in 2011 to help the public understand and appreciate science, Starmus Festival has included performances and presentations from astronauts, cosmonauts, Nobel Prize winners and prominent figures from science, culture, the arts and music.
A worthy goal OMEGA supports, by proudly sponsoring the Stephen Hawking Medal, one of the world's most celebrated science communication awards.
This year, the four winners were Elon Musk, Brian Eno, the makers of the documentary Apollo 11 – and the man who knows the story of the first lunar landing better than anyone – NASA legend Buzz Aldrin, who received the Lifetime Achievement Award.
In addition to the medal, each recipient is gifted a Speedmaster Moonwatch "First OMEGA in Space", complete with a unique caseback design.
Attendees of Starmus also enjoyed the company of another Apollo legend: CAPCOM of Apollo 11, LM Pilot of Apollo 16, and OMEGA ambassador – Charlie Duke.