Reactions to the Proposed Syrian Withdrawal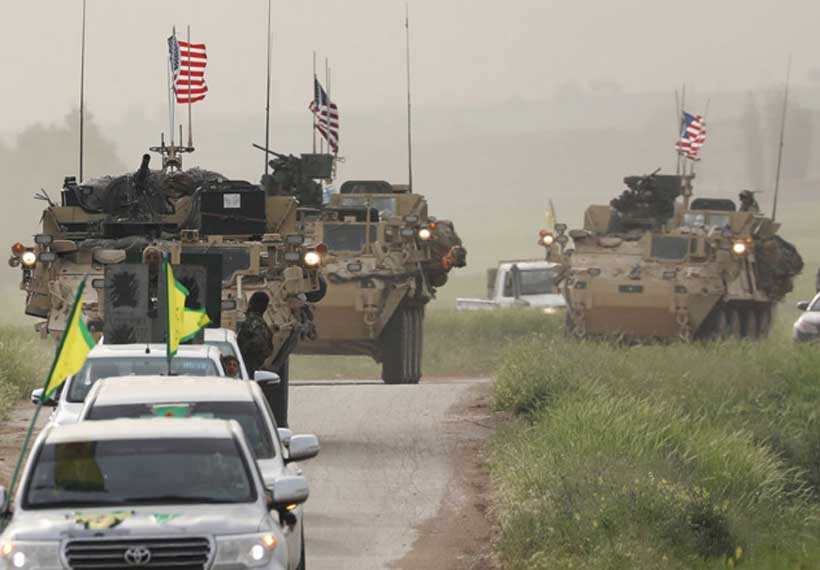 Trump dropped a bombshell with his surprise order for a withdrawal of US troops from Syria, the draw-down of troops in Afghanistan, and the resignation of his Secretary of Defense.
But surprisingly, Trump's view of the Syrian conflict closely resembles Obama's, i.e., that the US had no serious interest, either economic or strategic, in the conflict.
Recall that Obama was often criticized by our Middle East allies for refusing to commit ground troops to the battle, authorizing only limited numbers of technical advisors, along with air support.
Obama's stance was often attacked by his critics as 'arms-length combat.' But that could also be said for EU allies France and UK, that made the least minimal commitments, with France and the UK providing no more than 500 troops, total, and Germany refusing to take any part in the conflict.
Even at that, Obama's war focus wavered badly, from initially supporting the Saudi and UAE, while arming and training "moderate jihadists" as a proxy-warriors to overthrow Assad.
When many of these moderate rebels turned out to be not so moderate, with some breaking ranks to join ISIS, the US reversed focus to support the Kurdish militia, the most effective fighters against both the moderate jihadists and ISIS, fighting in support of the Assad regime.
Obama, like Trump, correctly saw that the main threat to stability in the middle east was the growth of the radical jihadist, ISIS, that occupied large areas in East Iraq and Syria, while, intent on building similar outposts in Africa.
US neo-cons and cold warriors were stunned at Trump's withdrawal announcement, as their dream for regime change in the Middle East utterly collapsed.
Their long-held view that regime change could turn back the clock to a time when the West colonized the regions and stripped their natural resource assets was totally discredited and belied by the experiences in Vietnam, Afghanistan, Iraq, Libya, and now Syria.
If we learned anything from Vietnam, and disastrous wars that followed, that it's long past time for conquering and exploiting poor countries. Even without modern weapons, devoid of air force or navy, their people will fight on against, against impossible odds, eventually wearing down the would-be conquerors by forcing them to spend fortunes in lives and treasure until they are finally forced to declare victory and slink home.
After seventeen years in Afghanistan, in a never-ending war, even our military has come to the conclusion that this war is unwinnable. Like Vietnam, the war always lacked the essential ingredients for victory in terms of an established, effective government that held the loyalty of its countrymen, and military force capable of protecting the country.
In their absence, the US has been forced into taking over the fighting on its own, as it did in Korea,  Vietnam, Afghanistan, and Iraq.  Without a negotiated settlement, the war will likely continue indefinitely. The same could be said of Iraq, Libya, and Syria.
In the movie,"W," about the younger Bush Administration and it's march to war in Iraq, there is a revealing scene in which the character portrayed as VP Cheney goes to a map of the middle east, aims his pointer at all the region's countries, saying, "If we took all the countries in the area and controlled their oil, who would f..k with us then?"
The character portrayed as Colin Powell responds, "Spoken like a true oil man."
Although the movie is only a dramatic portrayal, we would lay odds that conversations like the one portrayed in the movie frequently took place amongst the real-life players. Recall McCain during his Presidential campaign, outrageously singing "Bomb, bomb, bomb Iran." Or consider the long-time slogan of the neo-cons,
"Real men go to Tehran."
What that long line of interventionist wars clearly showed were that these countries were more than willing to defend themselves against the occupying forces. And these guerrilla wars by much weaker countries against far more powerful imperialists invaders could go on for many years, in a war of attrition, draining the resources of their western rulers until, eventually, until they were forced to retreat. Afghanistan is a prime example, with the US war ongoing for seventeen years.
Not surprisingly, Trump was attacked for failing to heed the warnings of his chief military advisor, Secretary of Defense, Mattis, who resigned, setting off a major controversy. And while the media continued to lambast the President and laud the General for his integrity.
Widely ignored by most of the media that Mattis was also formerly fired from his post as head of Centcom by the Obama Administration for allegedly attempting to provoke a conflict with Iran, aimed at undermining the Administration's efforts to negotiate the freeze on Iran's nuclear development.
Also ignored is the fact that Trump followed the advice of Gen. Curtis Michael "Mike" Scaparrotti, the highly respected head of the U.S. European Command, who publicly stated that the US had little interest at risk in Syria, and that our support for the Kurds threatened our relations with NATO member Turkey, an alliance considered far more politically important than with the Kurds.
The media also failed to notice that prior to the President's announced troop withdrawal from Syria, that Russia had successfully negotiated a 60 mile pull back of Iranian troop from Syria's southern border, aimed at easing tensions and lowering the threats towards Israel.
Also ignored by the western press was at the recent meeting in Abu Dhabi between US special envoy, Khalizad, and the Taliban, where, for the first time, a high level US representative declared that the US was ready to withdraw its military forces if there was a meaningful and verifiable peace settlement, with a guarantee that Afghanistan would no longer be a staging grounds for terrorists attacks on its neighbors or the west.
In attendance at the meeting were representatives of Saudi Arabia and the United Arab Emirate, in support of the US position, urging the reluctant Taliban towards direct negotiation with the current Afghan government.
Pakistan's leadership also gave added support to the meeting. Few middle eastern analysts believe that the Taliban would be willing to reject the US terms, that answers their own demands for a US withdrawal, particularly when backed by the Taliban's former benefactors.
Instead, the military establishment unloaded its biggest weapon to panic the public, as Senator Lindsey Graham reported to an unconvinced public 'that the announced troop withdrawal could lead to another 9/11.' Shades of Colin Powell's famous address to the UN where he attempted to justify the US attack on Iraq, with pictures of an atomic mushroom cloud emanating from Iraq's non-existent nuclear weapons.
Despite the news blitz by the military and its media friends of dire consequences for withdrawal, their remains few alternatives besides a permanent presence of US troops, as US public opposition continues to grow against the long and unending interventionists wars in the Middle East and Eurasia.
The military establishment's opposition to the withdrawal was largely expected and taken for granted, but more surprising was the concerted attack by many left-wing spokes people and their media associates. Senator Elizabeth Warren was the left's only representative to agree to the withdrawal, although she also condemned the President for not alerting our allies.  It left one wondering where the left's peace movement has gone or if it still exists.
Against this there is a catastrophic history that cannot be denied. While jobs and industries were disappearing from our borders, our leaders engaged in decades long wars in the Middle East and Eurasia, where the discredited neo-con strategy of regime change, based on faked intelligence and false flags, has left in its wake the wreckage of fallen states, the blow-back of global terrorism, and an enormous refuges crisis, to say nothing of the waste of lives and treasure.
A final question: Does our fury against Trump blind us to our own long-term interests?
The Indignant Politics of America's Mass Shootings
Why do mass shootings garner the lead stories in the news cycle? Could it be the sudden cluster of deaths alone? Perhaps it is the public fascination over a shooter plotting evil or to illicit political theatre where finger pointing, blaming far-right ideology, chalking it up to mental illness, or creating a stir over the demise of the 2nd Amendment and government taking our guns.
These narratives would seem too simplistic for well-educated lawmakers obfuscating their responsibility by playing into an uncompromising political base rather than demonstrating a bipartisan effort to solving problems. Does the clinging to power in the legislature somehow become more imperative than the pains felt when facing the end of a barrel. In retrospect, lawmakers might ponder one of Mother Teresa's favorite texts in the bible, which she often quoted to support her ministry, is "Truly I tell you, whatever you did for one of the least of these brothers and sisters of mine, you did to me".
To avoid fecal mudslinging over attempts to find common ground with political rivals or facing noisy garden-variety cynicism that it is possible to move the needle, courage will be required to grasp the big picture of gun violence and understand critical facts to create value in building trust across the aisle. According to the data compiled by the Gun Violence Archive (GVA), America is on track this year to be the second highest year for mass shootings with 607 mass shootings through November 22 against a total of 690 in 2021 (GVA defines a mass shooting where at least four people are shot excluding the shooter).
While 637 deaths and 3,179 people shot in mass shootings so far in 2022 is abhorrent, there has been a stark total of 40,373-gun violence deaths in the US this year as of Nov. 29. A total of 21,978 of these deaths were suicides whereas 18,395 comprise of homicides, unintentional, and defensive use.
For those wondering about racism in law enforcement by the likes of Black Lives Matter and the far left defund the police efforts, 62 officers have been killed in the line of duty so far this year with 769 subjects shot dead or injured in police situations.
About 40% of Americans now own firearms where 18% of American households purchased a gun during the COVID-19 pandemic, and 5% of US adults bought a gun for the first time. The question that bares asking is why the increase in purchases. Could it be State AG's allowing criminals to walk or no-bail for violent crimes only to reoffend and commit further harm and death? What about worried citizens who are fearful of the millions of immigrants illegally crossing the southern border, or the Antifa riots that caused mayhem, death, and destruction with little to no police response to protect neighborhoods and businesses. With Americans being killed at the highest rate in 30 years, they are now packing more than ever to protect their families in what may feel like a purge.
Let's dig deeper into the starkest gun violence statistic. Black Americans are disproportionately more likely to be killed by a gun with the most vulnerable ages 25-45. According to the CDC, 6,600 were shot dead in this category or at an astonishing 54.43 per 100,000 people. Blacks aged 10-24 years did not fare well either at 4,347 killed or 48.80 per 100,000. By comparison, white people came in at 1,918 or 3.91 per 100,000 in the older group and 653 or 1.97 per 100,000 in the younger bracket.
Clearly, black on black violence is a huge problem that is not being addressed or focused on by the media or political leaders. On the heels of the media coverage and President Biden's repeated mass shooting comments to ban guns following the terrible mass shootings at the Wal-Mart in Virginia leaving six people dead and five people dead three days earlier in a shooting rampage at a nightclub in Colorado, there were 31 people shot and 6 killed across Chicago the following Thanksgiving weekend. These combined shootings amount to mass shootings taking place every weekend in dystopian-like enclaves in Detroit, St. Louis, Baltimore, and New York to name a few. Where is the media coverage and why are these predominately black neighborhoods allowed to fall into tyranny?
To make the case for Republican bipartisanship support to work towards reducing guns in the wrong hands, the Democrats will need to reciprocate on the most glaring killer facing America. According to the CDC, fentanyl is now the leading cause of death among US adults (ages 18-45); more than Covid-19. Fentanyl, the cheap to produce and easy to transport killer that is 100 times stronger than morphine, has seen deaths nearly double in two years from 32,754 in 2019 to 64,178 in 2021.
The cartels in Mexico producing the candy-colored drug in super labs purchase the ingredients and chemicals from China. The Drug Enforcement Administration (DEA) say they are combating the problem; however, their actions are profoundly incompetent with the substance crossing a porous border with Mexico. It is unconscionable that the Biden Administration does not use every tool to pressure China to stop the exports to the cartels and it is a crime by China who can lock down a population of over a billion people over Covid yet fail to prevent these shipments. China is an accomplice to mass killings in the US.
According to the FAA, there is an average of 64.4 passengers per domestic flights in the US. The number of fentanyl deaths would be equivalent to three passenger aircraft going down with all onboard perishing in the crash. Would American politicians not call for the immediate grounding of all flights until there were assurances that no further loss of life was at peril. Should the human mules coming across the southern border not also be halted with the same sense of urgency to save over 190 lives every day from fentanyl?
No one person has the answers to nation-wide epidemics of gun violence and the fentanyl crisis. First, it begins with leadership to turn off what seems to be an incurable pathology to assign blame. The unfounded white supremacy is divisive rhetoric while claiming the 2nd Amendment to bear arms is at risk. It is simply untrue. Progress will have a greater chance of success if the small but loud voices are sidelined, contributions from influential lobbies are refused, and the media covers the big picture.
Politician can no longer wait to act on the comprehensive measures. Just ask black Americans if they want to defund police and see active enforcement and protection in their neighborhoods. There needs to be a focus on cultural and social factors, guidance counseling and education that focuses on responsibility in the family and community. Gun shops need to uphold current laws when selling firearms, and gun ownership should require at minimum to attend and pass a course on firearm safety that could prevent a deranged shooter from purchasing a gun prior to carrying out a mass shooting. Finally, if the Mexico government is not going to do the job, the DEA needs to forcibly remove fentanyl super labs making the killer poison. Time to get to work.
Joe Vogler and the Alaskan Independence Party: The Last Secession Attempt in the United States
The political system in the U.S is characterized by a bipolar system of division between the Democratic and the Republican Party. As a result, independent parties are hardly noticed and barely manage to scrap votes in the elections. However, independent parties in the U.S have been around since the creation of the nation and some of their leaders have gone as far as pursuing to secede from the federal government of the U.S. Joe Vogler was an Alaskan politician that rallied a major nationalistic movement in Alaska for the state to secede from the U.S. Although his actions did not bear any fruits, his creation of the Alaskan Independence Party opened the door to interesting questions and political theories. Is it possible for an independent party to hold major power in the U.S, and how much influence do the independent parties have in one of the most politically divided countries in the world?
Joe Vogler: An Alaskan nationalist from Kansas
Joe Vogler was born on April 24, 1913, in Kansas, U.S. In 1942, he moved to Alaska where he worked as a civilian employee of the U.S Army Corps of Engineers in Fairbanks. Although he graduated with a law degree from the University of Kansas, his move to Alaska demonstrated his humble beginnings and love for a more traditional lifestyle away from the metropolises of America. Besides working construction in military bases, Vogler was involved in the development of real estate and mining in Alaska.
Described by his admirers as a stand-up, no-nonsense man, Vogler started his early nationalist views of an independent Alaska in the early 1970s, where he frequently wrote letters to editors in newspapers, calling for Alaska to secede from the federal government of the U.S. In 1973, he founded the Alaskans for Independence organization to label his petition drive to secede from America. In 1984, he founded the Alaskan Independence Party (AIP), which he led for almost a decade until his sudden disappearance and death in 1993.
The Alaskan Independence Party: Libertarian conservatism at its finest
The Alaskan Independence Party (AIP) gained momentum in the early 1980s when Joe Vogler founded the party with a clear focus on the independence of Alaska from the United States. The ideology of the party is a mix of Alaskan nationalism and libertarian conservatism. It is easy to see where Alaskan nationalism comes from and why it was advocated. As one of the largest states in the U.S, Alaska has immense mineral and oil wealth, with the oil and gas industries being the largest component in the state. Almost 85% of the state budget is supplied by oil revenues. Not to mention that Alaska has an important geopolitical position, being isolated from the continental U.S and sharing a maritime border with the Russian Federation.
The position of Alaska on the world map is a very strategic one and a major advantage in trading, fishing, and mining. Marie Francis, a writer from Southcentral Alaska and a registered member of AIP shares the same views as many Alaskans who advocate for the independence of their state. In her own words as posted in the Anchorage Daily News she describes how beneficial would be the actual secession of Alaska for the people that live there, who many times feel abandoned by the federal government due to their small population. "As the U.S. engages in trade wars, an independent Alaska would make international trade agreements on our terms. Our geographic position at the top of the Pacific grants us access to Asian and North American markets, and as Arctic shipping lanes open in the decades to come, European markets. Currently, we are relegated to the position of a dejected American outpost, yet almost all air cargo being transported between the United States and Asia flows through Ted Stevens Intl. Airport. Alaska's economic potential is much greater than what the U.S. allows" (Anchorage Daily News, Marie Francis).
The last sentence by Marie Francis reveals the nature of the U.S government taking full advantage of the position and natural resources of Alaska while at the same time disregarding the voices of the Alaskan population simply because of their low population compared to the other 49 states of America. When people of a particular geographical area feel isolated from their government in a metaphorical and literal sense and find unity under the same cause, isn't that a classic recipe for a nationalistic independence movement?
Regarding the philosophical ideology of the party, we can see many similarities with other political parties in the U.S, like the Libertarian Party and the Republican Party. The primary ideology is based on traditional American values such as the right to bear arms, privatization away from the sphere of public sectors, and of course limited government interference. These particular American values are mixed with a libertarian conservatism philosophy that advocates among many things, the maximum economic liberty for the people, combined with the minimum government regulation of economic and social life. Although on many occasions this political and social philosophy is mirroring classical liberalism, what distinguishes it is the focus on American values and a sense of morality and duty toward the idea of free and independent people from any form of government regulations.
Margaret Randall, an American writer and academic describes the notion of libertarian conservatism as an expression of personal freedom and individualism, the same ideology that can be found in the early works of Henry David Thoreau. Thoreau was an American naturalist and philosopher, mostly known for his advocation of individualism and limitation of the power that the American government had at that time. His book Civil Disobedience (1849), argues that any form of progress comes from the ingenuity of the people not from the government, and as a result, the best thing for any government to do is to let the people govern themselves and flourish. He concludes that the best government is one that does not govern at all. It is easy to connect the ideological position of the AIP with the notion of Alaskan nationalism, as both the ideology and the practical implementation of its positions reveal a mix of liberalism, conservatism, libertarianism, naturalism, and a strong apathy for any form of government that wishes to control the individuality of its local population.
Joe Vogler's controversial views and sudden disappearance
Joe Vogler made a couple of unsuccessful bids for public office, with the first one being back in 1974, when he ran for governor of Alaska, only to lose by a large margin to Jay Hammond who represented the Republican Party. After that, in 1978, he tried to run as a lieutenant governor alongside Don Wright, only to lose again to Jay Hammond. He made two last attempts to run as a governor in 1982 and 1986, but his efforts did not result in a positive outcome. Although none of his efforts resulted in a victory, Vogler still had quite a few thousand supporters that rallied behind his nationalistic cause. His libertarian rhetoric appealed to many Alaskans that felt that indeed they are being exploited and overlooked by the U.S government. He was extremely un-American in a political sense and a harsh critic of all the government institutions that he felt had no place in the state that he envisioned.
On May 30, 1993, Joe Vogler suddenly disappeared, just a couple of weeks before he addressed the United Nations on the issue of Alaskan independence. A close friend called the authorities after not hearing from him for a couple of days. An investigation took place to find him. After a couple of months of unsuccessful attempts to find Vogler, a man called the authorities informing them that a suspicious truck with a bullet hole at the back was seen at Fairbanks at the same time that Vogler disappeared. The man driving the truck was identified and was taken into custody. Manfried West immediately confessed to the murder of Joe Vogler. He claimed that Vogler wanted to buy plastic explosives from him, and when the deal went wrong he shot Vogler and buried him. After almost a year, an anonymous tip revealed the location of Vogler's body. He was buried in a shallow grave outside Fairbanks. West was convicted of 80 years of prison time and currently serves his time at the Palmer Correctional Facility in Sutton.
Joe Vogler's sudden disappearance and murder did not sit well with a lot of people affiliated with AIP, who felt that his death was an execution and that Manfried West was hired to do the job. These speculations seem to fit the narrative that Vogler's death was not just a deal that went wrong. It is important to mention that Vogler managed to gain the support of Iran to sponsor his speech at the U.N. At that time, relations between the two states had deteriorated right after the Persian Gulf War when Iran was accused of trying to replace Iraq as the most dominant power in the Gulf. By 1992, under the Bush Administration, Congress had passed the Iran-Iraq Nonproliferation Act, sanctioning specific materials that could be used for the development of advanced weaponry. As a result, Iran's support to Joe Vogler would have been an embarrassment for the U.S if he managed to speak at the podium at the U.N.
In addition, Vogler, throughout his political career had made a lot of enemies and powerful people back in Washington D.C did not see his intentions as just an effort to secede from the U.S. By the time his political career started, the Cold War was still at its peak and the competition with the Soviet Union was the most serious matter that affected the whole globe. Vogler was accused by many, of being a socialist, and people in D.C were worried that his views may find support back in Moscow, who could seek to find an opportunity to have closer relations with an independent Alaska. We might never find the truth about Vogler's death and the people responsible for it, but we can only speculate that powerful people in the political arena of the U.S would not have been happy if Vogler was allowed to speak at the United Nations.
The Alaskan Independence Party today and the future of independent parties in the U.S
Although Joe Vogler himself was unsuccessful in holding a public office in Alaska, that doesn't mean that the AIP was also unsuccessful. In 1990, as Vogler was serving as a chair to the party, he supported Wally Hickel, a businessman and a member of the AIP who managed to get elected as the governor of Alaska on the Independence Party ticket, making the AIP one of the few third parties that had managed to hold public office in the U.S. However, after the death of Vogler, the party lost some of its power and will to continue fighting for an independent Alaska.
Today the Alaskan Independence Party remains the third most powerful party in the state of Alaska. According to its official website, AIP now has almost 19.000 registered members, nearly 25% of the size of the Democratic Party in Alaska. Remaining true to their goals until this day, members of AIP continue to challenge the authorities in D.C and demand that their voices be heard. As Marie Francis mentions in her opinion piece for the Anchorage Daily News: "We are receiving fewer favors from the federal government, and I firmly believe an independent Alaskan government would manage a better budget that would provide for all. As civil welfare programs are cut, the federal defense budget has been fluffed. We are being exploited by a government thousands of miles away for military purposes. The dignity of autonomy is not granted to more than 700,000 people. Secession would grant Alaskans the freedom to determine their destiny without federal oversight. I encourage my fellow Alaskans to discuss the endless possibilities and consider the Alaskan Independence Party".
Independent political parties in the U.S have a long history of engagement in U.S politics. Although they are not always successful their presence is still visible in local and nationwide elections. Apart from the Alaskan Independence Party, other political parties across the U.S have made their presence calling for independence or greater autonomy. For example, there is the Independent Party Of Delaware, the third largest party in the state with almost 10.000 people registered with it. Also, the Aloha ʻĀina Party in Hawaii advocates for the independence of Hawaii from the U.S and a greater focus on traditional Hawaiian cultural values. The list goes on and on with political parties and movements across the U.S, in California, Texas, Florida, Vermont, Montana, Minnesota, etc.
According to the Pew Research Center, nearly four-in-ten U.S. adults (38%) identify as politically independent, but most "lean" toward one of the two major parties. This goes to show that although the presence of third parties is still active, people are not very keen on voting for them. Is it because their stance on certain issues is not appealing, or is it because the media is so focused on dividing the country between red and blue that any chance of reviewing or analyzing any other party's position would be immediately suppressed? Joe Vogler used to say the same phrase whenever asked about his ideological stance: "I'm an Alaskan, not an American. I've got no use for America or her damned institutions". How possible would it be for more politicians to come out and say I am a Californian, not an American, or I am a Texan and I've got no use for America or her damned institutions?
In politics nothing is unlikely and the possibility of these movements gaining more recognition and support may come sooner than we expect. With the incompetence of Joe Biden and the Democratic Party and the controversy around Donald Trump and the Republican Party, people in the U.S may realize that they need to look elsewhere for solutions. Maybe they will realize that the democratic system that they so much praise and demonstrate around the world, is just a fallacy of democracy with two parties representing the same goals with different colors.
Canada's Indo Pacific strategy
Canada's Foreign Minister, Melanie Joly released the North American country's vision for the Indo-Pacific on November 27, 2022. Canada's Indo Pacific strategy is 26 pages in length, and it has earmarked Canadian $ 2.6 billion (US $ 1.9 billion) for funding in the Indo-Pacific region. Through the strategy, Canada seeks to play its role of promoting peace and security in the Indo Pacific region by; investing in security and intelligence networks and cybersecurity infrastructure in the Indo Pacific, strengthening Canada's trade with the region, building natural resource linkages between Canada and Indo-Pacific countries and to strengthen people to people links between Canadian citizens and those of Indo-Pacific countries.
The Canadian Foreign Minister, while unveiling the strategy highlighted the economic importance of the Indo-Pacific region while also stating that:
 "Every issue that matters to Canadians, our national security, our economic prosperity, democratic values, climate change or again human rights will be shaped by the relationship Canada has with Indo-Pacific countries."
The strategy lays immense emphasis on enhancing trade ties with India, East Asia and Association of South-East Asian Nations (ASEAN) countries. To achieve the objective of greater trade with the region, Canada will appoint an Indo-Pacific trade representative (the vision also seeks to set up Canada's first agricultural office in the region with the aim of increasing agricultural exports to the region).  In comparison to the vision of other western countries and Australia, there is a strong thrust in Canada's Indo Pacific strategy on giving a boost to people-to-people linkages with the region. It would be pertinent to point out, that Canada is home to not just a large Indian expat community, but that Indian nationals account for the largest group within the international community (this point has been flagged in Canada's Indo-Pacific strategy as well)
China factor
While Canada's Indo-Pacific strategy cannot be linked to any one factor, but there is no doubt, that one of the key factors for Canada to focus on the Indo-Pacific is to reduce economic dependence upon China, and also find common ground with other countries becoming increasingly vary of Chinese expansionism. The 26page document released by Canada dubbed China a 'disruptive power', while also arguing that China seeks to 'disregard' norms and values by which it has risen. Says the strategy:
"China is looking to shape the international order into a more permissive environment for interests and values that increasingly depart from ours."
In recent years, like many other western countries, Canada's ties with China have gone downhill. Tensions began to emerge after Canadian police detained Meng Wanzhou Chief Financial officer of Huawei in 2018, while China retaliated by arresting two Canadian nationals of spying (all three individuals were released last year). In 2020, Canada had also shelved its trade deal with China. Then Canadian Foreign Minister, Francois-Philippe Champagne while commenting on differences with China had said:
"I do not see the conditions being present now for these discussions to continue at this time. The China of 2020 is not the China of 2016".
Recently, Ottawa has also accused China of interfering in the domestic politics of Canada. Canada accuses China of providing financial support to 11 candidates in the North American nation's federal elections of 2019. Canadian Prime Minister, Justin Trudeau had raised this issue with Xi Jinping during his meeting with the latter on the sidelines of the G20 Summit at Bali last month. Chinese President Xi Jinping had expressed his displeasure with Trudeau of leaking details of the meeting to the media.
Canada's Indo Pacific strategy also seeks to prevent Chinese investments in areas linked to 'national security'. The 26 page document stated that Canada would come up with legislation which would enable it to act:
'decisively when investments from state-owned enterprises and other foreign entities threaten our national security including our critical mineral supply chains'
Canada had recently asked three Chinese companies to divest from the country's mining companies citing security reasons.
The Canadian Foreign Minister, Melanie Joly said that while the strategy sought to safeguard Canada's interest it was pragmatic. The strategy does refer to the need for cooperation with China on issues such as climate change, global health and nuclear proliferation. In conclusion, Canada's Indo Pacific strategy while focusing on economics, has a clear security component. Canada like the US, UK and Australia recognizes the need to reduce economic dependence upon China, and to keep a close watch on Beijing's interference in Canada's domestic affairs. The meeting between US President, Joe Biden and Chinese President Xi Jinping on the side-lines of the G20 Summit as well as Canada's Indo-Pacific strategy do reiterate, that in spite of all the differences with China, western countries will seek to avoid the emergence of a 'new cold war' with China and to engage on issues such as climate change.