Reactions to the Proposed Syrian Withdrawal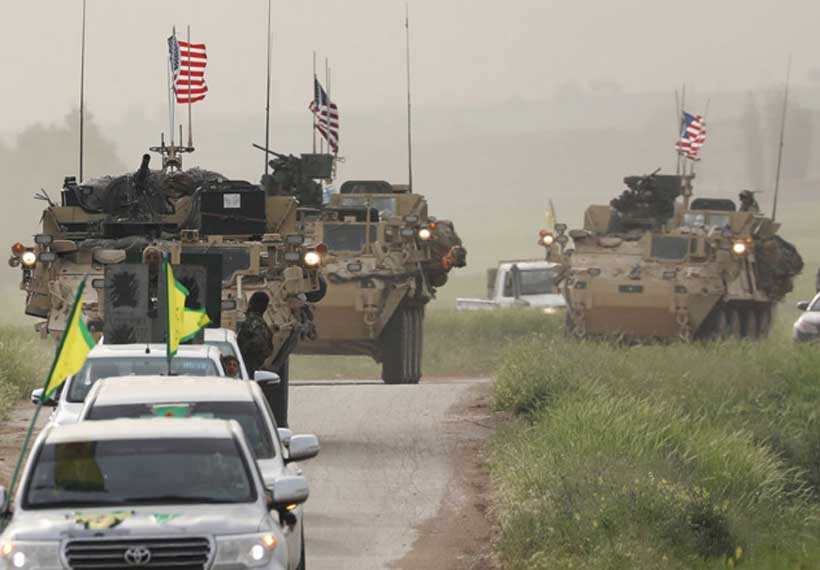 Trump dropped a bombshell with his surprise order for a withdrawal of US troops from Syria, the draw-down of troops in Afghanistan, and the resignation of his Secretary of Defense.
But surprisingly, Trump's view of the Syrian conflict closely resembles Obama's, i.e., that the US had no serious interest, either economic or strategic, in the conflict.
Recall that Obama was often criticized by our Middle East allies for refusing to commit ground troops to the battle, authorizing only limited numbers of technical advisors, along with air support.
Obama's stance was often attacked by his critics as 'arms-length combat.' But that could also be said for EU allies France and UK, that made the least minimal commitments, with France and the UK providing no more than 500 troops, total, and Germany refusing to take any part in the conflict.
Even at that, Obama's war focus wavered badly, from initially supporting the Saudi and UAE, while arming and training "moderate jihadists" as a proxy-warriors to overthrow Assad.
When many of these moderate rebels turned out to be not so moderate, with some breaking ranks to join ISIS, the US reversed focus to support the Kurdish militia, the most effective fighters against both the moderate jihadists and ISIS, fighting in support of the Assad regime.
Obama, like Trump, correctly saw that the main threat to stability in the middle east was the growth of the radical jihadist, ISIS, that occupied large areas in East Iraq and Syria, while, intent on building similar outposts in Africa.
US neo-cons and cold warriors were stunned at Trump's withdrawal announcement, as their dream for regime change in the Middle East utterly collapsed.
Their long-held view that regime change could turn back the clock to a time when the West colonized the regions and stripped their natural resource assets was totally discredited and belied by the experiences in Vietnam, Afghanistan, Iraq, Libya, and now Syria.
If we learned anything from Vietnam, and disastrous wars that followed, that it's long past time for conquering and exploiting poor countries. Even without modern weapons, devoid of air force or navy, their people will fight on against, against impossible odds, eventually wearing down the would-be conquerors by forcing them to spend fortunes in lives and treasure until they are finally forced to declare victory and slink home.
After seventeen years in Afghanistan, in a never-ending war, even our military has come to the conclusion that this war is unwinnable. Like Vietnam, the war always lacked the essential ingredients for victory in terms of an established, effective government that held the loyalty of its countrymen, and military force capable of protecting the country.
In their absence, the US has been forced into taking over the fighting on its own, as it did in Korea,  Vietnam, Afghanistan, and Iraq.  Without a negotiated settlement, the war will likely continue indefinitely. The same could be said of Iraq, Libya, and Syria.
In the movie,"W," about the younger Bush Administration and it's march to war in Iraq, there is a revealing scene in which the character portrayed as VP Cheney goes to a map of the middle east, aims his pointer at all the region's countries, saying, "If we took all the countries in the area and controlled their oil, who would f..k with us then?"
The character portrayed as Colin Powell responds, "Spoken like a true oil man."
Although the movie is only a dramatic portrayal, we would lay odds that conversations like the one portrayed in the movie frequently took place amongst the real-life players. Recall McCain during his Presidential campaign, outrageously singing "Bomb, bomb, bomb Iran." Or consider the long-time slogan of the neo-cons,
"Real men go to Tehran."
What that long line of interventionist wars clearly showed were that these countries were more than willing to defend themselves against the occupying forces. And these guerrilla wars by much weaker countries against far more powerful imperialists invaders could go on for many years, in a war of attrition, draining the resources of their western rulers until, eventually, until they were forced to retreat. Afghanistan is a prime example, with the US war ongoing for seventeen years.
Not surprisingly, Trump was attacked for failing to heed the warnings of his chief military advisor, Secretary of Defense, Mattis, who resigned, setting off a major controversy. And while the media continued to lambast the President and laud the General for his integrity.
Widely ignored by most of the media that Mattis was also formerly fired from his post as head of Centcom by the Obama Administration for allegedly attempting to provoke a conflict with Iran, aimed at undermining the Administration's efforts to negotiate the freeze on Iran's nuclear development.
Also ignored is the fact that Trump followed the advice of Gen. Curtis Michael "Mike" Scaparrotti, the highly respected head of the U.S. European Command, who publicly stated that the US had little interest at risk in Syria, and that our support for the Kurds threatened our relations with NATO member Turkey, an alliance considered far more politically important than with the Kurds.
The media also failed to notice that prior to the President's announced troop withdrawal from Syria, that Russia had successfully negotiated a 60 mile pull back of Iranian troop from Syria's southern border, aimed at easing tensions and lowering the threats towards Israel.
Also ignored by the western press was at the recent meeting in Abu Dhabi between US special envoy, Khalizad, and the Taliban, where, for the first time, a high level US representative declared that the US was ready to withdraw its military forces if there was a meaningful and verifiable peace settlement, with a guarantee that Afghanistan would no longer be a staging grounds for terrorists attacks on its neighbors or the west.
In attendance at the meeting were representatives of Saudi Arabia and the United Arab Emirate, in support of the US position, urging the reluctant Taliban towards direct negotiation with the current Afghan government.
Pakistan's leadership also gave added support to the meeting. Few middle eastern analysts believe that the Taliban would be willing to reject the US terms, that answers their own demands for a US withdrawal, particularly when backed by the Taliban's former benefactors.
Instead, the military establishment unloaded its biggest weapon to panic the public, as Senator Lindsey Graham reported to an unconvinced public 'that the announced troop withdrawal could lead to another 9/11.' Shades of Colin Powell's famous address to the UN where he attempted to justify the US attack on Iraq, with pictures of an atomic mushroom cloud emanating from Iraq's non-existent nuclear weapons.
Despite the news blitz by the military and its media friends of dire consequences for withdrawal, their remains few alternatives besides a permanent presence of US troops, as US public opposition continues to grow against the long and unending interventionists wars in the Middle East and Eurasia.
The military establishment's opposition to the withdrawal was largely expected and taken for granted, but more surprising was the concerted attack by many left-wing spokes people and their media associates. Senator Elizabeth Warren was the left's only representative to agree to the withdrawal, although she also condemned the President for not alerting our allies.  It left one wondering where the left's peace movement has gone or if it still exists.
Against this there is a catastrophic history that cannot be denied. While jobs and industries were disappearing from our borders, our leaders engaged in decades long wars in the Middle East and Eurasia, where the discredited neo-con strategy of regime change, based on faked intelligence and false flags, has left in its wake the wreckage of fallen states, the blow-back of global terrorism, and an enormous refuges crisis, to say nothing of the waste of lives and treasure.
A final question: Does our fury against Trump blind us to our own long-term interests?
Trump's coming trade war "deal" is a dud
In typically bullish style, Donald Trump has told the world he expects a resolution to his trade war with China within four weeks. The U.S. President claims the deal "has a very good chance of happening," and, when it does, it will be "the Grand Daddy of them all." But key concerns linger: China has made several concessions to the U.S. over the endless rounds of talks, but there is little sign of Beijing reining in its support for industries such as steel and aluminium – one of the key reasons for the stand-off in the first place. If the Chinese delegation refuses to give way, and to stop dumping cheap products on global markets, even Trump's staunchest supporters might wonder whether the whole dispute has been worth it.
While the trade war cost the U.S. economy an estimated $7.8 billion in lost GDP last year, the toll has been far greater on China, whose economic growth among other reasons was drastically hit by the steep American tariff walls. Growth has already slowed to its lowest level since 1990, and industrial production has hit a 10-year nadir. Despite Beijing's best efforts, latest employment figures show a spike in the number of people out of work, pressuring Xi's government to arrest the slide.
The IMF did at least provide some good news, revising up its 2019 growth forecast for the Chinese economy. However it also warned that, if the trade war escalates and both sides impose 25% tariffs on all each other's goods, China's losses will be bigger. U.S. GDP would fall by up to 0.6% in such a scenario, while China's could plunge by more than double that figure. Around 1% of the U.S. workforce in sectors such as agriculture and transportation could lose their jobs – a major blow to those rural communities Trump has pledged to revive. In China's manufacturing sectors, around 5% of people could find themselves suddenly out of work.
Signs of progress
This stark reality explains the raft of climbdowns brokered by Xi's negotiators, which have gone some way to repairing the damage in some of the worst-hit U.S. sectors. China has proposed buying an extra $30 billion worth of U.S. agricultural products a year, including soybeans, as a concession to U.S. farmers facing soaring stockpiles. On top of that, Beijing has cut tariffs on U.S. cars, news which will have been welcomed by the beleaguered American automobile industry.
But what about China's trade policies, which have long been central to the U.S. grievance, particularly unfair industrial subsidies? On that it's hard to see what China has really offered. Xi's team has made a general commitment to stop subsidizing domestic industries and drowning global markets, but it's been making these promises for the last 10 years without much action on it, so analysts would be forgiven for being cynical. Observers describe the latest pledges as light on detail, particularly as China offers little information about how it would go about implementing subsidy cuts.
All the indications suggest that China will continue pumping out aluminium and steel, two of America's – and the EU's – keenest focus areas. Even after Trump slapped huge tariffs on the two metals last year, Chinese manufacturers continued to ramp up production. For example, in the first two months of 2019 unwrought aluminium and aluminium product exports reached multi-year highs as producers responded to slack domestic demand by dumping their product overseas.
The effect this will have on the international market will continue to be serious, particularly in the aluminium sector already decimated by years of Chinese over-production. The resultant price slump has effectively wiped out entire industries in countries such as the U.K. and the Netherlands. Worse, the tide shows little sign of turning, with aluminium prices on the London Metal Exchange hovering near multi-year lows. With experts suggesting that around 40% of the world's smelters are now losing money, the ripple effect from China's subsidies extends far beyond the U.S deep into Europe's industrial heartland.
Long-term interest
Of course, this doesn't mean Trump will necessarily force China to stop dumping in the global, or even national, interest. Considering his desire for simple, easy-to-sell results, he will likely accept a deal if China simply agrees to buy more U.S. goods. In that case, he would likely skirt round the fundamental issues about market distortion – a serious risk that is becoming ever more acute as Trump's image as a cunning dealmaker is showing cracks in the wake of the failed nuclear summit with North Korea, increasing his desperation to prove himself.
As most recent reports suggest, Washington's will to hold out for the sake of a "great" trade deal is indeed weakening. Although the thorniest issue, insider sources say U.S. negotiators are backpedalling on the demand that China cut subsidies in a move to push a trade agreement in the next month. This is in line with former White House advisor Gary Cohn's claim that Trump is mostly interested in closing a deal to boost stock markets and give himself the ideal fillip for his re-election campaign.
Yet, for the long-term health of the global community, Trump must press China on this issue. A quick-fix deal will doubtless cheer the global economy subjected to serious collateral damage from the trans-Pacific spat. But it risks stoking further conflict in the future, and ultimately a renewal of the stand-off. China may have been hurting to secure an agreement, but now it may about to be handed one with terms more beneficial than Beijing had imagined from the outset.
Rather than giving in with the end in sight, Trump needs to go all out for total victory, one that justifies the turmoil his trade war has caused. If he doesn't, his deal may only be a ceasefire.
By 3-to-1, Americans Want Assange Prosecuted
A YouGov poll of 2,455 Americans taken on April 11th found that by a margin of 53% to 17%, or by slightly over 3 to 1, Americans want Julian Assange to be prosecuted.
The question was: "Wikileaks founder Julian Assange was arrested in London. Do you think he should or should not be extradited to the US?"
This was a remarkably bipartisan hostility toward Assange. As the YouGov news-report on that finding indicated:
"That majority increases among both Republicans (59% supporting extradition) and Democrats (62% supporting extradition), but decreases to a plurality (46%) among Independents. Independents were more likely to respond with uncertainty (32% saying they don't know) than Republicans and Democrats, and a little more than one in five Independents (22%) are opposed to extradition."
During 18-20 November 2018, YouGov had polled Americans on "Do you have a favorable or an unfavorable opinion" on Assange, and separately the same on Wikileaks. On each, Americans were predominantly unfavorable toward Assange by 38% to 20%, and toward Wikileaks by 44% to 29%. Another question in that poll was "Do you support or oppose the prosecution of Julian Assange, the founder of WikiLeaks?" "Support" was 29%. "Oppose" was 19%.
In March 2011, Reuters's Ipsos polling firm asked 18,829 people in 23 countries, "As you may know, the mission of the Wikileaks internet site is to publish copies of confidential government or corporate files and information to the public. Do you support or oppose this type of site that would post such materials?" Globally, there was 74% "Support" and 26% "Oppose." The lowest support was in U.S.: 29% support versus 61% opposition. (The second-lowest support of Wikileaks was in UK or "Great Britain," where the opposition to Wikileaks was 38% instead of America's 61%.) That poll also asked "Would you consider the publishers of the materials" from such a site to be "public service" or "mischief makers" or "criminals" or "heroes" or "other"; and the predominant one of those choices worldwide was "public service," which was selected by the same percentage of people as the total percentage who had chosen either "mischief makers" or else "criminals" (the second and third preferred options) and it was eight times as many as those who had chosen "heroes." (NOTE: These latter opinions pertained to the news-media that published information from Wikileaks — not to Wikileaks itself.) However, yet again, in this poll, Americans stood alone for the extremity of their hostility towards a national press that's not being controlled by the Government (which is what Wikileaks is all about): only one third as large a percentage of Americans as the global percentage chose "public service," whereas the percentage of Americans who chose "criminals" (42%) was more than three times the global percentage (13%) who chose that. The second-highest to that degree of extreme hostility against a press that's authentically independent of the government was likewise "Great Britain": 20%. Canada was the third-highest, at 19%. In other words: the #1 most-hostile nation against democracy was 42% in America, and the next-most-hostile to democracy was 20% in "Great Britain" — less than half as high a percentage of hostility against democracy, as compared to the U.S. percentage; and Canada was only slightly less hostile toward democracy than was the UK.
That same poll also asked: "Wikileaks recently posted thousands of confidential US government diplomatic notes. … Julian Assange, who is responsible for leaking the documents should be viewed as a" — and 49% of Americans said "criminal," whereas only 17% globally did. (Great Britain was, yet again, on this, the second-highest hostility against democracy, at 26%.) Globally, 29% of all respondents said that Assange had provided a "public service," but only 11% of Americans said that.
By overwhelming margins, Americans thought that their Government should have an unqualified right to hide from the public, basically, anything it wants to hide. The U.S. Government actually does possess unlimited authority to categorize whatever it wants, as being "Classified." Overwhelming majorities of the U.S. public approve of this root-principle of dictatorship. Assange is being condemned, fundamentally, because he violates that intrinsic principle (government-secrecy, regardless of how arbitrarily it is imposed), of dictatorship, anywhere.
Clearly, then, the American people were far more favorable toward dictatorship than the public was, in any of the 22 other nations that were sampled.
(NOTE: For the purposes of this article, effective control by the government over the nation's press is defined as dictatorship, and effective freedom of the press to report any truth — regardless of what the government wants — is defined as democracy. So: the U.S. belongs in the category of a 100% dictatorship, since the Government can classify anything it wishes to.)
An interesting sidelight to these findings, of an extremely pro-dictatorship U.S. public — and with Great Britain being right behind (though not nearly as pro-dictatorship as Americans are) — is that, in 2002 and 2003, the national press in each of those two countries was so strongly controlled by the government as to deceive (via their stenographic 'news'-media) their respective public into invading Iraq, on the basis of that stenographic reporting by the nation's press of the government's lies against Iraq. This is the result of both countries being dictatorships. This is true irrespective of whether Iraq also was.
Further confirmations of the extreme degree of dictatorship in the United States are that it's the nation which has the world's highest percentage of its people in prison, and that in the periodic polling by the Gallup organization, the one "institution" that always scores at the very top as being the most highly respected of all institutions in America is "the military." That is the finding which would reasonably be expected in a total dictatorship.
So: if Assange gets extradited by Great Britain to the United States for prosecution, he will face here not only the most hostile government but the most hostile public. Presumably, this would please the leaderships (even if not the publics) in all U.S.-allied nations, including especially NATO — America's anti-Russia military alliance, which after 1991 absorbed the entirety of the no-longer-existing Soviet Union's Warsaw Pact mirror organization which had countered America's NATO alliance. NATO itself is strongly supported not only by the governments but by the people within the respective member-nations, and polling in June 2014 found that "A little more than half of EU respondents (56%) said it was desirable that the United States exert strong leadership in world affairs." So, the publics in those nations (at least back in 2014) wanted their own government to continue to be led by the U.S. Government. That was more than a decade after the U.S. Government (and Great Britain) had invaded and destroyed Iraq, on the basis of lies. So: perhaps the public, not only in America but in other countries, learns nothing from experience, and they are perennially suckers of their respective national leaderships. But, in any case, the American public are international standouts for supporting dictatorship — not merely accepting it, but actually endorsing it. Obviously, if Assange is not freed from Great Britain and especially from the U.S., his prospects are exceptionally dismal. His only actual 'crime' is having stood up internationally for democracy. If that's not a "hero," who is? But perhaps, now, democracy has become a hopeless cause. Perhaps, in the final analysis, Assange's fate will turn out to have been the fate of democracy, too — the canary in this coal mine.
Americans fear punishment for Afghan war crimes
Lo and behold! Looks like the "great and terrible" United States can be scared to the point of hysteria. Another myth about American omnipotence is being debunked before our very eyes now that the big shots in Washington are dreading the prospect of being held accountable for the crimes their soldiers have committed in Afghanistan.
Well, it's been a long time since the Yankees have last been scared of anyone anywhere, save, perhaps, for Soviet missiles. Still, the challenge they now have thrown out to the International Criminal Court (ICC) has laid bare their cowardice for the whole world to see. And all this under the guise of threats and warlike rhetoric, of course.
Washington saw red when, in November 2016, Foreign Policy journal wrote that "the prosecutor's office of the International Criminal Court (ICC) is ready to initiate a full investigation of a range of possible war crimes and crimes against humanity in Afghanistan, including some by US personnel." Washington was incensed even more after the very same publication wrote that "the chief prosecutor, Fatou Bensouda, will seek to initiate an investigation," and that "the prosecutor's office repeatedly called attention to alleged abuses of detainees by US personnel between 2003 and 2005 that it believes have not been adequately addressed by the United States."
The ICC report noted that "crimes were allegedly committed with particular cruelty and in a manner that debased the basic human dignity of the victims."
Shortly afterwards, US officials visited The Hague where the ICC was meeting to discuss the potential investigation and to express concerns about its scope in what was seen as their first attempt to intimidate the court.
A report by the UN mission in Afghanistan added fuel to the flames of the ICC probe. According to the report, in 2016 alone, 11,418 civilians died there at the hands of all the warring sides, including the Taliban (banned in Russia). Still, the main culprits are US invaders and their NATO allies.
Despite the mounting pressure, the ICC prosecutor Fatou Bensouda of Gambia persisted with the investigation. Washington then ramped up the pressure by simply revoking her entry visa to the United States. Simple as that.
Bensouda's office said she had an "independent and impartial mandate" under the Rome statute governing the ICC, and described Washington's move as an attempted attack on the ICC by the US Administration bringing a sigh of relief from "law-abiding" Americans. And no one in the "free and independent" US media raised his voice against this arbitrary practice.
Such voices of disagreement came from the European Union and the United Nations though, with the UN Secretary General's official spokesperson Stephane Dujarric expressing the hope that "the United States government will continue to comply with its obligations… and that the prosecutor, when she needs to come to the United Nations, will be afforded a visa for work done at the United Nations," where Fatou Bensouda was to present a report to the Security Council on the progress of ongoing investigations into the events in Libya.
EU foreign policy chief Federica Mogherini likewise backed the ICC: "We will continue to fully and strongly support the ICC and its work," she said.
It has also been said that Washington's disregard for the ICC, which comprises 123 countries (excluding Russia and the US), is fraught with an international scandal. However, President Trump will hardly bother to worry about trifles like this. Responding to the start of the investigation into the crimes committed by the Americans in Afghanistan, the US State Department vowed to revoke or deny visas to ICC staff "seeking to investigate alleged war crimes and other abuses committed by US forces in Afghanistan or elsewhere."
Secretary of State Mike Pompeo threatened "to take additional steps, including economic sanctions, if the ICC does not change its course."
Washington reserves the same treatment also for the ICC staff investigating alleged crimes by the Israelis in the West Bank and Gaza Strip, and President Trump has confirmed this. Paraphrasing George Orwell, all people are equal before the ICC, but some people are more equal than others.
However, here the Americans' strength turns into weakness and uncertainty. President Trump's national security adviser John Bolton threatened prosecutions and financial sanctions against ICC staff, as well as against countries and companies assisting in ICC investigations of US nationals. If this is not a sign of panic, then what is?
However, the mere fact that an official investigation has been launched against the United States is unprecedented in modern-day politics. When even a Gambian national can see that a global superpower is losing strength and is vulnerable, one can only imagine what will happen if everyone else in the world realizes this too.
Fully aware of this prospect, the Americans have applied all levers of political and economic pressure available to them and showed everyone that they are still a power to be reckoned with. On April 12, the ICC unanimously (sic!) rejected prosecutor Fatou Bensouda's request to investigate criminal offenses allegedly committed by NATO coalition forces against civilians in Afghanistan on the very dubious grounds that such an investigation at the present time "would not serve the interests of justice."
The ruling states that the prosecutor's request "establishes a reasonable basis to consider that crimes within the ICC jurisdiction have been committed in Afghanistan and that potential cases would be admissible before the Court." However, the Chamber noted "the time elapsed since the opening of the preliminary examination in 2006 and the political changing scene in Afghanistan since then, the lack of cooperation that the Prosecutor has received and which is likely to go scarcer should an investigation be authorized hampering the chances of successful investigation and prosecution, as well as the need for the Court to use its resources prioritizing activities that would have better chances to succeed."
US Secretary of State Mike Pompeo is happy: "I am very pleased that the ICC made this decision today. It is the right one. When Americans misbehave, whether it's our military, intelligence officers, we have a robust democratic process that holds them accountable. You've seen us do that for those that misbehaved. There is in no way or any need for the ICC to intervene," he said.
This is a striking example of national legislation taking precedence over international law – especially in critical situations.
President Trump was equally pleased hailing the ICC's refusal to consider the actions of the US military in Afghanistan as "a major international victory not only for these patriots, but for the rule of law (?)". He reiterated US reservations about the Hague-based ICC, saying that its "broad, unaccountable prosecutorial powers" present a threat to US sovereignty. Which means that Yankees are immune from prosecution – something we should all keep very much in mind.
The whole situation turned out to be pretty ambiguous: the Americans got scared, but the ICC ended up bending under Washington's pressure. It still looks like the days of America's complete domination are over, just as the current scandal proved beyond any reasonable doubt.
First published in our partner International Affairs