Reactions to the Proposed Syrian Withdrawal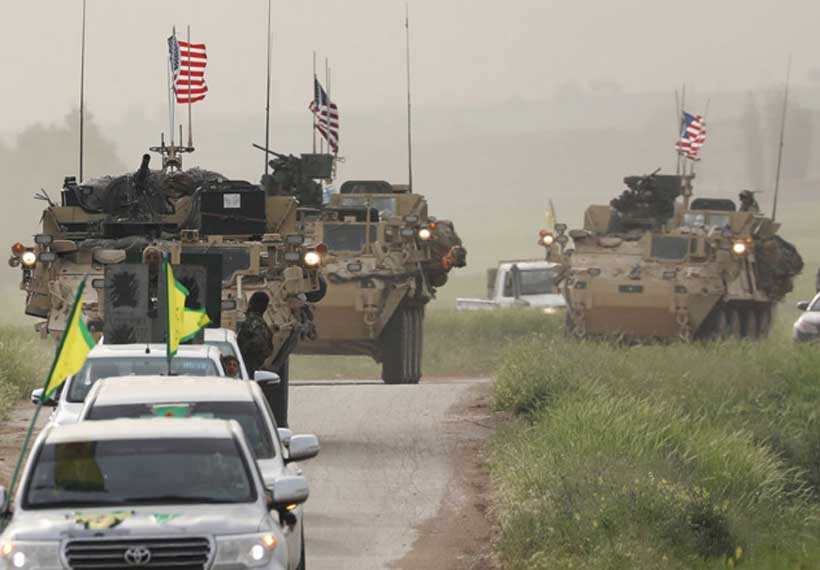 Trump dropped a bombshell with his surprise order for a withdrawal of US troops from Syria, the draw-down of troops in Afghanistan, and the resignation of his Secretary of Defense.
But surprisingly, Trump's view of the Syrian conflict closely resembles Obama's, i.e., that the US had no serious interest, either economic or strategic, in the conflict.
Recall that Obama was often criticized by our Middle East allies for refusing to commit ground troops to the battle, authorizing only limited numbers of technical advisors, along with air support.
Obama's stance was often attacked by his critics as 'arms-length combat.' But that could also be said for EU allies France and UK, that made the least minimal commitments, with France and the UK providing no more than 500 troops, total, and Germany refusing to take any part in the conflict.
Even at that, Obama's war focus wavered badly, from initially supporting the Saudi and UAE, while arming and training "moderate jihadists" as a proxy-warriors to overthrow Assad.
When many of these moderate rebels turned out to be not so moderate, with some breaking ranks to join ISIS, the US reversed focus to support the Kurdish militia, the most effective fighters against both the moderate jihadists and ISIS, fighting in support of the Assad regime.
Obama, like Trump, correctly saw that the main threat to stability in the middle east was the growth of the radical jihadist, ISIS, that occupied large areas in East Iraq and Syria, while, intent on building similar outposts in Africa.
US neo-cons and cold warriors were stunned at Trump's withdrawal announcement, as their dream for regime change in the Middle East utterly collapsed.
Their long-held view that regime change could turn back the clock to a time when the West colonized the regions and stripped their natural resource assets was totally discredited and belied by the experiences in Vietnam, Afghanistan, Iraq, Libya, and now Syria.
If we learned anything from Vietnam, and disastrous wars that followed, that it's long past time for conquering and exploiting poor countries. Even without modern weapons, devoid of air force or navy, their people will fight on against, against impossible odds, eventually wearing down the would-be conquerors by forcing them to spend fortunes in lives and treasure until they are finally forced to declare victory and slink home.
After seventeen years in Afghanistan, in a never-ending war, even our military has come to the conclusion that this war is unwinnable. Like Vietnam, the war always lacked the essential ingredients for victory in terms of an established, effective government that held the loyalty of its countrymen, and military force capable of protecting the country.
In their absence, the US has been forced into taking over the fighting on its own, as it did in Korea,  Vietnam, Afghanistan, and Iraq.  Without a negotiated settlement, the war will likely continue indefinitely. The same could be said of Iraq, Libya, and Syria.
In the movie,"W," about the younger Bush Administration and it's march to war in Iraq, there is a revealing scene in which the character portrayed as VP Cheney goes to a map of the middle east, aims his pointer at all the region's countries, saying, "If we took all the countries in the area and controlled their oil, who would f..k with us then?"
The character portrayed as Colin Powell responds, "Spoken like a true oil man."
Although the movie is only a dramatic portrayal, we would lay odds that conversations like the one portrayed in the movie frequently took place amongst the real-life players. Recall McCain during his Presidential campaign, outrageously singing "Bomb, bomb, bomb Iran." Or consider the long-time slogan of the neo-cons,
"Real men go to Tehran."
What that long line of interventionist wars clearly showed were that these countries were more than willing to defend themselves against the occupying forces. And these guerrilla wars by much weaker countries against far more powerful imperialists invaders could go on for many years, in a war of attrition, draining the resources of their western rulers until, eventually, until they were forced to retreat. Afghanistan is a prime example, with the US war ongoing for seventeen years.
Not surprisingly, Trump was attacked for failing to heed the warnings of his chief military advisor, Secretary of Defense, Mattis, who resigned, setting off a major controversy. And while the media continued to lambast the President and laud the General for his integrity.
Widely ignored by most of the media that Mattis was also formerly fired from his post as head of Centcom by the Obama Administration for allegedly attempting to provoke a conflict with Iran, aimed at undermining the Administration's efforts to negotiate the freeze on Iran's nuclear development.
Also ignored is the fact that Trump followed the advice of Gen. Curtis Michael "Mike" Scaparrotti, the highly respected head of the U.S. European Command, who publicly stated that the US had little interest at risk in Syria, and that our support for the Kurds threatened our relations with NATO member Turkey, an alliance considered far more politically important than with the Kurds.
The media also failed to notice that prior to the President's announced troop withdrawal from Syria, that Russia had successfully negotiated a 60 mile pull back of Iranian troop from Syria's southern border, aimed at easing tensions and lowering the threats towards Israel.
Also ignored by the western press was at the recent meeting in Abu Dhabi between US special envoy, Khalizad, and the Taliban, where, for the first time, a high level US representative declared that the US was ready to withdraw its military forces if there was a meaningful and verifiable peace settlement, with a guarantee that Afghanistan would no longer be a staging grounds for terrorists attacks on its neighbors or the west.
In attendance at the meeting were representatives of Saudi Arabia and the United Arab Emirate, in support of the US position, urging the reluctant Taliban towards direct negotiation with the current Afghan government.
Pakistan's leadership also gave added support to the meeting. Few middle eastern analysts believe that the Taliban would be willing to reject the US terms, that answers their own demands for a US withdrawal, particularly when backed by the Taliban's former benefactors.
Instead, the military establishment unloaded its biggest weapon to panic the public, as Senator Lindsey Graham reported to an unconvinced public 'that the announced troop withdrawal could lead to another 9/11.' Shades of Colin Powell's famous address to the UN where he attempted to justify the US attack on Iraq, with pictures of an atomic mushroom cloud emanating from Iraq's non-existent nuclear weapons.
Despite the news blitz by the military and its media friends of dire consequences for withdrawal, their remains few alternatives besides a permanent presence of US troops, as US public opposition continues to grow against the long and unending interventionists wars in the Middle East and Eurasia.
The military establishment's opposition to the withdrawal was largely expected and taken for granted, but more surprising was the concerted attack by many left-wing spokes people and their media associates. Senator Elizabeth Warren was the left's only representative to agree to the withdrawal, although she also condemned the President for not alerting our allies.  It left one wondering where the left's peace movement has gone or if it still exists.
Against this there is a catastrophic history that cannot be denied. While jobs and industries were disappearing from our borders, our leaders engaged in decades long wars in the Middle East and Eurasia, where the discredited neo-con strategy of regime change, based on faked intelligence and false flags, has left in its wake the wreckage of fallen states, the blow-back of global terrorism, and an enormous refuges crisis, to say nothing of the waste of lives and treasure.
A final question: Does our fury against Trump blind us to our own long-term interests?
Gallup: Americans Tend to Trust Only News That Confirms Their Beliefs
On September 11th, Gallup headlined "Bias in Others' News a Greater Concern Than Bias in Own News", and reported (based upon polling a randomized sample of 20,046 American adults) that:
"69% of Americans say they are more concerned about bias in the news other people consume than its presence in their own news (29%)." In other words: 69/29, or 2.38 times, as many Americans are closed-minded (prejudiced) regarding information-sources which don't fit their ideology, than are not. Overwhelmingly in America, only Democratic Party information-sources are trusted by Democrats, and only Republican information-sources are trusted by Republicans. Each side distrusts the other's information-sources. Gallup's news-report aptly noted the important fact that "This plays into the political polarization in the U.S. national discourse." The more prejudiced a population are, the more polarized it will be. Of course, one would expect this to be the case, but Gallup has now found striking new empirical evidence for it — that the public's closed-mindedness is greatly increasing America's political polarization. Each side is craving propaganda instead of truth, but each side's voters want only the type of propaganda that is funded by the billionaires who also fund that side's politicians and control that side's 'news' media. Consequently, American politics is controlled by the conflict between liberal billionaires versus conservative billionaires — totally controlled by billionaires (instead of by the public). There is the liberal herd, and the conservative herd, but they're both herds — not by the public in an actual democracy. And each of these two herds is controlled by its shepherd, who are its billionaires. (Here is how that's done.) Billionaires control each Party and thereby control the Government. This is why the Government ignores the preferences of America's public. As will be shown here, the September 11th Gallup findings help to explain how and why that results.
Neither Democrats nor Republicans can become exposed to the other side's evidence and arguments unless they see those — the other side's evidence and arguments, both for its own case and against the opposite side's case (i.e., against the case that oneself believes). Not to see the opposite side's viewpoint is to be blind to it, and thus to become locked into whatever oneself believes. This 69/29 is like a jury's rendering its verdict and nearly three quarters of the jurors having not listened to — and thus not considered — the opposite side's presentations. That's a frightening situation to exist in any court of law, and it is an equally frightening situation to exist in any nation's electorate.
As a consequence of Americans' strong tendency to be closed-minded, America's politics are, to a very large extent, driven more by prejudices than by the realities that the public are actually facing. Individuals are seeking for sources that will likeliest confirm what they already believe, and are seeking to avoid sources that are the likeliest to disconfirm their beliefs. This is consequently a population that's highly vulnerable to being manipulated, by playing up to, and amplifying, the given Party's propaganda, to which the given individual already subscribes. Republican Party billionaires (by their use of their conservative newsmedia and think tanks, etc., which they control) can easily manipulate Republican Party voters, and Democratic Party billionaires can, likewise, easily manipulate Democratic Party voters, by their liberal media, think tanks, etc. That's billionaires, on each of the two sides, guiding each of the two Parties' voters; and, therefore, the nation is an aristocracy — a country which is controlled by its wealthiest few — instead of an authentic democracy (which is controlled not by the numbers of dollars, but actually by the numbers of residents, each one of whom is independently and open-mindedly seeking for credibly documented facts). An aristocracy rules any such land. The public are not the rulers in such a nation. It's not a democracy; it is a collective dictatorship, by its billionaires (its aristocracy). Both of the two Parties' voters vote in accord with their billionaires' agenda, but especially in accord with whatever is on the agenda that's shared by both liberal and conservative billionaires — billionaires fund both of the national Parties: Democrats and Republicans, and thereby control both Parties. Billionaires, in each Party, have their very golden, very heavy, thumbs, pressing down hard upon the scale of any such 'democracy', such that regardless of which group of billionaires ends up winning any ultimate election, the public inevitably will lose, because it's really just a contest between billionaires, who are stage-managing the nation's entire political proceedings. This is like two boxers fighting in a ring, in which the selection-process which placed them there was corrupt; and, so, even if the ultimate winner is not equally corruptly pre-determined, the final result has nonetheless already been rigged (during the primaries). When the contenders have been selected by a corrupt process, the ultimate outcome cannot be a democracy.
This happens not only regarding elections, but regarding particular issues. For example, in 2002 and 2003, "regime-change in Iraq," and "Saddam's WMD," were just as much agendas of liberal billionaires' media and think tanks as they were of conservative billionaires' media and think tanks (and were thoroughly based on lies); so, a closed-minded public were actually trapped, into the lies that were agreed-upon by both sides of the domestic American political spectrum — the sides that are funded and controlled by the liberal billionaires, and by the conservative billionaires. The nearly $2 trillion cost of the invasion and military occupation of that country, and the consequent destruction of that country, were done for America's billionaires, and produced nothing for the American people except that enormous public debt and those injuries and deaths to America's soldiers and to Iraqis. And that's typical, nowadays, in this (just as in any) aristocracy: the aristocracy are served; the nation's public serve to them. (In the U.S., this has caused "U.S. Satisfaction at 13%, Lowest in Nine Years", as Gallup headlined on 4 August 2020; and it has caused Americas' satisfaction with their Government to have ranged from its all-time low of only 7% in 2008, to its all-time high of only 45% at the very start of 2020 — well below 50%, for as long as Gallup has surveyed this.)
What all of the billionaires want is what the American public get as their Government. It's bipartisanship amongst its billionaires. That's what produces this Government's policies. It's what determines the Government that Americans get. However, what is basic in making it a dictatorship of the aristocracy-type (such as this America is) is that the population is very prejudiced, not open-minded — not each individual constantly seeking solid evidence to change one's mind about how society works (what the reality in the nation actually is), so as for one's view to become increasingly accurate over time. Instead, one's myths are constantly being fed. Such a public, as this, are not individuals, in a democracy, but more like mobs, very manipulable.
Often, America's bipartisan views are based upon lies that virtually all billionaires want the public to believe. In such cases — and these instances are frequent — the truth is being simply ignored, or else outright denied, by both sides (and by the media, for both sides). Individuals' prejudices are thus being increased, instead of reduced, by what the public see and hear in "the news." Everyone has prejudices, and truth can predominate only if people are constantly skeptical of the sources that they are relying upon — constantly trying to root out and replace whatever false beliefs they have. This is the essence of scientific method. Democracy depends upon it. Aristocracy requires the opposite. America has the opposite.
Change away from this present situation, to a democracy, would be difficult. On both of America's political sides, there needs to be far less trust of the Establishment (including its politicians, its media, its think tanks, etc.), in order for any real democracy to become able to exist. It's not even able to exist now. And, therefore, it does not exist.
But what is even more depressing is that America's educational system, most especially its colleges and universities, are encouraging, instead of discouraging, this situation, this closed-mindedness. The more educated an American is, the more closed-minded that person becomes — as is further shown in this same September 11th Gallup news-report:
"Whereas 52% of Americans with a high school education or less are more concerned about bias in others' news than in their own [and 45% of that minimally educated group think that the news which they are reading might be biased], the figure is 64% among those with some college education and is even higher among college graduates (73%) and those with postgraduate education (77%) [and only 22% of that maximally educated group think that the news which they are reading might be biased]." The most-educated Americans are the most-manipulable (the most closed-minded) Americans.
No finding in this Gallup report was as extreme as the finding that the more highly educated an American is, the less open that person is likely to be to changing his or her mind (outlook) about the situation. In other words: the more educated an American is, the more closed-minded that person tends to become. Higher education in America increases, instead of decreases, an individual's closed-mindedness. However, other contrasts which were almost as extreme are:
"Those who identify as liberal (80%) are more concerned than conservatives (68%) and moderates (65%) with other people's media bias." In other words: liberals are 80/65 or 1.23 times as closed-minded as are moderates, and are 80/68 or 1.18 times as closed-minded as conservatives are.
"While 58% of Black adults are more concerned about bias in others' news than in their own, fully 73% of Asian Americans and 72% of White adults say the same." Thus, African-Americans are 58/72.5 or 80% as closed-minded as are Euro-Americans and Asian-Americans.
This is the worst combination possible: it's a closed-minded population, which is especially closed-minded amongst its most educated segment. The leading segment is also the most closed-minded segment. These are crucial agents of the billionaires, and they crucially inculcate into the next generation of Americans the aristocracy's values.
This means that the leaders keep themselves, conceptually, inside a cocoon. They have minimal contact with the most vulnerable members of the society, which is the less-educated members. That enhances inequality of opportunity, throughout the society. Since the most-highly-educated Americans are the group that are the most-closed to opinions which are contrary to their own, it's easy for the most-highly-educated Americans to view individuals who disagree with those persons' views as being simply a "basket of deplorables." Their disagreement then becomes their contempt. 'Facts' about politics are — for those persons, highly educated persons — more derived from their values and priorities, than their values and priorities are derived from the political facts. Scientific epistemology is being turned upside-down, regarding political issues, in such a country. Overwhelmingly, some sort of faith, instead of any sort of science, determines what individuals in such a country believe about politics. In every aristocracy, this is the way that both conservative and liberal persons view any persons in the general public who oppose themselves: they're viewed as being a "basket of deplorables." It's the very essence of elitism — on both sides. (For prominent examples of this: both Hillary Clinton and Donald Trump had contempt for each-others' voters — blotted them out.)
The leadership's minimal contact with the public makes exceedingly unlikely the leadership's compassion, concern about the sufferings that they, themselves, are causing down below. Actually, though every aristocracy claims to want to improve conditions for their public, the reality is that whenever doing that would entail their own losing power, that claim becomes exposed to be sheer hypocrisy — a lie; often a self-deception, and not merely a deception against the public. Deceiving themselves about their own decency is easy, because they have minimal contact with the most vulnerable members of the society, the very people whom they claim to care the most about (and to be working in politics to help). Fakery is built into each and every aristocracy. Americans' strong tendency to be closed-minded causes the aristocratic con to be widely accepted as if it were instead truth. (Again: the "WMD in Iraq" con was a good example of this — the aristocracy's media just blocked-out the reality.) Scientific studies have even demonstrated that the wealthier a person is, the less compassion the individual tends to have for people who are suffering.
Furthermore, since the less-educated persons aspire to be more-educated, they are — even without knowing it — aspiring to become less open to contrary views, instead of to become more open to such views. One bad consequence of this is: it strangulates imaginativeness, openness, and creativity, in favor of being rote, rigid, and bureaucratic. Another bad consequence of it is that the authority-figures, in such a society, are, in some important ways, actually inferior to the rest of the population. Moreover, America's colleges and universities are not increasing their students' open-mindedness (as they should) but the exact opposite — they are reducing their students' open-mindedness. Even if professors are teaching some truths, the professors are training their students to be authoritarian, instead of to be open to a more truthful, comprehensive, and deeper understanding, which encompasses those truths, but also many more — which the majority of professors either ignore or else deny, because such deeper understanding violates the existing Scripture, or standard viewpoint (shaped by both sides' billionaires). At least in the United States, this is now the normal situation. That Gallup poll showed it not merely weakly, nor even only moderately, but extremely.
This is a perverse situation, which bodes ill for the future of the entire nation. Any country which is like this is not only an aristocracy instead of a democracy, but it is greatly disadvantaged, going forward. It will be disadvantaged both in the arts and in the sciences. Its future will be stultifying, instead of dynamic. Aristocracies tend to be this way. Also, because it will remain highly polarized, its internal ideological frictions will waste a large proportion of the nation's efforts. As a nation, its forward-motion, its progress, will thus largely be crippled, by its internal discord and distrust, between the two warring factions of its aristocracy — and friction between the respective followers on each side.
This describes a declining culture — a nation that is in decline.
That's what this poll-report, from Gallup, indicates, as clearly as any poll-findings can.
It indicates a nation in decline.
During the Presidential primaries in the Democratic Party, a major point of difference between the two major candidates, Joe Biden versus Bernie Sanders, was whether billionaires are bad for the country: Biden said no; Sanders said yes. (This was a major reason why the billionaires made sure that Sanders would lose.) In any country where wealth-inequality is so extreme, there can be no authentic democracy. America's extreme inequality of wealth makes democracy impossible in this country. America's other problems follow from that. In reality, it's a one-party state, and that party is controlled not actually by the counts of voters, but by the counts of dollars. It is an aristocracy; and its decline — to what has been documented here — follows from that fact. Whatever democracy America might once have had is gone now. It has become replaced by a land of mass-deceptions, which are bought and sold.
Author's note: first posted at Strategic Culture
What is the pocket pinch to stay at the White House?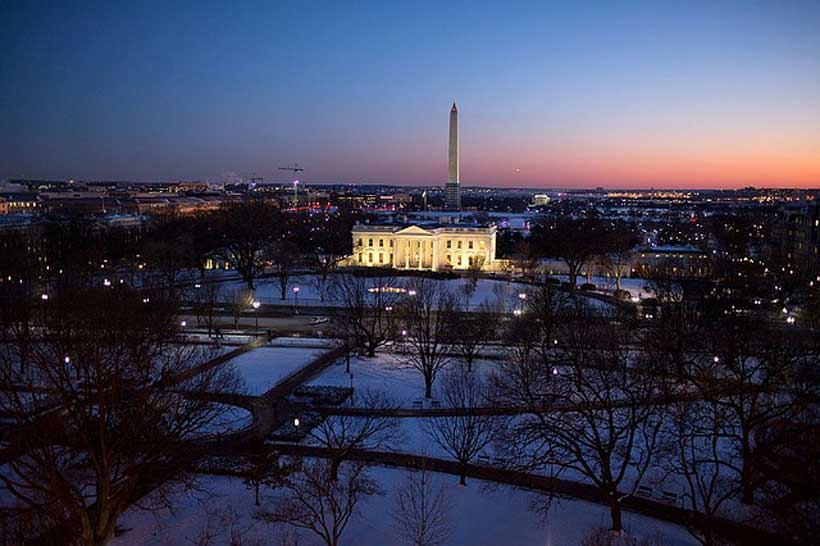 If you're thinking about running to be leader, get ready to pony up more than half a billion dollars, judging from the last two campaign cycles and current fundraising trends.
Presidential elections are an expensive venture. At first glance, it may not appear that standing on a stage telling people why they should vote for you would be costly. However, the costs associated with getting a candidate's name out there nationwide for all to become familiar with can be quite expensive.
It's very difficult to track campaign expenditures across time. Changes in the numbers might be due to different campaign finance disclosure requirements. For example, thanks to the Citizens United decision in 2010, politicians can rely on outside groups called Super PACs to run advertisements, even if they technically aren't supposed to "coordinate" with each other. Campaign operations have also changed significantly over the last few decades, evolving from a focus exclusively on TV and radio to robust online advertisements. Even when adjusted for inflation the amount of money it takes to become President has increased more than 250-fold from Abraham Lincoln to Donald Trump. Super PACs have no limit on contributions. Corporations, labour unions, and other organizations may contribute as much as they want.
The catch is that a Super PAC must be independent and cannot contribute directly to a candidate and must disclose their donors (although by funnelling through a non-profit organization, disclosure rules can often be avoided or obfuscated). Super PACs can run ads supporting preferred candidates or bashing their opponents — they are just not able to coordinate with the candidate's campaign or have a direct connection.
The amount of funds raised from corporations and other groups outside traditional campaign committees increased with the Supreme Court's 2010 decision in Citizens United v. Federal Election Commission which, along with other legal developments, loosened laws around election fundraising and spending. In addition, it seems campaigns are feeling more pressure, with each subsequent funding cycle, to raise more and outside groups are getting better at raising money.
These loopholes allow candidates to raise money through Super PACs they support and remain separate enough to stay within the law. Jeb Bush delayed his campaign specifically to raise as much money as possible directly through Super PACs. You are not violating any laws if you have not declared as a Presidential candidate yet.
To win the 2004 election, George W. Bush spent $345 million, which was the most expensive campaign in history at the time. The record didn't last long: In 2008, according to the Centre for Responsive Politics, the total amount of money spent by and for Barack Obama came in at $730 million, far surpassing Republican nominee John McCain, who spent a mere $333 million—and more than double Bush's outlay.
Usually, the candidate who spends the most money wins. However, that did not prove true during the 2016 elections, when the runner-up, Democratic candidate Hilary Clinton, spent $768 million, nearly twice as much as the eventual winner, Republican candidate Donald Trump, who spent $450 million. Many also noted that the figure could have been even higher had Trump not used free media coverage.
But fundraising in the 2020 presidential race is outpacing that of the last two campaigns. Bernie Sanders with about $74 million, Massachusetts Sen. Elizabeth Warren with about $60 million and Pete Buttigieg, the mayor of South Bend, Indiana, with $51 million, based on Federal Election Commission data posted on Oct. 16. Despite polls showing former Vice President Joe Biden as the front-runner, his fundraising lagged at about $37 million.
Since Trump is planning to run for re-election in 2020, he chose not to terminate his campaign committee. He has targeted $1 billion as the total he would like to raise for his campaign.  The Trump campaign said it raised $30 million in the first quarter of 2019, bringing the campaign's cash on hand to $40.8 million.
It's worth wondering if these numbers are anything to worry about. Is a billion dollars that much money when it comes to deciding who should be President? To keep things in perspective, Americans spent over $1.8B on peanut butter in 2017 alone. Picking a President seems much more serious and rather inexpensive by comparison, even if Trump decides to advertise during the Super bowl.
To address the original question: you can spend as much as you want in running for President, but if you want to win, the ante is somewhere around $500 million, and it may actually top $1 billion per major party candidate this year. Yes, it seems outrageous, but keep things in economic perspective. We spent almost $600 million on snacks during the last Super Bowl. Surely, a Presidential election is more important than halftime guacamole.
So, if you're planning to make a run for the White House, you'll want to start saving your money now!
Note: All information collected from the data in Investopedia website
Presidential Evil And American Good: Can They Coexist?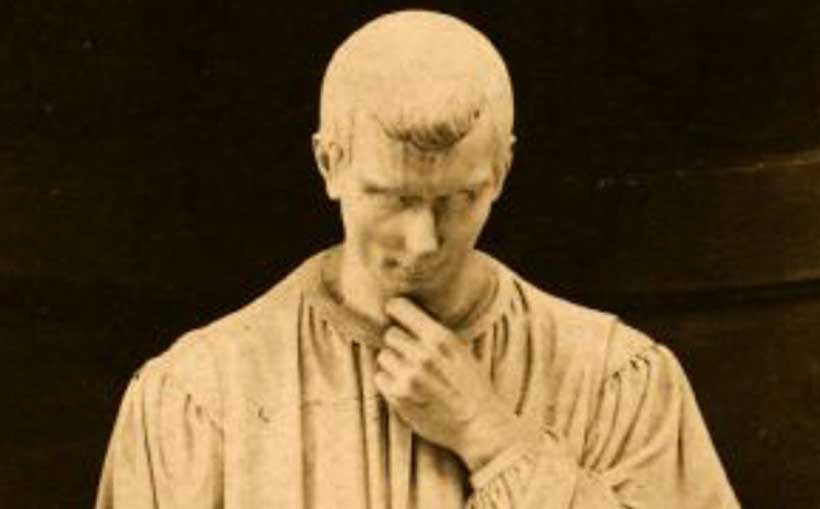 If men or nations do evil in a good cause; if they cover themselves with guilt in order to fulfill some high responsibility; or if they sacrifice some high value for the sake of a higher or equal one they make a tragic choice.-Reinhold Niebuhr, The Irony of American History
When Protestant theologian Reinhold Niebuhr posited the tragic choice of evil for the sake of good – a choice inherent in both the "human condition" and the anarchic state of nations – he was not focused on differences within a specific national government. Today, however, in the dissembling United States, a similarly tragic choice confronts America's citizens in particular. Here the apparent choice is bold and straightforward:
Shall Americans support an evil president in the greater interest of some wider political good?
Though plausible in principle, no such dilemma actually exists. In current US political circumstances, there is no supportable argument that Donald Trump's disjointed and seat-of-the-pants policies, either foreign or domestic, can bestow any verifiable net benefits. To the main point, by allowing a willfully corrosive president to act in its name, the United States has defiled American national interests and global human interests simultaneously.
Apropos of proper logic, one presumptive conclusion is unambiguous: There is no "tragic" choice involved here (the choice identified above by Realpolitiker[1] Reinhold Niebuhr), just an obvious and overriding imperative to rid both nation and planet of Trump-era toxicity. Prima facie, in this case at least, presidential evil and American good are mutually exclusive.
There is more. With each passing day, weary Americans must face several stark and ironic contradictions. At an historical moment when uplifting numbers of good people are making great personal sacrifices to help others (e.g., medical communities working against Covid19; firefighters in the west; hurricane search-and-rescue personnel in the south, etc.), a US president acts wittingly to undermine his own country's safety and security. This behavior includes a continuously incomprehensible stance of support for Vladimir Putin, the Russian president who it would appear can wish no harms upon the United States.[2]
While according to any reasonable criteria of intellectual assessment these cumulative Trump behaviors are injurious and inexcusable,[3] millions of US citizens still maintain that his plainly deranged presidency represents a calculable "net positive."
What does this really mean? By definition, even now, these Trump-supporting Americans believe that manifest presidential evil can be compatible with national welfare and national progress. Somehow, in this case, they believe that such once-unimaginable evil can also be good. Credo quia absurdum, said the ancient philosophers, "I believe because it is absurd."
How can all this be helpfullyexplained? Conceptually, it would be best to begin at the beginning. The contradiction we are so painfully witnessing with this stumbling White House administration is not uniquely American. Already, back in the sixteenth-century, philosopher Niccolo Machiavelli observed famously, "A man who wishes to make a profession of goodness in everything must necessarily come to grief among so many who are not good."
Machiavelli need not always be clarifying or relevant. There is nothing here to suggest that this classic argument from The Prince would in any way support Donald J. Trump's foreign and/or domestic policies. This president's particular descents into wrongdoing and dereliction are not an expression of any gainful policy "realism." Rather, they are singularly lamentable expressions of wantonly gratuitous harms.
In an unsteady age when the risks of a nuclear war[4] could coincide with expanding biological destructions – that is, with the devastating microbial assaults of a Corona-Virus "plague"[5] – such harms can have no conceivable justifications.
None at all.
There is more. Context is important. All humans, wherever they may live, must bear persistent witness to the distressingly thin veneers of "civilization." Recalling William Golding's marooned boys in Lord of the Flies, we must repeatedly discover, beneath any delicate varnish of supposed coexistence, a lascivious human inclination to brutalize certain "others."
However informally it may be calculated, this primal inclination is "normally" judged agreeable and cost-effective.
Science and technology notwithstanding, empathy and compassion remain in calculably short supply on planet earth. Accordingly, substantial fractions of humankind remain slouched in a perpetually bruising darkness, hoping not to create promising new forms of human civilization, but to "better" inflict myriad varieties of unspeakable slaughter. During the debilitating "Trump Years," years of steadily-expanding presidential evil, the United States has made an egregious choice.
Knowingly, it has placed itself directly within such nefariously cascading "darkness."
As "analysts," Americans should now be more policy-specific. In Donald Trump's United States, there is always some blatantly self-serving presidential explanation for human rights abuse. To wit, we are instructed, the latest victims are despicable, "illegal" or, in some ways at least, not fully human. Always, they are "others," mere others. And as we are repeatedly informed by the president's reliably obsequious minions, this particular victim population is not at all like us. It is deserving of necessary "punishment."
Credo quia absurdum. "I believe because it is absurd." It is a very old story. The struggle between "Us and Them" is very plainly generic, not US-specific. If we are "good," they are not. Period. Such grimly bifurcated reasoning is especially perverse and ironic today, during a pandemic crisis when the common biological "oneness" of the human species couldn't possibly be more obvious
In high tragedy, as originally performed back in fifth-century BC Athens, humans were routinely presented as inherently flawed guests in a divinely-created universe. This ancient presentation, though presently "modified" with assorted regional and religious nuances, remains difficult to dispute. After all, following even a "small" nuclear war – a plausible event, at least in the currently downward trajectory of world affairs – cemeteries the size of whole cities could be needed to bury the uncountable dead.
Then, recalling the pre-nuclear imagery of poet T S Eliot, there could be no "lilacs breeding out of the dead land." Then, there would be no discernible "good," only variously decaying bearers of "evil."
Promptly, in far-flung parts of the world, both within and between individual nation-states, a "waste land" could become the new normal. Such "normalcy," one substantially worse than even the new-normal of Covid19 life on earth, ought never become an intentionally sought-after expectation. For rational thinkers, this point hardly requires any present-moment clarifications.
No sane person can be in favor of necropolis.
"Art is a lie," noted Pablo Picasso, "that lets us see the truth." In this paradoxical description, theatrical tragedy can remind us that earthly spheres of order, justice and good remain severely compromised by evil, and that no amount of technology or science can ever compensate for our species' multiple leadership transgressions. If, as in high tragedy, we humans should sometimes be punished in apparent excess of our specifically personal wrongdoings – "Whom God wishes to destroy," warned the Greek tragedian, Euripides, "He first makes mad." – even this "unfair" fate could not declare us to be "innocent."
Not reasonably.
There is more. Always, it is the gripping silence and self-inflicted fears of ordinary people that sustain the human world's abundant madness. Often, these primal fears center on certain irrepressible expectations of personal death. But sometimes they can also rest on various corollary anxieties about personal exclusion. More than anything else, and for several markedly different yet intersecting reasons, we humans continue to seek the comfortingly calming warmth of "mass."
It is the "mass man." an elucidating and derivative construct of Spanish existentialist philosopher Jose Ortega y'Gasset (The Revolt of the Masses,1930) who created US President Donald J. Trump. Stated differently, this American president, who promises to "Make America Great Again" is the openly evil product of American "mass."[6] By itself, this collective does not intend to create evil, but intent is not at all determinative.
It is quite enough that the mass prefers baseless opinion to documented fact and a willful anti-Reason to proper learning or tangible science.
There is more. As a species, not just as Americans, there exists no compelling or defensible reason for us to fawn upon myriad past mistakes. Now, instead, with a view to achieving some still-plausible and verifiable progress, Americans must look back courageously. "How much treasure," they must finally inquire, "how much science, how much labor and planning, how many vast oceans of sacred poetry, have we already ransacked, just to render our disparate human civilizations even more miserable and more imperiled?"
I don't know each pertinent answer. I do know, however, that our shallow and corrupted civilizational institutions, including America's humiliating presidential elections, can never save us. This nation's most revered universities, perched deliberately above the distressingly mundane clamor of work, politics and family, remain unmindful of the world's most urgently important intellectual questions.
Thoroughly unmindful.
Unassailably, though painfully indelicate to acknowledge, higher education in the expansively deranged Trump-Era proceeds hand in hand with a ubiquitously crude and predatory commerce. In partial consequence, our colleges and universities shamelessly crush most residual reflexes of lingering student intellect or individuality. This crushing is not undertaken with any insidious intent – and the challenges to academic success during a pandemic are anything but minor – but the US posture of anti-Reason is nonetheless destructive. Sorely destructive.
In today's Trump-defiled United States, American Transcendentalist philosopher Ralph Waldo Emerson's once venerable goal of a people that is "plain living and high thinking" is more than just forgotten. This once-lofty objective presently now lies very far beyond any identifiable popular interest or hint of public imagination. Why not? Living together with unhidden presidential evil, what else should we expect?
The American university, a dutifully obliging adjunct of the wider corporate/political universe, now lies distant not only from human learning, but also from human survival. French philosophers of the eighteenth-century Age of Reason had preferred to speak optimistically of a siècle des lumieres, a "century of light," but today, the ivy-covered walls are inestimably fouled by a congealing darkness, by a suffocating pall of excruciating conformance, vulgar self-interest and even a peculiarly-fashionable loathing of anything detached from money.
There is a professionally favored euphemism here. It's called "wealth maximization." The language provides cover for a nation's abject indifference to serious learning.
None of this devaluation was initially created by the Trump "ascendancy,"[7] but it has been strongly reaffirmed in absolutely every respect by a starkly unworthy American president.[8]
As an easily verifiable matter of human history, resisting evil has had little to do with human intelligence. More often than we may care to admit, such intelligence is conveniently manipulated to justify or enlarge certain "others'" most excruciating forms of human suffering. Indeed, looking over the still-mounting wreckage of Donald Trump's presidency in the United States, we see the palpably grim results of such manipulation, both domestically and in various other countries harmed by the dissembling American foreign policies.
In some cases, these are harms of US omission or inaction, rather than of commission. A specific case in point would by Syria, where Trump's immutable unwillingness to get on the wrong side of Vladimir Putin has already created societal disintegration and unspeakable torment.[9]
The main theme or question before us allows only a single coherent response. There is no way that a "good" American society can be created or sustained by an "evil" American president. Period. Before the United States allows itself to become even more thoroughly lost to any still credible hopes for human improvement and national survival, American citizens will have to build more purposefully upon this rudimentary wisdom. To be sure, we remain disturbingly far from understanding (let alone electing) Plato's "Philosopher King,"[10] but now we are at least better advised to reject American presidential evil at absolutely all costs.
Donald J. Trump does no evil for the sake of good. There is nothing "tragic" about his persistent across-the-board choice of evil postures and policies. In essence, he makes these barbarous choices because he is authentically committed to evil for evil's own sake.
Left uncorrected, Trump will continue to bring to these deeply unhappy United States a self-inflicted future of national humiliation and determined anti-reason.
No such future could ever "make America great again."
---
[1] On Realpolitik or power politics, see, by this author, Louis René Beres, Reason and Realpoliitk: US Foreign Policy and World Order (Lexington Books, 1984). See also his later book: Louis René Beres, America Outside the World: The Collapse of US Foreign Policy (Lexington Books, 1987).
[2] Incontestably, of course, Russia remains a significant nuclear threat to the United States. See, for example, by this author, Louis René Beres, at The War Room (US Department of Defense: Pentagon): https://warroom.armywarcollege.edu/articles/nuclear-decision-making/
[3] Journalist Bob Woodward called Trump's efforts to conceal his knowledge of the virus from the public "one of the most tragic, outrageous acts by a sitting president in, maybe in history."
[4] For early and informed assessments of nuclear war risks and consequences by this author, see: Louis René Beres, Surviving Amid Chaos: Israel's Nuclear Strategy (Rowman & Littlefield, 2016; 2nd. ed., 2018); Louis René Beres, Apocalypse: Nuclear Catastrophe in World Politics (Chicago: University of Chicago Press, 1980); Louis René Beres, Mimicking Sisyphus: America's Countervailing Nuclear Strategy (Lexington MA: Lexington Books, 1983); Louis René Beres, Reason and Realpolitik: US Foreign Policy and World Order (Lexington MA; Lexington Books, 1984); and Louis René Beres, ed., Security or Armageddon: Israel's Nuclear Strategy (Lexington MA: Lexington Books, 1986). See also, by Professor Beres, at The Bulletin of the Atomic Scientists: https://thebulletin.org/2016/08/what-if-you-dont-trust-the-judgment-of-the-president-whose-finger-is-over-the-nuclear-button/
[5] Such biological assaults have thus far been considered only as natural occurrences. Going forward, however, it is possible that pertinent pathogens could be weaponized, and that future instances of "plague" could emerge as a deliberate form of warfare and/or terrorism.
[6]Like Jose Ortega y'Gasset, the Swiss psychologist Carl G. Jung spoke usefully of "mass." Earlier, Friedrich Nietzsche, had referenced this demeaning phenomenon as the "herd;" Sigmund Freud, as the "horde;" and Soren Kierkegaard, as the "crowd."
[7] See, by this author, at The Daily Princetonian, Louis René Beres: https://www.dailyprincetonian.com/article/2018/06/a-core-challenge-of-higher-education
[8] See, by this author, at Yale Global Online, Louis René Beres: https://yaleglobal.yale.edu/content/trump-and-destruction-american-mind
[9] These are not just matters of moral responsibility. The United States is obligated by the international law of human rights to intervene on behalf of such cruelly victimized populations. These international legal obligations are also incorporated in the national law of the United States, per Article 6 of the US Constitution (the "Supremacy Clause") and several major US Supreme Court decisions. In the precise words of Mr. Justice Gray, delivering judgment of the US Supreme Court in Paquete Habana (1900): "International law is part of our law, and must be ascertained and administered by the courts of justice of appropriate jurisdiction…." (175 U.S. 677(1900)) See also Opinion in Tel-Oren vs. Libyan Arab Republic (726 F. 2d 774 (1984)).
[10] See, by this author, at Oxford University Press, Louis René Beres: https://blog.oup.com/2011/08/philosopher-king/