India crossed all limits of atrocities in Kashmir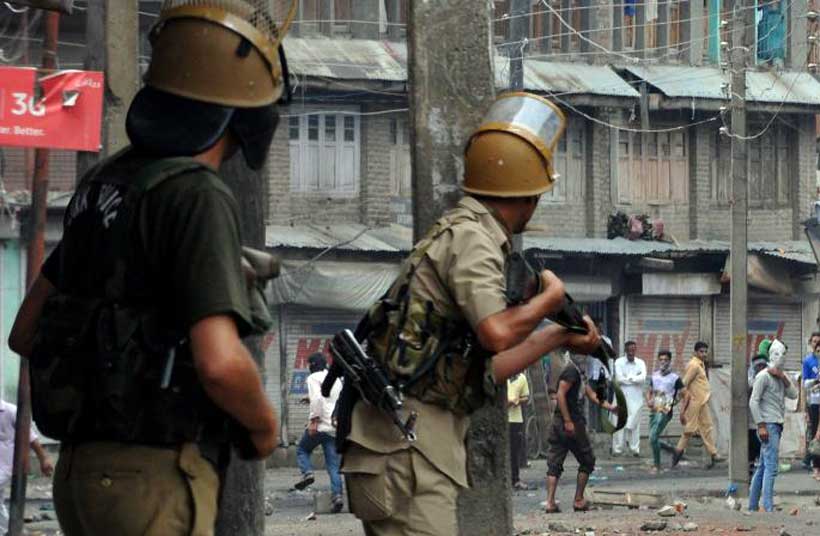 India has crossed all records of atrocities in Indian Held Kashmir (IHK), even "New York Times" reported "An 18-Month-Old Victim in a Very Old Fight". Renewed conflict in Kashmir is killing and blinding the young as politicians remain unwilling to find a just resolution to the old dispute.
Kashmir, a Muslim majority area, was supposed to be part of Pakistan in principle. The division of sub-continent was divided into two countries, based on the Muslim majority areas, should be part of Pakistan and Hindu majority areas, should be part of India. Based on this principle, Kashmir was Muslim majority area, but Indian forces entered into Kashmir and tried to occupy. When, Pakistani forces resisted and tried to push back Indian Army from Kashmir, the Indian Government approached to UN in 1948 and sought resolution. The United Nations Security Council passed Resolution 47, adopted on April 21, 1948, concerns the resolution of the Kashmir conflict, to hold plebiscite in Kashmir to seek the willingness of Kashmiris to either join Pakistan or India.
Since 1948, India has been defaulter of UN resolution and suppressing Kashmiris. 800,000 troops with latest weapons and modern tactics are trying to suppress the Kashmiris.  India is using all its tricks to control Kashmir. Killings of Kashmiris is a matter of routine for Indian Army. The worst is situation of Children and Women, who are victimized extensively. Even, they do not spare infants like "An 18-Month-Old Victim in a Very Old Fight", reported by "New York Times" on 19 January 2019.
Human rights abuses in the Indian occupied state of Jammu And Kashmir State are an ongoing issue. The abuses range from mass killings, enforced disappearances, torture, rape and sexual abuse to political repression and suppression of freedom of speech. The Indian Army, Central Reserve Police Force (CRPF), and Border Security Personnel (BSF), have been accused and held accountable for committing severe human rights abuses against Kashmiri civilians.
Thousands of Kashmiris have been reported to be killed by Indian security forces in custody, extrajudicial executions and enforced disappearances, rape of out-numbered women and these human right violations are said to be carried out by Indian security forces under total impunity. Civilians including women and children have been killed in "reprisal" attacks by Indian security forces. Even infants were not spared. International NGO's as well as the US State Department have documented human rights abuses including disappearances, torture and arbitrary executions carried out during India's counter-terrorism operations.
United Nations has expressed serious concerns over large number of killings by Indian security forces. Human Rights groups have also accused the Indian security forces of using child soldiers. Torture, widely used by Indian security sources, whose severity is described as beyond comprehension by Amnesty International, has been responsible for the huge number of deaths in custody.
Mass graves have been identified all over Kashmir by human right activists believed to contain bodies of thousands of Kashmiris of enforced disappearances. A State Human Rights Commission inquiry in 2011, has confirmed there are thousands of bullet-ridden bodies buried in unmarked graves in Indian Occupied Jammu and Kashmir. Of the 2730 bodies uncovered in 4 of the 14 districts, 574 bodies were identified as missing locals. According to deposition submitted by ParvezImroz and his field workers in 2011, the total number of unmarked graves was more than 6,000.
Kashmiris urged the United Nations Secretary-General to take steps to resolve the Kashmir issue. Freedom leaders Syed Ali Shah Geelani, Mirwaiz Umar Farooq and Mohammad Yasin Malik, in a letter to United Nations Secretary-General Antonio Guterres, alleged human rights violations in the Valley. They said a commission should be established to end the cycles of violence and "ensure accountability" as the conflict has consumed many lives in Jammu and Kashmir.
Guterres voiced grave concerns over the escalated worsening situation in Indian Occupied Kashmir (IOK) and urged the Indian government to proceed to negotiation table for the resolution of decades old conflict. UN Secretary-General made these remarks ahead of his visit to New Dehli. On the international forum, the head of world's body proposed conducting positive talks and a peaceful settlement on differences between arch-rivals – Pakistan and India.
Pakistan was always of the opinion to talk with India and resolve this dispute through peaceful dialogue and has offered dialogue many times. But India always avoided talks and escaping behind many excuses.
Pakistan's Foreign Minister Shah Mehmood Qureshi in his speech at the 73rd session of United Nations General Assembly effectively presented Pakistan's viewpoint on Kashmir issue saying, "The unresolved Jammu and Kashmir dispute hinders the realization of the goal of durable peace between our two countries."Qureshi presented Pakistan's stance that there can be no lasting peace in South Asia without a just settlement of the Kashmir dispute based on the UN Security Council resolutions and the will of the Kashmiri people."We will welcome the Commission to Azad Jammu & Kashmir, and hope that India too, will do the same," he categorically stated.
A country, where its own minorities are victimized, especially the low caste. Women are being rapped, India has become the most unsafe country for women. Several cases of rape of foreign female tourists were reported. A country where, just for suspect of eating beef (Cow) people are being killed. It has crossed all records of violations of human rights.
India has been exposed and now it is time for UN, International Community and all individuals with human conscious to force India to rectify its course and respect the human norms and respect the humanity and pull its occupying forces from Kashmir. On the other hand, India failed to suppress Kashmiris with its mighty force for 7 decades, and now they should understand that brave Kashmiris cannot be defeated. India should leave Kashmir the sooner the better, it will be wise decision.
Is PTM Genuine to its Cause?
Pashtun Tahafuz Movement (PTM) v/s Sate is a fiery tale which none can anticipate how it will end. Sparked from the extra judicial murder of model aspirant Naqeeb Ulllah Mahsud on January 13, 2018, the movement continue to get a constant hype on the political spectrum of Pakistan. Initially named Mahsud Tahafuz Movement turned into Pashtun Tahafuz Movement when the case was put forward to the court and Rao Anwar was arrested. However, things got transformed as PTM started taking a constant nudge with the state. From the protest in front of press club in Islamabad, in 2018 to different rallies across country things shifted vigorously. PTM's defiance is mainly pointed at criticizing the military institution and falsely blaming the institution for their plight. But the question rises that is PTM another mainstream political movement subjected for the elites rather than addressing the actual issue? And are they trying to internationally politicize the issue in order to demoralize the efforts of Pakistan?
On April 29, 2019, DG ISPR Maj Gen. Asif Ghafoor, military spokesperson, addressed PTM leadership and apprised them that the time has come when legal actions is mandatory to be taken against them. He further claimed that the financial records makes the existence of PTM skeptical as they are directly being funded by the foreign factions from neighboring countries for their protests and rallies. He was also of the view that PTM is being used by the foreign factions to instigate instability when Pakistan has achieved relative peace. However, the fact should not be neglected that the Government of Pakistan and military establishment acknowledges the demands put forward by the leadership of Pashtun Tahafuz Movement. At various points both, government and military, tried to engage with them in a collaborative manner. Recently on April 16, 2019, Senate Special Committee met the PTM leadership along with the MNA Mohsin Dawar. Even before, when the movement was in its early phase military was the first one to engage with them. When a request was put forward by the PTM leaders to meet military in order to express their grievances, it was agreed. Meeting was held between PTM delegation of 15 members and DG, ISPR Maj Gen Asif Ghafoor on Feb 08, 2018, in which apart from primary demand of justice for Naqeeb Mahsud there were other 4 demands. The military showed consensus on all of them. But the duality of the PTM should not be unremembered as on one side it engages with the government and the military but at the same time the constant barraging on the state and its institutes continues through social media. Things got more complicated as the tone of PTM got discordant day by day. The relentless spewing of hate and impudent comments against the state and its institution clearly show as on whose side PTM is. Movement is kind of drifting away from the true cause when the anti-state and separatist slogans and hymns are openly vocalized in the rallies and are now directed to demoralize the standards of army rather than demanding the rights.
With constant efforts from both government and military the PTM appears reluctant to develop a consensus. Keeping this whole saga in mind One might consider that either PTM leaders are not well negotiator or they don't want to negotiate and the picture is much larger then it seems.
In 2018, a commission was also formed to facilitate PTM which included high ranks from the military and reputable civilians. State was persistence in facilitating the PTM grievances. DG ISPR also highlighted in his briefing that in order to remove landmines, a team was formed and is currently putting every effort at their disposal. The team had cleared 45 percent of the area and in pursuit of the task 101 Jawans had lost their lives. State constantly acknowledges the demands of PTM but PTM and its virtual diaspora have failed to acknowledge the efforts made by the state.
Pashtun makes up to 15% of the total population of Pakistan. What will happen if this number of population, a province indeed is brought in confrontation with the state? It will be enough to vandalize the socioeconomic fabric of Pakistan. Pashtuns of Pakistan have always been delicate segment of Pakistan as they were in the crossfire between Pakistan's efforts against eradicating terrorism. It makes them soft target and vulnerable to be used by animosities against Pakistan. The point to ponder is that despite the efforts, and acknowledgement of their grievances by the state why this matter is getting more intense whereas the fact should not be forgotten that both parties are on same line in terms of addressing the problem. The only way this can be resolved is when the PTM stop being patsy against Pakistan and show real concern to give solace to the Pashtun community rather than exploiting their grievances
RSS: Grim Reality under the Secular Veil of India
Religious extremism is not something novel to mankind. Between 132-136 CE, Romans faced the confrontation with the Jews. A Jew extremist, Simon Bar Kokhba, led the revolt against Romans known as Kokhba Revolution. He succeeded in establishing a Jew state which lasted for just three years, ultimately falling again in to Roman hands.
Under constitutional veil almost every other nation has some sort of religious or ethno extremist factions in their ranks with mass support. India too, which claims to be a true secular model in the subcontinent has their own version of extremist militia and what is worth worrying is that it is well organized and well structured.
RSS or Rashtriya Swayamsevak Sangh is an extremist Hindu vigilante militia which is being nurtured by many political hands. It came into existence in 1925 by Keshav Baliram Hedgewar – a Hindu nationalist. Initially it was established to retaliate against the British raj and Muslims and unite Hindus to devise a Hindu Rashtra (Hindu nation) but in post-independence scenario it became a blot on the secular veil of India. Indian Constitution makes it a secular country but RSS finds it against the norms of Hindustan. It is not the RSS which shifted its discourse but it was India which became a secular state by constitution. Even before the inception of RSS various Hindu nationalist emphasized on the existence of solely Hindu nation. Vinayak Damodar Savarkar,the founder of Hindu nationalist ideology Hindutva (an ideology which aims to form hegemony of Hindus) stated that there is a dire need of a solely Hindu nation.
RSS was banned three times in its post-independence continuity. First it was banned in 1948 after the assassination of Mahatma Gandhi by a Hindu nationalist. The interesting fact is the man named Nathuram Godse, who murdered Gandhi, was not an active RSS member at that time but was once. In 1975 RSS came into scrutiny again when Indra Gandhi banned extremist organizations and imposed emergency across the country, and then in 1992 when dispute over Babri masjid erupted and it got demolished.
But what is making the organization function with full momentum? The organization has a fully functional website where one can recruit itself in the organization. Its proper hierarchical order makes it worth worrying as there is a National leader and then there are Regional leaders to oversee the local dealings. It also conducts daily quasi military exercises in parks and open spaces. On many occasions, the members of RSS were involved in the lynching of Muslims and lower casts Hindus. RSS's Cow protection squad was constantly involved in various incidents during Modi's reign.
Indian Prime minister, Narendra Modi, during an interview revealed that the personality and the discipline he has, RSS played a major role in shaping it. He also said that he became part of the organization at very young age. RSS also played major role in the putting the throne of Delhi under the Modi's feet and is again playing a major role in running his election campaign for upcoming elections.
The institutionalized structure of the RSS makes it unique as it has a Cow protection squad, women wing, Labor union and a farmer union to outreach mass population. On its website, they claim that they have more than 50,000 shakhas, a Hindi word for branches, in villages and different cities across the country. Utar-pardesh, a city with largest population in India and major electoral club in the lower house; it is reported that there are 8000 shakahs only in UP which are there obviously to influence the elections and win majority in the house.
Embedded hate against Muslims and other minorities is not something new, in fact, it is in the core beliefs of the organization. M.S Golwalkar, the second Sarsanghchalak (head of RSS) wrote a book named Bunch of Thoughts which comprised of the lectures he had given to shakhas over the country. In his book he wrote that internal elements pose far greater threat to national security than outside aggressor. Golwalkar than identified three major "Internal Threats: i) Muslims; ii) Christians; iii) Communists. Not just this, in an article published in THE HINDU on November 26,2006 it was revealed that the murder of Mahatma Gandhi was somehow celebrated by the RSS. Moreover, giving reference to the secret documents which he had seen the writer divulged that Golwalker had called a meeting on December 6, 1947, where RSS workers of Govardhan, a town not very far from Delhi. As per the police report regarding the meeting, assassination of the leading persons of the Congress was discussed to create terror and panic among the public and to get hold over them. Just after two days. Golwalkar again addressed several thousand RSS volunteers at the Rohtak Road Camp, Delhi. The police reporter notified that the RSS leader had clearly said that Sangh would not rest content until it finishes Pakistan and if anyone was a hindrance in their way they would not spare them either whether it was Nehru's regime or any other.
Having such militant Hindu organizations flexibly working without any state censorship and proliferating into Indian society is a threat to Indian secular dream. Aimed at making India a purely Hindu state such far-right groups in subcontinent will make exclusive societies rather than inclusive. Intra-state tensions will continue to mount. Which will create the so-called nonpolitical groups like RSS propagating into the Indian society through political interference and can make India's future bleak. With such intra-state terror groups Indian vision for secular and inclusive India will remain a chimera.
IMF bailout package and public opinion
The 22nd bailout package for Pakistan at its final stages. There exists a mix of public opinion on this package, some are in favor and some differ. Both lobbies have own reasons and strong justifications, which makes a common man even more confused.
PM Imran Khan was criticizing previous governments for seeking IMF bailout packages in the past and expressed that he will not go to IMF, and may prefer suicide over begging. In the early few months of his Government, he was hesitant to go to the IMF and tried his best to seek help from friendly countries alternatively. Some of the friendly countries extended helping hands too, which includes Saudi Arabia, UAE, and China.
But the economic situation was so serious and dangerous that the country was at the edge of collapse or default. Still some of his advisors of the opinion that there exist other options instead of going to IMF. The deal under consideration is US Dollars 6 billion over a period of 39 months. It means less than 2 billion a year, which it really too little. If we control our imports of luxury items and un-necessary item, we may reduce our import bill by US Dollars 5 Billion easily. Or with a little bite of our efforts, we may be able to increase our exports by US Dollars 5 Billion easily. Some experts are thinking only for US Dollars 2 billion a year, we should not accept the harsh terms and conditions of IMF.
In the 7 decades history of Pakistan, 21 prgrammes of IMF were not good enough to make Pakistan a sustainable economy. Why one should expect, this 22nd will do something good. During the previous 21 programmes, Pakistan was a very close non-NATO ally of USA. Pakistan was on the right side of the US, a partner in Cold War Era, Front Line State in War on Terror. Politically, Pakistan was one of the favorite nations of the US and secured all possible support. But today the situation may be rather different, as, after the Abbottabad Incident and Salala Incident in 2011, Western World has almost written-off Pakistan. USA has signed Major Defense Partner (MDP) agreement with India. The USA has created the Indo-Pacific Alliance with India, Japan, and Australia, to counter China, where Pakistan is engaged with China under BRI/ CPEC.
Against the tradition, people of Pakistan have voted Imran Khan, who so ever was given ticket of PTI, the public has voted him or her blindly in good faith & trust to Imran Khan. A few of his candidates might not be having very high capabilities or very good reputation, but, the public has trusted Imran Khan blindly. Imran Khan is the third most popular leader in Pakistan, after Jinnah the father of nation, and Zulfiqar Ali Bhutto, the Former Prime Minister of Pakistan in 1970s.
Unfortunately, he failed to form his own team and was depending on a team lobbying for IMF, World Bank or Western World. They have encircled him and kept on lobbying for their agenda. They finally pushed him to a stage, where he agreed to accept IMF. Close to him, sources think, he was never convinced but was made to accept. We are afraid, if this lobby can isolate him from nationalists and patriots, may succeed in the implementation of their agenda.
PM Imran Khan, is honest, hardworking and people loving leader. He loves Pakistan and common citizens of Pakistan. He really wanted to bring a change in the Society, where common man's welfare is a top agenda. He is sincere with the nation and wanted to establish a total comprehensive welfare state. Unfortunately, he was lobbied wrongly and opted for IMF.
People of Pakistan have blindly trusted in Imran Khan and possess very high expectations from him. I know, Imran Khan understands it very well. He is an honest, brave and visionary leader and I believe he will not disappoint his voters.
Hope PM Imran Khan may educate people of Pakistan about the details of the IMF package and try to convince the masses. The welfare of common man and all other promises made with the nation before elections may be explained to masses, this is required urgently before he loses credibility and popularity among the masses.