EU MEPs demand penalties for EU countries undermining rule of law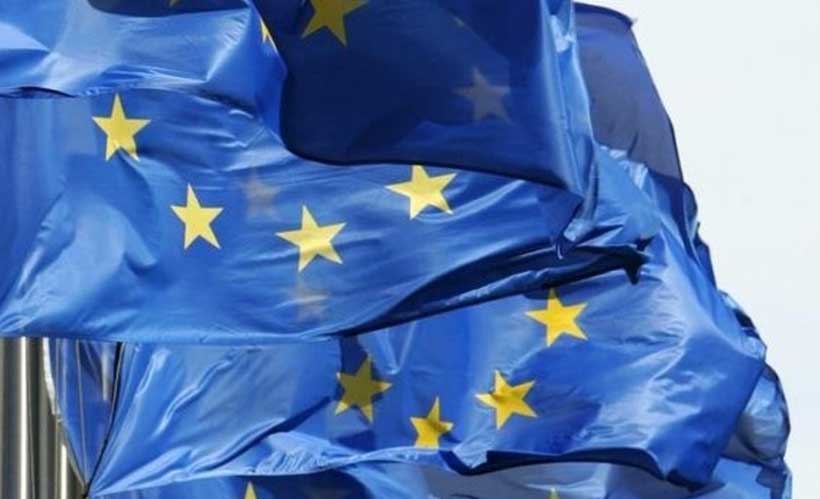 Parliament has endorsed a new law giving the European Commission the power to assess, whether a member state is failing to uphold the principles of the rule of law, tackle tax fraud and corruption or implement the EU budget correctly. It would be assisted by independent experts in constitutional law and financial matters.
In cases of shortcomings in a member state's management of the budget, the Commission could, for example, reduce pre-financing and suspend payments once Parliament and Council approve the measures. The new rules would come into effect under the terms of the EU's next long-term budget for 2021-2027.
In a debate with Günther Oettinger, the commissioner responsible for the budget, on 16 January, many MEPs emphasised the need to defend the rule of law in order to safeguard democracy.
Spanish S&D member Eider Gardiazabal, one of the MEPs responsible for steering the plans through Parliament, said: "This isn't a Europe à la carte where we can just hang on to the rights and not the duties."
She noted that if a state wants to join the EU, it has to fulfil a set of economic, political, tax and judicial criteria, which is why the process is long. "And then what happens when you join? Does it mean that just because you passed the test, you can do whatever you like? Obviously not. This test has to be a constant one."
Oettinger said the EU would be better off under the system for the next long-term budget "because we will have an instrument that we can apply to protect Europe, its budget and therefore its citizens against abuse and fraud and any sort of misuse of funding."
"If there are issues with the users, member states, regions and local authorities, that need to be resolved, sometimes they end up in court. In this case in every member state we need to be sure that all the courts are impartial, that the rule of law holds sway and that there are guarantees of impartial rulings by impartial judges," the commissioner continued.
German EPP member Ingeborg Grässle, chair of the budgetary control committee, pointed to problems where government representatives use their position to enrich themselves, their friends and relations. "They are illicitly obtaining EU money and illicitly using it. This will enable us to tackle these issues."
Not freezing funds for final beneficiaries
The draft law text says that even if a decision is taken to, for example, halt payments, a government would still have to implement the respective EU programme. The Commission would have to try to ensure that the final beneficiaries still receive funding.
Both Bulgarian ALDE member Iskra Mihaylova, chair of the regional development committee, and Finnish EPP member Petri Sarvamaa, one of the MEPs responsible for steering the plans through Parliament, underlined the need to ensure that researchers, civic organisations and ordinary people do not suffer if funds are cut or frozen.
However, Polish ECR member Ryszard Czarnecki said that Europe needs to be protected from those who want to destroy it. "But the question is: who is it who wants to destroy Europe? Is it those who have triggered the wave of euroscepticism in the member states, or is it those who are interfering with the internal affairs in member states?"
General Data Protection Regulation: One year on
On 25 May 2019, the General Data Protection Regulation will celebrate its first year of entry into application. To mark the occasion, Andrus Ansip, Vice-President for the Digital Single Market and Věra Jourová, Commissioner for Justice, Consumers and Gender Equality, issued the following statement:
"25 May marks the anniversary of Europe's new data protection rules, the General Data Protection Regulation, also widely known as the GDPR. These game-changing rules have not only made Europe fit for the digital age, they have also become a global reference point.
The main aim of the rules has been to empower people and help them to gain more control over their personal data. This is already happening as people are starting to use their new rights and more than two-third of Europeans have heard of the regulation.
Also, companies now benefit from one set of rules applying throughout our Union. They have put their house in order when it comes to data, which led to increased data security and a trust-based relationship with their clients.
The GDPR gave authorities teeth to tackle breaches. For example, one year on, the newly established European Data Protection Board has registered over 400 cross-border cases around Europe. This is a testimony to the additional benefit of the GDPR, as data protection does not stop at national borders.
People are becoming more aware – and this is a very encouraging sign. New figures show that nearly six in ten people know that there is a data protection authority in their country. This is a significant increase from four in ten people back in 2015. The data protection authorities have an essential role to play in making GDPR deliver on the ground.
The new law has become Europe's regulatory floor that shapes our response in many other areas. From Artificial Intelligence, development of 5G networks to integrity of our elections, strong data protection rules help to develop our policies and technologies based on people's trust.
The principles of the GDPR are also radiating beyond Europe. From Chile to Japan, from Brazil to South Korea, from Argentina to Kenya, we are seeing new privacy laws emerge,
based on strong safeguards, enforceable individual rights, and independent supervisory authorities. Such upward convergence offers new opportunities to promote data flows based on trust and security.
The GDPR has changed the landscape in Europe and beyond. But compliance is a dynamic process and does not happen overnight. Our key priority for months to come is to ensure proper and equal implementation in the Member States. We urge the Member States to respect to the letter and the spirit of the GDPR in order to create a predictable environment and avoid unnecessary burden for stakeholders, in particular SMEs. We will also continue our close collaboration with the European Data Protection Board and national data protection authorities, as well as businesses and civil society to address the most burning questions and facilitate the implementation of the new rules."
Background
The General Data Protection Regulation is a single set of rules with a common EU approach to the protection of personal data, directly applicable in the Member States. It reinforces trust by putting individuals back in control of their personal data and at the same time guarantees the free flow of personal data between EU Member States. The protection of personal data is a fundamental right in the European Union.
The GDPR has been applicable since 25 May 2018. Since then, nearly all Member States have adapted their national laws in the light of GDPR. The national Data Protection Authorities are in charge of enforcing the new rules and are better coordinating their actions thanks to the new cooperation mechanisms and the European Data Protection Board. They are issuing guidelines on key aspects of the GDPR to support the implementation of the new rules.
The Commission will take stock of one year of application of the GDPR in an event to be held on 13 June. As foreseen by the GDPR, the Commission will report on the application of the new rules in 2020.
Today, the first results of a special Eurobarometer on data protection, collecting the views of over 27,000 people across the EU will be released. The European Commission will release the full Eurobarometer results at the anniversary event on 13 June.
EU-Armenia Partnership: EU is a crucial partner for Armenia's reform agenda
The European Union has today issued a report on developments in Armenia and EU-Armenia relations between June 2018 and early May 2019. The report comes ahead of the EU-Armenia Partnership Council on 13 June. It finds that Armenia has stepped up its efforts to reinforce and enhance its partnership with the EU, and that Armenia consistently acknowledged the significant role the EU can play in the smooth implementation of the country's reform agenda. However, the reform process remains at an early stage. The government's roadmap for the implementation of the EU-Armenia Comprehensive and Enhanced Partnership Agreement will be an important instrument in advancing reform plans.
"The European Union has been and will continue be the biggest supporter of the Armenian government's ambitious reform plan, which is consolidating democracy, the rule of law and promoting human rights in the country", said the High Representative of the Union for Foreign Affairs and Security Policy/Vice-President of the European Commission, Federica Mogherini. "Armenia is an important partner for the European Union, and together we are focussed on implementing our wide-reaching bilateral agreement, as well as delivering concrete results within the Eastern Partnership. We always keep firmly in mind that our aim is bringing tangible benefits to our citizens."
"The EU and Armenia are strong partners and we stand ready to support concrete reforms, including in the area of justice and education, which are key for the people", said the Commissioner for European Neighbourhood Policy and Enlargement Negotiations, Johannes Hahn. "The swift implementation of the Comprehensive and Enhanced Partnership Agreement offers new economic opportunities for all Armenian citizens."
After the political changes in Armenia last year, early parliamentary elections were held in December 2018. The EU was the largest single contributor to the elections, providing technical equipment and supporting actions in favour of democracy and civic participation. According to the International Elections Observation Mission, the elections respected fundamental freedoms and enjoyed broad public trust. In addition, the Government highlighted the need for independence, accountability and efficiency of the judiciary. In September 2018, the EU and Armenia launched the EU-Armenia Strategic Policy Dialogue in the Justice Sector. The EU stands ready to support reform in this crucial field.
Total EU-Armenia trade increased by 15% over the past year reaching a total value of €1.1 billion. Armenia benefits from the EU's Generalised Scheme of Preferences plus (GSP+), which is a special incentive arrangement for sustainable development and good governance. More than 96% of EU imports eligible for GSP+ preferences from Armenia entered the EU with zero duties in 2017. The extension of the core Trans European Transport Network (TEN-T) to Armenia was finalised in November 2018. The Indicative TEN-T Investment Action Plan was published in January 2019 and also includes road safety as one of its priorities.
An EU-Armenia Education Policy Dialogue was inaugurated in March 2019 to support the reform in the education sector. Thanks to the support of the Erasmus+ capacity building projects, Armenian universities have been able to upgrade their administrative and organisational structures and modernise study courses. More than 2,700 students and university professors have benefited from EU-Armenia academic exchanges and mobility projects through Erasmus+ since 2015. At the end of 2018, a new 'EU4Innovation' programme worth €23 million was launched aimed at matching the skills of university graduates with the requirements of the labour market. The programme will create a EU4Innovation Centre for universities and an EU Convergence Centre to bring together universities and private sector, complemented by an incubator for technology start-ups.
The EU is the biggest provider of financial support and a key reform partner in Armenia. The EU stands ready to continue engaging in Armenia and provide support through political dialogue, financial and technical assistance, to support the Armenian government ambitious reforms for the benefit of the citizens of Armenia and EU-Armenia cooperation.
Erasmus+: a turning point in the lives of 5 million European students
New evidence shows that Erasmus+ makes students more successful in their personal and professional lives and helps universities to become more innovative, according to two new independent studies released today by the European Commission.
The large-scale studies based on the feedback from nearly 77 000 students and staff and over 500 organisations measure and analyse the impact the Erasmus+ programme has on its main beneficiaries. Results show how the EU programme helps prepare young Europeans for the new digital era and thrive in their future careers. Erasmus+ also boosts innovation capacity of universities, their international engagement and ability to answer the needs of the labour market.
Commissioner for Education, Culture, Youth and Sport, Tibor Navracsics said: "It is impressive to see how Erasmus+ enables young people to thrive in the modern labour market and in a more diverse society. I am happy to see that Erasmus+ graduates feel more ready to take on new challenges, have better career prospects and are more aware of the benefits the EU brings to their daily lives. At the same time, universities that take part in Erasmus+ are not only more international but also better placed to respond to the needs of the world of work."
The key findings of the studies are:
Erasmus+ helps students find their desired careers and get jobs quicker
Over 70% of former Erasmus+ students say that they have a better understanding of what they want to do in their future careers when they return from abroad. Their experience abroad also enables them to re-orient their studies to better match their ambitions. The higher education impact study further reveals that 80% were employed within three months of graduation and 72% say their experience abroad helped them get their first job. Nine in ten Erasmus+ alumni say they make use of the skills and experiences acquired abroad in their daily work. Erasmus+ addresses skills mismatches by focusing on soft and interdisciplinary skills development businesses need.
Erasmus+ boosts European sense of belonging
More than 90% of Erasmus+ students also improve their ability to work and collaborate with people from different cultures and feel they have a European identity. The biggest impact is on the students who felt less convinced about the EU prior to their exchange and the students that spent time in a more culturally different country. Of all Erasmus+ students those coming from Eastern Europe identify the most with the EU.
Erasmus+ supports digital transformation and social inclusion
Erasmus+ cooperation projects make the majority of participating universities better prepared for digital transformation. Making use of new technologies and innovative teaching and learning methods helps strengthen their international cooperation and innovation capacity. Academic staff, who made use of Erasmus+ are more open to involving staff from enterprises in their courses than their non-mobile peers, around 60% compared to 40%. More than 80% of academics report that their experience abroad has led to the development of more innovative curricula. Moreover, two out of three participating universities stated EU-wide projects also contribute to increasing social inclusion and non-discrimination in higher education.
Other findings show that former Erasmus+ students are more satisfied with their jobs compared to those who have not gone abroad. They also have careers that are more international and are almost twice as likely to work abroad. Erasmus+ also supports entrepreneurship. One in four cooperation projects contributed to entrepreneurial education and strengthened entrepreneurship. A third of projects helped create spin-offs and start-ups.
Background
Between 2014 and 2018, more than 2 million students and staff in higher education undertook a learning, training or teaching period abroad as part of the Erasmus+ programme. During the same period, almost 1 000 Erasmus+ Strategic Partnerships between higher education institutions and 93 Knowledge Alliances between universities and businesses received EU funding. More than 40% of these trained students and academic staff in forward-looking skills related to environment and climate change, energy and resources, digital (ICT and digital skills) and entrepreneurship.
The two studies (Erasmus+ Higher Education Impact study and the Erasmus+ Higher Education Strategic Partnerships and Knowledge Alliances study) assessed the impact of the programme on its two main beneficiaries: individuals and organisations.
For the first study, almost 77 000 responses, including from around 47 000 Erasmus+ students, 12 000 graduates and 10 000 staff members with Erasmus+ experience were analysed. The findings of the second study are based on responses from 258 Erasmus+ Strategic Partnerships and Knowledge Alliances (representing 504 organisations) awarded funding in 2014-2016 as well as 26 detailed case studies.