Gendered Languages May Play a Role in Limiting Women's Opportunities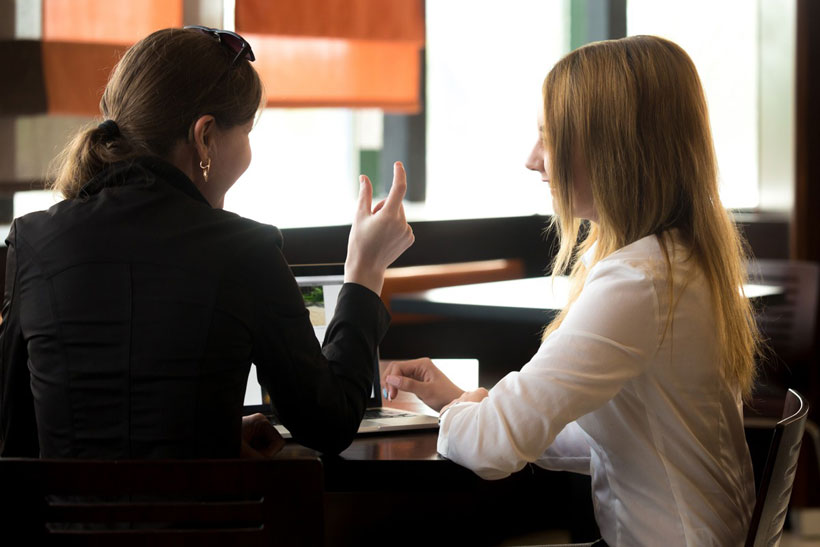 In many developing countries, women face significant barriers to their equal participation in society. While some of these barriers are easy to see, a new line of research is uncovering a surprising and less obvious possibility: the very structure of certain languages may shape gender norms in a way that limits women's opportunities.
"Gender equity is important not only because it can help speed up progress toward ending poverty, but because it provides everyone the chance to achieve their potential," said Asli Demirguc-Kunt, Director of Research at the World Bank. "Understanding the deeper causes that shape the barriers women face can help countries be more effective in their efforts to create a level playing field."
At a recent Policy Research Talk, World Bank economist Owen Ozier delivered a crash course in linguistics and its relationship to gender norms and economic outcomes for women. According to Ozier, existing research has already hinted at a link between grammar and gender. Some languages—including Spanish and Russian, for example—classify nouns as either masculine or feminine (or sometimes even neuter). Recent experiments in political science have shown that gendered languages that classify nouns this way are associated with more regressive gender attitudes. Economics research has also found that recent immigrants to the United States tend to divide household tasks along more gendered lines if they speak a gendered language.
But Ozier and his colleague Pamela Jakiela of the Center for Global Development wanted more conclusive evidence, and in a new paper they document the results of a journey to identify the grammatical gender structure of 4,334 languages, together accounting for 99 percent of the world's population. To achieve this linguistic feat, they drew not only on existing sources of information like the World Atlas of Language Structures, but also deep dives into textbooks and academic research as well as the knowledge of World Bank staff in offices as far flung as Fiji.
Their work paid off with fundamental but previously unknown facts about language. For example, 38 percent of the world's population speaks a gendered language as their native tongue. But more importantly, Ozier and Jakiela were able to take this newly assembled body of data and relate it to outcomes for women around the world—specifically female labor force participation, educational achievement, and gender norms.
What they found is striking. Grammatical gender is associated with a nearly 15 percentage point gap in female labor force participation relative to men, even after controlling for various geographic and economic factors that could be driving the difference. In practical terms, gendered languages could account for 125 million women worldwide being out of the labor force.
Attitudes toward women are also influenced by gendered languages—helping to explain how gendered languages could translate into outcomes like lower female labor force participation. Drawing on data from the World Values Survey, Ozier and Jakiela found that those who speak a gendered language are more likely to agree with statements like "On the whole, men make better business executives than women do" or "When jobs are scarce, men should have more right to a job than women." Perhaps even more surprisingly, women are just as likely as men to hold these attitudes, suggesting just how pervasive the effect of language is on beliefs.
Not satisfied with the wide-lens analysis of countries around the world, Ozier and Jakiela also closely scrutinized a handful of countries—Kenya, Niger, Nigeria, Uganda, and India—where both a gendered and non-gendered indigenous language is widely spoken. What they found confirmed their broader findings: gendered languages are consistently associated with lower female labor force participation. In these countries gendered languages are also associated with lower rates of primary and secondary school completion.
Since languages change slowly, and often outside the control of any institution, the findings may seem to be cause for resignation. Yet Ozier was optimistic.
"Grammatical gender is only one among many of the linguistic structures that we use, and only one of the many psychological nudges that we experience on a constant basis," said Ozier. "Even without changing language, shifts in policies and social norms can change levels of labor force participation, change levels of schooling, and the opportunities available to women."
A new wave of experiments has demonstrated that highlighting positive examples of women can make a difference. In an experiment by Oxford's Emma Riley, Ugandan students performed better on a mathematics exam after being shown the film Queen of Katwe, which tells the story of a young Ugandan woman's achievements in competitive chess. In another experiment by professors Catherine Porter and Danila Serra, female students who had a female role model visit their introductory economics class were more likely to take a more advanced economics class.
The behaviors and beliefs of men can also change. After Quebec reformed its parental leave program to include a "daddy-only" label, Cornell University's Ankita Patnaik found that fathers' use of parental leave doubled and fathers were more likely to contribute to household and child-rearing responsibilities. In households in Saudi Arabia, experimenters from the University of Chicago and University of Zurich addressed misperceptions about the typical level of support men have for women working outside the home, and women in these households were subsequently more likely to participate in a job interview.
"It's encouraging to see that there are interventions that can trump the salience of language, but whether their effect is long-lasting is something we still don't know," said Caren Grown, Senior Director of Gender at the World Bank. "We need more behavioral science research that will identify the policies and nudges that can alter potentially deeply ingrained gender attitudes."
Remote Learning during the pandemic: Lessons from today, principles for tomorrow 
Education systems around the world reacted to COVID-19 by closing schools and rolling out remote learning options for their students as an emergency response. New World Bank analysis of early evidence reveals that while remote learning has not been equally effective everywhere, hybrid learning is here to stay.
Going forward, for remote learning to deliver on its potential, the analysis shows the need to ensure strong alignment between three complementary components: effective teaching, suitable technology, and engaged learners.
"Hybrid learning – which combines in-person and remote learning – is here to stay. The challenge will be the art of combining technology and the human factor to make hybrid learning a tool to expand access to quality education for all," emphasized Jaime Saavedra, World Bank Global Director for Education.  "Information technology is only a complement, not a substitute, for the conventional teaching process – particularly among preschool and elementary school students. The importance of teachers, and the recognition of education as essentially a human interaction endeavor, is now even clearer."
The twin reports, Remote Learning During the Global School Lockdown: Multi-Country Lessons and Remote Learning During COVID-19: Lessons from Today, Principles for Tomorrow, stress that three components are critical for remote learning to be effective:
Prioritizing effective teachers: a teacher with high subject content knowledge, skills to use technology, and appropriate pedagogical tools and support is more likely to be effective at remote instruction.
Adopting suitable technology: availability of technology is a necessary but not sufficient condition for effective remote learning.
Ensuring learners are engaged: for students to be engaged, contextual factors such as the home environment, family support, and motivation for learning must be well aligned.
The reports found that many countries struggled to ensure take-up and some even found themselves in a remote learning paradox: choosing a distance learning approach unsuited to the access and capabilities of a majority of their teachers and students.
"Emerging evidence on the effectiveness of remote learning during COVID-19 is mixed at best," said Cristóbal Cobo, World Bank Senior Education and Technology Specialist, and co-author of the two reports. "Some countries provided online digital learning solutions, although a majority of students lacked digital devices or connectivity, thus resulting in uneven participation, which further exacerbated existing inequalities. Other factors leading to low student take-up are unconducive home environments; challenges in maintaining children's engagement, especially that of younger children; and low digital literacy of students, teachers, and/or parents."
"While pre-pandemic access to technology and capabilities to use it differed widely within and across countries, limited parental engagement and support for children from poor families has generally hindered their ability to benefit from remote learning," stressed Saavedra.
Despite these challenges with remote learning, this can be an unprecedented opportunity to leverage its potential to reimagine learning and to build back more effective and equitable education systems. Hybrid learning is part of the solution for the future to make the education process more effective and resilient.
The reports offer the following five principles to guide country efforts going forward:
Ensure remote learning is fit-for-purpose. Countries should choose modes of remote learning that are suitable to the access and utilization of technology among both teachers and students, including digital skills, and that teachers have opportunities to develop the technical and pedagogical competencies needed for effective remote teaching.
Use technology to enhance the effectiveness of teachers. Teacher professional development should develop the skills and support needed to be an effective teacher in a remote setting.
Establish meaningful two-way interactions. Using the most appropriate technology for the local context, it is imperative to enable opportunities for students and teachers to interact with each other with suitable adaptations to the delivery of the curriculum.
Engage and support parents as partners in the teaching and learning process. It is imperative that parents (families) are engaged and supported to help students access remote learning and to ensure both continuity of learning and protect children's socioemotional well-being.
Rally all actors to cooperate around learning. Cooperation across all levels of government; as well as partnerships between the public and private sector, and between groups of teachers and school principals; is vital to the effectiveness of remote learning and to ensure that the system continues to adapt, learn, and improve in an ever-changing remote learning landscape.
Youth embody 'spirit' of 21st century more than parents
Even in the face of the COVID-19 pandemic, climate change and other global challenges, children and youth are nearly 50 per cent more likely than older people to believe that the world is becoming a better place, according to the results of a landmark intergenerational poll published on Thursday.
The international survey was conducted by the UN Children's Fund (UNICEF) and Gallup, the global analytics and advice firm, and has been released ahead of World Children's Day on 20 November.
The Changing Childhood Project is the first poll of its kind to ask multiple generations for their views on the world and what it is like to be a child today.
Part of the solution
Henrietta Fore, the UNICEF Executive Director, said that despite numerous reasons to be pessimistic, children and young people refuse to see the world through the bleak lens of adults.
"Compared to older generations, the world's young people remain hopeful, much more globally minded, and determined to make the world a better place," she added.
"Today's young people have concerns for the future but see themselves as part of the solution".
More than 21,000 people in 21 countries participated in the survey, which was conducted across two age cohorts – 15-24 years old, and age 40 and up – and during the COVID-19 pandemic.
Hopeful, not naïve
Nationally representative surveys were undertaken in countries across all regions – Africa, Asia, Europe, and North and South America – and income levels.
 The findings revealed young people are also more likely to believe childhood has improved, and that healthcare, education and physical safety are better today when compared with their parents' generation.
However, despite their optimism, youth are far from naïve. The poll showed they want to see action to address the climate emergency. At the same time, they are skeptical about the information they consume on social media, and struggle with feelings of depression and anxiety.
This generation is also more likely to see themselves as global citizens, and they are more willing to embrace international cooperation to combat threats such as the pandemic.
Aware of risks
The survey also found children and young people are generally more trusting of national governments, scientists and international news media as sources of accurate information. 
They are also aware of the problems the world is facing, with nearly 80 per cent seeing serious risks for children online, such as exposure to violent or sexually explicit content, or being bullied.
Young people want faster progress in the fight against discrimination, more cooperation among countries, and for decision-makers to listen to them.
Nearly three-quarters of those surveyed who are aware of climate change believe Governments should take significant action to address it. The share rises to 83 per cent in low- and lower-middle countries, where climate impacts are set to be greatest.
21st century citizens
In practically every country, large majorities of youth said their countries would be safer from COVID-19 and other threats if Governments would work together, rather than on their own.
They have also demonstrated stronger support for LGBTQ+ (lesbian, gay, bisexual, transgender and queer) rights, with young women at the forefront for equality.
The survey also revealed a strong alignment between the two generations, including on the issues of climate, education, global collaboration, though some of the deepest divides occurred around optimism, global mindedness and recognition of historical progress. 
"While this research paints a nuanced view of the generational divide, a clear picture emerges: Children and young people embody the spirit of the 21st century far more readily than their parents," said Ms. Fore.
"As UNICEF prepares to mark its 75th anniversary next month, and ahead of World Children's Day, it is critical we listen to young people directly about their well-being and how their lives are changing".
Seva, a book that is here to heal the world
It was early in February this year that I visited the Golden Temple in Amritsar. Walking outside the beautiful golden studded Gurudwara, I couldn't help but feel awe at the langar that was being served. Prepared for lakhs of devotees everyday. Imagine a kitchen that is equipped to feed around one lakh people everyday, what goes on in the minds of people working at the Golden Temple tirelessly to feed one lakh devotees? There is really only one value behind their actions – Seva. Seva literally translates to helping others and seems simple at the outset. But to understand it deeply, you need to read Jasreen Mayal Khanna's Seva published earlier this year.
Seva – Sikh secrets on how to be good in the real world by Jasreen Mayal Khanna is a book that is here to heal the world. It is a much needed book during the current times and promotes the values of helping others while outlining basic things that we often forget to do – say thank you daily, embrace joy, work harder than you pray, practice equality at home, help someone everyday, be brave, learn to laugh at yourself and live in Chardi Kala. While other points might seem easy and direct, the last one, Chardi Kala might not be obviously understandable to many outside the Sikh Community. What is Chardi Kala? It is the mental state of eternal optimism and joy. The Sikh Community is popularly known across the world for helping others and Jasreen Mayal Khanna explains more about the Sikh practice of Seva, serving others.
For a few, doing Seva comes naturally because it has been taught to them since childhood. This is especially valid for people from the Sikh Community who, as Khanna tells us in her book, are taught to contribute towards community service from a very young age. For some, they need to ingrain Seva in their life to lead a more balanced and happy life. We often forget that the individual and the community are woven into a beautifully intricate fabric that relies on each other. We are only reminded of how interconnected we are to each other during times of crisis. The COVID 19 pandemic has been a great reminder about how we need each other to survive. Friends, family and complete strangers helping out each other during times of the pandemic has been revolutionarily eye opening. The truth is that we should not need a pandemic to make us realise how interconnected we are. Books like Seva are an ode to that fabric of interconnectedness that is often forgotten in the world today. With ancient Sikh secrets and promoted values of happiness, the book heals readers in ways more than one. You quite literally need to read this book to lead a more balanced life.
While many Indians have been reading books like Ikigai talking about Japanese secrets to life, books like Seva hit far closer to home for Indians. Reading the book is also a testament to secularism since you can understand more about a community that you possibly interact with daily. Moreover, the book also gives you the opportunity to understand more about the values of the community that you can easily pick things from. Seva is not just a read for Indians, but deserves to be popularised across the world. The book will hit the UK market in May 2022.
"I had my first baby in the first wave of Covid. Through the pandemic, I kept seeing examples of Sikhs who were risking their own lives to help absolute strangers. And while I was very proud, I was not overly surprised because doing seva is second nature to Sikhs. I knew that this is a story that the world needs to hear, that my son Azad needs to hear. I wrote Seva because it is, in a way, the solution to the problems of modern life. Read it to believe it. ", Khanna says rightly. She is quite right about this, you need to read it to believe it.
I hope you can enjoy the book with some traditional Sikh Panjiri, the most delicious sweet made from wheat flour and dried nuts.