Azerbaijan: Human Capital Forum Helps the Country Orient Itself for the Future
Recognizing the key role of human capital in growth and competitiveness, the Government of Azerbaijan and World Bank Group organized a three-day, high-level Human Capital Forum in Baku from December 19 to 21, 2018. Each day, approximately 150 participants including government ministers, top policy experts, academics, development and business community leaders, and media representatives gathered to discuss how best to support the Government of Azerbaijan in accelerating the development of its people.
Why now?
Over the past two decades, oil wealth has helped Azerbaijan achieve high growth rates, significant poverty reduction, and a middle-income status. However, Azerbaijan is facing new and emerging challenges such as how to achieve broad-based, private sector-led growth and make key public services and economic opportunities accessible to all citizens across the country.
Further, on the recently released Human Capital Index, Azerbaijan ranks 69th out of 157 countries. A child born in Azerbaijan today will be 60 percent as productive when she grows up as she could be if she enjoyed complete education and full health. Already, the country's development strategy documents—the Azerbaijan 2020: Vision for the Future and the Strategic Roadmaps for Economic Reforms —envision human capital development and its effective engagement in the development of Azerbaijan.
The Forum provided a way to explore a "whole-of-government" approach to nurturing human capital by engaging ministers and officials from education, health, tax, labor and other fields.
Forum Highlights
On Day 1, with the focus on jobs, Sahil Babayev, Minister of Labor and Social Protection of Population, emphasized the country's commitment to the formation of human capital and measures to stimulate the labor market. He particularly appreciated that human capital development is looked at through the prism of economic growth and social cohesion.
The World Bank presented the World Development Report 2019 The Changing Nature of Work, a study on how the nature of work is changing as a result of advances in technology today and how governments can best respond to these changes by investing in human capital and offering social protections to all people. Sahil Babayev was joined by Khagani Abdullayev, Adviser to the Minister of Taxes, Kestutis Jankauskas, Head of the EU delegation, and Maleyka Abbaszadeh, Chairperson of the State Examination Center of Azerbaijan, as panelists.
While discussing how investing in human capital must be a priority for governments for workers to build in-demand skills, Mr. Abdullayev said, "Experience shows that properly implemented tax policies contribute to the implementation of a mechanism for encouraging investment in human capital; in this context, Azerbaijan is paying attention to areas which require unique skills.
This year, it was proposed to introduce tax incentives for a period of ten years for investments in such areas as education, science, sports and culture. At present, educational institutions where people with disabilities study are exempted from income tax in 2019."
Day 2 focused on education. Setting the stage for discussion, Naveed Naqvi, World Bank Country Manager for Azerbaijan, stressed that the people of Azerbaijan were the country's only true resource and for them to fully utilize their potential, increased investment in education and skills was needed.
Jeyhun Bayramov, Minister of Education of Azerbaijan, confirmed this in his opening remarks, stating,  "Our world requires well-educated, skills-equipped graduates from our schools who will shape our today and tomorrow. And achieving this is a shared responsibility of education, business and government leaders."The topic was further elaborated in the WB presentation on the 2018 World Development Report: Learning to Recognize Education's Promise.
In the discussion following the presentations, Jeyhun Bayramov was joined by William Gill, U.S. Chargé d'Affaires; Edward Carwardine, UNICEF Country Coordinator; Fariz Ismailzade, Vice Rector of ADA, Maleyka Abbaszadeh (mentioned above), and Cem Mete, Social Protection and Jobs Global Practice Manager, Europe & Central Asia, World Bank, as panelists. Participants debated measures to ensure that schooling and learning went hand in hand, how to act on evidence to maximize learning outcomes, and how to align various actors in the system to make it work for learning. Mrs. Abbaszadeh said, "It is necessary to change the nature of education to make it career-oriented."
A presentation on the changing nature of wealth and a discussion centered around The Human Capital Index and Human Capital Project set the agenda for Day 3. Panelists for the latter included Vusal Gasimli, Head of the Center for Analysis and Communication of Economic Reforms, Hijran Huseynova, Chairperson of the State Committee for Family, Women and Children Affairs, Zakiya Mustafayeva, Head of Apparatus, Ministry of Health, Zaur Aliyev, State Agency for Mandatory Health Insurance, Dr. Hande Harmanci, WHO Representative, Garay Garaybayli, Rector of Azerbaijan Medical University, and Ghulam M. Isaczai, UN Resident Coordinator.
Issues for discussion included: Why should countries invest in human capital? Can early health care and education prepare children to succeed and prosper as adults in a rapidly changing world? What are the barriers to nurturing human capital and how can countries overcome them?
Additional forum sessions included the World Bank's analytical work on employment, higher education, health financing, and early childhood development in Azerbaijan.
Finally, at the end of the three-day forum, the main presentations, key messages and recommendations from the event were presented at the National Parliament of Azerbaijan (Milli Mejlis). Mr. Ziyad Samadzade, Chairman of the Economic Policy Committee, led an engaging discussion on the state of human development in Azerbaijan and ways to accelerate the transformation of Azerbaijan's oil wealth into human capital.
Communications
Extensive communication, both before and during the event, helped achieve broader public conversation around the themes of the Forum. A dedicated event webpage detailed the agenda and included links to key World Bank publications and the Human Capital Project page. One-to-one meetings with key government officials ensured their participation and contribution. The event had impressive media coverage. In the run-up to the event, World Bank officials gave numerous media interviews to promote interest in it. During the Forum, presenters and experts talked extensively to the media.
What next?
One of the main conclusions of the 3-day event was that Azerbaijan needs to invest more and better to harness the potential of its human capital, and that its current human capital index is not commensurate with its income level. "With the confluence of rapid technical change and globalization and the need to engage in the global knowledge economy, Azerbaijan's investments in human capital will be key to its ability to collaborate and compete with other nations," said Lire Ersado, Program Leader, World Bank.
By championing human capital formation through a whole-of-government approach, Azerbaijan can prepare its citizens for the challenges and opportunities that lie ahead. With this in mind, the WBG is making a strategic shift to focus its support more on human development in Azerbaijan.
Expansion of Georgia's Black Sea Ports: Modus Vivendi for Georgia
Over the past several months, a whole range of actions has taken place to expand all of Georgia's existing and future Black Sea ports. These moves, in their entirety, could have geopolitical significance on at least the regional level as it will help further connect the country to the world maritime routes, increase the country's transit potential and also enhance its position when it comes to China's multi-billion Belt and Road Initiative (BRI).
Several weeks ago, the European Union decided to financially support the Anaklia Deep Sea Port. In a document published by the European Commission regarding the development of the 'Trans-European Transport Network', it is stated that 233 mln Euros have been allocated for financing the 2nd phase of the Anaklia Deep Sea Port. It is also noted in the project that hundreds of millions of Euros have been assigned for the construction of the rail lines and highways throughout Georgia which will lead to the Anaklia Deep Sea Port. Moreover, the German Development Bank (DEG) together with the Dutch development bank have also decided to invest in Anaklia.
Further south, in Poti, a decision was made to construct a multimodal transit terminal. The facility will have modern equipment able to store up to 60,000 tons of fertilizer. Wondernet Express, the international logistics company behind the project, will invest $20 million in the project.
International port operator APM Terminals, along with Poti New Terminals Consortium, have submitted a conceptual design for the expansion of the APM Terminals' Poti Sea Port. The project entails a 14.5-meter water depth at the 700-meter quay wall and 25 hectares of land for the bulk operation yard and covered storage facilities for various cargo types, including grain, ore, and minerals.
The US Overseas Private Investment Corporation (OPIC) has issued a loan of $50 million to Pace Group to develop a multi-functional marine terminal in Georgia's Black Sea port of Poti, aimed at expanding its operational capacities.
In Batumi, it was agreed that the expansion of the port will take place with the construction of an additional terminal.
It was even announced by the Minister of Economy and Sustainable Development Giorgi Kobulia that the discussion of a ferry line between Georgia and the EU has been renewed.
Overall, these decisions show that there is a certain progress being made on Georgia's Black Sea ports development and their inclusion in the world maritime network. This global financing from Europe to the US also shows how these geopolitical players regard the South Caucasus and Georgia in particular. One could surmise that the geopolitical projection of those global companies is based upon the idea that the situation in Georgia will remain stable and that Georgian-Russian relations are unlikely to take a confrontational course (at least from the mid-term perspective).
But this expansion of Georgia's sea port infrastructure could also lead to increased interest from China in the Georgian transit corridor. I argued in a previous article for GEORGIA TODAY that, although Georgia does not figure in China's BRI, the Chinese project is an evolving one. I suggested in the same article that over time, new corridors would appear; that the BRI, rather than being a static initiative, is in fact a model which will constantly adjust to rising opportunities.
It might be suggested that a more developed infrastructure will eventually draw the Chinese to Georgia's Black Sea ports. The above-mentioned developments at Anaklia, Poti and Batumi can be considered the first stage in this process.
Taking a global perspective of these economic developments, I will argue that one of the scenarios in which Georgia and all the neighboring countries will reap benefits, is when as many world actors as possible have stakes in the Georgian economic corridor. It would be a certain modus vivendi for Georgia's future development.
Analysts often argue that there is a solely military solution to Georgia's problem with Russia. However, it is suggested here that yet another, and probably more accurate, solution to the Georgian dilemma for everyone (including the Russians) would be a Georgia where every great player has economic interests and is forced to upkeep the geopolitical security in the country for those very interests.
Author's note: First published in Georgia Times
Trump buys Lithuania, EU cannot stop it
The US President Donald Trump is no doubt a successful businessman who rules his country as if it is a huge enterprise. And this kind of management, to his mind, should lead to success. And very often it really works. As a wise leader he uses different tools to reach his goals. Thus, the most cunning one, which the US exploits in Europe – is indirect influence on the EU countries to gain the desired aim. The EU just becomes a tool in "capable hands" of the US.
Let us give the simple example. Last week the Ministry of National Defence of Lithuania announced that the Lithuanian Air Force Base in Šiauliai would get de-icing equipment for the aircraft. It would be acquired according to an agreement signed by the Ministry of National Defence and the AF Security Assistance and Cooperation Directorate (AFSACD) on behalf of the Government of the United States of America.
It is known that the new equipment is capable of removing ice from aircraft at the necessary height which allows the Šiauliai Air Base to support bigger aircraft of the Alliance, such as C-17 – one of the largest transport aircraft capable of moving a large number of soldiers and large amounts of cargo.
It is said that "the procurement for the Lithuanian Air Force Base will fill a critical capability gap and allow the Base personnel to carry out cold weather operations, as well as support the NATO Air Policing Mission. The equipment will also be used for providing servicing for the aircraft of the NATO enhanced Forward Presence Battalion Battle Group-contributing countries and other NATO allies at the Air Base."
But according to data, only three C-17s belongs to NATO. The US, in its turn, has 222 C-17s in service as of Jan. 2018. Among EU member states the only country that has C-17A ERs is the United Kingdom with 8 C-17A ERs in use. But The United Kingdom is in the process of leaving the organization. So, it is logical to assume that the most interested country in deploying C-17 in Lithuania is the US, not the EU or even NATO. And of course Lithuania cannot even dream of having such planes.
The second issue which is even more important is the fact that the agreement of approximate value of USD 1.03 million is financed from the European Security Assistance Fund (ESAF). Lithuania is not able to share the burden.
So, nothing depends on Lithuania in this issue. It only gives permission.
In the recent years Lithuania's procurement from the US has grown significantly. The ministry of National Defence is currently in negotiations with the US department of Defence for procuring JLTV all-terrain vehicles.
Unfortunately, being a member of the EU, Lithuania so hardly depends on the US in military and security spheres that it often mixes up its real needs, responsibilities to the EU with the US interests in the region. Such approach could seriously complicate the relations with neighbouring Russia and Belarus which Lithuania borders. These two countries are interested in Lithuania as an economic partner. But if Lithuania will pose military threat to them, deploying US military equipment, these states could terminate any economic cooperation.
Is it a cooperation or manipulation and who will benefit?
Georgia & Silk Roads: Belt & Road Initiative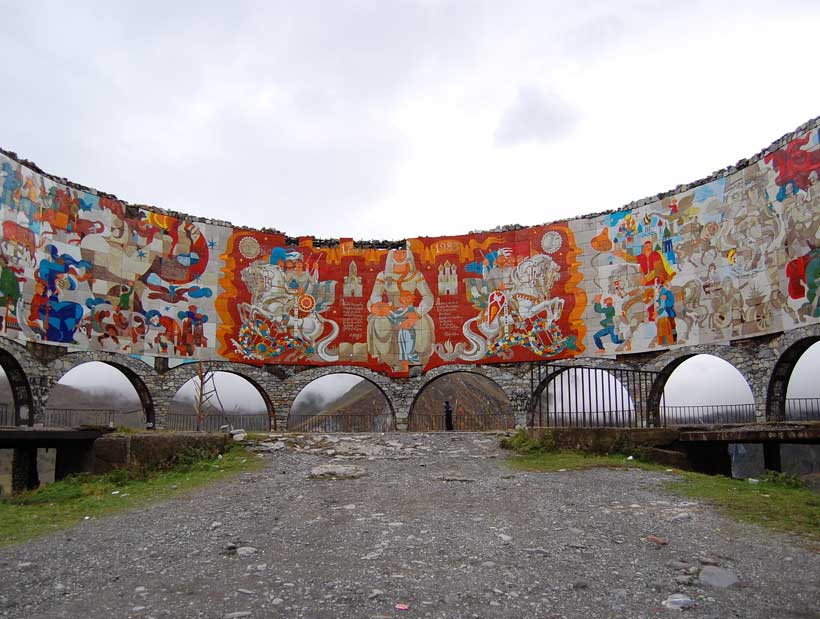 The ancient Silk Road, or as it is more often called nowadays silk roads, was an ancient trade route from eastern China to various major markets of the ancient and medieval periods (Roman/Byzantine empires, Sasanian Iran, the Arab Caliphate, etc). An important aspect to those trade routes was their changeability over time. This depended mostly on the political situation in the Middle East and this necessitated the seeking out of alternative routes to get important products from Central Asia and western China.
Contrary to widespread arguments, Georgia appeared on those trade routes only from time to time as a result of political disturbances (invasions, economic problems, etc.) in the region. The trade route across Georgia passed from North to South, from Georgia itself further south to Armenia and Iran as well as from East to West. Thus it is difficult to say that Georgia was either totally absent or dominated ancient and medieval trade routes. The Russians at times opened the Georgian transit route for European products to reach Iran in the 19th century. But the success of this commercial road ultimately depended on Russian political decisions. As is also well known that in Soviet times, virtually no international trade routes ran through Georgia as the Union was a closed-border one.
Thus, for the first time in many centuries, Georgia now has the chance to become a transit corridor for trade and energy from the Caspian area, Central Asia and even from western China. Refocusing on Georgia's transit potential is linked to China's economic and military rise which is arguably one of the central themes in 21st century geopolitics. Like many other rising powers throughout history, China has strategic imperatives that clash with those of the US. Beijing needs to secure its procurement of oil and gas resources, which are currently most available through the Malacca Strait. In an age of US naval dominance, the Chinese imperative is to redirect its economy's dependence, as well as its supply routes, elsewhere.
This is how it comes to the almost trillion-dollar Belt and Road Initiative (BRI), which is intended to reconnect the Asia-Pacific with Europe through Russia, the Middle East, and Central Asia. There are several major corridors pinpointed by the Chinese:
China to Europe through the New Eurasian Land Bridge;
The China-Mongolia-Russian Corridor;
Central and West Asian countries.
The China-Indochina Peninsula Corridor linking China with the South Pacific Ocean through the South China Sea;
The China-Pakistan trade corridor;
The Bangladesh-China-India-Myanmar trade route.
As seen, neither Georgia nor the South Caucasus feature on the list and many analysts think that this is proof that China will unlikely be interested in the South Caucasian route. Yet, the nature of the BRI is not static; it undergoes constant changes and it is likely that Beijing will always adjust its trade routes to rising challenges and new opportunities, trying to operate through difficult geographic terrain as well as politically unstable regions. These are Beijing's major enemies which make any routes vulnerable and susceptible to re-routing. And this is very much similar to how transcontinental trade routes operated in ancient and medieval periods.
Thus China has and is likely to have in future, an individual approach to each country, which makes the fact that Georgia does not feature on the above-mentioned list of trade routes not an obstacle per se. China is responding to rising opportunities and in that sense Georgia's ability to develop its Black Sea ports, internal railway and highway networks will facilitate China's decisions on the active inclusion of the South Caucasian route in its BRI or any future commercial undertakings.
Surely the Chinese also look at the security of the South Caucasus and it is difficult to imagine that Beijing will not take into account Russian moves in the region. Mitigating the Russian challenge together with opening the Georgian market to other powerful players in Eurasia is arguably a modus vivendi for the region's successful development.
Author's note: First published in Georgia Today