Navitimer 1 B01 Chronograph 43 TWA Edition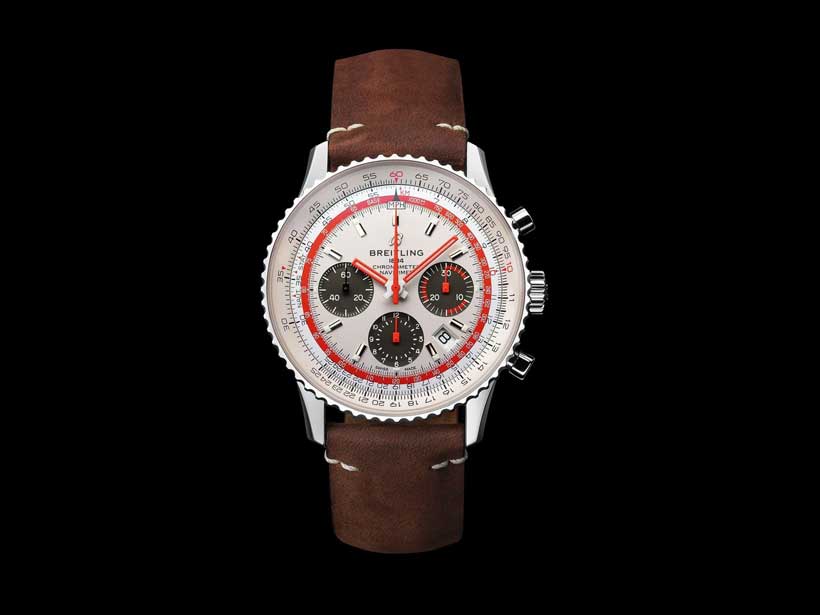 Breitling recently launched its first capsule collection – the Navitimer 1 Airline Editions – celebrating the brand's important role in the golden era of aviation and some of the most emblematic airlines of that time. The collection took off with Swissair, and the second airline to join the team was Pan Am. Now these iconic carriers have been joined by TWA, whose aircraft were a familiar sight in the world's skies throughout much of the twentieth century.
Breitling's first  capsule  collection  captures  the  spirit of a memorable time for commercial flight and revives the cool and evocative style of the 1960s and 1970s. The Navitimer 1 Airline  Editions pay an affectionate tribute to the pioneers of civil aviation and celebrate three of the most emblematic airlines of the era. The collection was launched with the Swissair Edition, which was followed by the Pan Am Edition, and the collection is now complete with the addition of the newly released TWA Edition.
Breitling CEO Georges Kern says: "We are introducing these Airline Editions in a  new capsule collection that  will be produced for a limited time and consequently in a limited volume, but the watches are not numbered. With these capsule collections, Breitling aims to tell specific stories rooted in the history of its core collection. This distinguishes them from our limited editions, which will retain their original intent: to be limited to a small, fixed number of watches."
Breitling's Capsule Collections: The Storytellers
Breitling's Chief Marketing Officer Tim Sayler also highlights the storytelling aspect of the capsule collections, adding: "We are delighted that our first capsule collection underscores Breitling's important role  in aviation in the midto late twentieth century – truly the golden era of commercial flight. The watches also focus on the young, cool design styles of the 1960s and 1970s, which are particularly relevant right now and have a huge influence on current design trends."
In the 1950s and 1960s, commercial aviation experienced an unprecedented boom. The world suddenly became smaller as the dream of flying was no longer limited to a privileged elite. Flying had become accessible to a wider group of passengers, who, for the first time, could consider flying across a continent or even an ocean. Breitling played a key role in the emergence of commercial flight. Its onboard chronographs became standard equipment, first in propeller-driven planes and later in the jets produced by the world's leading aircraft manufacturers.
When the Breitling Navitimer wrist chronograph was launched in 1952, it became an instant favorite with aviators and notably with the dashing pilots of the  late 1950s, who flew their iconic passenger aircraft, such as the Boeing 707 and the Douglas DC-8, across countries or on intercontinental flights. The Navitimer featured a circular slide rule that allowed the pilots to make any critical calculations they might need to make in the air. In these glory days of commercial aviation, the Navitimer chronographs were the original wristworn onboard computers and ultimately established Breitling – already highly regarded for its onboard chronographs – as the unrivaled official supplier  to the world of aviation.
Breitling CEO Georges Kern points out: "For civil aviation history lovers and watch aficionados, the very mention of these legendary carriers calls to mind the excitement and adventure associated with long-haul flights. For a more fashion-oriented clientele, there's the allure of the style of a time captured in classic movie scenes of passengers enjoying the premium service provided by smiling, colorfully uniformed crew members. Breitling was the preferred supplier of more than 15 leading companies and aircraft manufacturers back in the 1960s, and, with our first capsule collection, we are really excited about commemorating three of the most emblematic airlines of that era: TWA, Pan Am, and Swissair."
The Breitling Capsule Collection Navitimer 1 Airline Editions
The three Navitimer 1 Airline Edition watches are powered by the Breitling Manufacture Caliber 01. The in-house mechanical chronograph movement has been acclaimed as one of the world's finest and delivers both remarkable precision anda power reserve of approximately 70 hours. All models feature a bidirectional rotating bezel  fitted with the famous circular slide rule, which serves to perform the entire range of calculations relating to airborne navigation. Their distinctive straight hands give the watches a dynamic, contemporary  interpretation of a classic look. This first Breitling capsule collection will be available from April 2019 at Breitling boutiques and official retailers for a limited period of time.
The Navitimer 1 B01 Chronograph 43 TWA Edition
The Navitimer 1  B01 Chronograph 43  TWA  Edition has  a transparent sapphire caseback with the TWA logo printed on it. Trans World Airlines, which was based in the United States, was a familiar sight at the world's major airports throughout most of the twentieth century. This stainless-steel watch has a silver dial, anthracite subdials, and a vintage-inspired brown leather strap or a stainless-steel mesh bracelet. And, like the other editions in the capsule collection, which honor Swissair and Pan Am, it commemorates one of the airlines that played such an important role in the emergence of commercial flight in the twentieth century and which were largely responsible for introducing passenger aviation as we know it today.
4 Easy Men's Grooming Tips You Should Definitely Know
From https://www.billyjealousy.com/ to you, below are 4 practical tips about men's grooming. And we promise you, they're super easy to do.
1. Know Your Stuff (Hair Condition AND Hair Products)
Whether they're products for the locks atop your head or for the follicles that make up your facial hair, it's always best to know what they're made of.
This isn't as complicated as it sounds. All you have to do is draw your eyes towards the label of the products you come across.
There are those that target very specific types of hair damage as well as ones that have characteristics which offer up particular benefits.
Check out hair products for dryness and frizz, brittleness, split ends, and more. At the same time, you can go for items for hair strengthening, softness, easy-combing (tangles), shine, and the like.
Know what hair problems your locks are combating at the moment for you to understand what products to arm them with.
2. A Bit O' Scrubbing
Face scrubbing, that is. Besides washing, keeping that moneymaker scrubbed is a way to ensure that dirt, grime, and oil are removed from the skin's dermis. Doing so will lessen the risk of them accumulating, which may cause breakouts, irritation, redness, and even inflammation (hello, pimples).
Furthermore, a scrub-a-dub-dub on your face will serve as exfoliation to rid it of dead skin cells and make room for new ones. Here's a practice that will ultimately rejuvenate your skin and activate pores to produce healthier hair follicles.
3. Ice It Up
Not cold water. Iced. Dermatologists recommend that you wash your face with lukewarm water, and with your favourite facial wash, of course. After lathering that baby up, wash the foam and soap residue off. Then, do another face-splash with ice-cold water.
And by "ice-cold", we mean that you pour ice cubes into the H20 you'll use.
Warm water opens up your pores. Alternately, cold water will close them up. The latter is crucial so as to prevent dirt from creeping in (as gross as this may sound).
Aside from this, grab a few ice cubes and wrap them in a towel. Gently pat this innovative ice-towel pouch all over your face. Or, if you're resilient enough, hold a cube in between your fingers and do the same.
Ice reduces that "puffiness" caused by lack of sleep, oversleeping, sleeping late, and yes, hangovers. It's also a natural remedy for reducing those nasty little incessant bags under your eyes. It can soothe rashes and sunburn, too.
4. Counting Sheep
We've already mentioned a couple of key-phrases with the word "sleep" in them and there's a reason behind the repetition. Having a proper sleeping habit will allow your bodily systems to operate normally.
One of the advantages of this is that said body-recharging during sleep will boost blood circulation. And a stable blood circulation will always bring about skin health.
Sometimes, the results are immediate. They're not necessarily drastic. But every now and then, you'll get see the difference come morning. A good night's snoozing will have you wake up to a fresher-feeling you, with facial skin that's "full of life"!
Additionally, achieving proper sleep regularly— on time and in the correct number of hours— may contribute to moisturization. Accordingly, moisturized skin is less vulnerable to dullness, fine lines, and wrinkles.
How to Care for Lilies During Spring and Summer
As you know, lilies are among the most popular garden plants. However, growing lilies is not easy, and caring for them can be especially difficult since lilies are very fragile and sensitive plants. Therefore, it is important to care for them throughout the season with due attention, especially after flowering. However, with proper supervision, they will please you by becoming a wonderful decoration for your garden. How to care for lilies during the spring and summer? Let's find the answers.
Four Tips for Looking After Lilies
There is no significant difference whether you choose Asiatic, Double-flowering or tree lilies from https://dutch-bulbs.com/goliath-and-tree-liliums/ because the key rules for their care are similar. The main rule in caring for these gorgeous flowers is doing everything on time, so there will be no difficulties and you will not have to suffer the consequences of failure. Here are our four treatment tips for lilies.
How to Care for Lilies During Spring and Summer
An important tip for the excellent growth and development of large buds is the correct preparation of bulbs for planting. After the fading of petals, the process of bulb developing begins, and the next flowering depends on this. The largest and healthiest bulbs are obtained from those plants that have faded naturally and under the right conditions. In this regard, cutting hinders the development, but with proper care, the likelihood of growing a large bulb is quite high.
Caring for Faded Lilies
So, the most important thing in the growing process is not to cut the flower even after the plant has faded and does not look neat enough. Do not be alarmed that the stems and leaves look sluggish – they continue to feed the bulb. We also advise not to touch the annual roots – they are also a good source of nutrition.
Feeding Lilies After Flowering
These plants appreciate feeding, so they just need it both during and after flowering. The most successful fertilizer will be mixtures that contain potassium and phosphorus, while mineral mixtures, on the contrary, should be avoided – they are not suitable for lilies. Gardeners recommend feeding the lilies with wood ash during the summer at least four or even five times. Ash has a productive effect on the size of buds and their flowering and also increases the plant's immunity.
4. Replanting After Flowering
People recommend to transplant lilies in early August. When a month after flowering has passed, the plant will be ready for replanting. It is not recommended to do it earlier, since the bulbs need to get enough nutrients. Early transplanting can affect the plant – at best it will be difficult to take root, at worst – the plant may die.
In the first year of life, lilies usually do not reach their full development and may bloom poorly, but in subsequent years they will delight you with their beautiful flowering. Good luck!
5 Ways To Make A Long Distance Relationship Last If You Meet Online
There is are common misconceptions that long-distance relationships and relationships formed through online dating never last. Both are challenging, and when mixed together, become a challenge that only true love can overcome. It isn't easy overcoming the distance and time difference, but it isn't impossible either. In fact, those who last long enough to translate long-distance relationships to meeting in-person are said to be the most loyal partners you'll ever find.
Long-distance relationships aren't the only test you'll have to overcome; transitioning from the online phase to the in-person phase is also a quest on its own. However, after reading interracialdatingsites.online review and tips below, you could find a dating site that helps to start a conversation. But remember that you shouldn't get hung up only on online communication; the next step should be the first date in real life.
Long-Distance Relationship Is Hard Work
Long-distance relationships come with their own unique set of challenges. There are many uncertainties involved you'll often find yourself questioning, is the relationship worth it? Would it be better to date a random person in real life? What if it is a scam? What if the relationship isn't what I've hoped for? Doubting the relationship and its integrity is something that will only damage the fragileness of your young couple.
All things worth it require hard work and dedication; without the passion for making things work, the long-distance relationship will fall flat early into the journey. However, the proper mix of time, love, and a partner that's worth fighting for will make all challenges seem like a piece of cake to overcome.
Filling the void of "missing" someone when you haven't met them and missing them even when you're talking is a feeling all long-distance relationship couples feel. Making time out of your busy schedule to indulge and pamper your partner with virtual dates is what'll help overcome the feeling of uneasiness
Be Honest and Be Yourself
Everything that needs to last long requires trust and honesty. Both things go hand-in-hand you can't expect only to give or take; it's the same with business deals. Mutual understanding leads to long-lasting partnerships. The same is the case with long-distance relationships. Without being honest and open, there are little honeyed words can do to help with it.
You need to be yourself; putting on a façade and acting like someone you aren't won't help a relationship that's already so fragile. Eventually, you'll have to meet in-person. It's unavoidable. Moreover, in a relationship, you don't want your significant other to love you for who you're not (that is a fake version of yourself), nor would you like to keep pretending.
Everyone has their unique traits and personality, which makes them one of a kind. Pretending to be someone you're not, like a person that can't stand being far away from your partner, won't help your case in the long run. Even if it's working right now, it's bound to break later on.
From Online Conversation to the First Date: Bring the Relationship Into the Real World
Great, you've successfully managed to make a long-distance relationship last. You communicate online freely, care about your partner, and have a bond that will not break easily. But now comes another challenge, how do you transition from online to offline? It is an awkward phase to overcome, everyone takes time, and some even fail. But with a perfect mix of online dating and offline interaction, the in-person encounter work.
What could help your case would be regular conversations about the in-person meeting, how you'll meet, talk, the expectations, and anxiety. Choose the spot long beforehand and flesh it out in your chats. To put it simply, being an open-book is essential here. Having over the top expectation and romanticizing the first meeting can lead to disappointment on both ends, which is why you'll need to communicate to reduce the chances of failure.
Improve Your Communication Skills
Communicate more; long-distance relationships are fueled based on interactions. There is no other way of knowing or understanding your partner since there are no face-to-face interactions, nor are you a part of their day. This is why it is important to regularly ask questions like, "how was your day? Did you eat today?".Simple good morning and good night messages can make an enormous difference as well.
Keeping Your Life Balanced, Don't Get Obsessed With Chatting Online
We all know the need to stick to our phones when in a long-distance relationship, always expecting a new message. It's important to realize that being fixated on online chatting isn't helping your case. It is driving you away from responsibilities and the people around you. Even acts like watching movies together, playing online games, and video calling should not take most of your time. Remembering to keep a balance between online dating and real-life responsibilities is essential. Prioritizing one over the other can jeopardize your sociability and image.
To achieve that perfect balance, you'll need to communicate with your partner about the commitments you have to your job and other social interaction in-real-life. Set timings to overcome the time zone differences and schedule the time for love and everything else.