Another 170 migrants disappear in shipwrecks: UN call for an end to Mediterranean tragedy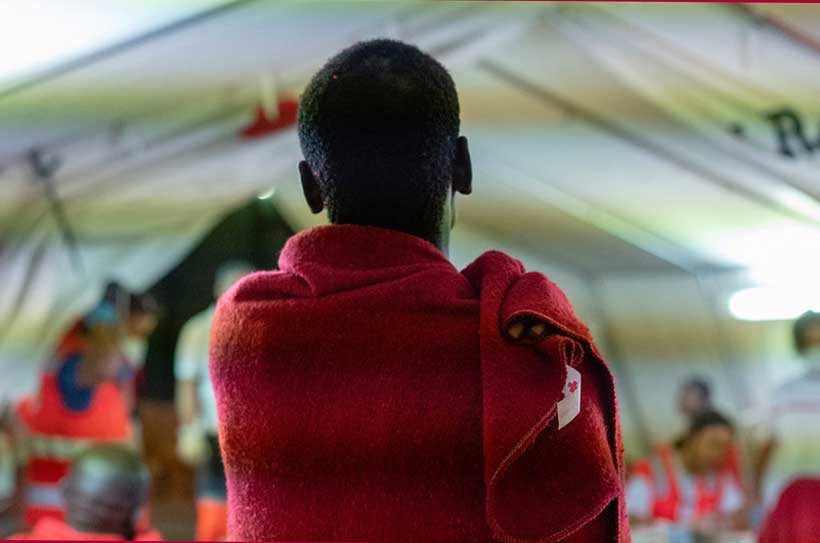 The United Nations refugee agency, UNHCR, stated on Saturday that "no effort should be spared" in saving lives at sea, following reports of two new shipwrecks on the Mediterranean Sea, in which some 170 people either died or went missing.
"The tragedy of the Mediterranean cannot be allowed to continue," said Filippo Grandi, the UN High Commissioner for Refugees.
According to various NGOs, about 53 people died on the Alborán Sea, in the western part of the Mediterranean. One survivor is understood to have been rescued by a passing fishing boat after being stranded for more than 24 hours at sea and is receiving medical treatment in Morocco.
According to UNHCR, Moroccan and Spanish rescue vessels have been searching for the boat and survivors for several days to no avail.
The Italian Navy are also reporting another shipwreck on the central Mediterranean. Three survivors, who were taken for treatment on the island of Lampedusa, reported that another 117 people, currently dead or missing, had boarded the ship with them in Libya.
UNHCR has been unable to independently verify the death tolls for these two shipwrecks, but in 2018, 2,262 people lost their lives attempting to reach Europe via the Mediterranean Sea.
Humanitarian crisis in Yemen remains the worst in the world
An estimated 24 million people – close to 80 per cent of the population – need assistance and protection in Yemen, the UN warned on Thursday. With famine threatening hundreds of thousands of lives, humanitarian aid is increasingly becoming the only lifeline for millions across the country.
According to the Office for the Coordination of Humanitarian Affairs (OCHA) the "severity of needs is deepening", with the number of people in acute need, a staggering 27 per cent higher than last year, when it was already the most acute crisis on the globe.
Thursday's 2019 Humanitarian Needs Overview for Yemen report, shows that 14.3 million people are classified as being in acute need, with around 3.2 million requiring treatment for acute malnutrition; that includes two million children under-five, and more than one million pregnant and lactating women.
Highlighting that more than 20 million people across the country are food insecure, half of them suffering extreme levels of hunger, the report focuses on some key humanitarian issues: basic survival needs, protection of civilians and livelihoods and essential basic services.
"The escalation of the conflict since March 2015 has dramatically aggravated the protection crisis in which millions face risks to their safety and basic rights", OCHA reports.
The UN agency data shows that a total of 17.8 million people lack access to safe water and sanitation, and 19.7 million lack access to adequate healthcare. Poor sanitation and waterborne diseases, including cholera, left hundreds of thousands of people ill last year.
Meanwhile, grain which could help feed millions, is still at risk of rotting in a key Red Sea storage facility because conditions are too unsafe to reach it, UN Special Envoy Martin Griffiths and UN Emergency relief chief Mark Lowcock said earlier this week.
Death toll and displaced people
During the past four years of intense conflict between Government forces and Houthi rebels have left tens of thousands dead or injured including at least 17,700 civilians as verified by the UN.
The agency adds that an estimated 3.3 million people remain displaced, up from 2.2 million last year, including 685,000 people who fled fighting in Hudaydah and on the west coast, from June onwards. According to the UN Refugee Agency (UNHCR), the number of sites hosting displaced people has increased by almost half over the past 12 months.
Pledging conference
In a bid to respond to the urgent humanitarian needs, the United Nations and the Governments of Sweden and Switzerland will convene the third High-Level Pledging Event for the Humanitarian Crisis in Yemen, later this month.
The event is scheduled for 26 February in Geneva and seeks to garner support for the humanitarian response and alleviate the suffering of the Yemeni people. At the beginning of this month, UN Emergency relief chief Mark Lowcock said that $4 billion would be needed.
Compassion, not sanctions on Venezuela
The crisis in Venezuela will not be solved by sanctions that "can lead to starvation", a UN-appointed rights expert said on Thursday. Special Rapporteur Idriss Jazairy, who reports to the Human Rights Council, issued the warning against the background of widespread suffering in the South American country, linked to spiralling economic woes and deep political uncertainty.
An estimated three million people have left the oil-rich country since 2015, while supporters of self-appointed interim President Juan Guaidó, continue to demonstrate against the government of the incumbent, Nicolás Maduro, who was re-elected last May amidst allegations of electoral irregularities and a widespread opposition boycott.
"Sanctions which can lead to starvation and medical shortages are not the answer to the crisis in Venezuela," Mr. Jazairy said in a statement, prompted by the imposition of sanctions on Venezuela's national oil company by the United States.
"I am especially concerned to hear reports that these sanctions are aimed at changing the government of Venezuela," he added, while also noting his concern about reports of serious rights violations that include "the growing risk of violence and implicit threats of international violence".
In a call for "compassion" for the people of Venezuela, Mr. Jazairy, who is UN Special Rapporteur on the negative impact of the unilateral coercive measures, insisted that "precipitating an economic and humanitarian crisis…is not a foundation for the peaceful settlement of disputes".
Such "coercion" by outside powers "is in violation of all norms of international law", the rights expert maintained, before calling on the international community to engage in constructive dialogue with Venezuela to find solutions to problems that include hyperinflation and the fall in oil prices.
In a recent statement issued by the office of António Guterres, the UN Secretary-General urged parties to "lower tensions" in Venezuela and called for all relevant actors to commit to inclusive and credible political dialogue.
Concerned by reports of casualties during demonstrations and unrest in and around the capital, Caracas, the UN chief also called for a transparent and independent investigation of those incidents.
Last Saturday, the UN Security Council met to discuss the situation in the country, in which the UN's top political official said that dialogue and cooperation were vital to ending the crisis.
The meeting was requested late last week by US Secretary of State Mike Pompeo following days of political unrest and deadly clashes in Venezuela between protesters and security forces.
The UN human rights office OHCHR reported on Tuesday, that at least 40 had been killed in the unrest, including 26 shot by pro-Government forces. More than 850 were detained following demonstrations in the past week, including 77 children.
"We must try to help bring about a political solution that will allow the country's citizens to enjoy peace, prosperity and all their human rights," Rosemary DiCarlo, the UN Under Secretary-General of Political and Peacebuilding Affairs, urged the 15-member body.
Nearly all 30 million Venezuelans are affected by hyperinflation and a collapse of real salaries, Ms. DiCarlo warned, citing shortages of food, medicine and basic supplies, along with a deterioration of health and education services and basic infrastructure such as water and electricity.
Mr. Jazairy, urged all countries to avoid applying sanctions unless approved by the Security Council, as required by the UN Charter.
Emir of Qatar to allocate $50 million to support Syrian refugees, displaced persons
United Nations Secretary-General António Guterres has welcomed the announcement by the Emir of Qatar to allocate $50 million to support Syrian refugees and displaced persons affected by the recent severe weather in the Middle East.
Deputy UN Spokesman Farhan Haq on Thursday confirmed the allocation, telling reporters at the daily UN Headquarters press briefing that the UN chief was very grateful to the Emir and the people of Qatar for their generosity.
"As you know, the recent harsh winter conditions in the Levant has had a horrific impact on populations who were already vulnerable, both refugees as well as the communities hosting them," Mr. Haq said, adding that humanitarian partners continue to respond to the needs of those affected and are reinforcing preparedness and mitigation efforts.
"These difficult conditions make Qatar's donation extremely valuable and timely for the UN system's efforts to help vulnerable people," he said.
The UN Office for the Coordination of Humanitarian Affairs (OCHA) estimated in late January that nearly 2.4 million women, children and men across Syria would struggle during the winter season to get adequate warmth and would require targeted support.
This would include tens of thousands of newly-displaced people, including those in displacement sites and open areas, those who have been displaced multiple times and for long periods and now live in sub-standard shelters, but also returnees and host communities.
The UN relief wing said people would need sleeping bags, winter clothes, plastic sheeting, high thermal blankets, heaters and stoves.