70 Years Together: Australia and Sri Lanka Forging Stronger Relations
Authors: Srimal Fernando and Yashodha  Rathnayake*
In reinforcing Seventy years of bonds, Sri Lanka enjoys closer foreign relations with Australia than ever before. This bilateralism is an emerging strategic choice, their ties focusing on economic integration. The short and long term engagement of the South Asian Island and the Asia Pacific nation can be a basis for opening opportunities for other neighboring   economies.  Even though there are many disparities between the two nations, there are also considerable similarities too. Much had happened in the past decades between Australian Prime Minister Robert Menzies' visit to Sri Lanka in 1950s, and lately by the Premier Malcolm Turnbull's visit in 2017. In Sri Lanka during an official visit Australian Prime Minister Trurnbull stated "I look forward to continuing our discussions on strengthening our economic links, defense engagement and our work together to combat trans-national crime particularly people-smuggling,". Further the Colombo Commonwealth summit of 2013 was a transformative moment that laid a solid diplomatic foundation with the presence of Premier Abbott. The age-old bilateral bonds of both countries go beyond diplomacy.  Hence the 109 000 Sri Lankan Australians diaspora (Department of Home Affairs; Immigration and Citizenship) can also be a source of strength, pride that forges these bonds between the two nations.
The Sri Lankan conflict was a testing time for Australian foreign relations with the island country. Australia was unwilling to take sides during this time and the relationship drifted a little bit. Yet, the Australian government has positively contributed to various socio – economic causes to uplift Sri Lankan society, especially in war-affected areas. To consolidate these efforts they provided an estimated figure of AUS$27 million in 2008 as overseas development aid (ODA) to Sri Lanka which was torn apart by war. After ending the conflict in 2009 Australia increased ODA levels. Followed by this development assistance in2018 Australians provided AUS$28.6 million. (Department of Foreign Affairs and Trade, Australia)
It might be worth mentioning commercial engagements between these nations. Compared to 1990s, South Asian consumers are now on Australian investors' radar screen, since the subcontinent economy is growing faster than ever. The current economic vision plan of Sri Lanka is making it much easier for Australian companies to invest in the island nation. The clearest signs of this bilateral stability doubled in 2017, bringing this two way trade figure to AUS$1.4 billion. Hence the current Australia's High Commissioner to Sri Lanka, H.E. Bryce Hutchesson stated, ''this year's figures reflects the steady growth in commercial engagement between our two countries. As close friends and Indian ocean neighbors, we're now seeing the trade and investment relationship expand as Sri Lanka's economy moves forwards and Australian companies take an increased interest in the Sri Lankan market''.
The economic integration between Australia and Sri Lanka can occur due to several factors. One of the major reasons is due to its vital geographical position in the Indian Ocean. It is noteworthy to mention Sri Lanka forms a major link for Australian entrepreneurs to gain great preferential market access to over 1.6 billion consumers through South Asian Free Trade Area (SAFTA) arrangement. This framework would be a huge advantage for Australian's. At the other end of the spectrum on Australian investors could explore low cost outsourcing opportunities. Yet with low coordination efforts this may lead to more promising outcomes. As per Department of Foreign Affairs and Trade, Australian companies have invested over AUS$89 million in 2017. With this growing trust Sri Lanka needs to convert the current foreign policy direction that requires to gain a foothold in the Australian market.
The income growth of the new middle class in Sri Lanka enabled to increase in tourist activities. This is more likely to have highlighted the need to expand air and maritime connectivity. Recently Sri Lankan Airline, the national carrier operates daily long haul flights to Melbourne, which had paid off handsomely. Rapid mobility of air services are influencing tourism demands. This has resulted a large number of Australians visiting the island country. As many as 80000 Australian tourist visited Sri Lanka in 2017.(Sri Lanka Tourism Development Authority (SLTDA), 2017)
But now, Sri Lanka and Australia has turned a new leaf reinforcing through sports diplomacy. In this regard cricket made much sense.   There are great stories of how Australian coaches mentored the islanders prior to Sri Lankans becoming globally famous cricketers in 1996. Today sports diplomacy has reached to a point where a trophy was named after the famous cricket legends Muttiah Muralitharan and Shane Warne. The twenty-fifth anniversary of Sri Lanka and Australia test cricket was dedicated to the iconic cricketers.
Symbolic power of education is a part of a larger   goal of these forging ties. Australian institutes provide standardise facilities for many Sri Lankan students to pursue higher education. Hence statistics speaks for themselves, where over 9000 Sri Lankan students are studying various subjects in Australia. This country has been the second most popular tertiary study destination for Sri Lankans.
For the success towards stronger diplomatic relations, Sri Lankan foreign policy makers require an out of the box thinking. Australian policy makers also must try to use their influence to create a conducive environment for these bonds to grow.  Change for a new direction in stronger ties ultimately requires continuous collaboration.
*Yashodha Jayathmi Rathnayake, a scholar BA (Hons) in English, at the Faculty of Social Sciences and Languages, Sabaragamuwa University of Sri Lanka.
Pakistan-India: Old blame-game was not successful in past and may not work in future
India was in a habit of blaming and coercing Pakistan for its failures to over-come domestic issues. I a matter of fact, it has been seven decades that Pakistan was established as in independent state, but India has never accepted it and always tried to destabilize Pakistan and over-taking this country. India is still dreaming of "Akhand Baharat" (Bigger India) which includes Pakistan and many other countries in the neighborhood up to Indonesia and Australia.
In past, whenever, India coerce Pakistan, the political leadership always try to fond escape, but today the Pakistan is in the control of strong leadership, who is sincere, honest, brave and patriot.
Prime Minister Imran Khan on 19 February 2019 said Islamabad will take action if Delhi shares any actionable evidence concerning last week's suicide bombing in occupied Kashmir's Pulwama area which had targeted Indian paramilitary soldiers. But unfortunately, India has nothing except lies.
While offering cooperation and another chance at a dialogue over the Kashmir issue, the premier also warned India against any act of aggression, saying Pakistan will not hesitate in retaliating to a provocation. Pakistan is not in the position of war, but if imposed, may retaliate in a manner which suits us. However, he made it clear that he hopes better sense will prevail.
"First of all, you accused Pakistan. There was no evidence. You never thought: 'What would be in it for Pakistan?'," he said. "Would even a fool do such a thing to sabotage his own conference? And even if he the crown prince had not been visiting, what benefit would Pakistan get from it the Pulwama attack?"
"You wish to remain stuck in the past, and each time something happens in Kashmir, you want to hold Pakistan responsible. Instead of trying to resolve the Kashmir issue, start a dialogue or move forward, you want to make Islamabad your whipping boy again and again," the prime minister said, addressing Delhi. This will not work anymore. "I am telling you clearly, this is naya(New) Pakistan. It is a new mindset, a new way of thinking. We believe that it is in our interest that our soil is not used for carrying out terrorist attacks in other countries, nor do we want outsiders to come and carry out terror attacks here. We desire stability," he asserted."Today, I would like to make the Indian government an offer. Any sort of investigation you wish carried out regarding this incident about the involvement of any Pakistani, we are ready for it."If you have any actionable intelligence that a Pakistani is involved, give it to us. I guarantee you that we will take action ─ not because we are under pressure, but because they any individuals found involved are acting as enemies of Pakistan.""If someone is using Pakistan's soil to carry out terror attacks elsewhere, it is akin to enmity with us. It is against our interests."
The prime minister added that whenever Pakistan tries to initiate dialogue with India, Delhi's precondition is that terrorism must be talked about."We are ready to talk about terrorism. We want terrorism in the region to end," he stated. "Pakistan has been the worst affected by terrorism. Therefore, we are ready to talk with you."
"And after that, where does the matter go? We all know that starting a war is easy. But starting a war may be in our hands, ending it won't be. Where it the tide of war will go, God knows. That's why I hope that better sense will prevail.""This issue will only be resolved through dialogue and talks," he concluded.
Based on historical facts, "Whenever there is supposed to be an important event in Pakistan, or the country is moving towards stability, then there is always some sort of staged incident in either India or occupied Kashmir," the DG ISPR said, adding that such incidents also seem to occur when India is just months away from elections. Below is list of such incidents:
"In Dec 2001 ─ the Indian parliament attack ─ India was supposed to have general elections and the presidential election in 2002, the United Nations General Assembly was in session. It was around this time that an influx of terrorists began on Pakistan's western border following 9/11.
"When the Mumbai attack took place, our progress in the war on terror was quite good and at this time too, there were to be general elections in India from February to December.
"On Jan 2, 2016, Pathankot happened. The President of the United States' State of the Union address was due. India was to see state elections and there were foreign secretary-level talks scheduled between India and Pakistan. That was scuttled," he said.
"The Uri incident happened on Sept 18, 2016, when our prime minister was set to go to the UNGA to deliver a speech," he added.
"So this pattern shows that whenever in Pakistan there is some important event due, some staged action of this sort takes place," Maj Gen Ghafoor noted.
He pointed out that there were eight significant events to take place either in Pakistan or involving Pakistan in the period Feb-March 2019:
Saudi crown prince's visit and investment conference
Discussion on United Nations Security Council terror listing
Afghan peace talks
European Union discussion on occupied Kashmir
Hearing of Indian spy Kulbhushan Jadhav's case at the International Court of Justice
Discussion on FATF report
Meeting between Pakistan, Indian officials on Kartarpur Corridor developments
Pakistan Super League matches to be played in Pakistan
The DG ISPR also observed that India was to hold elections in the coming months even as "an indigenous struggle in occupied Kashmir is at its peak and out of India's control"."In light of these events, what benefit would Pakistan get from involvement in the Pulwama attack?" he questioned. In fact 'India should question its security forces'. "India began showering Pakistan with accusations immediately after the attack without sparing a moment to think, and without any evidence in hand," Ghafoor said."From the Line of Control onwards, Indian security forces have layered defences," he said, explaining that there were layered lines of defence, one after another."How is it possible for anyone from Pakistan to cross the LoC and go to some area where the population of security forces is greater than that of locals?"
"The Pulwama attack happened miles away from the LoC. The explosives that were employed were being used by the administration and security forces in occupied Kashmir, it didn't go there from Pakistan," Maj Gen Ghafoor said. "The car that was used was also local [to Kashmir]. It did not go there
"We do not wish to go into war, but please rest assured that should you initiate any aggression ─ first, you will never be able to surprise us. Pakistan armed forces will never be surprised by you. But let me assure you, we shall surprise you," he promised.
"We have singleness of conception ─ from the prime minister, down to a citizen, from the three chiefs down to each soldier, all political parties, and all segments of life. We have a singleness of conception, and the will and the determination, the ways and means to reach our desired end state.
The army's spokesman said that Pakistan in the 21st century was looking towards tackling issues such as education, health, and upholding the right of its citizens and future generations to live in peace ─ "not a war that you are trying to set the stage for", he admonished India. The whole nation is united on one point agenda that to defend our country at all cost.
It is worth mentioning that both Pakistan and India, are nuclear states. If any misadventure will be initiated from India, Pakistan deserve to response in its own manner which suits Pakistan most. We are peace loving nation and strongly believe in "peace and diplomacy". We keep on insisting for dialogue for last seven decades, India was always trying to escape behind any lame excuse.
India has been exposed to the rest of world and its atrocities in Kashmir has crossed all records. Let all the peace-loving nations and individuals come up to make India change its war-craze mind-set, once for all.
South Asian Geopolitics: Saudi Arabia: 1 Iran: 0?
It may be reading tea leaves but analysis of the walk-up to Saudi crown prince Mohammed bin Salman's visit and his sojourn in Islamabad suggests that Pakistan may be about to fight battles on two fronts rather than just the Indian one in the wake of this month's attacks in Kashmir.
Prince Mohammed's expressions of unconditional support for Pakistan coupled with his promise of US$20 billion in investments in addition to US$6 billion in desperately needed financial aid raise the spectre of a shift in Pakistani efforts in recent years to walk a fine line in the rivalry between Saudi Arabia and Iran.
That fine line included a 2015 Pakistani refusal to send troops to the kingdom in support of the Saudi military intervention in Yemen.
Speaking to the Arab News this week, Major General Asif Ghafoor, head of the Pakistan army's media wing, suggested that Pakistan's commitment to Saudi Arabia was equally unconditional. "Pakistan is committed to standing by its Saudi brethren," Maj. Gen. Ghafoor said.
Pakistani Foreign Minister Shah Mehmood Qureshi seemed to fine tune the officer's statement by not mentioning Yemen in his remarks to the Saudi paper and limiting Pakistan's commitment to the kingdom itself. "If anyone would create chaos in or attack the Kingdom, Pakistan would stand by its brethren Saudi Arabia," Mr. Qureishi said.
The stakes for Pakistan that borders on Iran and is home to the world's largest minority Shiite Muslim community could not be higher.
Concerned that Pakistan's position may be shifting, Iran this week dialled up the rhetoric by warning that Pakistan would "pay a high price" for last week's attack in the Iranian province of Sistan and Baluchistan that killed 27 Revolutionary Guards.
Like with India in the case of Kashmir, Iran asserted that the perpetrators, Jaish-al-Adl, were operating from Pakistani territory with at least the tacit knowledge of Pakistani authorities. In an unusual disclosure, Iran said three of the six perpetrators of last week's attack, including the suicide bomber, were Pakistani nationals.
In the past, Iran has by and large said that militants who had launched attacks were Iranian nationals rather than Pakistanis.
The tone of Revolutionary Guards chief Major General Mohammad Ali Jafari's statement holding Pakistan, alongside the United States, Saudi Arabia and Israel, responsible for the recent attack reflected Iranian concern with what may flow from Prince Mohammed's visit.
"Why do Pakistan's army and security body … give refuge to these anti-revolutionary groups? Pakistan will no doubt pay a high price. Just in the past year, six or seven suicide attacks were neutralized but they were able to carry out this one,"," Maj. Gen. Jafari said in remarks live on state television.
Initially, Iran had limited itself to blaming external powers rather than Pakistan for the attack.
Indications suggesting that Prince Mohammed's visit to Pakistan may have been about more than economic cooperation were severalfold and involved gestures that despite Pakistani denials would not have come without a price tag.
Saudi Arabia and Pakistan expressed in a little noticed declaration in their joint statement at the end of the crown prince's visit "the need to avoid politicization of the United Nations listing system."
The statement was implicitly referring to Indian efforts to get the UN Security Council to designate Masood Azhar as a global terrorist. Mr. Azhar is the head of Jaish-e-Mohammed, the group that has claimed responsibility for the Kashmir attack.
China, which at Pakistan's behest has blocked Mr. Azhar's designation in recent years, this week rejected an Indian request that it lift its veto. China asserts that Indian evidence fails to meet UN standards.
The reference to UN listing in the Saudi-Pakistani statement seemingly failed to resonate in New Delhi where Prince Mohammed stopped after visiting Islamabad.
In another tantalizing incident, Mr. Qureshi, the Pakistani foreign minister, did nothing to distance his country from a statement in his presence by Saudi State Minister for Foreign Affairs Adel Al-Jubeir accusing Iran of being the "world's chief sponsor of terrorism"
Similarly, in preparation of Prince Mohammed's talks, retired General Raheel Sharif, the Pakistani commander of the Saudi-based, 40-nation Islamic Military Counter Terrorism Coalition (IMCTC), flew from Riyadh to Islamabad for talks with prime minister Imran Khan and Pakistani chief of staff, General Qamar Javed Bajwa.
Pakistan agreed to General Sharif's appointment as commander despite its refusal to join the coalition in the belief that the 2017 Saudi request that he be seconded put the South Asian nation between a rock and hard place.
Pakistani military officials argued at the time that while the appointment would irritate Iran, refusal of the Saudi request would expose Pakistan to criticism from many more in the Islamic world.
Neither the Pakistani government nor the IMCTC gave details of General Sharif's discussions. The IMCTC, however, said in a tweet that "salient contours of IMCTC's domains and initiatives in the fight against #terrorism were discussed."
The tone and gestures during Prince Mohammed's visit contrasted starkly with positions adopted by Mr. Khan during his election campaign and immediately after he took office last year.
In his first post-election televised speech Mr. Khan made a point of discussing his country's relationship with Saudi Arabia and Iran.
"We want to improve ties with Iran. Saudi Arabia is a friend who has always stood by us in difficult times. Our aim will be that whatever we can do for conciliation in the Middle East, we want to play that role. Those tensions, that fight, between neighbours, we will try to bring them together," Mr. Khan said.
The geopolitical fallout, if any, of what for now amounts to symbolism will likely only be evident in the weeks and months to come.
Beyond Iran's toughening stance towards Pakistan in the wake of the attack on its Revolutionary Guards, tell-tale signs would be a closer Pakistani alignment with the Saud-led anti-terrorism coalition and the degree to which Pakistan-based militant launch attacks inside Iran.
Middle East scholar Michael Stephens, who heads the Royal United Services Institute (RUSI) operation in Qatar suggested that reading the tea leaves may best be done with a grain of salt.
"Geography is what it is, and Pakistan will always have to maintain a relationship with Iran (economic and security) regardless of how much cash it gets from Riyadh… Pakistan will do what's best for Pakistan, and not Riyadh, the US or Tehran. Telling everyone what they want to hear is kinda how this all works," Mr. Stephens said.
The Indo-Pak Conundrum: Victims to their Own Narratives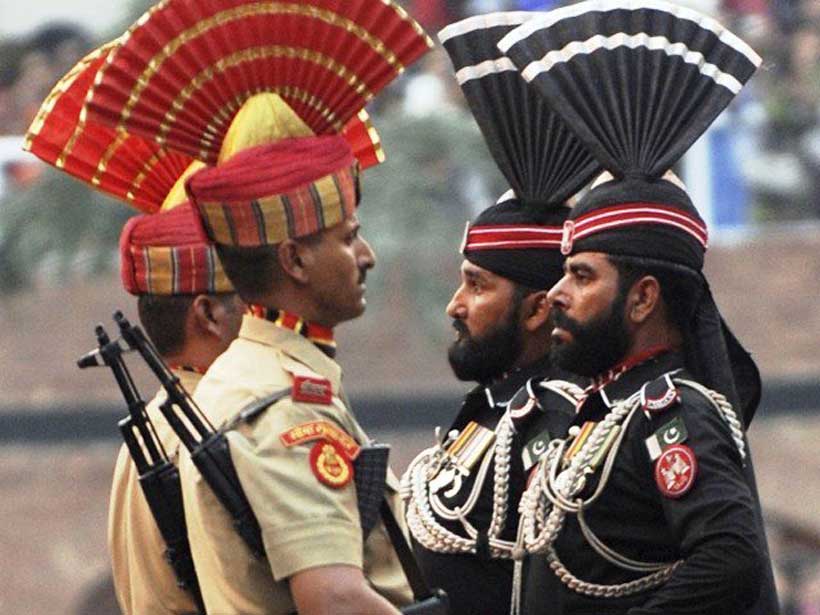 As tensions between nuclear armed India and Pakistan once again escalate in the wake of the devastating attack on Indian paramilitary personnel in Pulwama, one can't help but bemoan the Sisyphean manner in which both countries seem locked in extolling the same narratives over and again. This applies not only to those aiming to broker some semblance of peace between the two age-old rivals, but also those capitalizing on the ensuing discord and enmity for their own benefit. There seems as a result an inescapable script which both the Indian and Pakistani sides seem condemned to follow.
For those unaware of the above reference, it is perhaps better to give a brief account of Sisyphus in order to understand its relevance to Indo-Pak ties. Sisyphus of Ancient Greek legend was condemned by the Gods to rolling a giant boulder up-hill only to watch it roll back down, repeating the tasked infinitum. This punishment, meted out to Sisyphus against his hubris has since often come to denote the futility of human action, in a harsh and unforgiving world. This idea has since been presented by many artists and thinkers in relation to mankind's own search for the very meaning of existence.
In the near timeless case of India and Pakistan, Sisyphus's punishing task which he is doomed to carry out eternally, bears a striking resemblance to the futility faced by statesmen and policy-makers from both sides in reaching an agreement over Kashmir. Their inability to break free from the decades old vitriol and bad blood, and to resort to the same threats of war and retaliation have come to characterize the narrative underlying Indo-Pak ties following every major Kashmir linked attack that has taken place in India. The Pathankot and Uri attacks from two years back, the Gurdaspur attack from 2015, the 2008 Mumbai attacks as well as the 2001 attacks on the Indian Parliament in New Delhi have all served to crystallize the animosity between both countries.
All and any efforts made towards even just normalizing relations have been as a result instantly derailed. It's as if the recent strides made at the ground-breaking ceremony of the Katarpur corridor, the designation of Most Favored Nation (MFN) status with regard to trade, and the decades of people to people ties built around cultural and cricket diplomacy by countless artists, writers, poets musicians and professional athletes from both sides of the border; has all been rendered meaningless in just a matter of days following Pulwama.
It is extremely unfortunate that based on these dynamics, the very idea of brokering a sustainable and lasting peace between the two countries has itself reached mythic proportions. This gap has further widened based on the willful construction of a nationalist identity and narrative that is directly premised on the politics of 'otherness' both within and across the borders dividing India and Pakistan.
In the case of India, this aspect of otherness has reached an unprecedented scale with the rise of far right nationalist discourse premised on the principles of the BJP led Hindutva movement. In direct tension with the secular foundations of Indian democracy, many have attributed India's descent into a religious inspired nationalism as a worrying precursor to regional instability. As the ruling BJP government comes to increasingly resort to the politics of otherness as part of its bid for re-elections, many have accused it of willfully spurring anti-Pakistan sentiments in an attempt at uniting a diverse and divisive electorate against a singular common enemy.
Prime Minister Imran Khan, in his recently televised official statement on Pulwama, addressed this very issue and directly attributed it to the reason behind the bellicose rhetoric being espoused by Indian leaders. In the same speech he also reiterated Pakistan's resolve to retaliate and defend itself should tensions escalate to the point of military conflict.
This entire diplomatic exchange represents thus the same narrative that both sides have remained locked in as a result of Kashmir. The BJP led government in India, constrained by its inability to move beyond pandering to its core electorate, seems perhaps more unable than unwilling to break free from its own set narrative. On the other side, Pakistan's position has more or less been characterized as being dominated by its influential military to which its foreign policy on India has widely been accused of being held hostage from its civilian government. Both narratives are in turn deeply ingrained in the above discussed politics of otherness, to which both sides seem condemned to repeating over and again.
However, if one was to go back to Prime Minister Khan's inaugural speech from September last year, he has repeatedly claimed that both the Pakistani government and its military are on the same page with respect to its regional interests and foreign policy. Even in his statement on Pulwama, he offered in clear terms Pakistan's commitment to working with India against terrorism across the region. He has clearly indicated that he is willing to move beyond these set narratives and work towards attaining the much illusive peace between the two countries. Whether Imran Khan is successful in bridging this ever growing divide between the two countries remains to be seen. However, the fact that he has willfully acknowledged and taken up this Sisyphean task for what it is, presents some hope for those worryingly looking at the war clouds looming over the South Asian region once again.