US Blunders have made Russia the Global Trade Pivot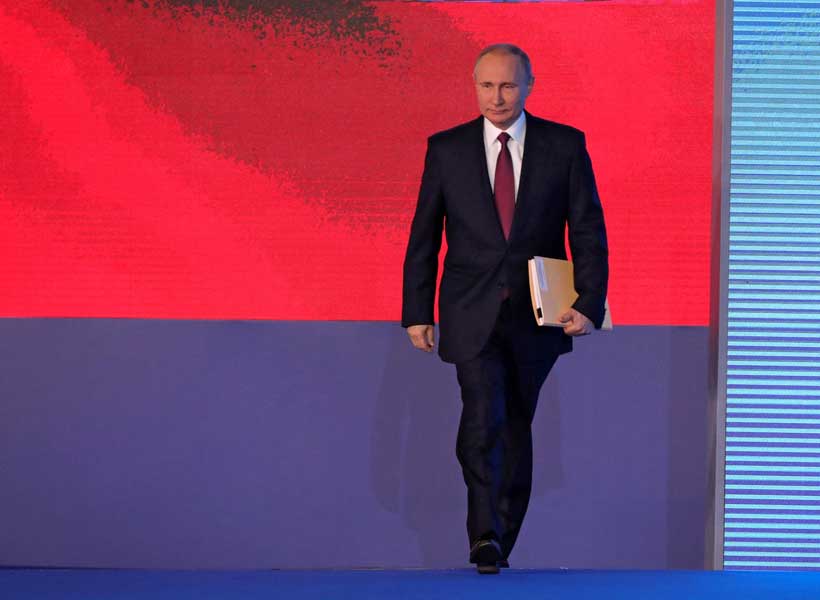 The year 2019 had barely begun before news emerged that six Russian sailors were kidnapped by pirates off the coast of Benin. It was perhaps a foretaste of risks to come. As nations reel from deteriorating economic conditions, instances of piracy and other forms of supply chain disruptions are bound to increase.
According to the International Maritime Bureau (IMB), 107 cases of piracy were noted during the first half of 2018 vis-à-vis 87 throughout 2017. The 2018 tally included 32 cases in Southeast Asian waters and 48 along African shores –representing 75% of the total. To put this figure into perspective, Asian behemoths India and China – despite their vast shorelines – recorded only 2 cases of piracy each during the study period. Russia had none. In terms of hostages taken, the IMB tally read 102 in H1 2018 vs 63 in H1 2017.
Piracy adds to shipping and retail costs worldwide as security, insurance and salaries are hiked to match associated risks in maritime transport. Merchant vessels will also take longer and costlier routes to avoid piracy hotspots.
A United Nations Office on Drugs and Crime(UNODC) report in 2016 sums up the perils ahead: "As over 90% of global trade is carried out by sea, the economic effects of maritime crime can be crippling. Maritime crime includes not only criminal activity directed at vessels or maritime structures, but also the use of the high seas to perpetrate transnational organized crimes such as smuggling of persons or illicit substances.  These forms of maritime crime can have devastating human consequences."
Indeed, cases of human trafficking, organ harvesting, and the smuggling of illicit substances and counterfeit goods are proliferating worldwide in tandem with rising systemic debt and suspect international agendas.
Australia offers a case in point. While it fantasizes over a Quad of allies in the Indo-Pacific – to "save Asians from China" –criminal elements from Hong Kong, Malaysia to squeaky-clean Singapore have been routinely trafficking drugs, tobacco and people right into Sydney harbour for years,  swelling the local organised crime economy toas much as $47.4 billion (Australian dollars presumably) between 2016 and 2017.
With criminal elements expected to thrive during a severe recession, they will likely enjoy a degree of prosecutorial shielding from state actors and local politicians. But this is not a Southeast Asian problem alone; any superpower wishing to disrupt Asia-Europe trade arteries – the main engine of global growth– will have targets of opportunity across oceans and lands.  The US-led war against Syria had not only cratered one potential trans-Eurasia energy and trade node, it served as a boon for child trafficking, organ harvesting and slavery as well. Yet, it is President Bashar al-Assad who is repeatedly labeled a "butcher" by the Anglo-American media.
Ultimately, industries in Asia and Europe will seek safer transit routes for their products. The inference here is inevitable: the greatest logistical undertaking in history – China's Belt and Road Initiative (BRI) – will be highly dependent on Russian security umbrella, particularly in Central Asia. Russia also offers an alternative transit option via the Northern Sea Route, thereby avoiding any potential pan-Turkic ructions in Central Asia in the future.
Russo- and Sinophobia explained?
In retrospect, Washington's reckless policies post-Sept 11 2001seem aimed at disrupting growing synergies between Asia and Europe. This hypothesis helps explain the relentless US-led agitprops against Russia, China and Iran.
When the gilet jaunes (yellow vest) protests rocked France weeks ago, it was only a matter of time before some pundits blamed it on Russia. US President Donald J. Trump cheered on; just as "billionaire activist" George Soros celebrated the refugee invasion of Europe and the Arab Spring earlier. If the yellow vest contagion spreads to the Western half of Europe, its economies will flounder. Cui bono? A Russia that can reap benefits from the two-way BRI or Arctic trade routes or a moribund United States that can no longer rule roost in an increasingly multipolar world?
Trump's diplomatic downgrade of the European Union and his opposition to the Nord Stream 2 gas pipeline matches this trade-disruption hypothesis, as do pressures applied on India and China to drop energy and trade ties with Iran. Washington's trade war with Beijing and recent charges against Huawei – arguably Asia's most valuable company –seem to fit this grand strategy.
If China concedes to importing more US products, Europe will bear the consequences. Asians love European products ranging from German cars to Italian shoes and Europe remains the favourite vacation destination for its growing middle class. Eastern European products and institutions are also beginning to gain traction in Asia. However, these emerging economies will suffer if their leaders cave in to Washington's bogeyman fetish.
Even if Europe is somehow taken out of the trade equation, greater synergy between the RIC (Russia, India and China) nations may be enough – at least theoretically – to pull their nations through anticipated global volatilities ahead.
In the meantime, as the US-led world crumbles, it looks like Russia is patiently bidding its time to become the security guarantor and kingmaker of Asia-Europe trade.  A possible state of affairs wrought more by American inanity rather than Russian ingenuity…
Standing for Everything Evil against Everything Good: Russia's Hostile Measures in Europe
In late January, researchers from the renowned U.S. research centre RAND Corporation made their contribution to maintaining anti-Russian sentiments by publishing an analytical paper entitled "Russia's Hostile Measures in Europe: Understanding the Threat." The report was sponsored by the U.S. Army, and it is to the U.S. Army that its conclusion is formally addressed, offering recommendations on counteracting Russia's hostile measures in European countries.
This is not the first time that the RAND Corporation has prepared research analytical reports for the U.S. Armed Forces on various topics in international interaction. For instance, John Arquilla and David Ronfeldt's study "Networks and Netwars. The Future of Terror, Crime, and Militancy" published in 2001 and commissioned by the U.S. Secretary of Defense, is one of the first works on cyber warfare and it is already considered a classic. There are, however, reasons to believe that the rather opportunistic report on Russia's hostile measures in Europe will have a somewhat different future.
"J'Accuse…!"
Before making accusations against Russia, the authors of the report make a series of important qualifications in their introduction that significantly reduce its academic value:
First, the researchers from the very outset acknowledge that proving or disproving Russia's malicious influence in Europe is virtually impossible and they do not even try to do so.
Second, unlike historical studies, their report is instead geared towards prognostication, that is, this paper is by default "debatable, based on individual observations and dependent on circumstances."
Third, the authors acknowledge that the current problems and disagreements in European countries are not the result of the malicious actions of Moscow.
Nevertheless, Russia has tried and will apparently continue to try in the future to use European disagreements to achieve its five principal foreign political objectives:
pursuing security and survival of the regime;
developing and maintaining great-power status;
exerting influence within the near abroad in order to pull these countries into its sphere of influence;
increasing cooperation and trade with Western Europe;
undermining enlargement of the European Union and NATO into the post-Soviet space.
It is assumed that Moscow will use "measures short of war" as a tactic. This term was introduced by George Kennan in the late 1940s to denote the hostile actions of the USSR and spanning a broad range of political, economic, diplomatic, intelligence and military steps.
Russia is most likely to put pressure on individual European countries in order to create a crisis and a subsequent window of opportunities to boost its own influence.
At the same time, several groups of countries are within Moscow's orbit: the Baltic states and the states of Southeast and Western Europe. In each region, Russia has its interests and leverage that it can use to achieve its above-state foreign political objectives.
Europe in Russia's Cross-Hairs
RAND Corporation researchers believe Lithuania, Latvia, and Estonia are most vulnerable to Russia's negative influence due to five basic reasons:
They are the most vulnerable NATO and EU countries due to their geographical location (common land border with Russia).
They pose a threat for the regime in Russia as successful democratic societies and full-fledged members of the western community.
Using hostile measures in the Baltic countries could have a positive impact on the Kremlin's ratings, since many Russian citizens view these countries as hostile.
Moscow can exert significant influence on the foreign and domestic policies of those countries given their common Soviet past, the feeling of nostalgia that can also be used.
Moscow's support for Russian-speaking communities in those countries.
On the whole, the authors of the paper agree that the greatest danger for the Baltic countries stems from Russia's support for the Russian-speaking diaspora that could become a sort of "fifth column" in the states and a conduit for Russia's interests. They also note that the Russian-speaking population in Latvia, Lithuania and Estonia still faces certain discrimination, particularly when it comes to finding employment, which Russia can use to its advantage. The possibility of military intervention using "little green men" should not be discounted either, but the probability of this happening is much lower, since the Baltic countries have long since joined NATO and have essentially delegated their security to those EU and western European countries that have significant military capacities.
The situation in the countries of Southeast Europe is somewhat different, where poverty is the main problem that opens a window of opportunity for Russian influence. Indeed, Bulgaria and Romania have the lowest per capita GDP among EU member states. As a result, Moscow may be able to influence the politics and policies of these countries through investments by Russia's largest foreign economic actors, primarily from the energy sector. For instance, Bulgaria's only oil refinery in the port city of Burgas is owned by Russia's Lukoil, and the paper's authors believe the refinery was significantly undervalued when the Russian corporation bought it. Therefore, in the countries of southeast Europe, the Kremlin will use primarily economic measures including bribery and blackmail to destabilize the situation.
However, the most desirable outcome for Moscow is to foster pro-Russian sentiments in the countries of Western Europe, as it is here that Europe's wealthiest and most influential countries – the closest allies of the United States – are located. RAND Corporation researchers believe that the Kremlin will see even the slightest signal of a potential split in the transatlantic partnership as a major foreign political victory.
Western European countries are currently faced with a knot of complex problems that Russia can successfully use for its own purposes: dissatisfaction with the economic situation (unemployment and economic stagnation), the crisis of traditional political parties, illegal migration and the rise of Islamic terrorism.
It is these difficulties in Europe's development that will give Russia a chance to sow discord between NATO member states and further its great-power status. Although none of the manifestations of the crisis mentioned above stem from Russia's politics, they all afford strategic opportunities that Russia can use to drive a wedge between the EU countries and undermine transatlantic partnership.
Europe's problems in the economy, immigration policy and the fight against terrorism have become a breeding ground for various radical parties that pursue nationalist, anti-immigration, anti-European and generally more stringent security policies, which, the report claims, plays into the Kremlin's hand. At the same time, RAND Corporation researchers note that the assistance that Moscow has provided to these parties has not played a decisive role in increasing their influence, since they have always had their voting base. Another matter is that, in times of difficulty, the number of dissatisfied people increases, and their electoral base increases accordingly.
At the same time, even though the authors of the report are convinced that the unfavourable economic situation and security threats stemming from the countries of the Middle East will make Europe more vulnerable to Russia's hostile measures in the coming years, Russia will fail to exert significant influence on the policies and politics of western European countries and deflect attention from the situation in the east of Ukraine and from the annexed Crimea.
Therefore, in regard to western European countries, Moscow will continue its tactics of assisting radical Eurosceptic parties, using energy as a means of putting pressure (so-called "energy weapons"), using close ties with and support for individual influential pro-Russian politicians, including former state figures (in particular, Gerhard Schroeder, Silvio Berlusconi and Miloš Zeman, who actively support Moscow), expanding its information and propaganda campaigns (for instance, through RT, although its audience in the EU countries is relatively small), and utilizing subversive measures through various non-profit organizations (for instance, the Institute of Democracy and Cooperation).
What the United States as a Whole, and its Military in Particular, Should Do to Counteract Russia
In response to these methods for putting pressure on European countries, the authors of the report propose countermeasures that are rather general and have been suggested several times:
Building the rule of law in Europe and offering aid in fighting corruption.
Provide assistance (both administrative and material) on the part of the National Democratic Institute and International Republican Institute to political parties.
Ensuring the Robust engagement of the Broadcasting Board of Governors in order to counteract Russia's propaganda machine led by RT.
Suggestions for the U.S. military are not strikingly new either, and some of them are simply not easily implementable:
Deploying the military in closer proximity to Russia's borders, for instance, in the Baltic countries, on condition, however, that an escalation of tensions with Russia is avoided (this is not very likely today).
Developing opportunities for blocking Russia's hostile measures, primarily through intelligence and counter-intelligence.
The U.S. military taking more active steps to prevent crises in European countries that Russia could use to implement its foreign political objectives.
The U.S. government taking timely and decisive steps in crisis situations in Europe. The United States should be ready to intervene in a broad range of conflicts in Europe to minimize side effects that Russia could use to advance its own interests.
On the whole, the report appears to be perfunctory in nature and gives the impression that the United States does not consider Russia to be a major rival in Europe, at least for the time being. More likely, Washington views Moscow as a sort of irritant, but not as a player in European affairs. What is also interesting is the authors' conclusion that there is a reverse relation between Russia's opportunities for interference and its abilities to achieve its objectives: where Moscow has influence over certain actors, it does not have the opportunity to exert major influence on policies and politics. Only time will tell whether they are right or whether this is wishful thinking.
Conclusions for Russia
Against the general background of the massive anti-Russian hysteria that has recently swept the United States, the RAND Corporation report has several reasonable and balanced ideas. First, Russia is not to blame for all the crises that have befallen European countries of late. Second, the authors of the study acknowledge the fact that Russia has its objective interests in Europe, which Russia will try to promote by influencing the policies of European countries. But why should this influence be solely hostile and malicious? Why is Russia seen as a sort of enfant terrible of the European subcontinent that is, by default, blamed for all of Europe's problems?
European countries experience two principal emotions here: disappointment and anger. Disappointment stems from Moscow's failure to join the western world, the full allure of which was shown to Russia in the 1990s and 2000s. The list of reasons for this development can be very long, but the essence of changes in Russia today is clear: the western model will not be accepted to the detriment of the Russian values. This causes anger on the part of Europe and the United States: How can a country that until recently was receiving humanitarian aid from us and living from one IMF loan to the next so recklessly reject such a successful model of economic and public modernization?
The current crisis in relations with European countries is a natural and expected response on the part of Moscow to the refusal of Europe's ruling parties to accept Russia's worldview and values and the reluctance to understand its motives and principal concerns. The global situation has changed radically, while this mentality has persisted. This explains the desire to punish Russia in economy, politics and sports, to depict it as a lying state incapable of reaching and maintaining agreements. Clearly, this is a dead-end road.
To develop successfully, Russia needs to have close ties with Europe that would be advantageous for both sides, while European countries cannot do without their eastern neighbour. It is a great shame that the second half of the 2010s may go down in history as a time when, instead of engaging in a much-needed and useful dialogue, the parties competed in demonizing each other.
During his latest State of the Union Address, Donald Trump stressed that his administration will "will never apologize for advancing America's interests." Russia should adhere to a similarly strong and open position in regard to its foreign political interests. Its actions should be consistent and well-founded, but do not necessarily need to be met with general approval. Sooner or later, this will result in the reformatting of relations both with the United States and with Europe, which will be based primarily on mutual interests, instead of mutual grievances.
First published in our partner RIAC
Russia, Ukraine And The Disputed Crimean Peninsula
In this exclusive video for In Homeland Security, American Military University's Dr. Matthew Crosston, Doctoral Programs, School of Security and Global Studies, discusses the tumultuous relationship between Russia and Ukraine since the 2014 'Maidan Revolution' and how each nation, the United States, and NATO all view the disputed peninsula of Crimea. There is a transcript of the video below.
Transcript of Dr. Crosston's Analysis:
If we're looking at the Russian Ukrainian conflict, sort of en mass, going back to its beginning foundation, for Russia at least it starts with the Maidan Revolution – or even the precursors to what created the Maidan Revolution. And, that's something that we get a little bit of a debate or a discussion in the West about. The Russians feel that the West sort of made some sneaky promises behind the scenes to Ukraine – the people who would ultimately lead this revolution and cause the sitting president to flee to Russia and have a new president come in and take his place who was much more EU-friendly much more-NATO friendly much less Russian friendly. The Russians always saw some subterfuge in that action. They never saw it as a natural organic revolution. They always saw it as an example of Western interference, and they – therefore – felt justified to say well if you can interfere, we're going to interfere because if you're just playing out your interests on the ground in Ukraine why can't we play out our interests on the ground in Ukraine?
Besides, we also think Ukraine is a better partner to us and should be a bigger compatriot of our interest because we have religious, cultural, historical ties. No matter how you try to play it in the West, Ukraine and Russia should not be at odds against each other, Ukraine and Russia should not be enemies. They are the more natural allies. And in the end since you're making false promises we're going to find out how much you really mean it when you tell Ukraine secretly whisper-whisper behind our backs [saying] don't listen to Russia don't do anything about Russia. Come to us instead. Ukraine really believed in that the people who led the Maidan Revolution believe that would happen. So then what we call the annexation of Crimea (but yet in Russia they call the secession of Crimea into the Russian Federation because the people in Crimea held a referendum saying we want to be part of Russia) – we don't want to be part of Ukraine anymore. We portray that as being Russia forced that on Crimea. The Russians say the Crimeans voiced their political will, and we back them up – which is what you guys in the West didn't do for Ukraine when we did it.
The Kerch Strait
What's above the Kerch Strait – which never gets played in Western media – is this massive eight-lane superhighway that actually the Russians built and had actually in place as a as an agreement and was already begun to be built before the Maidan Revolution and is now complete. What it does is it connects as a land bridge – it connects from Rostov in Russia and over into Crimea. So that you don't have to go through Ukraine at all to get into Crimea. That's where those naval vessels were;  that's where the Russians they were getting near the bridge – without any knowledge or any announcement of anything preordained.
So, the Russians said 'what are you doing here?' Ukrainians don't answer. And, the Russians start playing with it, and they said 'well we'll see how tough you really are … you really going to use these naval ships? Are you really going to do an action here? That's why the Russians call it a provocation. And, in the West – we say the Russians are just making up the word 'provocation' because these vessels weren't doing anything. But, we are ignoring how the perspective of the Russians – near this massive land bridge (that literally now connects Russia to Crimea), how would they interpret the presence of military vessels unannounced with no declared plan of action – just this sort of mysterious presence? They did what most countries probably would do, but what they did goes against our interests, so therefore we have a problem with Russia's actions.
No World War 3 Imminent
Russia has seen – really, quite frankly – since the 90s (with Clinton) this sort of slow very gradual encroachment where more and more members of what they used to consider their sphere of influence or their regional neighborhood (the Russian regional neighborhood) more and more people become part of NATO. But the one part they've always laid out is like the parts that have always sort of been Russian, and you can't underestimate what Ukraine means to Russians in their memory as far as their historical cultural and even religious memory – that area Ukraine and Russia has always been tied together. So that might be the red line (no pun intended) for the Russians drawn in the sand – Ukraine will not go to NATO – will stand up against that. And, I think maybe the possibility was that NATO thought 'well let's test that a little bit because maybe they're saying it of course we understand why you say we need machismo on that, you need some bravado on that, but let's see if you really mean it.' And, as it turns out, the Russians said 'yeah, we do really mean it. Now do you really mean it? Are you really going to come to bat for Ukraine if we step up?' They stepped up, we stepped back. That sounds bad but it's not World War 3, and won't be World War 3 because it means the two big sides – the two big players (Russia and the United States) – are declaring: Ukraine is enough for us to get into [inconsequential] fights over, [but] it's not enough for us to get into a real war with each other over. And, that's the part that's going unsaid in the West that we should emphasize more.
Author's note: This video first appeared at Homeland Security
The Death of the 'Lisbon to Vladivostok' Project?
Russian relations with Europe are part of a complicated story rooted in military, economic and often ideological realms. Both entities have for centuries tried to find a modus vivendi, but have so far failed. One compromise suggested for Europe and Russia was an economic space stretching from Lisbon to Vladivostok – the space characterized by a unified economy, political understanding and even deep military cooperation.
Russia's President Vladimir Putin for years advocated the idea, making speeches about the case. To be clear, Putin was not the first to propound it, but was merely reflecting on similar ideological arguments of the past. A transcontinental union spanning the Atlantic to the Pacific is a geopolitical concept that pops back up from time to time and is linked to neo-Eurasianism, before which the geopolitical space was made up by the triangle of Nazi Germany, Soviet Russia and Imperial Japan.
One space from Lisbon to Vladivostok, which one might also call "Greater Eurasia", would make Russia pivot to the West. This was an attractive idea for the European and Russians. Indeed, even German Chancellor Angela Merkel once said that she hopes "Russia would increasingly develop ties with the European economic area, finally resulting in a common economic area from Lisbon to Vladivostok".
How would such cooperation look? Perhaps it would imply at least a free trade agreement (FTA), whose core features might involve the cutting of tariffs and non-tariff barriers. Business interests in the EU as well as Russia are likely to be supportive of such a proposition. Putin stated that "in future, we could even consider a free trade zone or even more advanced forms of economic integration. The result would be a unified continental market with a capacity worth trillions of Euros".
Surely when we talk about Russia in this context, we need to understand this space as including neighboring post-Soviet states. Russia launched its Eurasian Economic Union (EEU) project back in 2015.
One would think that for the EU, an FTA with the EAEU would be an advantageous proposition from an economic standpoint, since it would give preferential access to an important market. But one would expect the pre-conditions posed by the EU for the opening of negotiations to be many and quite stringent.
For Moscow, this positioning might be more economically advantageous, as the EEU could be a bridge for China's Belt and Road Initiative (BRI) to connect with the European market. On the map, all appears logical and attractive, but in reality, China's BRI, although not against being cooperative with other blocks, still aims at pulling major Eurasian resources towards itself. Russia's EEU, weaker in dimension than the BRI, will inevitably be drawn to Beijing with growing grievances on the Russian side.
Back to the unified Russia-Europe economic space, there remains the fundamental question as to whether or not Russia would consider an FTA with the EU to be in its interests. Is the 'Lisbon to Vladivostok' idea serious? In Russia, many would fear that an FTA with the EU would be too imbalanced, or asymmetric in favor of the EU. Indeed, most Russian exports to the EU, such as oil and gas, are already being traded without tariffs. Also, the challenge for any petro-economy to sustain a substantial and competitive industrial sector would be a tough task to pull off.
So far, we have given a pretty rosy picture of the two stood regarding the project just several years ago, in the period before the Ukraine crisis.
When discussing Russian geopolitical moves, one needs to remember how important Ukraine is and how the latter has been a driving factor in Russia's calculus. Ukraine has always been the main point of any of Russia's grand projects of the past and present. The modern EEU, an ambitious project that goes well beyond the simple removal of borders between the five ex-Soviet countries (Armenia, Belarus, Kazakhstan, Kyrgyzstan and Russia), is weak economically and geographically without Ukraine. Many believe that even before the Ukraine crisis, Russia-Europe relations were strained and a crisis was inevitable, but it should not be forgotten that it is still Ukraine which made the differences insurmountable. It could even be argued that the Ukraine crisis put an end to any grand strategic view between Russia and Europe. The "Lisbon-Vladivostok" vision, it could be argued, is now dead.
Beyond the Ukrainian issue are also other important issues which are likely to stop any furtherance of the Greater Eurasia project. Europe and Russia are not just two competing economic blocs, but two blocs with opposing values and political systems. A compromise between the two has not been seen in the history of the past several centuries, except for short periods of time when Russian military power was needed in settling inter-European problems.
Moreover, put in the longer-term perspective, we see that the abandoning of the grand Lisbon-Vladivostok vision follows what is taking place across the entire Eurasian continent, where pragmatism and a reliance on real state interests and capabilities are back in fashion following the hopeful post-Cold War years.
Over the past several years, Russia has also leant towards the East. And while it is often put to question just how deep the Russian pivot to the East is, certain geopolitical tendencies lead us to support the idea as fact. Moscow portrays this policy as its own choosing, but the reality is that from three grand avenues (Eastern Europe, South Caucasus, and Central Asia) of projection of Russian geopolitical influence, it is only in Central Asia that Moscow does not meet important pushback from any Western power, while Chinese influence is only seen in economics. This simple vector of projection of Russian power is quite telling at a time when Moscow is more drawn to the East rather than the West, spelling a death note to once grand plans of an economic space from Lisbon to Vladivostok.
Author's note: First published in Georgia Today