Israel's new Global Strategy
If we want to study Israel's political and military positions, we must at first analyse Syria.
For Israel the problem in Syria is Russia, although it is apparently Iran.
In fact, one of the de-escalation areas is in the Golan Heights  and certainly the Jewish State does not like that Iran and Hezbollah can easily and quietly operate in the Golan area, even without warlike acts but under the protection of Russia, which is also the guarantor of the whole area.
In particular, the Israeli government wants the Russian Federation to never intervene in favour of Iran.
However, if Iran and the Shiite forces leave Syria, Russia's control to ensure Syrian stability will weaken and probably even crumble.
Hence Israel wants Russia and even Syria to push Iran away from Syria, by threatening a real war on Syrian soil, along with the United States.
The United States and Israel could overthrow Assad and, in any case, remove Russia from the area, and hence from the Middle East. This is one of Russia's primary aim, i.e. to stay in the Greater Middle East and in the Mediterranean region with strong and decisive power. But would the United States accept this anti-Russian operation? I do not think so. The United States would initially participate and later move away, after having completed the first operations successfully. After the first headlines on the New York Times, it would go back home. The United States either takes possession of an area for twenty years -as was the case in Afghanistan – or confines itself to quick strategic operations.
In the current Syrian situation, however, will the United States still be a reliable partner for Israel, apart from the possible war?
Probably not. The United States already has its Kurds who, after the US withdrawal from Syria, immediately decided to fall into Assad's arms, with a view to opposing Turkey.
Furthermore, what would be the configuration of the Syrian-Iranian system after this attack on the Syrian Baathist regime? Probably more dangerous than it is today.
A great coalition is needed to destroy Shiite Iran's  hegemonic designs, certainly with the United States, but also and above all with Islamic partners, not only Saudi Arabia.
Russia would never accept such a project.
Russia wants to avoid not only the stabilization of current Syria, which, in fact, is now a Russian client State, but also a new war in the Greater Middle East.
Hence Israel's friendship with Russia is possible and desirable, but the only true and realistic possibility of containing Iran within Syria, or on the Israeli borders, is anyway to strongly isolate the Shiite power within Assad's area, which may also be Russia's goal.
This also in view of strengthening Russia's increasingly close relations with Saudi Arabia, a fierce competitor and opponent of Iran, which could be decisive in a post-war reorganisation and reconstruction of Syria.
Hence any realistic strategy for harshly containing Iran must be based on a preliminary agreement between Russia and Israel.
Moreover, it should be recalled that Russia absolutely needs the Jewish State at economic, technological and strategic levels.
These are some of the topics I had the opportunity of discussing openly and frankly with my friend Moshe Ya'alon, when I recently presented the Israeli edition of my latest book in Jerusalem.
Hence a preventive war on Syria to destroy the Iran-Hezbollah axis? Probably so. I also believe that, in all likelihood, there could be a substantial military disregard and disinterest of Russia, which would thus no longer have many contacts with a dangerous oil competitor, namely Iran, which has very different oil and gas policies from Russia.
Not to mention, however, that Saudi Arabia is already making its war in Yemen, certainly with a view to avoiding the pressure of a Shiite group such as the Houthi, but also and above all to taking possession of the new (huge) oil reserves of Kharkhir and Najran – apart from the fact that currently 60% of Yemeni oil is already "stolen" from Saudi Arabia, through former Yemeni President Mansour Hadi.
Obviously the clash in Yemen also regards control over the Bab-el-Mandeb Strait, through which 3,800 million barrels of Middle East crude oil transit.
Syria, however, is still a big, polymorphic country, which has always been politically unstable and, in any case, with Christian minority areas -Druze and Shiite or para-Shiite areas – that could turn out to be too hard a nut to crack in view of waging the blitzkrieg, the lightning war that has always been in the style of the Israeli strategic thinking.
Moreover, given the current presence of many Iranian armaments in the Lebanon and, probably, in the Golan Heights, a very quick attack should be based on an extremely careful analysis of the positions and forces of Shiite groups by the Israeli intelligence services.
Anyway, a quick attack should avoid Israel's countermove on its Northern borders.
Hence, to date the only logical operation would be to define a Syrian geopolitics shared with Russia, which has parallel interests and controls the Shiite forces on the field.
Indeed Russia is looking for a reliable ally to counter Iran's territorial claim on Syria itself.
The agreement signed by Israel with the USA and Russia, at the end of July 2018, also enabled Israel to accept the presence of the Syrian army on the Golan border, albeit over eighty kilometres away from the boundary line.
This implies that the Israeli Armed Forces will not wage  war to undermine Russia's prospects and Syrian operations outside the borders with Israel. A clear  acceptance of Russian protection over Assad's armies.
The United States has now abandoned its Southern client States, namely the "democratic jihadists", if any, which is a sign of the clear US inability to think in a strategically correct way.
In fact, both Russia and Israel know that the Syrian clash is a war that can affect the whole world, not just the Middle East. It is not the usual story of "democracy" against "terrorism".
The Syrian clash has been the trigger of a possible world war.
The United States has instead interpreted the war in Syria as a mere war on terror, a sort of geopolitical tranquilizer.
Obviously Israel has greatly strengthened its positions in the Golan area, but will it be enough? I do not think so.
The possibility for Iran (which funds and trains also the Islamic jihad south of Israel) to start a regional clash against the Jewish State also from the Gaza Strip is such as not to allow excessive confidence in the current status quo.
Meanwhile, in Asia there is Israel's economic, but also political opening.
Obviously Israel's motivation lies in the fact that Asia will be the dominant region at economic, but also at political and military levels.
Hence the opportunity – to be seized in the near future – of a geopolitical connection between China and Israel, which could easily influence also the Greater Middle East.
Except for Singapore and Burma, all Israeli official relations with the Asian countries date back to the period following the collapse of the USSR.
Trade with China and the other Asian powers is already significant: in fact, it amounts to 15 billion US dollars.
Considering the current trade tensions between China and the USA, the relationship between China and Israel could become crucial, especially in the high-tech field.
There is also a project at stake, i.e. the Med-Red, a Eilat-Ashdod railway line that could be a terrestrial alternative to the Suez Canal, with very noticeable strategic effects, which are barely imaginable today. Chinese investment would be relevant in this respect, considering the geographical and political symmetry of Red-Med with the New Silk Road.
While the EU – with its current trade laws, substantially punishing the Jewish State – remains a substantially enemy area, Israel is opening to Asian trade – and China's, in particular – which largely replaces trade with the EU.
These economic facts have wide strategic implications:  unlike the old "Rhine" Europe, not reached by the new "Silk Road", Israel is connecting to Central Asia's great development area and hence is slowing down its ties with the USA and, even more, with Europe, which is now hypocritically anti-Semitic.
Asia is therefore a sort of insurance policy – also at geopolitical level – of the Jewish State against the West, which will be ever less friendly in the future.
In any case, Israel can always open up preferential channels in the East, if they are closed in the West.
Nevertheless the Jewish State does not certainly want to diminish its relations with the USA and Europe today, although its relations with the East will certainly increase, including those having a security nature.
Hence if the relations with the USA cool down, even from a political viewpoint, Israel could establish good contacts with India while, due to its excellent relations with Iran, China may not be Israel's exclusive partner in the East.
Again at regional level, a long-term – if not definitive – solution to the Palestinian issue could be useful.
If the borders between the Jewish State and the PNA are not made safe, that strategic link will always be used as a thorn in the flesh against Israel, which will never become a global player unless it quickly gets rid of the old geopolitical memories of so many regional wars.
How can we resolve tension with Palestine, which could be exploited in the future by anyone who wants to weaken the Jewish State?
The solution of placing the PNA in Jordan's hands is not very rational.
The Hashemite Kingdom has not the economic, and probably not even the military, strength  to swallow the whole Palestinian area up.
Jordan can certainly become an element of control over the Palestinian territories, but nothing more.
The solution of the State to be built, however, has now failed and certainly not because of Israel.
Hence what could be the solution? We could think about an area controlled and economically supported by Islamic countries – pro quota – but certainly not by Iran.
I see no other possible options.
It is certain, however, that the strengthening of good economic relations with Egypt, Jordan, even with Saudi Arabia, would be useful also for solving the Palestinian issue.
Another fact to be considered is the strategic superiority of the Jewish State in the field of active and passive cybersecurity, which can harshly remove many tensions before they arise.
Certainly, for the Jewish State, cyberwarfare gives the possibility of weakening the infrastructural and protective networks of the enemy so as to make it unable to fight.
It is also certain that Israel is a world leader in this sector, but it must always keep up, because the pace of change in this field is very fast.
Nevertheless cyber-mercenaries are also coming – and there will much work here.
Obviously, although the excellence of the Israeli cyberstrategy is well-known, we shall keep and further improve it and, above all, target and direct remote operations – even temporarily – against new enemies and adversaries, never targeted before.
Enemies change, but it is good to never trust eternal friendship.
It will be good, however, to currently move away from the Western model of the "showbiz society", which does not make young people focus on technical, scientific, rational and historical education and training – as today happens also in Israel- and go back to of our parents' and grandparents' model, with better education and hence more effective "nationalization of the masses" also in the Armed Forces.
We also need to invest even more in schools and universities although Israel has not yet reached the disastrous situation of many European countries and, above all, of Italy.
It will also be very useful to improve the relationship between universities and the productive and military system.
This is very difficult, but I really believe that the Jewish State will succeed once again.
War in Libya: A rare instance of US-Russian cooperation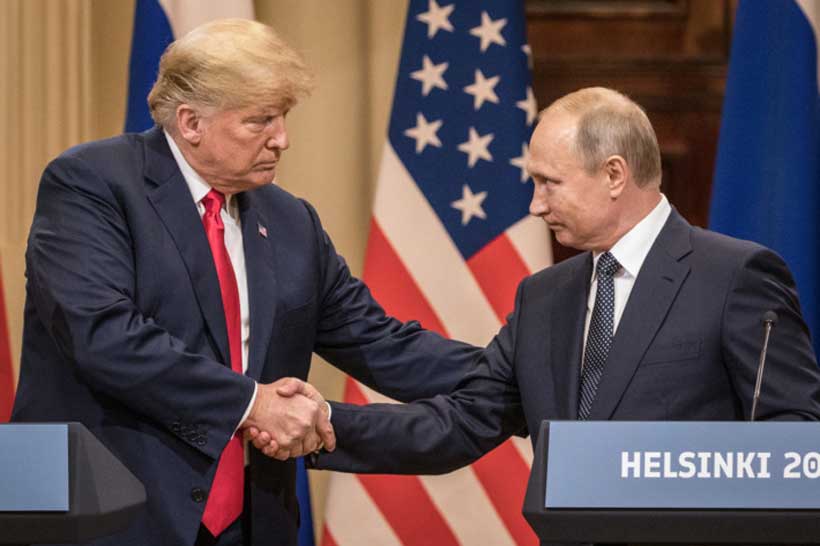 There is little that Russia and the United States agree on these days. Renegade Libyan Field Marshal Khalifa Belqasim Haftar may be a rare exception.
As Mr. Haftar's mortars rained on the southern suburbs of the Libyan capital Tripoli and fighting between his Libyan National Army (LNA) and the United Nations-recognized government expanded to the south of the country, both Russia and the United States stopped a call for a ceasefire from being formally tabled in the UN Security Council.
Russia, which has joined US allies that include the United Arab Emirates, Saudi Arabia, Egypt and France, in supporting Mr. Haftar because of his grip on Libya's oil resources and assertions that Islamists dominate the Tripoli government, objected to the British draft resolution because it blamed the rebel officer for the fighting.
The United States gave no reason for its objection. Yet, it shares Russia's aversion to Islamists and clearly did not want to break ranks with some of its closest Middle Eastern allies, certainly not at a time that the UN was investigating allegations that the UAE had shipped weapons to Mr. Haftar in violation of an international arms embargo.
The significance of US-Russian agreement on Mr. Haftar's geopolitical value goes far beyond Libya. It reveals much of how presidents Donald J. Trump and Vladimir Putin see the crafting of a new world order. It also says a great deal about Russian objectives in the Middle East and North Africa.
Messrs. Trump and Putin's preference for a man with a questionable human rights record who, if successful, would likely rule Libya as an autocrat, reflects the two leaders' belief that stability in the Middle East and North Africa is best guaranteed by autocratic rule or some democratic façade behind which men with military backgrounds control the levers of power.
It is a vision of the region promoted by representatives of UAE crown prince Mohammed bin Zayed who sees authoritarian stability as the best anti-dote to popular Arab revolts that swept the region in 2011 and more recently in Algeria and Sudan are proving to have a second lease on life.
Underlying the Trump-Putin understanding is a tacit agreement among the world's illiberal, authoritarian and autocratic leaders on the values that would underwrite a new world order. It is an agreement that in cases like Libya reduces rivalry among world powers to a fight about the divvying up of the pie rather than the concepts such as human and minority rights that should undergird the new order.
Moscow's support for Mr. Haftar serves Russia's broader vision of the Middle East and North Africa as an arena in which Russia can successfully challenge the United States even if Messrs. Trump and Putin agree on what side to support in a Libyan civil war that is aggravated by the interference of foreign powers.
Russia national security scholar Stephen Blank argues that Mr. Putin's strategy is rooted in the thinking of Yevgeny Primakov, a Russian Middle East expert, linguist and former spymaster, foreign minister and deputy prime minister.
Mr. Primakov saw the Middle East as a key arena for countering the United States that would enable Russia, weakened by the demise of the Soviet Union and economic problems, to regain its status as a global and regional power and ensure that it would be one pole in a multi-polar world.
"In order to reassert Russia's greatness, Primakov and Putin aimed ultimately at strategic denial, denying Washington sole possession of a dominant role in the Middle East from where US influence could expand to the Commonwealth of Independent States (CIS)" established in the wake of the demise of the Soviet Union to group post-Soviet states, Mr. Blank said.
Messrs. Primakov and Putin believed that if Russia succeeded it would force the United States to concede multi-polarity and grant Russia the recognition it deserves. That, in turn, would allow Mr. Putin to demonstrate to the Russian elite his ability to restore great power status.
Syria offered Russia the opportunity to display its military prowess without the United States challenging the move. At the same time, Russia leveraged its political and economic clout to forge an alliance with Turkey and partner with Iran. The approach served to defang Turkish and Iranian influence in the Caucasus and Central Asia, Mr. Blank argued.
Similarly, Russia after brutally repressing religiously inspired Chechen rebels in the 1990s and despite the lingering memory of the Soviet invasion of Afghanistan, has in line with UAE precepts, proven to be far defter than either China or the United States at promoting politically pacifist or apolitical loyalist Islam in a complex game of playing both sides against the middle.
Russian engagement runs the gamut from engaging with militants to cooperating with Muslim autocrats to encouraging condemnation of activist strands of ultra-conservative Islam to hedging its bets by keeping its lines open to the Tripoli-based Government of National Accord (GNA).
Even if Russia may be walking a tightrope in balancing its relationships with Mr. Haftar and GNA Prime Minister Fayez al-Sarraj, like in Syria, it is positioning itself with the backing of the UAE, Saudi Arabia and Egypt as the potential mediator that maintains ties to both sides of the divide.
Said Russian foreign minister Sergei Lavrov: "We believe that Libya's future must be determined by the Libyans themselves. We are convinced that there is no alternative to an inclusive intra-Libyan dialogue… Our work on this track proceeds in this spirit and the belief that there is no alternative to preserving the sovereignty and territorial integrity of Libya."
Battling for the Future: Arab Protests 2.0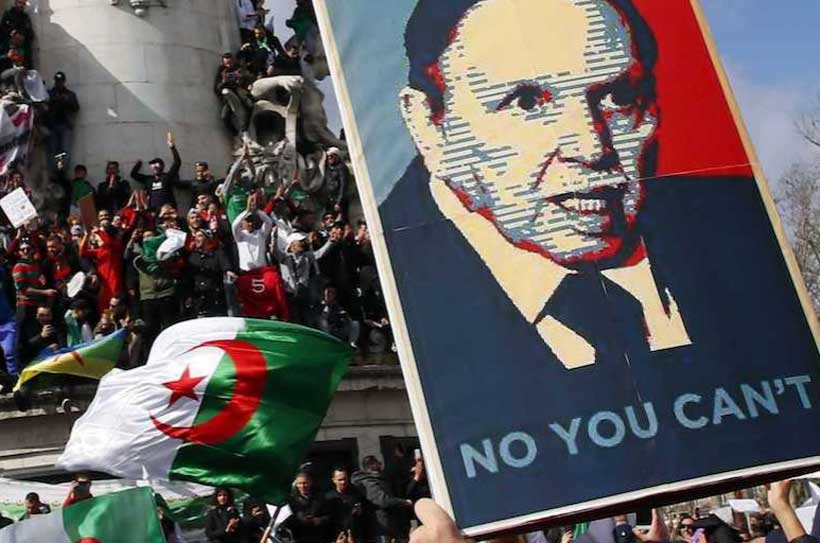 Momentous developments across Arab North and East Africa suggest the long-drawn-out process of political transition in the region as well as the greater Middle East is still in its infancy.
So does popular discontent in Syria despite eight years of devastating civil war and Egypt notwithstanding a 2013 military coup that rolled back the advances of protests in 2011 that toppled Hosni Mubarak and brought one of the country's most repressive regimes to power.
What developments across northern Africa and the Middle East demonstrate is that the drivers of the 2011 popular revolts that swept the region and forced the leaders of Egypt, Tunisia, Libya and Yemen to resign not only still exist but constitute black swans that can upset the apple cart at any moment.
The developments also suggest that the regional struggle between forces of change and ancien regimes and militaries backed by the United Arab Emirates and Saudi Arabia is far from decided.
If anything, protesters in Algeria and Sudan have learnt at least one lesson from the failed 2011 results: don't trust militaries even if they seemingly align themselves with demonstrators and don't surrender the street until protesters' demands have been fully met.
Distrust of the military has prompted an increasing number of Sudanese protesters to question whether chanting "the people and the army are one" is still appropriate. Slogans such as "freedom, freedom" and "revolution, revolution" alongside calls on the military to protect the protesters have become more frequent.
The protests in Algeria and Sudan have entered a critical phase in which protesters and militaries worried that they could be held accountable for decades of economic mismanagement, corruption and repression are tapping in the dark.
With protesters emboldened by their initial successes in forcing leaders to resign, both the demonstrators and the militaries, including officers with close ties to Saudi Arabia and the UAE, are internally divided about how to proceed.
Moreover, neither side has any real experience in managing the crossroads at which they find themselves while it is dawning on the militaries that their tired playbooks are not producing results.
In a telling sign, Sudan's interim leader Abdel Fattah Abdelrahman Burhan praised his country's "special relationship" with Saudi Arabia and the UAE as he met this week with a Saudi-Emirati delegation at the military compound in Khartoum, a focal point of the protests.
Saudi Arabia has expressed support for the protests in what many suspect is part of an effort to ensure that Sudan does not become a symbol of the power of popular sovereignty and its ability to defeat autocracy.
The ultimate outcome of the dramatic developments in Algeria and Sudan and how the parties manoeuvre is likely to have far-reaching consequences in a region pockmarked by powder kegs ready to explode.
Mounting anger as fuel shortages caused by Western sanctions against Syria and Iran bring life to a halt in major Syrian cities have sparked rare and widespread public criticism of president Bashar al-Assad's government.
The anger is fuelled by reports that government officials cut in line at petrol stations to fill up their tanks and buy rationed cooking gas and take more than is allowed.
Syria is Here, an anonymous Facebook page that reports on economics in government-controlled areas took officials to task after state-run television showed oil minister Suleiman al-Abbas touring petrol stations that showed no signs of shortage.
"Is it so difficult to be transparent and forward? Would that undermine anyone's prestige? We are a country facing sanctions and boycotted. The public knows and is aware," the Facebook page charged.
The manager of Hashtag Syria, another Facebook page, was arrested when the site demanded that the oil ministry respond to reports of anticipated price hikes with comments rather than threats. The site charged that the ministry was punishing the manager "instead of dealing with the real problem."
Said Syrian journalist Danny Makki: "It (Syria) is a pressure cooker."
Similarly, authorities in Egypt, despite blocking its website, have been unable to stop an online petition against proposed constitutional amendments that could extend the rule of President Abdel Fattah el-Sisi until 2034 from attracting more than 320,000 signatures as of this writing.
The petition, entitled Batel or Void, is, according to Netblocks, a group that maps web freedom, one of an estimated 34,000 websites blocked by Egyptian internet service providers in a bid to stymie opposition to the amendments.
Mr. El-Sisi is a reminder of how far Arab militaries and their Gulf backers are potentially willing to go in defense of their vested interests and willingness to oppose popular sovereignty.
Libyan renegade Field Marshall Khalifa Belqasim Haftar is another, Mr. Haftar's Libyan National Army (LNA) is attacking the capital Tripoli, the seat of the United Nations recognized Libyan government that he and his Emirati, Saudi, and Egyptian backers accuse of being dominated by Islamist terrorists.
The three Arab states' military and financial support of Mr. Haftar is but the tip of the iceberg. Mr. Haftar has modelled his control of much of Libya on Mr. El-Sisi's example of a military that not only dominates politics but also the economy.
As a result, the LNA is engaged in businesses ranging from waste management, metal scrap and waste export, and agricultural mega projects to the registration of migrant labour workers and control of ports, airports and other infrastructure. The LNA is also eyeing a role in the reconstruction of Benghazi and other war-devastated or underdeveloped regions.
What for now makes 2019 different from 2011 is that both sides of the divide realize that success depends on commitment to be in it for the long haul. Protesters, moreover, understand that trust in military assertions of support for the people can be self-defeating. They further grasp that they are up against a regional counterrevolution that has no scruples.
All of that gives today's protesters a leg up on their 2011 counterparts. The jury is out on whether that will prove sufficient to succeed where protesters eight years ago failed.
As Marsha Lazareva languishes in jail, foreign businesses will "think twice" before investing in Kuwait
IF THERE IS one thing to glean from the case of Marsha Lazareva, it's that foreign businesses must now think very carefully before investing in Kuwait.
For more than a year, Lazareva, who has a five-year-old son and is one of Russia's most successful female investors in the Gulf, has been held in the Soulabaiya prison by Kuwaiti authorities. Those authorities claim she 'stole' half a billion dollars, a claim she strenuously denies.
Human rights groups and prominent officials, including the former FBI director, Louis Freeh, and Jim Nicholson, former Chairman of the Republican Party and former US Ambassador to the Vatican, have called for her release and expressed concerns about the apparent absence of due process in a country where Lazareva has worked for over 13 years. Both Freeh and Nicholson visited Kuwait in recent weeks with Neil Bush, son of the late President George H. W. Bush. Bush has said Lazareva's incarceration 'threatens to darken relations between the U.S. and Kuwait, two countries that have enjoyed a long and prosperous relationship.'
Russian officials have been equally concerned. Vladimir Platonov, the President of the Moscow Chamber of Commerce and Industry, confirmed that a single witness gave testimony in Kuwaiti court, and only for the prosecution. 'I myself worked in prosecution for more than eight years, and I cannot imagine any judge signing off on an indictment like this,' he said. 'One fact of particular note is that Maria was given 1,800 pages of untranslated documents in Arabic.'
Serious questions surrounding the safety and future viability of investing in Kuwait are now being raised. Through The Port Fund, a private investment company managed by KGL Investment, Lazareva has contributed hundreds of millions of dollars to local infrastructure and economic development projects during her time in the country. Until 2017, when a Dubai bank froze $496 million without cause, she had worked largely unobstructed.
But as things stand, more foreign investment is unlikely to be forthcoming. Jim Nicholson has said that the 'imprisonment and harassment' of Lazareva 'threatens' U.S. support. adding that the 'willingness of the U.S. to do business with Kuwait' is based on 'its record as a nation that respects human rights and the rule of law'. Mark Williams, the investment director of The Port Fund and a colleague of Lazareva's, has called on international investors to 'think twice before doing business in this country'.
These comments will surely concern the Kuwaiti government, who said last year that FDI was 'very crucial' to the success of its Kuwait Vision 2035 road map. In September 2018, the FTreported that the government planned to reverse its traditional position as an investor in order to diversify its economy, carrying out a series of reforms designed to facilitate foreign investment and assist investors.
But despite these changes, which have propelled Kuwait to 96th—higher than the Middle East average—in the World Bank's 'Ease of Doing Business' report, investors may be unwilling to take the risk so long as Lazareva remains in jail. Lazareva's lawyers have accused Kuwait of violating international law by breaching a long-standing bilateral investment treaty with Russia. Lord Carlile of Berriew, QC has brought the case to the attention of the British public and the EU, writing in The Times that 'there is no evidential basis to justify any claim of dishonesty, corruption or any other criminal wrong'. He added: 'Anyone thinking of doing business in Kuwait should read on with mounting concern.'
What's worth remembering is that Kuwait is an important, long-standing ally of the UK, and a country generally seen as stable and fair. It is equally a major non-NATO ally of the United States, where there are more than 5,000 international students of Kuwaiti origin in higher education. But these relationships, and the investment to which they have historically led, have been cast into doubt. And it now seems certain that relations will continue to sour so long as Marsha Lazareva languishes in Soulabaiya.