Induction of Pakistan A-100 MLRS and Deterrence Equation of South Asia
Pakistan inducted A-100 rocket in Multiple Launch Rocket System (MLRS) into its arsenals, boosting the strength of Artillery Crop on January 4, 2019. The missile system was indigenously developed by Pakistani scientists and engineers. MLRS which comprise of two main elements: rocket munitions and a self-propelled platform to carry and launch those rockets, designed to disrupt enemy's mobilization. MLRS is unguided rocket against enemy position in artillery minded sense.
Media wing of the armed forces, the Inter Services Public Relations (ISPR) said that this rocket is a highly effective and potent for interdiction that can effectively disrupt enemy's mobilization and assembly. Chief of the Army Staff (COAS) General Qamar Javed Bajwa, presided over the induction ceremony, paid rich tributes to scientists and engineers for indigenously develop A-100 rocket which shall augment the existing conventional fire power capabilities of Pakistan Army.
While addressing at the ceremony, he emphasized Pakistan Army's resolve to strengthen conventional forces to meet challenges of full spectrum threat. Pakistani defence industry had maintained steady progress in the recent times and had contributed to defence of Pakistan. This missile system is another addition in the deterrence equation of South Asian region.
In South Asia context, mutual hostility and unresolved disputes between India and Pakistan create instability and insecurity. The induction of nuclear weapons into the national defense structures of both states in 1998 has brought an era of dynamics of nuclear politics. Nuclearisation brought the concept of deterrence in the region. The deterrence equilibrium in South Asia is viewed as an assurance for peace and stability in the region. The strategic significance of nuclear weapons in the South Asian security equation is undeniable because these weapons reduce the chances of limited conflict between the two hostile states. Pakistan as a responsible nuclear weapon state has never been in competition with India in terms of size, scope and efficiency of is conventional or strategic capabilities. Hence, equilibrium of nuclear deterrence between India and Pakistan is the underpinning of South Asian strategic stability.
Recently, India's doctrinal policy shift and its objectives ultimately forcing an arms race in the region. Pakistan is obliged to rely on the employment of nuclear weapons owing to conventional military asymmetry. India's aggressive limited war 'Cold Start' (CSD) left no choice for Pakistan but to introduce Short Range Ballistic Missile 'Nasr' (TNW).
Indian Offensive Military Doctrine which is specifically designed to undermine Pakistan's conventional capability and occupy its small territory which could be used as a significant tool in post conflict negotiation by initiating surprise attack from eight different fronts by the Integrated Battle Groups (IBGs).
Pakistan developed TNWs to deter India's conventional military superiority. It is well known that conventional asymmetry between India and Pakistan is continuously widening with the passage of time. India also allocated huge budget for its military which defiantly have ramifications for Pakistan. Pakistan cannot afford arms race with India for the purpose of conventional military parity, consequently Pakistan developed such a capabilities (TNWs) which could deter India's conventional military superiority. Pakistan views SRBM as a stabilizing addition to the prevailing deterrence equation. Pakistan considers the nuclear weapons as last resort weapons which are only meant for deterrence and their use can only be contemplated as a last resort.
Recent Indian weapons modernization and force posturing is viewed as a threat to the strategic stability of South Asian region. India's air defence system the latest addition of S-400 system also has the ability to disturb the regional strategic stability. S-400 is a long range surface to air missile system and has the ability to access aerial targets up to 400 km away. It has the potential to counter threats from ballistic missiles, unmanned aerial vehicles, and aircraft.
To counter Indian doctrinal change, military modernization and proactive military strategy of launching limited conflict and capture some territory of Pakistan adopted Minimum Credible Deterrence with Full Spectrum Deterrence. Now this A-100 missile rocket is also made foe conventional deterrence.
Although, initiation of conventional war, for certain extant will remain a conventional conflict but beyond certain level no one can say that it will remain limited conventional war. It can lead to a nuclear holocaust. It will have series of implications. If India is insisting for operationalizing its Cold Start Doctrine against Pakistan than India will also have to pay for the severe implications at conventional as well as strategic level. No one knows the adversary redlines.
Pakistan in recent years has been trying to modernize its forces as per demands of the contemporary security challenges. Induction of A-100 MLRS into Pakistan army will give it the utmost superiority to overcome conventional threats coming from Indian side. It allows Pakistan artillery corps to keep an eye on enemy's mobilization and prepare them for any Indian military adventure. Induction of A-100 system also affects the surprise element of Cold Start Doctrine. This system makes Pakistan capable to meet the needs of deterrence against the conventional and unorthodox threats. Interestingly, MLRS computerized fire control system enables a reduced crew, or even a single soldier to load and unload the launcher. Furthermore, The MLRS offers a devastating physical and psychological effect on the enemy, covered with high explosion, anti-personnel or chemical warheads as needed.
Lastly, sophisticated technology and long-range ballistic missile development has not only made Pakistan more determined to acquire similar capabilities to counter Indian threat but also to ensure credibility of its nuclear deterrence. Long history of military confrontation, the growing asymmetry and disparity in South Asia has accelerated the process of mastering the latest sophisticated conventional and nuclear technologies. Therefore, both South Asian nuclear states have developed enough nuclear capable warheads, bombers and ballistic and cruise missiles.
So far Pakistan has been doing great overall three domains, Air, Sea, and land, in terms of meeting the needs of deterrence against the conventional challenges.
A new world without "old" rules?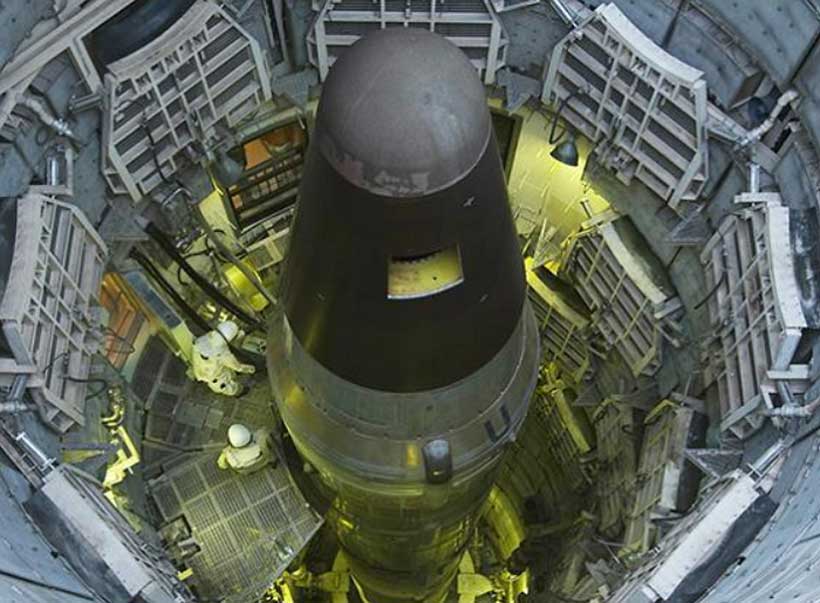 On May 30, President Vladimir Putin submitted to parliament a bill on suspending the Treaty on the Elimination of Intermediate and Shorter-Range Missiles (INF). With Washington having failed to respond to Moscow's proposals to resolve existing differences concerning the treaty, Russia has been forced to respond to President Donald Trump's February 1 announcement about the start of the US exit from the 1987 accord. How dangerous is Washington's irresponsible behavior to global strategic stability?
Over the course of the past three decades, the INF treaty has faced a great deal of pressure from changing realities of a political, military and technological nature, earning the unofficial status of the "most vulnerable" agreement in the field of nuclear arms control. For example, the treaty is pretty vague about the status of the US combat drones, whose characteristics mirror those of the ground-based cruise missiles it bans. And also about the ballistic target launch vehicles used in the development and testing of missile defense systems, and which are similar to short- and medium-range missiles. And, finally, about launchers of the US missile defense system being deployed in Europe since 2015, which are also capable of firing medium-range Tomahawk cruise missiles. The INF treaty thus effectively constrains Washington's attempts to maintain military-strategic, "escalation" supremacy in a number of key regions around the globe.
Therefore, the Trump administration apparently thought that it was the right time for it to walk away from the INF treaty, which is fraught with a serious strategic destabilization and increased uncertainty for America's main rivals (which, according to Trump's National Security Strategy, are Russia and China), without posing any immediate strategic threat to the US itself.
Scrapping the INF accord is also fraught with unraveling the existing system of global strategic stability, with the START-3 treaty (also known as New START, and set to expire in 2021) remaining the only bilateral agreement limiting the two countries' nuclear missile arsenals. The START-3 treaty is particularly important in that it is open to extension without the need to obtain parliamentary consent in both Russia and the United States, which is especially important in view of the current standoff between Democrats and Republicans in the US Congress. Besides, this could throw in doubt the future of the Treaty on the Non-Proliferation of Nuclear Weapons (NPT) and the Comprehensive Nuclear-Test-Ban Treaty (CTBT).
With the US and Russia already differing on the size of their nuclear armories, a formal exit from the INF treaty is a clear demonstration of Washington's refusal to engage in a dialogue about a specific nuclear issue. However, all nuclear-related issues are closely intertwined, so if the US withdrawal from the INF treaty results in the termination, or even just a suspension of the START-3 treaty, this would be the end of the legally binding mechanism of mutual checks agreed upon by the parties. This would throw the dialogue on nuclear disarmament back decades and force the parties to get back to square one and start negotiations on the limitation and reduction of nuclear arms virtually from scratch.
Geopolitically, Washington's actions are changing the strategic landscape throughout the Eastern Hemisphere. If the United States decides to bring medium-range or short-range missiles back to Europe, this would inevitably lead to a new spike in tensions with Russia. Washington is bending enormous political, diplomatic, and media efforts to put the "blame for the breakdown of the INF treaty" at Russia's doorstep, and is looking for a new source of cohesion for NATO, namely to force America's European allies to adopt the new rules of the game proposed by Washington, which is explicitly insisting on a "monetization" of allied relations. What we see are attempts to dismantle the system of strategic stability by economic means, portraying Russia's responsive measures to European allies as "aggressive plans," which necessitate an increase in their defense outlays so that they can buy expensive US weapons designed to defend against an imaginary "Russian threat."
Meanwhile, the US withdrawal from the INF treaty could further undermine trust between Washington and other NATO allies, bringing back memories of the political crisis over the deployment of Pershing-2 missiles in the late 1970s – early-1980s, when "bloc discipline" within NATO was still strong. Today, Europe will have to choose between ensuring continued US loyalty at the cost of resuming its role of a hostage to Washington's short-term tactical intentions and pursuing a much more European-oriented defense policy. Some experts believe that the latter option could deepen the already existing split in the EU and even lead to its collapse. Above all due to the intractable contradictions between those who view the US not merely as a guarantor "against external threats," but also as a counterbalance to a number of leading EU countries that are beginning to see the continuously diverging interests of the United States and continental Europe.
As for the impact the elimination of the INF treaty could have on European security, it would be of a truly comprehensive nature as NATO's deterrence strategy hinges on a strategic nuclear potential that will not be directly affected by the termination of the treaty. Hiding behind the Trump administration's openly negative view of the START-3 agreement is a much greater threat to Europe because, according to Western analysts, the negative developments around this treaty would seriously undermine NATO's nuclear deterrence capability.
While admitting that the recent events have forced Europe to "wake up from hibernation," the experts wonder exactly what the increasingly divided European Union will do "in a situation of increasing danger."
The impact of all this on Asia will be even more destabilizing, as the White House often justifies pulling out of the INF treaty by imaginary threats from China and North Korea. However, most experts consider a complete elimination of Pyongyang's nuclear missile potential as "unrealistic" in the foreseeable future for the simple reason that nuclear weapons are the most reliable, if not the only, guarantor of the preservation of the political system currently existing in North Korea. Therefore, sooner or later, "the United States will revert to a purely forceful policy towards North Korea," including by deploying medium-range missiles in the region. However, this would pose a serious security threat to China, because these missiles would endanger "the political decision-making centers and the military administration of China, as well as many of the most important military installations of the People's Republic."
Apparently not so sure about its ability to defeat China in the emerging global rivalry, Washington now wants to draw Beijing into the costliest of all arms races – a race of nuclear missiles.
Moreover, scrapping the INF treaty would only exacerbate the problem of nuclear non-proliferation in Asia. Many US experts believe that in the event of a new arms race – now between the United States and China, Beijing could, at least within the next decade, "overtake" the United States in the number of deployed new land-based medium- and short-range missiles. Given the current tensions between the two countries, chances for them to engage in a meaningful dialogue on military-strategic matters look pretty slim. With the Trump administration trying to water down its commitments pertaining to regional security, a buildup of these two leading powers' military might could force Washington's Asian allies, including Japan, South Korea and Australia, to make independent decisions on strategic security. India, and probably Pakistan too, would have to respond to China's growing strategic potential, and in the worst scenario, this could kick-start a nuclear arms race in Asia.
Russia has always been firmly and consistently opposed to attempts to "dismantle the instruments of strategic stability," which would only stoke up mistrust between nuclear powers and "militarize their foreign policy thinking." Therefore, Moscow has consistently reaffirmed its desire to continue "work to save the INF treaty, despite the US position."
Hating to get involved in an all-stops-out arms race, Russia keeps reminding the United States and the whole world of its readiness to "engage in meaningful and across-the-board negotiations on all aspects of disarmament." However, the US leaders, just like in the bad old times, are doing exactly the opposite, looking for ways "to dismantle the already established system of international security."
The draft law on suspending the INF treaty submitted for parliamentary consideration reserves President Putin "the right to renew the treaty." Commenting on the issue, Franz Klintsevich, a member of the Federation Council, the upper house of the Russian parliament, noted that Russia "leaves the door open." Moscow is ready to "resume its commitments under the INF treaty any time," and gives the United States "a chance to think again." Moscow has also reaffirmed its strong commitment to upholding the principles of strategic stability, with presidential spokesman Dmitry Peskov calling the START-3 treaty "the cornerstone of international security and disarmament architecture." Russia's unconditional interest in promoting a constructive and meaningful dialogue was thus emphasized again.
Meanwhile, the prospects of global strategic stability are getting increasingly vague. Optimists say that since formal agreements mainly fix the level of mutual trust, the existing model of strategic stability is becoming a thing of the past for objective reasons. To avoid "strategic chaos," the leaders of the world's three leading nuclear powers need to look for new formats of stability indirectly, independently, and even "unilaterally. Pessimists, for their part, believe that having signed treaties is always better for security than not having them at all. Treaties are indispensable as they stand in the way of escalations inherent in the realm of nuclear deterrence. A collapse of the INF treaty can easily dismantle "the entire system of nuclear arms control" and lead to chaos with disastrous consequences "for the security of … superpowers and the whole world". Thus, consistent efforts to resume the dialogue between Russia and the United States would be the best way out in the current situation, because it would at least help find a new understanding of strategic stability shared not only by our two nations but, ideally, by all the other nuclear powers. Otherwise, at the end of the day, those who wish to "re-deal" the cards of strategic stability for their own benefit will have to realize the futility of their effort. Better sooner than later.
From our partner International Affairs
Grab your Coats: Can America succeed in the Arctic?
Authors: Mathieu Barron and Dr. Jahara Matisek*
It should not be a surprise that the Arctic is melting: climatic warming was identified by the scientific community in 1979.More alarming, though, is that 58% of Arctic sea ice has melted since 1980. Besides being troubling for environmental reasons, the melting of the Arctic opens a Pandora's Box of geopolitical disputes over ownership of economic resources and newly navigable sea lanes. Chief among the dispute is the claiming of Economic Exclusion Zones (EEZs) as dictated by the United Nations (UN) Convention on the Law of Sea. Such EEZ areas grant a country 200 nautical miles of exclusive access and rights to resources, such as fishing, natural gas, oil, minerals, etc. In the Arctic, there are valuable mineral resources, to include, nickel, copper, coal, gold, iron, natural gas, oil, uranium, tungsten, and diamonds, and then there are vast biological resources (e.g. fish, etc.).
The treasure trove of resources would be incredibly useful to any state, whether it be Russia or Norway. More importantly, numerous sea lanes are soon to open, to include the Bering Strait and the Transpolar Sea Route, which cuts directly through the Arctic Circle. With the Arctic being a dynamic environment, how should the United States (US)act to promote American prosperity to advance influence in the region?
Before identifying "success," it is imperative to get a grasp of the region as a whole – who the main actors are, what the primary issues are, what the history of the region is. In the Arctic's case, the Arctic Council is a who's who in the northernmost portion of the planet. The Arctic Council is an intergovernmental forum with eight members: Canada, Denmark, Finland, Iceland, Norway, Russia, Sweden, and the US. In addition, there are six permanent participants, each representing indigenous Arctic peoples. The Council was founded to promote cooperation, coordination, and interaction between its members. Generally, this means working together to respond to oil spills, management of fisheries, scientific research, and search and rescue operations.
When the Soviet Union collapsed in 1991, there were multilateral operations in icebreaking and search and rescue, to include founding of the Arctic Council in 1996. However, the current Arctic environment in the 21st century is framed by great power competition from Russia and China, who are deviating from norms of conduct regarding the region. Moreover, these two countries are contriving new ways of boxing the US and other Western allies out of the region by signing trade deals with one another and building up Arctic military capabilities that are outpacing the West.
A Russian Arctic?
Russia is America's biggest competitor in the realm of the Arctic for good reason. About a half of the Arctic – its people, and coastline, and likely a half of its hidden resources – belong to Russia. Even more, the Arctic sea ice on the Russian end melts faster and fuller than the ice on the Canadian end, allowing for more access to resources and shipping lanes. Outside of their geographic advantage, Russia maintains a significant edge in military assets in the Arctic Circle, showing no intention of reducing this footprint.
A 2017reportshowed that Russia stationed 19 warships and 34 submarines in the Arctic, compared to one American warship and no submarines. From a 2018estimate, there are six Russian bases in the Arctic, each equipped with S-400 anti-aircraft weapons systems alongside forty icebreakers between the bases. More troubling, a Canadian report claims that Russian military investments are increasing in the Arctic, leading to the development of four brigade combat teams, 14 operational airfields, 16 deep-water ports, and11 icebreakers. Each of these investments are essentially a Russian proclamation of their own Monroe Doctrine in the Arctic.
Finally, more than ever, Russian bombers are flying over the Arctic, with NORAD reporting 20 sightings and 19 intercepts last year. These developments are in no way shocking – they are even partly expected – given their Cold War antecedent of behavior in the region. However, the Russian government believes it has a valid claim to the Arctic and its resources, and are signaling a strong intent to defend this claim with military force. After all, this is the same state which invaded and annexed Crimea in 2014. In shaping US plans for the Arctic, there is no bigger concern than Russian desires for increased influence and access to resources.
An American Response to Russian Arctic Hegemony?
So how should the US respond to this emerging threat in an oft-ignored theater? The first step lies in making the Arctic a policymaking priority. As of now, the Arctic is given almost no legislative or military attention, and exists mostly in the periphery of policy debates. The word 'Arctic' appears once in the National Security Strategy (NSS) and a whopping zero times in the National Defense Strategy (NDS).From a strategic standpoint, the last thing the US wants is a conventional war with a near-peer adversary in the Arctic Circle. This harsh environment has limited infrastructure, narrow logistical networks, and austere operating conditions for humans and machinery alike.
It is important to establish a geopolitical environment similar to NATO's position on Russia in continental Europe: a careful balance with an enforceable red line. As preferable as it would be to maintain the Arctic Circle as a paragon of international cooperation, it is ignorant to assume that the region exists in a vacuum free of maneuvering for personalist gain. Additionally, making the Arctic a cooperative bubble may only encourage Russian aggression elsewhere if the fear of punitive actions in the Arctic is close to non-existent. Would we see another annexation, or other indirect actions by Russia to capture land and resources in the Arctic?
A careful US and allied militarization focused on flexibility in the Arctic theater is the key to showing signs of strength at the North Pole. By developing airstrips and forming infrastructure in the Arctic region to protect newly-melted sea lanes and land routes, allied forces will gain a logistical foothold in an undeveloped region. Even more, building new icebreakers to replace the two remaining US Coast Guard vessel will ensure continued capability in forward presence and sea control as well as signaling commitment in the form of personnel and appropriations. Finally, increasing multilateral arctic training exercises amongst northern NATO allies, forming a joint interagency task force – while also continuing cooperative efforts across the Arctic Council is needed to demonstrate US resolve to prevent China and Russia from asserting de facto control of the North Pole.
While not a panacea, actionable measures – besides words – by the US and her allies will breathe fresh air into Cold War-era Arctic policies. This will demonstrate that the West will not permit this dynamic and valuable region to fall prey to bellicose Russian behavior. Working with international partners through the Arctic Council and NATO and by revamping US efforts in the Arctic, it is possible not only to enforce the UN Convention on the Laws of the Sea, but to ensure American prosperity across the entire region. Guaranteeing the Commons of the Arctic, especially EEZs, will ensure American hegemony for the 21st century. If not, Arctic spoils will go to those, like Russia, that militarize it first.
The views expressed in this article are those of the authors and do not reflect the official policy or position of the US Air Force, Department of the Air Force, Department of the Army, Department of Defense, or the US government.
Dr. Jahara Matisek (Major, U.S. Air Force) Assistant Professor, Department of Military & Strategic Studies, U.S. Air Force Academy. Non-Resident Fellow, Modern War Institute, West Point, U.S. Military Academy
The BrahMos Test and its Implications
The BrahMos which derives its nomenclature from the two rivers, the Brahmaputra in India and Moskva in Russia is claimed to be the world's fastest cruise missile according to the Indian defence ministry's latest press release. This Supersonic Cruise Missile is the culmination of a joint venture that was laid out in 1998 between Russia and India. On May 22, 2019 a day before the Indian general election results, India successfully test fired an air-launched ramjet-powered version of the BrahMos Cruise missile from a Sukhoi Su-30 MKI fighter jet. Boasting a range of 185 miles (300 kilometres) and the top speed of 2140 miles (3,450 kilometres) per hour, this missile is also claimed to be equipped with stealth technology rendering it undetectable by radar. The Indian defence ministry further maintained that the launch of the missile was quite smooth, and it followed the desired path before hitting the target at pinpoint accuracy.
The BrahMos has already been successfully tested from submarine, naval ship and land-based platforms. With the air launch of the BrahMos, India has purportedly acquired its long-sought strike capability from large standoff distances onto land and sea-based targets. Since 2016, India as a member of the Missile Control Technology Regime (MCTR) also intends to sell this weapon system on the International market with a special focus on South African and Southeast Asian states. The BrahMos has been highlighted as a product of the numerous technological advances made by its arms industries as part of its effort at greater indigenization. This move thus serves as one of the key steps taken towards India's ambition of becoming a net exporter of arms, as opposed to one of the world's largest importers as it is today.
This addition to India's existing Missiles capability has considerable ramifications for Pakistan. For example, India intends to induct two squadrons of theSu-30 MKI fighter aircraft modified to be equipped with the BrahMos cruise missile. This would considerably enhance India's standoff and first strike capabilities against Pakistan altering the strategic balance. India has always endeavoured to create space for limited war with Pakistan remaining well within the threshold of nuclear deterrence. With the inclusion of the BrahMos in the modified Su-30 aircraft, the strategic balance between Pakistan and India is likely to have grave implications for existing peace and stability in the South Asian region.
Within the post-Pulwama scenario where two Indian aircraft were shot down by Pakistan's air force, there emerged certain gaps inIndia's air warfare capabilities. This test can be thus seen as an attempt to address these gaps while adding to its overall capabilities. Being the world's fastest cruise missile, it also acts as an anti-ship weapon with piercing capability that wouldpose a serious threat to Pakistan's land and naval assets as well.
Pakistan in response successfully test fired its all-weather, nuclear payload-capable ballistic missile Shaheen–IIa day after the Indian test. This was carried out as training launch aimed at ensuring the operational readiness of Pakistan's strategic forces' capabilities. This test however may not be termed as a direct response because both systems have been designed differently keeping in mind their specific objectives. As per the official statement of Inter-Services Public Relations (ISPR), Shaheen–IIfully meets Pakistan's strategic objective of maintaining its desired level of deterrence stability in the region. As a result, this test was aimed at projecting that any misadventure by India in the form of preemptive or counterforce strike would be dealt with an all-out attack on counter value targets instead.
It thus follows that India with its relatively larger economy and ambitions to dominate the region is currently provoking Pakistan into a costly arms race which it cannot afford at the moment. India on the other hand can afford the costly defensive capability of a multitier Ballistic Missile Defence System (BMDS) spread across its territories. In this regard, there is a consensus among Pakistan's various diplomats, scholars and military planners that it should avoid indulging in an arms race with India, and instead should focus on enhancing the quality of its penetrative strike capability including second strike vis-à-vis India.
Hence, coming back to the implications of the latest test of the BrahMos, the missile race in South Asia has become immensely complex and multilayered with the introduction of supersonic and stealth capabilities. Both Pakistan and India, have to show some restraint for lasting peace and stability is to be maintained within the region. Since both country share a 3323 Km border (including Line of Control (LoC) in Jammu & Kashmir sector)with each other, any minute miscalculation in terms of detection, reaction and short flight times of the missiles may prove catastrophic for the entire region. In this regard, it is thus imperative that there exist sensible leadership on both sides that priorities restraint especially considering the fact that their actions directly affect the lives of almost one-fourth of the world's population.