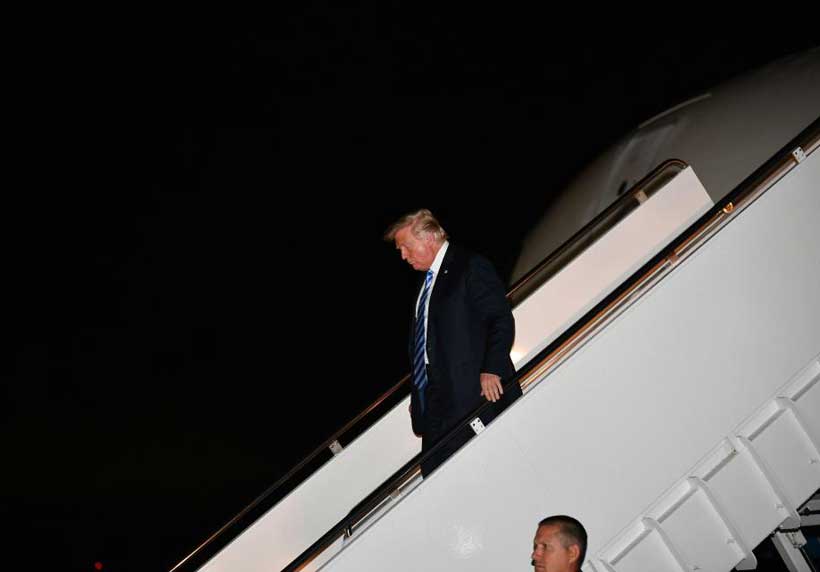 (NOTE: Remarks from U.S. President Donald Trump that will be considered as representing possibly his biggest lie will here be boldfaced, so that they will stand out from the context in which he stated them.)
Trump escalated Bush's and Obama's invasions and military occupations of the sovereign nations of Iraq, Afghanistan, and Syria. But on January 7th, he  promised, in one of his thousands of lying tweets, that, "Endless Wars, especially those which are fought out of judgement mistakes that were made many years ago, & those where we are getting little financial or military help from the rich countries that so greatly benefit from what we are doing, will eventually come to a glorious end!"
Then, on Sunday, January 13th, he tweeted that if Turkey won't do in Syria what he, the U.S. President, wants it to do there, then the United States will be in the first official stage of war against Turkey, the economic-sanctions phase, which nowadays is the prelude to an invasion, as has been the case since 1990 regarding Iraq. On January 13th, he tweeted, "Will devastate Turkey economically if they hit Kurds. Create 20 mile safe zone…." Minutes later, he tweeted: "….Likewise, do not want the Kurds to provoke Turkey. Russia, Iran and Syria have been the biggest beneficiaries of the long term U.S. policy of destroying ISIS in Syria – natural enemies. We also benefit but it is now time to bring our troops back home. Stop the ENDLESS WARS!"
First, here, will be discussed his January 7th string of lies, in order to isolate which one of those was the biggest:
He might be truthful about his intent, to reverse his own (previously escalatory) policies against those named nations (Iraq, Afghanistan, and Syria — his Administration's efforts to overthrow or to keep in power the given nation's leader and government). However, he ignores his own having contributed to those "judgement mistakes that were made" (such as his having increased American troop-levels in those countries — his having escalated, instead of eliminated, those military occupations).
And, then, on January 12th, The Hill  bannered, "US calls for 'new government' in Venezuela". So, Trump obviously still believes that a U.S. President has the right to overthrow or install a government in any country he wishes — the right to perpetrate coups and military invasions anywhere in the world. This is a craving for global empire.
He still continues to believe, like his predecessors did, that the U.S. President is the policeman, judge, jury, and executioner, of any government, anywhere in the world, just like the international tyrants George W. Bush and Barack Obama did. Their imperialistic lies were accompanied in some cases by coups but in other cases by outright invasions and military occupations, and destroyed Afghanistan and Iraq and Honduras and Libya and Syria and Ukraine. They destroyed those countries, none of which had ever perpetrated aggression against the United States. This was therefore pure aggression. (Trump as President never condemns them, for the lie-based international aggressions that they had perpetrated.)
Trump's words have always been untrustworthy, some of them promises to the left, but mostly promises to the right. But only his actions have really mattered, and they've been consistently to the far right, including neo-conservatism. That means imposition of the American empire. He has been trying to do that — impose the American empire. He does it not only by expanding America's existing bloated 'defense' budget (half of the world's total), but by expanding the numbers of U.S. military bases and troops in invaded and occupied countries such as Syria. None of those countries had ever invaded nor threatened to invade the United States (although Al Qaeda in Afghanistan did in 2001, with lots of American Government and Saudi help — but then the U.S. President, Bush, invaded and occupied Afghanistan, instead of  took out Osama bin Laden and Ayman al-Zawahiri — and he and his 911 Commission hid the guilt of George W. Bush and his buddy "Bandar Bush"; so, this was like "The Emperor can do no wrong," and Trump is following in their imperial footsteps).
Invasions and coups, like those, are (and were, before Trump became President) pure aggressions. Despite Trump's lies, America is the global aggressor, in fact (even recognized globally as being such). Trump does nothing to stop and reverse that horrendous bipartisan (Democratic and Republican) American aggressive reality. Trump's actions have instead been like that of his recent predecessors: neo-conservative, neo-imperialist, aggressive, foreign policies. They've made mockeries of his repeated promises not to do that sort of thing. He has even stocked his Administration with loads of G.W. Bush infamous neocons like John Bolton, some of whom he had condemned when he was running for President.
This is why everyone distrusts Trump now, except his base-voters, who ignore his incessant record of having lied — they trust everything he says, even his self-contradictions. To be intelligent now and yet continue to trust Donald Trump, is extremely difficult, if not logically impossible, to do, especially after his enormous record of self-contradictions.
TRUMP'S BIGGEST LIE
But his biggest big lie has certainly been the one that he stated in his January 7th tweet, about whom the beneficiaries  of those military invasions and occupations are. Those beneficiaries are not as he said, "rich countries that so greatly benefit from what we are doing." To the exact contrary.
Consider what the actual impacts of America's neo-conservative, neo-imperialist, Government, have  been, upon those "rich countries" (by which Trump is referring to the EU):
The January 14th issue of the liberal New Yorker magazine states at least this matter accurately, when Elisabeth Zerofsky's article, which is titled in the print edition as "The Illiberal State: Viktor Orban's vision for Europe", asserts that: "Until 2015, Hungary received around three thousand asylum requests per year. That year, hundreds of thousands of people, mostly from Iraq, Syria, and Afghanistan, travelled from Turkey through Bulgaria to Serbia and Croatia, where they attempted to cross the Hungarian border into the E.U. Many wanted to reach Germany, where Chancellor Angela Merkel, declaring, 'We can do this,' was welcoming a million refugees. Hungary, a smaller and poorer state than Germany, was ill equipped to deal with the chaotic crowds in the border area headed toward trains and buses that would take them onward."
In other words: U.S. President Trump, who is famous for exaggerating the harms that huge numbers of undocumented immigrants cause, must certainly be at least conscious of the fact that those floods of millions of Muslim refugees into what he calls here "the rich countries that so greatly benefit from what we are doing," are "mostly from Iraq, Syria, and Afghanistan," and that those refugees have been fleeing countries that the U.S. Government had invaded, and that the U.S. Government still does occupy, by thousands of American troops and constant supplies of weapons. America's invasions created this crisis for EU nations. Trump demands that those European countries be grateful for those millions of refugees, from countries that he bans or discourages from sending any refugees into the United States. Hypocrisy worse than that, can't be imagined.
He thinks that those European countries ought to be grateful for America's having caused in Europe this refugee crisis, which is tearing the EU apart.
If that's not his biggest lie, then what is?
But maybe his biggest lie isn't that "the rich countries … so greatly benefit from what we are doing"; maybe, instead, it's that all of those "judgment mistakes" were "judgement mistakes that were made many years ago," and that he didn't make any of them, but only his predecessors did.
However, maybe his biggest lie is instead his hiding whom the actual beneficiaries of his, and the rest of the American Government's, permanent-warfare state have actually been, and always are.
Consider, for example, this passage from the 200-page, 5 November 2018, study by the Project on Government Oversight, "Defense Contractors' Capture of Pentagon Officials":
BRASS PARACHUTES: Defense Contractors' Capture of Pentagon Officials Through the Revolving Door 
The revolving door is just one of several forms of undue influence on the operations of the Department of Defense. While beyond the scope of this report, the reverse-revolving door (when defense industry officials join the government, raising concerns they will then give preferential treatment to their former employers) is also a matter of significant concern. Top contractors have been over-represented in Department leadership. At the beginning of his Administration, President Obama issued an ethics executive order banning lobbyists form [from] working in agencies they lobbied during the previous two years, only to issue the first waiver shortly thereafter to his first Deputy Secretary of Defense, William Lynn, who was previously a Raytheon lobbyist.25 The last Deputy Secretary for that Administration, Bob Work, joined Raytheon's board shortly after he retired from the government.26 President Donald Trump's Secretary of Defense, James Mattis, was a former board member of General Dynamics. His Deputy Secretary, Patrick Shanahan, came from Boeing, the Pentagon's second largest contractor. Campaign contributions, lobbyists, earmarks, industry-sponsored trips, and contracts structured to garner political support for specific contractors' programs, also undermine the fairness and effectiveness of the procurement system. The government and the public have significantly more — though still inadequate — information about those other forms of influence-peddling. For example, campaign contributions must be periodically disclosed, registered lobbyists must report their expenditures and generic lobbying activities, and incoming executive branch officials have to disclose their positions held outside of government. But the public has significantly less information when it comes to the activities of former government officials. President Trump has spoken out against that conflict of interest. "I think anybody that gives out these big contracts should never ever, during their lifetime, be allowed to work for a defense company, for a company that makes that product," then-President-elect Trump said.27 
Just two months before this POGO study, there was a Code Pink study, "War Profiteers: The U.S. War Machine", about the major role that foreign buyers of U.S. weapons, such as the Saud family, play in this American corruption. (America's efforts ever since the late 1940s, to overthrow Syria's determinedly secular non-sectarian Government, and to replace it with one that would be controlled by the rabidly fundamentalist-Sunni Saud family, who own Saudi Arabia, are excellent examples of that corrupt "U.S. War Machine" in action. See this and this and this and this and this, for documentation of this.)
It's people like them, and the billionaires who control the major U.S. 'defense' contractors such as Lockheed Martin, and who control America's international extraction corporations such as ExxonMobil, who benefit from America's rabid militarism. It's not "the rich countries" of the EU. And Trump's denial, of this barbaric historical fact, is actually his biggest of all of his big lies.
Without being honest to the public, no government can be a democracy; it can only be a corrupt dictatorship. And that's what America now actually is.
Trump certainly isn't the truth-teller who stands against, and tries to rectify, that ugly reality. An excellent current example of the insidious nature of this constantly attempted international dictatorship that Trump refuses to expose, was provided on January 8th, by Mark Ames and Max Blumenthal, at the GrayZone Project, and headlined "New Documents Reveal a Covert British Military-Intelligence Smear Machine Meddling In American Politics". Their reporting about this would probably win a Pulitzer, if America were a democracy and if the Pulitzers were honest.
Then, regarding Trump's tweet on January 13th, "Will devastate Turkey economically if they hit Kurds. Create 20 mile safe zone….,"  he's clearly threatening economic sanctions against Turkey. He says that he wants to end "endless wars" and, now, in order to attain that, he uses against Turkey the threat of beginning a new war, this one against them. His followup that same day, "Russia, Iran and Syria have been the biggest beneficiaries of the long term U.S. policy of destroying ISIS in Syria" is a compound lie, because the U.S. had avoided targeting ISIS in Syria until Russia started bombing ISIS in Syria on 30 September 2015, and the U.S. had even been secretly arming ISIS there so as to help ISIS and Al Qaeda to overthrow Syria's secular and non-sectarian Government. Thus, whereas Russia started bombing ISIS in Syria on 30 September 2015, America (having become embarrassed) started bombing ISIS in Syria on 16 November 2015. Trump wants to steal from Assad, and from Putin, and from Rouhani, the credit for the success that they have thus far achieved at defeating ISIS in Syria. America — ISIS's (otherwise called "ISIL's") secret supplier — thus tries to present itself as ISIL's conqueror. (Table 26 of the July 2015 Orb International poll of Syrians asked Syrians for "the reason that explains the presence of ISIL [in their country]?" And 82% of Syrians said "ISIL is US foreign manufacture." So, they're aware of that fact.)
So, which is Trump's biggest lie? Make your own choice, and it'll be reasonable, because they're all huge.
CLOSING NOTE
On January 14th, the generally reliable analyst Alex Christoforou headlined at The Duran, "Mike Pompeo tours Middle East to challenge John Bolton as U.S. foreign policy TSAR", and concluded that "it appears President Trump's promised US troop 'full' and 'immediate' withdrawal from Syria appears to finally be in motion." If that turns out actually and finally to be the case, then the U.S. under Trump is finally withdrawing from Syria, like the U.S. under Nixon withdrew from Vietnam on 29 March 1973. Interestingly, in both cases, that would be a Republican President finally ending a U.S. invasion that had been started by a Democratic President, and the Republican President lying constantly and never condemning the Democratic President for having invaded that country. Unless American Presidents publicly acknowledge that the U.S. Government has been controlled by a deeply evil militaristic and military Deep State that has served only America's billionaires, and that all of these had been U.S. invasions of countries that never had invaded the U.S. and that actually never even threatened to do so, the U.S. will continue to be that type of country — a global invader, which aspires to control the entire world. In that case, the U.S. would turn out to be the successor to Nazi Germany, but a nuclear superpower.
Author's note: first published at strategic-culture.org
Gallup: Trump Globally the Least Respected U.S. President This Century
On January 15th, the Gallup World Poll issued its preliminary report for their upcoming "Rating World Leaders: 2021" report. It shows the results that have been tabulated for 60 of the 135 countries where they annually sample global public opinion about U.S. leadership. One especially clear finding from it is that when their final report for all 135 countries will be issued, it will show that among the three U.S. Presidencies on which Gallup has internationally surveyed — which are only the three U.S. Presidents in this century — Trump is clearly the one who is globally respected the least, even lower than George W. Bush was respected.
Here are the findings, in each of the 60 nations, and the percentage increase or decrease from Gallup's last completed survey report, "Rating World Leaders: 2020":
"Approval of U.S. Leadership Across 60 Countries and Areas"
"Do you approve or disapprove of the job performance of the leadership of the United States?"
% "Approve":
Dominican Republic, 66% was 56% in 2020
Cameroon, 62 was 61
Georgia, 61 was 43
Zambia, 56 was 26
Albania, 56 was 67
Philippines, 55 was 58
Uganda, 53 was 47
Mauritius, 50 was 59
Zimbabwe, 50 was 59
Ecuador, 43 was 34
Colombia, 42 was 41
Moldova, 40 was 45
Brazil, 40 was 38
Japan, 39 was 34
Kyrgyzstan, 34 was 32
Namibia, 34 was 31
Bulgaria, 32 was 26
Cambodia, 32 was 49
Hong Kong, Special Administrative Region of China, 31 was 31
Poland, 30 was 59
South Korea, 30 was 41
Bolivia , 30 was 31
Australia, 29 was 23
Taiwan, Province of China, 28 was 40
New Zealand, 26 was 17
Mexico, 26 was 17
Malta, 26 was 30
Ethiopia, 25 was 37
Argentina, 24 was 26
Ukraine, 24 was 32
Greece, 21 was 19
Croatia, 21 was 25
Morocco, 21 was 22
Serbia , 20 was 19
Ireland, 20 was 30
Finland, 20 was 20
Slovenia, 19 was 20
Cyprus, 19 was 27
Tunisia, 19 was 24
Italy, 19 was 22
France, 18 was 23
Russia, 18 was 11
Netherlands, 18 was 20
Canada, 17 was 22
Spain, 17 was 23
Chile, 16 was 16
Estonia, 15 was 17
United Kingdom, 15 was 25
Denmark, 14 was 24
Turkey, 13 was 12
Slovakia, 13 was 28
Norway, 12 was 15
Portugal, 12 was 14
Belgium, 12 was 17
Sweden, 11 was 12
Switzerland, 10 was 13
Austria, 9 was 11
Iran, 6 was 6
Germany, 6 was 12
Iceland, 5 was 9
Remarkably, Gallup doesn't poll in China on this question. (Nor does Pew.)
Notably, Trump is more disapproved-of in Europe than in any other part of the world. (Also, as Pew reported on 16 December 2020, "In Europe, more trust Putin than Trump.")
Those percentage-changes that we've just shown total to a decline, among all 60 countries, of 121 percentage-points (-121%), or, almost exactly, a -2% change from the 2019 findings that had been reported in Gallup's "Rating World Leaders: 2020".
Gallup says that "until all of Gallup's 2020 fieldwork is complete in a few months, it is still too early to say that the U.S. will see its worst ranking in the history of Gallup's World Poll." However, Gallup's "Rating World Leaders: 2020" report covered 135 lands, and the 60 lands that they have tabulated as of now, for the 2021 report, seem to be a representative sampling of all of those 135, and collectively those 60 populations have reduced their respect for America's leadership by 2%. In the 2020 report, the global level of approval for America's leadership was 33%. The all-time-low had been the 30% figure in 2017, Trump's first year, a finding which was based on Trump's promises, not on his performance. The upcoming final Gallup report "Rating World Leaders: 2021" will — if the results from those 60 lands do turn out to be representative of the global findings — produce a 31% global approval level by all of the approximately 135 lands that will be covered in it. For each of Trump's four years, then, the global percentages will have been (for each one of his four years) 30%, 31%, 33%, and (now, in his final year) 31%. Each year, it was even lower than the prior record low, of George W. Bush, had been, at 34% in 2008.
There was higher disapproval than approval of America's leadership during the Presidencies of George W. Bush and of Donald Trump than there was approval of either U.S. President's leadership. Strikingly, however, there was higher approval than disapproval during (and throughout) the two terms of office of Barack Obama. That Nobel Peace Prize winner was/is internationally admired. (Crazy, but true: he was an international charmer.)
Here are summarized (with links to the evidence regarding) the actual chief international achievements of each of these three U.S. Presidents:
George W. Bush: destroying Iraq, and destroying Afghanistan.
Barack Obama: destroying Syria, and destroying Ukraine, while continuing Bush's destructions of Iraq and of Afghanistan.
Donald Trump: destroying Iran, and destroying Venezuela, while continuing his predecessors' destructions of Iraq, Afghanistan, Syria, and Ukraine. He also made the destruction of Palestine even worse than it had previously been.
So, the question regarding incoming U.S. President Joe Biden will be whether he will continue this tradition further, or reverse it. Because, it's really all the same tradition, throughout all three U.S. Presidencies this century. By contrast, global perceptions are that those three U.S. Presidents were drastically different from one another.
On 15 September 290290, Pew bannered "U.S. Image Plummets Internationally as Most Say Country Has Handled Coronavirus Badly" and reported that:
The publics surveyed also see Trump more negatively than other world leaders. Among the six leaders included on the survey, Angela Merkel receives the highest marks: A median of 76% across the nations polled have confidence in the German chancellor. French President Emmanuel Macron also gets largely favorable reviews. Ratings for British Prime Minister Boris Johnson are roughly split. Ratings for Russian President Vladimir Putin and Chinese President Xi Jinping are overwhelmingly negative, although not as negative as those for Trump.
Right above that was this graph, which shows starkly the false European perception that Barack Obama was vastly superior to George W. Bush and Donald Trump: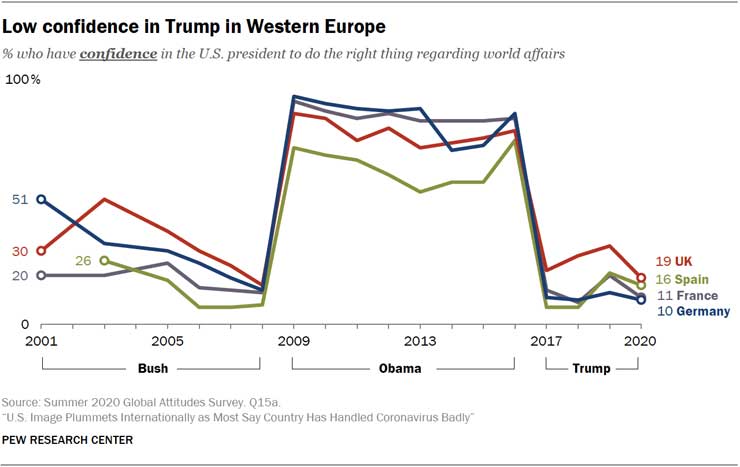 Apparently, most Europeans have no problem with a U.S. President who continues America's use of torture, and who continues America's legal immunity of prosecution for banksters, and who imposes ethnic cleansing abroad, and who aims for achieving a U.S. first-strike ability to conquer Russia by a sudden nuclear blitz attack. Style is everything, for them; substance is nothing, to them. Why didn't they like Hitler? Is it only because he did it to them?
Why won't Bowdich evoke 9/11 now?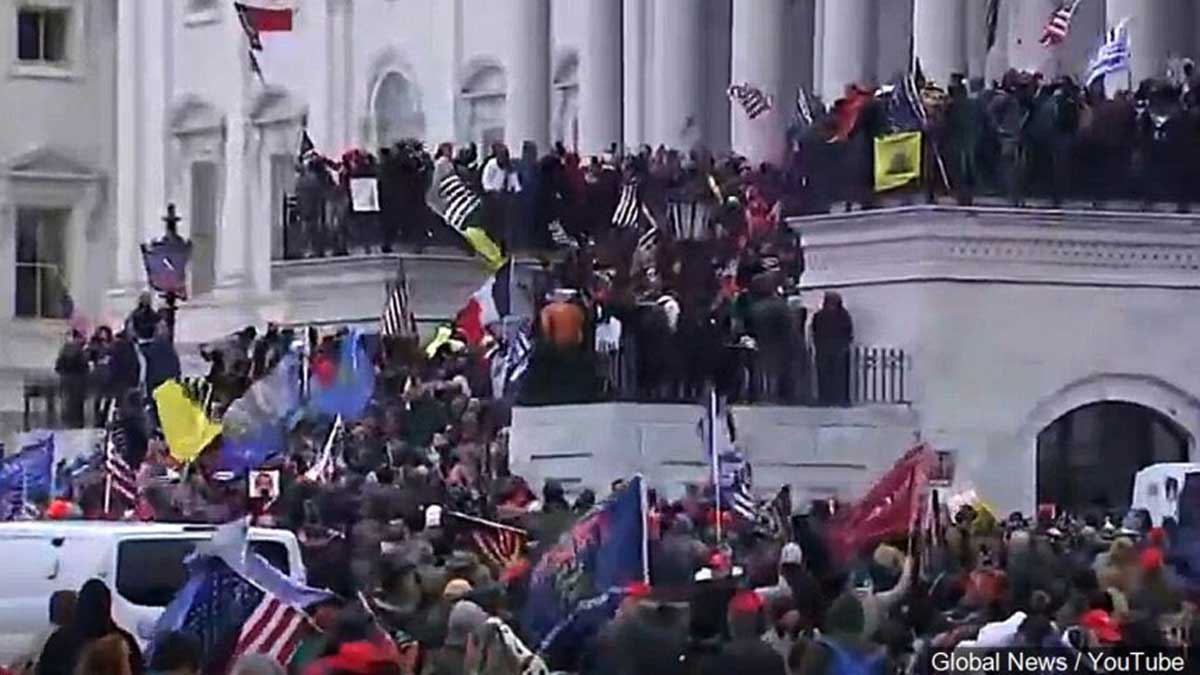 "Day of fire". That's how House Speaker Nancy Pelosi referred to the Capitol insurrection, which happens to be the exact same phrase President George W. Bush used on the occasion of 9/11. That is not coincidental. But why won't the FBI draw 9/11 parallels now?
In spring last year, when I was running for UN Special Rapporteur on freedom of speech, in a leaked memo to the New York Times, FBI Deputy Director David Bowdich was quoted in a reaction to the Black Lives Matters protests. Bowdich maintained that the protesters should be arrested under an outdated racketeering law from the 1940s. The leaked memo showed that Mr Bowdich considered the social justice movement "a national crisis" comparable to 9/11. The hundreds of thousands of people mourning and marching across the country, unified by the simple thought that no life should be taken lightly, for nothing, were actually similar to terrorists in the eyes of the FBI who wanted to charge them as racketeers. Why won't Bowdich evoke 9/11 now, when it comes to far-right actual terrorism? We are talking about plans to blow up buildings and assassinate law-makers.
There is evidence appearing now through the courts that the Trump mob indeed intended to capture and assassinate congressmen. A new court filing by federal prosecutors says that Trump supporters intended to "capture and assassinate" elected officials during the Capitol riot.
The FBI has a misplaced terrorism obsession with the progressive left, while lightly ignoring the far-right, which is by far the more violent and much more organized group. The Capitol events security mishandling demonstrated a different attitude when it comes to the latter group.
There is a difference between street clashes with police in social justice protests that have gone overboard and have turned violent, on one hand, and placing bombs at political buildings, plans to kidnap and assassinate politicians, and violent usurping of the certification of a democratically elected president. The difference should be obvious, and yet the FBI is pursuing its obsession with the left voices, largely ignoring the violent extremists and the real violent terrorism threat on the far right, as recently revealed by an Intercept investigation.
In a public statement, the FBI made sure that the public understood its own misguided standard used in the threat assessment in the Capitol attacks by the Trump mob, namely the aspirations vs intentions test. The FBI official explained that the FBI needs to consider that some online activity and planning by the far right could simply be "keyboard bravado". So, "keyboard bravado" is now the new "locker room talk".
It is not surprising that the FBI uses different standards to assess the threat on the far-left and on the far-right. Former FBI director Hoover called Martin Luther King "one of the most dangerous negroes in America". MLK was far from a hero for the FBI. It is not uncommon for the FBI even today to mischaracterize center-left voices of reasonable progressives who are anti-violence, pro-rights and pro-equality as far-left anarchists and communists, magnifying the threat on the left while ignoring the bigger threat on the right. Calling reasonable center-left Democrats anarchists and communists is a classical President Putin move. Let's recall that ahead of the presidential elections in November, Russian President Putin endorsed Biden and the Democrats as communists whom we would get along with, in order to discredit them.
Let's look at the actions and the security measures present around the two types of crowds. In a recent interview I wondered why FBI deputy director Bowdich won't evoke 9/11 now in relation to far-right terrorism, in the context of the methods that the FBI sometimes uses to suppress and deal with progressive voices.
The FBI have opened mow many cases for "domestic terrorism" into the Capitol attack and it is true that they are saying that they are treating these cases as "international terrorism" but where is the FBI public condemnation of terrorism? We have not seen public statements by the FBI director Christopher Wray and FBI deputy director David Bowdich. Why won't Bowdich come out and evoke 9/11 now, just like he did with the Black Lives Matter movement?
America has a long way to go to recover from the damage that Trump and his cronies spread across the various US agencies have done to democratic principles and human rights. The Trump institutional capture of key agencies such as the FBI and the CIA, let alone DOJ, has led the country into a downward spiral. I myself just launched a $1 UN lawsuit against the Trump circle at the UN, in attempt to clear the Trump circle also from the UN.
The capitol events were an embarrassment for the FBI who failed the due diligence standard of the reasonably expected measures that should have been taken in a similar situation because they were dealing with the President's supporters. Then, the FBI decided to justify their inaction with the false "keyboard bravado" explanation, which does not explain anything.
The FBI are now running social media campaigns for the collection of evidence on suspects in the Capitol attacks but the truth is that the FBI does not need random people to phone them and point them to the bad guys. The FBI follow these groups and people, they know everything. It's just a question of choice as to when to bring out the collected over time evidence. The FBI is in a hurry now only because there is public and social pressure to do something. All of America is watching what will happen to the bad guys.
A couple of days ahead of the Capitol events, I noted on Twitter that Homeland Security acting Secretary, Chad Wolf, was on a trip to Cyprus, while America was "burning". The Cyprus frictions in the European Mediterranean seem like a holiday now, in comparison to the Capitol events. Several days later, Wolf resigned.
With the news that President Trump intends to issue over 100 new pardons during his last two days in office, the question of justice for the Capitol events is as relevant as ever, as it is reasonably expected that some of the pardons could relate to the Capitol attacks.
It is safe to say that former Attorney General Bill Barr is not missed by many people. The Trump supporters' cases would not have received fair treatment at the Department of Justice under his watch. The new Attorney General in the Biden Administration, judge Merrick Garland, in fact, might discover that many cases from the Bill Barr time will have to be reopened.
The top security priority now is President-elect Joe Biden's inauguration on Wednesday, 20 January, while Trump holds a separate rally. The Capitol events served as a warning.
Looking forward, it is time for American democracy to demonstrate its elasticity. And legal justice necessarily has to be a part of that, ignoring phony calls for "unity" and "healing" made by the criminals themselves who are trying to escape justice now. There can't be unity without ensuring justice first.
Latin America and China: The difficulties in relations and Covid-19
The relations between China and Latin America have developed positively, but some problems and challenges are also being faced. Firstly, the intensified strategic and economic competition between China and the United States has increased the negative impact on the relations between China and Latin America. Trump's Administration already used zero-sum competition and Cold War mentality to mark Sino-U.S. relations, believing that China's rise in Latin America could upset the U.S. order in the Western Hemisphere.
Back in February 2018, during a visit to Latin America the then Secretary of State, Rex Tillerson, said that China was using its economic influence to bring Latin America into its sphere of influence, and criticised it as seeking a new imperial power for its geopolitical expansion.
In 2018, Rand Corporation published the 400-page report At the Dawn of Belt and Road. China in the Developing World. The report pointed out that China's contacts in Latin America and its geopolitical advantages held back the U.S. presence in the region.
Specifically, the report explored China's economic, political and security roles in Southeast Asia, Oceania, Central Asia, South Asia, the Middle East, Africa and Latin America and the Caribbean.
The report also analysed China's bilateral relations with key States in each region. Finally, it dealt with the negative consequences of the Chinese strategy towards developing countries for the United States. Therefore, it maintained that strategists and decision-makers in the Armed Forces, and all U.S. military staff, needed to focus on China and anyone interested in developing international relations with that country. An attitude of threat not only towards China.
Another factor preventing – at least apparently – the development of China-Latin America relations is the retreat of Progressives and the advance of Conservatives in the landscape of political change in the Subcontinent: this poses a challenge to the development of mutual relations.
2017 and 2018 were general election years in thirteen Latin American countries. In Brazil, Argentina, Chile, Peru and other countries, the old traditional and left-wing parties lost elections. Therefore, Latin America is divided into two camps: one is the left-wing one represented by Cuba and Venezuela, and the other is the right-wing camp composed of Brazil, Chile, Colombia and Peru.
Conversely, the fast development of China-Latin America relations from 2003 to 2013 was favoured by the political atmosphere of the left-wing camp. Currently, however, the transition from the Left to the Right tells us that some countries rely on the United States in terms of development projects and ideologies. Therefore, the political transition has become an additional challenge for the development of relations between China and Latin America.
Another crisis point is the impact of the pandemic. Here are some data regarding the Covid-19 cases until January 17, 2021:
Latin America: 16,753,447
North America: 23,091,187 (USA: 22,423,006; Canada: 668,181)
Europe: 28,291,217
Asia: 18,549,010
Africa: 3,059,974
Oceania: 56,556
Latin American countries record relatively high urbanisation rates, with peaks of 70-80%. Large cities are very densely populated, with a high percentage of informal employment and weak national control abilities, which create the conditions for the spread of Covid-19.
On the other hand, the United States-which is the worst affected country in the American Continent – has increased the repatriation of illegal immigrants from Mexico and Central American countries for reasons of epidemic prevention and control, thus further aggravating the situation in these already disadvantaged countries.
Why is the pandemic in Brazil so severe? The indifference of President Bolsonaro's government towards the epidemic, as well as ineffective measures and omissions in control are the main reasons for the spread of the epidemic in Brazil. The first case was discovered in Brazil on March 12, 2020 and the epidemic soon began to spread throughout the country, which currently records 8,131,612 cases and 203,580 deaths.
Brazil's former Health Minister, Nelson Teich, advocated isolation, but Bolsonaro's philosophy is different. He believes that imposing quarantine curbs economic development. Health Minister Teichresigned. The new Minister is Gen. Eduardo Pazuello, who has no medical training and no experience in managing public health disasters.
An official of the Brazilian Ministry of Health said that the number of people infected by the pandemic is officially eight million, but it has actually exceeded ten million. This unprecedented public health crisis has triggered economic recession and could lead to new social unrest. These are all new challenges.
The impact of Covid-19 on the entire Latin American region is very severe. According to the World Bank statistics, it has been the most severe crisis ever since the Great Depression in the 1920s and 1930s. The blow to the region is reflected mainly in four aspects:
1) exports have declined.
2) The prices of raw materials have fallen. Due to reduced demand, prices have inevitably fallen. Recently, everyone has seen a drop in copper prices, especially as Peru and Chile, the copper mining centres of the world, have been forced to close their mines due to the impact of the pandemic.
3) Tourism has collapsed. Latin America is a kind of cultural-exotic attraction for North Americans and Europeans. With Covid-19, there is no way for tourism and passenger transport to go back to the traditional levels of normalcy.
4) The inflow of remittances has decreased significantly. They are one of the main driving forces for economic development in the area, especially in regions like Central America and countries like Mexico.
The Latin American immigrants working in the United States put aside the money they earn and send it to their families – a key source of income for Latin America. As the U.S. economy has been severely hit, also remittances have been significantly reduced, to the detriment of the entire subcontinent.
With specific reference to Covid-19, it should also be mentioned that on June 24, 2020, the U.S. Congress held a full-scale hearing and invited a number of U.S. experts to express their views.
Those experts included Robert Evan Ellis of the Strategic Studies Institute of the U.S. Army War College. One of the main points he made was that the U.S. government should strengthen its support for Latin American allies to prevent China from using 'medical diplomacy' to expand its sphere of influence in Latin America, along with advances in supply chains, strategic acquisitions and loans to troubled governments, while the West remains economically weakened and politically distracted by the Covid-19 pandemic.
Hence, in his view, the United States should resolutely stop China's technological expansion in Latin America. This means that the United States should not acquire and share Chinese medical know-how.
Ultimately, the pandemic has not changed China's goals or overall strategy. It provides an unprecedented opportunity for China to move forward with its implementation. With the help of the Chinese government's controls on its population to impose and enforce quarantine, and thanks to its huge financial reserves and leverage on the economy, China is emerging from the crisis (albeit certainly weakened) ahead of most Western and non-Western countries.
The pandemic and its health, economic and other effects are likely to persist and continue to weaken the United States and Europe for some time. The interplay between partial economic reopening and the time needed to develop, test and massively produce a vaccine will extend this process.
In Latin America and in other less developed parts of the world, the situation is likely to be far worse. Less capable public health systems, large informal sectors, vulnerable small and medium-sized enterprises, as well as limits to governments' ability to borrow money to protect vulnerable populations, and the related economic sectors will put pressure on economies as they suffer from Western countries' declining investment and demand for their exports. In China, on the other hand, things are being solved.