World Bank Group Announces $50 billion over Five Years for Climate Adaptation and Resilience
The World Bank Group today launched its Action Plan on Climate Change Adaptation and Resilience. Under the plan, the World Bank Group will ramp up direct adaptation climate finance to reach $50 billion over FY21–25. This financing level—an average of $10 billion a year—is more than double what was achieved during FY15-18. The World Bank Group will also pilot new approaches to increasing private finance for adaptation and resilience.
"Our new plan will put climate resilience on an equal footing with our investment in a low carbon future for the first time. We do this because, simply put, the climate is changing so we must mitigate and adapt at the same time," said World Bank Chief Executive Officer Kristalina Georgieva. "We will ramp up our funding to help people build a more resilient future, especially the poorest and most vulnerable who are most affected."
The increase in adaptation financing will support activities that include:
Delivering higher quality forecasts, early warning systems and climate information services to better prepare 250 million people in at least 30 countries for climate risks;
Supporting 100 river basins with climate-informed management plans and/or improved river basin management governance;
Building more climate-responsive social protection systems; and
Supporting efforts in at least 20 countries to respond early to, and recover faster from, climate and disaster shocks through additional financial protection instruments.
In addition to boosting finance, the Plan will also support countries to mainstream approaches to systematically manage climate risks at every phase of policy planning, investment design, and implementation.
"This Action Plan is a welcome step from the World Bank," said Ban Ki-moon, former Secretary-General of the United Nations and co-chair of the Global Commission on Adaptation. "The world's poorest and most climate vulnerable countries stand to benefit from its increased finance and support for longer term policy change."
The Action Plan builds on the link between adaptation and development by promoting effective and early actions that also provide positive development outcomes. For example, investing in mangrove replanting may protect a local community against sea level rise and storm surges, while also creating new opportunities for eco-tourism and fisheries. Early and proactive adaptation and resilience-building actions are more cost-effective than addressing impacts after they occur.
The Action Plan also includes the development of a new rating system to create incentives for, and improve the tracking of, global progress on adaptation and resilience. The new system will be piloted by the World Bank in FY19-20 and rolled out to projects in relevant sectors by FY21.
The Action Plan on Climate Change Adaptation and Resilience forms part of the World Bank Group's 2025 Targets to Step Up Climate Action which were launched in December 2018, during the UN's COP24 in Poland.
Lao PDR Signs Agreement to Protect Forests and Reduce Carbon Emissions
The Lao PDR and the World Bank's Forest Carbon Partnership Facility (FCPF) have signed an agreement to provide up to $42 million between now and 2025 to support the country's efforts to reduce emissions from deforestation and forest degradation (REDD+). A ceremony today marked the launch of this forest- and climate-focused program.
Under this Emission Reductions Payment Agreement (ERPA), the World Bank commits to making payments to the Lao PDR for verified reductions of up to 8.4 million tonnes of carbon dioxide emissions in northern Laos. The program aims to address the drivers and underlying causes of forest loss in six provinces (Houaphanh, Luang Prabang, Oudomxay, Luang Namtha, Bokeo, Xayabouly), encompassing a third of national territory. The region has been responsible for 40 percent of nationwide deforestation and forest degradation between 2005–15.
"We are committed to improving land use, strengthening forest protection, and enhancing forest restoration in line with the 2019 Forestry Law, the 9th National Socio-Economic Development Plan for 2021-2025, and the National Green Growth Strategy to 2030," said Thongpath Vongmany, Vice Minister for Agriculture and Forestry. "This is an opportunity to drive economic growth and resilience with more sustainable rural land use based on participatory and integrated planning."
The geography of northern Laos is distinct, with over 20 ethnic groups calling this mountainous region their home. Limited accessibility and infrastructure in these remote areas play a role in preserving cultural heritage, but also pose challenges for job opportunities, transportation, access to social services, and the promotion of industry and trade.
Working across sectors, the Lao emissions reduction program, entitled "Promoting REDD+ through Governance, Forest Landscapes and Livelihoods — Northern Laos", supports better forest and land governance, land-use planning, livelihoods development, and sustainable ecosystem management to reduce pressure on forests. It also includes a benefit-sharing arrangement that will encourage communities and other stakeholders to participate.
"This innovative financing is part of World Bank support that helps the Lao PDR manage its landscapes for greener and more resilient economic growth and recovery," said Nicola Pontara, World Bank Country Manager for Lao PDR. "This results-based funding will reduce emissions while benefiting people who depend on sustainable forests for their livelihoods."
Lao PDR is the third country in Asia, after Indonesia and Vietnam, and the ninth country worldwide to sign an ERPA with the World Bank's FCPF. The total value of these nine agreements, which have also been made with Chile, Costa Rica, Côte d'Ivoire, the Democratic Republic of Congo, Ghana and Mozambique, is nearly half a billion US dollars. Several other countries are expected to finalize their emission reductions programs and follow suit with ERPA signings early this year.
The Forest Carbon Partnership Facility is a global partnership of governments, businesses, civil society, and indigenous peoples' organizations focused on reducing emissions from deforestation and forest degradation, forest carbon stock conservation, sustainable management of forests, and the enhancement of forest carbon stocks in developing countries — activities commonly referred to as REDD+. Launched in 2008, the FCPF has worked with 47 developing countries across Africa, Asia, and Latin America and the Caribbean, along with 17 donors who have made contributions and commitments totaling $1.3 billion.
UN rights experts urge Israel to respect international obligations
UN independent rights experts on Tuesday, described Israel's conviction of human rights defender Issa Amro earlier this month, as showing disdain for the country's international obligations.
The comments came after the 6 January conviction by an Israeli military court of the Palestinian human rights defender and founder of Youth Against Settlements, a Hebron-based group, which opposes settlement expansion through non-violent civil resistance.
In a statement from the UN human rights office, OHCHR, issued on Tuesday, the experts said that the country must immediately stop using its array of military security tools "to obstruct the legitimate and indispensable work of human rights defenders."
"Rather than prosecuting human rights defenders, Israel should be listening to them and correcting its own human rights conduct", the UN Special Rapporteurs said, urging the country to obey its international obligations to provide protection to human rights defenders.
Mr. Amro was convicted of six charges related to his human rights activities between 2010 and 2016. The experts said they fear he will be imprisoned when he is sentenced on 8 February.
Systematic pattern
"This is part of a clear and systematic pattern of detention, judicial harassment and intimidation by Israel of human rights defenders, a pattern that has increased in intensity recently", the experts continued.
They said Israeli authorities had arrested Mr. Amro numerous times, with the aim of silencing those who would defend the human rights of others.
The UN experts Mr. Michael Lynk, Special Rapporteur on the situation of human rights in the Palestinian Territory occupied since 1967, and  Ms. Mary Lawlor, Special Rapporteur on the situation of human rights defenders, added that convicting him for participating in demonstrations without a permit, is contrary to new developments in international human rights law.
"The failure to notify authorities of an upcoming assembly does not in itself render the act of participating in the assembly as unlawful", they stated.
Mr. Amro was convicted of three counts relating to participation in demonstrations without a permit. Another two counts relate to obstructing security forces, which concerned alleged refusal to accompany Israeli law enforcement officers during arrest. He was also convicted of assault, for allegedly pushing a settlement guard in 2010.
"This conviction is part of a pattern where Israeli military law is used to restrict and penalise Palestinians for exercising their inviolable political and civil rights.", the experts concluded, adding that the conviction appeared to be politically motivated.
Long history
Mr. Amro was first put on trial in an Israeli military court in 2016 on 18 charges dating back to 2010, including incitement, entering a closed military zone, and participating in a march without a permit. He had been taking part in a peaceful protest calling for the re-opening of Shuhada Street, the former commercial centre of Hebron.
The Special Rapporteurs and other human rights experts have sent several letters to Israel seeking clarifications regarding Issa Amro's case, according to the OHCHR statement.
Special Rapporteurs and independent human rights experts are appointed by the Geneva-based UN Human Rights Council and are neither UN staff nor paid for their work.
Climate change is a 'global emergency'- Poll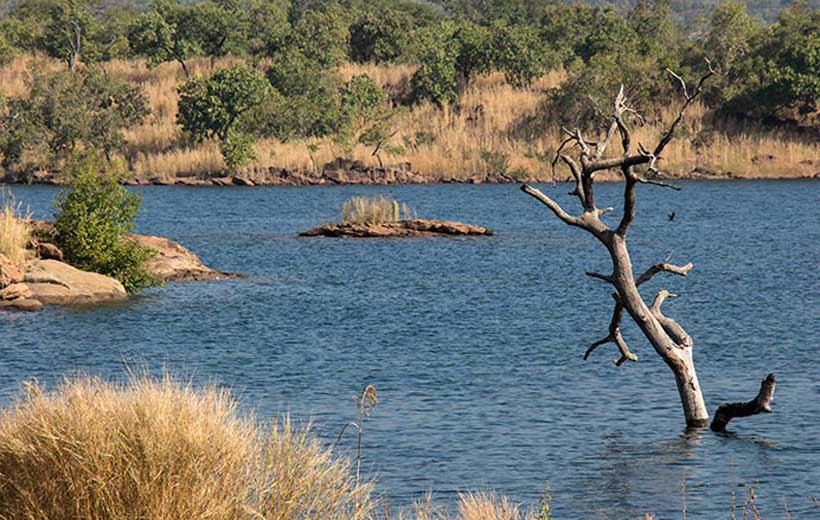 Almost two-thirds of over 1.2 million people surveyed worldwide say that climate change is a global emergency, urging greater action to address the crisis, results from a new UN climate survey revealed on Wednesday.
Described as the biggest climate survey yet conducted, UN Development Programme (UNDP)'s "People's Climate Vote" poll also showed that people supported more comprehensive climate policies to respond to the challenges. The survey covered 50 countries with over half the world's population.
"The results of the survey clearly illustrate that urgent climate action has broad support amongst people around the globe, across nationalities, age, gender and education level," Achim Steiner, UNDP Administrator said in a news release.
The poll also showed "how" people want their policymakers to tackle the climate crisis.
"From climate-friendly farming to protecting nature, and investing in a green recovery from COVID-19, the survey brings the voice of the people to the forefront of the climate debate. It signals ways in which countries can move forward with public support as we work together to tackle this enormous challenge," Mr. Steiner added.
'Biggest survey ever' on climate change
UNDP said that the poll was the world's biggest survey ever of public opinion on climate change. It was conducted as countries prepare for negotiations at November's COP26, the 26th session of Conference of the Parties to the UN Framework Convention on Climate Change (UNFCCC).
The survey asked respondents if climate change was a global emergency and whether they supported 18 key climate policies across six action areas: economy, energy, transport, food and farms, nature, and protecting people.
Its target audience of 1.2 million included over half a million people under the age of 18, a key constituency on climate change that is typically unable to vote yet in regular elections. Innovations, such as distribution across mobile gaming networks, were used to ensure that the young audience were reached.
According to UNDP, polling experts at the University of Oxford weighted the huge sample to make it representative of the age, gender, and education population profiles of the countries in the survey, resulting in small margins of error (+/- 2 per cent).
People want broad climate policies
The results showed that people supported "broad climate policies", beyond the current situation, UNDP said.
For instance, in eight of the ten survey countries with the highest emissions from the power sector, majority backed more renewable energy. In four out of five countries with the highest emissions from land-use change and enough data on policy preferences, the majority supported conserving forests and land. Nine out of ten of the countries with the most urbanized populations backed more use of clean electric cars and buses, or bicycles.
The survey also found a direct link between a person's level of education and their desire for climate action, according to UNDP.
There was very high recognition of the climate emergency among those who had attended university or college in all countries, from lower-income countries such as Bhutan (82 per cent) and Democratic Republic of the Congo (82 per cent), to wealthy countries like France (87 per cent) and Japan (82 per cent).
Findings also revealed that while younger people (under 18) were more likely to say climate change is an emergency, other age groups were not far behind, with 65 per cent aged 18-35; 66 per cent aged 36-59; and 58 per cent over 60, expressing affirmation.
"[This] illustrated how widely held this view has become," said UNDP.