The Endless Debate about Russia's Policy in Africa
Early March 2018, Foreign Affairs Minister Sergey Lavrov said in an interview with Hommes d'Afrique magazine that "our African friends note the need for Russia's active presence in the region, and more frequently express interest in holding a Russia-African summit. Such a meeting would undoubtedly help deepen our cooperation on the full range of issues."
He frankly acknowledged that Russia's economic cooperation was not as far advanced as political ties, but would do well to raise trade and economic ties to a high level of political cooperation by promoting joint activities and to make broader use of the huge potential that exists in Russian-African trade and investment cooperation.
"Definitely, time is needed to solve all those issues," said Minister Sergey Lavrov, and suggested that the Russia-Africa business dialogue could start with experts' meetings within the framework of the St Petersburg Economic Forum or the Valdai forum in Russia.
Many African political leaders (presidents, prime ministers and ministers) point to the fact that Africa is not looking for aid, but rather genuine investment and business, high-level talks with top Russian officials have been humble, not very critical, "based on the principles of equality and mutual respect" as a required approach in diplomacy.
During the past decade, at least, from the time of African Union Commission Chairperson Jean Ping to Nkosazana Clarice Dlamini-Zuma and now Moussa Faki Mahamat, all have passionately raised the issue of Russia's active involvement in economic sectors especially energy, infrastructure, agriculture and industry in Africa.
The fact still remains that negative perceptions deeply persistent among Africans, (political and business elite, middle class and the public), towards Russia. For the two past decades, due to Russia's low enthusiasm, lack of coordinated comprehensive mechanism and slowness in delivering on skyline investment pledges have been identified as the key factors affecting effective cooperation between Russia and Africa.
London based Business Research and Consultancy firm published a new report about global players set to continue broadening economic and business engagement across Africa. This publication becomes largely important as Russia with its recognizable global status and among BRICS (Brazil, Russia, India, China and South Africa) dominated headlines that it has played less visible role in sub-Saharan Africa after Soviet's collapse.
The latest description of Africa, which consists of 54 states, to many experts and investors, is the last frontier. It is the last frontier because it has huge natural resources still untapped, all kinds of emerging business opportunities and constantly growing consumer market due to the increasing population. It has currently become a new business field for global players.
Russia craving to be a powerhouse is comparatively missing out! The following vividly illustrates that point under discussion:
In an exclusive interview, the Executive Secretary of the Southern African Development Community, Stergomena Lawrence Tax, said Russia has a long history of bilateral engagements with the Southern African countries.
"The most recent visit of the Russian Foreign Minister H.E. Sergey Lavrov to the Republics of Angola, Ethiopia, Namibia and Zimbabwe, (as we understand it) was largely focused on signing of economic cooperation agreements to attract Russian investments in key areas such as mining, aviation and energy sectors, as well as fostering military technical cooperation," she added.
In his statement, Minister Lavrov noted that Russia together with Africa wanted to elevate trade, economic and investment relations to a level that would meet political and trust-based relations. Like most of the developing countries, Southern African countries have, over the years, largely relied on multilateral and regional development financial institutions to fund their development projects.
"In this regard, SADC welcomes investors from all over the world. In reality, Russia has not been that visible in the region as compared to China, India or Brazil. But, it is encouraging that, of recent, Russia has positioned herself to be a major partner with Southern Africa and being part of the BRICS promotes her engagement with the region, particularly in investment in minerals, aviation, defense and energy sectors," underlined Stergomena Lawrence Tax.
In March 2018, Russian Foreign Minister, Sergey Lavrov, visited the Southern Africa region where he held talks with the Presidents of Angola, Namibia, Mozambique and Zimbabwe.
In another interview with (H.E.) Ambassador Major General (rtd) Nicholas Mike Sango who willingly shared his objective views and opinions on a few current issues connecting Russia and Africa. He says there is growing realization that Africa is an important partner in the "emerging and sustainable polycentric architecture of the world order" as Foreign Minister Sergey Lavrov has aptly asserted.
"For a long time, Russia's foreign policy on Africa has failed to pronounce itself in practical terms as evidenced by the countable forays into Africa by Russian officials. Africa desires economic upliftment, human security in the form of education, health, shelter as well as security from transnational terrorism among many challenges afflicting Africa. The Russian Federation has the capacity and ability to assist Africa overcome these challenges leveraging on Africa's vast resources," Ambassador Mike Sango told me during the discussion.
"The most conspicuous aspect of Russia's involvement in Africa is its absence," says John Endres, Chief Executive Officer of Good Governance Africa from South Africa, adding that "whereas the Soviet Union was quite extensively engaged in Africa, Russia has almost entirely abandoned the field to other foreign players during the past two decades."
Kelvin Dewey Stubborn, South African based Senior Analyst on BRICS and African policy, argues that "notwithstanding some of the pessimistic and critical positions of experts, a number of foreign players have admirable success stories. Brazil, India and China are very visible on the continent, but the question is if these countries can have multilateral agreements and a meaningful unified BRICS foreign policy in Africa? Foreign players have their individual interests and varying investment directions."
Some experts still argue that it is never too late for Russia to enter the business game but what it requires is to move away from old Soviet stereotypes, prioritize corporate projects and adopt a new policy strategy for the continent – a market of some 350 million middle-class Africans, according to him.
Of course, Russia has to risk by investing and recognizing the importance of cooperation on key potential investment issues and to work closely with African leaders on the challenges and opportunities on the continent, Professor Andy Kwawukume, wrote in an interview comments from London. He explicitly noted that Russians have been trying to re-stage a comeback over the past few years that was a commendable step forward.
Nearly a decade ago, Kwawukume, a Norwegian trained African graduate, underlined the fact that "there is enough room and gaps in Africa for Russian investors to fill too, in a meaningful way, which could benefit all parties involved. The poor and low level of infrastructural development in Africa constitutes a huge business for Russian construction companies to step in. Energy is another sector Russians could help in developing."
Kwawukume explained that over the past few years, business summits have become increasingly common and interactive platform for dialoguing, that Russian officials should consider using its Russian trained African graduates as bridges to stimulate business cooperation. Really, what Russia needs is a multi-layered agenda for Africa.
In a similar argument, Dr Ojijo Al Pascal, Ugandan lawyer and business consultant based in Dar es Salaam, Tanzania in East Africa, suggested that "Russia needs to have its own mega or corporate projects. And it should have them in strategic economic areas."
Russia, in essence, could use its history of electrifying the Soviet rural areas to help Africa. It could promote the establishment of manufacturing hubs and mega projects, promote its technologies in mutually beneficial spheres while cooperating with individual countries in Africa.
Nearly all the experts mentioned in this article have explained that many foreign countries, notably the United States, European Union members, China, India and Japan, have effectively used their institutional structures, have regularly made financial commitments and have adopted strategies in pursuit of their key economic policy goals and interests in Africa.
There are chances to turn the business tide only if Russians can come with a different mix of economic incentives, without doubt, they will be taking off from the track where the former USSR left after the collapse of the Soviet era. The time has come to make meaningful efforts to implement tons of agreements already signed on bilateral basis with Africa countries.
Professor Gerrit Olivier at the Department of Political Sciences, University of Pretoria, and former South African Ambassador to the Russian Federation, wrote me in email discussion, already five years ago, that important though is the fact that the Soviet Union never tried to colonize Africa. Soviet influence in Africa disappeared almost like a mirage with the collapse of the Soviet system in 1991. And today, Russian influence in Africa, despite efforts towards resuscitation, remains marginal.
While, given its global status, it ought to be active in Africa as Western Europe, the European Union, America and China are, it is all but absent, playing a negligible role, according to the views of the retired diplomat.
"Russia, of course, is not satisfied with this state of affairs. At present 'paper diplomacy' dominates its approach: plethora of agreements are been entered into with South Africa and various other states in Africa, official visits from Moscow proliferate apace, but the outcomes remain hardly discernible. Be that as it may, the Kremlin has revived its interest in the African continent and it will be realistic to expect that the spade work it is putting in now will at some stage show more tangible results," Professor Olivier wrote from Pretoria in South Africa.
Largely due to Africa's growing reputation as a region for commerce, over the past few years China, India, Japan, and the European Union all have hosted regional meetings similar to the U.S.-Africa Leaders' Summit.
According to the Business Research and Consultancy firm's survey conducted between January 2016 and June 2018, it has become significant that the existing Memorandum of Understanding (MoUs) Russia has signed with African countries and together with various economic agreements reached by the joint Business Councils could provide solid framework for raising vigorously its economic influence to an appreciable levels in Africa.
Nigeria's role in ECOWAS peacekeeping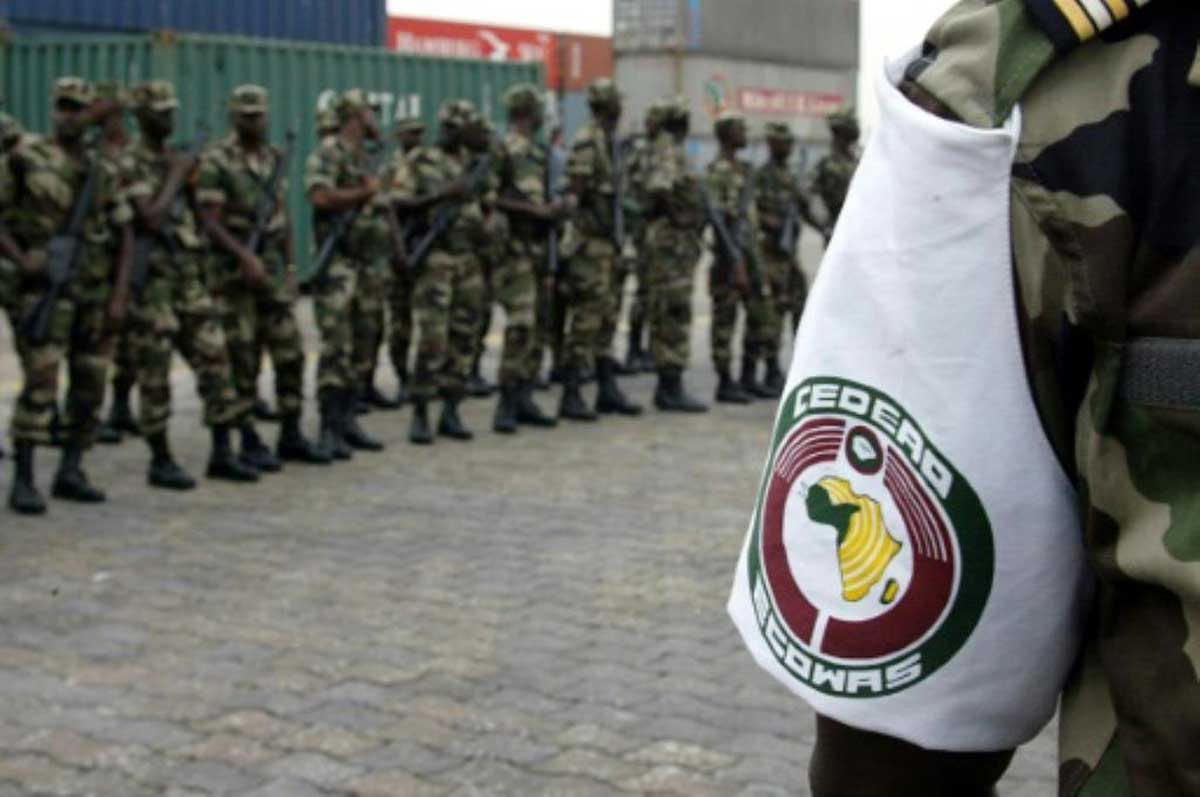 ECOWAS is the 44-year-old economic community of West African states. "The evolution of ECOWAS from the level of an organization created for the purpose of economic integration to the level of organizations that makes and implements decisions of a political and economic nature at the international level deserves quite close attention of researchers today." [2]
As with any alliance, ECOWAS has the undisputed leader – Nigeria. Nigeria is the most populous country in Africa. It should be noted that for many years it was dominated by a military regime, during which the country was in mismanagement and in disorder. Even under military rule, Nigeria has made a significant contribution to the work of ECOWAS to restore democratic governance and ensure stability in many West African countries. This can be attributed to an attempt by "Nigeria to convince the international community of its determination to return to democratic rule and refrain from participating in difficult West African conflicts." [5]
Due to the strategic position, Nigeria plays an important role in realizing the goals and objectives of ECOWAS. First, "Nigeria has a positive balance of payments, because the country exports large quantities of oil and oil products, as well as cocoa and many valuable metals and alloys." [1] The second reason is Nigeria's partners, who make a great contribution to the country's economy by being its investors. Another important factor is the fact that Nigeria mainly imports high-tech products, without participating in the international exchange of technologies.
At the time of Nigeria's accession to ECOWAS, the government marked for itself several directions of its activities, being a member of this organization. In the first place, particular attention was paid to adherence to the ECOWAS economic integration framework, as this contributed to the promotion of free trade. In addition, Nigeria has sought to introduce a single currency for the region. The goal of expanding the infrastructural development of the automobile, railway, telecommunications, energy, gas pipeline industries was also important, which, as a result, should have increased agricultural and industrial production.
Thus, it can be concluded that the need for ECOWAS in Nigeria is great because Nigeria, owning financial and human resources, can help the organization achieve its long-term goal of full integration of the region.
According to the Vice President of the World Bank L. Sabib, "Nigeria can become a locomotive capable of promoting the economy of West Africa. This has not yet been done due to poor governance, ineffective government, corruption and political instability". [5]
Since the establishment of the Economic Community of West African States (ECOWAS) in 1975, Nigeria has focused on the foreign policy of the West African region. In many ways, this decision allowed it to become one of the decisive forces of this regional organization, not to mention its advantages in its size, geographic location and, of course, economic potential.
Professor Akintola is confident that "Africa has been the focus of Nigeria's foreign policy since independence, with an emphasis on the liberation, development and unity of Africans both inside and outside the continent." [3] This confirms that Nigeria continues to dominate the rest of West African states, which allows it to play an important role in the activities of ECOWAS.
Many researchers highlight the contribution of Nigeria to the regional integration of the ECOWAS organization. Moreover, this activity is a priority for Nigeria in matters of its foreign policy. This is most clearly manifested in the processes of maintaining peace and economic liberalization.
Between 1975 and 1993, Nigeria revised its foreign policy in many ways. This was largely due to the formation of ECOWAS, since the country was striving to significantly increase its weight in this alliance. It should be noted that the change in Nigeria's policy is closely related to changes in ECOWAS. At the beginning of its work (1975) ECOWAS set itself the task of becoming a collective security organization, but in 1990 the goal was rethought. It was decided to stimulate the development of collective security, and this decision was reflected in Chapter 8 of the UN Charter. [4]
Nigeria especially showed the importance of its participation in integration during the civil wars in Liberia and Sierra Leone as part of ECOMOG. When Nigeria assumed the role of the dominant country in the organization of ECOWAS, its foreign policy choice was extremely obvious – a peacekeeping strategy.
Speaking about the contribution of Nigeria to the Liberian conflict, it should be said that its participation did not give any guarantees of successful peacekeeping. However, Nigeria's involvement continued to be critical to the operation. Without Nigerian troops, supplies and air support, ECOMOG forces would have lost many more soldiers and civilians and would most likely be driven out of the country entirely by the factions. Nigeria provided significant military support to ECOMOG, but the motives behind this support hindered ceasefire agreements and further negotiations for a transitional government and elections. Although Nigeria has acquired a certain regional prestige for its actions, it has also generated opposition to its dominant status from neighboring African states.
Nigeria faced major challenges in its efforts to restore peace and security to Sierra Leone with ECOMOG. In addition to financial problems, the lack of support from the citizens of Sierra Leone has also affected the main aspects of peacekeeping in the country. Despite the challenges faced by the Nigerian government and the country's unstable economic situation, Nigeria was able to continue its mission, which was believed to be in line with the country's foreign policy goals of ensuring peace and security in the subregion and Africa as a whole. Despite the enormous government spending and corruption associated with Nigeria's mission to Sierra Leone, the mission remains one of the most successful African initiatives to promote peace and security abroad.
The role of Nigeria in the implementation of the ECOWAS plans cannot be overestimated because it has the status of a regional leader in ECOWAS, which indicates its serious contribution to the processes of regional integration and the maintenance of peace and security in West Africa
References
1. Asiagba John Chinedu. Nigeria as a member of the Economic Community of West African States, p. 261.
2. ECOWAS. Regional integration problems. Managing editor A.Y. Elez. Moscow., IAfr RAN., 2016.p. 5
3. Geveling, L.V. Foreign experience in fighting corruption: Federal Republic of Nigeria / L.V. Geveling // Institute of Municipal Administration. – 2012.- № 3.- p. 98-102.
4. Omo. O. O. Dennis. Nigeria in the Process of Regional Integration in West Africa: The Case of ECOWAS. Moscow,2018., p. 67.
5. Speech delivered by World Bank Vice President Louis Sabib, state visits to Nigeria // The Guardian Newspaper. Lagos, 1998 September 21.
What a Successful Summit for Democracy Looks Like from Africa
The Biden administration is wrapping up preparations for its Summit for Democracy, to be held virtually next month. While the list of invitees is now clear, what is not yet clear is what success for the Summit looks like – overall and for each region of the globe. Here, I outline concrete ways the Summit could help advance democracy in Africa.
To be realistic, success should be defined at the individual country level and consider the history and context of each one. However, for the purposes of this paper I will focus on sub-Saharan Africa as a whole and what common hopes we have with regards to democracy success across the continent.
The State of Democracy in Africa
It is now a cliché' to say that democracy is in retreat in Africa. Evidence for this appears strong and includes back-sliding in Ethiopia and Sudan, two countries that held out hope for a democratic awakening. In addition, recent coups in Guinea, Chad, and Mali provided further evidence of back-sliding. Closing and closed political spaces in Angola, Mozambique, Tanzania, Uganda, Cameroon and Zimbabwe (among others) do not provide much in the way of hope. During the past 18 months COVID-19 has provided fertile ground for autocracy and has led to economic deterioration and further restricted political space.
On the other hand, Africa is the world's youngest continent. According to the latest "World Values Survey", those holding "emancipative" (i.e. democratic) values are far and away higher than those holding more autocratic values. The older generation of autocratic leaders such as President Museveni in Uganda is facing a population representing values at odds with those of the political leadership. While autocratic values currently hold sway throughout the continent, one can conclude that these represent "eddies" in a river which largely represents more democratic values. Consequently, we should counsel patience and not condone pessimism over the long-term.
Making Progress through Summit Commitments
Success will not be a static end-point or destination or some far-flung and unattainable goal that is unrealistic. It will represent a series of actions or steps among a variety of actors in each society that are on a journey toward a democratic future. These actors, explained in detail below, include political parties, civil society, and legislative bodies. We must be modest in our assumptions around success given the slow vicissitudes of progress. Modest progress is still progress, particularly given the direction in which many countries are headed (at least over the short-term).
Successful political parties aggregate, communicate and advocate for the wishes and hopes of their members. Ideally, they are not based on the charisma of a leader, nor does a good party represent only the needs of a specific group, such as an ethnic group. Unfortunately, across the continent the evidence points to nearly all political parties serving as a vehicle for a particular leader's wish to obtain high office. Political parties exist for their leaders instead of serving as a vehicle to promote a particular set of policies advocated by their constituents. As a result, traditionally marginalized groups such as women and youth are rarely given real leadership roles within political parties. Witness the situation in Sudan where women and youth were the vanguard of a revolution but were then marginalized within political parties vying for power in the new transitional government. We must be realistic and patient when addressing the question of what democracy would look like vis-à-vis the upcoming Summit for Democracy. The longer-term goal of ideologically based, inclusive, participatory, and transparent political parties is a worthy one. To realize these goals, the U.S. and its allies should commit to the following:
Ensure that political party governing documents are revised to promote intra-party democracy and the inclusion of traditionally marginalized groups.
Cultivate youth and female leaders within political parties because they represent upwards of 75% of each country's population.
Promote and support peaceful elections using widely available research that has been shown to reduce violence before, during, and after elections. This also includes honestly criticizing elections that do not meet regional or international standards.
Civil society organizations (CSOs) are key actors in all societies. We have seen that where CSOs are trained and motivated they can have a significant impact holding governments and legislative bodies accountable. For example, CSOs provided electoral observation during the Ethiopian elections to ensure that Ethiopia's first democratic elections were conducted according to international and regional standards. In the Gambia, CSOs advocated to the government to pass legislation to provide citizens access to information and succeeded in court in suing the electoral commission (IEC) over voter registration anomalies. Despite successes, several factors will need to be addressed for their contribution to democracy to be sustained and amplified. This includes CSOs working together in coalitions that magnify their power and scope. Working alone on sensitive issues in often restricted contexts rarely produces lasting success. Learning the skills of networking with other CSOs will be critical to fulfill the promises of democracy.
To realize these goals, the U.S. and its allies should commit to the following:
Train CSOs in strategic communications, project development and management, monitoring and evaluation, and other skills needed to flourish. Organizational development support will provide long-term sustainable assistance across a wide range of CSOs.
Strengthen CSOs outside of capital cities. In most African capitals there is a cadre of well-resourced, well-trained, and savvy CSOs that speak the language of the donor. In the countryside, however, where enthusiasm generally runs higher, CSOs are organizationally weaker and more isolated. The US and its allies should bring these CSOs into the planning of international organizations who traditionally work with CSOs with higher profiles in capital cities. This will broaden the base of capable CSOs throughout each country and addresses the challenge of relying on just a few located in capital cities.
Stand up for CSOs working in repressive environments. For instance, in Sudan CSOs were largely responsible for the overthrow of the al-Bashir Government but lacked the skills to move from protest to governance. This in part led to the recent military coup.
Train CSOs to hold legislative and executive bodies accountable through things like performance "report cards" and publishing national budgets in easy-to-understand formats.
Legislative bodies throughout Africa are largely rubber-stamp institutions that do the bidding of the countries' leadership. They rarely perform their traditional role as an independent branch of government that represents the people they were elected to serve. IRI's own work found that many members of legislatures do not even understand their role with regards to oversight of the executive branch, outreach to constituents, legislative processes, and budgetary oversight. Consequently, we must be realistic about what can be accomplished and take small steps to train legislators about their roles.
To realize these goals, the U.S. and its allies should commit to the following:
Train newly elected members of legislative bodies on their role as legislators.
Link members of legislative bodies with their constituents to better craft laws that meet the needs of their communities. This is relatively inexpensive yet has demonstrable impact.
Work with legislative bodies to improve transparency through more public hearings, making it easier for citizens to interact with them.
Encourage legislative bodies to address corruption through a strong legal framework and use their subpoena power to address instance of corruption.
Looking Forward
An opportunity now exists to change the narrative that democracy is in decline. Africa's youthful population, its increasing levels of education and better access to information are all factors pointing to more democracy; not less. Recent democratic victories in Malawi and Zambia, coupled with strong opposition and protest movements in Sudan, Guinea, and Chad portend further gains. To sustain these gains, institutions that represent citizens, including political parties, legislative bodies, and civil society must be strengthened. Autocratic governments, some in power for more than 30 years, will not easily give up power. As a result, both public and private institutions must be resilient and have the skills necessary to thrive in restricted environments. The Summit for Democracy can highlight gains made, to provide support to those working in restricted environments, and to provide resources to continue building the capabilities of democracy's institutions.
Eighth Ministerial Meeting of the Forum on China-Africa Cooperation "FOCAC"
The conditions of convening (the Eighth Ministerial Conference of the Forum on China-Africa Cooperation "FOCAC") on November 29-30, 2021, in the Senegalese capital, "Dakar", reflect the challenges faced by the two parties after the spread of the conditions of the Corona pandemic "Covid-19". We find here that the "Forum on China-Africa Cooperation "FOCAC" has inaugurated on October 2000 in a move that is in line with the requirements of the times, and reflects the common desire of the Chinese and African peoples to achieve peace, development and cooperation under the new circumstances. Over the course of more than 21 years, since the establishment of this forum, the cooperation mechanism between the Chinese and African parties has continuously developed, and made important achievements. This eighth ministerial meeting is held to review all opportunities for China-Africa cooperation, to open new horizons for the China-Africa strategic partnership and to emphasize the establishment of the (China-Africa Free Trade Area). The two sides will have to work out a future plan for cooperation between them in the next stage, to lay solid foundations for a new and greater development of China-Africa relations post (Covid-19) pandemic.
So, the Egyptian researcher can identify the main objectives for helding the the (Eighth Ministerial Conference of the Forum on China-Africa Cooperation "FOCAC") on November 29-30, 2021, and the main agenda, planning and pledges for the benefits of the African continent and its people, as follows:
First: Agenda of the Eighth Ministerial Conference of the Forum on China-Africa Cooperation (FOCAC)
Therefore, the most prominent points on the agenda are the fruitful cooperation and continuous support between the countries of the African continent and China. China is the largest developing country in the world, while Africa is the continent with the largest number of developing countries. Hence, we find that the most prominent areas of current cooperation between the Chinese and African sides, are:
1- Strengthen strategic alignment and political coordination and advance China-Africa cooperation in building the "Belt and Road".
2- Linking the "Belt and Road Initiative to the African Union Agenda 2063 and the 2030 Agenda for Sustainable Development of the United Nations" closely with all development strategies of African countries.
3- Giving priority to the implementation of (the eight goals of China-Africa cooperation), which are:
(industrial development, enterprise connectivity, trade facilitation and green development, capacity building, health, public communication, and peace and security)
This will surely increase the opportunities and impetus for China-Africa cooperation.
4- Focusing on deepening the Sino-African partnership (as an important part of South-South cooperation), and these relations bring opportunities for Africa to add a new dynamism to the global economy.
5- The China-Africa Cooperation Forum plays a greater role in (fighting poverty – raising Africa's capacity for self-development – developing the green economy – enhancing human communication between the two parties).
6- The African Union, with the support of the United Nations, works resolutely for cooperation between China and Africa, and makes joint efforts with both sides to achieve (permanent peace, development and prosperity in the world, especially the developing countries).
7- The Chinese and African sides unanimously agree on (cooperation, win-win and common development), with the Chinese side continuing to adhere to the concept of transparency, justice and mutual benefit, and working with the African side to enhance mutual trust between China and Africa, thus pushing the relations of partnership and comprehensive strategic cooperation between China and Africa to progress in a more depth and effectiveness way, with steady and continuous steps.
In this way, it can be considered that China-Africa cooperation as a model of international partnership is part of international cooperation with Africa, which adheres to the criteria of (mutual benefit and win-win, openness and inclusiveness, learning from each other, employing the advantages of each and uniting efforts, jointly contributing to peace and development in Africa). Therefore, the Chinese strategy is based on respecting the sovereignty of African countries, listening to their views, paying attention to their positions, and fulfilling promises towards them.
Second: The most prominent areas of China-Africa cooperation Forum within the framework of the "FOCAC"
There are many areas of cooperation between China and the countries of the African continent within the framework of joint efforts with the "Forum on China-Africa Cooperation" FOCAC, and the most prominent areas of China-Africa cooperation, are:
First: Expanding cooperation in (investment and financing fields to help Africa achieve sustainable development). In this context, China pledged to provide $60 billion in loans to African countries to develop the infrastructure, agriculture, manufacturing, and small and medium-sized businesses sectors in Africa.
Second: Continuing to increase aid to Africa, including humanitarian and medical aid, after (Covid-19), so that the African peoples benefit from the fruits of development. Hence, China will work to (increase the number of model centers for agricultural technology in Africa, train 30,000 Africans) in various specialties, provide thousands of government scholarships, and send 1,500 doctors from its medical missions to help eradicate epidemics and combat endemic diseases, viruses, Ebola and the coronavirus, as well as helping African countries build meteorological infrastructure and protect and manage forests.
Third: Supporting the African integration process to help the continent raise its development capacity. In this context, China has established with Africa (Partnership Relations and Cooperation in the Implementation of Cross-Border and Regional Infrastructure Projects).
Fourth: Consolidating the friendship between the Chinese people and the African peoples to lay solid popular foundations for the common Sino-African development, by inviting China to launch the "Chinese-African People's Friendship Campaign", establish the "China-Africa Media Exchange Center" in China, and continue to implement the "Sino-African Joint Research Programme".
Fifth: Strengthening peace and stability in Africa to create a secure environment for development in Africa. This is through China's launch of the "China-Africa Partnership and Cooperation Initiative to Strengthen Peace and Security", and the Chinese government's training of more African Union officials in (the field of peace and security affairs, conflict avoidance, development and peacekeeping).
Accordingly, we can arrive at an important analysis, which is that the launch of the Sino-African development initiatives for cooperation within the framework of the "FOCAC Forum on China-Africa Cooperation" comes within the framework of the strategy of "South-South" cooperation efforts, as an exemplary cooperation between the Sino-African parties, especially with (the prominent role of Chinese banks and companies in financing and building power stations, railways, highways and ports, as well as communications infrastructure, fiber-optic cables and smart cities in African countries), and if these Chinese initiatives continue to implement their goals, China will be able to stimulate global and then African economic growth China will meet the needs of developing countries for the long term.
Third: Evaluating the model and experience of the Ministerial Meeting and Sino-African Cooperation "FOCAC"
By evaluating the model of China-Africa ministerial cooperation, the leaders of the Chinese and African sides have reached important consensus on all important issues with their unified voices. Therefore, the previous summits and ministerial meetings between China and the African Union were crowned with complete success and bore abundant fruits, and recorded a new historical page for Chinese-African relations, and formed (a new modern milestone for the model of South-South cooperation). Among the most important messages, achievements and experience gained from previous ministerial meetings and summits between China and Africa, as follows:
1) We find the interest of the leaders of the Chinese and African sides to hold intense bilateral meetings or reciprocal meetings and visits, with the keenness of a number of leaders of African countries and governments to visit China (to exchange views in depth on bilateral relations and issues of common interest, especially those related to trade issues and joint investments between the two parties).
2) Although more than 21 years have passed since the establishment of the China-Africa Cooperation Forum, it came in line with the trend of the times and developed with the progress of China-Africa cooperation, and it has become more mature and complete with the passage of time, and it has become (a landmark for international cooperation with Africa and a model for South-South cooperation). .
3) Here, the "Eighth Ministerial Meeting of Africa and China" aims to strengthen the comprehensive strategic partnership and cooperation relations between China and Africa from a new historical perspective, and open a new historical path for it, with joint efforts made to activate and strengthen the (China-Africa Cooperation Forum), and for (implementation of the outcomes of the summit of the previous "FOCAC" to support cooperation with Beijing in a comprehensive and effective manner, bringing (tangible benefits to the peoples of the Chinese and African sides).
4) When we evaluate the most important measures taken by the Chinese government in the eighth ministerial meeting, in addition to the previous meetings that brought China together with African leaders and at the level of ministerial meetings, we find that they are represented in (five priority areas for China and Africa), revolving mainly around: strengthening peace and development in Africa, and pushing forward the China-Africa strategic partnership to new forms for the new era.
What is remarkable about this in most of the previous ministerial meetings and summits between China and the countries of the African continent, is the great Chinese interest in the development of African human resources, and the great Chinese welcome to receive African delegations, most of whose members are young people to be trained in various fields, and it has (exceeded the total number of Africans who received trainings in China to almost 5,000 students, compared to just dozens of students before the establishment of the Forum on China-Africa Cooperation).
If trade is one of the most important indicators of the development and strength of the relationship between the Chinese and African sides, the growth of the volume of trade exchange between the Chinese and African sides is a testament to the great boost witnessed by Chinese-African relations in recent years.