The Endless Debate about Russia's Policy in Africa
Early March 2018, Foreign Affairs Minister Sergey Lavrov said in an interview with Hommes d'Afrique magazine that "our African friends note the need for Russia's active presence in the region, and more frequently express interest in holding a Russia-African summit. Such a meeting would undoubtedly help deepen our cooperation on the full range of issues."
He frankly acknowledged that Russia's economic cooperation was not as far advanced as political ties, but would do well to raise trade and economic ties to a high level of political cooperation by promoting joint activities and to make broader use of the huge potential that exists in Russian-African trade and investment cooperation.
"Definitely, time is needed to solve all those issues," said Minister Sergey Lavrov, and suggested that the Russia-Africa business dialogue could start with experts' meetings within the framework of the St Petersburg Economic Forum or the Valdai forum in Russia.
Many African political leaders (presidents, prime ministers and ministers) point to the fact that Africa is not looking for aid, but rather genuine investment and business, high-level talks with top Russian officials have been humble, not very critical, "based on the principles of equality and mutual respect" as a required approach in diplomacy.
During the past decade, at least, from the time of African Union Commission Chairperson Jean Ping to Nkosazana Clarice Dlamini-Zuma and now Moussa Faki Mahamat, all have passionately raised the issue of Russia's active involvement in economic sectors especially energy, infrastructure, agriculture and industry in Africa.
The fact still remains that negative perceptions deeply persistent among Africans, (political and business elite, middle class and the public), towards Russia. For the two past decades, due to Russia's low enthusiasm, lack of coordinated comprehensive mechanism and slowness in delivering on skyline investment pledges have been identified as the key factors affecting effective cooperation between Russia and Africa.
London based Business Research and Consultancy firm published a new report about global players set to continue broadening economic and business engagement across Africa. This publication becomes largely important as Russia with its recognizable global status and among BRICS (Brazil, Russia, India, China and South Africa) dominated headlines that it has played less visible role in sub-Saharan Africa after Soviet's collapse.
The latest description of Africa, which consists of 54 states, to many experts and investors, is the last frontier. It is the last frontier because it has huge natural resources still untapped, all kinds of emerging business opportunities and constantly growing consumer market due to the increasing population. It has currently become a new business field for global players.
Russia craving to be a powerhouse is comparatively missing out! The following vividly illustrates that point under discussion:
In an exclusive interview, the Executive Secretary of the Southern African Development Community, Stergomena Lawrence Tax, said Russia has a long history of bilateral engagements with the Southern African countries.
"The most recent visit of the Russian Foreign Minister H.E. Sergey Lavrov to the Republics of Angola, Ethiopia, Namibia and Zimbabwe, (as we understand it) was largely focused on signing of economic cooperation agreements to attract Russian investments in key areas such as mining, aviation and energy sectors, as well as fostering military technical cooperation," she added.
In his statement, Minister Lavrov noted that Russia together with Africa wanted to elevate trade, economic and investment relations to a level that would meet political and trust-based relations. Like most of the developing countries, Southern African countries have, over the years, largely relied on multilateral and regional development financial institutions to fund their development projects.
"In this regard, SADC welcomes investors from all over the world. In reality, Russia has not been that visible in the region as compared to China, India or Brazil. But, it is encouraging that, of recent, Russia has positioned herself to be a major partner with Southern Africa and being part of the BRICS promotes her engagement with the region, particularly in investment in minerals, aviation, defense and energy sectors," underlined Stergomena Lawrence Tax.
In March 2018, Russian Foreign Minister, Sergey Lavrov, visited the Southern Africa region where he held talks with the Presidents of Angola, Namibia, Mozambique and Zimbabwe.
In another interview with (H.E.) Ambassador Major General (rtd) Nicholas Mike Sango who willingly shared his objective views and opinions on a few current issues connecting Russia and Africa. He says there is growing realization that Africa is an important partner in the "emerging and sustainable polycentric architecture of the world order" as Foreign Minister Sergey Lavrov has aptly asserted.
"For a long time, Russia's foreign policy on Africa has failed to pronounce itself in practical terms as evidenced by the countable forays into Africa by Russian officials. Africa desires economic upliftment, human security in the form of education, health, shelter as well as security from transnational terrorism among many challenges afflicting Africa. The Russian Federation has the capacity and ability to assist Africa overcome these challenges leveraging on Africa's vast resources," Ambassador Mike Sango told me during the discussion.
"The most conspicuous aspect of Russia's involvement in Africa is its absence," says John Endres, Chief Executive Officer of Good Governance Africa from South Africa, adding that "whereas the Soviet Union was quite extensively engaged in Africa, Russia has almost entirely abandoned the field to other foreign players during the past two decades."
Kelvin Dewey Stubborn, South African based Senior Analyst on BRICS and African policy, argues that "notwithstanding some of the pessimistic and critical positions of experts, a number of foreign players have admirable success stories. Brazil, India and China are very visible on the continent, but the question is if these countries can have multilateral agreements and a meaningful unified BRICS foreign policy in Africa? Foreign players have their individual interests and varying investment directions."
Some experts still argue that it is never too late for Russia to enter the business game but what it requires is to move away from old Soviet stereotypes, prioritize corporate projects and adopt a new policy strategy for the continent – a market of some 350 million middle-class Africans, according to him.
Of course, Russia has to risk by investing and recognizing the importance of cooperation on key potential investment issues and to work closely with African leaders on the challenges and opportunities on the continent, Professor Andy Kwawukume, wrote in an interview comments from London. He explicitly noted that Russians have been trying to re-stage a comeback over the past few years that was a commendable step forward.
Nearly a decade ago, Kwawukume, a Norwegian trained African graduate, underlined the fact that "there is enough room and gaps in Africa for Russian investors to fill too, in a meaningful way, which could benefit all parties involved. The poor and low level of infrastructural development in Africa constitutes a huge business for Russian construction companies to step in. Energy is another sector Russians could help in developing."
Kwawukume explained that over the past few years, business summits have become increasingly common and interactive platform for dialoguing, that Russian officials should consider using its Russian trained African graduates as bridges to stimulate business cooperation. Really, what Russia needs is a multi-layered agenda for Africa.
In a similar argument, Dr Ojijo Al Pascal, Ugandan lawyer and business consultant based in Dar es Salaam, Tanzania in East Africa, suggested that "Russia needs to have its own mega or corporate projects. And it should have them in strategic economic areas."
Russia, in essence, could use its history of electrifying the Soviet rural areas to help Africa. It could promote the establishment of manufacturing hubs and mega projects, promote its technologies in mutually beneficial spheres while cooperating with individual countries in Africa.
Nearly all the experts mentioned in this article have explained that many foreign countries, notably the United States, European Union members, China, India and Japan, have effectively used their institutional structures, have regularly made financial commitments and have adopted strategies in pursuit of their key economic policy goals and interests in Africa.
There are chances to turn the business tide only if Russians can come with a different mix of economic incentives, without doubt, they will be taking off from the track where the former USSR left after the collapse of the Soviet era. The time has come to make meaningful efforts to implement tons of agreements already signed on bilateral basis with Africa countries.
Professor Gerrit Olivier at the Department of Political Sciences, University of Pretoria, and former South African Ambassador to the Russian Federation, wrote me in email discussion, already five years ago, that important though is the fact that the Soviet Union never tried to colonize Africa. Soviet influence in Africa disappeared almost like a mirage with the collapse of the Soviet system in 1991. And today, Russian influence in Africa, despite efforts towards resuscitation, remains marginal.
While, given its global status, it ought to be active in Africa as Western Europe, the European Union, America and China are, it is all but absent, playing a negligible role, according to the views of the retired diplomat.
"Russia, of course, is not satisfied with this state of affairs. At present 'paper diplomacy' dominates its approach: plethora of agreements are been entered into with South Africa and various other states in Africa, official visits from Moscow proliferate apace, but the outcomes remain hardly discernible. Be that as it may, the Kremlin has revived its interest in the African continent and it will be realistic to expect that the spade work it is putting in now will at some stage show more tangible results," Professor Olivier wrote from Pretoria in South Africa.
Largely due to Africa's growing reputation as a region for commerce, over the past few years China, India, Japan, and the European Union all have hosted regional meetings similar to the U.S.-Africa Leaders' Summit.
According to the Business Research and Consultancy firm's survey conducted between January 2016 and June 2018, it has become significant that the existing Memorandum of Understanding (MoUs) Russia has signed with African countries and together with various economic agreements reached by the joint Business Councils could provide solid framework for raising vigorously its economic influence to an appreciable levels in Africa.
Non-Economic Drivers of China's Peacekeeping Operations in Africa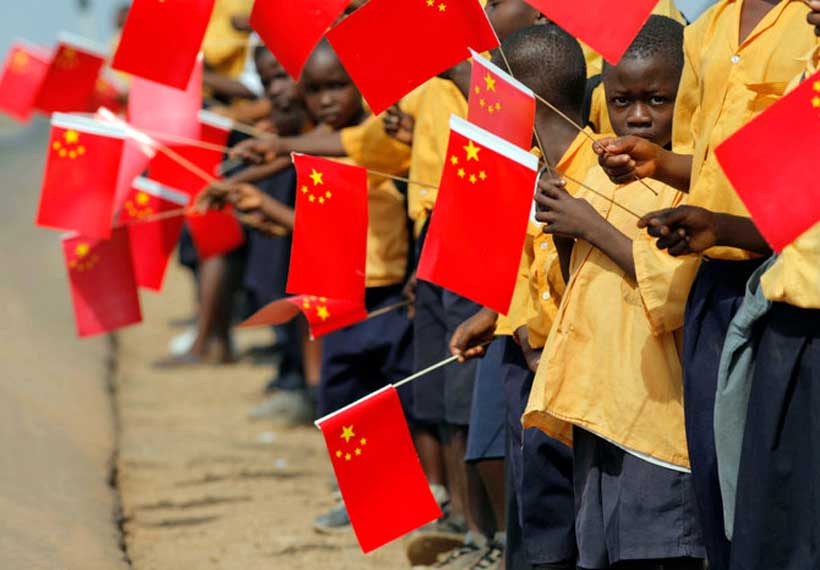 Authors: Israel Nyaburi Nyadera and Farida Lukoko Ibrahim*
Research on China-Africa relations has often been dominated by the economic component, as well as debates over whether China's involvement in the continent will have a negative or positive impact. Some scholars have questioned Beijing's reluctance to attach good governance practices to its financial assistance. On the other hand, some look at China's approach as a unique opportunity for countries in Africa, previously isolated by traditional western donors due to the lack of political reforms, to access funding. However, the fascination with the nature and approach of economic relations between China and Africa has meant little attention has been given to non-economic aspects of these engagements. More specifically is that economic explanations are often made to justify China's non-economic activities. China Peacekeeping in Africa is one of the areas that remains shrouded by economic explanations. Yet, the motivation by Beijing to commit troops and resources towards peacekeeping in Africa has significant importance beyond the economic aspects. Indeed, several studies have highlighted the economic benefits for countries committing soldiers to UN peacekeeping missions. However, the benefits of China's involvement transcend the potential revenues gained from troop deployment. This article adopts the rational choice theory to argue that policymakers in Beijing are able to derive several benefits beyond the economic aspects of the peacekeeping operations in Africa. Some of these factors as key drivers of China's peacekeeping in Africa are also identified.
Peaceful Rise
The rise of China as a global economic power has left several scholars debating whether or not the anticipated rise will be peaceful. Some have used the analogy of the 'Thucydides trap' to opine that the rise of China has increased the chances of war between Beijing and Washington. Therefore the peacekeeping operations are meant to project what president Xi has described as China's "peaceful development" approach. It also enhances China's efforts not only to appear to be a responsible great power but also increase its involvement in global governance issues as it collaborates with other international actors, for example providing training to troops in Mali in collaboration with the EU.
Supplement Economic Drivers
While China has become a significant source of foreign capital in Africa over the last three decades, its impact is often exaggerated. The continent is still the lowest recipient of outward Chinese capital and foreign direct investment (FDI) (approximately 4 per cent). Similarly, China's ODA to the continent and globally is still lower than other developed and emerging countries. This, combined with concerns over trade imbalance and unfavourable economic deals, provides another path through which China can increase its attractiveness to the continent.
Nature of Conflict in Africa
Often overlooked, the nature of conflict in Africa is somewhat unique compared to others in the Middle East and Latin America, first and foremost because peacekeepers can easily be deployed. The narrative that China has deployed 80 per cent of its troops in the continent should be accompanied by information that nearly 85 per cent of peacekeeping missions by the UN are in Africa. Yet, according to the International Crisis Group, only three out of the ten crises in 2018 are in Africa. The others include Yemen, Afghanistan, Ukraine, Israel and Arab Countries, Syria, Venezuela, US-China and US-North Korea, as well as the Iranian issue more recently, Hong Kong, Bolivia, Iraq, Lebanon, the Mexico drug war and others. The mentioned conflicts have claimed more lives and caused more devastating socio-economic and humanitarian crises than the conflicts in Africa. Yet, the nature of these conflicts makes it impossible to deploy peacekeepers. Therefore, some African countries provide an avenue for states interested in peacekeeping to deploy their troops.
Conflicts as an Obstacle to Development in the Region
The commitment by Beijing, through its investments, especially on infrastructure in Africa, is an essential step in promoting development. However, conflicts are a serious threat to achieving this goal, and it would be prudent for China to try to address some of these challenges. This explains the broad approach of deploying peacekeepers as well as training African troops to cover regions such as Mali where China has little interest. Besides, security is an important issue for African countries and a significant sphere of influence for the US and European countries. China needs to be involved in security issues to increase its relevance in the region.
Taiwan Factor
Taiwan has made significant efforts to try and gain recognition as an independent state for years. China, on the other hand, is keen on maintaining the status quo. This question remains at the heart of Beijing and Taipei's foreign policy, and more often than not, African countries have been involved. For example, when Albania introduced Resolution 2758 to the UN General Assembly for voting to determine the de facto representative of China to the organisation in October 1971, the resolution passed with 75 votes in favour of China (More than 20 from Africa) and 35 against the government in Beijing becoming the sole representative of the country. With a two-thirds majority needed to pass the resolution, over 20 votes out of the 75 that passed were indeed quite significant. Secondly, despite China employing its economic and political muscle to isolate Taiwan's diplomatic efforts, four African countries have recognised it. Therefore, China's involvement in peacekeeping is strategic in gaining strong relations with the new governments to isolate Taiwan further.
Domestic Factors
The Chinese population is becoming increasingly optimistic that their country is becoming more and more relevant on the international stage. Not only are they supportive of Beijing's financial support to developing countries, but military activities beyond Southeast Asia is also further proof of China's growing influence on its domestic constituency. Equally important, Chinese troops are benefiting from real combat experience in these operations.
Conclusion
This study concludes that Beijing seeks to maximise the effects of its peacekeeping missions by rationally choosing to deploy its troops in Africa. These efforts have enabled China to supplement the gaps in its economic engagements with the continent, all while improving its international image while strengthening domestic support to the regime.
*Farida Lukoko Ibrahim, Graduate School, Anhui University, China
From our partner RIAC
Nhaka Foundation: Transforming Education and Improving Basic Health Care in Zimbabwe
In this interview, Patrick Makokoro, the Founder and Chief Executive Officer of Nhaka Foundation, discusses the organisation's efforts at supporting education and health care in rural regions in Zimbabwe, a landlocked country located in southern Africa. According official information, Zimbabwe's total population stands at 12.97 million. Due to large investments in education since independence, Zimbabwe has the highest adult literacy rate, in 2013 was 90.70%, in Africa, but much still remains to be done in the sector.
Makokoro founded the Nhaka Foundation in 2008 as a charitable organisation that provides education, health care and counseling, and other essential services to orphaned and vulnerable children throughout Zimbabwe. In 2012, he founded the Zimbabwe Network of Early Childhood Development Actors (ZINECDA). In addition, Makokoro is a Founding member of the African Early Childhood Network headquartered in Nairobi, Kenya, which works to champion the development needs of young children in Africa.
As Patrick Makokoro discussed at length with Kester Kenn Klomegah in Harare, Nhaka Foundation plans to consolidate its relationship with the Ministry of Primary and Secondary Education and other Government departments at the local level and leading civic society organisations working in Education and Primary Health Care issues in Zimbabwe. Here are the interview excerpts:
Q: What would you say are the achievements and/or success stories since the establishment of the Harare based NGO, Nhaka Foundation?
PM: Nhaka Foundation is a Zimbabwe-based non-governmental organisation, it has developed and implemented a series of interventions designed to bridge the gap between the government's capabilities and policies mandating the requirement for Early Childhood Development (ECD) programming in primary schools and its ability to fully realise the implementation of such programmes. Along with its partners, Nhaka Foundation provides access to education, basic health care and daily sustenance for the orphaned and vulnerable children in the communities it serves. It further provides aid and support to ensure the creation of a physical environment conducive to learning, growth and the optimal development of all children.
Classroom and Playground Renovation
Nhaka Foundation has managed to partner with the Ministry of Primary and Secondary Education to work with rural area primary schools, parents and caregivers to create Early Childhood Development (ECD) Centers through the renovation of over 32 dilapidated classrooms. The classroom floors, windows, doors and roofs are repaired or replaced, and a fresh coat of paint is applied inside and outside. Each Center has its own unique personality as the exteriors are then finished with hand-painted, age-appropriate drawings by local artists.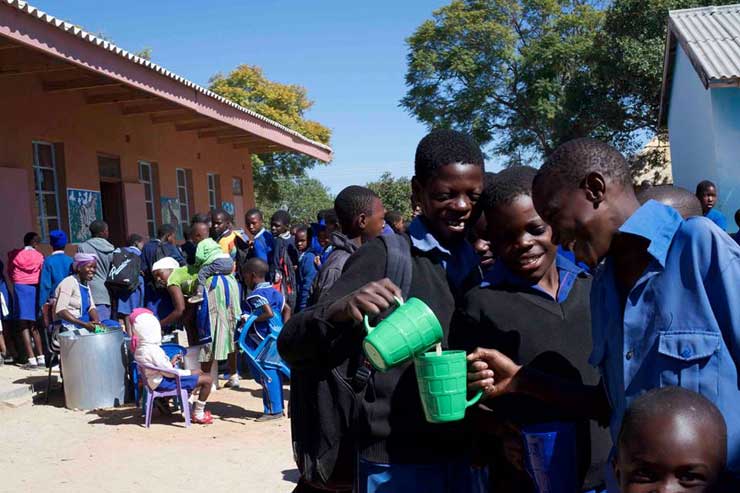 As a part of the renovation programmes, the organisation has worked with the families and members of the community to plan and build, expand or repair the playgrounds and equipment using readily available and safe materials, hence fostering a sense of community ownership and building sustainability into the initiative. Once restored to a like-new condition, the Centers would then be officially incorporated into the primary school system and sustained by the community through elected Pre-School Management Committees. This helps to ensure that the children continue to have clean and safe spaces to work and play.
Parenting Education
With the support of school and community leaders, Nhaka Foundation has facilitated meetings with the over 5000 parents and caregivers of children enrolled in the ECD Centers it serves. These meetings have been designed to educate, support and engage stakeholders in finding solutions to building a better future for the children. A lot of emphasis has been placed on building capacity and instilling a sense of community ownership and responsibility through this initiative.
The meetings have covered various topics including the importance of birth registration, immunisations, health record maintenance, HIV&AIDS education and screenings, early childhood development enrolment as well as parental involvement in the education of children. Indeed, the initiative has been successful in providing caregivers with the information and tools needed to better look after the children in their communities. It makes available a platform for voicing concerns and obtaining support from the school, the community, and the government.
Teacher Training
Nhaka Foundation has also managed to forge a cordial working relationship with the Ministry of Primary and Secondary Education (MoPSE) to facilitate the on-going training and development of the ECD teachers working in the Centers it serves. Nhaka Foundation has successfully trained over 350 early childhood development teachers in the past 5 years. On a rotating basis, the organisation accompanies District Trainers to the field to monitor and evaluate teacher performance.
Each teacher would be observed at work, given an opportunity to ask questions and express concerns, and provided feedback for improvement. Through this initiative, the organisation has managed to provide teachers with increased skills and at the same time promote a cooperative environment to share information and resources that have inevitably resulted in quality education for marginalised children.
Feeding Programme
In response to the needs of the rural communities and the children it serves, Nhaka Foundation developed an in-school feeding programme to address one of the biggest challenges faced each day in, and out, of the classroom-hunger. Many children would come to school on empty stomachs making it impossible for them to concentrate or fully participate in classroom and outdoor activities. While the organisation's work has been focused on children enrolled in ECD Centers, it simply could not ignore the remaining primary school students as the concern was pervasive.
As a consequence, the programme has provided food once each day in the form of a protein drink for all of the students in all of the primary schools it serves. The programme has benefitted well over 5,000 children a day across 15 primary schools in collaboration with the schools and communities, with food preparation and service is managed on-site by community volunteers while Nhaka Foundation manages the logistics, training and programme oversight.
Health Assessments
Nhaka Foundation has partnered with the Ministry of Health and Child Care, District Medical Offices and local health clinic practitioners to facilitate health assessments of the children enrolled in the ECD Centers it serves. On a rotating basis, the Nhaka's team members have accompanied nurses from the rural health clinics to each school to evaluate the most basic and immediate health concerns facing the children.
The assessments have captured important baseline information on height, weight, heart rate, immunisations, and personal hygiene as well as screen for common conditions such as ringworms, scabies, skin infections and cavities. Indeed this initiative has created a strong starting point to address basic medical conditions and to educate parents, caregivers and the communities on infant and child health care issues and prevention reaching over 800 children in 2019 alone
Q: In the first place, tell us about the driving reasons, in other words the motivating factors, why the idea of helping rural communities in Zimbabwe?
PM: In 2019, Nhaka Foundation contributed towards the attainment of Sustainable Development Goals (SDG) 1, 2, 3, 4 and 6 as recounted here as follows.
SDG 1: End poverty. The organisation contributed to SDG 1 through transferring skills in new systems of farming to parents, which has a potential to boost their economic status in the long-run. However, due to reasons beyond the organisation's scope such as recurrent droughts, poverty was said to be the status quo for most households in the communities where Nhaka Foundation introduced these innovations, especially grandparent-headed households.
SDG 2: Zero hunger. Nhaka Foundation's support of nutrition gardens to strengthen the Feeding Programme and its impartation of new farming skills were meant to eliminate hunger. ECD learners indeed benefited from school-based feeding, although at the schools sampled by this evaluation the feeding had stopped and some nutrition gardens no longer functional.
SDG 3: Good health and Well-being. Nhaka Foundation invested heavily into the health and well-being of its target beneficiaries, including through its trainings in personal hygiene for parents, procurement of nutritious foods like maheu and porridge as well as its facilitation of health assessments for ECD learners. At the time of this evaluation, these initiatives stopped because of limited funding to the organisation.
SDG 4: Ensure inclusive and equitable quality education and promote lifelong learning opportunities for all. Nhaka Foundation's support for ECD infrastructure development made education accessible for the ECD learners while its capacity building for ECD teachers contributed towards improved education quality. ECD teachers confirmed that they learned new techniques of teaching and effectively handling ECD learners through workshops that the organisation facilitated in partnership with MoPSE trainers.
SDG 6: Clean water and sanitation. Nhaka Foundation supported the drilling of boreholes and construction of toilets in some schools that had dire need thereof, which tellingly improved access to clean water supply and sanitary ablution facilities. The evaluation, however, revealed that with growing ECD enrolments, the need for additional boreholes and toilets remains at most intervention schools.
Q: How would you characterise the urban-rural development gap in Zimbabwe?
PM: The development gap between the urban-rural settings is still evident mostly due to unavailable funds that go towards infrastructure development. This challenge is not only limited to Zimbabwe alone but to most countries in Southern Africa Development Community (SADC) and sub-Saharan Africa. As African countries rise against the struggles and inequalities imposed by colonialism, there is the need to invest more resources in order to develop the rural areas. It is important for financial resources be directed towards creating economic hubs in the various rural areas so that there is enough investment that supports and boosts the rural economies.
Q: Under-development, diseases, illiteracy and abject poverty have something do with the Government. Could you please give your views and analysis here?
PM: Over the 20 years after independence, the government in Zimbabwe invested heavily in education, and by the end of this period, Zimbabwe had one of the finest education system (and its highest literacy rate) in Africa. The success of this programme was reinforced by the importance Zimbabweans place on education and the considerable sacrifices families are prepared to make to ensure their children are well educated.
Unfortunately, the financial and political crisis that engulfed Zimbabwe in the first decade of this century resulted in a dramatic decline in the educational sector. The impact of this decline was especially marked in rural schools. In light of these challenges, the investment in early childhood development and education programmes was minimal if any, as the government and other civil society organisations focused more on the delivery of primary and secondary level education.
Early education thus was not given the appropriate attention and action. More importantly, parents have little or no understanding of the substantial long-term benefits that early childhood development programmes have on their children's educational and social outcomes. Parents and caregivers have limited knowledge of other important child development, protection and welfare issues.
Q: Judging from the above discussion, is it correct to conclude that Nhaka's activities are closely related to the politics and policies of the Zimbabwean Government?
PM: As far back in 2005, the Zimbabwean government introduced a policy (Statutory Instrument No. 106 of 2005) mandating all government primary schools to introduce two years of ECD education before primary school entry. This was in line with the Commission of Inquiry into Education and Training's (CIET, 1999) main recommendation to democratise pre-school education, the Ministry designed a two-phased, ten-year programme to establish ECD classes at every primary school in the country. During Phase One (2005/6 to 2010), every primary school was expected to attach at least one ECD class of 4-5 year old's referred to as ECD 'B', to prepare them for Grade One the following year. In Phase Two (2011 to 2015), every primary school would attach another ECD class of 3-4 year old's to prepare them for ECD B.
Indeed, over the past 11 years, Nhaka Foundation has become a leading organisation in Zimbabwe working in partnership with the Ministries of Education, Health and Social Services to enhance Early Childhood Development (ECD) services and access to early learning opportunities reaching 15,000 beneficiaries directly through its programmes in 2019. Nhaka Foundation's preschools programme works closely with the Ministry of Primary and Secondary Education and has received its full endorsement through a Memorandum of Understanding signed in October 2017.
Nhaka Foundation is aligned with the established policy of integrating ECD centers into primary schools. The current Government in Zimbabwe is responsible for setting policy priorities and within the education sector that falls under the ambit of the Ministry of Primary and Secondary Education. Nhaka Foundation therefore works to complement government efforts in line with the Memorandum of Understanding signed between the two parties.
Q: How does Nhaka operate in terms of project financing, support from stakeholders and so forth?
PM: Nhaka Foundation promptly responds to calls for proposals as well as carries out internal fundraising activities in order to generate resources for its operations and sustainability.
Q: What are your long-term strategic plans, at least, the next half decade?
PM: Really, we have long-term plans to raise the current achievements to a higher level, especially along the lines of Sustainable Development Goals (SDGs). These are:
Goal 1: Resource Mobilisation
The organisation will focus on the development and implementation of a comprehensive resource mobilisation and sustainability strategy that will encompass both traditional and non- traditional means of fundraising as well as incorporate key principles such as financial accountability and integrity in order to retain the confidence of funding partners
Goal 2: Enhancing Nhaka Foundation's Visibility
The organisation under this focus area seeks to promote the Nhaka Foundation brand using traditional and emerging online platforms. The organisation anticipates consolidating its relationship with the Ministry of Primary and Secondary Education and other arms of government at the local level and leading civic society organisations working in ECD programming as a means of strengthening its reputation as a growing practitioner in ECD issues in Zimbabwe.
Goal 3: Governance and Institutional Capacity Development
The organisation will focus on strengthening the role of the Board of Trustees in giving oversight to implementation of this strategy as well as operations of the organisation. Strong attention will be paid towards ensuring strong internal organisational systems, controls and procedures are taken up and implemented by all organisational members.
Goal 4: Enhancing Implementation and Management of Programmes
The organisation plans to strengthen the framework of programme cycle management, including development of an indicator-based monitoring and evaluation (M&E) framework that enables drawing of important lessons and best practices. The organisation intends to build the capacity of programming staff in order to enhance efficacy in project cycle management as well as improving responsiveness to the ever changing trends in ECD-related programming such as responding to the needs of children with special needs and addressing other issues that inhibit access to education by young children.
Goal 5: Influencing Policy, Advocacy and Evidence-based ECD Programming
The organisation anticipates engaging a lot more in thought leadership in ECD issues at national and international level, spearheading and supporting various advocacy and lobby efforts aimed at improving childrens' access to affordable and equitable ECD services in Zimbabwe and in sub-Saharan Africa.
Unprecedented humanitarian crisis in Mali revealed in new report
Escalating violence and insecurity in Mali have sparked an unprecedented humanitarian crisis, rendering 3.9 million people in need of assistance and protection – an increase of 700,000 since the beginning of the year, the UN said on Thursday.
Citing a recent report from the NGO Refugees International, Deputy Spokesperson Farhan Haq told correspondents in New York that the number of internally displaced people has also jumped from around 80,000 to nearly 200,000 in one year with more than half being children and women.
The data shows that 650,000 people face food insecurity, compared to 185,000 at the same time last year and that number is projected to nearly double to 1.2 million by June 2020.
These figures are the highest recorded level over the last five years, said Mr. Haq.
The report notes that eight years after the onset of the political crisis that has destabilized Mali, "the international community remains heavily focused on stabilization and counterterrorism, at times to the detriment of the worsening humanitarian situation."
While insurgent violence in the north rages on, anti-Government elements have spread south into central Mali, where they have inflamed intercommunal tensions.
Some 70 per cent of the people affected live in the conflict regions of Mopti, Timbuktu and Gao.
Throughout the year, UN and humanitarian partners have assisted about 900,000 people with food assistance and in 2020, the Humanitarian Response Plan seeks $365.6 million to assist nearly three million in urgent need.
Needs, grievance must be addressed
Mali has been the scene of perpetual conflict and displacement for nearly eight years, when in January 2012, tensions in the marginalized north came to a head as rebels took over almost one-third of the country. A peace agreement signed in 2015 between the complex web of warring parties, has failed to take hold.
While the UN Multidimensional Integrated Stabilization Mission in Mali (MINUSMA) has restored some semblance of peace and government control there, the country's northern and central regions remain trapped in cycles of violence.
The report maintains that there is no purely military solution to the country's crisis.
Although international humanitarian aid must be strengthened, Mali's citizens also require a government willing and able to meet the needs of its people and address grievances at the root of the conflict while implementing the terms of the peace agreement in a timely and transparent fashion.
"The real war will be won by whoever wins over the population. And for now, the state is perceived to not even be trying", one UN representative said in the report.
At least 71 dead in Niger
Against a backdrop of rising extremist violence, lawlessness and extreme weather linked to climate change across the whole Sahel region, neighbouring Niger suffered a major blow after at least 71 Government troops died during an attack on a military base, claimed by the ISIL terrorist group.
Mohamed Ibn Chambas, Head of the UN Office for West Africa and the Sahel (UNOWAS) condemned Tuesday's attack on the camp located in Inates, Niger, close to the border with Mali. A further 12 soldiers were also injured during the assault involving "several hundred" militants, according to news reports.
The Special Representative extended his heartfelt condolences to the families of the victims and to the Government and people of Niger, wishing a prompt recovery to the wounded.
He also called for the perpetrators of this crime to be swiftly brought to justice.