The Endless Debate about Russia's Policy in Africa
Early March 2018, Foreign Affairs Minister Sergey Lavrov said in an interview with Hommes d'Afrique magazine that "our African friends note the need for Russia's active presence in the region, and more frequently express interest in holding a Russia-African summit. Such a meeting would undoubtedly help deepen our cooperation on the full range of issues."
He frankly acknowledged that Russia's economic cooperation was not as far advanced as political ties, but would do well to raise trade and economic ties to a high level of political cooperation by promoting joint activities and to make broader use of the huge potential that exists in Russian-African trade and investment cooperation.
"Definitely, time is needed to solve all those issues," said Minister Sergey Lavrov, and suggested that the Russia-Africa business dialogue could start with experts' meetings within the framework of the St Petersburg Economic Forum or the Valdai forum in Russia.
Many African political leaders (presidents, prime ministers and ministers) point to the fact that Africa is not looking for aid, but rather genuine investment and business, high-level talks with top Russian officials have been humble, not very critical, "based on the principles of equality and mutual respect" as a required approach in diplomacy.
During the past decade, at least, from the time of African Union Commission Chairperson Jean Ping to Nkosazana Clarice Dlamini-Zuma and now Moussa Faki Mahamat, all have passionately raised the issue of Russia's active involvement in economic sectors especially energy, infrastructure, agriculture and industry in Africa.
The fact still remains that negative perceptions deeply persistent among Africans, (political and business elite, middle class and the public), towards Russia. For the two past decades, due to Russia's low enthusiasm, lack of coordinated comprehensive mechanism and slowness in delivering on skyline investment pledges have been identified as the key factors affecting effective cooperation between Russia and Africa.
London based Business Research and Consultancy firm published a new report about global players set to continue broadening economic and business engagement across Africa. This publication becomes largely important as Russia with its recognizable global status and among BRICS (Brazil, Russia, India, China and South Africa) dominated headlines that it has played less visible role in sub-Saharan Africa after Soviet's collapse.
The latest description of Africa, which consists of 54 states, to many experts and investors, is the last frontier. It is the last frontier because it has huge natural resources still untapped, all kinds of emerging business opportunities and constantly growing consumer market due to the increasing population. It has currently become a new business field for global players.
Russia craving to be a powerhouse is comparatively missing out! The following vividly illustrates that point under discussion:
In an exclusive interview, the Executive Secretary of the Southern African Development Community, Stergomena Lawrence Tax, said Russia has a long history of bilateral engagements with the Southern African countries.
"The most recent visit of the Russian Foreign Minister H.E. Sergey Lavrov to the Republics of Angola, Ethiopia, Namibia and Zimbabwe, (as we understand it) was largely focused on signing of economic cooperation agreements to attract Russian investments in key areas such as mining, aviation and energy sectors, as well as fostering military technical cooperation," she added.
In his statement, Minister Lavrov noted that Russia together with Africa wanted to elevate trade, economic and investment relations to a level that would meet political and trust-based relations. Like most of the developing countries, Southern African countries have, over the years, largely relied on multilateral and regional development financial institutions to fund their development projects.
"In this regard, SADC welcomes investors from all over the world. In reality, Russia has not been that visible in the region as compared to China, India or Brazil. But, it is encouraging that, of recent, Russia has positioned herself to be a major partner with Southern Africa and being part of the BRICS promotes her engagement with the region, particularly in investment in minerals, aviation, defense and energy sectors," underlined Stergomena Lawrence Tax.
In March 2018, Russian Foreign Minister, Sergey Lavrov, visited the Southern Africa region where he held talks with the Presidents of Angola, Namibia, Mozambique and Zimbabwe.
In another interview with (H.E.) Ambassador Major General (rtd) Nicholas Mike Sango who willingly shared his objective views and opinions on a few current issues connecting Russia and Africa. He says there is growing realization that Africa is an important partner in the "emerging and sustainable polycentric architecture of the world order" as Foreign Minister Sergey Lavrov has aptly asserted.
"For a long time, Russia's foreign policy on Africa has failed to pronounce itself in practical terms as evidenced by the countable forays into Africa by Russian officials. Africa desires economic upliftment, human security in the form of education, health, shelter as well as security from transnational terrorism among many challenges afflicting Africa. The Russian Federation has the capacity and ability to assist Africa overcome these challenges leveraging on Africa's vast resources," Ambassador Mike Sango told me during the discussion.
"The most conspicuous aspect of Russia's involvement in Africa is its absence," says John Endres, Chief Executive Officer of Good Governance Africa from South Africa, adding that "whereas the Soviet Union was quite extensively engaged in Africa, Russia has almost entirely abandoned the field to other foreign players during the past two decades."
Kelvin Dewey Stubborn, South African based Senior Analyst on BRICS and African policy, argues that "notwithstanding some of the pessimistic and critical positions of experts, a number of foreign players have admirable success stories. Brazil, India and China are very visible on the continent, but the question is if these countries can have multilateral agreements and a meaningful unified BRICS foreign policy in Africa? Foreign players have their individual interests and varying investment directions."
Some experts still argue that it is never too late for Russia to enter the business game but what it requires is to move away from old Soviet stereotypes, prioritize corporate projects and adopt a new policy strategy for the continent – a market of some 350 million middle-class Africans, according to him.
Of course, Russia has to risk by investing and recognizing the importance of cooperation on key potential investment issues and to work closely with African leaders on the challenges and opportunities on the continent, Professor Andy Kwawukume, wrote in an interview comments from London. He explicitly noted that Russians have been trying to re-stage a comeback over the past few years that was a commendable step forward.
Nearly a decade ago, Kwawukume, a Norwegian trained African graduate, underlined the fact that "there is enough room and gaps in Africa for Russian investors to fill too, in a meaningful way, which could benefit all parties involved. The poor and low level of infrastructural development in Africa constitutes a huge business for Russian construction companies to step in. Energy is another sector Russians could help in developing."
Kwawukume explained that over the past few years, business summits have become increasingly common and interactive platform for dialoguing, that Russian officials should consider using its Russian trained African graduates as bridges to stimulate business cooperation. Really, what Russia needs is a multi-layered agenda for Africa.
In a similar argument, Dr Ojijo Al Pascal, Ugandan lawyer and business consultant based in Dar es Salaam, Tanzania in East Africa, suggested that "Russia needs to have its own mega or corporate projects. And it should have them in strategic economic areas."
Russia, in essence, could use its history of electrifying the Soviet rural areas to help Africa. It could promote the establishment of manufacturing hubs and mega projects, promote its technologies in mutually beneficial spheres while cooperating with individual countries in Africa.
Nearly all the experts mentioned in this article have explained that many foreign countries, notably the United States, European Union members, China, India and Japan, have effectively used their institutional structures, have regularly made financial commitments and have adopted strategies in pursuit of their key economic policy goals and interests in Africa.
There are chances to turn the business tide only if Russians can come with a different mix of economic incentives, without doubt, they will be taking off from the track where the former USSR left after the collapse of the Soviet era. The time has come to make meaningful efforts to implement tons of agreements already signed on bilateral basis with Africa countries.
Professor Gerrit Olivier at the Department of Political Sciences, University of Pretoria, and former South African Ambassador to the Russian Federation, wrote me in email discussion, already five years ago, that important though is the fact that the Soviet Union never tried to colonize Africa. Soviet influence in Africa disappeared almost like a mirage with the collapse of the Soviet system in 1991. And today, Russian influence in Africa, despite efforts towards resuscitation, remains marginal.
While, given its global status, it ought to be active in Africa as Western Europe, the European Union, America and China are, it is all but absent, playing a negligible role, according to the views of the retired diplomat.
"Russia, of course, is not satisfied with this state of affairs. At present 'paper diplomacy' dominates its approach: plethora of agreements are been entered into with South Africa and various other states in Africa, official visits from Moscow proliferate apace, but the outcomes remain hardly discernible. Be that as it may, the Kremlin has revived its interest in the African continent and it will be realistic to expect that the spade work it is putting in now will at some stage show more tangible results," Professor Olivier wrote from Pretoria in South Africa.
Largely due to Africa's growing reputation as a region for commerce, over the past few years China, India, Japan, and the European Union all have hosted regional meetings similar to the U.S.-Africa Leaders' Summit.
According to the Business Research and Consultancy firm's survey conducted between January 2016 and June 2018, it has become significant that the existing Memorandum of Understanding (MoUs) Russia has signed with African countries and together with various economic agreements reached by the joint Business Councils could provide solid framework for raising vigorously its economic influence to an appreciable levels in Africa.
Water Diplomacy: Creating Spaces for Nile Cooperation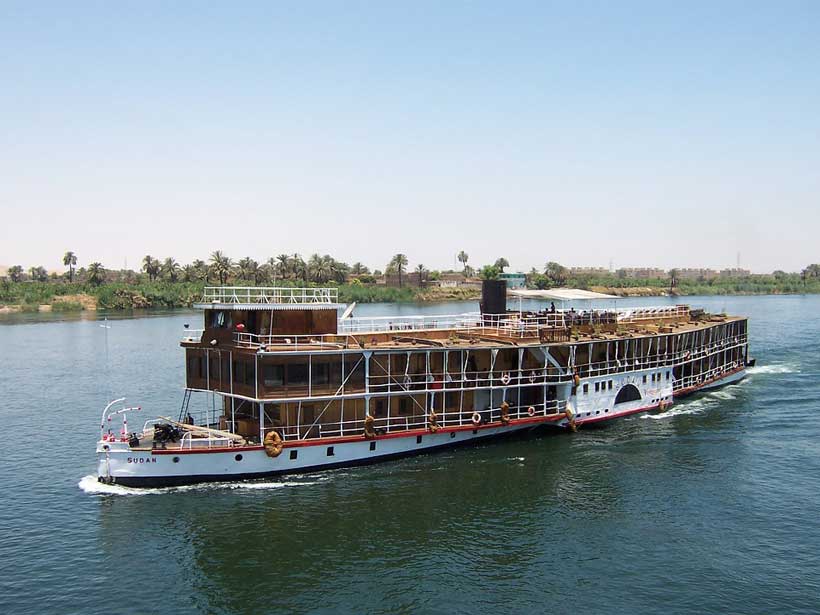 The Nile River is the longest river on the earth, with eleven nation states sharing it and over 487 million people or about 20% of the African population living in the basin countries and they depend partly or fully on the Nile for their daily water use, foods and other economic benefits. The river drains 10 % of the African continent or an area greater than 3,176,541 km2, and its divided to ten different sub-basins with two main feeding sources' the White Nile and the Blue Nile, which making it one of the worlds largest and complicated international trans-boundary river basins.
It's very clear that the long and current regional disputes over the Nile's waters between the upstream and downstream countries specially Uganda, Ethiopia and other upstream nations who are been the forehead leading the campaign for the lifting of colonial era treaties regarding Nile waters allocutions, governance, management, economic use and other Nile related issues and they been demanding renegotiating Nile river basin for fair shares and equal benefits and which they did in 2010 by reaching and signing of (Cooperative Framework Agreement or Entebbe agreement) to replace all the European colonial agreements, meanwhile the two downstream countries Egypt and Sudan in the other sides refusing to renegotiate or sign the Entebbe treaty and insists on maintaining the colonial era treaties or what they called "the historical rights" which gave the lion's share of the Nile waters and the absolute veto to only two Nile countries and ignored the rights of other Nile's nations.
Egypt and Sudan for years been using what they called "the historical rights" guaranteed by the colonial era agreements and their diplomatic influence to block international development funds and loans a policy which its aims only to prevent the upstream nations from establishing or constructing any developmental or economical projects on the Nile River, while Egypt is warring about the potential impacts which could effect its water security level as a result of any construction on the Nile river, the other Nile Basin nations said they are addressing the undergoing social, economic and environmental changes plus the population in the region is growing rapidly which will need more access to Nile basin resources in aim to provide water, food and energy to their people.
The looming conflict in the Nile Basin region over water recourses governance, allocutions and economic use has been a major security threat to the regional and international peace and stability, the risks of militarizing the Nile water dispute among the basin countries has been a growing serious security threat to the basin region as a result of lacking of middle point agreement on how to share, mange and benefit from the longest river fairly and equally.
In past years the downstream nations had already unilaterally constructed dams, used Nile waters for irrigation, industrial and other projects and with the upstream nations complaining about those unilateral projects done by the downstream nations and the none cooperative method and approach of Egypt and Sudan and as an outcome of years of disagreement over the Nile water issues and unilaterally decisions and actions taken by the individual countries claiming the Nile River waters and only favoring their own benefits over other Nile nations. The Entebbe Agreement came in to escalate the none cooperation situation more by geo-politically shifting the control of Nile basin waters away from the downstream nations and gave the upstream countries a legal frame to construct dams, establish different projects and increase their water use for different propos.
With some countries see themselves as victims of other Nile countries who had taken an advantage of certain period of time or situation that they were in, which let some of them to see no benefit now in been cooperative with the others concerning the Nile related issues and looks only at their national interests, but still the diplomatic dialogue and inclusive negotiations between the Nile basin nations is the only way forward to build confidence, trust and cooperation for sustainable future of the Nile and mutual and shared benefits for basin members countries. A positive engagement between the Nile basin members now can be observed in some steps taken by the countries were technical dialogue and diplomatic approach has increased the sharing of technical and hydrological data between the basin members countries, capacity building workshops and inter-nations trainings and seminars for technicians, policy and decision makers, government officials, diplomats, scientists, researchers, journalists, local and global think-tank institutions, NGOs, regional and other international stakeholders had really helped in easing the interstate political tensions and putting concord foundation for more regional cooperation which will contribute to a better understanding, enhancing the diplomatic relations and cooperation among the basin nations.
To have a sustainable Nile Basin with equal benefits, comprehensive cooperation, joint management, and effective partnership the diplomatic approach and inclusive negotiations is the only solution to overcome years of mistrust and standoff in the Nile Basin region.
Russia, Africa and the SPIEF'19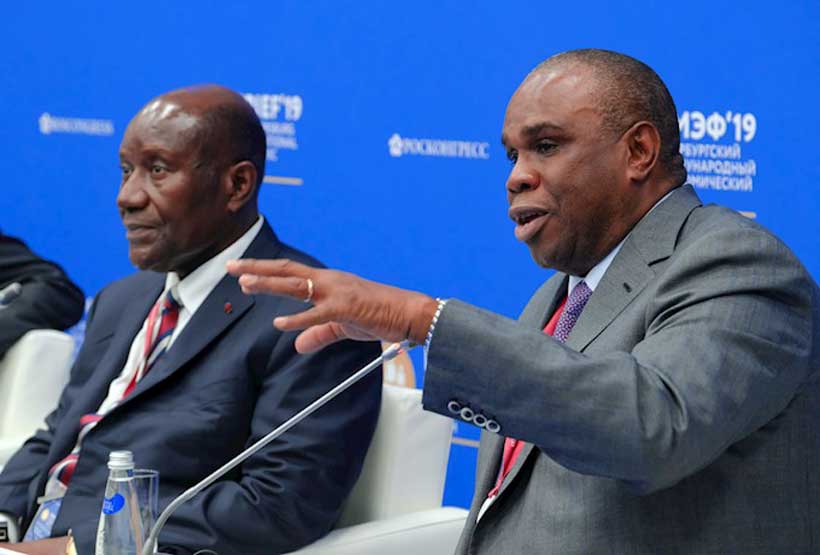 In 2019, four African countries – Côte d'Ivoire, Lesotho Niger and Somalia – for the first time attend the St Petersburg International Economic Forum (SPIEF'19) held on June 6-8 under theme "Creating a Sustainable Development Agenda" in Saint Petersburg, Russia.
The Forum brought together a record-breaking number of participants: over 19,000 people from 145 countries, with 1,300 guests representing heads of companies. The sheer number of business community participants, variety of thematic events, and level of representation on both national and international levels underscore the status of SPIEF as a truly global economic forum.
Over the years, SPIEF has become an open platform to exchange best practices and key competences in the interest of providing sustainable development.
The main event was the plenary session, with the participation of President of the Russian Federation Vladimir Putin, President of the People's Republic of China Xi Jinping, President of the Republic of Bulgaria Rumen Radev, Prime Minister of the Republic of Armenia Nikol Pashinyan, Prime Minister of the Slovak Republic Peter Pellegrini, and Secretary-General of the United Nations António Guterres.
During his address to the participants of the Forum, Vladimir Putin talked about the tasks the country is facing, as well as about the importance of national projects as a driver of economic growth in Russia.
The overall budget for the implementation of proposed development projects of Russia is about US$400 billion. The priorities are healthcare, education, research and development, and support for entrepreneurship. And, considerable funds will also be allocated to develop major infrastructure, transport and the energy industry.
Putin also stressed to the guests and participants for their friendly attitude to Russia, their willingness for joint work and business cooperation based on pragmatism, understanding of mutual interests and, of course, trust, frankness and clear-cut positions. That global inequality between countries and regions is the main source of instability. It is not just about the level of income or financial inequality, but fundamental differences in opportunities for people.
More than 800 million people around the world do not have basic access to drinking water, and about 11 percent of the world's population is undernourished. A system based on ever-increasing injustice will never be stable or balanced.
As a first step, necessary to conduct a kind of demilitarisation of the key areas of the global economy and trade, that also includes utilities and energy, which help reduce the impact on the environment and climate. This concerns areas that are crucial for the life and health of millions, one might even say, billions of people on the entire planet.
Russia has embarked on implementing long-term strategic programmes, many of which are global in nature, it is important to hear each other and pool efforts for resolving common goals. Russia is ready for these challenges and changes.
During the four days of the Forum, over 1,300 speakers and moderators, including Russian and international experts, took part in discussions. They shared their knowledge, experiences and best practices with the participants of the Forum. There was special zone of the area that hosted interviews with politicians, government officials, representatives of big business.
On the sidelines, there were business dialogues between Russia and other countries, for example Russia–Africa, were very popular this year. President of the Senate of the Parliament of the Republic of Zimbabwe, Mabel Chinomona, was one of the African participants. State officials came from Botswana, Egypt, Zimbabwe, Côte d'Ivoire, Lesotho, Mauritius, Niger, Sierra Leone and Uganda.
The Russia-Africa session featured Mikhail Bogdanov, Deputy Minister of Foreign Affairs of the Russian Federation; Special Presidential Representative for the Middle East and Africa; Amani Abou-Zeid, Commissioner for Infrastructure and Energy, African Union Commission and Tatyana Valovaya, Member of the Board – Minister in Charge of Integration and Macroeconomics, Eurasian Economic Commission.
Isabel Jose dos Santos, Chairman, Unitel SA; Daniel Kablan Duncan, Vice President of the Republic of Cote d'Ivoire; Dmitry Konyaev, Deputy Chairman of the Board of Directors, URALCHEM JSC and Benedict Okey Oramah, President, Chairman of the Board of Director, The African Export Import Bank.
Sylvie Baipo-Temon, Minister of Foreign Affairs and Central Africans Abroad of the Central African Republic; Nikita Gusakov, General Director, EXIAR; Boris Ivanov
Managing Director, GPB Global Resources and Nataliya Zaiser, Chair of the Board, Africa Business Initiative UNION; Executive Secretary, Russian National Committee, World Energy Council (WEC).
The participants noted that 2019 should be a historic year in the development of Russian-African relations. The summit of heads of state in October should take place amidst record growth in Russian exports to Africa. Russia is interested in new markets and international alliances more than ever before, while Africa has solidified its position as one of the centres of global economic growth in recent years.
In this context, the countries need to rethink the approaches, mechanisms, and tools they use for cooperation in order to take their relations to the next level as their significance grows in the new conditions of world politics and economics. What steps are needed to give a new impetus to bilateral economic relations? What are the key initiatives and competencies that can create a deeper strategic partnership between Russia and African states?
These are among the key questions on the meeting agenda for the upcoming Russia-Africa Summit planned for October in Sochi under the co-chairmanship of President of the Russian Federation Vladimir Putin and President of the Arab Republic of Egypt Abdel Fattah el-Sisi, Chairperson of the African Union.
Russia joins Gulf states in coaching Sudan's military
Russia has emerged as Saudi Arabia and the United Arab Emirates' silent partner in assisting the Sudanese military's efforts to weaken, if not defeat a months-long popular revolt that has already toppled president Omar al-Bashir.
Documents leaked to The Guardian and MHK Media, a Russian-language news website, by the London-based Dossier Centre, an investigative group funded by exiled Russian businessman Mikhail Khodorkovsky, disclosed Russia's hitherto behind-the-scenes role in Sudan.
Laying out plans to bolster Russia's position across Africa by building relations with rulers, striking military deals, and grooming a new generation of leaders and undercover agents, the documents included details of a campaign to smear anti-government protesters in Sudan.
The plan for the campaign appeared to have been copy-pasted from proposals to counter opposition in Russia to president Vladimir Putin with references to Russia mistakenly not having been replaced with Sudan in one document.
Russia advised the Sudanese military to use fake news and videos to portray demonstrators as anti-Islamic, pro-Israeli and pro-LGBT. The plan also suggested increasing the price of newsprint to make it harder for critics to get their message out and to discover "foreigners" at anti-government rallies.
Yevgeny Prigozhin, a St. Petersburg-based businessman and close associate of Mr. Putin, complained in a letter to Mr. Bashir before he was overthrown that the president was not following his advice.
Mr. Prigozhin, who was indicted by US special counsel Robert Mueller for operating a troll factory that ran an extensive social media campaign that favoured of Donald J. Trump's 2016 presidential campaign, was according to the documents a key player in efforts to enhance Russian influence in Africa.
Mr. Prigozhin accused Mr. Bashir and his government of not being active enough and adopting an "extremely cautious position."
If a visit this week to Sudan by foreign journalists at the invitation of the military to show them medical facilities that had allegedly been ransacked by protesters and demonstrate that hospitals that had been attacked by notorious paramilitary forces associated with Sudanese army were returning to normal, is anything to go by, Mr. Prigozhin's criticism may have merit.
"It must have seemed like a good idea to somebody, although I cannot imagine why. The plan was to show us how terribly the protesters had behaved. If the world could see what they were really like they would understand that the regime had no choice but to send in the militia. Except from the moment we arrived at the first medical facility things started to go wrong," said the BBC's Africa editor, Fergal Keane.
To Mr. Keane, the omnipresence of paramilitaries of the Rapid Support Forces (RSF) made the paramilitary headed by General Mohamed Hamdan Dagalo aka Hemedti, believed to be a Saudi and UAE favourite because his troops fought in Yemen and his reputation for ruthlessness, look "more like an army of occupation than an internal security force."
Widely viewed as ambitious and power hungry, General Dagalo resembles in the eyes of protesters Abdel Fattah al-Sisi, the autocratic general-turned-president who in 2013 staged a Saudi-UAE-backed military coup that toppled Egypt's first and only democratically elected president.
Defending the UAE's contacts with the military council, Emirati minister of state for foreign affairs Anwar Gargash said his country's "credibility is our means to contribute to enhancing peaceful transition in a way that preserves the state and its institutions."
Human Rights Watch this week called on the United Nations Security Council to halt the withdrawal of peacekeepers from Darfur, noting that the Rapid Support Forces "have a long track record of abuse. They carried out highly abusive counter-insurgency campaigns in Darfur, and the Southern Kordofan and Blue Nile regions over the past five years, in which they attacked villages, killed and raped civilians, and burned and looted homes."
Witnesses outside a medical facility and a hospital that Mr. Keane visited countered the military's tale, describing how troops stormed the buildings and looted and destroyed facilities. ""The international community has to intervene. There is no peace here in Sudan. People are suffering a lot… I am frightened for my country," said a man as he drove by Omdurman Hospital.
The failed public relations tour, the crackdown, the Russian guidance and stalled talks between protesters and the military fits a Saudi-UAE promoted pattern that has evolved across the Middle East and North Africa since the 2011 popular Arab revolts. It's a pattern that aims to defeat popular protest at whatever cost.
The Sudanese protest movement has emerged from the crackdown that doctors said killed at least 118 people and efforts to delegitimize it battered, divided and potentially weakened but still standing.
A general strike declared at the beginning of this week initially paralyzed the capital Khartoum but within a day or two appeared to be weakening.
Ethiopian mediator Mahmoud Dirir said on Tuesday that the protesters had agreed to end the strike while the governing Transitional Military Council (TMC), headed by officers with close ties to Saudi Arabia and the UAE, was ready to release political prisoners, one of several key demands of the protesters.
Mr. Dirir said the two sides had also agreed to "soon" resume talks to resolve the crisis even if they were nowhere near narrowing differences of returning Sudan to civilian rule. It was not clear what soon meant.
"Negotiation – even if it happens soon – will circle back to the same issue: will the military cede power to a civilian government? Nothing about the generals' actions has indicated that this is an imminent possibility. The fear is that they will use any negotiations to try to divide the opposition while security pressure is maintained on the streets," Mr. Keane said.